5/18/2023 – Clunk – Episode 0383
iRacers Lounge Podcast – Conversation Topics
Brought to you by:
---
---
Opening Audio Clip -"Your listening to the iRacers Lounge Podcast where we discuss everything iRacing, in a casual setting, enjoy."`
READ THIS AT THE TOP OF EACH SHOW!!!
Welcome to the iRacer's Lounge, I am your host "XXX". iRacer's Lounge is a podcast for the iRacer, where we talk all things iRacing in a casual setting.
Joining me are the usual characters, ———— 
---
---
Show Introduction
On todays show we will look back at the Throwback Coke Series Race a Darlington Raceway. iRacing releases a new series with a twist, and we will check out a video with wheel rims like, we promise, you've never seen before.
And remember you can follow along with us on your PC or mobile device in real time as you listen to the show and see for yourself all of the great topics and products we'll discuss by visiting iracerslounge.com and selecting show notes. Hope to see you there..
---
---
Topics
---
---
Coke Series -Darlington
---
---
Rimotec Ring Meister Series
iRacing releases a new type of series. The track i s the same every week, but the cars change!
https://www.iracing.com/iracing-introduces-ricmotech-ring-meister-series-for-2023-season-3/
---
---
Listener Feedback
steven hobbs hobbsheating@hotmail.co.uk via gmail.com
6:56 AM (2 hours ago)
to iracerslounge@gmail.com
Hi Gents,
Firstly, I'm from the uk and i regularly listen to every week. Keep up the great work 👍🏻.
I'm emailing as I wanted to add some context to some items you have discussed. I was supposed to email you after last weeks show but didn't get round to it. However after listen to this weeks show you have mentioned something I was going to email you about.
You was discussing MSG last week and how iracing should buy them out along with some more discussion about MSG and their Finacial status. When i listened to this I immediately thought of F1 Arcade. F1 Arcade are a big concern, they are looking at opening approx 30 locations across the world. They have been open in England London for a whilst now and are very successful. I recently listened to a podcast that I will link below that gave me some great insights into F1 Arcade. They are backed by Liberty media and are officially licensed by F1.
Here's the interesting part that segways into MSG. They do not use codemasters for their sim/game they use Rfactor 2 !!!
As you mentioned they are opening in Boston and another one in England that in know about. If MSG fail this would have serious implications for F1 arcade and with Liberty media backing the project I don't believe they would allow Rfactor 2 to fail. The rest of MSG they wouldn't care for.
On another note I am a iracing driver and iracing only. I have tried Rfactor 2 though and I must say it knocks the socks of iracing in physics and FFB, it is much better. Iracing really should buy Rfactor 2
I'll link a video from Dave cam describing the differences between Rfactor 2 and iracing. Don't get me wrong I'm still iracing all they way. However, this story will develop a lot more yet. Rfactor has too much importance to fail completely.
Kind regards
Steve Hobbs
FR20 Sim Racing
---
---
Laguna Seca Update
Driver Jordan Taylor posted on Twitter some changes to Laguna Seca and regrets it's loss of character.
---
---
Roaring Thru Detroit
iRacing posted a video teaser of the upcoming Detroit Road Course
https://forums.iracing.com/discussion/41778/whats-roaring-through-the-streets-of-detroit#latest
---
---
Williams eSport Controversy…Again
The 24 Hours at Nurburgring was not without controversy with some familiar faces involved
https://forums.iracing.com/discussion/41939/24h-nurgburgring-williams-esports-team-controversy-live-stewards-needed
---
---
Customize Your Car
iRacing posted a video in their How-To video series teaching you all about customizing your car
---
---
2023 Open Wheel Championship
On iRacing Downshift, news was revealed of the return of an Open Wheel Championship in 2023 using the Dallara iR-01 car. More detail will be announced at a later date
---
---
Retired Race Cars and Abandoned Tracks
There is a Retired Race Cars and Abandoned Race Tracks facebook page that may provide fuel for thought based on the huge sucess of North Wilksboro

https://www.facebook.com/groups/395558190576993/posts/2919795381486582/
---
---
Default Weather Day
On May 15th iRacing's default weather has been set for a perfect day of racing
---
---
2023 iRacing Full Review
Shaun Cole fron the Sim Pit gives the iRacing software a full 3.0 verision review
---
---
iRacing Job Postings
iRacing is in the job market, are you?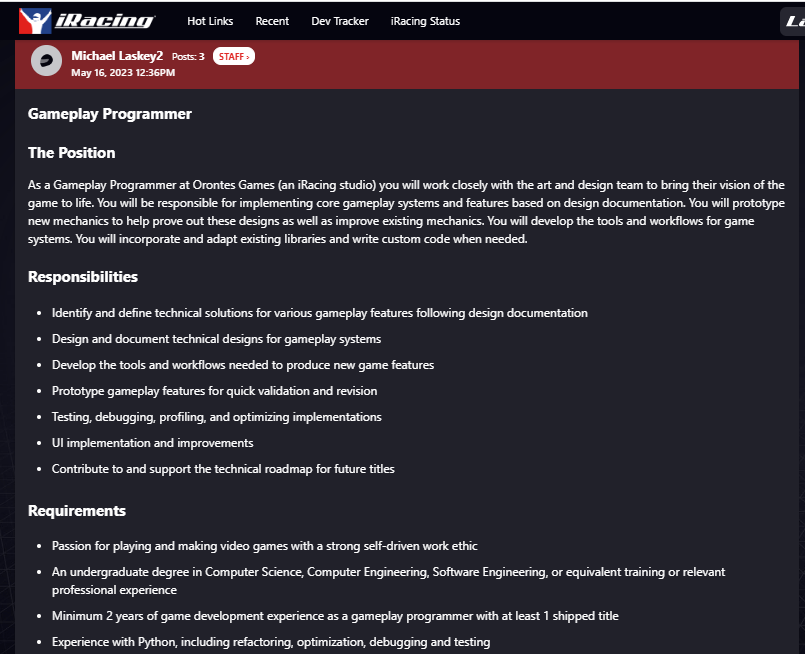 https://forums.iracing.com/discussion/41970/gameplay-programmer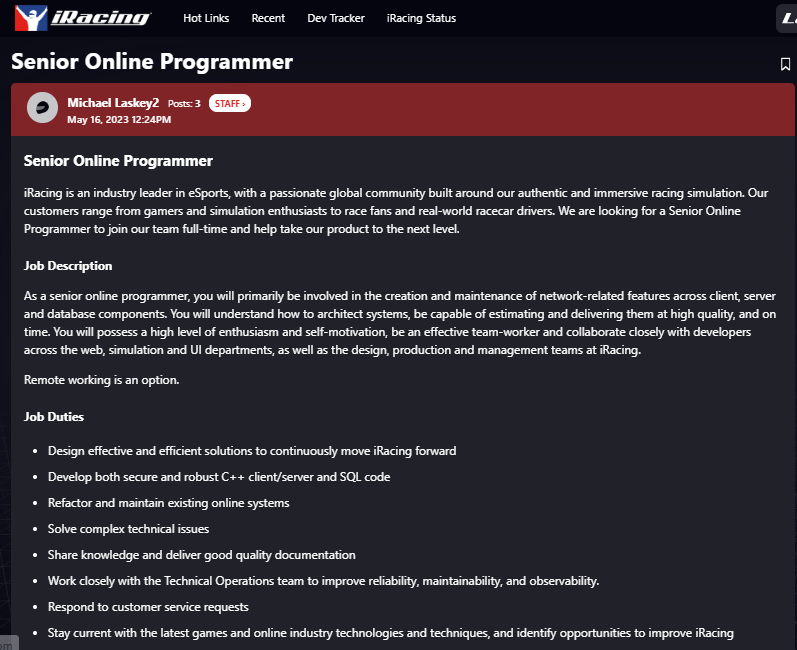 https://forums.iracing.com/discussion/41967/senior-online-programmer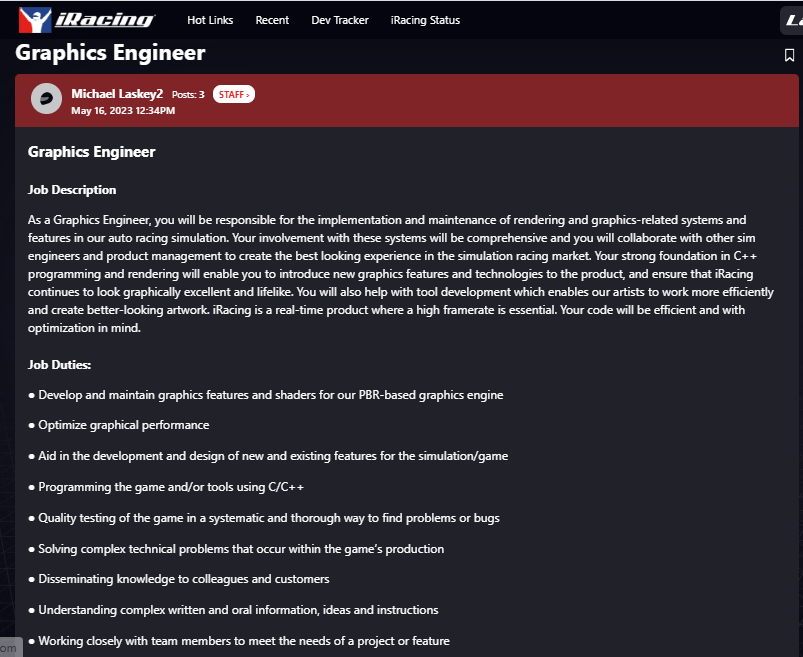 https://forums.iracing.com/discussion/41969/graphics-engineer#latest
They did post this one but removed it –
iRacing Community community@iracing.com
9:31 AM (11 hours ago)
to me
iRacing Forums
Michael Laskey2 Started a new discussion. Senior UX Designer
Senior UX Designer iRacing is an industry leader in eSports, with a passionate global community built around our authentic and immersive racing simulation.
---
---
Nurburgring Potential Exploit
Prior to the Nurburgring race weekend iRacing posted a Tweet warning driver from using a potential exploit in pit road
---
---
Podcast Housekeeping
Leave us a review on your favorite podcast platform to make it easier for more listeners to find the podcast. Mention the podcast to your fellow drivers so they don't miss out, we would appreciate it.
Check out our Discord https://discord.gg/rvRas4DDqF
New Website – Leave Comments https://www.iracerslounge.com/
---
We are in the regular rotation… (Mike)
https://performancemotorsportsnetwork.com/
https://channelstore.roku.com/details/9d27a1e9dd15b92535d7cfe85407288e/the-sim-racing-channel
https://thesimracingchannel.com/watch-live/
Fantasy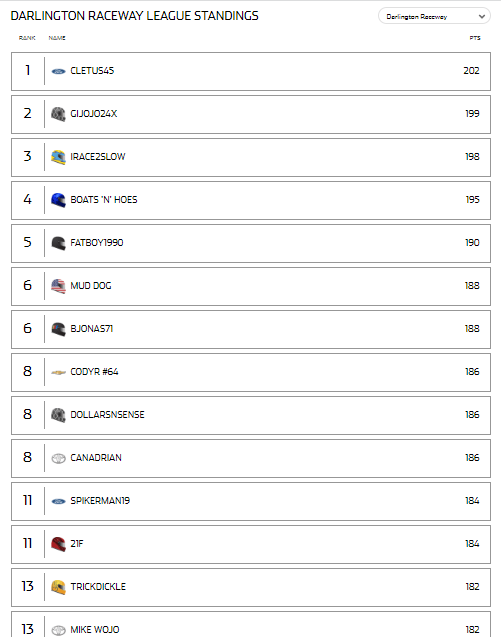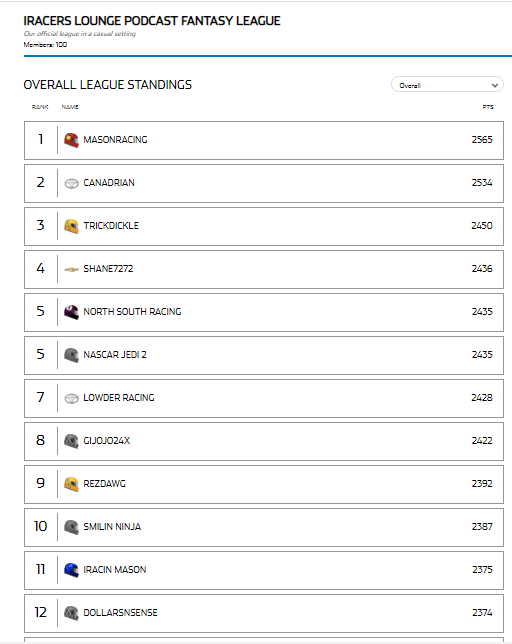 ---
---
Hardware/Software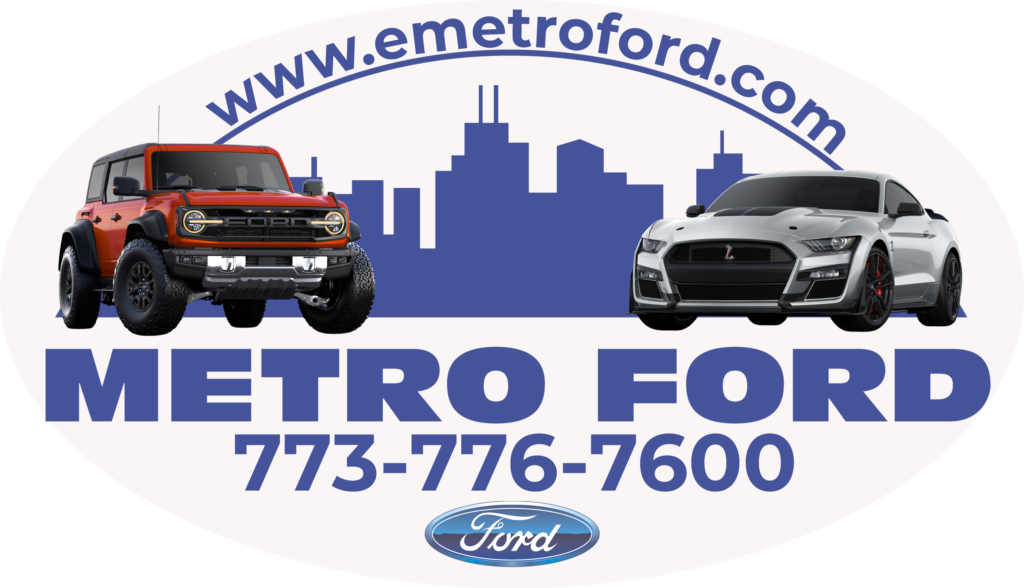 ---
Asus Problems
Asus problems with their software and motherboard have gotten so bad that prominent reviewers are ditching their sponsorship
---
---
Grid Engineering 911 GT3 Button Box
The officially licensed Porsche 911 GT3 Cup (991) Button Box Console provides users with 42 individual inputs and is constructed using the best components and materials available.
https://grid-engineering.com/en-us/products/porsche-911-gt3-cup-991-button-box-console
---
---
Realistic Sim FFB
Daniel Morad shares his Simucube FFB Profiles so you can get the most realistic settings
---
---
Triple 45″ 21:9 OLED Possible?
Nathan Bartley is looking for some advice from the community on this one. He's considering testing a triple monitor setup using the new LG ultragear 45″ widescreen monitors. These are 21×9 aspect ratio, so in between an ultrawide 32×9 and the normal 16×9.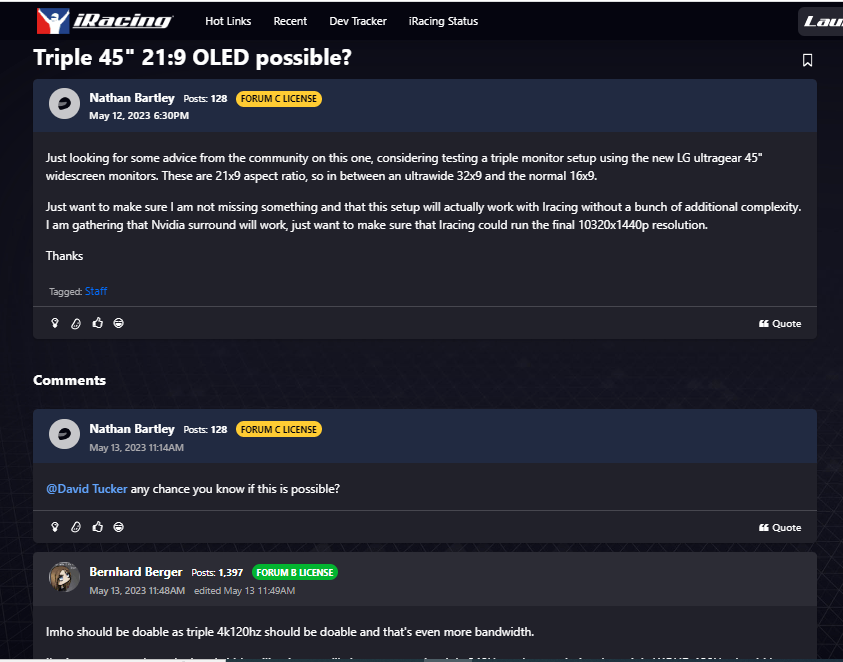 https://forums.iracing.com/discussion/41782/triple-45-21-9-oled-possible
---
---
What CPU?
Mario E. Moretti asks in the forums Do you think changing my I7 10700 to a I7 13700k (motherboard changing requaired, offcourse) give me e good spep up in performance?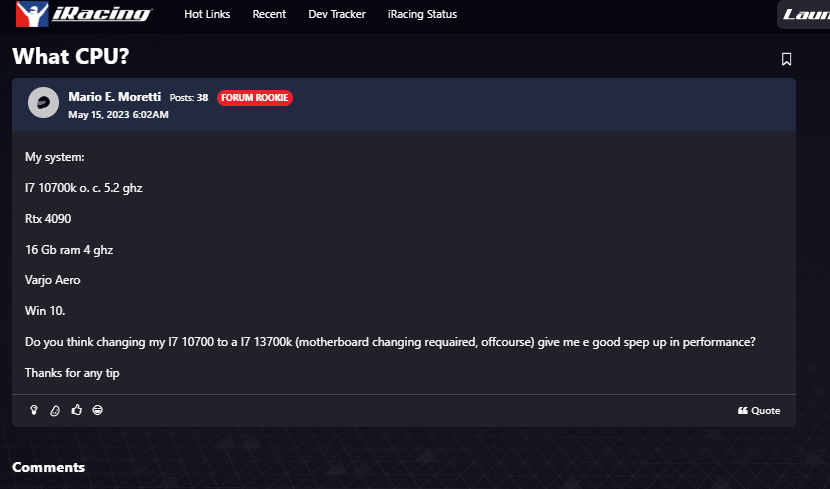 https://forums.iracing.com/discussion/41893/what-cpu
---
---
Monitor Mirrors
Amazon sells a monitor mounted wide angle rear view mirror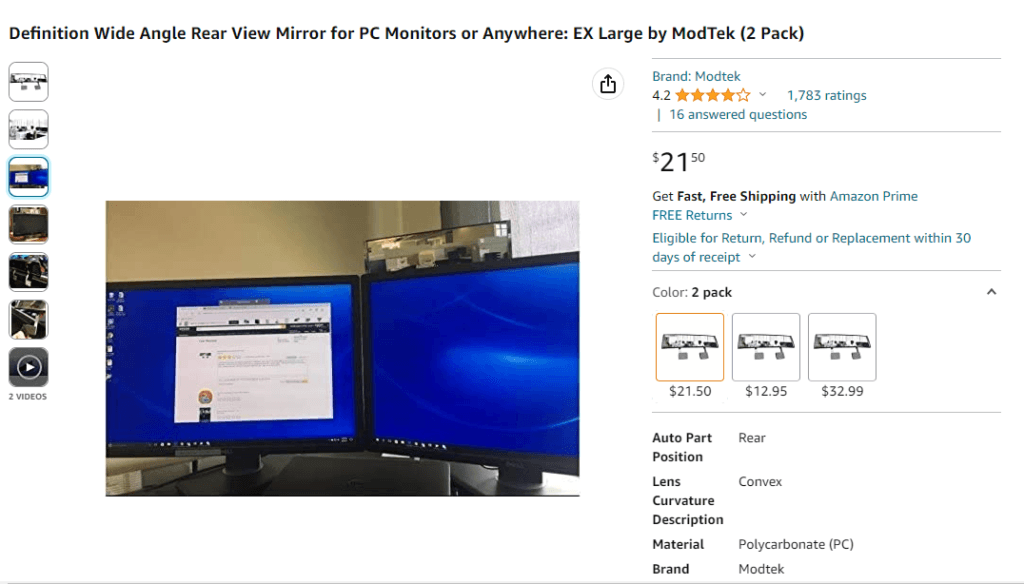 https://www.amazon.com/Definition-Angle-Mirror-Monitors-Anywhere/dp/B08L1F3YWV
---
---
Denver Racing Sim
Denver Racing Sim posted a video of their impressive fill motion sim
---
---
Pick the Weirdest Wheel
Douglas Thompson asks viewers what's their favorite non wheel in his latest video using highly unconventional wheel rims.
---
---
Thrustmaster T818
The Thrustmaster T818 Direct Drive, bundled with the Ferrari SF1000 Steering Wheel, is available to pre-order in Europe… not including the UK.
---
---
SRM QR Adapter for SC2 Wheel Base
This is the easyest product to use if you want to use a different QR system or spacer on your SC2 wheel base.
---
---
SG Sequential Shifter
Laurence Dusoswa reviews the new SG Racing Sequential Shifter
---
---
Results
NASCAR iRacing Series
Friday Open – Darlington
Mike -. P14- had a good run was running top five most of the race had some run-ins with some guys. Getting wrecked and putting in the back and then got dumped on a couple Greenway checkers. P14.
Rochette Pwrecked
Justin – p10, Started p11 really came down to green flag pit stops and i rolled the dice and pitted early than a quick caution came out and cost me to go lap down couldn't get back on the lead lap
David – P.dnf connection issues
Saturday Fix
Justin-P1 Winner, started 8th and never dropped lower than the top 10. Took the green as the leader 21 to go never looked back and took the checkered win.
Sunday Open
Mackenzie – DNF – lost internet connection
David – P dnf, self spin
Sunday Fixed
Mike – p
Justin- p1, Started 11th i remember getting to the top 5 by the 10th lap but came off of 2 got loose that made me go back to 22nd, had a couple quick restart that moved me back up to the top 10. Then a big green flag run came 70 laps i was leading 8 laps short on fuel Caution. 25 to go lost a position on pit road started second on the last restart cleared him by turn 3 and kept the leadTom –
---
---
Official Series
Ellis–
GEN four at Talladega p7. Was in control of the race at the end, making great moves from all three lanes at the front was leading on the bottom all the green white checker coming to the white, but we rec coming to the line and I didn't survive.
Same car, but top split this time P 10. Let a bunch of laps got involved in a few incidents Got turned twice on purpose, but was able to rebound each time. One time I tried to fill a hole that wasn't quite there and ended up wrecking a bunch of cars that under caution the guy came and turned me but no damage.
Gen 4 again. WRect out on first lap.
GEN four at Nashville top split. P21. Got hooked with a guy on lap two, and turned into the wall. That was enough damage for me to be slow to not have a good finish.
Sprint car at Langley. P15. Out of 25.
Euro Sprint Series
Hall – p1 Daytona. Included beating two 2000+ drivers, including one who was a turn one hero who put himself in the wall on lap 2 (surprised?)
---
---
League / Hosted Races
OBRL Cup
Brian -P25 Ran mid pack just trying to survive when the sim froze and I had to rejoin 12 laps down. Rode it out till the end.
---
---
Final Thoughts
---
---
Words Spoken in Closing Audio Clip -""Thank you for listening to the iRacers Lounge podcast make sure to go subscribe to us on iTunes, SoundCloud, or Google Play, Facebook & Twitter, See You On The Track ."
TITLE
Clunk
Description
On todays show we will look back at the Throwback Coke Series Race a Darlington Raceway. iRacing releases a new series with a twist, and we will check out a video with wheel rims like, we promise, you've never seen before. So sit back, relax and join us on the iRacers Lounge Podcast.
iRacers Lounge Podcast is available on iTunes and Apple's Podcasts app, Stitcher, TuneIn, Google Play Music, Spotify, Soundcloud, Podbean, Spreaker, Podbay, PodFanatic, Overcast, Amazon, and other podcast players.
Sponsors:
Hosts:
Mike Ellis – twitter.com/MikeDeanEllis
David Hall – www.twitch.tv/mixmage
Greg Hecktus – twitter.com/froozenkaktus – www.twitch.tv/froozenkaktus
Brian Maccubbin – www.twitch.tv/MacRubbinsRacin
Kyle Pendygraft – twitter.com/LoudPedalGaming
Tony Groves – www.twitch.tv/SirGroves
Adam Josselyn- twitter.com/Jossad83
Tony Rochette – twitter.com/TonyRochette
Tom Dreiling –
Donnie Spiker – twitter.com/Spikerman19
Bobby Jonas –
MacKenzie Stevens – https://twitter.com/MackStevens48
Justin Pearson – https://twitter.com/big7bang_
Links:
Facebook – www.facebook.com/iRacersLounge/
Twitter – twitter.com/iracerslounge
Instagram – instagram.com/iracersloungepodcast/
Web (Show Notes) – iracerslounge.com/