5/11/2023 – Watermelon Punch – Episode 0382
iRacers Lounge Podcast – Conversation Topics
Brought to you by:
---
---
Opening Audio Clip -"Your listening to the iRacers Lounge Podcast where we discuss everything iRacing, in a casual setting, enjoy."`
READ THIS AT THE TOP OF EACH SHOW!!!
Welcome to the iRacer's Lounge, I am your host "XXX". iRacer's Lounge is a podcast for the iRacer, where we talk all things iRacing in a casual setting.
Joining me are the usual characters, ———— 
---
---
Show Introduction
On the show today we'll check out a fantastic finish to the Porsce Supercup Series Race at the Nurburgring. We'll see why Daniel Morad thinks iRacing is the best of all the motorsport sims, and see the real reason why you shouldn't drink and drive.
And remember you can follow along with us on your PC or mobile device in real time as you listen to the show and see for yourself all of the great topics and products we'll discuss by visiting iracerslounge.com and selecting show notes. Hope to see you there..
---
---
Topics
---
---
Porsche All-Star Racing
Matt Malone hangs on through a wild ride in the Porsche All-Star Race at Nurburgring
---
---
Porsche Racing
The Porsche GT3 Cup Cars grabbed some air over the rises at the Ring!
Porsche Supercup Round 8
Alexandro Bico nudges out Yohanne Harth in an epic battle to earn his first Porsche TAG Heuer Esports Supercup Feature win at the Nürburgring
Bico earns first Porsche TAG Heuer Esports Supercup Feature win at the Nürburgring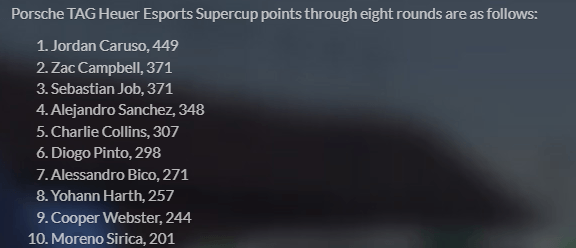 https://www.iracing.com/bico-earns-first-porsche-tag-heuer-esports-supercup-feature-win-at-the-nurburgring/
---
---
Bernard Gets A Taste Of the Dark Side
Former NFL player Bernard Pollard, 'The Black Dale Jr' gets physical behind the wheel, istead of on the gridiron
---
---
You Spilled My Beer
Steelehorselive shows the downside of drinking and sim driving
---
---
Audio to Pull Out
Audi is expected to shut down its customer racing division after the 2023 racing season, including its involvement in the DTM and other GT3 categories with the R8 LMS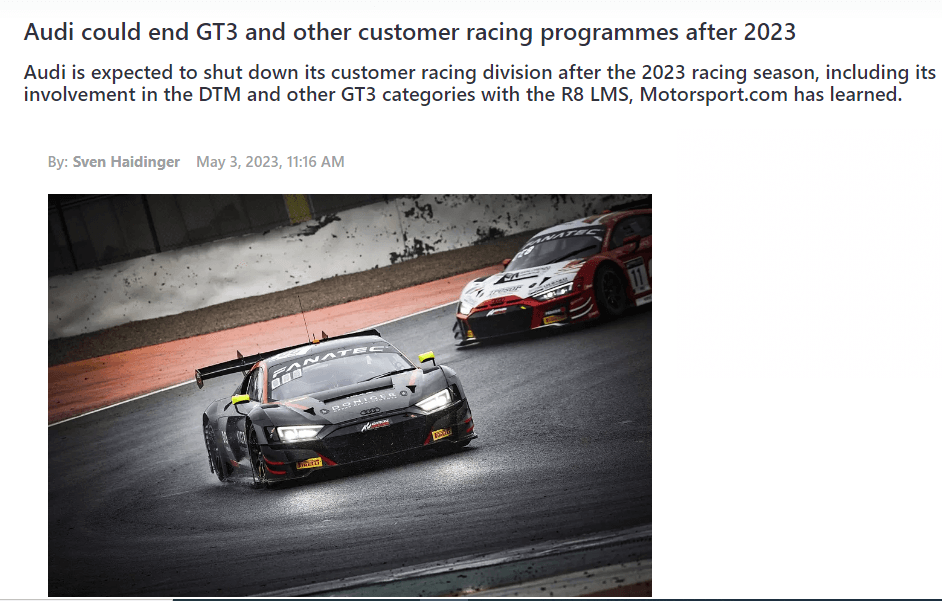 https://www.motorsport.com/dtm/news/audi-could-end-gt3-and-other-customer-racing-programmes-after-2023/10464606/
https://forums.iracing.com/discussion/41540/audi-to-end-all-gt3-other-categories-for-f1#latest
---
---
Sim Lessons for Streamers
---
---
Why It's The Best Sim Right Now
It's all about the brakes. Daniel Morad thinks iRacing is the best sim because the brake model most accurately simulates real racing, and that's what seperates the talent betweeen drivers
---
---
A Three Year Journey
Starting with a cleaning lead by Dale Jr for the purpose of scanning into iRacing, North Wilksboro has been fully restored and will host Nascar's All Star race next weekend
---
---
Season 3 Build Rumor Thread
What we know so far for the Season 3 build presented by Kyle Noel in the forums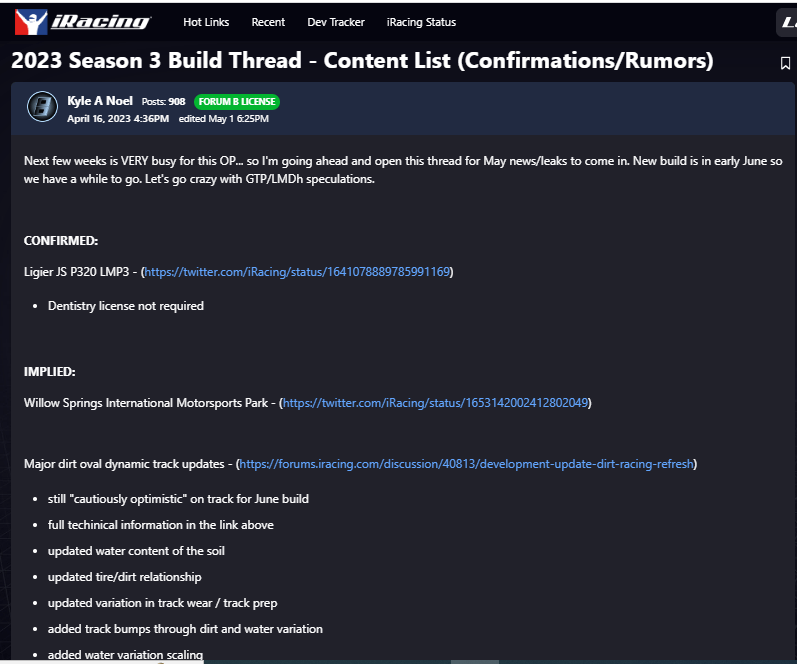 https://forums.iracing.com/discussion/40713/2023-season-3-build-thread-content-list-confirmations-rumors/p1
---
---
Can ChatGPT Make A Setup
Team I5G posted a YouTube video asking if ChatGTP AI can make a car setup
---
---
First Content Teaser
iRacing Tweeted the first teaser of the new season with the MotorLand Aragon in Spain
---
---
F1 Arcade in Boston
Adam Stern Tweeted that the new F1Arcade Bar, Restaurant and Arcade will launch in the US market in early 2024 in Boston
---
---
Season 2 Patch 5 Release Notes
https://support.iracing.com/support/solutions/articles/31000169917-2023-season-2-patch-5-release-notes-2023-05-08-02-
---
---
Majors 24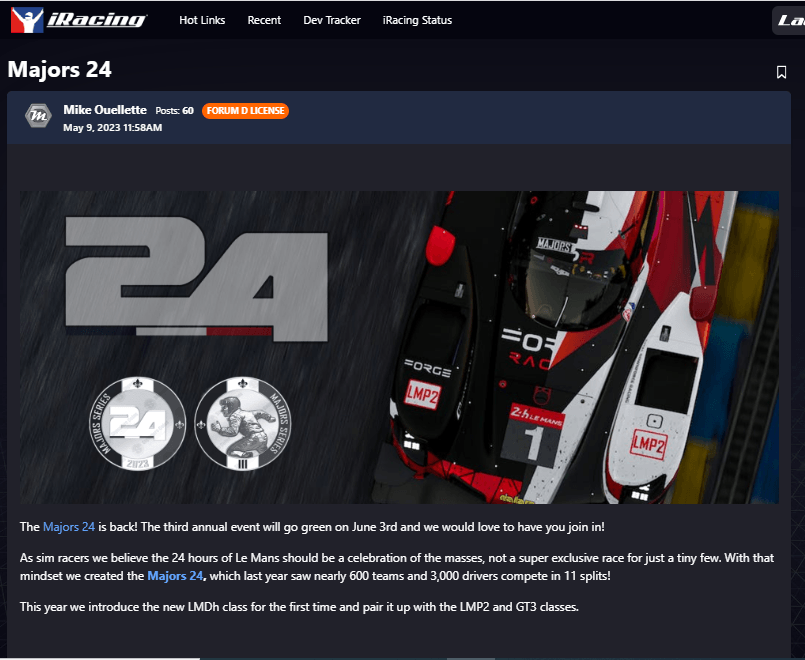 https://forums.iracing.com/discussion/41644/majors-24
https://majorsseries.com/event/majors24
---
---
The Nurburgring 24
https://www.iracing.com/this-week-iracing-nurburgring-24-special-event-2023/
https://forums.iracing.com/discussion/40618/bop-added-iracing-presents-the-2023-nuerburgring-24h/p1
https://forums.iracing.com/discussion/41688/session-registration-update-for-the-entire-iracing-service-for-nuerburgring-24h-weekend-of-may-12th
---
---
Podcast Housekeeping
Leave us a review on your favorite podcast platform to make it easier for more listeners to find the podcast. Mention the podcast to your fellow drivers so they don't miss out, we would appreciate it.
We may be open again to entertaining adding a new person to the team, someone who can be on the podcast recordings, Thursdays, 645p Eastern, AND, of course race NASCAR with us as Team Tifosi… If you think you are that person, hit me up on the side for an interview.
Check out our Discord https://discord.gg/rvRas4DDqF
New Website – Leave Comments https://www.iracerslounge.com/
---
We are in the regular rotation… (Mike)
https://performancemotorsportsnetwork.com/
Fantasy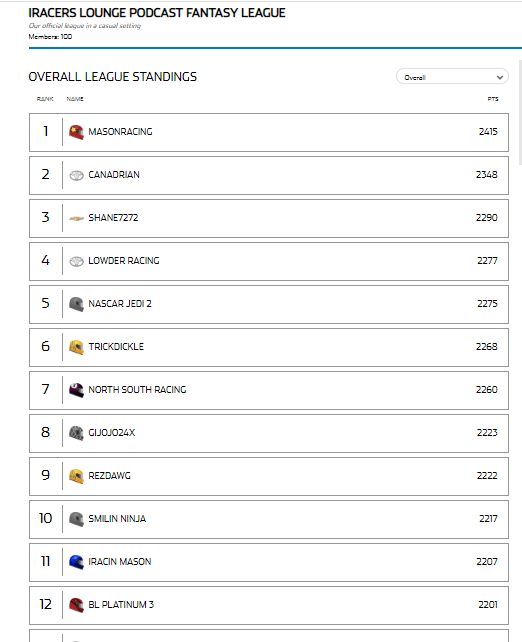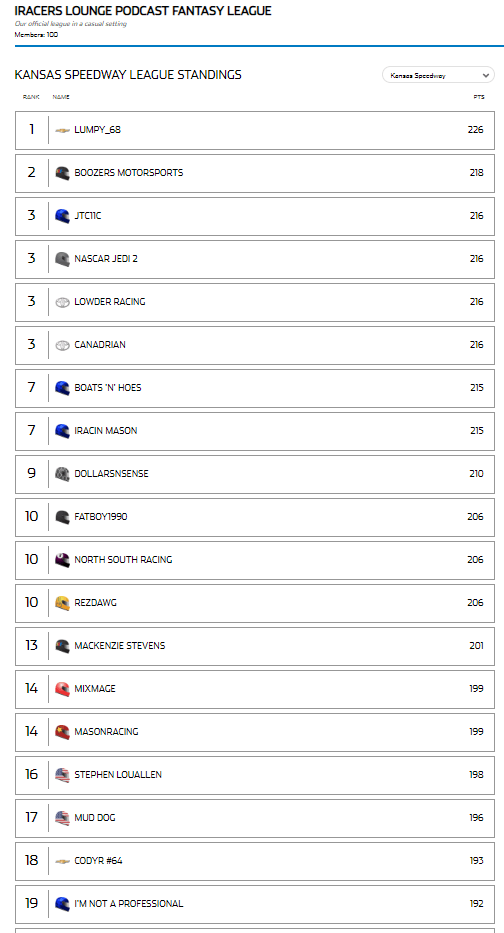 ---
---
Hardware/Software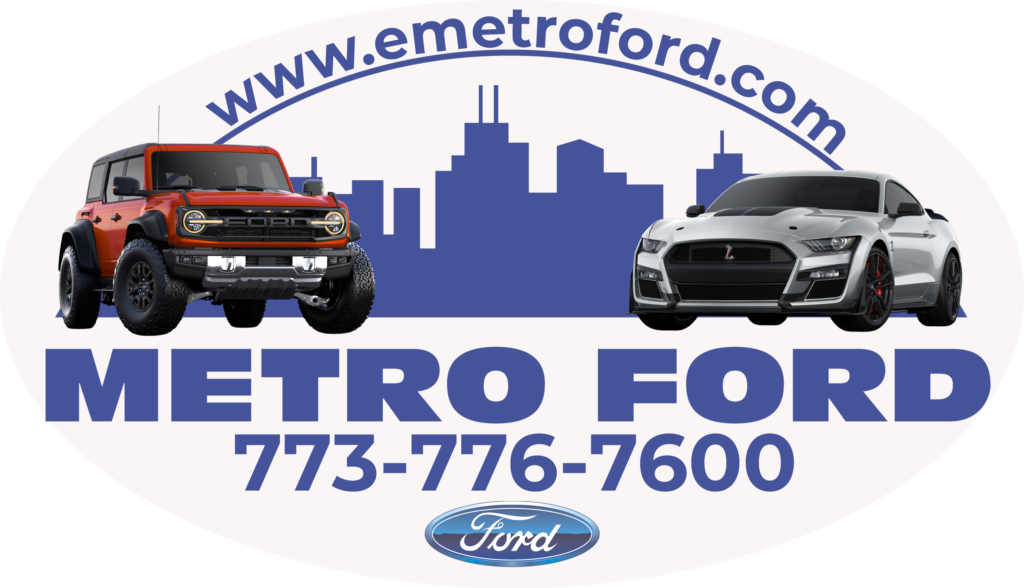 ---
IMB Sim Wear – Gloves, Shoes, Socks
Advanced hardware has brought the height of realism to homes and their highest quality simulation products are designed to help bring out your optimum performance on the virtual track, whilst preparing for the real track.
https://www.imbracewear.com/pages/sim-wear
---
---
Simline 720s GT3
Simracing Enthusiest Rewiews the Simline 720S GT3 formula wheel
https://simline.eu/en_US/p/Simline-720s-Dual-Clutch/34
---
---
300 Off Varjo Aero
The Varjo Aero Vr Headset is now available for $300 off the regular price
---
---
THE F1 WHEEL FANATEC NEED – Leoxz XF1 Sport Sim Racing Wheel Review
Listener Tim Perry showed of his new Leoxz wheel in our discord earlier today…
https://www.raceanywhere.co.uk/collections/leoxz?sca_ref=2412423.JehQhmjktc
---
---
Triple 42″ 4K OLED Build
Nathan Bartley shows how he built his Triple 42″ 4k OLED setup
https://forums.iracing.com/discussion/41586/triple-42-4k-oled-build
---
---
Introducing iRace: The Ultimate iRacing League Management Tool
iRace is a Discord-based management tool that offers an extensive feature set to help you manage your iRacing league more efficiently and effectively. With iRace, you can track your league's stats across all leagues your drivers participate in, view season graphs for star power and consistency metrics, and access race graphs for driver lap consistency and individual driver lap time comparisons. You can also view season driver, team, and club standings, track league history, and filter all stats by groups.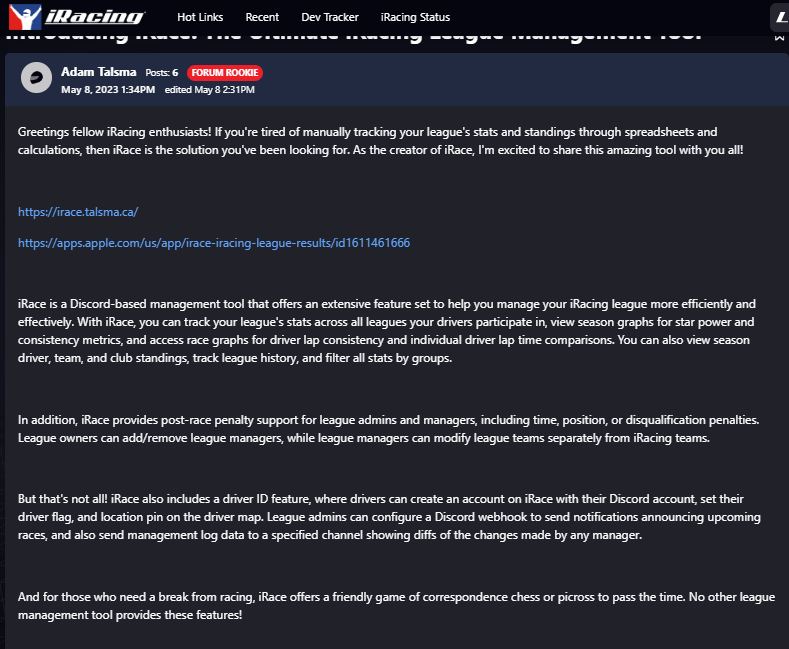 https://forums.iracing.com/discussion/41591/introducing-irace-the-ultimate-iracing-league-management-tool
https://irace.talsma.ca/637/90266
https://apps.apple.com/us/app/irace-iracing-league-results/id1611461666
---
---
Treq Formula Racing Cockpit Review
Karl Gossling reviews the Treq Formula Racing Cockpit
---
---
Inzio 2 Formula Sim Rig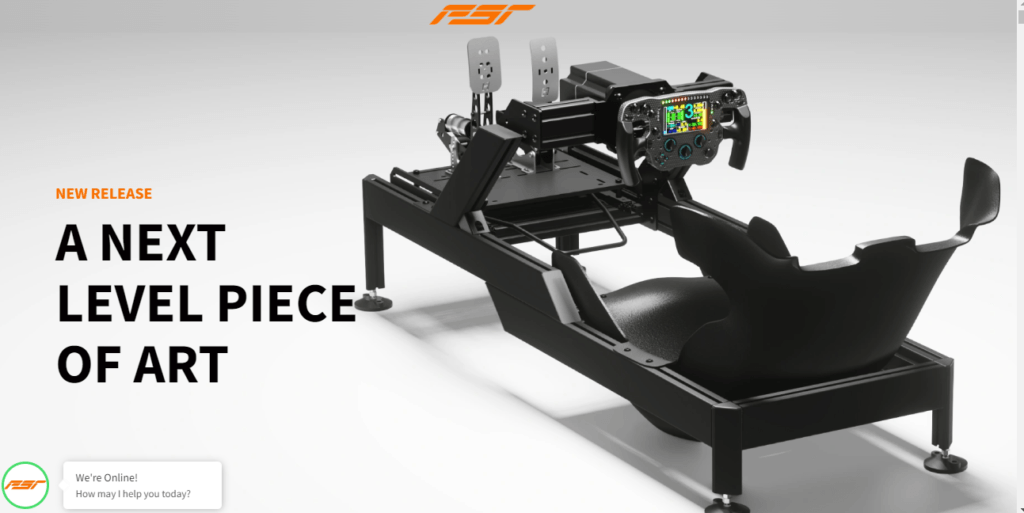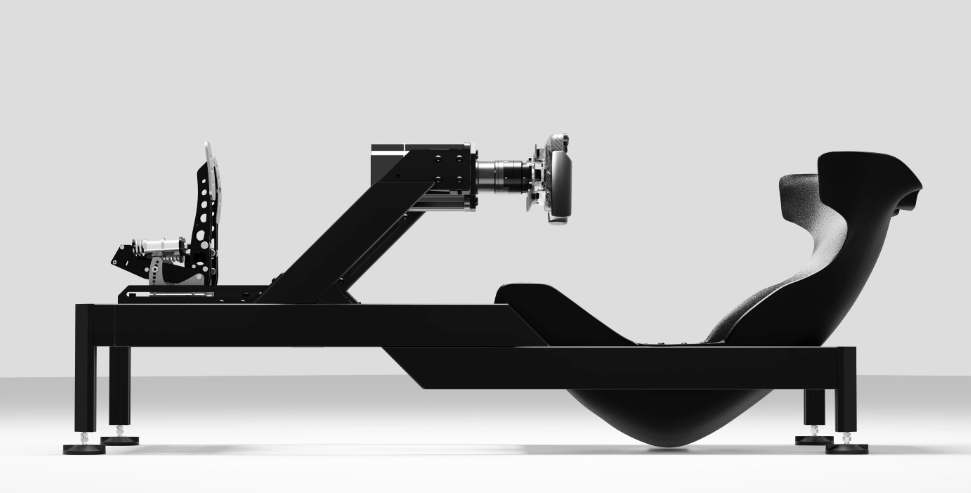 https://www.formulasimrigs.com/product/inizio2/
---
---
Results
NASCAR iRacing Series
Friday Open – Kansas
Mike -. P hadd a first good move forward to be out for the first eight laps and then got disconnected from the Internet. Came back six laps down.
Rochette P8 sucked at Qual. Put me in the middle of trashy wobbly cars that wanted to wreck in front of me and had no where to go. So with a 49 second meatball and almost 5 minutes optional i just plucked away and got it fixed and made a charge for the front. Just not enough time to get more
David – P 27 top split, running around 20th. Late race cautions start, working my way up. On last start, car in front of me wiggles, I go to outside to pass, then a car on out side either turns down or gets loose and causes me to turn left to avoid. In the process I hooked the first person that got loose. At that point I didn't have time to lift. This person had a long argument with me. Think I should have lifted when they got loose in front of me coming to the white, and is wrong. Still respect the driver, but they want me to take 100 percent of the blame and are wrong, it was a mixed up hard racing and people wiggling situation.
Sunday Open
Rochette -P2 still sucked at qual. Almost same result as Friday with trashy drivers and smashing my nose on a spinning car but on just 30 seconds optional. Was fast on the long run. Restarted 3rd for the final gwc and got 2nd and probably could've got a dub if we had more laps but isn't that always the case
Mackenzie –
David – P 29 caution when i was in great position, then everything that could go wrong did, had a guy bounce off wall and knock me off track, then spun out in restart stack up, then meat balled in 2nd restart stack up. Its just not a good year
Wednesday Open: Darlington
Mike- p5- had a good run going until I had video black out completely on me on the backstretch and I would come back maybe two seconds later luckily I didn't wreck but lost a bunch of track position. It happened a few times, but wasn't critical to the race. Just losing track position. Eventually it stopped and I started working my way forward, but got turned on the backstretch. The guidance drifted right up until the top lane. Once again, moving my way forward on the final runs I get up to the top five.
Tom D – p2
Tyler- P22nd. Ran my first ever NIS at the lady in Black. She was a major challenge no doubt. Many stripes on the car but finished with a 4x. Tagged wall off 2 hard and damaged the right front and had to put with 30 to go under green. Was running 15th when it happened. Fun racing with the team.
---
---
Official Series
Ellis–
Indycar at old Michigan P2 in hosted Chris McGuire my first race attempt after figuring my Internet.
GEN four at Talladega- p2 – ran the top 10 most of the race took the lead on 17 to go on the last run. I ended up in the top lane top 3 wide as we came down to the end of the last lap. I moved to the middle but the guy dodged out on the straight on barely got by me right at the end
Ran the very next race hunting for the win was leading w 10 to go it was 3 wide most of the race middle lane first car guy on bottom bobbles bumps me I save it but he then hits apron then wipes out whole field… finished 2nd to dead last
Sprint car at Concorde. Start a 12 out of 16 in the bottom split finished P6. Lots of heavy hitters in the top split strength of field about 4700 PJ Stergios in the room. My arms were aching
A car open at Darlington. Started 19th a bunch of early cautions half of a spit it out lap 20 the rest stayed out. We went green 35 laps. After that I ended up P4 at that point. Stayed in the top five and worked myself up to P2 with a restart with four to go. Got wrecked trying to take a second from third ended up P 14.
---
---
League / Hosted Races
MAJORS SERIES – Indy
David – p DNF, failed to complete knockout quali, so went 2nd split, ran well at first, had a car check up mid corner and I just taped them enough to make my car go sliding up and used up Fast repair, got lap back, and later self spun trying to get back towards the front. Terrible showing
OBRL Cup
Brian -P28 Screwed up qualifying and started 34th. Had some good runs and was fighting for P5 with 8 to go when I was involved in an incident that hit the limit for me, and got DQ'd
---
---
Final Thoughts
---
---
Words Spoken in Closing Audio Clip -""Thank you for listening to the iRacers Lounge podcast make sure to go subscribe to us on iTunes, SoundCloud, or Google Play, Facebook & Twitter, See You On The Track ."
TITLE
Watermelon Punch
Description
So sit back, relax and join us on the iRacers Lounge Podcast.
iRacers Lounge Podcast is available on iTunes and Apple's Podcasts app, Stitcher, TuneIn, Google Play Music, Spotify, Soundcloud, Podbean, Spreaker, Podbay, PodFanatic, Overcast, Amazon, and other podcast players.
Sponsors:
Hosts:
Mike Ellis – twitter.com/MikeDeanEllis
David Hall – www.twitch.tv/mixmage
Greg Hecktus – twitter.com/froozenkaktus – www.twitch.tv/froozenkaktus
Brian Maccubbin – www.twitch.tv/MacRubbinsRacin
Kyle Pendygraft – twitter.com/LoudPedalGaming
Tony Groves – www.twitch.tv/SirGroves
Adam Josselyn- twitter.com/Jossad83
Tony Rochette – twitter.com/TonyRochette
Tom Dreiling –
Donnie Spiker – twitter.com/Spikerman19
Bobby Jonas –
MacKenzie Stevens – https://twitter.com/MackStevens48
Justin Pearson – https://twitter.com/big7bang_
Links:
Facebook – www.facebook.com/iRacersLounge/
Twitter – twitter.com/iracerslounge
Instagram – instagram.com/iracersloungepodcast/
Web (Show Notes) – iracerslounge.com/