6/15/2023 – ChatGPT Speedway – Episode 0387

iRacers Lounge Podcast – Conversation Topics
Brought to you by:
---
---
Opening Audio Clip -"Your listening to the iRacers Lounge Podcast where we discuss everything iRacing, in a casual setting, enjoy."`
READ THIS AT THE TOP OF EACH SHOW!!!
Welcome to the iRacer's Lounge, I am your host "XXX". iRacer's Lounge is a podcast for the iRacer, where we talk all things iRacing in a casual setting.
Joining me are the usual characters, ———— 
---
---
Show Introduction
The eNascar Coke Series visits World Wide Tech Raceway and it delivers one of the closest finishes in the series history. We'll answer the question of whether you should race with Jim or Aussie Greg, and we'll look at some new VR headsets options.
And remember you can follow along with us on your PC or mobile device in real time as you listen to the show and see for yourself all of the great topics and products we'll discuss by visiting iracerslounge.com and selecting show notes. Hope to see you there..
---
---
Topics
---
---
Truck Demolition Derby
iRacing posted an Instagram video of the trucks showing off the new damage model with some glorious wrecking
---
---
Spotlight Video
iRacing posted a YOUTube video spotlighting the new Ligier JS P320
---
---
iRacing Sponsor Give-Aways
Season 03 2023 brings with it great opportunities to win great prizes from companies like Maconi Setup Shop, Buttkicker, SIMAGIC, MOZA RACING, Ricmotech, Falken Tyre, DOF Reality, NEXT LEVEL RACING, Pure Driving School, and Sim-Lab!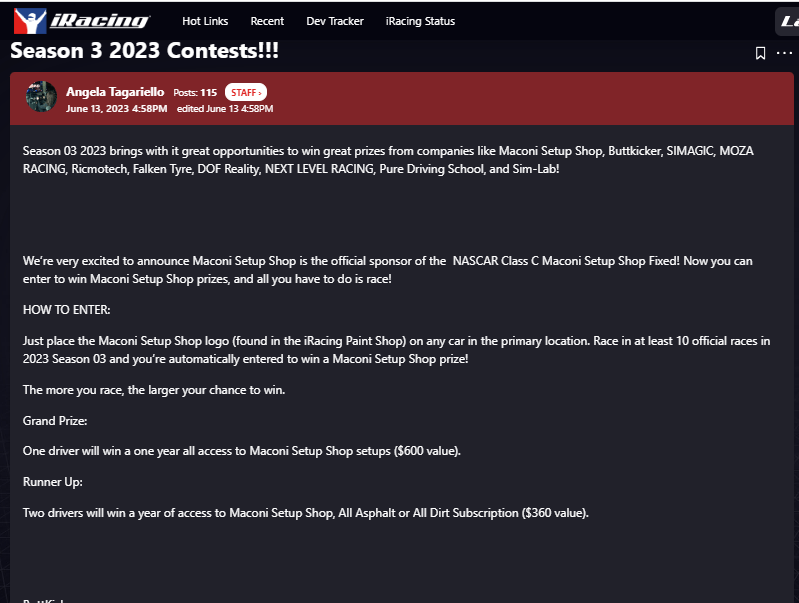 https://forums.iracing.com/discussion/43528/season-3-2023-contests
---
---
Coke Series at World Wide Tech
https://www.iracing.com/another-new-enascar-winner-emerges-as-jordy-lopez-takes-maiden-win-at-wwt-raceway/
---
---
Conti Goes Real Racing
Coke Champion Driver Michael Conti will be driving a Small Block Super Modified car at Oswego Speedway in July
---
---
Season 3 Build Review Video
iRacing posted a YouTube Video reviewing all of the highlights from the Season 3 build
---
---
Season 3 Patch 1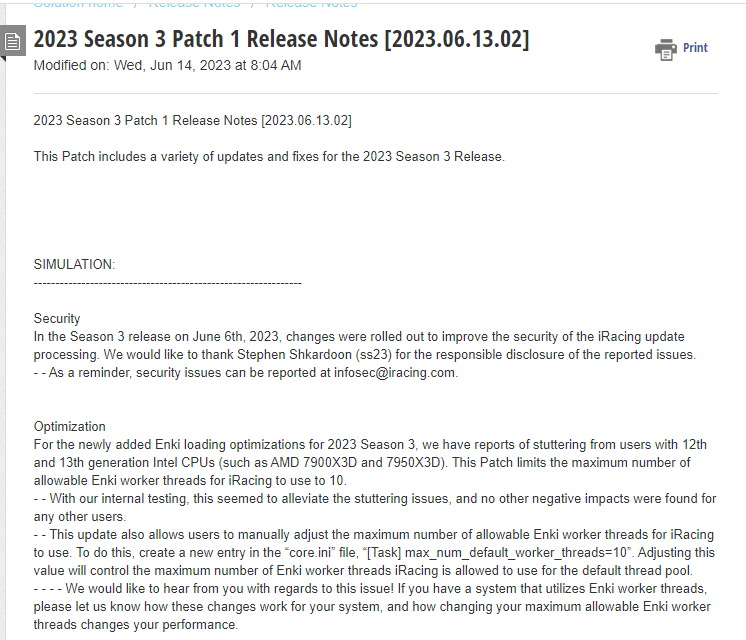 https://support.iracing.com/support/solutions/articles/31000170213-2023-season-3-patch-1-release-notes-2023-06-13-02-
---
---
Spotter Options
With the new improvements in the iRacing spotter, Owen Pyrah asks in the forums if it's time to ditch Crew Cheif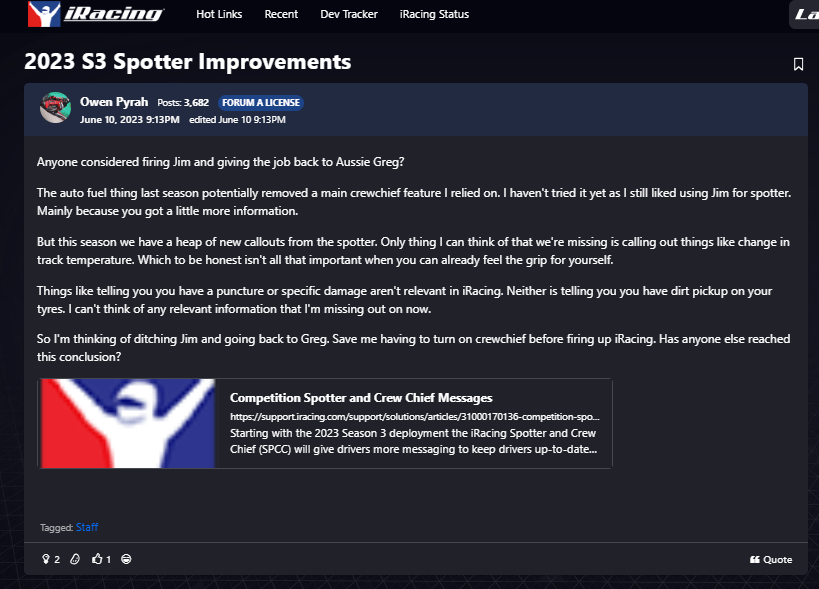 https://forums.iracing.com/discussion/43320/2023-s3-spotter-improvements
---
---
Calm, Cool and Collected
Nothing phases these track officials in a Tweet from Alex Horn
---
---
Spotlight Cadillac V-Series.R GTP
---
---
Chat GTP Course
Nascar on NBC asked Chat GTP to create a new track using turn from extisting tracks
---
---
Free Stuff at the Track
Drew Adamson announced iRacing is giving away free stuff during the Happy Hour Race
---
---
Race for More 2.4
iRacing is teaming up with the National Multiple Sclerosis Society for the 3rd year in a row to host a multi-class team racing event for charity!
https://www.iracing.com/iracing-presents-the-race-for-more-2-4-benefiting-the-national-ms-society-on-august-3/
---
---
iRacing VCO Watkins Glen 6HR
iRacing will temporarily disable session registration via the Membersite (Membersite meaning the legacy website which most members no longer use versus the newer User Interface (UI)), for all series, during the Watkins Glen 6 Hour.
https://forums.iracing.com/discussion/43659/registration-update-for-the-entire-iracing-service-for-watkins-glen-6-hour-weekend-of-june-16th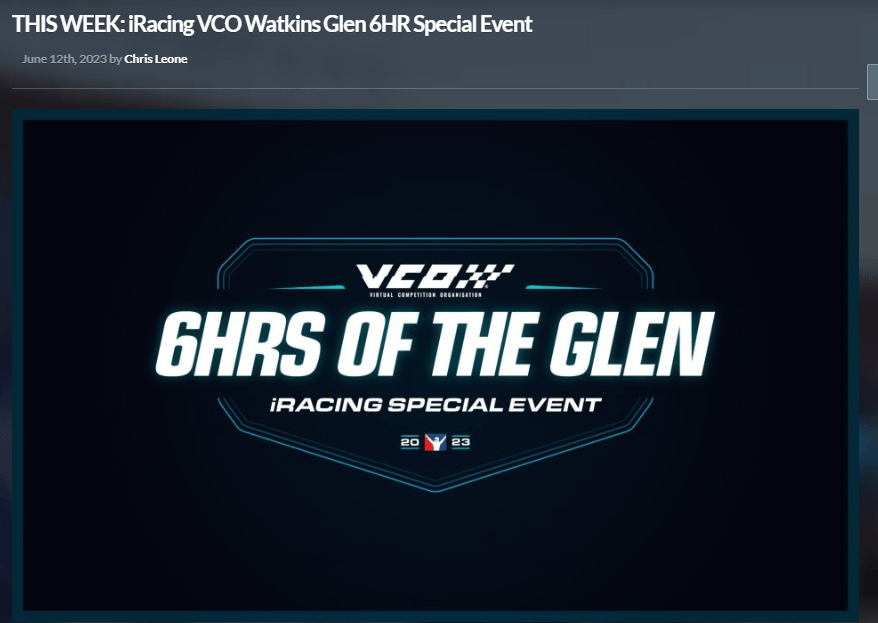 https://www.iracing.com/this-week-iracing-vco-watkins-glen-6hr-special-event-2023/
---
---
Podcast Housekeeping
Leave us a review on your favorite podcast platform to make it easier for more listeners to find the podcast. Mention the podcast to your fellow drivers so they don't miss out, we would appreciate it.
Check out our Discord https://discord.gg/rvRas4DDqF
New Website – Leave Comments https://www.iracerslounge.com/
---
We are in the regular rotation… (Mike)
https://performancemotorsportsnetwork.com/
Fantasy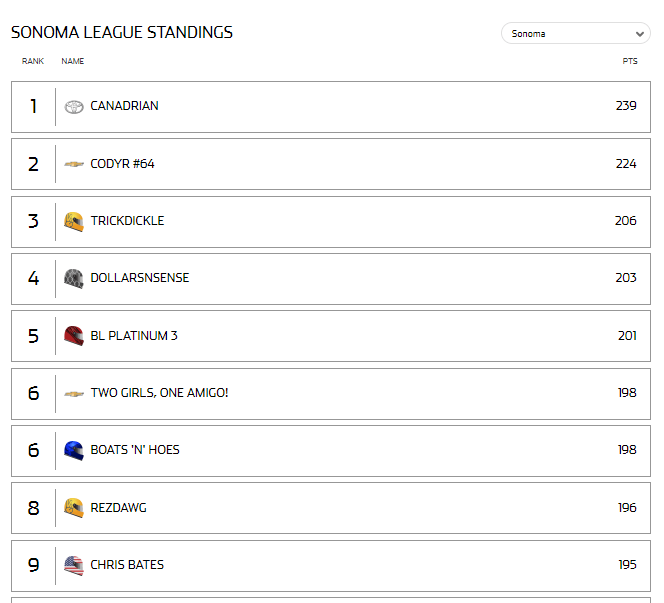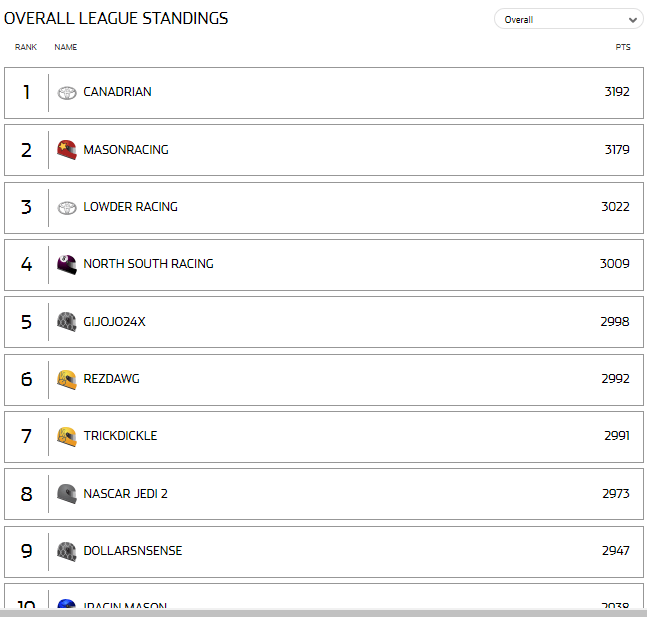 ---
---
Hardware/Software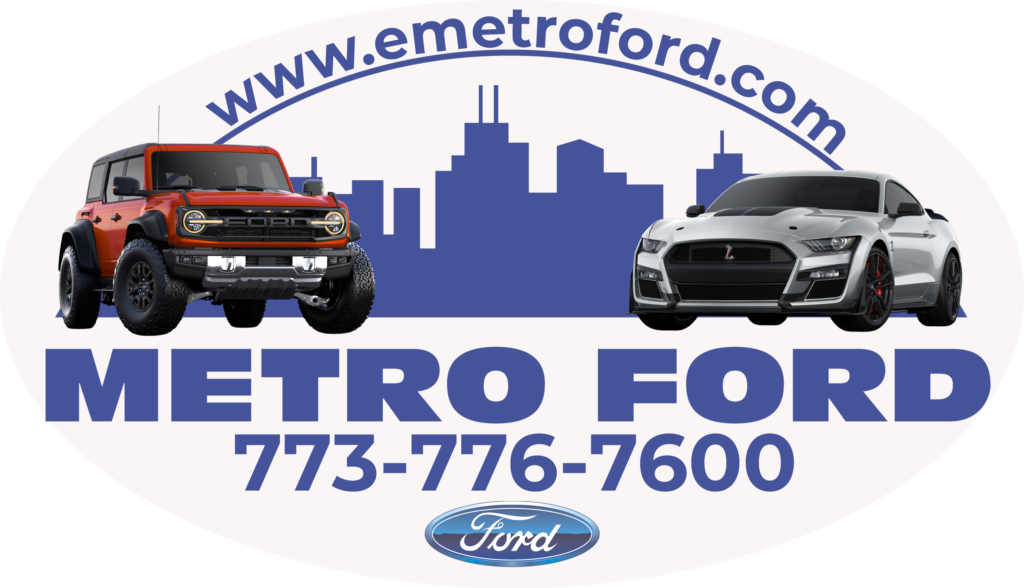 ---
Meta Quest 3
Meta has announced their new Quest 3 VR headset
---
---
Full Send Sims
Full Send Sims offers their turn-key custom built sim rigs for sale and rental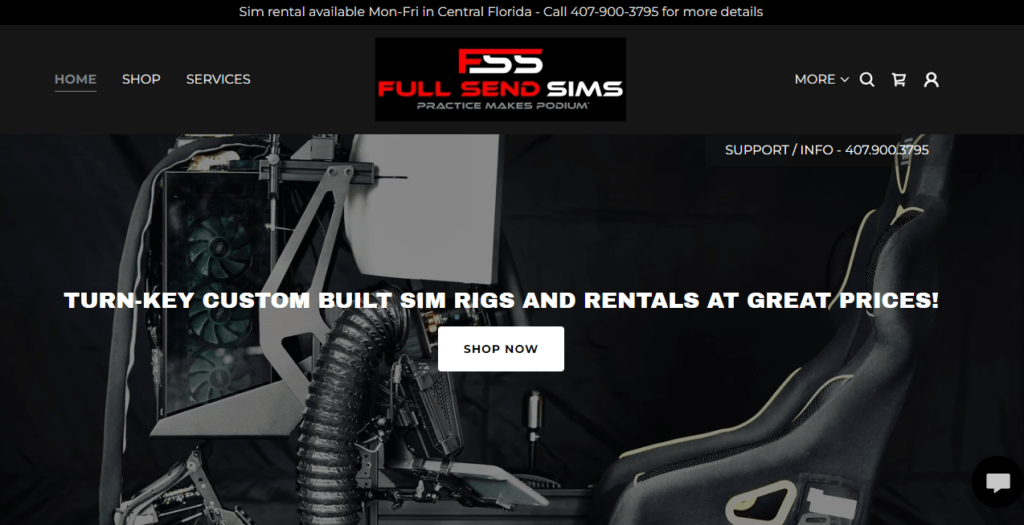 ---
---
What's This Button Do?
Pro Drivr Daniel Morad gives the run down of how he programs the buttons on his formula wheel
---
---
Blue 92 Plus Pedals
Simulator Garage offers its Blue 92 plus load cell pedals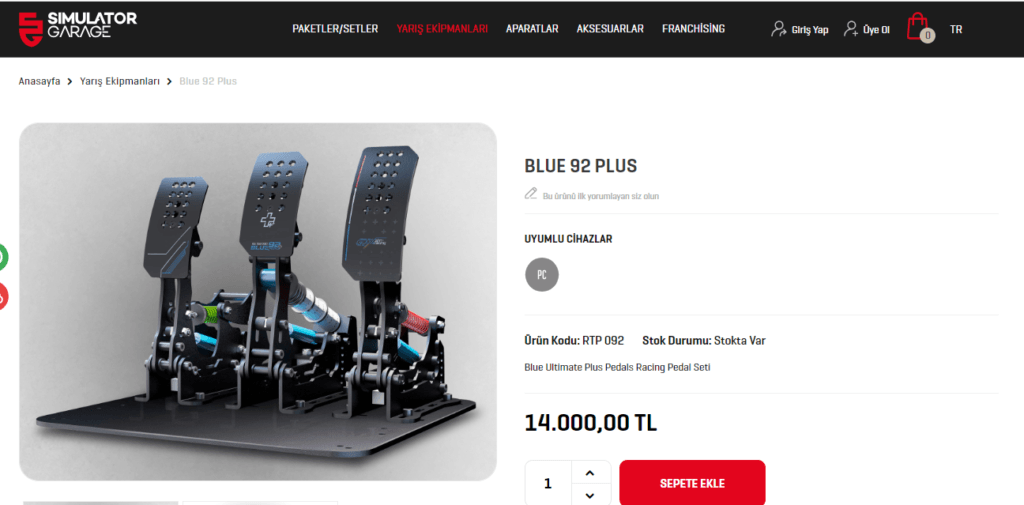 https://www.simulatorgarage.com/blue-92-plus_26_u.html?dil=tr
---
---
Paint Builder 2
Trading Paints unveils the new Paint Builder 2 for Pro members after more than 2 years of development
---
---
Pico 4 Review
Reviewer Karl Gossling reviews the new Pico 4 VR Headset
---
---
Rig Review
Simracingpoint posted a picture of a home-made F1 sim rig setup
---
---
Logitech G Racing Adapter
Boosted Media reviews the Logitech G Racing Adapter that opens new posibilities to cross platform componants
---
---
Gomez GLX Pro Review
Karl Gossling reviews the Gomez GLX Pro Wheel
---
---
Precision Sim Engineering
Precision Sim Engineering's new button box is Simhub integration and live feedback with two, 7-Way funky switches
---
---
Naming Your Paints
Drew Adamson show you in a Twitter post how to name your paint file and use Trading Paints for others to see your paints, or send directly to your friends.
---
---
Results
NASCAR iRacing Series
Friday Open –Mike -. P start p 28 finished P 10.
Greg- p crashed
David – P 21
---
---
Official Series
Ellis–
FIA F4- at Virginia international Raceway qualified 12 out of 21. Got up to pee nine on lap one, but wrecked out by lab 7DNF.
Dallara dash Charlotte wrecked out before the green flag from behind
IMSA
Hall – 3 P3's in a row at the Glen
---
---
Final Thoughts
---
---
Words Spoken in Closing Audio Clip -""Thank you for listening to the iRacers Lounge podcast make sure to go subscribe to us on iTunes, SoundCloud, or Google Play, Facebook & Twitter, See You On The Track ."
TITLE
ChatGPT Speedway
Description
The eNascar Coke Series visits World Wide Tech Raceway and it delivers one of the closest finishes in the series history. We'll answer the question of whether you should race with Jim or Aussie Greg, and we'll look at some new VR headsets options. So sit back, relax and join us on the iRacers Lounge Podcast.
iRacers Lounge Podcast is available on iTunes and Apple's Podcasts app, Stitcher, TuneIn, Google Play Music, Spotify, Soundcloud, Podbean, Spreaker, Podbay, PodFanatic, Overcast, Amazon, and other podcast players.
Sponsors:
Hosts:
Mike Ellis – twitter.com/MikeDeanEllis
David Hall – www.twitch.tv/mixmage
Greg Hecktus – twitter.com/froozenkaktus – www.twitch.tv/froozenkaktus
Brian Maccubbin – www.twitch.tv/MacRubbinsRacin
Kyle Pendygraft – twitter.com/LoudPedalGaming
Tony Groves – www.twitch.tv/SirGroves
Adam Josselyn- twitter.com/Jossad83
Tony Rochette – twitter.com/TonyRochette
Tom Dreiling –
Donnie Spiker – twitter.com/Spikerman19
Bobby Jonas –
MacKenzie Stevens – https://twitter.com/MackStevens48
Justin Pearson – https://twitter.com/big7bang_
Links:
Facebook – www.facebook.com/iRacersLounge/
Twitter – twitter.com/iracerslounge
Instagram – instagram.com/iracersloungepodcast/
Web (Show Notes) – iracerslounge.com/