6/22/2018 – TeamSpeak's too Much – Episode 0388

iRacers Lounge Podcast – Conversation Topics
Brought to you by:
---
---
Opening Audio Clip -"Your listening to the iRacers Lounge Podcast where we discuss everything iRacing, in a casual setting, enjoy."`
READ THIS AT THE TOP OF EACH SHOW!!!
Welcome to the iRacer's Lounge, I am your host "XXX". iRacer's Lounge is a podcast for the iRacer, where we talk all things iRacing in a casual setting.
Joining me are the usual characters, ———— 
---
---
Show Introduction
On the show this week we have Sim Coaches owner Lawrence Thomas. We see how the sim racing community has helped a young, upcoming real world driver. We will debate if iRacing needs to make an adjustment to one of their most frustrating black flag penalties, and wish iRacing a happy landmark anniversary.
And remember you can follow along with us on your PC or mobile device in real time as you listen to the show and see for yourself all of the great topics and products we'll discuss by visiting iracerslounge.com and selecting show notes. Hope to see you there..
---
---
Special Guest
Lawrence Thomas – Sim Coaches
---
---
Topics
---
---
Sim Racer Support
Laurance Dusoswa is using his platform as a sim racing content provider to help fund a young real world racer, Kayle Cole
https://www.gofundme.com/f/potato-nation-sponsors-a-race-car
---
---
Tale of the Glen
iRacing tweeted the 6 Hours at the Glen stats including the overall victory by Team Red Line
https://forums.iracing.com/discussion/43798/service-availability-for-comcast-users-2023-06-17
---
---
Road America Resurface
The RACER Channel reviews the new track surface at Road America
---
---
Chicago Ride Along
iRacing released a ride along video of the Nascar Cup Car at the newly updated Chicago Street Course
---
---
Stray Extinguisher
Zach Miller found an oddly placed fire extinguisher when checking out his paint job
https://forums.iracing.com/discussion/43652/fire-extinguisher-hiding-under-the-track
---
---
Penalty Reduction
Alex M Bates is asking iRacing to reduce the passing under Yellow penalty in Oval racing.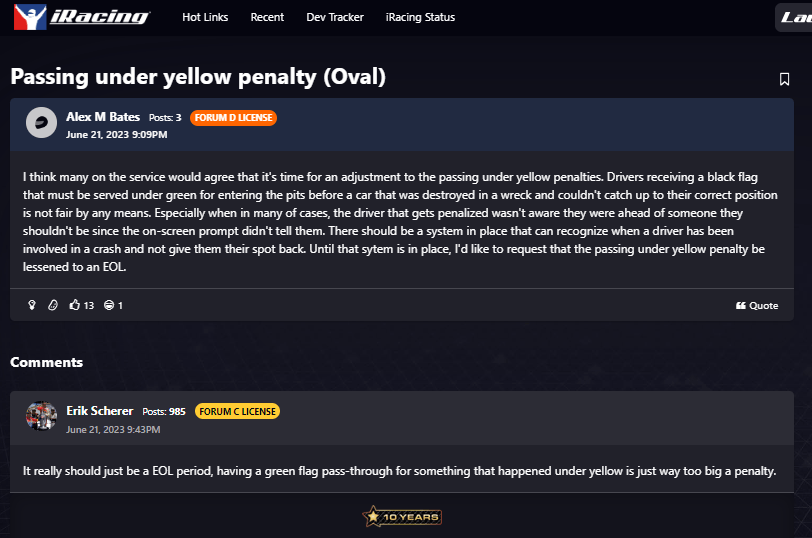 https://forums.iracing.com/discussion/44059/passing-under-yellow-penalty-oval#latest
---
---
iRacing Anniversary
Mathew Wise reminded everyone in the forum that iRacing is celebrating their 15 year anniversary.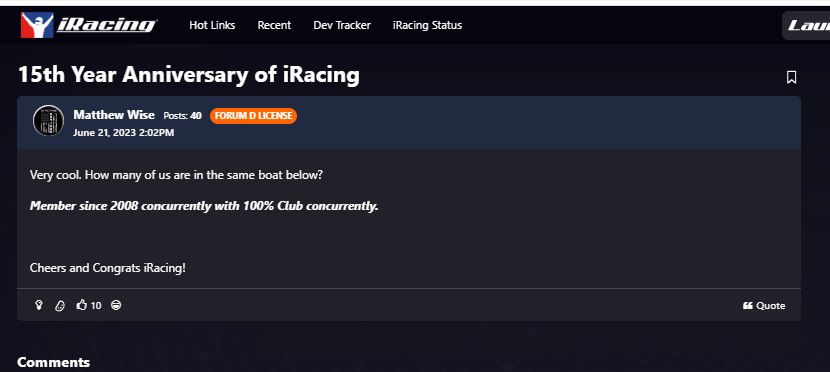 https://forums.iracing.com/discussion/44038/15th-year-anniversary-of-iracing
---
---
Texas Project
IRacing has a podcast out today with Steve Myers as the guest. While on the show he mentioned that "we're working on a project for Texas. Probably nobody knows this…"

---
---
Season 3 Patch 2 Release Notes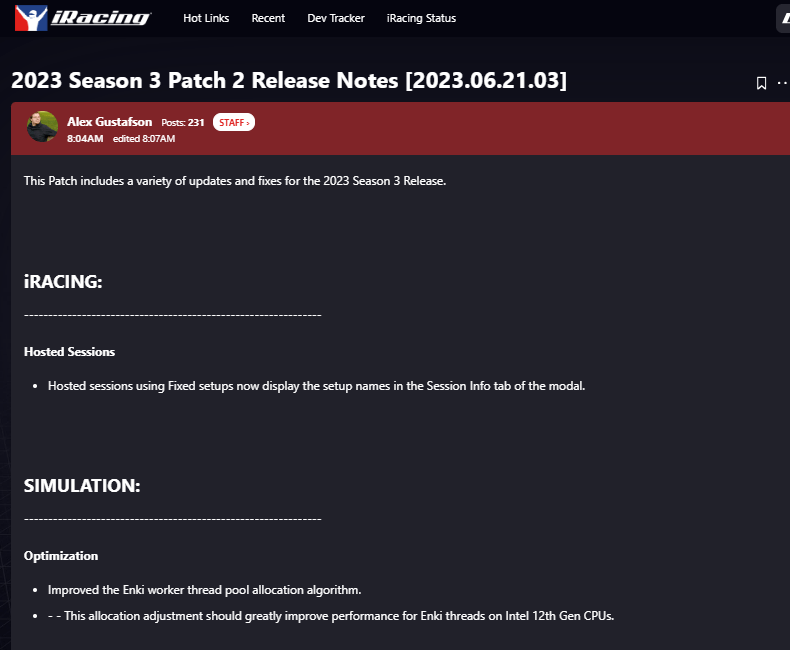 https://forums.iracing.com/discussion/44074/2023-season-3-patch-2-release-notes-2023-06-21-03
---
---
More 'I' in AI
Bryce Douglas in the Forums posted that since the latest update, AI cars don't wreck each other on Superspeedway races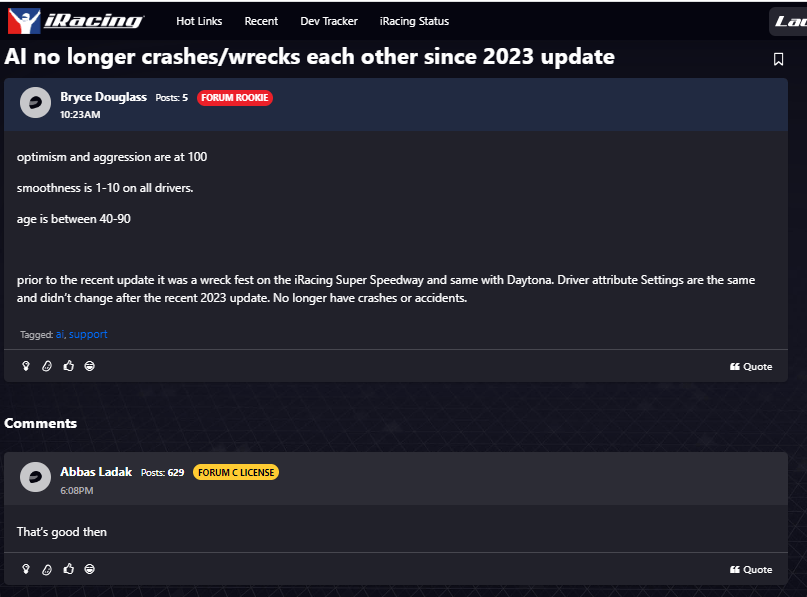 https://forums.iracing.com/discussion/44081/ai-no-longer-crashes-wrecks-each-other-since-2023-update#latest
---
---
Who Changed My FOV
Dennis Peters mentioned in the Forums that since the last season update that, " all my cockpit cameras with adjusted settings are slightly more forward. It also feels like my correct FoV is now noticeable higher than before. "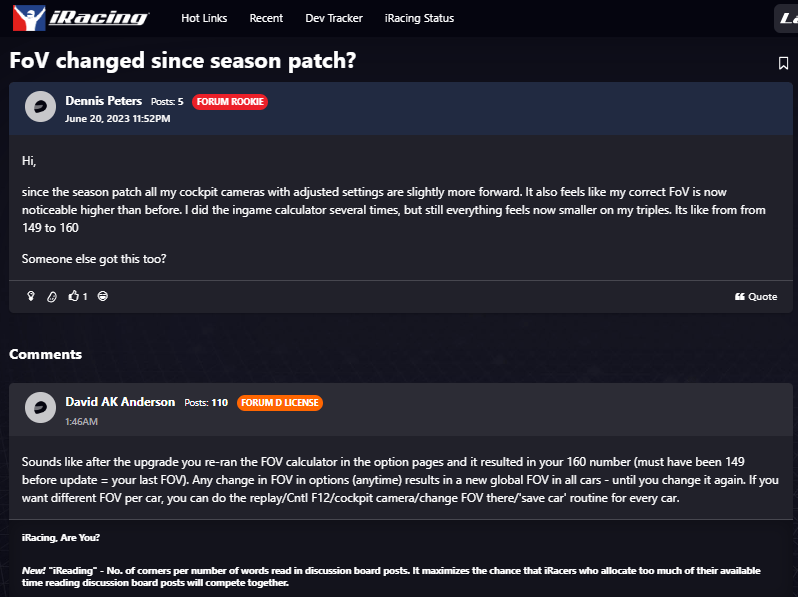 https://forums.iracing.com/discussion/44017/fov-changed-since-season-patch
---
---
Who Needs Chicanes
iRacing posted a video of LMP's flying through Monza without the chicanes
---
---
Nitro Circus Ready for Battle
The Nitro Circus Sim Racing Team is ready to compete in the upcoming iRacing Off Road Championships
---
---
Turn Racing Grand Prix Series
https://www.iracing.com/turn-racing-grand-prix-iracing-series-qualifying-schedule-announced/
---
---
Prodigy Racing GR86 Racing League
---
---
Race For More 2.4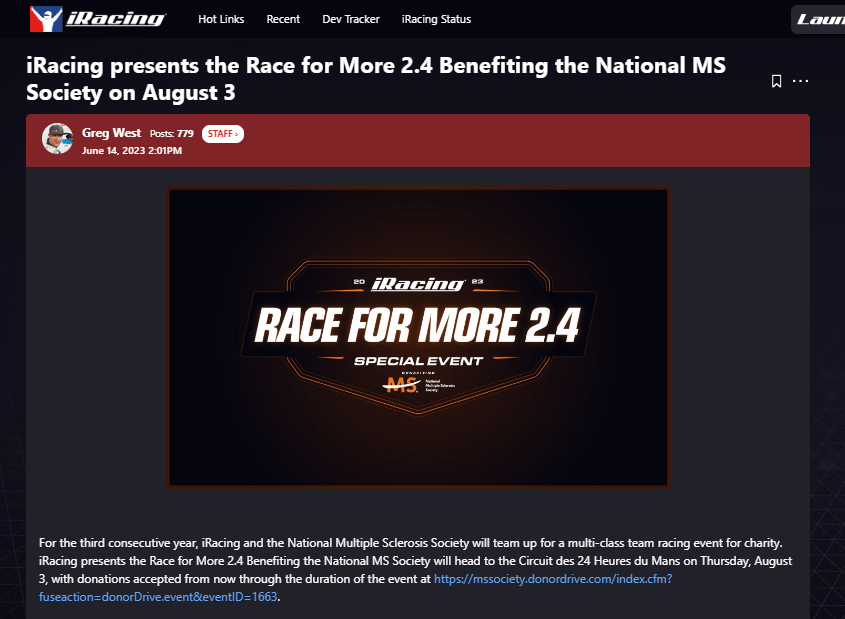 https://forums.iracing.com/discussion/43590/iracing-presents-the-race-for-more-2-4-benefiting-the-national-ms-society-on-august-3#latest
---
---
Podcast Housekeeping
Leave us a review on your favorite podcast platform to make it easier for more listeners to find the podcast. Mention the podcast to your fellow drivers so they don't miss out, we would appreciate it.
Check out our Discord https://discord.gg/rvRas4DDqF
New Website – Leave Comments https://www.iracerslounge.com/
---
We are in the regular rotation… (Mike)
https://performancemotorsportsnetwork.com/
---
---
Hardware/Software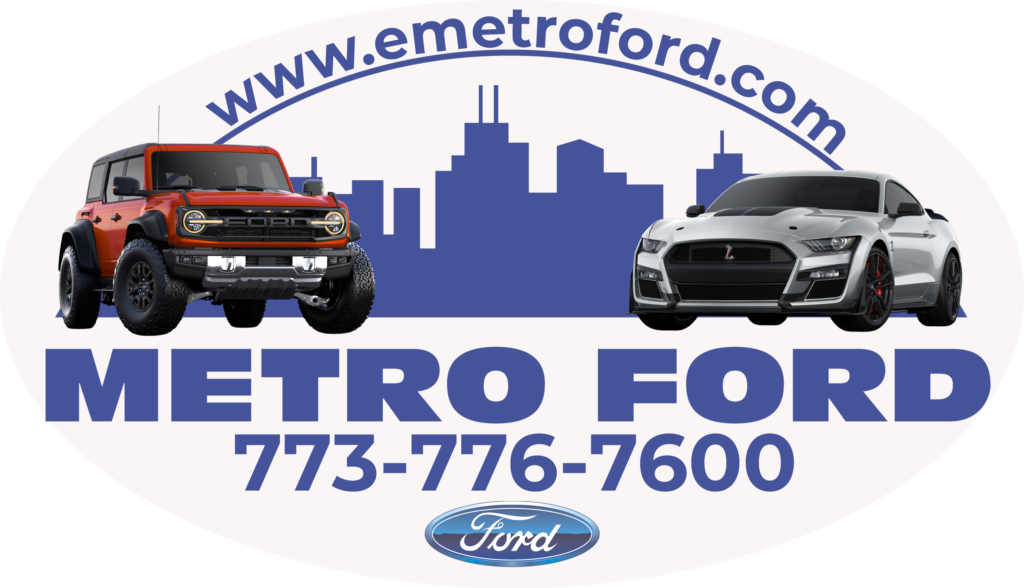 ---
Pimax Crystal Review
Boosted Media reviews Pimax's new Crystal Hi-Res VR Headset
---
---
Sim Magic Alpha U 23 Wheelbase
Laurence Dusoswa reviews the Sim Magic Alpha U 23nm wheel base
---
---
O'Rouge Cold Fusion Seat
Beat the Heat this summer with the O'Rouge Cold Fusion Seats
---
---
The Need for Speed
A video from Corsair shows a motherboard sporting three 4090 graphix cards!
---
---
Advanced Sim Racing
Custom UV print Corvette chassis meets ASR Pro sim racing chassis. Take control with the @simucube 2 Ultimate wheelbase. Paired with the @ompracing HTE-R seat, the Pro-sim sequential shifter and master racing with the @heusinkveldofficial sim handbrake.
---
---
Sim Coaches Sim Rig
Sim Coaches offers the best $11k Sim Racing Setup
---
---
Custom Rig Tour
Audio Tech give a YouTube Video tour of their custom sim rig
---
---
Invicta QR
Asatek posted a video of their Invicta Quick Release system
---
---
Up in Smoke
Will Ford at Booted Media's 4090 GPU went up in smoke recently
https://www.techspot.com/news/99094-another-16-pin-rtx-4090-power-adapter-has.html?fbclid=IwAR2KLat2Cf5mGSoit-kUAmDRWczqm8pWS7BM_jRhgMnrH5jA2yX9UULgL94
---
---
Precision Sim Engineering
Precision Engineering shows an exclusive look at their all new Pro Switch Panel available on June 23
https://mailchi.mp/precisionsimengineering/the-future-of-sim-racing?e=08b8bc3eff
---
---
TeamSpeak Loses PTT
A Teamspeak user discovered rather abruptly that their programmed HOTAS "push-to-talk" configurations were completely blown away when updating to 3.6. They have many types of controllers and the only key bindings that work are the keyboard and the mouse. NO onther usb controller of any type works! It also destroyed all the whisper commands linked to HOTAS buttons.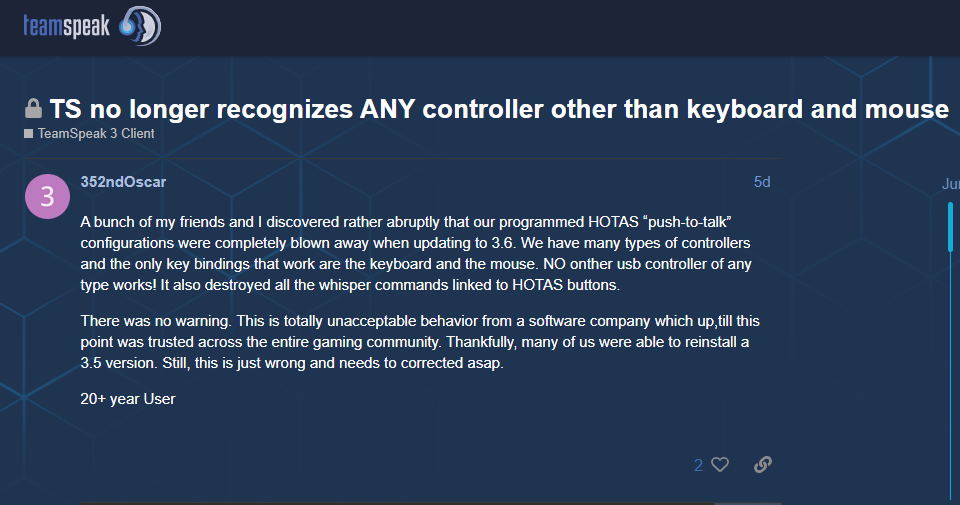 https://community.teamspeak.com/t/ts-no-longer-recognizes-any-controller-other-than-keyboard-and-mouse/41261
---
---
Abruzzi Leoxz XF1 Pro Wheel
TP Sim Racing has a word of warning before you buy the Abruzzi Leoxz XF1 Pro Wheel
---
---
Results
NASCAR iRacing Series
Wednesday Open: Nashville superspeedway
Mike- p 9- I had a pretty good run going, but when we got into a long green flag run faded from as high as third down to 12 when the cycle started eventually it's cycled I was 14 when the Caution came out. Short runs from here. I was able to work myself up to pee nine
Tom D – p drive-through penalty went one lap down had a 16 second stop and go.
David – p 12 but would have been top 10 if people knew what to do when they're in the grass.
Tyler- P got wrecked a couple times, but finish the race
Justin – P really fast on the long run. I got wrecked closer to the end. Put me in the in me around 8th i think 4 laps to go on the restart i missed a shift 100 percent my fault i suck
Thursday Open
Ellis -Pwrecked out. I was running along as seventh about lab 20 and in front of me. They went three wide, and couldn't figure it out and rec the entire field. Eight minutes required two minutes optional knock the whole left front wheel off.
David – p14, might have gotten more spots if i gambled that there would be no caution
---
---
Official Series
6hr of Glen
Hall and Drieling, wrecked out twice
Ellis–
Hosted Chris maguire DW 12 @Michigan. Wrecked out.
Daytona prototype at Michigan finished P3
87 at Talladega wrecked out
GEN five at Talladega. Gridded it up on the backstretch. Very cool. Came from the back up to P2. We had to do a splash and go. I slid through my box and so finish p8
SPIKER
FALKEN TYRE SCC – Oulton Park P2, Watkins Glen…???
GT4 – Oulton Park P3, Watkins Glen…???
Ring Meister – P18, 25, 11Dirt Street Stock – USA – WINNER
---
---
Final Thoughts
---
---
Words Spoken in Closing Audio Clip -""Thank you for listening to the iRacers Lounge podcast make sure to go subscribe to us on iTunes, SoundCloud, or Google Play, Facebook & Twitter, See You On The Track ."
TITLE
Teamspeaks too Much
Description
On the show this week we have Sim Coaches owner Lawrence Thomas. We see how the sim racing community has helped a young, upcoming real world driver. We will debate if iRacing needs to make an adjustment to one of their most frustrating black flag penalties, and wish iRacing a happy landmark anniversary. So sit back, relax and join us on the iRacers Lounge Podcast.
iRacers Lounge Podcast is available on iTunes and Apple's Podcasts app, Stitcher, TuneIn, Google Play Music, Spotify, Soundcloud, Podbean, Spreaker, Podbay, PodFanatic, Overcast, Amazon, and other podcast players.
Sponsors:
Hosts:
Mike Ellis – twitter.com/MikeDeanEllis
David Hall – www.twitch.tv/mixmage
Greg Hecktus – twitter.com/froozenkaktus – www.twitch.tv/froozenkaktus
Brian Maccubbin – www.twitch.tv/MacRubbinsRacin
Kyle Pendygraft – twitter.com/LoudPedalGaming
Tony Groves – www.twitch.tv/SirGroves
Adam Josselyn- twitter.com/Jossad83
Tony Rochette – twitter.com/TonyRochette
Tom Dreiling –
Donnie Spiker – twitter.com/Spikerman19
Bobby Jonas –
MacKenzie Stevens – https://twitter.com/MackStevens48
Justin Pearson – https://twitter.com/big7bang_
Links:
Facebook – www.facebook.com/iRacersLounge/
Twitter – twitter.com/iracerslounge
Instagram – instagram.com/iracersloungepodcast/
Web (Show Notes) – iracerslounge.com/