10/5/2023 – Bag of Air with Some Chips – Episode 0403
iRacers Lounge Podcast – Conversation Topics
---
---
Show Introduction
On the show today, we'll check out the super high speeds of the first ever Grand Prix Series race on an oval track. We'll check out a sim racer making a big splash in real world racing, and debate the pros and cons of visible iRatings.
And remember you can follow along with us on your PC or mobile device in real time as you listen to the show and see for yourself all of the great topics and products we'll discuss by visiting iracerslounge.com and selecting show notes. Hope to see you there..
---
---
Special Guest
John Kerley
https://members.iracing.com/membersite/member/CareerStats.do?custid=824320
---
---
Topics
---
---
GP Turn Racing Series
Thursday's third round of the 2023 Grand Prix Turn Racing iRacing Series was a first of its kind, as some of the top open wheel road racers took on oval racing in the Dallara iR-01 at Texas Motor Speedway. Utilizing the new oval-centric package developed for the naturally aspirated, 3.0-liter V10 open-wheel racing machine, 25 drivers entered the evening with a chance to score a win like no other in series history.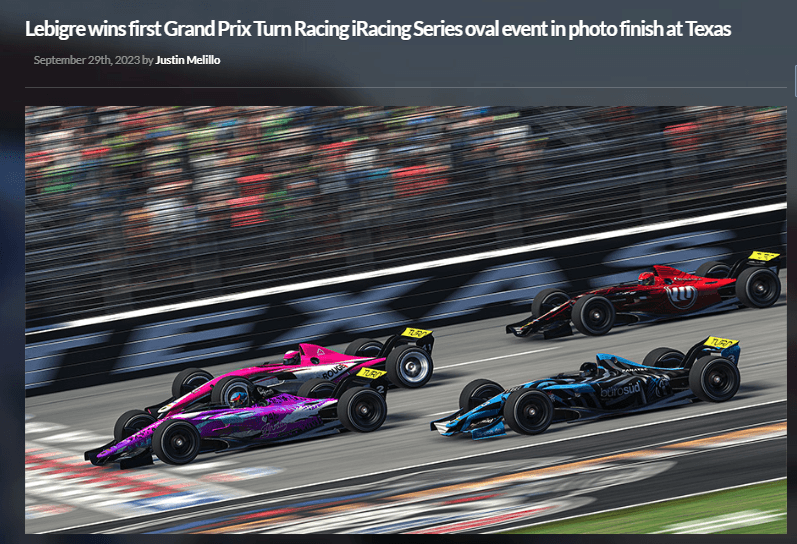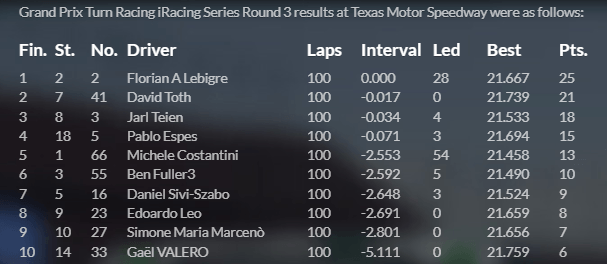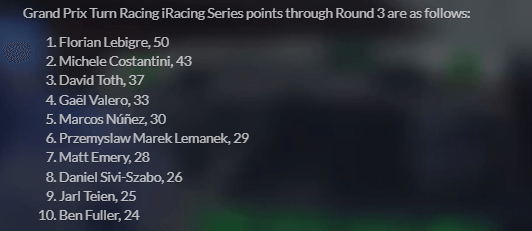 https://www.iracing.com/lebigre-wins-first-grand-prix-turn-racing-iracing-series-oval-event-in-photo-finish-at-texas/
---
---
South American Esports Championship
Brazil will host the 1st edition of the South American Esports Championship. The competition will be held on November 2nd, during the week of the São Paulo Formula 1 Grand Prix and will be run on @iRacing using the FIA F4 car.
https://www.fia.com/news/first-south-american-esports-championship-be-held-sao-paulo
---
---
Great Motorsports Quotes
iRacing asks on Twitter, Wgat are some of the best motorsports quotes
---
---
Season 4 Build Highlights
iRacing posted a Youtube video highlighting the Season 4 build
---
---
Nascar and MS Games
Sources have indicated that 9/30 is nothing more than termination date of NASCAR and MSportgames… There is no new license announcement as of yet.
---
---
Rennsport and rFactor
There have been rumors that Rennsport is using rFactor 2's physics and parameters
---
---
Chat Ban Prevention
Alan Strovich has some ideas to help prevent Chat bans in iRacing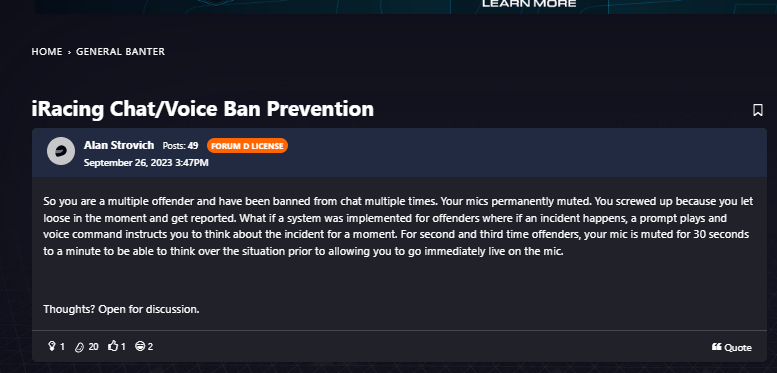 https://forums.iracing.com/discussion/48967/iracing-chat-voice-ban-prevention#latest
---
---
Rally Dirt Issues
Robbie Kirtley posted that there's something wrong in the Iowa and Atlanta tracks that feel more like asphalt than dirt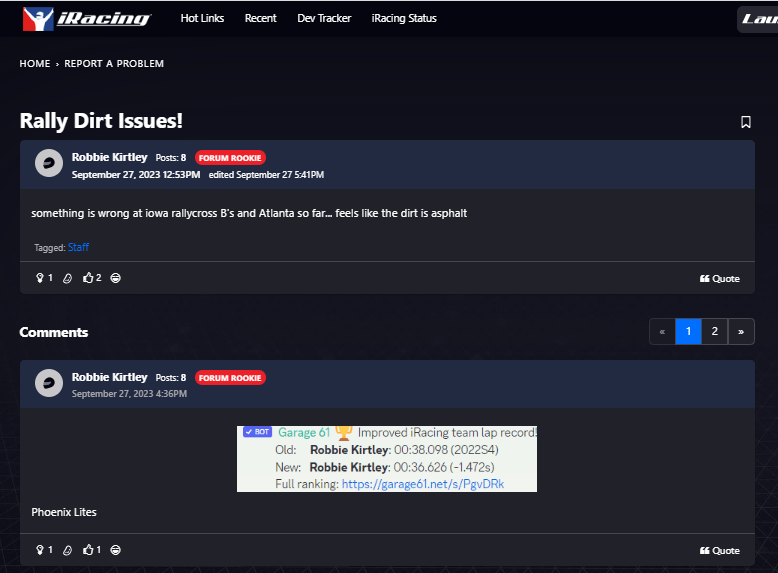 https://forums.iracing.com/discussion/49007/rally-dirt-issues
---
---
Is the UI Getting Worse
Massimo asked in the forums if there's no more indication of how many cars are registered in a practice session on the UI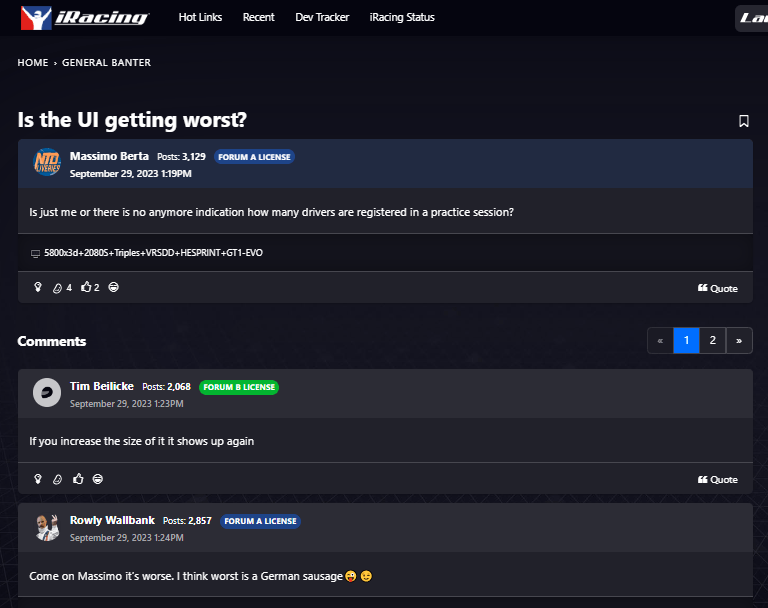 https://forums.iracing.com/discussion/49114/is-the-ui-getting-worst#latest
---
---
Hidden in Plain Sight
DJ Yee J posted a video with 10 iRacing tracks that are hidden in plain sight
---
---
Hidden iRating
Dave Cam explores the benefits of having a hidden iRating
---
---
Tony Kanaan Sim Garage
Matt Malone posted a Youtube video where he gets to check out Tony Kanaan's Sim Racing Garage
---
---
Top iRating
Max Benecke announced on Twitter that he has reclaimed the title of highest iRating
---
---
Season 4 Patch 2 Hotfix 1 Release Notes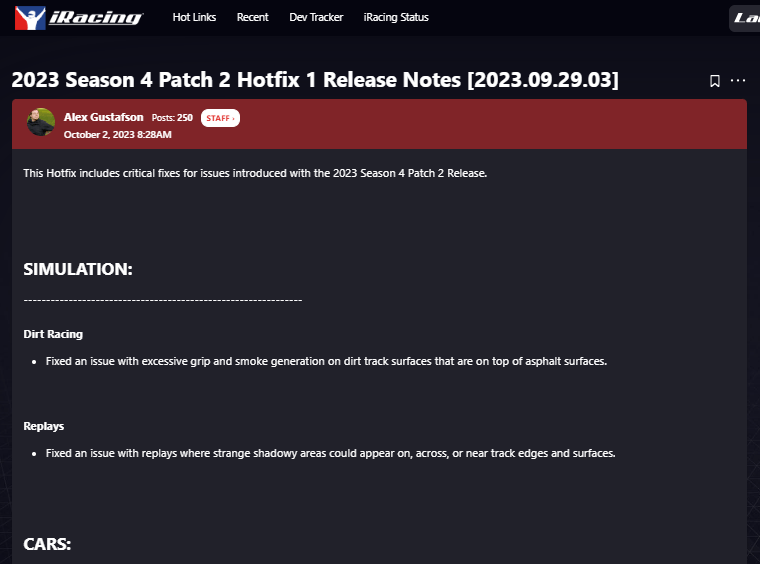 https://forums.iracing.com/discussion/49237/2023-season-4-patch-2-hotfix-1-release-notes-2023-09-29-03
---
---
Time Attack Results
Because of the dirt rallycross physics bug iRacing has eraced all of the Time Attack results prior to the patch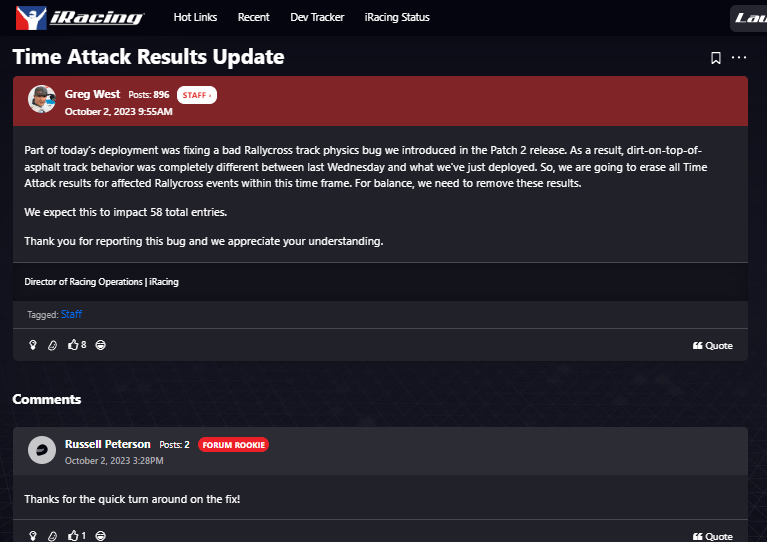 https://forums.iracing.com/discussion/49245/time-attack-results-update#latest
---
---
Sim to Real
Kaden Honeycutt gets a win in the ARCA Menards West Series in his series debut.
---
---
iRacing for Beginners
Anthony Alfredo posted a iRacing for beginners series on his Youtube Channel
---
---
Nasar and iRacing Console Style
https://www.iracing.com/iracing-acquires-nascar-team-properties-exclusive-simulation-style-console-racing-game-license/
---
---
Le Petit Le Mans
---
---
SCCA Runoffs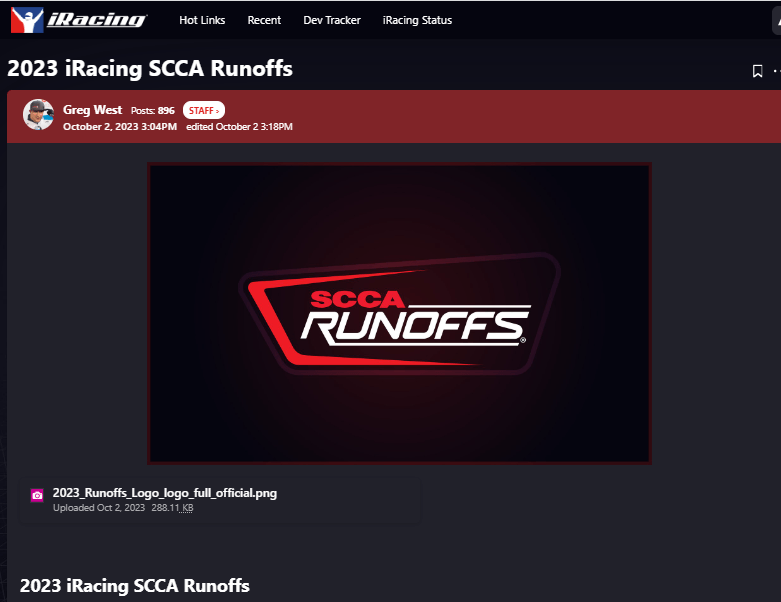 https://forums.iracing.com/discussion/49267/2023-iracing-scca-runoffs
---
---
Podcast Housekeeping
Leave us a review on your favorite podcast platform to make it easier for more listeners to find the podcast. Mention the podcast to your fellow drivers so they don't miss out, we would appreciate it.
Check out our Discord https://discord.gg/rvRas4DDqF
New Website – Leave Comments https://www.iracerslounge.com/
---
We are in the regular rotation… (Mike)
https://performancemotorsportsnetwork.com/
iRacers Lounge Merch!!!

You can now order fantastic looking merchandise for your favorite iRacing show, The iRacers Lounge Podcast!
Visit iRacerslounge.shop to get yours Today!
Fantasy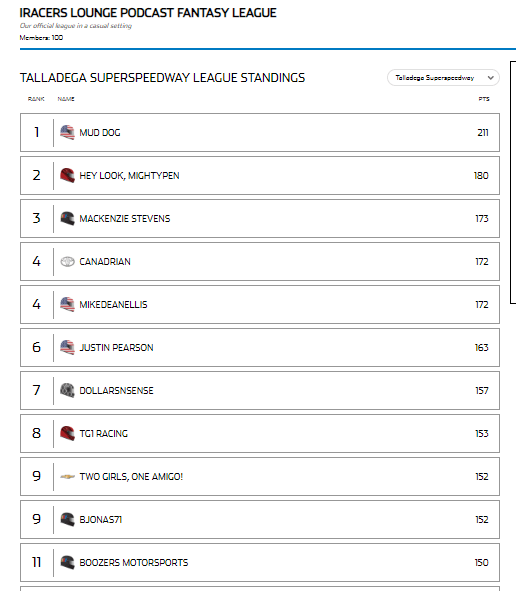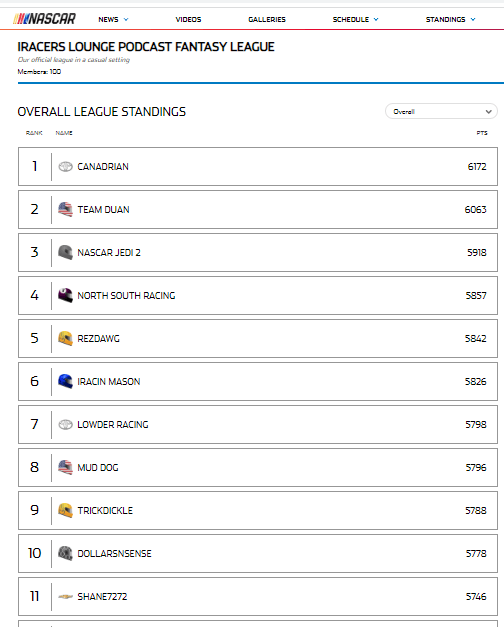 ---
---
Hardware/Software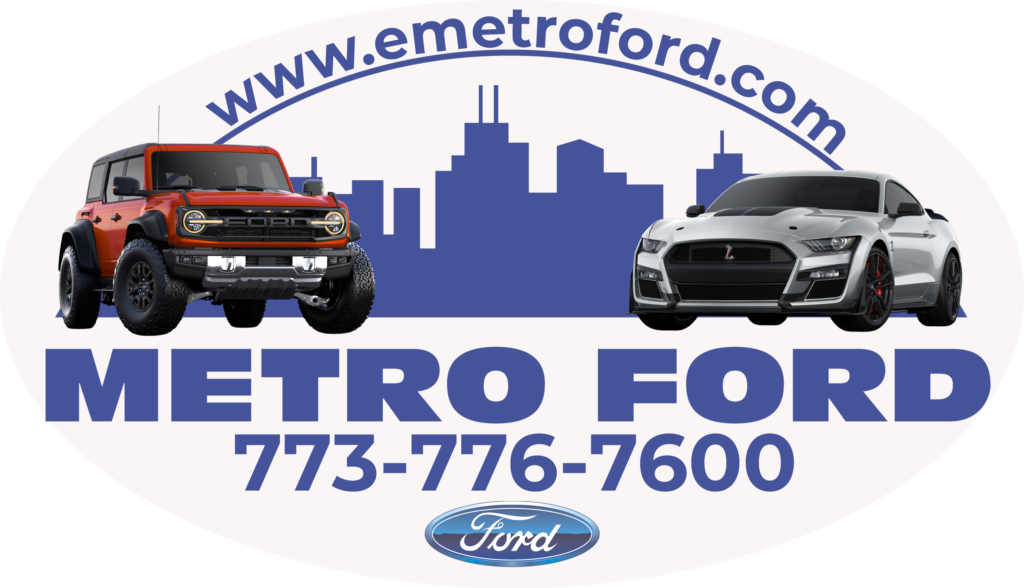 ---
Simagic P1000 Pedals
Lawrence Dusoswa reviews the Simagic P1000 pedals with the haptic rumble motors
https://www.simwear.eu/en/webshop/product/simagic-pedals-p1000-triple-set
---
---
Rally DYI 
Pokornyi engineering offers a button and optional shifter addition to your favorite Rally, GT and Cup car wheel
---
---
Trackform Phone Mount
Trackform has a T-Slot phone mount for 80/20 rigs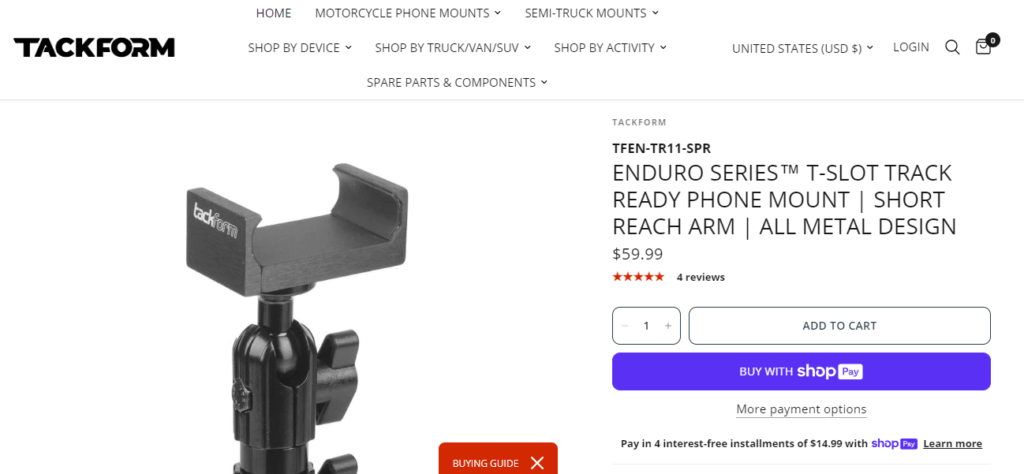 ---
---
Thrustmaster 488 GT3 
Thrustmaster is now taking pre orders for their new Ferrari 488 GT3 Wheel Add-on
---
---
6 Sigma in the States
6 Sigma Simracing now has a new warehouse in Syracuse NY for faster shipping to US customers
https://www.6sigmasimracing.com/
---
---
GOVEE Lighting
Dave Cam shows in a video how to use GOVEE for ambient lighting
---
---
Top 5 iRaing Apps
Matt Barnett posted a video of his top 5 Apps to use with iRacing 
Trading Paints https://www.tradingpaints.com/
Crew Chief https://thecrewchief.org/
RaceLab https://racelab.app/
VRS Telemetry https://virtualracingschool.appspot.c…
iRacing Manager https://members.iracing.com/jforum/po…
CoachDave Academy https://coachdaveacademy.com/
---
---
Results
NASCAR iRacing Series
Thursday Fixed – Tally
Justin – PWas in the mix for the win but didnt have a good push
Brad- wheel disconnected
Friday Open – Tally
Mike -. P Was near the front on the side where the inside lane was trying to side draft up and I got no damage though, but I was in the First caution. Lap 11 I was pushing the leader on the bottom. The guy behind me started pushing me and turned me 2 1/2 minutes damage. eventually caught a caution took a wave around but needed a yellow to get enough fuel to finish. Finally got the yellow with three to go put me in the back after fueling for P 23 for the green White checker number one. Wrecked coming to the checker P 27.
David – p 14, wasn't on the best fuel strategy and then got flush out of the draft by a huge check up right when I made a lane change. So I went ahead and pitted so I could re catch the draft off cycle. We cycled completely around. I made a move to late to try to get in line and turned myself. Trying to get back up to speed I spun the tires on the apron and that brought out the caution. Made it back up to 2nd, then late caution and on restart I get hung out in middle lane and fade to 19th and pass 5 wreckings cars for 14th.
Tyler – P4 Started P1 with the Only one caution on lap 3. Led the first 20 laps after giving up the lead to save gas. Was able to stay with the main pack during two green flag stops to bring it hope 4th. Lappers screwed me on the last lap but happy with a Top 5 and 0x.
Sunday Open-
David – P20 got hung out on green flag stops
Sunday Fixed-
Mike- P 4- got spun twice but no damage really let some laps at the end there was just a top seven breakaway and I was six we mixed it up but I didn't make very good moves P4
Wednesday Open: roval
Mike– P7 – got as high as P5, but had a slip and fell back to eight missed the final chicane about four or five times but brought it home seventh. Pretty proud of this run. It was car number 34. Tom got a P9 in the same race and I only gained five championship points on him.
Chris- P 6. Good safe run.
Greg –P wrecked out top split
Tom – P9
Brad – P 32. Was ran off course and then was dropped by server.
Thursday Open:
Mike– P car number 35. Start 16th top split.
---
---
Official Series
Ellis-
FIAF 4 @inter-Lago Brazil start a 21st got wrecked in the first lap on a pile up. I got the worst of it was dead last at 23rd made my way back up to 16th.
Started near the back, but still got ran over on lap. One turned one from behind dead lash worked my way back up to 9 out of 14.
DraftMaster, 1987 cars at Daytona top split. Got involved in a couple of incidents but brought it home P9.
Ran three or four Chris McGuire hosted races, wrecked out of each one
---
---
Final Thoughts
---
---
Words Spoken in Closing Audio Clip -""Thank you for listening to the iRacers Lounge podcast make sure to go subscribe to us on iTunes, SoundCloud, or Google Play, Facebook & Twitter, See You On The Track ."
TITLE
Bag of Air with Some Chips
Description
On the show today, we'll check out the super high speeds of the first ever Grand Prix Series race on an oval track. We'll check out a sim racer making a big splash in real world racing, and debate the pros and cons of visible iRatings. So sit back, relax and join us on the iRacers Lounge Podcast.
iRacers Lounge Podcast is available on iTunes and Apple's Podcasts app, Stitcher, TuneIn, Google Play Music, Spotify, Soundcloud, Podbean, Spreaker, Podbay, PodFanatic, Overcast, Amazon, and other podcast players.
Sponsors:
Hosts:
Mike Ellis – twitter.com/MikeDeanEllis
David Hall – www.twitch.tv/mixmage
Greg Hecktus – twitter.com/froozenkaktus – www.twitch.tv/froozenkaktus
Brian Maccubbin – www.twitch.tv/MacRubbinsRacin
Kyle Pendygraft – twitter.com/LoudPedalGaming
Tony Rochette – twitter.com/TonyRochette
Tom Dreiling –
Donnie Spiker – twitter.com/Spikerman19
Bobby Jonas –
MacKenzie Stevens – https://twitter.com/MackStevens48
Justin Pearson – https://twitter.com/big7bang_
Links:
Facebook – www.facebook.com/iRacersLounge/
Twitter – twitter.com/iracerslounge
Instagram – instagram.com/iracersloungepodcast/
Web (Show Notes) – iracerslounge.com/