iRacers Lounge Podcast – Conversation Topics
12/31/2020 – Gann-tastic – Episode 0260
Brought to you by:
Opening Audio Clip -"Your listening to the iRacers Lounge Podcast where we discuss everything iRacing, in a casual setting, enjoy."`
READ THIS AT THE TOP OF EACH SHOW!!!
Welcome to the iRacer's Lounge, I am your host "XXX". iRacer's Lounge is a podcast for the iRacer, where we talk all things iRacing in a casual setting.
Joining me are the usual characters, ————
---
---
TITLE SPONSOR READ:
Grid Finder is your go to source for finding your next sim racing league. Currently home to over 450 leagues across all gaming platforms and across 10 different racing sims including over 80 iRacing leagues. Filter your search by racing sim, car class, race day and region. Finding a league to fit your schedule has never been this easy.
Visit www.grid-finder.com to find a league, or to upload your own!
Grid Finder – "The home of online sim racing leagues"
---
---
---
Show Introduction
Welcome back the iRacers Lounge Podcast. We hope you all had a happy and safe Holiday. This week we bring to you special guest, Pro Series Champion Isaac Gann. We'll debate should there be fixed setup in the Pro series? That, and more iRacing topics and reviews you've come here for.
Special Guest
Isaac Gann
https://members.iracing.com/membersite/member/CareerStats.do?custid=164714
https://members.iracing.com/membersite/member/SeriesStandings.do?season=3016&carid=114
https://twitter.com/NorseForceRL
General Questions:
What brought you to iRacing and how did you hear about it?

Why do you race on iRacing over other sims?

Which series do you normally run?
Have you tried the new tire model? If so, what are your thoughts?
What type of hardware do you use? (Wheels, Pedals, ect.)

What gear did you use when you first started iRacing?

Do you run Monitors or VR?

How many monitors?
What VR headset are you running?

Are you part of a team?
Do you participate in any leagues or is it just official racing?
What is your most memorable iRacing moment?
Guest Specific Questions:
Pro Series Champion! – finishes – 28, 11, 11, 3, 1, 1

Tell us about your RTP journey….
What are you doing to get ready for the Coke Series?
Topics
---
---
– Sponsored by School Yard Setups
Struggling to crawl into the top ten in Road To Pro, always in the back of the Xfinity Series or can't find that extra tenth to compete for wins in the Nascar iRacing Series? Visit Schoolyardsetups.com to get race ready setups for the Nascar A, B, and C Series each week. Enter referral code: Lounge, when you sign up to let them know you heard about them from the iRacers Lounge Podcast. Don't get bullied around on the race track again. Get your sets today Schoolyardsetups.com
---
---
Wonderwoman Car [Hall]
Art McEwen posted a video in the forums of a replay of his Dallara LMP2 barley visible but the wheels, windsheild and steering wheel. Greg West asked for a replay and his graphic settings, and others comments that he could be having GPU driver issues.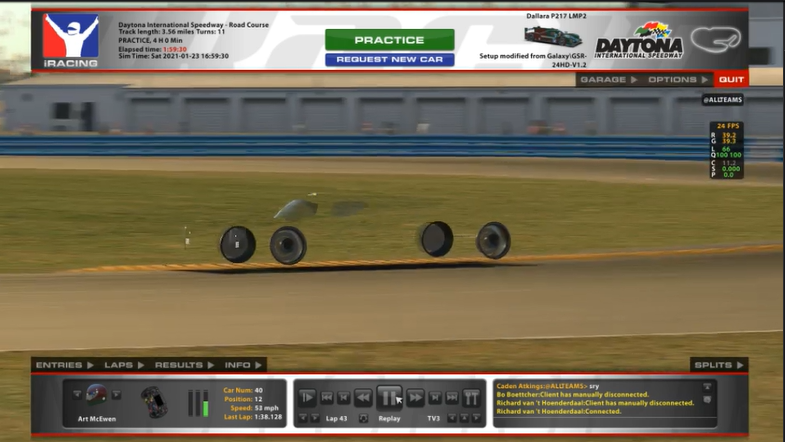 https://www.twitch.tv/videos/843233790
https://members.iracing.com/jforum/posts/list/3783500.page#12328566
---
---
Alfredo on the Wall [Brian]
'Fast Pasta' Anthony Alfredo posted a video of himself testing the new wall proximity model at Homestead comparing it to his past experience there and giving some good pointers to fellow iRacers.
---
---
iRacers Lounge Paint [Greg]
Tifosi member Bobby Jonas and Sim Wraps created an excellent iRacers Lounge Podcast Cup Car that's available in Trading Paints for any of our listeners to run.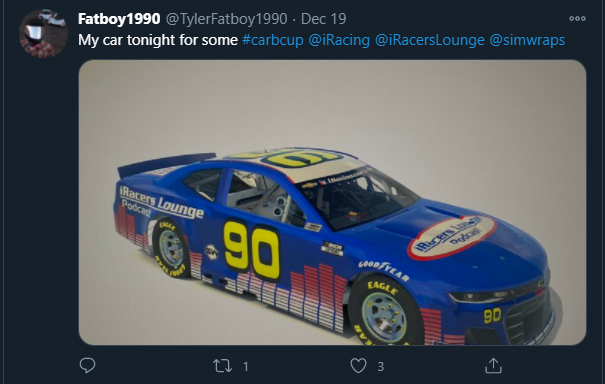 https://mobile.twitter.com/TylerFatboy1990/status/1340486519891632129?s=07
---
---
Builders…not Racers [Mike]
iRacing posted a video of the staff members race at Long Beach spotlighting the many, comical incidents on the track, most noticeably some hilarious troubles at the hairpin turn.
---
---
Listener Craig Reams sends in GT3 BOP Video [Hall]
Podcast listener Craig Reams brought this Youtube video from Beau Albert Sim Racing which compares the balance of power between the 7 different GT3 cars in 5 individual tests of top speed, acceleration, lap times, tire wear and fuel consumption. He found that the new Lamborghini Huracan came out on top by a sizable margin over it's next competitor including taking top lap time at Twin Ring Motegi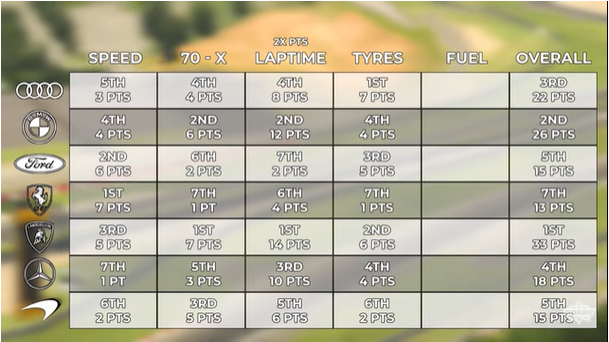 ---
---
Another User Manual [Brian]
Greg West posted in the forums a new addition to the user manual section with the Lamborghini Huracan GT3 EVO.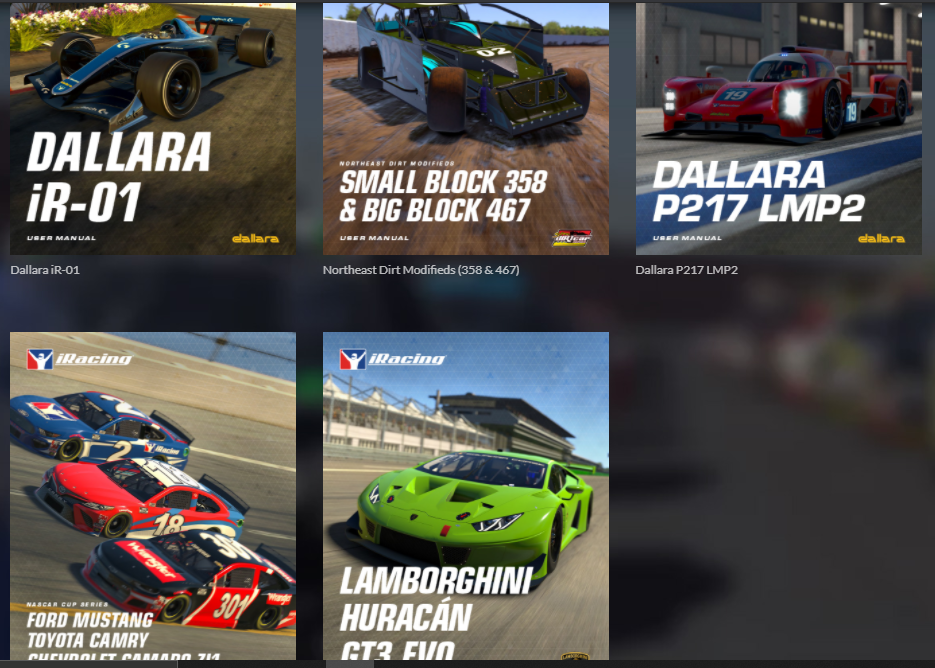 https://members.iracing.com/jforum/posts/list/3783791.page#12330856
---
---
Listener Matt Crockett – Bandit Racing League [Mike]
From Podcast listener Matt Crockett, The Bandit Racing League will be recruiting for it's Wednesday night Xfinity series league. The league will begin on January 27th at Daytona and all races will be broadcasted by Evan Wall Media on Youtube.
https://www.facebook.com/1565571990374134/posts/2799175037013817/?d=n
---
---
Friday Night NASCAR? [Hall]
Adam Stern Tweeted earlier last week that Nascar and iRacing are working on the possibility of airing sim races in the upcoming season. With a lot of one-day shows this coming season, there would be many open broadcast windows on Friday and Saturdays that would normally be filled with practices and qualifying, but are looking to be filled with sim races events
---
---
RTP and Pro Fixed Setups? [Brian]
After the conclusion of the Pro Series, Malik Ray kicked off a wave of controversy when he Tweeted that "you guys will never have the 40 best drivers if everything continues to be open!!!" Beau Albert uploaded a quality YouTube video to dive further into the topic.
---
---
Award Time [Mike]
The VCO Simmy Awards have been announced and iRacing and Director of Marketing Kevin Bobbit, took the award for Best Platform!
Another Award [Brian]
In another set of awards this season, the Sports Business Journal's 2020 Year End Award for Best eSports Content was awarded to iRacing, noting their average of 1 million viewers during their Fox Sports broadcasts this spring with the Pro Invitational Series.
---
---
SuperCup up Next [Mike]
In a Tweet from Porsche Motorsports they remind all of their followers that January 9th will begin the new season of the iRacing Porsche Tag Heuer Supercup Series with Sabastian Job looking to defend his championship from last season..
---
---
Dale Jr Build [Hall]
Dale Earnhardt Jr posted on Instagram a photo of his first solo PC Build and talks abut his affinity for the field of IT and PC gaming.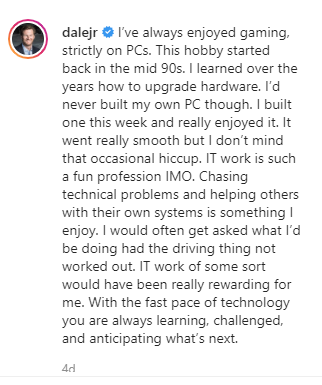 https://www.instagram.com/p/CJTjJB4lASh/?igshid=1nz373pcc4qyj
---
---
Blue Light Glasses [Brian]
Pro Driver Pippa Mann Tweeted that she started using blue light glasses and it has helped her with depth perception and she's had much less problems with headaches after her sim racing sessions.
---
---
January Special Events [Mike]
Ryan Vargas is introducing the Nutrishop Montery Park eStreet Stock Showdown. A $500 to win, 75 lap Street Stock event at Autoclub Speedway. It's $8 to enter and there's a 200 cap on entries. the event will be held at on January 27th and will be broadcasted on Podium eSports.
[Hall]
The FTF Racing League will be hosting the FTF 500 at Daytona on January 31st Live on Bottom Split with a purse of at least $1700
[Brian]
On February 7th, Podium eSports will hold their 3rd annual Daytona 500 event, The Podium500, with a $10 entrance fee. Last year had 175 entries and the first 2 years combined over a $12,000 payout
---
---
iRacers Lounge Trading Paints is now a Winner [Mike]
Fatboy 1990 (aka Tyler Williamson) looks to be the first to to take a victory in the new iRacers Lounge Podcast paint scheme by SimWraps in a Carb Cup race at Daytona.
---
---
Race with us Tonight [Brian]
After the show tonight don't forget about the iRacers Lounge Aftermath New Year's Eve Bash fon race at the iRacing Super Speedway.
https://www.facebook.com/100993708487748/posts/136952491558536/?d=n
---
---
Email From Listener – Farming iRating? [Mike]
Hello, I hear you guys talking about farming Irating, what does that mean and how is it done? I mostly do league races but want to get back into official races. Thanks and great show
Derek Branum <derek2448@gmail.com>
---
---
David Hall Thread [Hall]
Szabolcs Balog posted in the forums his thought in running in multiclass IMSA races.

https://members.iracing.com/jforum/posts/list/50/3778497.page
---
---
Ugly Holiday iRacing Paint Schemes [Brian]
Nascar, in their Nascarcasm section, has asked the fans of painting Cup cars in iRacing to make their best… err worst, ugly holiday pain schemes.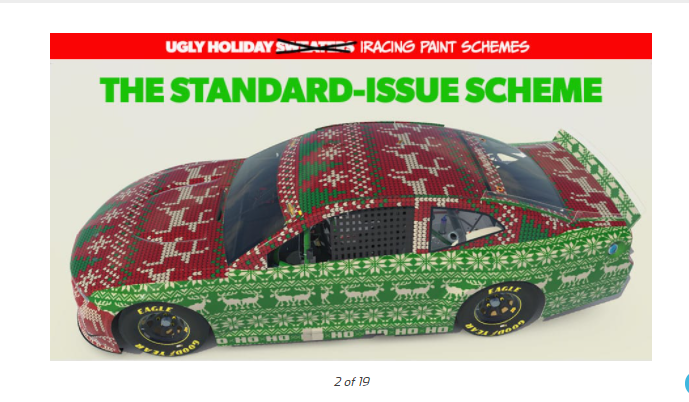 ---
---
Podcast Housekeeping
Aftermath
New Website – Leave Comments
---
We are in the regular rotation… (Mike)
https://performancemotorsportsnetwork.com/
---
---
---
Hardware/Software
---
HP Reverb G2 Sweetspot Investigation [Brian]
MRTV host and VR reviewer, Sabastian Ang, will be doing an investigation in the sweetspot complaints of the HP Reverb G2.
---
---
Ramping up Re-Launch of RaceX Pro Cockpit [Hall]
RaceX announced on Instagram showing a work in progress on their revamped Pro Cockpit
---
---
Simagic Alpha Servo DD – Pre Order Now [Mike]
The new Simagic Alpha will be available to ship in early January and they are taking pre-orders now. The Alpha is the flagship direct-drive wheel base from Simagic. It comes with 15Nm of torque, delivered by a Servo Motor. The Alpha wheel base is equipped with the same quick-release used with the Simagic M-10 wheel base. This allows you to use any steering wheel with a 50mm or 70mm bolt pattern in conjunction with the Simagic wheels and button boxes. ​
https://www.instagram.com/p/CIuvErzhdwT/?igshid=dslggrloa2b0
---
---
New Stuff Incoming [Brian]
Our great sponsor Grid Finder posted on twitter a link to Thrustmaster's teaser of a possible upgrade to their open wheel rim.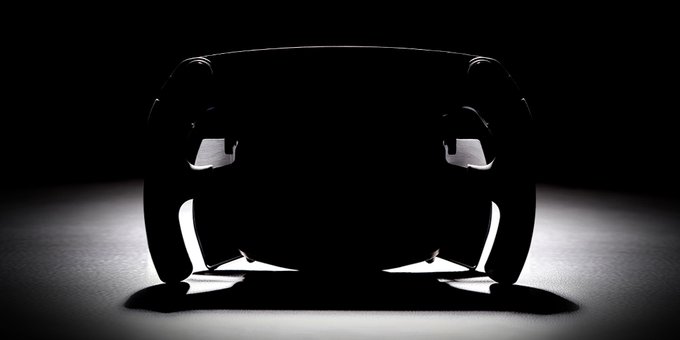 ---
---
CSL Elite McLaren GT3 V2 [Greg]
Fanatec announces their new and improved CSL Elite McLaren GT3 V2 with magnetic shifters.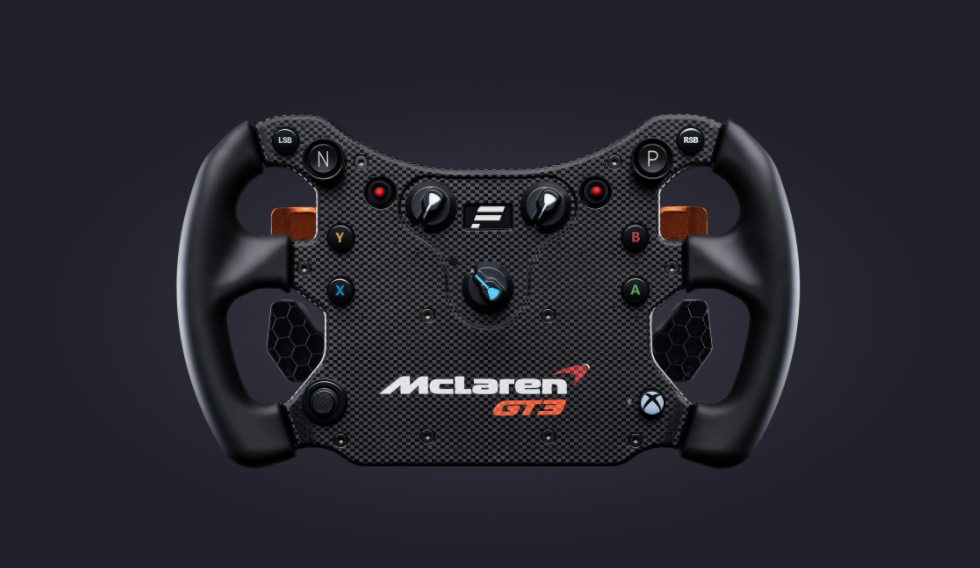 https://fanatec.com/us-en/steering-wheels/csl-elite-mclaren-gt3-v2
---
---
Rig Review – Sent by Listener Eric Whiting [Brian]
Sprint Car Simulator built by the sprint car engineers at Roan Racing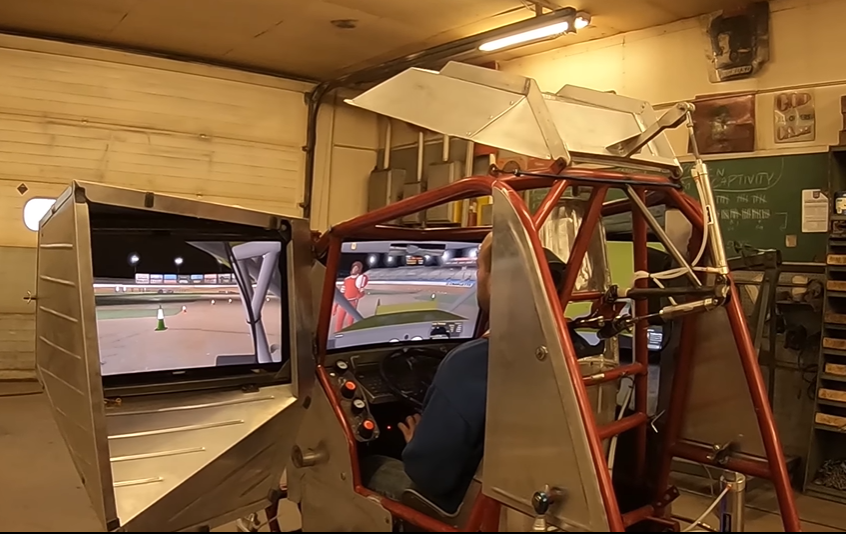 https://www.facebook.com/story.php?story_fbid=2171900549610019&id=100003702843910&sfnsn=mo
---
---
Rig Review [Mike]
Jack Dowell Motorsports shows off their 3000psi hydraulic motion platform Offical Nascar Simulator, part of a racing league called Silicon Motor Speedway.
---
---
Results
NASCAR iRacing Series
---
---
Official Series
Mike
Ferrari GT Challenge- Oran Park – p5! – Only had 1 off track too! – starting to learn track i guess….

Then p3! – only 3x –
Then p8 -1st turn got dumped bad – dead last out of 19 – moved back to 8th
Then p8- Was high as third but spun off bad rallied back to 8
Then p7 – I was starting like 6th after my best q ever – after pace car ducked off the leader slowed way down to almost nothing then went – stacked us up bad –
Then p2! – Same pole sitter did the same thing, but I was ready for it – great run!
Next Night – p7 – started 13th after botched q – up to 6th in 1st lap – had issues w a car that would all but stop in the s's, so spun off back to 14th – rallied back to p7, but 10x
Then p10 out of 17 – horrible race spun off all by myself 3 times – I was just starting to get cocky too and actually said out loud I may be farming. But that is how iRacing is. If is was easy nobody would do it. And soon as you get cocky bad luck/driving will bite you and keep your ego in check…
Then p8- followed everyone off track in turn 1 lap 1 – put well back but recovered well. Ran my fastest lap so far
Then started p17 ended p9 – 13x though higher sof matched my fasted lap time 106 zero
Monday – Lime Rock – p11 – had a couple of early off's…

P9 – got rear ended put to back – gained back abit through atrition
---
---
League / Hosted Races
Mtec –

Hall & Greg – P21. Traffic was horrible, a gt4 decided to just door us for passing him on the outside of a turn.

FastTrack Sim Racing League –

Recruitment race – A Car – Kansas – p8 – had a full field running 4th on white but killed the wall trying too hard – Alan Pajari wins, Jeff Marble and his son Tyler have a good league shaping up Mondays, A Car Open half distance…
Winter League- -.

Mike – p dnf – daytona – had good run going even led some laps – but i got a bit loose and spun on my own
Mike – p22 – texas cup – out of 25 – no cautions – i suck – hit wall a few times
Mike –
Mike –
David –

Texas p 17, no pace, long or short
Martinsville p 14, never ever listen to Mike on tire strategy!

Mike – Legends Martinsville – only ran a few laps and parked it I suck – It just won't turn, maybe the hardest combo car/track there is
Mike – Cup – Martinsville – p18 – Ran top 12 most of race but bad tire strategy out me back never recovered went downhill from there – still happy with the first ¾ of the race…
OBRL ARCA Series
Brian- P2 Kentucky started P2 Finished P2 120 laps, no cautions, no incident
OBRL Truck Series Nashville Brian P14 Played it cautious…too cautious
OBRL National Series (Xfin)

POCONO
Scales P7
Rochette P10 good race just not fast enough
UCORA Spotlights Snowball Series – radicals
Hall –.p4, Crazy hard to pass here. I lost track position cause i guy infront of me bounced off wall. Then was the only one pretty much on the track that made a pass
---
---
Final Thoughts
---
---
---
Words Spoken in Closing Audio Clip -""Thank you for listening to the iRacers Lounge podcast make sure to go subscribe to us on iTunes, SoundCloud, or Google Play, Facebook & Twitter, See You On The Track ."
TITLE IDEAS
Gann-tastic
.
.
Description
Were back this week with an all new episode with special guest and recent Pro Series Champion Issac Gann. We kinda debate whether the top series of iRacing should run fixed setups after the community exploded with some controversial Tweets, and how could iRacing take the next big step into mainstream broadcasting. Happy New Year and thanks for listening to the iRacers Lounge Podcast.
iRacers Lounge Podcast is available on iTunes and Apple's Podcasts app, Stitcher, TuneIn, Google Play Music, Spotify, Soundcloud, Podbean, Spreaker, Podbay, PodFanatic, Overcast, Amazon, and other podcast players.
Sponsors:
www.grid-finder.com
www.schoolyardsetups.com Promo Code – Lounge
Hosts:
Mike Ellis – twitter.com/MikeDeanEllis
Tony Groves – www.twitch.tv/SirGroves
Chris Scales – twitter.com/JediMcfly
David Hall – www.twitch.tv/mixmage
Greg Hecktus – twitter.com/froozenkaktus – www.twitch.tv/froozenkaktus
Tony Rochette – twitter.com/TonyRochette
Adam Josselyn- twitter.com/Jossad83
Nick Williams – facebook.com/NDWRacing
Brian Maccubbin – www.twitch.tv/MacRubbinsRacin
Tom Dreiling –
Links:
Old Show Notes – bit.ly/2CFeArM
Facebook – www.facebook.com/iRacersLounge/
Twitter – twitter.com/iracerslounge
Instagram – instagram.com/iracersloungepodcast/
Web (New Show Notes) – iracerslounge.com/