1/7/2021 – Olat is All That – Episode 0261
iRacers Lounge Podcast – Conversation Topics
Brought to you by: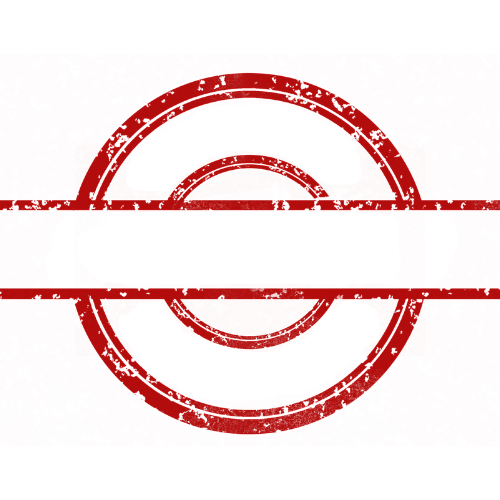 Opening Audio Clip -"Your listening to the iRacers Lounge Podcast where we discuss everything iRacing, in a casual setting, enjoy."`
READ THIS AT THE TOP OF EACH SHOW!!!
Welcome to the iRacer's Lounge, I am your host "XXX". iRacer's Lounge is a podcast for the iRacer, where we talk all things iRacing in a casual setting.
Joining me are the usual characters, ————
---
---
Introduction
Today on the show we welcome rookie Coke series Driver Femi Olat, review the World of Outlaws Race at Cedar Lake Speedway and discuss all of this weeks hot topics including Darrell Waltrip and Larry McReynolds in iRacing.
TITLE SPONSOR READ:
Grid Finder is your go to source for finding your next sim racing league. Currently home to over 450 leagues across all gaming platforms and across 10 different racing sims including over 80 iRacing leagues. Filter your search by racing sim, car class, race day and region. Finding a league to fit your schedule has never been this easy.
Visit www.grid-finder.com to find a league, or to upload your own!
Grid Finder – "The home of online sim racing leagues"
---
---
Special Guest
Femi Olat
https://members.iracing.com/membersite/member/CareerStats.do?custid=150376
https://twitter.com/DeadzoneRacing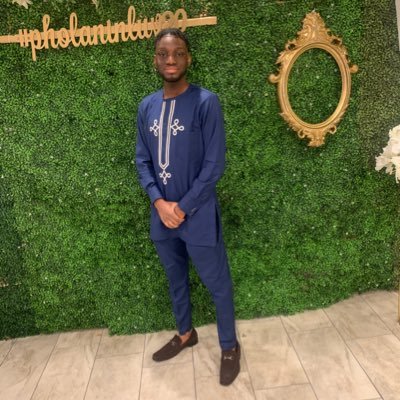 General Questions:
What brought you to iRacing and how did you hear about it?

Why do you race on iRacing over other sims?

Which series do you normally run?
Have you tried the new tire model? If so, what are your thoughts?
What type of hardware do you use? (Wheels, Pedals, ect.)

What gear did you use when you first started iRacing?

Do you run Monitors or VR?

How many monitors?
What VR headset are you running?

Are you part of a team?
Do you participate in any leagues or is it just official racing?
What is your most memorable iRacing moment?
Guest Specific Questions:
Pro Series – finishes – 4, 2, 21, 21, 29, 14
Tell us about your RTP journey….
What are you doing to get ready for the Coke Series?
---
---
Topics
---
---
– Sponsored by School Yard Setups
Struggling to crawl into the top ten in Road To Pro, always in the back of the Xfinity Series or can't find that extra tenth to compete for wins in the Nascar iRacing Series? Visit Schoolyardsetups.com to get race ready setups for the Nascar A, B, and C Series each week. Enter referral code: Lounge, when you sign up to let them know you heard about them from the iRacers Lounge Podcast. Don't get bullied around on the race track again. Get your sets today Schoolyardsetups.com
---
---
World of Outlaws Week 7 – Cedar Lake [Brian,Mike]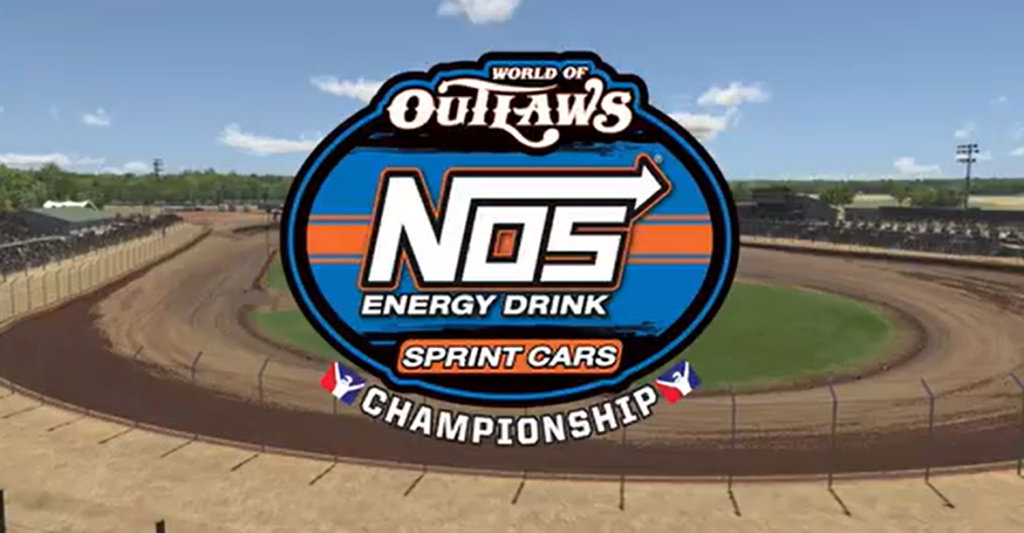 Monday night marked Round 7 of the NOS Energy Drink World of Outlaws Sprint Car Series which brought us to the new Cedar Lake Speedway coming into this week Hayden Cardwell held a slim 4 point lead over Alex Bergeron and Kendel Tucker a distant 3rd.
Bergeron has fast time in qualifying while Cardwell turns in an 8th place finish. and runs away with the first heat earning him pole position for the Feature race
James Edens gaps the field to take heat 2, and Tyler Shell wins heat 3 in a photo finish over Adam Elby.
In heat 4 Zane Scott starts from the pole, but Cardwell quickly clears him on the outside to take over the lead on lap 1, but on lap 2 Cardwell jumps the cushion on turn 2 and wrecks sending him to the back of the field and JD Brown taking the checker.
So, with the points in the heat race Cardwell's lead had already evaporated before the feature even starts, but still having to advance from the B main to avoid a complete disaster and putting Bergeron firmly in control of the championship.
Cardwell started P4 in the LCQ, took some damage racing for second, but still managed finding the speed to take the win and getting the 18th grid spot in the feature.
In the feature event Alex Bergeron grabbed the lead fighting off challenges from Tyler Schell who was running him down from the extreme high line when on lap 27 he missed his line, hits the wall in turn 3 and flies over the fence, but no cations came out and no fans were injured..
James Edens also put some pressure on Bergeron, but ultimately ran out of laps finishing P2 with Alex Bergeron taking his 4th win of the season. Hayden Cardwell works his way all the way up to P4 averting a points disaster, and landing 10 points behind new points leader Bergeron heading into week 8 at the bullring ok Kokomo Speedway next Monday night.
2020 Year in Review [Hall]
iRacing looked back at 2020 by posting an inspiring Year in Review video in what may have been undoubtedly one of the most important years in the history of iRacing.
---
---
Can we get SRX Series Cars [Tony]
Tyler Stooksbury posted in the forums that he's curious if iRacing might be getting the new SRX series cars. Tyler was especially excited about the the limited adjustments that's available to the drivers and teams in the series. The SRX is scheduled to make their debut this summer with a 6 race season.

https://members.iracing.com/jforum/posts/list/3786464.page#12343373
---
---
Got to try out BMW Sim [Brian]
Youtube broadcaster Jimmy Broadbent was allowed to take a spin in the BMW Motorsports Center's top of the line manufacturer simulator. The Youtube video goes thru his entire tour and experience of his visit.
---
---
Dale Jr & Steve Myers Found [Greg]
In iRacing's version of Where's Waldo, Dale Jr and Steve Myers have been found at the new iRacing Super Speedway hanging out in the construction crane!
---
---
Epitome of 2020 [Mike]
If you were to summarize the year 2020 in a race, this one might be a good candidate.
---
---
SimSpeed to cover NiS 2021 [Hall]
SimSpeed along with VRS will provide coverage of every round of the 2021 Friday night Open NIS racing series. The full, complete broadcast details will be announced in the upcoming weeks.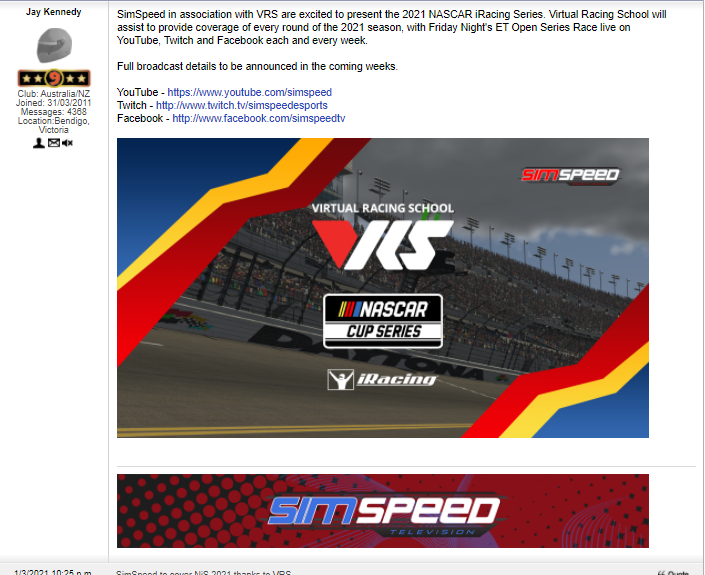 https://members.iracing.com/jforum/posts/list/3787444.page#12347018
---
---
Follow Up – Won't Be Cup Drivers [Tony]
Nascar announcer Mike Joy responded to a Tweet from James Yoder who asked if there will be a return of the eNascar Pro Invitational this upcoming year. He responded that he hopes not, because it would have meant a suspension of the Nascar regular season. This implies that the story from last week that Fox Sports may broadcast iRacing events will most likely not be actual Nascar drivers.
---
---
IR-01 Series DOA? [Brian]
Ajibola Lawal posted in the forums that he's had a blast with the new iR-01 car at Suzuka and Silverstone, but has noticed a sharp drop in participation since it's introduction. Greg West agreed with someone who responded that the holiday season along with a fairly unpopular track, and to give it some time.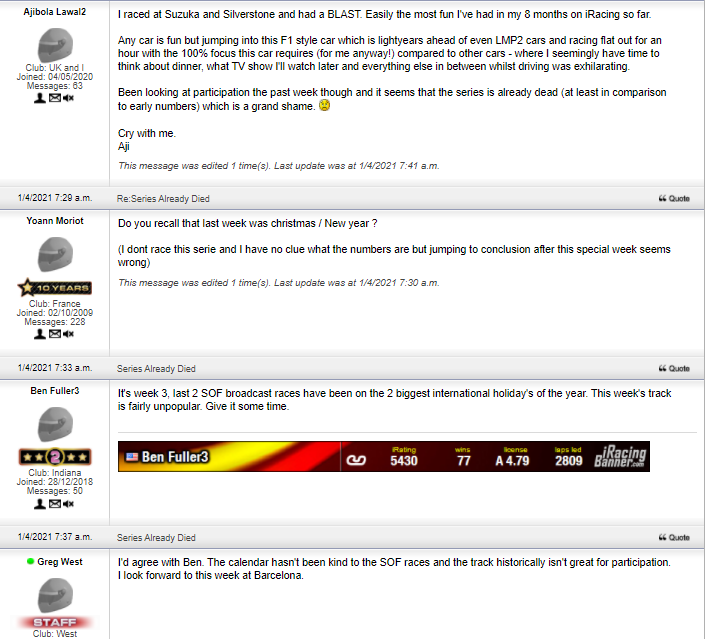 https://members.iracing.com/jforum/posts/list/3787593.page#12347759
---
---
Kyle Busch / Will Rogers Battle [Mike]
On Monday night, in the K1 Speed 200K at Watkins Glen, Will Rogers held off Kyle Busch in the pro trucks in a wild finish for the win.
Larry Mac And DW calling MNR [Brian]
Monday Night Racing posted on their Facebook that Larry McReynolds and Darrell Waltrip will be broadcasting their final race on January 25th at 9am on Podium eSports.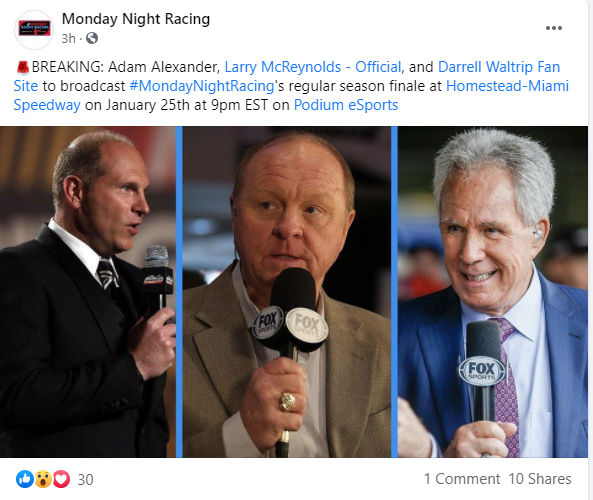 https://www.facebook.com/mondaynightracing/posts/210265534172230
---
---
Game to Glory [Hall]
Red Bull TV has started a series on Youtube called Game to Glory. It's a series about Red Bull Sim Racing Driver and Porsche Tag Heuer Series Champion Sebastian Job. The first episode revolves around his history in karting, moving on to eSports and becoming a professional sim racer. It looks like in the upcoming episodes he will be getting an opportunity to try the Red Bull Factory F1 simulator that the real drivers use.
---
---
Time for Chili Bowl [Tony]
Nascar Driver and 3 time Chilli Bowl Winner Christopher Bell shows off his iRacing sponsored Midget for the as he gets ready for next weeks event.
---
---
Sponsor for Coanda Simsport [Brian]
Coanda Simsport has announced a new partnership with LEGO Technic for the upcoming Porsche Tag Heuer Supercup season and shows off their new paint scheme.
---
---
Listener Email [Mike]
'John Boy' Faller emailed the show to help get the word out the he is hosting the Daytona Dirty Monkey 250 to raise money to fight Autism on Feb 20th. All of the $15 entrance fee will go to the charity. They will run 100 laps in a fixed setup and there are prizes for the top 3 finishers. You can sign up at his website https://johnboy202.wixsite.com/mysite
John Boy <johnboy202@gmail.com>
Wed, Jan 6, 7:12 PM (14 hours ago)
to iracerslounge
Hi Mike I hope all is well my man. I wanted to ask you if you could help me out by getting the word out about a race that we will be hosting to raise money for autism. The race will be on 2/20/2021. Practice will start at 8:30pm est time and will be just 30mins then Qualifying 5mins or 2 laps. We are calling it Daytona Dirty Monkey 250 Autism Awareness. There will be an entry fee of $15. Which all money will go to autism. The race will be a 100 Laps fix setup. As of right now I don't have anybody doing the broadcast so I will be doing it myself on Dirty Monkey TV on youtube. There will be prizes for the top 3 finishers. For 2nd and 3rd place they will get a snap hat with the race logo on it. I will put a pic of the hat in this email. The winner will get a Pitboard from the guys at IracingIflags. Also a nascar diecast From Race City Sports Memorabilia you can find them on facebook and a also a snap hat. Just 43 cars will make the race but if we get more than 43 cars we will take the top 30 qualifiers to the race and have a 10 lap heat race and the top 13 will make the race. To sign up all you have to do is go to our website and at the top right you will see autism race then click on the image and that will take you to the form. I know you love Daytona so i hope to see you guys in the race. Thank you and your guys for ALL the help with all my leagues and stuff. Thank you
Website: https://johnboy202.wixsite.com/mysite
---
---
Coke Teams Announced [Hall]
iRacing has announced the 20 teams that will comprise the 2021 Coca-Cola series and also that the prize pool for this year has been increased to $330,000. Four teams will not be returning from last year including G2 Esports, Renegades and VRS.
https://www.iracing.com/2021-enascar-coca-cola-iracing-series-team-lineup-and-330000-prize-pool-announced/
Lowe to Wood Brothers [Greg]
In late breaking news, an announcement on Twitter, John Gorlinski will be joining Garrett Lowe on the Wood Brother Racing team.
---
---
IMSA is BACK [Brian]
IMSA Drivers and Gamers to Compete Sunday in Identical LMP2s Preseason invitational
By David Phi
IMSA is
---
---
GT3 Balance [Hall]
Our own David Hall had a conversation with iRacing employee Christian Challiner regarding the balance of power in the GT3 series.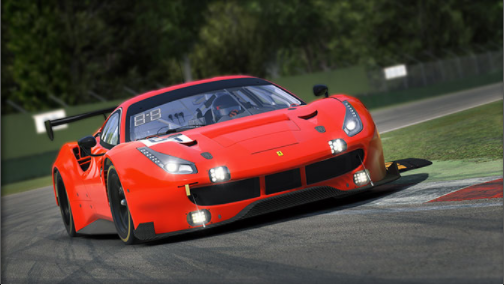 ---
---
Podcast Housekeeping
Aftermath
New Website – Leave Comments
---
We are in the regular rotation… (Mike)
https://performancemotorsportsnetwork.com/
---
---
---
Hardware/Software
---
Rig Review [Hall]
Michael Callahan mad a sim rig by repurposing an old drum rack system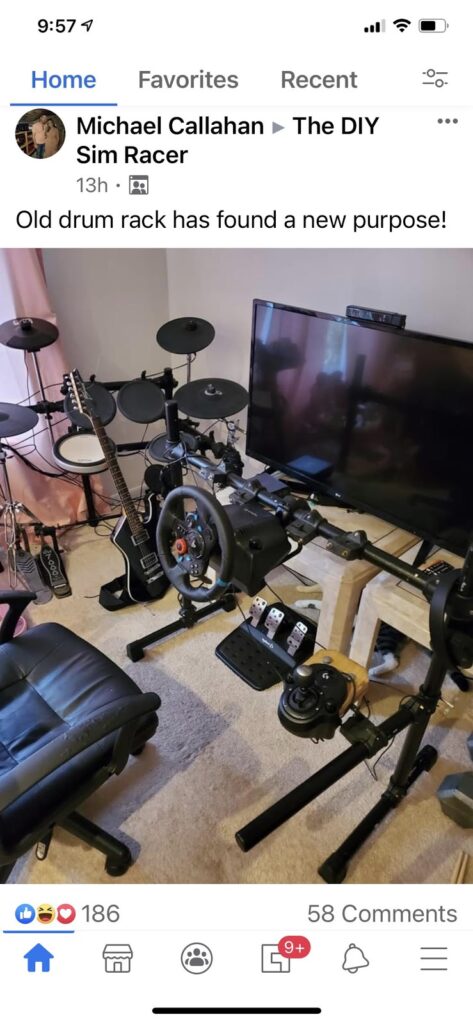 ---
---
Rig Review [Tony]
Matt Densham shows off his solution to keep the pedals anchored to his chair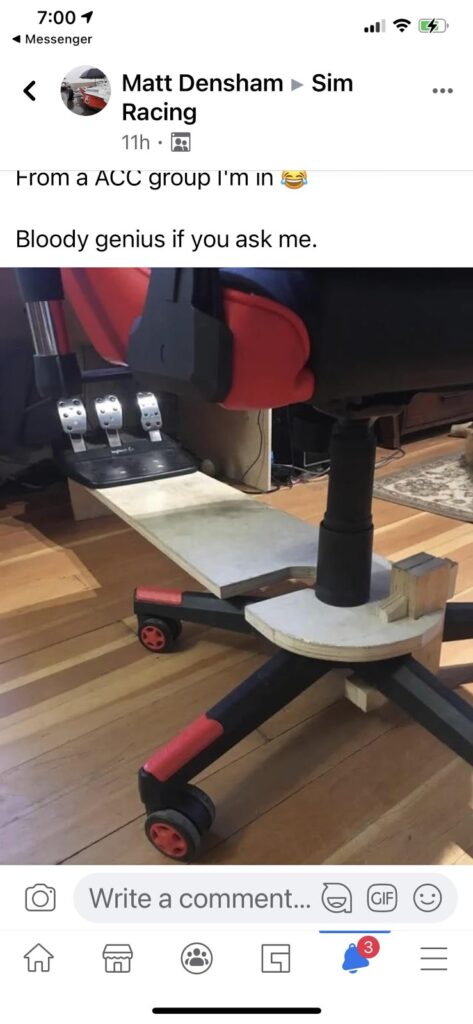 ---
---
Simtag Hydraulic 2 pedal set Racer Edition (Belguim) [Mike]
The Simtag Hydraulic 2 Tilton 600 forged aluminium 2 pedal floor mount assembly with an up to 120 kg maximum pressure for 1489 pounds.
---
---
Frex Shifter (Japan) [Hall]
Frex has an alloy H pattern shifter with a clamp-on mount for 49,800yen ($480)
---
---
Results
NASCAR iRacing Series
---
---
Official Series
Euro Sprint
Hall – 1st ever win at Watkins Glen, first win for the team for the year
Ellis – p Ferrari GT Challenge-
Class A Fixed

Ellis – p21 – Hit the wall hard lap 2 – horrible race – stephen louallen ran w me got p7 – hermie sadler in the race
---
---
League / Hosted Races
Coke Raceway –

Hosted – Chris Macguire – Michigan mx5's – fun
UMPs at Limaland
David Schieldhouse – Kias at Vegas
Mike – p 14 – legends at rock – lots of fun, ran the tires off a lot – had only 4% left on on set – it was the race to see who would not be last…
Mike – p20 — 1 caution – from there 1 did 2 stopper everyone else 1 stopper – really my only choice pretty sure my tires would not have held out for the 1 stopper – Tyler won – Fun to race the Sadler Bros
David – p 8. Good long run speed. Top 10 in this league is always good.

Derek Justis in points leader, Christian Chaniler is in Third, I'm in Fifth
OBRL ARCA Series Atlanta
Brian- P2 Tire saving strategy pays off. Started in 6th, dropped back early and worked my way up thru the field
OBRL iRLP Aftermath Truck Series Mosport
Brian P12 new road course for me and didn't get enough practice. IPL takes a hit!
OBRL National Series (Xfinity)

Brian P16 Pit lost a lap on pit stop fiasco
---
---
Final Thoughts
---
---
---
Words Spoken in Closing Audio Clip -""Thank you for listening to the iRacers Lounge podcast make sure to go subscribe to us on iTunes, SoundCloud, or Google Play, Facebook & Twitter, See You On The Track ."
TITLE IDEAS
Olat is All That
.
.
Description
This week on the iRacers Lounge Podcast we welcome brand new Coca-Cola Series driver, Femi Olat. We take a look at how the new Coke season will be shaping up, who's this years owners, and what's the new prize pool. We see sim drivers in factory simulators at BMW and Team Red Bull as well as some resourceful homemade builds. So, come along and enjoy the show!
iRacers Lounge Podcast is available on iTunes and Apple's Podcasts app, Stitcher, TuneIn, Google Play Music, Spotify, Soundcloud, Podbean, Spreaker, Podbay, PodFanatic, Overcast, Amazon, and other podcast players.
Sponsors:
www.grid-finder.com
www.schoolyardsetups.com Promo Code – Lounge
Hosts:
Mike Ellis – twitter.com/MikeDeanEllis
Tony Groves – www.twitch.tv/SirGroves
Chris Scales – twitter.com/JediMcfly
David Hall – www.twitch.tv/mixmage
Greg Hecktus – twitter.com/froozenkaktus – www.twitch.tv/froozenkaktus
Tony Rochette – twitter.com/TonyRochette
Adam Josselyn- twitter.com/Jossad83
Nick Williams – facebook.com/NDWRacing
Brian Maccubbin – www.twitch.tv/MacRubbinsRacin
Tom Dreiling –
Links:
Old Show Notes – bit.ly/2CFeArM
Facebook – www.facebook.com/iRacersLounge/
Twitter – twitter.com/iracerslounge
Instagram – instagram.com/iracersloungepodcast/
Web (New Show Notes) – iracerslounge.com/