1-14-2021 – Stretching Wood – Episode 0262
iRacers Lounge Podcast – Conversation Topics
Brought to you by: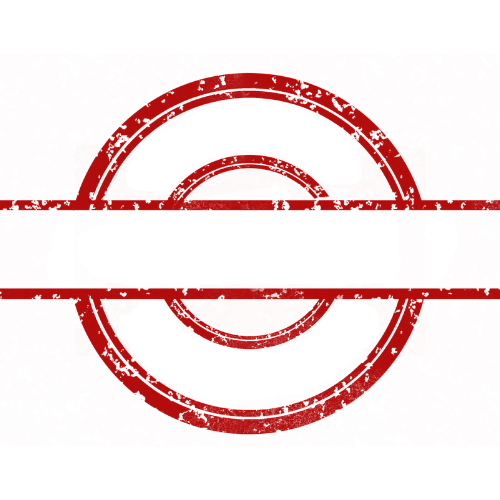 Opening Audio Clip -"Your listening to the iRacers Lounge Podcast where we discuss everything iRacing, in a casual setting, enjoy."`
READ THIS AT THE TOP OF EACH SHOW!!!
Welcome to the iRacer's Lounge, I am your host "XXX". iRacer's Lounge is a podcast for the iRacer, where we talk all things iRacing in a casual setting.
Joining me are the usual characters, ————
---
---
Introduction
This week we be getting into all of the news with the Coke draft and how is Bristol Dirt shaping up for this year, The 24 Hours of Daytona is coming up really soon, and tons of Hardware topics tonight.
---
TITLE SPONSOR READ:
Grid Finder is growing fast and that is good news. With nearly 1000 leagues across 10 different sims and almost 200 iRacing leagues, this is the place to find your next league. League owners, get your leagues noticed and your grids filled. Remember it is free to search and free to post your league. Grid Finder IS the home of online sim racing leagues.
---
---
Topics
---
---
World of Outlaws Round 8 – Kokomo [Brian, Mike]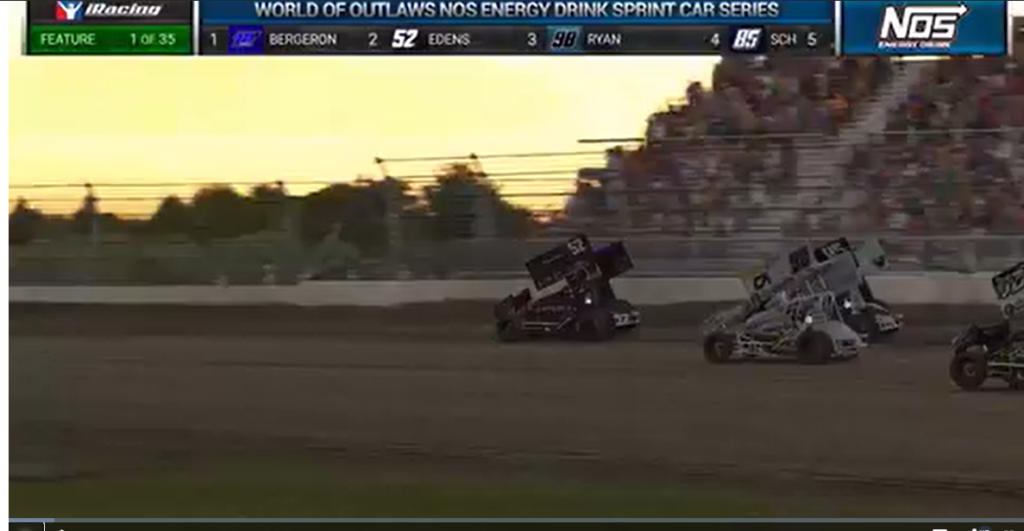 Round 8 of the NOS World of Outlaws World Championship was at Kokomo Speedway with Alex Bergeron holding a 10 point lead over Hayden Cardwell and no one else even close.
Bergeron took the lead early in the feature with Cardwell up to 4th after the first lap.
By lap 10 Cardwell had made his way up to 2nd and was following Bergeron outside of striking range as they worked their way thru traffic, Then, with just 6 laps to go, Zane Smith spins in front of the leader Bergeron and he can't avoid the collision, getting significant front end damage.
But in a stroke of good luck, the caution actually came out just before the contact, so Alex was able to resume the race in front Cardwell was able to avoid the mess and was able to take advantage of Bergeron's ill handling car, take the lead and the win. with James Edens taking second and Tyler Schell i third.
Bergeron fell to the fourth spot which was good enough to maintain a razor thin 2 point lead over Cardwell heading into the 9th round on Monday at Williams Grove Speedway.
---
---
Coke News – Dillon eSports [Hall]
Justin Melillo reports that Team Dillon eSports has added Corey Vincent (formerly of Renegades) along with Taylor Hurst who advanced from the Pro Series to their 2021 lineup.
https://www.facebook.com/1590062501243956/posts/2704851386431723/?d=n
Deadzone Racing [Tony]
Deadzone Racing has landed perennial Coke Series Championship contender Ryan Luza as well as Dylan Duval making a formative team for the 2021 season.
Klingerman eSports [Greg]
Klingerman Sports has added Bob Bryant and Rookie standout Isaac Gann to Parker's first season as a solo team owner
Stewart Hass eSports [Mike]
Stewart Haas has signed drivers Graham Bowling and Dylan Duval to fill out their 2021 Coke Series roster
Richmond Raceway eSports [Tony]
In a video dropped by Richmond Raceway eSports, they reveal that Zach Novak and Jimmie Mullins will both be returning for the 2021 season
---
---
2020 GIFs of the Year [Greg]
Part 5 of Nascar's 2020 GIFs of the year includes the top GIFs of iRacing including a frustrated Clint Bower, a clueless Jimmie Johnson and Denny Hamlin's monitor turned off by his daughter.
---
---
Bristol Dirt Confirmed [Brian]
Bristol Motor Speedway posted a video of what arrived at their facilities today, a load of dirt being delivered for the Nascar dirt event. Aaron Bearden asked if there was a chance of getting Bristol Dirt on iRacing. Steve Myers responded to the thread by saying; "Already being worked on."
---
---
RIP Junior [Hall]
Alan Pajari from the Winter Series League regretfully announced the passing of fellow racer and One Up Motorsports team member Jason K Miller, known to his fellow racers as 'Junior' and was described by Alan as a tremendous person who was funny, thoughtful and serious when the situation asked for it. Christian Challener also added that, "Jason Miller was one of the unspoken greats of the iRacing oval community. He had time for everyone and raced with respect. An absolute masterclass in how to conduct yourself."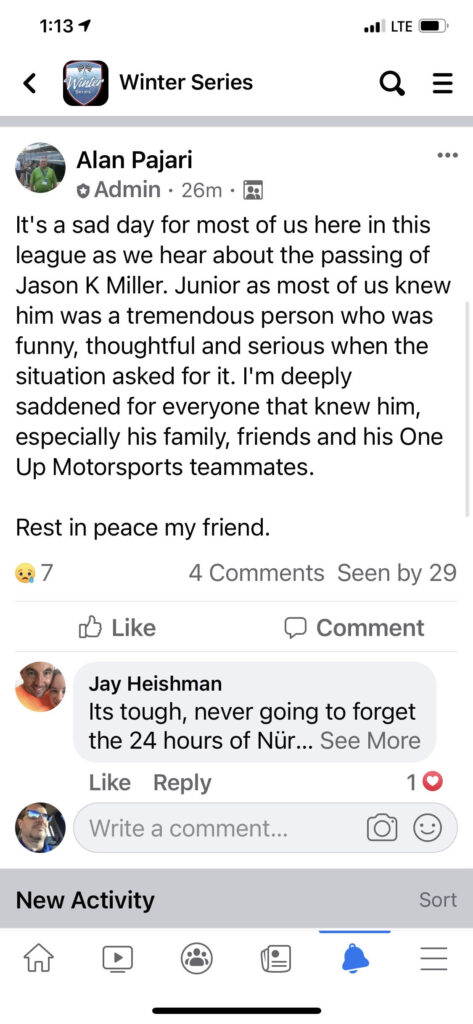 https://www.facebook.com/456875677702430/posts/3646934165363216/?d=n
---
---
Porsche Race [Mike]
Apex Race Team announced that the new Rahal Letterman Lanigan Racing eSports team will have Kevin Ellis Jr and Zac Campbell as it's drivers for the 2021 Porsche Tag Heuer Supercup Season.
Results [Brian]
Not long after the announcement, Kevin Ellis Jr goes on to win the opening stage of the Porsche Supercup race at Interlagos with Max Benecke in second and Mitchell deJong in third.
https://www.iracing.com/ellis-scores-first-porsche-tag-heuer-esports-supercup-feature-win-at-interlagos/
First Lap Video [Greg]
Kevin Ellis posted a video of his treacherous first lap of the race including several close calls.
---
---
24 Hrs of Daytona – Incoming [Tony]
Casey Kirwan shared a video of how,,,Not so well practice for the 24 hours of Daytona is going.
24 Hours of Daytona Details [Mike]
Greg West posted on the forums the final details and time slots for the fast approaching iRacing 24 Hours of Daytona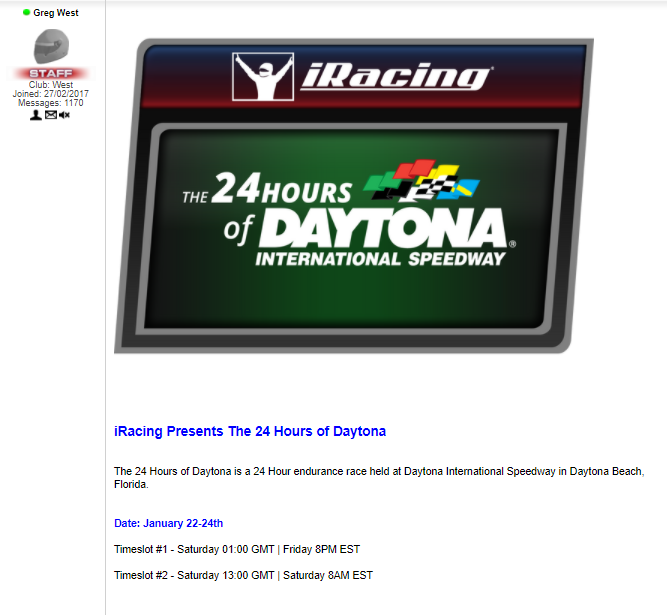 https://members.iracing.com/jforum/posts/list/3783207.page#12325221
BOP Announced [Brian]
Greg also posted the updated Balance of Power for the event. These adjustments will be race specific and not be part of any patch.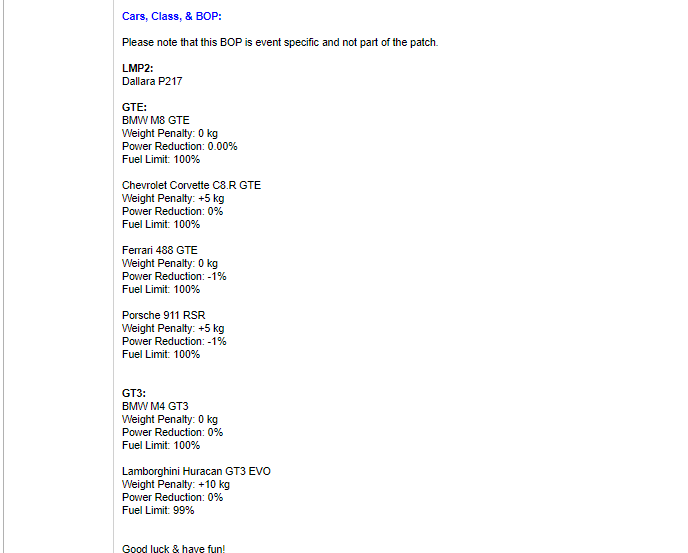 https://members.iracing.com/jforum/posts/list/3789396.page#12359414
LMP2 Changes detailed [Hall]
Christian Challiner spelled out the new changes to the LMP2 to inform those running in the 24 Hours of Daytona. these include a 40HP reduction, increased tire warmer temperatures, revised camber limits and the introduction of 'Pushrod Length' and 'Third Pin Length' adjustments.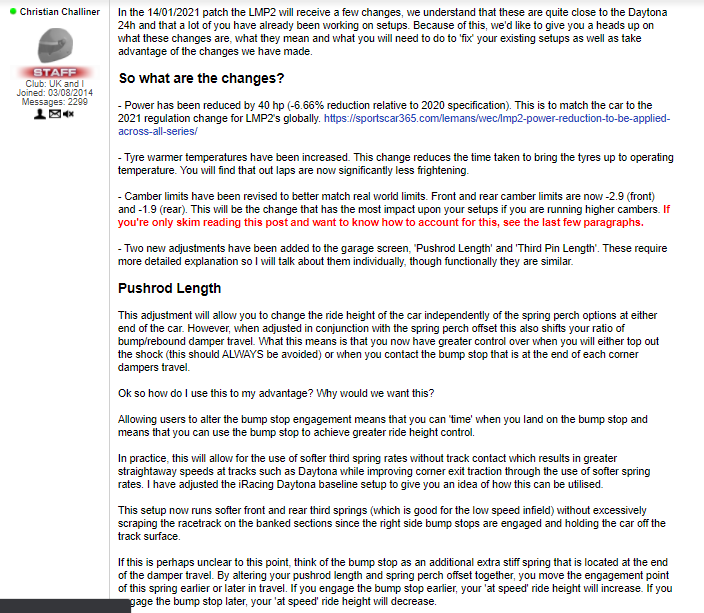 https://members.iracing.com/jforum/posts/list/3788859.page
---
---
Stretch before you Drive? [Tony]
Cameron Gridley shared in the iRacing forums that he routinely stretches before his race sessions to help with some old injuries and muscle tightness that flare up when driving for long periods of time. And wonders how many others do that or something similar.

https://members.iracing.com/jforum/posts/list/3788351.page#12354411
---
---
Pro Invitational Incoming? [Greg]
Denny Hamlin posted a Tweet that may hint towards a return of the Pro Invitational.
---
---
Community iRacing Discord [Mike]
Eric Barile of Lazy Dayz Racing is setting up an open, community Discord channel for racers from every corner of the world to chill, talk racing and have a place to race anything they want.

https://members.iracing.com/jforum/posts/list/3788486.page#12355629
---
---
Get Texts From iRacing [Brian]
Tyler Hudson announced on the forums that you can now sign up to get iRacing texts to your mobile device. if you go to iRacing.com it will prompt you to sign up. You will then receive text notifications regarding Championship live events and/or special offers.


https://members.iracing.com/jforum/posts/list/3788604.page#12356706
---
---
2021 BMW Sim GT Cups [Hall]
Greg West announced on the forums the creation of the BMW SIM GT Cup, the successor to the BMW SIM 120 Cup. Divided into two seasons, a total of ten races will take place in 2021. A total prize purse of 4,200 US dollars is up for grabs for the top three teams in the first four races of each season. The races are 120 minutes long and include a mandatory driver changeover. The dates have already been confirmed for Season 1 in the BMW M8 GTE, with the opening round taking place at the virtual 'Daytona International Speedway' on 17th January
These events are team races with a minimum of 2 drivers required. The fair share driving rules will be used.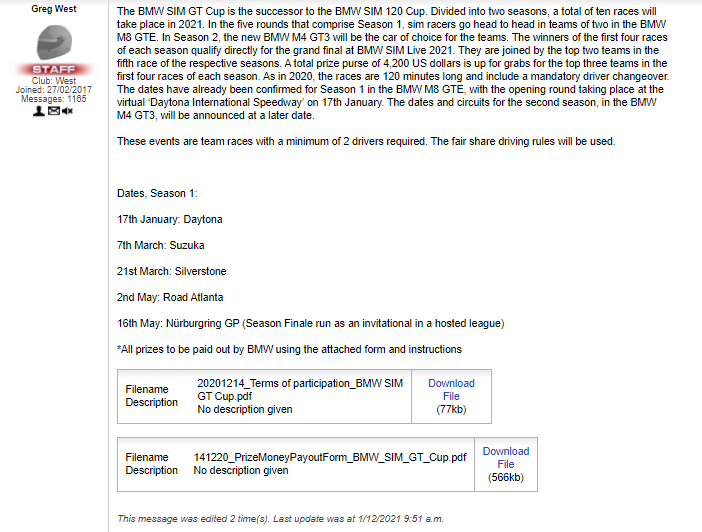 https://members.iracing.com/jforum/posts/list/3788557.page#12356352
https://members.iracing.com/jforum/posts/list/3788559.page#12356355
---
---
Bell Wins! [Tony]
In the week long events leading up to the Chili Bowl Nationals, Christopher Bell driving the iRacing sponsored midget wins the Race of Champions in Tulsa, Oklahoma.
---
---
Sim Racing is Awesome! [Mike]
A comic style meme may have done the best job personifying what iRacing means to those of us who are iRacing fanatics.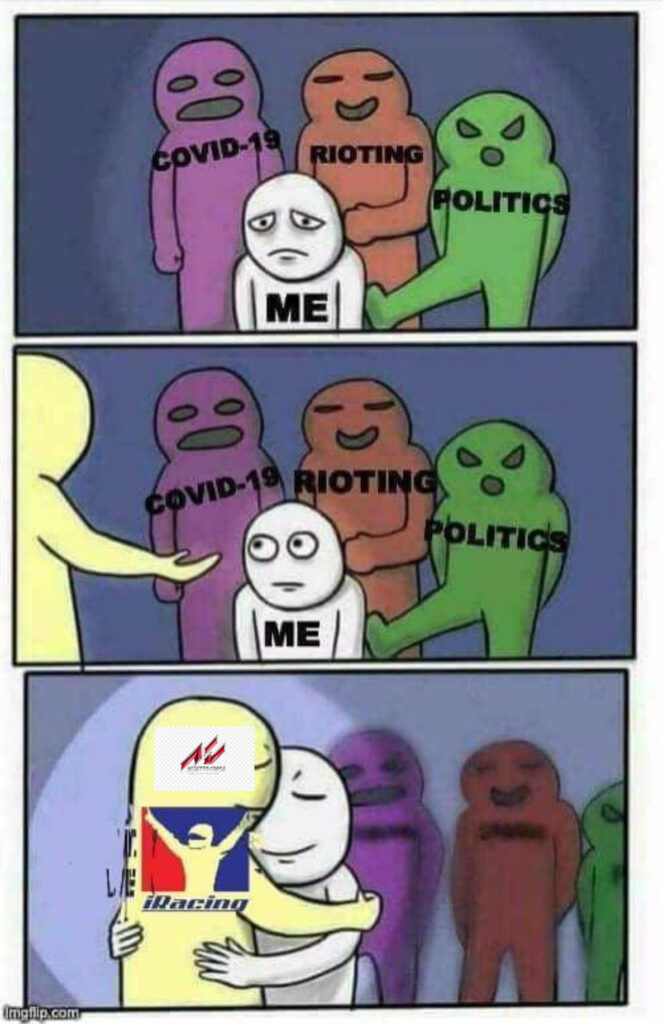 ---
---
iRacing Curse Strike Catalunya [Brian]
So it looks like the cure of iRacing has been felt in the recently introduced Barcelona Circuit. In 2021 turn 10 has been modified from the version iRacing just released. No sign from iRacing of any updates to the 2020 version
https://members.iracing.com/jforum/posts/list/3788565.page#12356380
---
---
Season 1 Patch 3 – Release Notes [Hall]
iRacing has dropped the new Season 1 Patch 3 notes.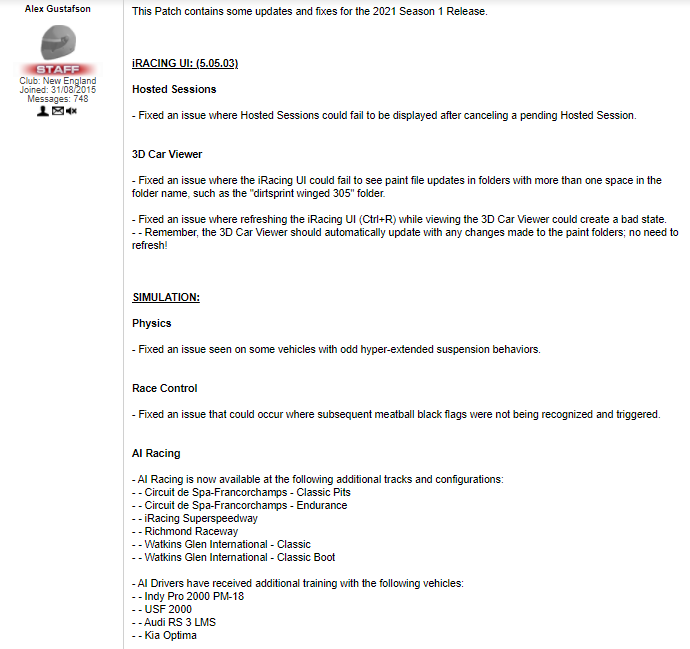 https://members.iracing.com/jforum/posts/list/3788999.page#12358620
---
---
Podcast Housekeeping
Aftermath
New Website – Leave Comments
---
We are in the regular rotation… (Mike)
https://performancemotorsportsnetwork.com/
---
---
---
Hardware/Software
---
RSR-21 Chassis [Tony]
Rock Solid Rigs just Launched the RSR-21 Chassis. A solid wood, fully adjustable racing rig developed by a Formula One Car Designer for optimal stiffness.
https://www.instagram.com/p/CJDk2CHhHXg/?igshid=wtk2tghbab5l
---
---
SimMagic Pedal Inbound? [Greg]
SimMagic posted on their Instagram account a tease of a new pedal that may be inbound
https://www.instagram.com/p/CJp5jQwhptG/?igshid=1hcnievya3fow
http://www.simagic.com/#/PageMainEn/PageProductEn
---
---
Same Wheel for Real Car or Sim Car [Mike]
The BMW Blog shows off the new Fanatec BMW M4 GT3 Steering wheel in an article that also addresses their commitment to sim racing saying, " the (GT3) racing series will co-exist with the digital racing series and it won't be unusual to see "hybrid" drivers racing in both.
https://www.bmwblog.com/2021/01/06/bmw-m4-gt3-sim-racing-will-cost-below-5000-euros/?fbclid=IwAR2S_b-5MoxI8c5bw_ygYHQ6NLK-qwFMxt_N_e_gEXCgSefwee9p3d8hkyk
https://members.iracing.com/jforum/posts/list/3788045.page#12351116
---
---
Twitch Extension [Brian]
Vicente Maestre developed a Twitch Panel Extension that will let you display your iRacing Licenses and stats on your Twitch Channel.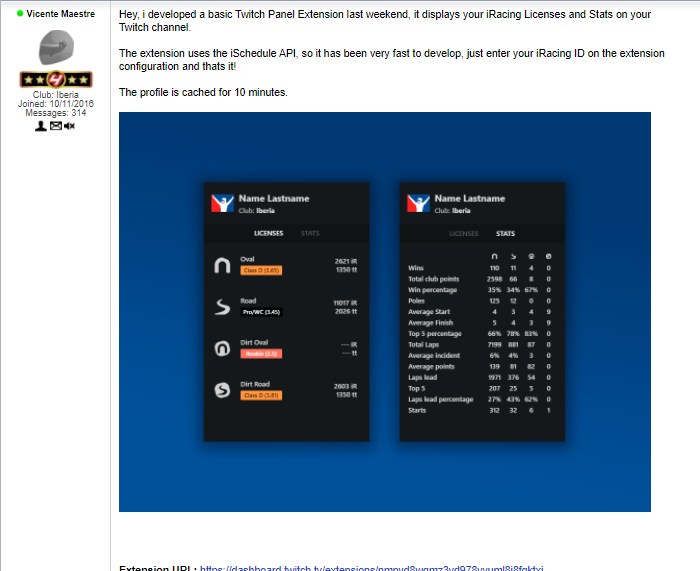 https://members.iracing.com/jforum/posts/list/3755997.page
---
---
Company Review – Hamrock (Finland) [Hall]
The RSH eSports company from Finland has announced that they are ready to ship their Sim Rigs to the EU area and are constantly adding items to the English side of their company.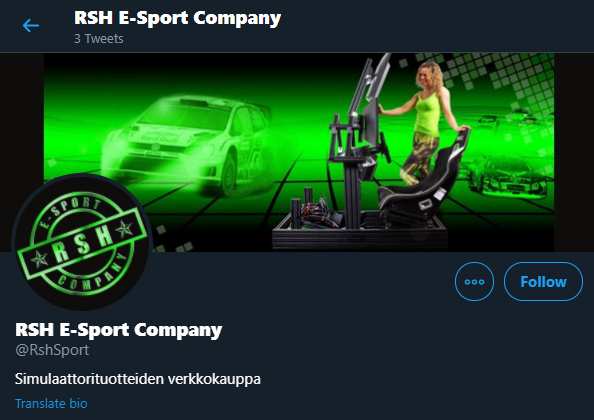 ---
---
Spotlights 2 Rollout [Tony]
Midwest Simulations is rolling out their Spotlight 2 spotter/lighting system. The new Spotlights feature 20% larger lenses as well as a third light on each side, one of the most requested features for 3 wide racing so it is easier to differentiate between when one and two lights are on.
https://mobile.twitter.com/MidwestSims/status/1347295072765833218?s=19
https://midwestsim.com/blog/spotlights-2-rollout/
---
---
Nvidea Warns – High Severity GPU Driver Flaws [Mike]
On Thursday Nvidea fixed a slew of high-severity flaws affecting its graphics driver. The vulnerabilities allow bad actors to cripple systems with denial of service attacks, escalate privileges, tamper with data or sniff out sensitive data.
https://threatpost.com/nvidia-windows-gamers-graphics-driver-flaws/162857/
---
---
Results
NASCAR iRacing Series
---
---
Official Series
Ellis – p Ferrari GT Challenge-

Watkins Glen – p9,. Started 16th – some early carnage i missed it – clean after that
Bobby – got pole finished 3rd
P13 – after starting p16 – just no pace

Class A Fixed

Ellis – p5 – texas – started p19 – via attrition and barely missing some early wrecks worked my way up – 10 to go or so got wrecked only 30 seconds damage still had my revs – drove it from 12th to 5th – I sucked on the restarts bad lost on a couple of them
P22 – tried again – 1 caution lap 3 then green from there was high as 7th but i was expecting cautions and ran my tires hard to move up – faded to p22 hit the wall like 3 times pushing
Brian – Ran several races over the weekend in the Skippy's at Watkins Glen trying to advance my license in order to race in the 24 Hours of Daytona. Best finish was a P4, but I advanced to a C license, gained about 150 iRating,,,all starting from the pits.
---
---
League / Hosted Races
Mike – Legends – Wilkesboro – p6 – ran 4th to 5th most of the race – did two stopper and most others did 1 – that bit me
Mike – p18 – entered pit on wrong side 40 second penalty
David – Bristol, p8, 4th in points now 7th with drop week
OBRL ARCA Series
Brian- P7 Indy. Wasn't quite able to save tires well enough to stay up front, but still had some great racing.
UCORA Spotlights Snowball Series – radicals
---
---
Final Thoughts
---
---
---
Words Spoken in Closing Audio Clip -""Thank you for listening to the iRacers Lounge podcast make sure to go subscribe to us on iTunes, SoundCloud, or Google Play, Facebook & Twitter, See You On The Track ."
TITLE IDEAS
Stretching Wood
.
.
Description
In this week's show we continue to report which teams this year's Coke Series drivers land. We report that dirt is arriving at Bristol Motor Speedway, but will it be arriving at iRacing? The Daytona 24 Hours is a hot topic this week, and can you buy a dynamic, fully adjustable sim rig,,,out of wood? We'll answer that question and so much more on this edition of The iRacers Lounge Podcast.
iRacers Lounge Podcast is available on iTunes and Apple's Podcasts app, Stitcher, TuneIn, Google Play Music, Spotify, Soundcloud, Podbean, Spreaker, Podbay, PodFanatic, Overcast, Amazon, and other podcast players.
Sponsors:
www.grid-finder.com
Hosts:
Mike Ellis – twitter.com/MikeDeanEllis
Tony Groves – www.twitch.tv/SirGroves
Chris Scales – twitter.com/JediMcfly
David Hall – www.twitch.tv/mixmage
Greg Hecktus – twitter.com/froozenkaktus – www.twitch.tv/froozenkaktus
Tony Rochette – twitter.com/TonyRochette
Adam Josselyn- twitter.com/Jossad83
Nick Williams – facebook.com/NDWRacing
Brian Maccubbin – www.twitch.tv/MacRubbinsRacin
Tom Dreiling –
Links:
Old Show Notes – bit.ly/2CFeArM
Facebook – www.facebook.com/iRacersLounge/
Twitter – twitter.com/iracerslounge
Instagram – instagram.com/iracersloungepodcast/
Web (New Show Notes) – iracerslounge.com/