1-21-2021 – Breaking Chase – Episode 0263
iRacers Lounge Podcast – Conversation Topics
Brought to you by: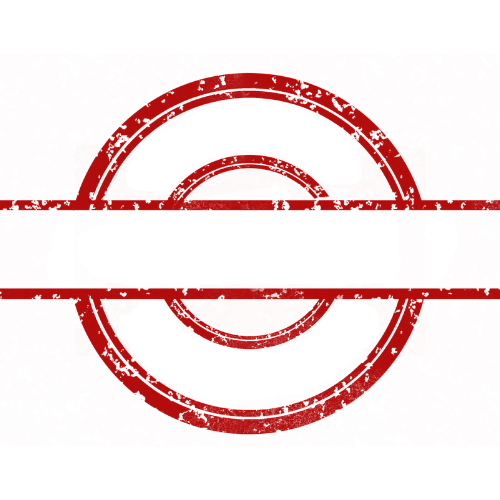 Opening Audio Clip -"Your listening to the iRacers Lounge Podcast where we discuss everything iRacing, in a casual setting, enjoy."`
READ THIS AT THE TOP OF EACH SHOW!!!
Welcome to the iRacer's Lounge, I am your host "XXX". iRacer's Lounge is a podcast for the iRacer, where we talk all things iRacing in a casual setting.
Joining me are the usual characters, ————
---
---
Introduction
On today's show we recap round 9 of the World of Outlaws Series with our guest, Lead announcer Chase Raudman. More Coke Series news is developing and we get ready for this weekends 24 Hours of Daytona.
---
---
TITLE SPONSOR READ:
Grid Finder is growing fast and that is good news. With nearly 1000 leagues across 10 different sims and almost 200 iRacing leagues, this is the place to find your next league. League owners, get your leagues noticed and your grids filled. Remember it is free to search and free to post your league. Grid Finder IS the home of online sim racing leagues
Visit www.grid-finder.com to find a league, or to upload your own!
Grid Finder – "The home of online sim racing leagues"
---
---
Show Introduction
On today's show we recap round 9 of the World of Outlaws Series with our guest, Lead announcer Chase Raudman. More Coke Series news is developing and we get ready for this weekends 24 Hours of Daytona.
Special Guest
Chase Raudman
https://twitter.com/chase_raudman2?lang=en
https://members.iracing.com/membersite/member/CareerStats.do?custid=73242
General Questions:
What brought you to iRacing and how did you hear about it?
Which series do you normally run?
What type of hardware do you use? (Wheels, Pedals, ect.)
Software

What gear did you use when you first started iRacing?

Do you run Monitors or VR?

How many monitors?
What VR headset are you running?

Are you part of a team?
Do you participate in any leagues or is it just official racing?
What is your most memorable iRacing moment?
Guest Specific Questions:
---
---
Topics
---
---
World of Outlaws Round 9 Williams Grove [Brian]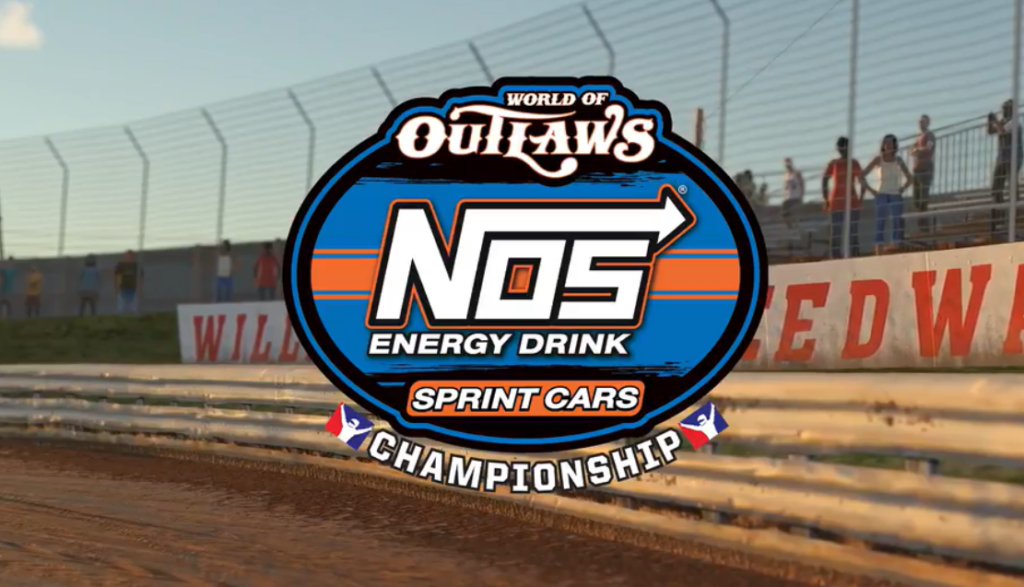 Monday night was week 9 of the iRacing Nos Energy Drink World of Outlaws Sprint Car Championship from Williams Grove Speedway in Mechanicsburg, PA. With last weeks win Hayden Cardwell pulled within 2 points of the leader, and 2 time defending champion, Alex Bergeron.
The first surprise comes early when Lewis Hewett takes fast time in qualifying ahead of Bergeron who always has great speed at the Grove, and Cardwell qualifies P5
So Hewett starts on the pole with Cardwell on the outside in the first heat. Hewitt takes an early lead but with Cardwell closing late, tries a desperate slide job on the final turn that is ultimately unsuccessful finishing P2.
Heat 2 found Bergeron on the pole with former series champion Tim Ryan on his outside. Bergeron takes the early lead, but Ryan finds enough speed to get to his inside on the front strait where they make contact. Bergeron get the worst of the contact, hitting the wall, but managing to take second and missing the chance to add a heat race point to his slim series lead over Cardwell.
Cameron Merryman takes the win in heat 3 ahead of James Edens and the final heat is won by Tyler Schell.
After 2 desperately run B main races we come to the feature event of the night with Hewitt on the pole and Tim Ryan on the outside with championship contenders Hayden Cardwell and Alex Bergeron starting side by side on row 3.
The drama started right away when ont he first lap Cardwell spins after getting into the back of Bergeron in the middle of turn 4. He will be restarting in the back of the field, P20 with a monumental challenge to just stay in the championship hunt.
When the green comes back out Lewis Hewett takes the lead until Tyler Schell grabs it from him on lap 6 with Alex Bergeron on his heals. The 2 remain nose to tail for the remainder of the race and Tyler Schell grabs his first win in the sim's top series. Bergeron holds second and Cameron Merryman grabs third. Cardwell can only make his way up to 12th finding himself 30 points behind Bergeron going into the finale at The Dirt Track at Charlotte
https://www.iracing.com/schell-wins-first-iracing-world-of-outlaws-sprint-car-race-bergeron-controls-title-chase-at-williams-grove/
---
---
Coke Drafts [Mike]
Joe Gibbs Racing has landed Coke Series 4x champion Raya Alfalla and series rookie, and iRacers Lounge guest Femi Olat who will take over the famed 18 car.
McLaren Shadow [Greg]
The newly formed McLaren Coke Series team has announced their inaugural drivers for the upcoming season, rookie Allen Boes and Blake Reynolds
---
---
Spin into Pit Box – Monza Style [Hall]
Alex Horn posted a video of what may be the most improbable pitstop ever where an Indy car clips the wall at the pit road exit at Monza, barrel rolling an incalculable number of times and lands, albeit in rough shape, in the pit stall ready for service.
---
---
Victory! – Again! [Tony]
Christopher Bell continues his early dominance at the Chili Bowl nationals taking the iRacing sponsored midget to victory lane in Thursday's John Christner Trucking Qualifying Night, setting him up for the A Main Feature race on Saturday.
Get C Bell's Paint in Trading Paints [Brian]
If you're interested in racing Christopher Bell's midget paint scheme, it's already available in trading paints, created by GageStevens
---
---
Porsche SuperCup [Mike]
Congratulations to Gabriela Jílková, (Quick Gabi) for winning the Porsche All Star Race Saturday with second going to Matt Campbell and Dan Suzuki in third.
Porsche Super Cup – Barcelona [Hall]
Defending Porsche Tag Heuer Series Champion Sebastian Job redeems himself after technical difficulties in week 1 to take the win in week 2 at Barcelona. Second went to Josh Rogers and third going to Charlie Collins.
---
---
Pit Speed Limit Discussion [Mike]
So i use simracingapps count down to pit road, and it has a visual, MPH, in tenths. So if pit road speed is 55, I can use that meter and increase my speed from 55.0 to 55.9 without it beeping at me – Being able to see it to the tenths helps you find that spot on the throttle when your closer to 56 instead of 55..

https://members.iracing.com/jforum/posts/list/25/3789642.page#12362056
Poll – Should Pit Lane Speed Limits be Tightened?[Tony]
Also in the forums there was a poll as to whether to keep the speed limits as they are, make the tolerances tighter, or enable a zero tolerance pit speed patrolling.
https://members.iracing.com/jforum/posts/list/3789895.page#12364363
---
---
Porsche ESports Sprint Challenge Canada [Greg]
Porsche Cars Canada, Ltd. is seeking the fastest 40 Canadian Sim Racers to race in an epic 8 event series. The Porsche Esports Sprint Challenge Canada will take place on iRacing.com with two classes – the Porsche 718 Cayman GT4 Clubsport MR and, new for this year, the 911 GT3 Cup. To enter, set your best times at Canadian Tire Motorsports Park, Circuit Gilles Villeneuve and Laguna Seca from January 29 to February 11, 2021 using the 911 GT3 Cup. The quickest lap time from each track will be added together for one total and the fastest 40 drivers from Canada will qualify to participate in the race series.
---
---
NYT Article [Brian]
The New York Times article by Roy Furchgott cornicles the rise of iRacing as an eSport, its ability bring a younger audience to Nascar and how it sustained real-world racing thru the pandemic
https://www.nytimes.com/2021/01/18/business/sim-racing-enascar.html?smid=tw-share
---
---
Stolen Models? [Mike]
A tweet by iiPolaris sent to the attention to Greg West and iRacing says that a site called "sim dream development' has stolen a car model from iRacing and selling it on their site.
Greg West responded that they are aware of the situation and are pursuing it with all available resources noting that IP protection is very important and they are taking it very seriously.
---
---
eShortCourse World Cup [Hall]
Jim Beaver eSports has announced that The Short Course World Cup presented by Fist Full Bourbon returns today, Jan 21st and will make it's televised debut on February 14th.
---
---
Fixed Setup Oval Racing Guide [Tony]
David Schildhouse posted a Youtube video on his channel an iRacing guide for fixed setup oval racing.
---
---
Romain Gets It [Greg]
Romain Grosjean, fresh off a remarkable escape from a fiery F1 crash at Bahrain Tweeted about his iRacing experience, saying, "You think it's just a video game, and then, you find yourself super focus and trying to find every little details to go fast."
---
---
New Forums – Buy Sell Trade [Brian]
Tyler Hudson has introduced on the forums a new Buy, Sell, Trade section where all third party sales can be posted in a centralized location so that other iRacing forums can stay focused on the cars, tracks, regions or series they are designed to highlight.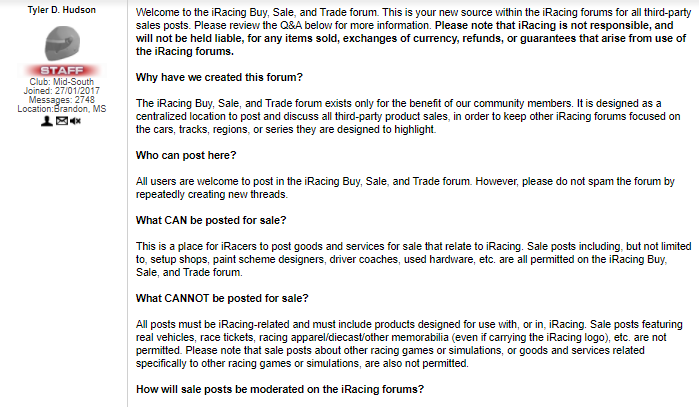 https://members.iracing.com/jforum/forums/show/20911.page
---
---
Inside Sim Racing YouTube Channel is Back! [Mike]
The Inside Sim Racing Youtube Channel is back with reviewing in its newest episode reviewing the Sim Magic M10 wheel base.
---
---
24 Hours of Daytona – Ready? [Tony]
The 2021 24 Hours of Daytona is just 1 day away, are you ready for the magic hours!
https://www.instagram.com/p/CKUTq_dgCzf/?igshid=oxdkjrkbva7z
---
---
Brick by Brick [Hall]
A new series called Brick by Brick has launched with it's first video chronicling former IRL driver and paraplegic Robert Wickens as he returns to racing in the sim world. This episode explores the sim rig that has been created to serve his specific needs.
---
---
Galaxy iRacing League [Mike]
The Galaxy iRacing League (GiL) was started a couple of years ago to race the NASCAR "A" class cars. The race lengths, scoring system, playoff procedure and rules follow hand-in-hand with the real-life NASCAR Cup Series. The goal of this league is to create a community of race enthusiasts that are respectful of one another on and off the track, and enjoy racing in series that closely simulate their real-life counterparts. The Admin team is diverse, ranging in age and areas of the country that we reside. One of the admins is a retired NASCAR official and a crew chief, and another one of the admin's is a retired championship-winning NASCAR crew chief.
2020 was the first full-time season for Galaxy Cup. We are excited about the 2021 season, as we have added more drivers and some prizes. We are working towards title sponsorship of the series and race purses.
The GiL is centered around the Galaxy Cup Series. Most of the races run Saturday nights. There are 5 races that run on Friday nights, because those are the races that the real-life Cup series runs Saturday nights.
The GiL currently also runs a Truck Series. This series runs on Friday nights on the same race weekend as the real life Truck series. If the Galaxy Cup is racing Friday nights, then the Truck Series races on Thursday.
Let me know if there is any other information I can get to you!
Dave Fuge, Jr.
http://galaxycupseries.weebly.com/
---
---
Podcast Housekeeping
Aftermath
New Website – Leave Comments
---
We are in the regular rotation… (Mike)
https://performancemotorsportsnetwork.com/
---
---
---
Hardware/Software
---
Xero-Play QR System – By Sim Labs Now [Hall]
Sim Labs announced they will be taking over the XERO-PLAY quick release system to have it sold under the Sim-Lab flag while still being available in the Hybrid Racing Simulations variant in the Australian region.
https://www.instagram.com/p/CJ0jidbhWu0/?igshid=1lepfj7qbo7v8
---
---
Prosimu t1000al 4m-prs Motion Platform [Brian]
Barry Rowland at The Sim Racing Garage Reviews the Prosimu T1000AL Motion Platform, a 4DOF actuator style platform system.
https://www.prosimu.com/fr/boutique.html?store-page=ProSimu-T1000-AL-Aluminum-Cokpit-Simulator-p268468882
---
---
New ASUS Zen Boards [Tony]
ASUS just announced their new lineup of Z590 boards. The ROG MAXIMUS XIII is looking amazing! Definitely screams BigRedV4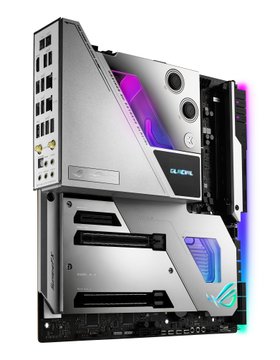 https://mobile.twitter.com/Ed_TechSource/status/1348745132204457984?s=07
---
---
RTX 3060 [Greg]
Coming this February Nvidea announced the GeForce RTX 3060which brings the power of Ampere, their 2nd Generation RTX architecture, they should produce twice the raster performance and 10x the ray tracing performance of the GeForce GTX 1060.
https://www.instagram.com/p/CJ9i_jknTQd/?igshid=1l8bamwzs0nfq
---
---
Rig Review [Mike]
VRS has posted a sneak peak of their DirectForce Pro GT Sim Rig, currently being used in their Coanda Simsport complex.
https://www.facebook.com/1319734528040583/posts/5389433667737295/?d=n
---
---
Freem Gloves [Brian]
Freem Simracing is a european company offering an Italian made innovative simracing glove with breathable fabric, ultra grip ;with touch screen inserts on the index finger and thumb for 55 euros.
https://www.freem-simracing.com/
---
---
PitBuddy [Tony]
PitBuddy provides feedback to the driver to indicate if either side tires are checked, if you have checked to fill any fuel, and if you have your fast repair checked
https://midwestsim.com/blog/introducing-the-pitbuddy-and-its-friends/
---
---
Button Boxes Crazyvetfam [Greg]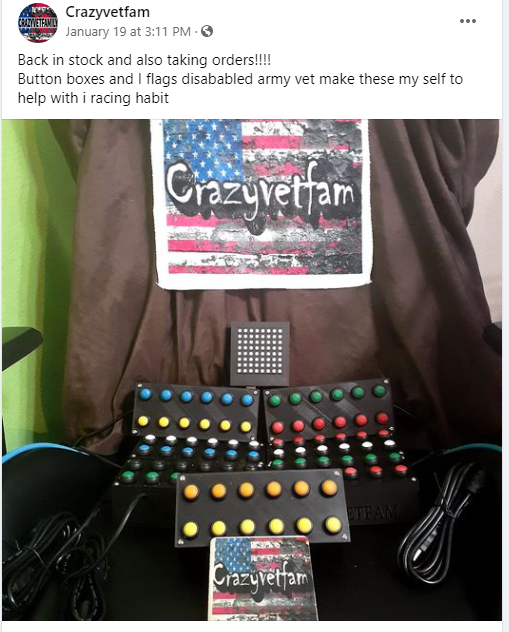 100% disabled vet i make these button boxes and I flag 50 + shipping for boxes60+ shipping for flags Can do customs. And working on toggles and dials.
https://www.facebook.com/crazyvetfam/
---
---
Results
NASCAR iRacing Series
---
---
Official Series
IMSA

Ellis – p16 out of 22- best lap a 1:44.1, had a good start gained 7 spots then got punted in turn two on lap 2, went clear to the back – 15x out of 17x
Tom D – 3 wins in the LMP2 getting ready for the 24 hours @ Daytona. The 3rd win now puts me at 100 wins in Official iRacing races in all classes. I'm super proud of this.
Class A Fixed

Ellis – p 5 texas – lead the most laps – by lap 10 i had gone 14th to 1st – long run to end, I ran the tires off and faded – Mike Ramos4 in the race even told me ellis your gonna run the tires off!

P18 – got caught up in 1st caution someone hit the wall no where to go – then wrecked in final restart bad someone cant hold a line.
P 16 – started 17th got up to 4th but started blinking they said – Quality was 100,90 – so i pulled up and let the pack go…
---
---
League / Hosted Races
Pacific Majors –

Hall – p12 GTE. Problem with an LMP2 who thought 2 wide was a good idea in the bus stop. Other wise clean.
Hosted – Pro2 Truck -Phx Rally – started 14th finished p3 – fun!
Trucks at Tally – cautions on i gave up lap 11
Pro Mazda at Michigan – So much fun but got wrecked by fools – If we could get a good group…. It would be gold.
Winter League- -.

Mike – Legends –
Mike – p16 – Chicago – Slid thru stall on first stop bad – lost 10-15 seconds on track – could never recover
Hall – p 11. Clean race, that was my pace, good on long run. Dropped to 5th in points still, its going to be a tight race as drop weeks kick in.
OBRL ARCA Series
Brian- P6 Rockingham decent speed, spun out of pit road keeping a possible podium finish out of reach
---
---
Final Thoughts
---
---
---
Words Spoken in Closing Audio Clip -""Thank you for listening to the iRacers Lounge podcast make sure to go subscribe to us on iTunes, SoundCloud, or Google Play, Facebook & Twitter, See You On The Track ."
TITLE IDEAS
Breaking Chase
.
.
Description
Come and get dirty this week as we talk to our guest, iRacing World of Outlaws announcer Chase Raudman and get his thoughts as the season wraps up. There's more Coke Series announcements, Porsche Supercup results and iRacing goes big time, featured in the 'Paper of Record' the New York Times. So hot off the presses… it's this weeks edition of The iRacers Lounge Podcast.
iRacers Lounge Podcast is available on iTunes and Apple's Podcasts app, Stitcher, TuneIn, Google Play Music, Spotify, Soundcloud, Podbean, Spreaker, Podbay, PodFanatic, Overcast, Amazon, and other podcast players.
Sponsors:
www.grid-finder.com
Hosts:
Mike Ellis – twitter.com/MikeDeanEllis
Tony Groves – www.twitch.tv/SirGroves
Chris Scales – twitter.com/JediMcfly
David Hall – www.twitch.tv/mixmage
Greg Hecktus – twitter.com/froozenkaktus – www.twitch.tv/froozenkaktus
Tony Rochette – twitter.com/TonyRochette
Adam Josselyn- twitter.com/Jossad83
Nick Williams – facebook.com/NDWRacing
Brian Maccubbin – www.twitch.tv/MacRubbinsRacin
Tom Dreiling –
Links:
Old Show Notes – bit.ly/2CFeArM
Facebook – www.facebook.com/iRacersLounge/
Twitter – twitter.com/iracerslounge
Instagram – instagram.com/iracersloungepodcast/
Web (New Show Notes) – iracerslounge.com/