1-28-2021 – The 29 Hours of Daytona – Episode 0264
iRacers Lounge Podcast – Conversation Topics
Brought to you by: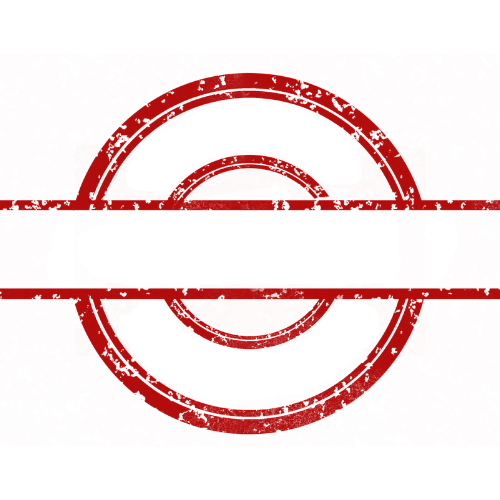 Opening Audio Clip -"Your listening to the iRacers Lounge Podcast where we discuss everything iRacing, in a casual setting, enjoy."`
READ THIS AT THE TOP OF EACH SHOW!!!
Welcome to the iRacer's Lounge, I am your host "XXX". iRacer's Lounge is a podcast for the iRacer, where we talk all things iRacing in a casual setting.
Joining me are the usual characters, ————
---
---
Introduction
On todays show we take a deep dive into the good, bad and the ugly of the 24 Hours of Daytona. A champion is crowned in the World of Outlaws Sprint Car Series and we prepare for the start of the Nascar/ NIS Season.
---
---
TITLE SPONSOR READ:
Grid Finder is growing fast and that is good news. With nearly 1000 leagues across 10 different sims and almost 200 iRacing leagues, this is the place to find your next league. League owners, get your leagues noticed and your grids filled. Remember it is free to search and free to post your league. Grid Finder IS the home of online sim racing leagues
Visit www.grid-finder.com to find a league, or to upload your own!
Grid Finder – "The home of online sim racing leagues"
---
---
---
Topics
---
---
World of Outlaws Round 10 Charlotte [Brian/Mike]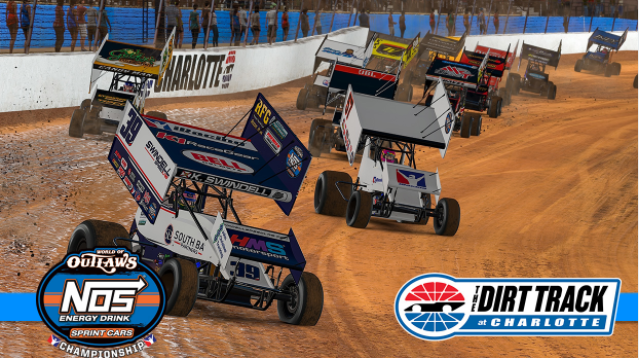 Monday Night was the 10th and final week of the NOS Energy Drink iRacing World of Outlaws Series at the Dirt Track at Charlotte, Alex Bergeron entered the race with a 30 point lead over Hayden Cardwell after his disappointing finish last week at Williams Grove and in a great position to win his third consecutive series Championship.
Aussie Tim Ryan posted fast time in qualifying and took the win in the first heat, grabbing the pole for the feature.
Heat 2 went tp Greggory Lemay (LE – MAY) after his best qualifying run and best finish in the heats.
Bergeron started outside row one in Heat 3 beside pole sitter Kendell Tucker. However Tucker remained fast and consistent for the win, with Bergeron grabbing second.
Hayden Cardwell started on the pole for Heat 4 and gets a much needed win to keep the pressure on Bergeron for the series championship.
So, setting up the feature we have Tim Ryan on the pole, Cardwell starting P3 and Bergeron starting P7 needing a top ten to lock up the championship, if Cardwell wins the race.
When the green dropped, Tim Ryan had the speed to separate himself from the field even after regrouping twice with cautions to win his second race of the year without much of a challenge.
Cardwell quickly took 2nd at the start of the race, but never really challenged Ryan for the win finishing P2.
Bergeron had some tense moments early in the race with heavy traffic that he eventually cleared, settling comfortably in 4th and capturing his third straight title and taking home the $10k champions prize.
---
---
Coke News [Hall]
William Byron eSports posted a video announcing returning Coke Series Champion Nick Ottinger and Logan Clampitt to their roster.
JR Motorsports [Greg]
JR Motorsports resigns Coke Series regulars Michael Conti and JR Motorsports employee, veteran Brad Davies.
Spacestation Gaming [Mike]
The Newly formed Spacestation Gaming has signed Malik Ray and Series newcomer Vicente Salas to their Coke Series roster.
---
---
eShortCourse World Cup [Brian]
The winner of the Jim Beaver eShort Course World cup brought to you by Fistful Bourbon was Holden Heitritter. And remember to catch the broadcasted replay on CBS Sports net on February 14th at 1:00 pm eastern time.
---
---
Follow Up to Last Week [Hall]
Last wee we reviewed a video called Brick x Brick chronicling the former driver and paraplegic Robert Wickens as he shows his rig that has let him get back into racing. Staffer David Tucker posted the video on the forums and announced that he is adding support for dual throttle and brake inputs in iRacing, letting him to be able to combine paddles if needed and use a handbrake and paddle together as well.

https://members.iracing.com/jforum/posts/list/3790384.page#12367665
---
---
Spotter Tips [Mike]
Robert Perry asked in the forums how to spot and how to get the correct perch to be effective. Our own Mike Ellis responded with his recommendations.


https://members.iracing.com/jforum/posts/list/3790315.page#12368308
---
---
Off Track to Win? [Greg]
Jon Brown posted a video in the forums of a last turn pass at Spa where a driver goes off track to get the win and asks if this should've been a valid win.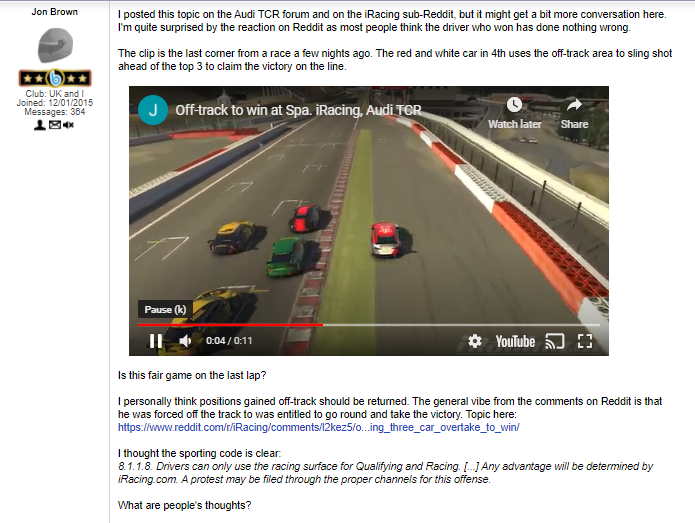 https://members.iracing.com/jforum/posts/list/3790371.page#12367535
---
---
Prepare your 2021 Season 2 Schedules [Brain]
Tyler Hudson will be taking community-based Season 2 Schedules and length of races requests until Friday, February 12th.

https://members.iracing.com/jforum/posts/list/3790439.page#12367929
https://members.iracing.com/jforum/posts/list/3790438.page#12367927
https://members.iracing.com/jforum/posts/list/3790416.page#12367894
https://members.iracing.com/jforum/posts/list/3790418.page#12367896
https://members.iracing.com/jforum/posts/list/3790418.page#12367896
---
---
Member Highlights [Greg]
iRacing releases their December 2020 Top Member Highlights
---
---
Before the 24 Hours…[Mike]
Daytona… We have a problem.
https://members.iracing.com/jforum/posts/list/3790522.page

https://members.iracing.com/jforum/posts/list/25/3790522.page#12369254

https://members.iracing.com/jforum/posts/list/3790550.page#12370030
Community Response [Hall]
Champweb wrote a note to iRacing and all of their top brass expressing their displeasure with the problems and communications, going on to suggest that their next season release be focused on infrastructure and personnel updates instead of new vehicle and track releases.
---
---
THE 24 Hours of Daytona [Brian]
Ty Majeski posted his anticipation of the 24 hour race and also a video explaining that his vaunted sim rig (Laptop with a G27 clamped to his desk) may no longer be up to the task. He will be using his roommate's, Derek Kraus' VRX rig as a backup.
https://members.iracing.com/jforum/posts/list/125/3630181.page#12371733
---
---
24 Hours Post Race [Greg]
Coke driver Casey Kirwan's 24 ended when a teammate was broadsided by a GTE car that blinked out and reappeared in front of them in the horseshoe curve.
Beast Racing [Mike]
Team owner Dew Adamson celebrated his team win with Beast Racing drivers Brock Hopkins, Ellis Davis, Payne Faust, and Jack Wells
ABK Allinsports [Hall]
The ABK Allinsports Team featuring Rubens Barrichello, Olli Pahkala, Isaac Gillissen and Fernando Alonso to second place in their respective splits.
Coanda Simsports [Brian]
The top split championship went to the team at Coanda Simsport with road aces Joshua Rogers, Mack Bakkum and Mitchel deJong.
@Chevette924 [Mike]
$5,576 was raised for the Miracle Network Hospitals by running the 24 Hours of Daytona SOLO.
Team Nasboiiisss [Greg]
Team Nasboiiisss 2.0 featuring Garrett Smithley, Anthony Alfredo, Landon Cassill, Danny Hanson and James Davison finished first in their split.
https://www.facebook.com/100044373401980/posts/254856872670091/?d=n
https://m.twitch.tv/clip/SingleSilkyConsoleGingerPower
https://m.twitch.tv/clip/StrangeTenaciousDumplingsDoggo
Elite West Tifosi [Hall/Greg]
Elite West Tifosi has an amazing race finishing P2
https://members.iracing.com/jforum/posts/list/3790736.page
https://members.iracing.com/jforum/posts/list/3790734.page
https://members.iracing.com/jforum/posts/list/3790735.page#12371752
---
---
Race Start Video [Brian]
iRacing posted an inspirational video of the start of the top split of the 24 Hours of Daytona
24+ Hours of Suspension [Mike]
Nicholas Vroman posted a video that seems like an open and shut case for some time off the sim
24 Hours in 60 Seconds [Greg]
GreatJobKolach posted a time lapse video of the entire 24 Hours race in a 60 second clip on his Youtube Channel
Side by Side finish after 24 Hours [Brian]
iRacing posted a video of what was probably the closest finish of the entire event where Tim Greven chases down the leader for a side by side finish
Final Debriefing [Hall/Mike]
Greg West posted on the forums after all the dust had settled with a full recounting and action plan for the future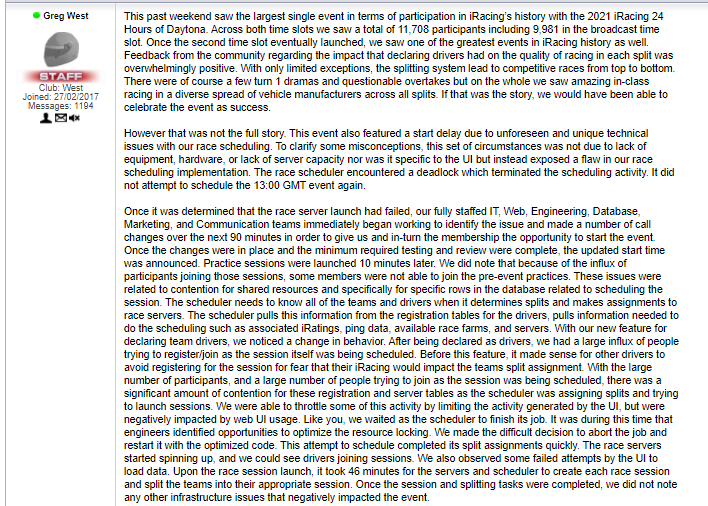 https://members.iracing.com/jforum/posts/list/3791012.page#12374240
---
---
Wild Horse Pass gone? [Brian]
Looks like the iRacing curse has struck again, this time in Mike's backyard. The map of a new development looks to cover the entire Motorsports Park area including ther Wild Horse Pass featured in the Pro Truck series on iRacing
https://www.dragzine.com/news/wild-horse-pass-in-phoenix-slated-for-commercial-redevelopment/
---
---
Race with Chase [Greg]
Nascar driver Chase Briscoe has been spotted on The Service setting up an open hosted session at Daytona, possibly practicing for the Daytona 500
---
---
Landon Cassill Race [Hall]
Drivers Landon Cassill and Parker Klingerman will be setting up the eRacer Carnomaly 500, an event held at Daytona in the COT cars.
---
---
Boogity Boogity Boogity [Mike]
Larry McReynolds posted a video in anticipation ofh is call of Monday Night Racing's finale event with fellow legend Daryl Waltrip on Podium eSports.
And the Winner is…[Brian]
After 3 attempts, Fast Pasta, Anthony Alfredo took the checker on this historic night in iRacing
---
---
It's Official [Hall]
On the official Nascar Twitter page, they announce the return of the eNascar iRacing Pro Invitational.
---
---
12 Hours of Bathurst [Greg]
Greg West announced on the forums the next of their special events, the 12 Hours of Bathurst taking place between February 26th thru 28th.
https://members.iracing.com/jforum/posts/list/3791123.page#12375553
---
---
Ferrari GT Challenge [Mike]
iRacing shared a video of Fernando Alonso chasing down Tony Kanaan on the final lap of the Ferrari GT3 Challenge race at the Daytona road course
---
---
The Good Package inbound? [Brian]
Nascar reporter Bob Pockrass posted that Nascar will use the low downforce, high horsepower package for the Busch Clash and the Daytona Road course. Last year they ran the high downforce package for the Daytona Road Race.
Season 1 Patch 4 Release Notes (6 days later we get it) [Hall]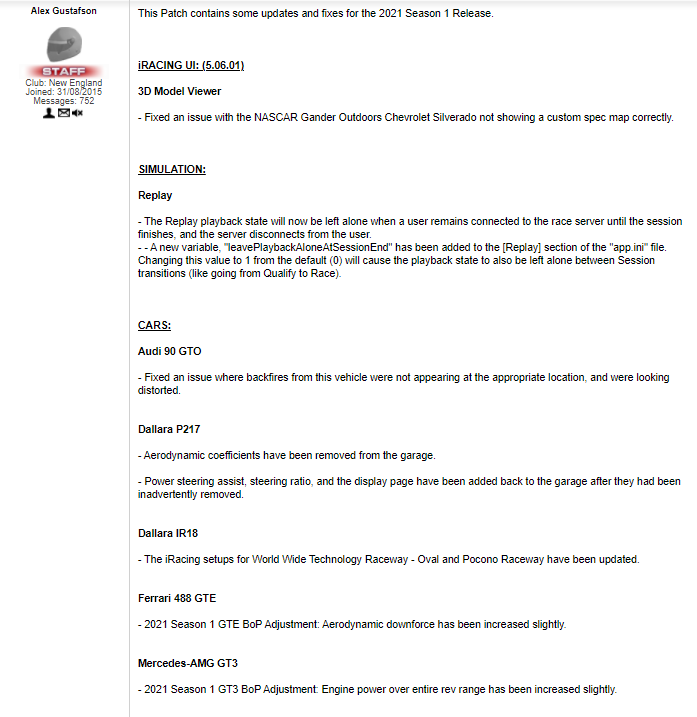 https://members.iracing.com/jforum/posts/list/3791190.page
---
---
Free Setups [Greg]
Freddie Allwood has thrown up some free setups on the forums linking to Discord for anyone to try out.

https://members.iracing.com/jforum/posts/list/3791175.page#12376147
---
---
Jump.exe Not Responding [Brian]
Chad Irvin linked to a Youtube video showing a non working jump a the rallycross track at Sonoma.
https://members.iracing.com/jforum/posts/list/3791166.page#12376031
---
---
What Cars/Tracks have AI [Hall]
iRacing has posted a comprehensive list of all of the cars and tracks currently available for AI racing and promise to be adding more and more all of the time.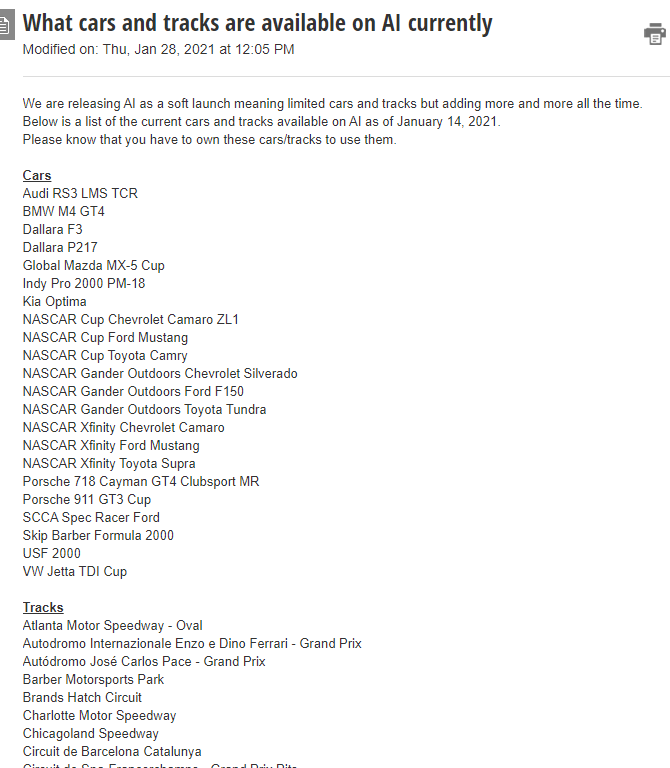 https://support.iracing.com/support/solutions/articles/31000159313-what-cars-and-tracks-are-available-on-ai-currently
---
---
Podcast Housekeeping
Aftermath
New Website – Leave Comments
---
We are in the regular rotation… (Mike)
https://performancemotorsportsnetwork.com/
---
---
---
Hardware/Software
---
Stretchin Wood [Brian]
Dave Cam reviews the Rock Solid Rig RSG1 wooden sim rig that we introduced on a previous weeks show, and he loves it!
---
---
GSI Wheel [Hall]
GSI, Gomez Sim Industries formula rim is being used by several real world drivers.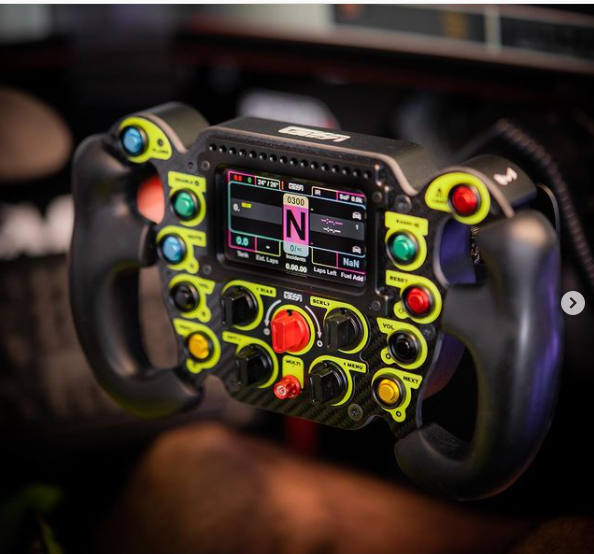 https://www.instagram.com/p/CKIfNuOh5Ru/?igshid=1fn03g65rjpjy
---
---
4k Triples [Greg]
Linus Tech Tips showed on his Youtube channel that with the 24 GB of VRAM of the Geforce 3090 you can run triple monitors in 4K
---
---
SimTrecs Pedals [Mike]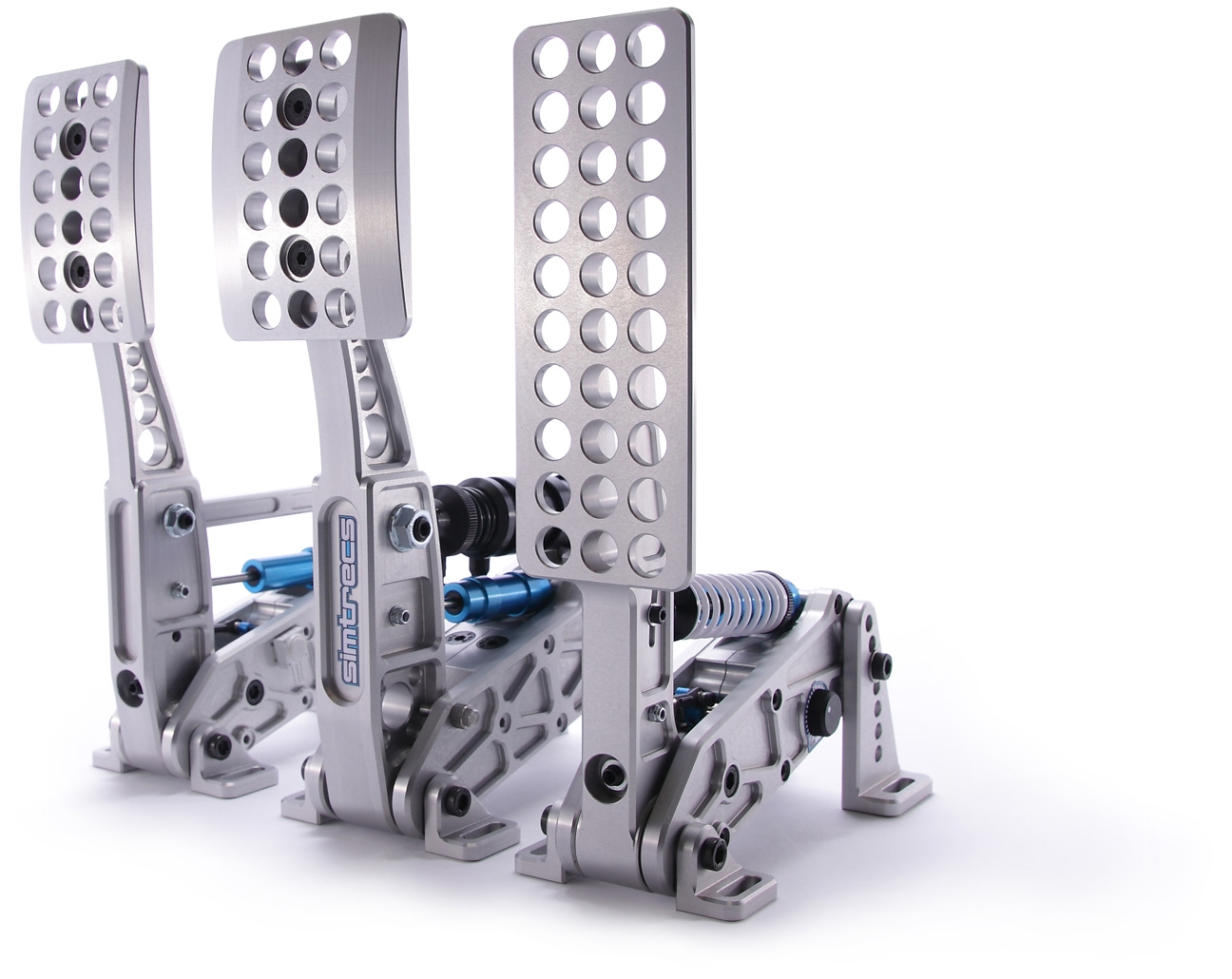 https://members.iracing.com/jforum/posts/list/3789993.page#12365328
---
---
Rig Review [Brian]
Anthony Alfredo shows off a full motion haptic racing simulator the D-Box Generation 3 4250i
---
---
Vario Vesa [Greg]
Vario Vesa by Simlabs is thier innovative triple monitor mounts for 80/20 rigs
https://www.instagram.com/p/CKGV-fkhRma/?igshid=xjufpegintle
---
---
Listener Submission [Mike]
Listener Ryan Giles submitted to the show the AMR-C01 Curv Racing Simulator from Astin Martin
---
---
Results
NASCAR iRacing Series
---
---
Official Series
Euro Sprint

Hall – P1 @ Nurbergring GP
Ellis – p Ferrari GT Challenge-

MX 5 Cup – Oran Park – started p7 of 18 – finished p6 – got involved in a big one lap 1 turn 1 but came out ahead of most
---
---
League / Hosted Races
FastTrack Sim Racing League – p5 – michigan – Lots of fun

Then vegas – p3 – Slipped and fell back to 22nd, made my way back to third saving fuel, ran out at line.
Winter League- -.
Mike – wrecked out – had a slight miss on first stop under green put me way back – finally caught a caution but then got in a wreck
Hall – P5 Stuck on the bottom at the end. Still a great points day.
OBRL ARCA Series
Brian- Charlotte oval P 20 Got destroyed when there was a big wreck in front of me
OBRL National Series (Xfin)

Atlanta
Rochette P13 had issues trying to save tires.. Screwed myself by stalling car twice on pitroad on final GF stop. But did make it into the top 8 for the second round of playoffs
OBRL CUP Series

Atlanta
Rochette P13 forgot to recalibrate the brakes from the 24 and ended up speeding in pit entry but enough guys had issues having Chris and I surviving
Scales P14 had a penalty late in race put down a couple of laps but made it to the final 8
Mtec –

Hall & Greg – P14 had a penalty late in race put down a couple of laps but made it to the final 8
---
---
Final Thoughts
---
---
---
Words Spoken in Closing Audio Clip -""Thank you for listening to the iRacers Lounge podcast make sure to go subscribe to us on iTunes, SoundCloud, or Google Play, Facebook & Twitter, See You On The Track ."
TITLE IDEAS
29 Hours of Daytona
.
.
Description
The 24 Hours of Daytona kicks off the beginning of Speedweek in iRacing and we dive deep into the good, bad and the ugly of the event including a fantastic result from some of your show hosts. Coke news continues to trickle in as well of lots of other topics and hardware, so pace yourself as you listen to this weeks edition of the iRacers Lounge Podcast.
iRacers Lounge Podcast is available on iTunes and Apple's Podcasts app, Stitcher, TuneIn, Google Play Music, Spotify, Soundcloud, Podbean, Spreaker, Podbay, PodFanatic, Overcast, Amazon, and other podcast players.
Sponsors:
www.grid-finder.com
Hosts:
Mike Ellis – twitter.com/MikeDeanEllis
Tony Groves – www.twitch.tv/SirGroves
Chris Scales – twitter.com/JediMcfly
David Hall – www.twitch.tv/mixmage
Greg Hecktus – twitter.com/froozenkaktus – www.twitch.tv/froozenkaktus
Tony Rochette – twitter.com/TonyRochette
Adam Josselyn- twitter.com/Jossad83
Nick Williams – facebook.com/NDWRacing
Brian Maccubbin – www.twitch.tv/MacRubbinsRacin
Tom Dreiling –
Links:
Old Show Notes – bit.ly/2CFeArM
Facebook – www.facebook.com/iRacersLounge/
Twitter – twitter.com/iracerslounge
Instagram – instagram.com/iracersloungepodcast/
Web (New Show Notes) – iracerslounge.com/