2/4/2021 – WEC is Wack – Episode 0265
iRacers Lounge Podcast – Conversation Topics
Brought to you by: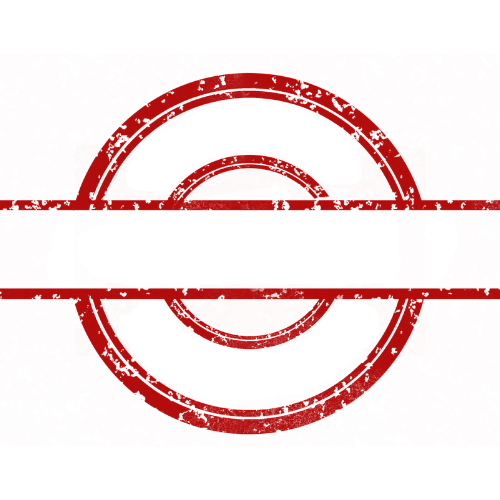 Opening Audio Clip -"Your listening to the iRacers Lounge Podcast where we discuss everything iRacing, in a casual setting, enjoy."`
READ THIS AT THE TOP OF EACH SHOW!!!
Welcome to the iRacer's Lounge, I am your host "XXX". iRacer's Lounge is a podcast for the iRacer, where we talk all things iRacing in a casual setting.
Joining me are the usual characters, ————
---
---
Introduction
With the start of the season right around the corner, the final pieces of the Coke Series fall into place as we kick off Daytona Week on iRacing, The new season is here, so let's go!
---
---
TITLE SPONSOR READ:
Grid Finder is growing fast and that is good news. With nearly 1000 leagues across 10 different sims and almost 200 iRacing leagues, this is the place to find your next league. League owners, get your leagues noticed and your grids filled. Remember it is free to search and free to post your league. Grid Finder IS the home of online sim racing leagues
Visit www.grid-finder.com to find a league, or to upload your own!
Grid Finder – "The home of online sim racing leagues"
---
---
---
---
Topics
---
---
Daytona Clash [Hall]
Logan Clampitt takes the checker at the Daytona Dash just out pacing teammate Nick Ottinger in a caution filled prelim before the season opener next Monday.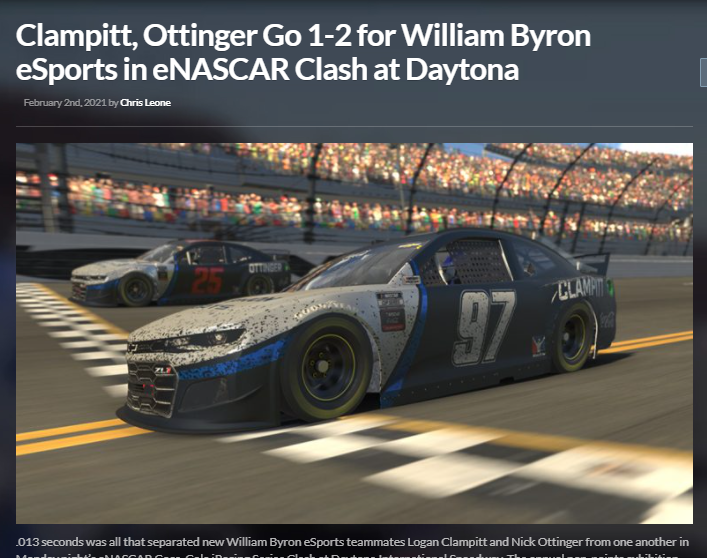 https://www.iracing.com/clampitt-ottinger-go-1-2-for-william-byron-esports-in-enascar-clash-at-daytona/
---
---
Coke News [Brian]
Nick Ottinger showed off on social media his newly arrived iRacing Coke Series Championship Ring just as he begins to defend his crown.
Elliot Sadler eSports [Greg]
The newly formed Elloitt Sadler eSports, Coke Series verision, announced their drivers for the season. Garrett Manes will remain with Elliott Sadler and they add series regular Ashton Crowder.
XSET Gaming [Tony]
XSET Gaming comes out strong in their inaugural Coke Season signing perennial contender Ryan Luza and Series favorite Casey Kirwan.
They also announce that Fast Pasta Anthony Alfredo will be joining the service as a content creator.
Roush-Fenway Racing [Mike]
Roush Fenway joins in the fray with the signing of Nathan Lyon and Steven Wilson.
Williams eSports [Hall]
Williams eSports will kick of their entrance into the stock car series with drivers Jake Matheson and Zach Nichols
23XI Racing [Brian]
Be ready for tons of hype this year in iRacing, as well as Nascar, with the newly formed 23XI Racing team, owned by Denny Hamlin and world icon Michael Jordan. They sign what may be the strongest team out there with eNascar standout Keegan Leahy and possibly the most well rounded driver in the entire sim, Mitchell deJong.
Letarte eSports
Letarte eSports [Tony]
Letarte eSports returns this year to the Coke Series with returning driver Chris Shearburn and road course ace Bobby Zalenski.
Mode Media House [Greg]
Former NFL player Kyle Long owned Mode Media returns to the series with drivers Matt Bussa and Jake Nichols.
JTG Daugherty Racing [Mike]
JTG Daughtery racing has added Brian Schoenburg and his Norse Force Racing Teammate Derek Justice
2021 Coke Series Team Chart [Hall]
Justin Melillo posted on Twitter a 2021 eNASCAR Coca-Cola iRacing Series team chart as a quick reference guide to see where all if the drivers have landed for this years season leading up to Tuesday's Daytona Clash Event in which drivers will be sporting IROC style paints.
Klingerman Sport [Brian]
Klingerman Sport has announced that they will be partnering with Chevrolet in advance of the 2021 Coca-Cola iRacing season.
Coke Series Schedule [Tony]
iRacing has posted the full 2021 eNascar Coca-cola iRacing Series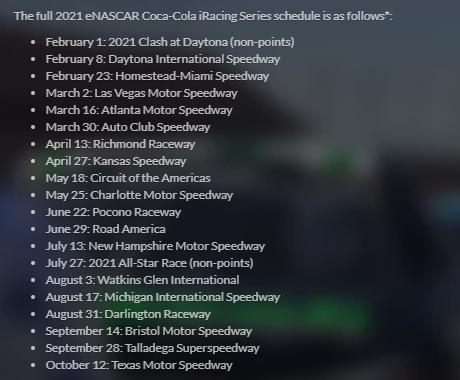 https://www.iracing.com/2021-enascar-coca-cola-iracing-series-schedule-unveiled/?fbclid=IwAR33FEuQgJxok_5-LO0fZQRmR720ntLSGBZ1rlnl6ZM2f0-lqUFPU6Zk8o0
Femi's Gift [Mike]
New Joe Gibbs Racing driver Femi Olat received a very nice package to welcome him to the team.
New JR Motorsports Sponsors [Hall]
JR Motorsports has announced a new product partnership with WR1 Sim Chassis and Axe Body Spray
---
---
Porsche Tag Heuer Supercup Round 3 [Brian]
Josh Rogers takes the win in Saturdays iRacing Porsche Tag Heuer Supercup race at Imola. With the win he also takes the series points lead going into round 4.
---
---
VRS GT3 Sprint Series Guide [Tony]
Show favorite iRacing Streamer Annie Rabbets from Snail Racing posted a VRS GT3 Sprint Series Guide as a newcomer to the series.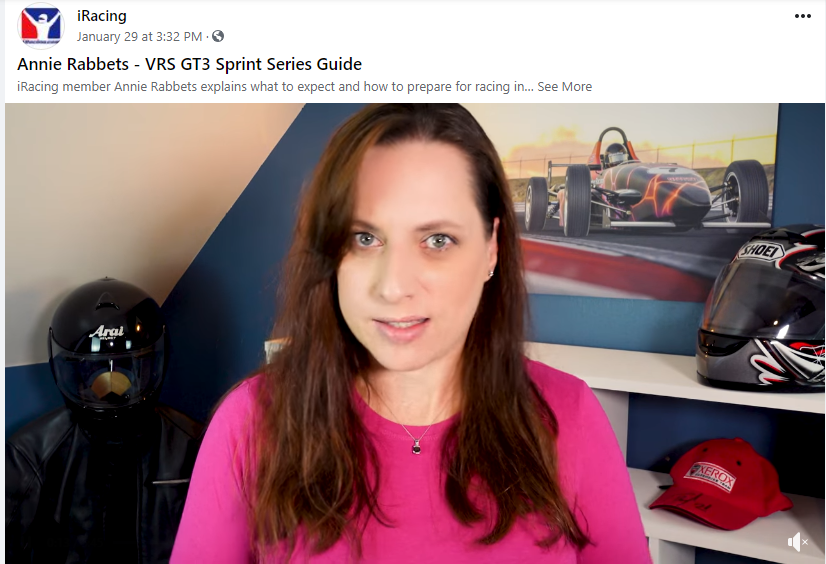 https://www.facebook.com/watch/?v=965635190874298
---
---
The Daytona 500 [Mike]
Gentleman, Start your engines! Tyler Hudson has posted in the iRacing forums the complete schedule for the 2021 iRacing Daytona 500! Let's go Racing Boys!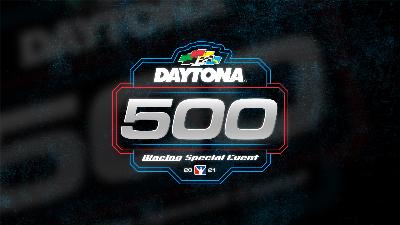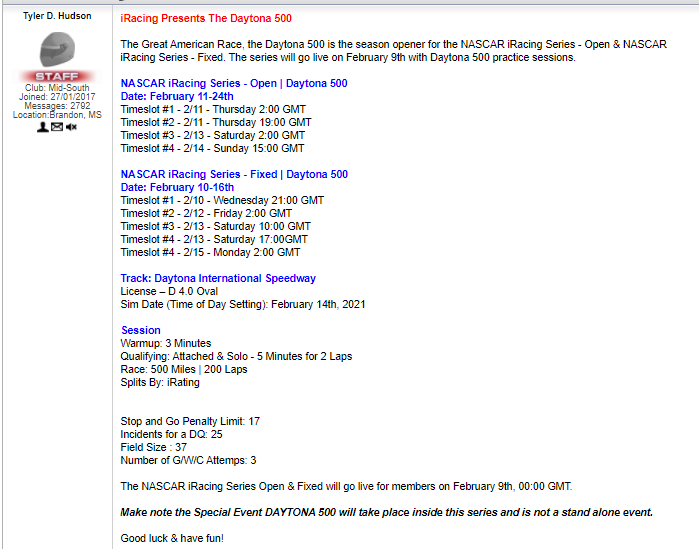 https://members.iracing.com/jforum/posts/list/3791556.page
---
---
Another Rain Poll [Hall]
Rodney Denholm posted in the forums a poll as to whether iRacing should add more weather, asking who would like to see rain in iRacing. Along with the poll came some whimsical replies.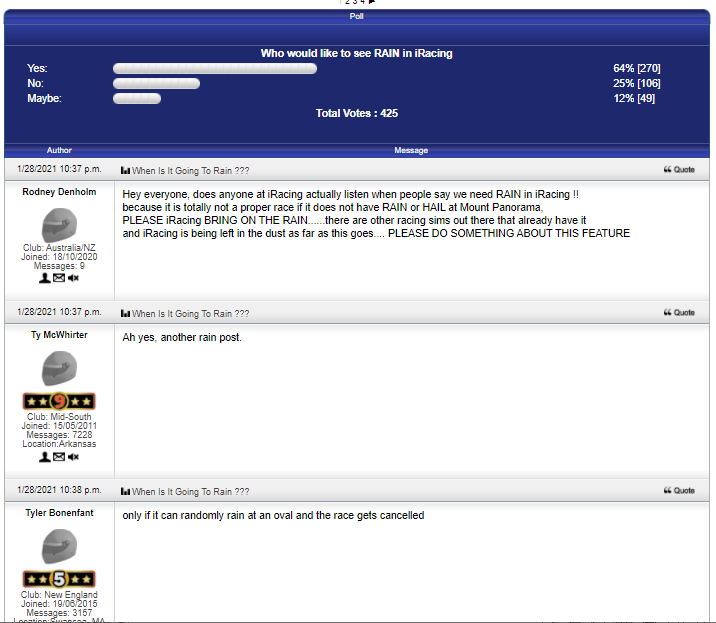 https://members.iracing.com/jforum/posts/list/3791492.page
---
---
No More GTE [Greg]
According to the Racer.com website, IMSA will replacing the GTLM class with the GTD Pro class for the 2022 season. How will iRacing respond to one of their more popular classes .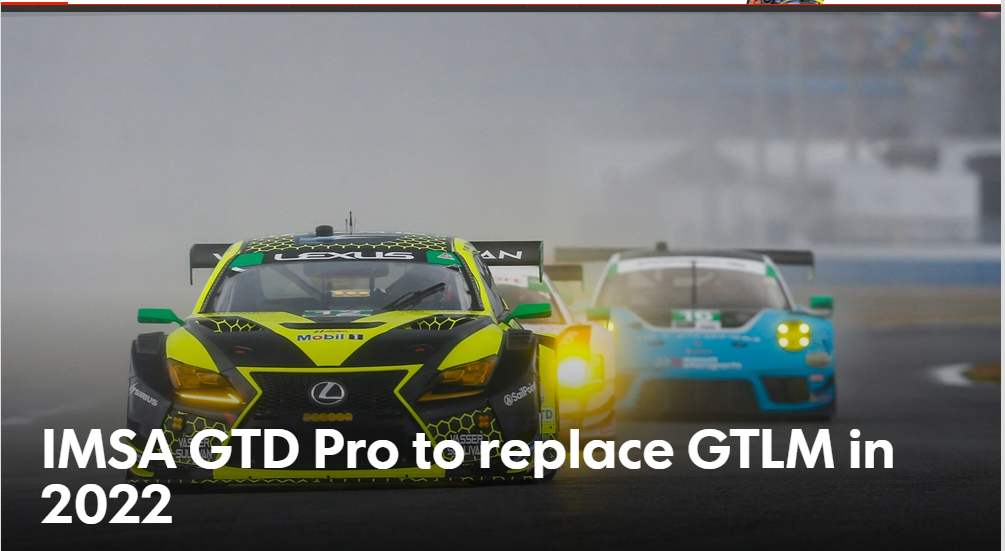 https://members.iracing.com/jforum/posts/list/3791505.page#12377375
---
---
No More LeMans? [Hall]
Motorsport games and Automobile Club de I'Ouest have singed a 10 year partnership deal giving them the exclusive license to the 24 Hours of Le Mans.
https://members.iracing.com/jforum/posts/list/3791410.page
---
---
TK Buys In [Brian]
Former IRL Driver Tony Kanaan posted a picture of his new GSI wheel, which is a GXL Pro blackout edition with a special TK logo on it as well.
---
---
Wiki [Tony]
iRacing has made its way to the world of Wiki Fandom with it's own fan-made database for the iracing.com simulator.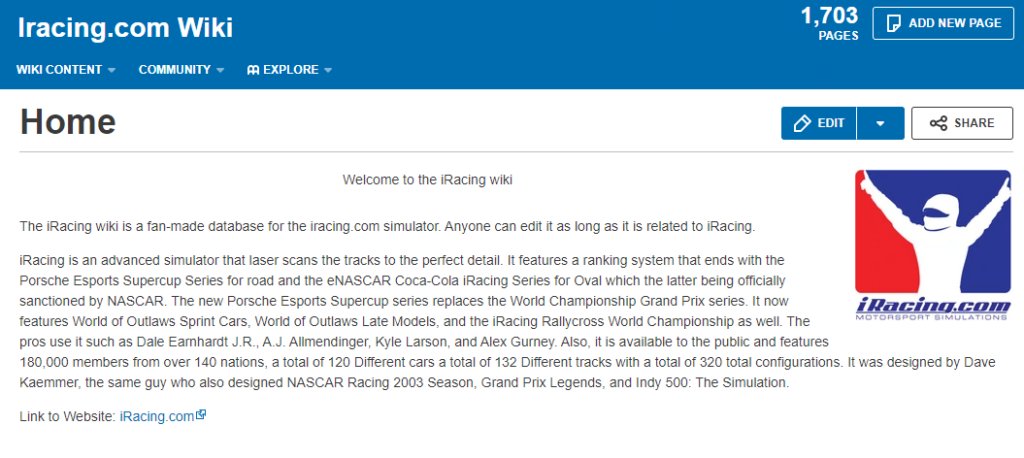 https://iracing.fandom.com/wiki/Iracing.com_Wiki
Upcoming Tracks [Mike]
Within the Fandom Page includes 13 Tracks that should be added to the sim sometime in the foreseeable future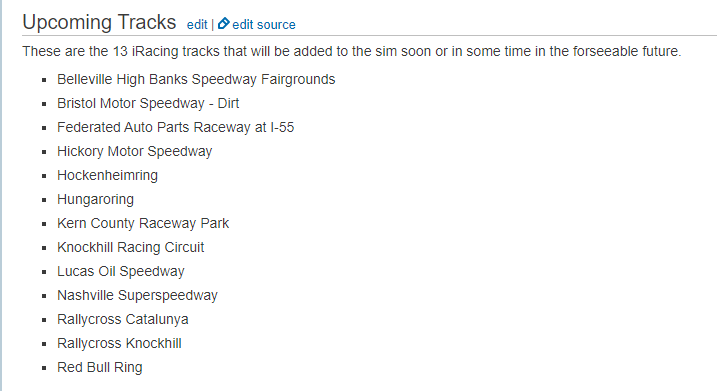 Upcoming tracks https://iracing.fandom.com/wiki/Tracks
---
---
Special Events [Hall]
Greg West posted in the forums the updated special events calendar for special events thru the end of the year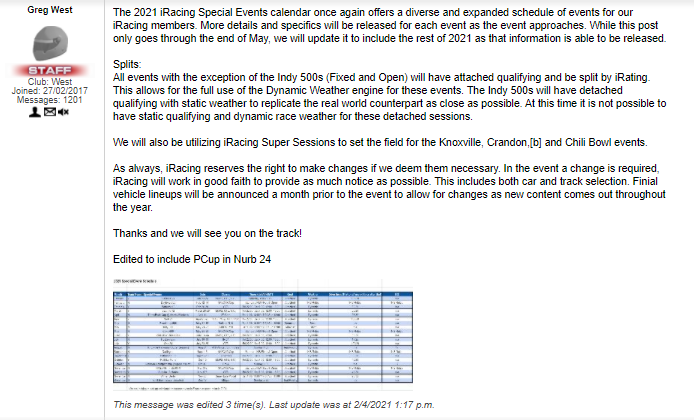 https://members.iracing.com/jforum/posts/list/3792127.page
---
---
Podcast Housekeeping
Aftermath
New Website – Leave Comments
---
We are in the regular rotation… (Mike)
https://performancemotorsportsnetwork.com/
---
---
---
Hardware/Software
---
CSL Universal Hub [Tony]
Fanatec unveiled their new CSL Universal hub for $182 USD
https://fanatec.com/eu-en/csl-universal-hub
---
---
Rig Review [Greg]
Kyle Robinson, a trucker from Texas, has set up a sim rig in what looks like the passenger seat of his truck and asks if there's any other truckers out there who have similar setups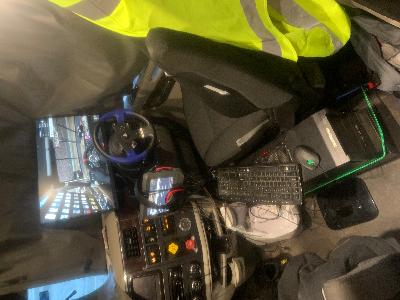 https://members.iracing.com/jforum/posts/list/3790457.page#12368036
---
---
Rig Metal Sim Cockpit – sent by listener [Brian]
Listener, and fellow OBRL driver, Eric Whiting submitted a reference to the Rigmetal Sim Cockpit, an 80/20 rig priced at $359
Not sure this company has been covered before. Looks like improvements are being made as they go. Entry level pricing. 
Eric Whiting 
https://rigmetal.com/products/racing-rig
---
---
Company Review [Mike]
The Force Dynamics 401CR is a full motion racing simulator with 6DOF and 360 degree capability for realistic G-Forces.
https://www.force-dynamics.com/
---
---
Company Review [Hall]
PT Actuator sells platform based motion rigs in 80/20 extruded aluminum. Its Sidewinder system has 6 DOF and dells for 11,833 euros.
---
---
Results
---
---
Official Series
Chris Macquire – Hosted

Michigan indy cars no damage – started p28, finished p6
COT Daytona – started p29 ended p4
Supercars Michigan -p4
Then pro mazdas michigan – wrecked out
Then cot at coke – p1
---
---
League / Hosted Races
Winter League- -.
Mike – p14 – ran dead last forever was on two stopper when most on one. Some later cautions played to my favor.
Hall – P19 Self Spinner in front of me, had mid pack speed before
OBRL ARCA Series

Brian- Michigan P6 Started on Pole. Terrible start, fell too far behind to get back to the front
---
---
Final Thoughts
---
---
---
Words Spoken in Closing Audio Clip -""Thank you for listening to the iRacers Lounge podcast make sure to go subscribe to us on iTunes, SoundCloud, or Google Play, Facebook & Twitter, See You On The Track ."
TITLE IDEAS
WEC is Wack
.
.
Description
This is the last week before the start of the eNascar Season, and we're all fired up! We cover all of the last minute Coke Series news that unloaded this week and talk of our plans for the upcoming NIS Season. We'll catch you up on some hardware and could an exclusive deal mean the end of a certain day long race in France? We'll sit and discuss in this week's iRacers Lounge Podcast.
iRacers Lounge Podcast is available on iTunes and Apple's Podcasts app, Stitcher, TuneIn, Google Play Music, Spotify, Soundcloud, Podbean, Spreaker, Podbay, PodFanatic, Overcast, Amazon, and other podcast players.
Sponsors:
www.grid-finder.com
Hosts:
Mike Ellis – twitter.com/MikeDeanEllis
Tony Groves – www.twitch.tv/SirGroves
Chris Scales – twitter.com/JediMcfly
David Hall – www.twitch.tv/mixmage
Greg Hecktus – twitter.com/froozenkaktus – www.twitch.tv/froozenkaktus
Tony Rochette – twitter.com/TonyRochette
Adam Josselyn- twitter.com/Jossad83
Nick Williams – facebook.com/NDWRacing
Brian Maccubbin – www.twitch.tv/MacRubbinsRacin
Tom Dreiling –
Links:
Old Show Notes – bit.ly/2CFeArM
Facebook – www.facebook.com/iRacersLounge/
Twitter – twitter.com/iracerslounge
Instagram – instagram.com/iracersloungepodcast/
Web (New Show Notes) – iracerslounge.com/