2/11/2021 – Position Roof – Episode 0266
iRacers Lounge Podcast – Conversation Topics
Brought to you by: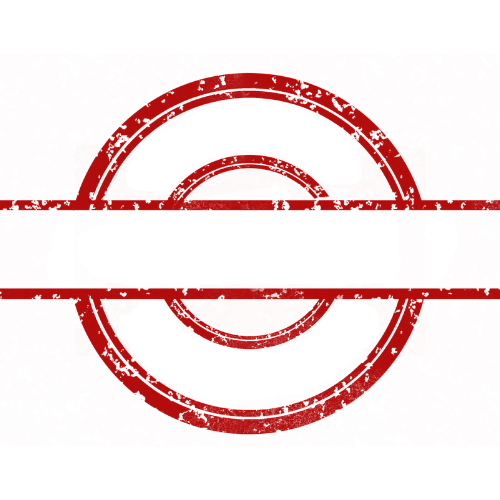 Opening Audio Clip -"Your listening to the iRacers Lounge Podcast where we discuss everything iRacing, in a casual setting, enjoy."`
READ THIS AT THE TOP OF EACH SHOW!!!
Welcome to the iRacer's Lounge, I am your host "XXX". iRacer's Lounge is a podcast for the iRacer, where we talk all things iRacing in a casual setting.
Joining me are the usual characters, ————
---
---
Introduction
Monday night, the iRacing Coke Series has officially kicked off Speedweek. We'll go into all of the details leading up to the race as well as full race recap with Series announcer Evan Posocco. Also. it marks the beginning of the NIS season with team Tifosi.
---
---
TITLE SPONSOR READ:
Grid Finder is the home of online sim racing leagues. Grid Finder is also a great resource to find paint designers and race commentators. Recently they have been adding some great articles discussing various aspects running leagues and sim racing in general. Grid Finder is constantly adding helpful content and giving us all more reason to visit www.grid-finder.com
Visit www.grid-finder.com to find a league, or to upload your own!
Grid Finder – "The home of online sim racing leagues"
---
---
Topics
---
---
Coke News [Greg]
Overtake News has an interview with returning Coke Series Champion Nick Ottinger, including the story of him overcoming open heart surgery at a young age to get to the top of the sim racing world.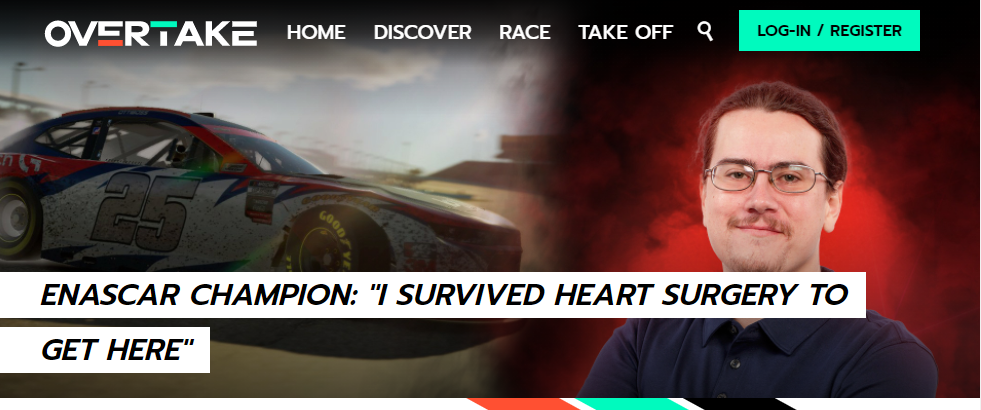 https://www.overtake.gg/news/3377-interview-enascar-champion-nick-ottinger/
---
---
Rajah to Spacestation Gaming [Hall]
Rajah Caruth, a Nascar Drive for Diversity member, will be joining Spacestation Gaming for the eNacsar Road to Pro Series.
---
---
Spacestation Gaming with Malik Ray [Brian]
Spacestation Gaming Tweeted a congratulations to their driver Malik Ray on his 4th place finish at the Podium 500 and had moved their attention to the upcoming Coke Series Daytona 500. Included in the Tweet was a hype video of his switching to the Spacestation Gaming race team.
Pre Race
---
---
Pre race analysts [Greg]
James Pike hosted a pre race analysis segment including 3 former series drivers Chris Overland, Brandon Kettelle and Michael Gauriglia in which they introduced several new changes including….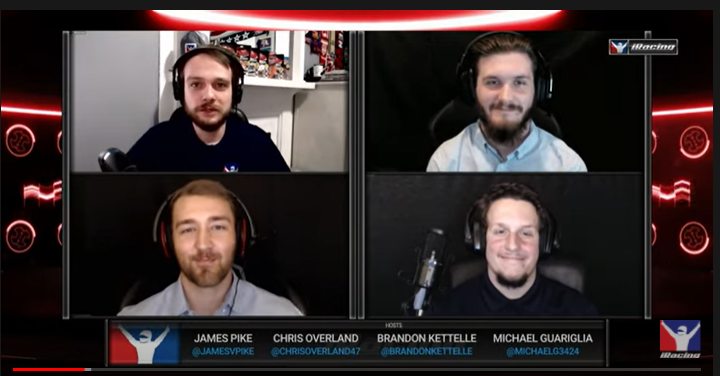 ---
---
New Road to Pro Ladder [Mike]
There's a new eNascar Road to Pro ladder system and it was retweeted by Evan Posocco

https://ir-core-sites.iracing.com/members/pdfs/eNASCAR_Coca-Cola_iRacing_Series_v2021.01.14.pdf
---
---
New Series Rule Changes [Hall]
New rule changes for the 2021 Season include…
Win and You're In
Win a series race and stay in the top 20 in points and you are automatically in the payoffs.
Expanded playoffs
The playoffs have been expanded from 8 to 10 drivers
No more bonus points
They will no longer be awarding bonus points for leading laps or leading the most laps
---
---
Steve Phelps Grand Marshall [Brian]
Nascar President was the Grand Marshall of the race and gave the command for the drivers to 'start their engines'. In his introduction he makes an interesting statement to us sim racing fans that Monday night, with the eNacsar Coca Cola Series, is true true start of all of the events that cumulate with the real world Daytona 500 on Sunday.
Win and you're in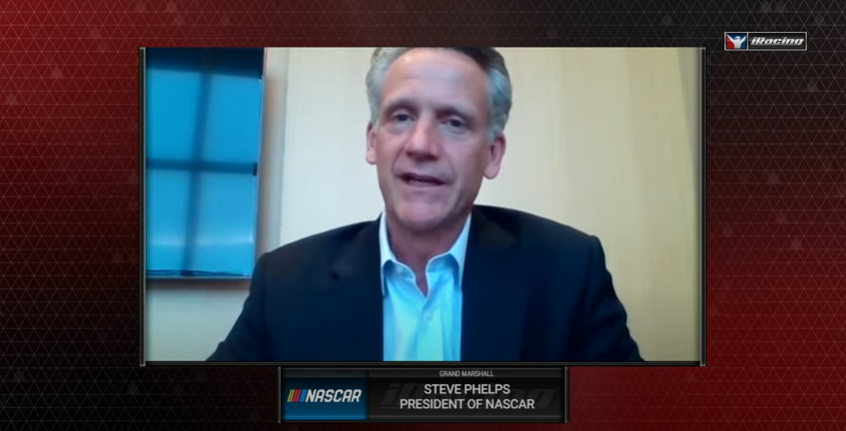 ---
---
Coke Race [Mike]
Coke Race:

Mitchell Dejong starts the season on the pole and they go 3 wide early, with Chris Shearburn sharing some lead laps
Garrett Lowe Novak and Mullis working the 3rd lane but haven't gotten to the front yet, eventually Garrett gets clear and drops down as the new leader
Bobby Zelinski pushes teammate Shearburn to the lead a few times from the middle lane.
Then a wreck but no caution! Ryan Luza and Zack Novak into each other and Malik Ray has no where to go.
A TENSE MOMENT between new teammates! Brian Schoenburg decides to pit last second, and Derek Justis can't check up in time! Both with damage, plus some to @GarrettManes, but nobody spun and it stays green!
Minimum speed rule in effect… Looks like @znovak15 and @MalikRayTTV got the worst of that. Both are penalized for minimum speed
Rookie leader Zack Nichols pits and gets speeding penalty during GF stops
Allen Boes goes for a ride, but race is still green
20 to go – 3 wide 10 deep – ottinger, clampitt, conti, guest, manes, mullis

Roommates and teammates on front of all 3 lanes – strategy?
Conti bottom, clampitt middle ottinger outside 2 to go
A caution free season opener! But they wreck in turn 4, Conti Wins! Career win #11! Looks Like a bit of netcode, the 9 of guest into clampitt, It was @Logan_Clampitt out of the middle groove who got turned in front of the pack and everyone piled in after that.

Locked into the playoffs by Winning
Conti Guest Matheson Vincent Gann Zalenski Kirwan, Salas Shearburn Davies Dejonhs, Olat Manes Bowlin Jake Nickols Bussa Leahy Cook Lowe Clampitt Ottinger
Conti getting a VRS Wheel this week and going to ditch the g27
---
---
Post Race Controversy [Hall]
Malik Ray Tweeted his displeasure of the incident on lap 31 that effectively ended his race.
---
---
Porsche Supercup Series [Brian]
Sebastian Job holds off Josh Rogers in an exciting final lap to take his second win in the iRacing Porsche Tag Heuer Supercup season, Mack Bakkum finishes third, but Rogers actually extends his lead in the series points championship.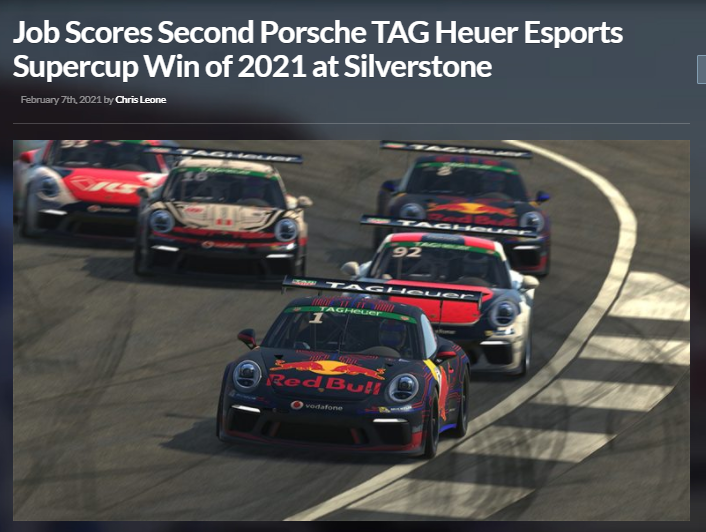 You can re-watch the exciting final lap from SIlverstone
---
---
All Star Race [Greg]
The Porsche All Star Race started four wide early with the victory going to Emily Jones of Emree Racing
---
---
Podium 500 [Brian]
Sunday was the prestigious Podium 500 race at Datyona. and after 360 entries, 8 qualifying heats, 2 last chance qualifiers and 2 Duels, Casey Kirwan takes the top finish with second going to Daniel Eberhardt and Logan Helton in third.
---
---
RIP Stacy Adams [Mike]
The iRacing community bids a fond farewell to fellow racer Stacey Adams.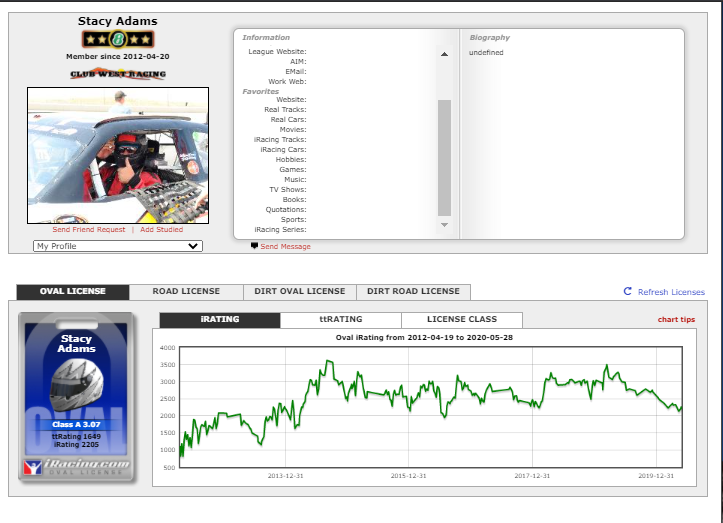 https://members.iracing.com/membersite/member/CareerStats.do?custid=91843
---
---
Fixed Setups Doesn't Mean Full Fuel [Hall]
Dave Bush Tried to set up a hosted race with fixed setups. He wanted to start with a full tank of fuel, but it only started with about 60% and wondered what he did wrong and asked the forums. Nick Neben replied that "fuel capacity does not equal what the set starts with, that is all done in the garage. If you just used an iRacing default those are not set to full, you would have to change that, and save it, and upload it if you were doing fixed."


https://members.iracing.com/jforum/posts/list/3792224.page#12386650
---
---
Jimmy Lands a Ride [Greg]
Autosport announced that Youtube sim racing content creator, and Porsche All-Star driver Jimmy Broadbent will make his debut in real world racing driving a Praga R1 in the Britcar Endurance Championship
https://members.iracing.com/jforum/posts/list/3792169.page
---
---
Reminder – Join Mike & Chris [Mike]
A Reminder that Saturday Feb 20 is the Dirty Monkey 250 race for Autism Awareness. It's at Daytona in the cup cars, uses fixed setups and has an entry fee of $15.
https://johnboy202.wixsite.com/ddmlive/post/autism-race
---
---
Earliest iRace Ever [Brian]
Gary Weaver wondered oiut loud in the forums what was the earliest result in iRacing. Staffer Jason Bryfogle replied with the answer.

https://members.iracing.com/jforum/posts/list/3792280.page#12386418
https://members.iracing.com/jforum/posts/list/3792280.page#12386372
---
---
iRacing Real World Racing Connections Survey [Hall]
We at iRacing are constantly pushing to provide the best and most realistic driving simulation available. We would appreciate you taking a few minutes to give us some feedback so we can continue to provide the best possible experience for each of our racers.
Thanks for helping us continue to do just that! Take this survey
---
---
BMW Sim GT Cup – Suzuka [Greg]
Greg West announced in the forums the details of the BMW Sim GT Cup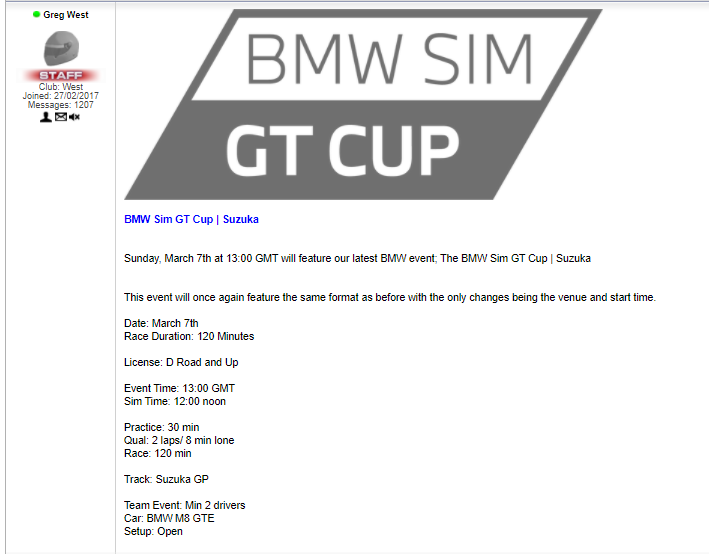 https://members.iracing.com/jforum/posts/list/3792533.page#12388164
---
---
Yellow Should Have Come Out [Mike]
Jeff Barnes kicked off in the forums a discussion about whether iRacing may have set back the yellow flag sensitivity too far.

https://members.iracing.com/jforum/posts/list/0/3792577.page#12391111
---
---
Comparison of Different Setup Shops [Hall]
Kyle Hendrix did an impartial comparison comparing some of the setups for Daytona, his times and thoughts of the setups.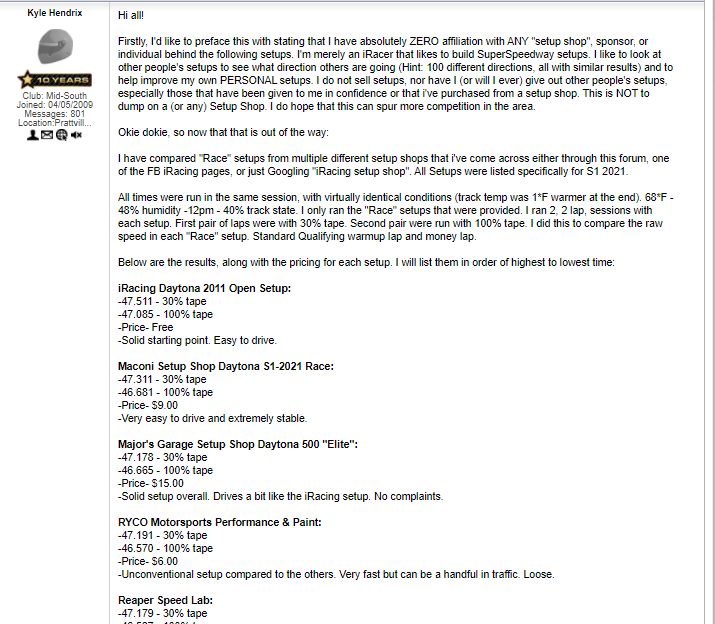 https://members.iracing.com/jforum/posts/list/3792762.page#12390849
---
---
Connection Issue Maybe? [Brian]
Dylan Nadwodny posted a video of a car coming thru the pace lap wrecking just about everyone in the field
---
---
System Status [Mike]
iRacing shows system status updates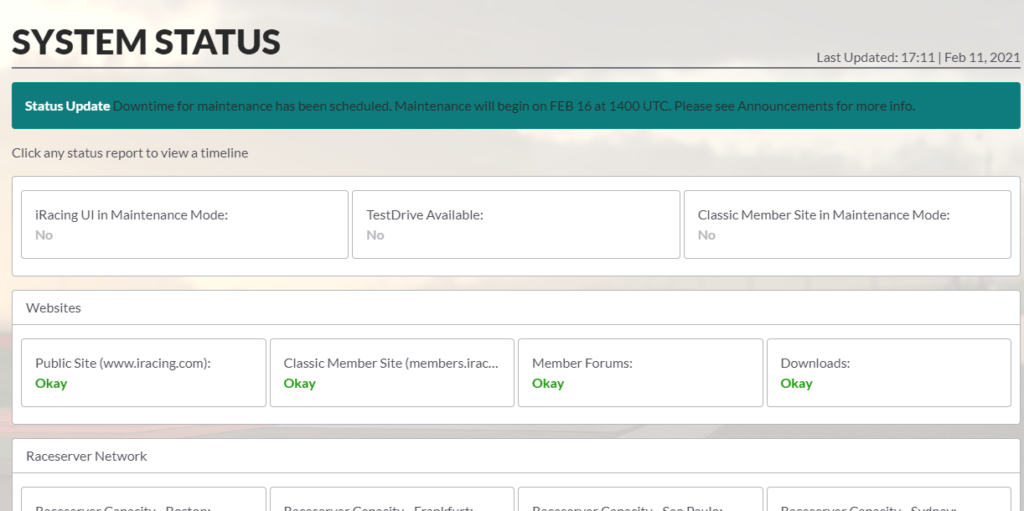 ---
---
SLM Inbound [Hall]
iRacing looks to be updating their Super Late Models with a newly scanned Gen 6 model
https://www.instagram.com/p/CLIPYZ6BICI/?igshid=76qgiyi3c447
---
---
Perfect Figure 8 [Brian]
iRacing posted a prefect jump over a car in the Lucas Oil figure 8 track with a jump
---
---
B Fixed Length [Mike]
Does the B fixed races have to be fixed?

https://members.iracing.com/jforum/posts/list/25/3791926.page#12385383
---
---
Custom Numbers for NiS
Can we get custom numbers like team racing does? Nick Neben asks in the forums

https://members.iracing.com/jforum/posts/list/3792247.page#12385543
---
---
Daytona Strategy – Question from Scott Ross [Hall]
What are some of our Daytona restrictor plate racing tips for iRacing
---
---
---
Podcast Housekeeping
Aftermath – Fantasy Racing
We need more listeners – If each listener mentions our podcast in each race they are in, it will reach a whole bunch of new people. Help us out!
New Website – Leave Comments https://www.iracerslounge.com/
You've heard us talk about the Spotlights. Those of us that have them here at iRacers Lounge absolutely love them. So much, we have become an affiliate! With the roll out of their new Spotlights Pro. Here's your chance to check them out, you won't be disappointed. Enter coupon code: IRACERSLOUNGE for 10% off!!
https://www.facebook.com/1565571990374134/posts/2832513123680008/?d=n
---
We are in the regular rotation… (Mike)
https://performancemotorsportsnetwork.com/
---
---
---
Hardware/Software
---
Greg's New Setup [Greg]
Our own Greg Hecktus shows off his new sim studio
---
---
NRG Innovations [Brian]
Listener Troy Eaton sends in NRG Innovations Simulator Cockpits for $999.99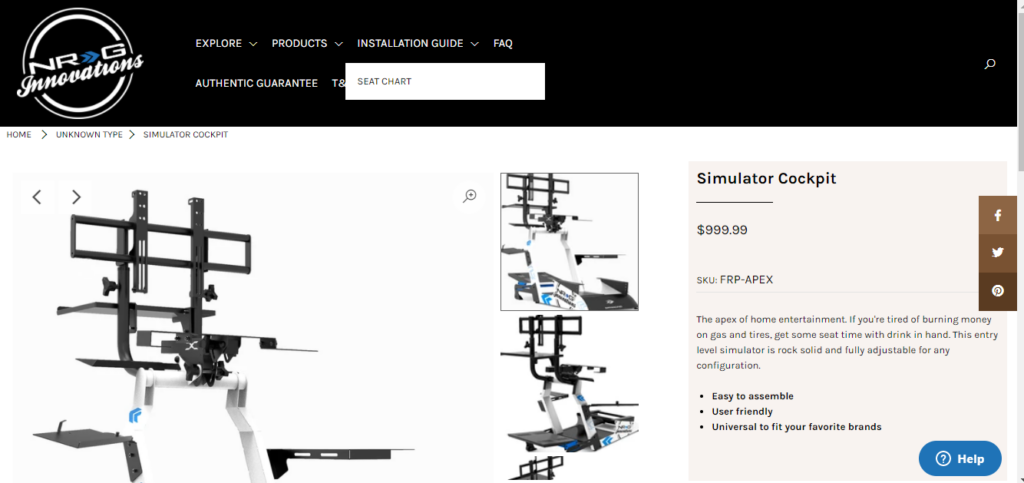 https://getnrg.com/products/frp-apex
---
---
IgnitiON Controls [Hall]
IgnitiON Controls offers a variety of button boxes starting at $160

https://www.ignitioncontrols.com/default.asp
---
---
Don't Use AVG [Mike]
iRacing Support Tweeted that if you use AVG antivirus and get a "Can not find sim" or "Simulator is missing" error, please contact AVG. Their Latest update is deleting iRacing files.
---
---
---
---
---
---
3d Printed Button Box [Hall]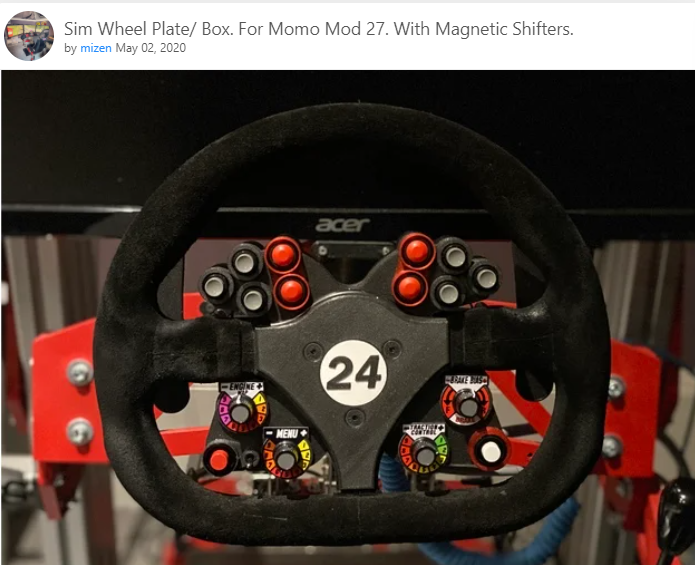 https://www.thingiverse.com/thing:4331087
https://members.iracing.com/jforum/posts/list/3791644.page#12378860
---
---
LED Eyebrow [Brian]
Apex Simracing offers its 3D printed LED Eyebrow system that is mappable thru SimHub for multiple purposes. Priced at $125
---
---
Results
NASCAR iRacing Series
Wed Open:

Hall – p 18, wrecked out fighting for lucky dog after getting spun while pitting.
Ellis – p Wrecked out – started p3 led almost every lap until lap 55 when guy on outside comes down into bottom lane and wrecked the field
Rochette – P-2 was the master of dodging wrecks and peoples lining up stupidity. But couldnt overcome my own as late race GF stop sped out of the pits with the sim racing apps blaring the beeps at me… was definitely faster than the leader as i finished right behind him a lap down, yes only 1 car finished on the lead lap
Ellis – p P11- running p4 w 10 to go a guy comes up from behind and just runs over me from behind.
Hall – dnf – running towards front, a car gets on apron, game over, please insert coin
---
---
Official Series
Euro Sprint

Hall –

Silverstone

Two Wins
2nd
2nd
2nd
2nd
2nd
30th
6th
4
26th
2nd
5th
4th
2nd
3rd
28th
4th
---
---
League / Hosted Races
---
---
Final Thoughts
---
---
---
Words Spoken in Closing Audio Clip -""Thank you for listening to the iRacers Lounge podcast make sure to go subscribe to us on iTunes, SoundCloud, or Google Play, Facebook & Twitter, See You On The Track ."
TITLE IDEAS
Position Roof
.
.
Description
eNascar is back! This week we'll go over all of the festivities and review of the Coke Series Daytona race and our own early NIS results. We got a peek of the race results from the very first iRacing results page. Also, we'll give our thoughts of our strategy of restrictor plate racing so you'll get the very most out of this week's iRacers Lounge Podcast.
iRacers Lounge Podcast is available on iTunes and Apple's Podcasts app, Stitcher, TuneIn, Google Play Music, Spotify, Soundcloud, Podbean, Spreaker, Podbay, PodFanatic, Overcast, Amazon, and other podcast players.
Sponsors:
www.grid-finder.com
Hosts:
Mike Ellis – twitter.com/MikeDeanEllis
Tony Groves – www.twitch.tv/SirGroves
Chris Scales – twitter.com/JediMcfly
David Hall – www.twitch.tv/mixmage
Greg Hecktus – twitter.com/froozenkaktus – www.twitch.tv/froozenkaktus
Tony Rochette – twitter.com/TonyRochette
Adam Josselyn- twitter.com/Jossad83
Nick Williams – facebook.com/NDWRacing
Brian Maccubbin – www.twitch.tv/MacRubbinsRacin
Tom Dreiling –
Links:
Old Show Notes – bit.ly/2CFeArM
Facebook – www.facebook.com/iRacersLounge/
Twitter – twitter.com/iracerslounge
Instagram – instagram.com/iracersloungepodcast/
Web (New Show Notes) – iracerslounge.com/