2/18/2021 – Dedication or Defecation – Episode 0267
iRacers Lounge Podcast – Conversation Topics
Brought to you by: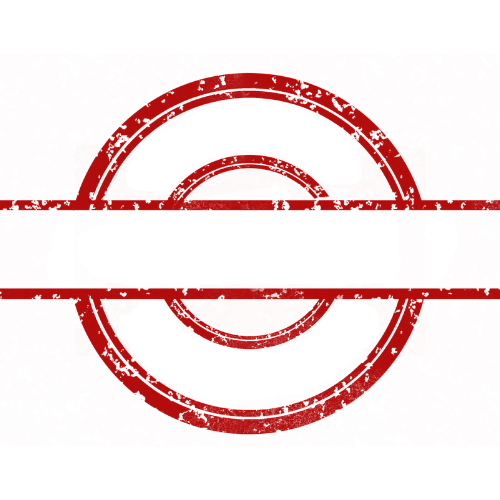 Opening Audio Clip -"Your listening to the iRacers Lounge Podcast where we discuss everything iRacing, in a casual setting, enjoy."`
READ THIS AT THE TOP OF EACH SHOW!!!
Welcome to the iRacer's Lounge, I am your host "XXX". iRacer's Lounge is a podcast for the iRacer, where we talk all things iRacing in a casual setting.
Joining me are the usual characters, ————
---
---
Introduction
This week on the show, we wrap up week one of the NIS schedule at Daytona. The iRacers Lounge Nascar Fantasy returns and we get back into all things iRacing.
---
---
TITLE SPONSOR READ:
Grid Finder is your go to source for finding your next sim racing league. Currently home to over 450 leagues across all gaming platforms and across 10 different racing sims including over 80 iRacing leagues. Filter your search by racing sim, car class, race day and region. Finding a league to fit your schedule has never been this easy.
Visit www.grid-finder.com to find a league, or to upload your own!
---
---
---
Topics
---
---
VCO Grand Slam [Hall]
The VCO (Virtual Competition Organization) and iRacing will be cooperating on 4 special events this season which will make up the new edition of the VCO Grand Slam. The events include the 12 Hours at Sebring, the 24 Hours at Nurburgring, Le Petit Le Mans and the 10 Hours at Suzuka. In addition to comprehensive coverage on its social media channels, VCO will provide top-quality image material from the "top split" of the highest-ranked drivers to all media representatives, teams and drivers.
VCO Cup of Nations [Brian]
The VCO Cup of Nations Pro has announced the groups and real-world-drivers for each of the 14 countries beginning this Sunday at 7pm CET (1pm EST).
---
---
Look Ma, No Hands [Tony]
Bartosz Ostalowski asks on Instagram who would like to sim race with him?? BTW, he is a real-life drift car driver, has no arms and drives with his feet!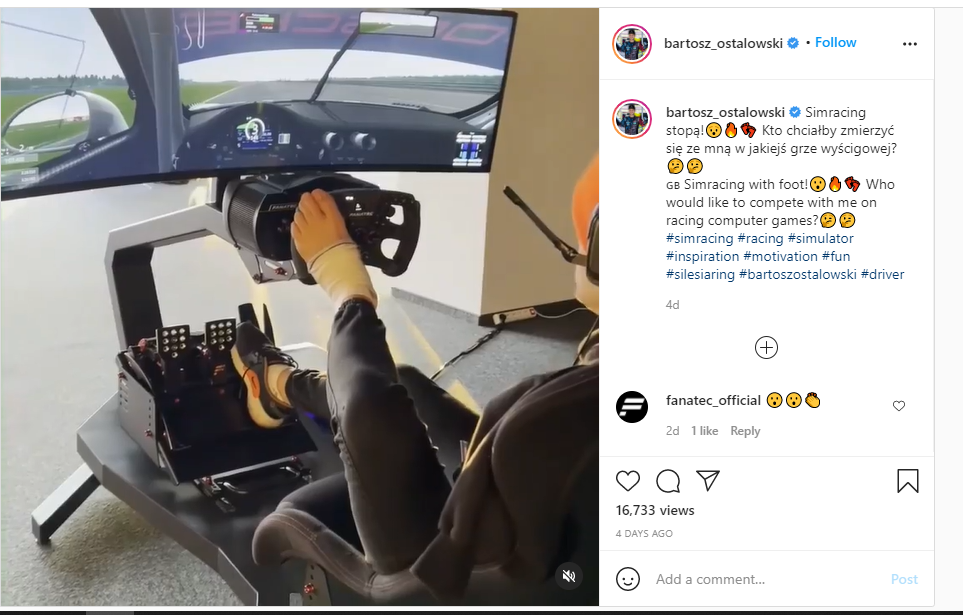 https://www.instagram.com/p/CLQ6lh5n4Z6/?igshid=h7ahnm2hvkou
---
---
Member Highlights [Adam]
iRacing releases its Top Member Highlights for the month of January
---
---
Bristol Dirt [Mike]
Bristol dirt seems to be a work in progress for iRacing and they posted a photo of the virtual track workers trying to figure out how to operate the equipment.
https://www.facebook.com/48224116084/posts/10159298489701085/?d=n
---
---
Daytona 500 Winner [Tony]
After a complete week of the Daytona 500 races, team Tifosi has its own Daytona Champion, Tony Groves!
https://www.facebook.com/watch/?v=1069174566899886
---
---
Major Series [Hall]
This Sunday, February 21, the Majors Series will Hold thier Daytona 500 race in the 87 Nascar Cup car.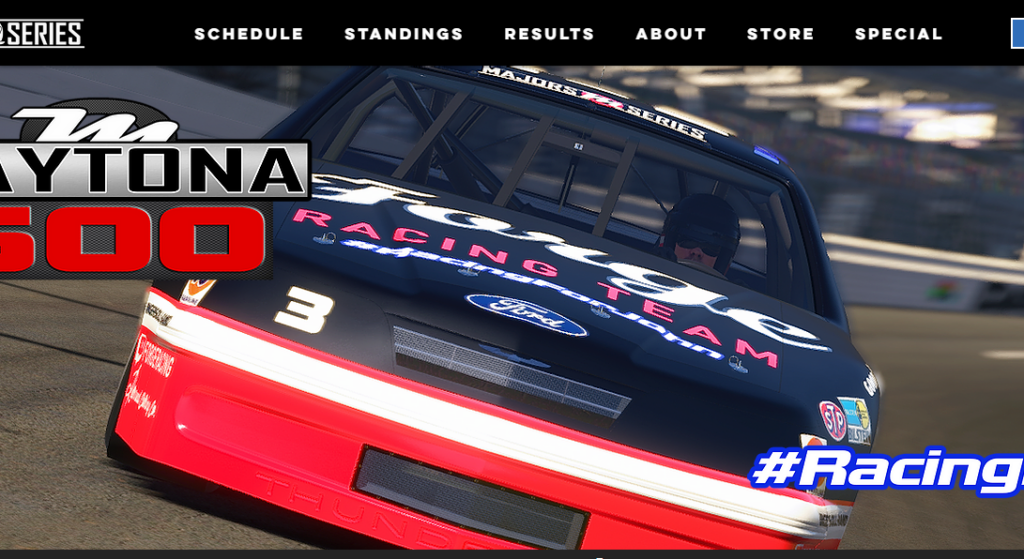 https://www.majorsseries.com/daytona500
---
---
The Crew [Brian]
iRacing makes a cameo on The Crew, the Netflix show in the Nascar world starring Kevin James. It's in episode 2 around the 16:30 mark. In the forums Greg West mentioned in the forums that saying, " I actually went down there to install the sim and Jake's character really pushed himself to look the part in the sim to the point he was asking about heel/toe on downshifts. I was beyond impressed and really hope that the series is a success. The cast and crew were an absolute blast to work with!"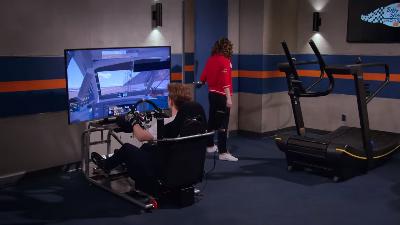 https://members.iracing.com/jforum/posts/list/3793160.page
https://members.iracing.com/jforum/posts/list/3793160.page#12396267
---
---
NiS Tracker w/ Calculator [Adam]
Bill Hull submitted a program in the forums for a NIS results tracker to track averages, top 5's, poles and more.

https://members.iracing.com/jforum/posts/list/3793203.page#12396542
---
---
Carnomoly 500 [Tony]
The eRacr Carnomaly 500 began this week with the prelim qualifier races today and yesterday. It's a $25 to enter and $15,000 prize purse event at Daytona in the unrestricted COT car cumulating in the pole qualifying on the 24th, the Battle 150's on the 25th and the 500 mile feature on March 3rd.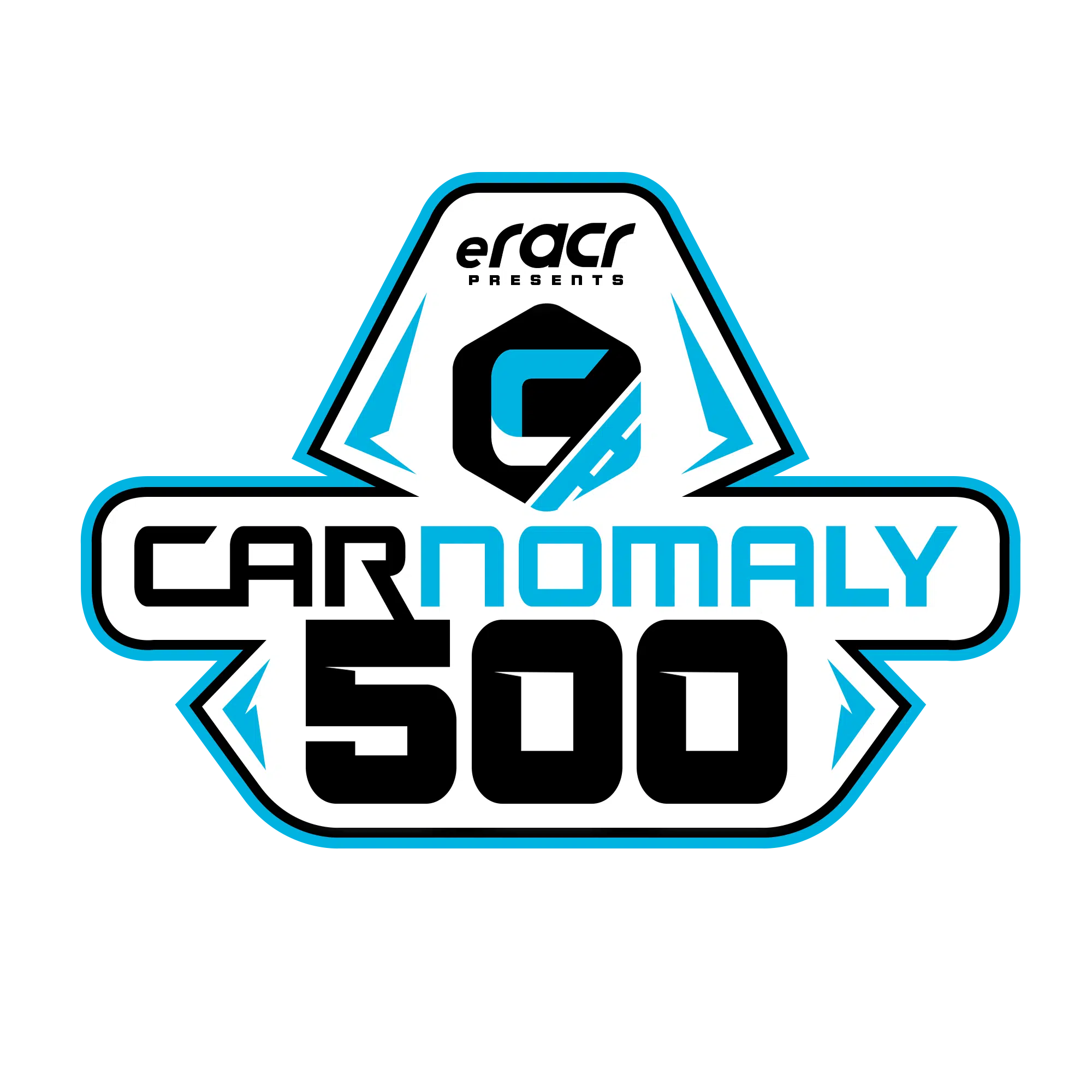 ---
---
Season 1 Patch 5 Release Notes [Mike]
iRacing release it's latest patch 5 for the season 1 build.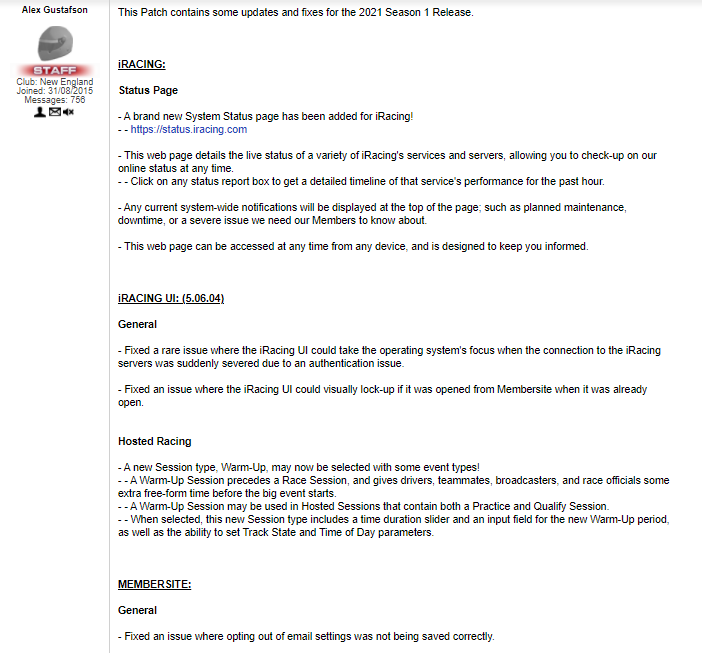 https://members.iracing.com/jforum/posts/list/3793269.page
---
---
Special Event – What to Expect [Hall]
Alex Gustafson posted in the forums what's new to expect and prepare for in the iRacing Special Events including a change to the registration processing they expect will help this process. Once the main registration period closes, and splits are being made prior to events beginning to launch, the scheduler is simply not going to allow any additional members to register until all sessions have finished launching. This will give the scheduler unimpeded time to do its thing. Those who try to register during this time period will not be allowed to register. They'll receive a new error message that says, "Please wait, registration is temporarily closed while the session launches. You will be able to register once the session has fully started.".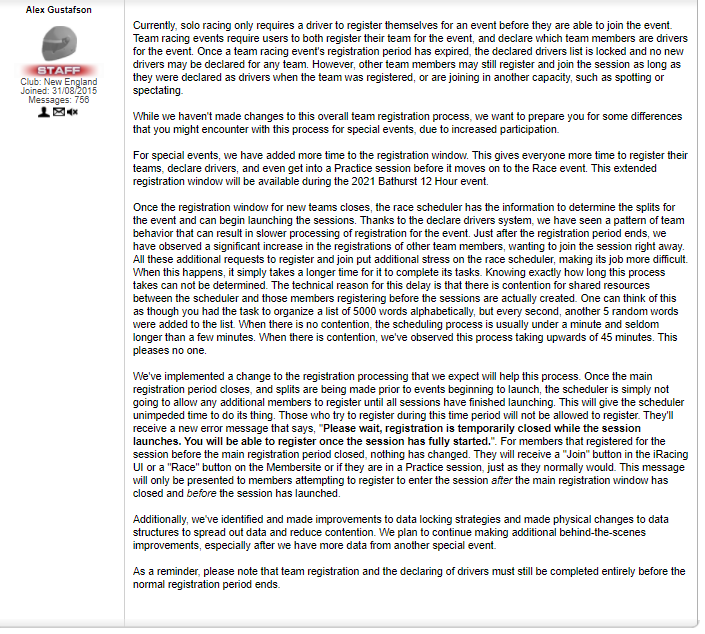 https://members.iracing.com/jforum/posts/list/3793278.page#12397138
---
---
Daytona Changes Track Again [Brian]
Nascar reporter Bob Pockrass Tweeted that he's expecting Nascar to do something about the dirt situation on the road course. Driver Denny Hamlin responded with some pics of track workers adding new areas of concrete beyond the current rumble sections.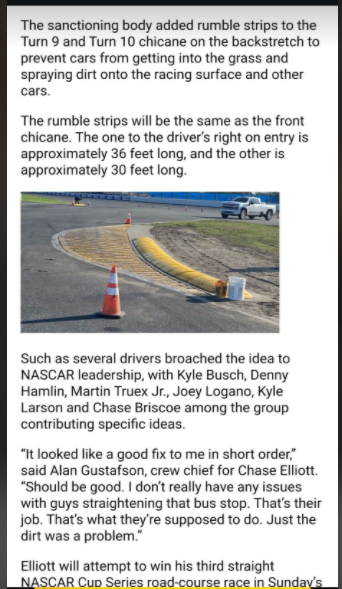 ---
---
eNascar RTP Qualifying Series is Up [Adam]
Tyler Hudson announced in the forums that the Road to Pro Qualifying series-Round 1 is now active and live.


https://members.iracing.com/jforum/posts/list/3793400.page#12398352
---
---
Starting Guide [Tony]
An article on Overtake gives beginners to iRacing a guide to how to hit the ground running in the sim.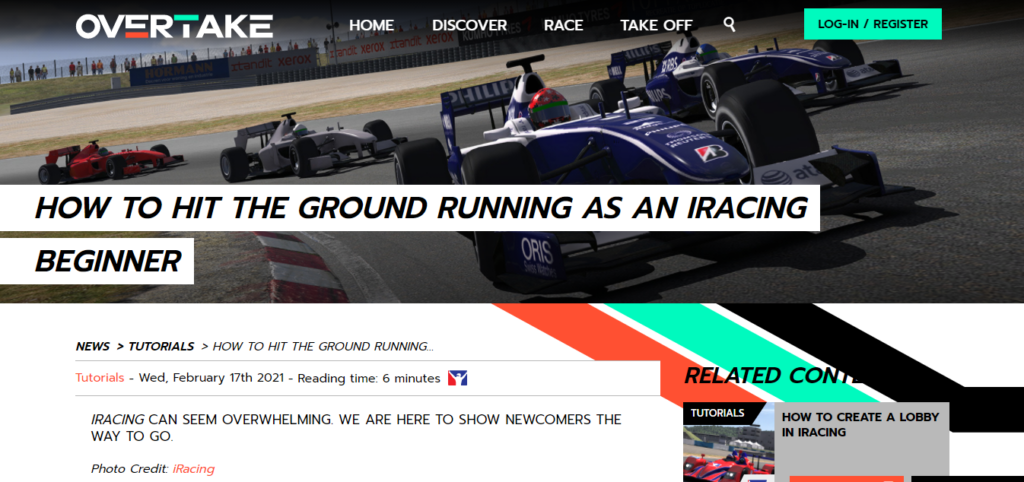 https://www.overtake.gg/news/3468-starting-guide-for-iracing-beginners/?utm_source=twitter&utm_medium=social&utm_campaign=organic_
---
---
Using the Sim to present Paint [Mike]
Petty's Garage Tweeted the new paint scheme for Erik Jones number 43 car for this week's Daytona Road Race. What was unusual is that they used iRacing's paint system and car for the photos.
---
---
---
Podcast Housekeeping
Aftermath Podcast – Get it!
New Website – Leave Comments https://www.iracerslounge.com/
We may be open to recruiting, with the right fit. If you race NiS, and you want to be a part of this podcast on air, hit me up.
You've heard us talk about the Spotlights. Those of us that have them here at iRacers Lounge absolutely love them. So much, we have become an affiliate! With the roll out of their new Spotlights Pro. Here's your chance to check them out, you won't be disappointed. Enter coupon code: IRACERSLOUNGE for 10% off!!
https://www.facebook.com/1565571990374134/posts/2832513123680008/?d=n
---
We are in the regular rotation… (Mike)
https://performancemotorsportsnetwork.com/
---
---
Fantasy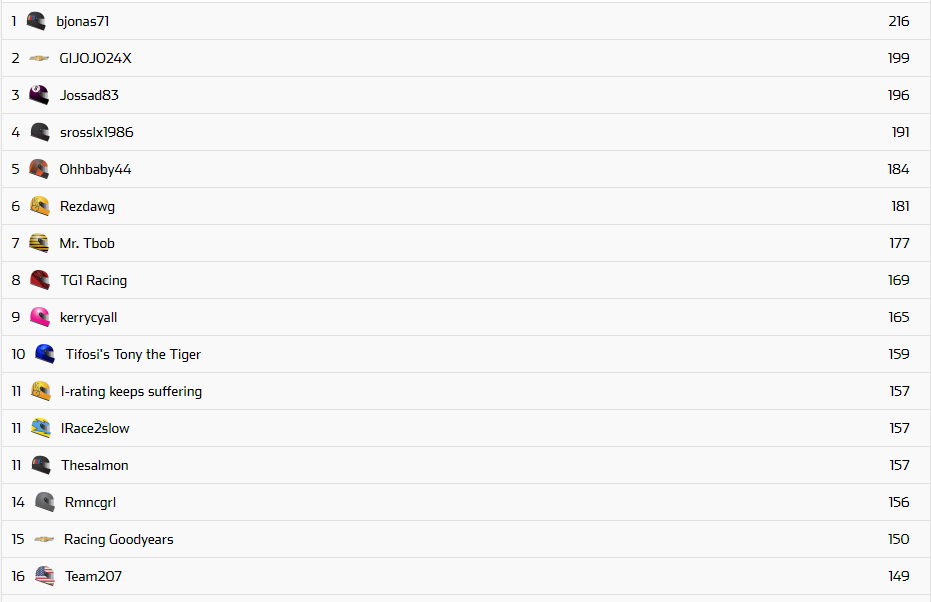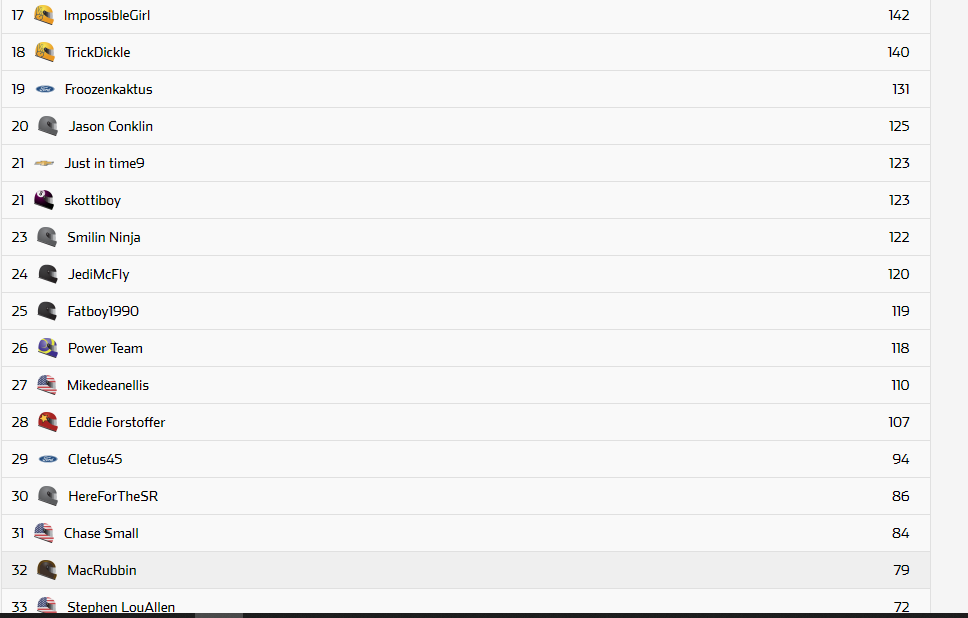 ---
---
Hardware/Software
---
Xbox Controller Anchored to Pedals [Hall]
Aussie Greg Hill has a unique solution for slip information for his pedals. An Xbox controller anchored to his pedals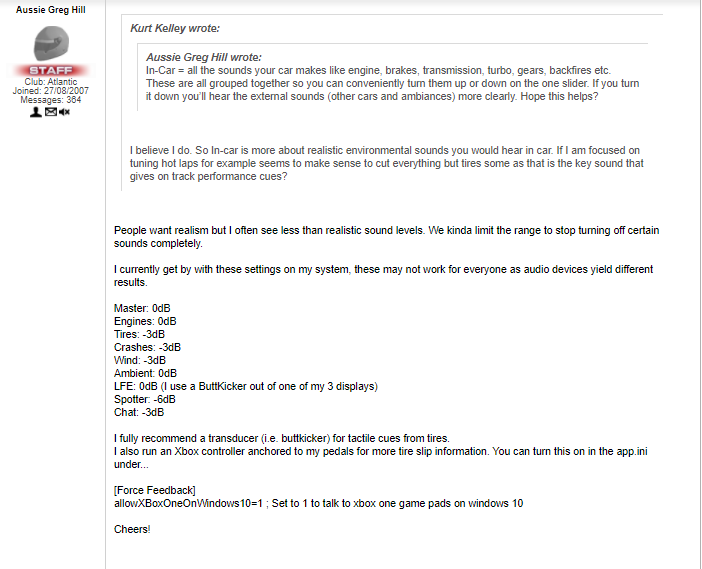 https://members.iracing.com/jforum/posts/list/3792361.page#12391044
---
---
iRacing Account for sale? [Mike]
Mike Received mail from the forums from someone who seems to be selling his iRacing tracks and cars for cheep?

https://members.iracing.com/jforum/posts/list/3791844.page#12380913
---
---
Rig Review [Tony]
iRacing posted on Facebook a rig for anyone with GI problems
https://www.facebook.com/48224116084/posts/10159272872801085/?d=n
---
---
Rig Review [Brian]
Glenn Hoffman posted in the forums his solution for the rolling office chair problem. Move over Crocs, and bring on the chains!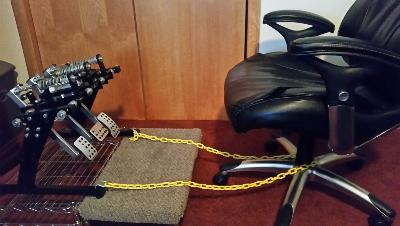 https://members.iracing.com/jforum/posts/list/3791983.page#12382252
---
---
Office Chair Rig [Adam]
Open Sim Racing are selling the plans for an office chair rig that converts your standard office chair into a racing rig for you pedals and wheel base. Plans are for series 15 80/20 profiles.
https://opensimracing.com/products/8020-office-chair-rig-plans-15-series
---
---
Office Chair Rig #2 [Tony]
Bsimracing has a pedal mount system for office chairs that let you mount pedals to your chair for $110 for the standard edition and $185 for the elevated version
bsimracing.com/pein-gear-mount-solution-for-office-chair-racers/
---
---
MPI Seats [Mike]
Max Pappis Innovations shows off it's new sim racing seats in their revamped sim racing series of products coming out soon.
https://www.instagram.com/p/CK4ccO_D6tf/?igshid=1q3pa32xkrxdb
---
---
Results
NASCAR iRacing Series
Daytona
Fri open:

Ellis – – DNF – Shifters stopped working during a GF stop lost the draft remapping shifters to keyboard – then was a lap down in the front pack when they all wrecked including me
Greg – p Wrecked on the straight with 50 to go

David = P 11, broken car early by another car on apron again, but stuck it out through a lot of attrition
Rochette P4- white flag was about to pass leader on the outside and some asshat on the inside clipped me on the corner wrecking me. Made me wanna punch a baby seal
Groves- P1
Sunday Open

David – p17 GWC in position to win, hooked by car who bounced off wall
Tom D – P9. Ran top 5 all race. A bit too much bumping and banging on the final laps, got crashed, but pulled off a top 10 in the 500. So I can't complain
Rochette- P
Brian – P3 Ran up front all race. Lead 38 laps. Made a bad no-pit call which kept put me in third on the final laps instead of first.
Sunday fixed

Mike -p.Got Pole Position – Led many laps early ran top 5 basically just riding – lap 117 the top two tangle and take out the field.
Brian – P11 Pushed to the lead inside of 20 laps to go. Car was the cleanest of the leaders. Lap car who wouldn't clear the track wrecked the lead pack.
Race: Dayroval
Wed Open:

Hall – p 23, slow in top split
Ellis – p 21 – started 34th pretty much kept it on track really slow and got some points –
Greg – p blew up
Rochette – P4 started 4th stayed out of trouble and clean think this is 1st ever road race ive ever had with 0x and it was bottom split to boot

Thurs Open

Hall – p17 slow in top split
---
---
Official Series
---
---
League / Hosted Races
FastTrack Sim Racing League

Mike- dnf. Started 17th got the lead by lap eight. Let the most lab stayed in the top 4 basically with about 25 to go I was first on the outside pushed by Josh Campbell. And basically got turned going down the back street he was pushing on the right corner of the bumper and it is hooked me. I was holding a really straight line. It couldn't of been straighter. I felt good about Josh Campbell pushing me I have raced against him in several different leagues, and him and his guys are some of the cars to beat every time for sure.

Ucora-

Mike – p15 – spun off turn 2 and killed the car but luckily I had a reset, hit the wall several times and ended up causing a late caution

David -p13 self spun, wasn't fast anyway
Premier Race Network Cup:

Tom D – Daytona 250 winner! Had some computer issues to start the race. Missed q and had to start from pits. Was able to work my lap back, than on a late race restart was able to take the lead and not give it back. Moves me to the playoffs, now time to get more playoff points.

OBRL ARCA Series

Brian P17 Screwed the pooch on qualifying. Involved in an incident early in the race. No caution, but 5 minutes of repair. Chance of advancing to the final 4….shot.
---
---
Final Thoughts
---
---
---
Words Spoken in Closing Audio Clip -""Thank you for listening to the iRacers Lounge podcast make sure to go subscribe to us on iTunes, SoundCloud, or Google Play, Facebook & Twitter, See You On The Track ."
TITLE IDEAS
Dedication or Defecation
.
.
Description
Daytona 500 week in the NIS wraps up for Team Tifosi. Which team member came thru with a 500 victory!? Now, we move on the the road side which gets an update that we'll cover. Office Chair racing is all the rage in the Hardware section plus a a rig that shows the ultimate dedication to the sim. We cover it all on the iRacers Lounge Podcast.
iRacers Lounge Podcast is available on iTunes and Apple's Podcasts app, Stitcher, TuneIn, Google Play Music, Spotify, Soundcloud, Podbean, Spreaker, Podbay, PodFanatic, Overcast, Amazon, and other podcast players.
Sponsors:
www.grid-finder.com
Hosts:
Mike Ellis – twitter.com/MikeDeanEllis
Tony Groves – www.twitch.tv/SirGroves
Chris Scales – twitter.com/JediMcfly
David Hall – www.twitch.tv/mixmage
Greg Hecktus – twitter.com/froozenkaktus – www.twitch.tv/froozenkaktus
Tony Rochette – twitter.com/TonyRochette
Adam Josselyn- twitter.com/Jossad83
Brian Maccubbin – www.twitch.tv/MacRubbinsRacin
Tom Dreiling –
Links:
Old Show Notes – bit.ly/2CFeArM
Facebook – www.facebook.com/iRacersLounge/
Twitter – twitter.com/iracerslounge
Instagram – instagram.com/iracersloungepodcast/
Web (New Show Notes) – iracerslounge.com/