07/29/2021 – Bucket Head – Episode 0290
iRacers Lounge Podcast – Conversation Topics
Brought to you by:

Opening Audio Clip -"Your listening to the iRacers Lounge Podcast where we discuss everything iRacing, in a casual setting, enjoy."`
READ THIS AT THE TOP OF EACH SHOW!!!
Welcome to the iRacer's Lounge, I am your host "XXX". iRacer's Lounge is a podcast for the iRacer, where we talk all things iRacing in a casual setting.
Joining me are the usual characters, ————
---
---
Introduction
On today's show we'll recap the iRacing Coke Series All Star Race at Nashville and talk next gen racing with the voice of eNascar Evan Posocco. We'll check out the evolution of Nascar Video Games from Racehub and where did we see iRacing in real-world victory lanes.
And remember you can follow along with us on your PC or mobile device in real time as you listen to the show and see for yourself all of the great topics and products we'll discuss by visiting iracerslounge.com and selecting show notes. Hope to see you there..
---
---
TITLE SPONSOR READ:
Grid Finder 2.0 is bigger and better than ever with more ways to narrow your search for your next sim racing league. Featuring over 1000 leagues from over 25 racing sims across every platform, Your place on the grid is just a couple clicks away.
Visit www.grid-finder.com to find a league, or to upload your own!
Grid Finder – "The home of online sim racing leagues"
---
---
Topics
---
---
Coke Race – All Star NexGen at Nashville
https://www.iracing.com/enascar-iracing-all-star-race-race-preview/
Those rules mean that we get to welcome back past series champions Richard Towler and Kenny Humpe, plus 2020 race winners Kollin Keister and Brandon Kettelle
Top 2 advance!
Early moment for @lyonschoice and @JakeNichols73! They gathered it up, but neither are in the transfer spot as they run.
@Blade_Whitt scoots by for P3.
LAP 11: @FemiOlat_ tags the outside wall.
Lap 15 – manes whitt hurst wilson ray j nicols reynolds matheson
LAP 20: Halfway into the All-Star Open, @GarrettManes and @swilson3_ hold the transfer spots for the time being.
Wilson made a bold move with a slide job
Things are getting desperate! Comp yellow only a few laps away!
LAP 24: Battle for the lead! @GarrettManes and @swilson3_. NEW LEADER, Wilson!
LAP 25: Caution. this is the competition caution.
RESTART 11 to go:
Scrappin hard for 2nd great racing 3 wide top 5 going for it
Bussa coming
https://twitter.com/iRacing/status/1420181227043278850
6 to go: @mbussa75 takes 2nd from @TDawgHurst
4 to go: NEW LEADER, @mbussa75
@mbussa75 WINS the All-Star Open!!!He and @MGuest33 advance to the All-Star Race!
Guys up front were saving tires early
Z nichols boes duval
Bussa said he saved tires the 1st stage big time
The @NASCAR@iRacing All-Star Race is next!
@rayalfalla and @jmullisracing start from the front row after a 10-car invert.
LAP 4: Trouble! @AshtonCrowder is on his lid! @MitchelldeJong1 and others are involved!
No cautions in the @eNASCARCocaCola #iRacing Series All-Star Heat Race.
Quiet start Alfalla and logan gap the field
New leader in the heat: @LoganClampitt_
Over ray alfalla, luza third , bowlin mullis
15 to go, Heat 1: @RyanLuza breaks loose after contact! He saves it!
8 to go alfalla fades away
Last lap fireworks!
@BowlinGraham steals the heat win away from @LoganClampitt_ in the closing laps!
GREEN FLAG: @BowlinGraham and @NickOttinger lead the field into turn 1 for the @eNASCARCocaCola #iRacing Series All-Star Race.
LAP 6: @BrandonKettelle has climbed up to 2nd!
LAP 11: New leader! @BrandonKettelle passes @BowlinGraham for the top spot. A LOT of drivers are saving tires, but they do have one extra set in the pits!
Lap 20: Caution. This is the first competition caution.
13 drivers stayed out under this yellow. Of the eight that pitted, it was split on fuel only, two tires or taking the full set.
RESTART LAP 24: @BowlinGraham and @jmullisracing lead the field into turn 1.
TROUBLE! @cshearburn, @bobbyzalenski, @RyanLuza, @LoganClampitt_, @KollinKeister and others crash. No caution.
LAP 31: NEW LEADER, @jmullisracing to the top spot.
LAP 45: Caution. This is the second competition caution.
They were THREE WIDE coming to the line for the end of the second segment.
@CaseyKirwan23 nabs it.
Coming to the green… @BBryant53 will lead them on older tires!
TROUBLE! @CaseyKirwan23, @LoganClampitt_, @rayalfalla, and more crash!
7 to go: @BrandonKettelle gets SENT into the outside wall!
Vincent mullis guest gets by bryant
5 to go: NEW LEADER, @CVincent34
Side by side on white – WHITE FLAG! BATTLE FOR THE LEAD! @CVincent34 and @jmullisracing! Contact!
GIVE IT TO MULLIS! ALL STAR CHAMPION
@jmullisracing holds off @CVincent34 to win the $3,500!
@CVincent34 takes 2nd and $1,500, @MGuest33 3rd takes home a $500 prize.
https://twitter.com/iRacing/status/1420206708945825793
https://www.instagram.com/p/CR4LlULg1zS/?utm_medium=share_sheet
---
---
NASCARcade
Tuesday night on Nascar Race Hub they aired a segment called NASCARcade exploring the evolution and history of Nascar video games.
https://twitter.com/nascar/status/1418647676137189381?s=11
https://www.dailymotion.com/video/x82z4l5
---
---
Max at Spa
Formula 1 star Max Verstappen was back on iRacing driving for @teamredlinesim in the 24H of Spa.
---
---
SimRacerHub
Clinton Snead made an announcement that he is the new owner of SimRacerHub.com, formerly the DanLisa league scoring website. He reminded everyone on his post to update the new domain name in your URL and everything will continue to work as before.
https://www.simracerhub.com/scoring/season_race.php?race_id=120481
---
---
iRacing in the Winners Circle
Josh Berry, in his iRacing sponsored No. 8 Late Model for JR Motorsports went to victory lane at the 13th annual Hampton Heat 200 at Langley Speedway.
https://twitter.com/joshberry/status/1419156216102666241?s=11
Not to be outdone, Ty Majeski took another victory in his iRacing sponsored ARCA Midwest Tour at the Larry Detjens Memorial 125 at State Park Speedway.
https://twitter.com/TyMajeski/status/1419390568321490956
---
---
4 Hours of Charlotte
Don't forget this weekend's 4 hours of Charlotte to bnefit the MS Society. To try to help boost participation Stevev Myers posted on his Twitter that I would really love to see our community step up and support our @mssociety fundraising this Saturday. So for the right price, I will choose questions to answer from this thread during the broadcast if you show proof of a donation.
https://twitter.com/iracingmyers/status/1420204180417953801?s=11
JR Wants a Buick
Dale Jr posted a response to Steve Myers that he's made his donation and wants a 1987 Buick Lasabre added to the Nasar Legends Series lineup.
https://twitter.com/iracingmyers/status/1420413609964883977?s=11
---
---
Retro 500
Podium eSports will be holding the The Retro 500, it's tribute to the Winston Cup era of stock car racing and returns to the calendar for 2021 after a one-year hiatus. Utilizing the 1987 Chevrolet Monte Carlo and Ford Thunderbird at Darlington Raceway, drivers will compete in qualifier races throughout August in order to earn their place in the 367-lap, 500-mile feature race on the evening of Labor Day. The winner will earn $500 in prize money and the bragging rights that come with victory in one of virtual stock car racing's ultimate tests of skill.
https://www.podiumesports.com/retro500
In order to qualify for the event, drivers will need to finish in the top 10 in one of 4 qualifying races, which will be run once per week for the 4 weeks leading up to the Retro 500 (Wednesday nights in August).
https://forums.iracing.com/discussion/4916/registration-is-open-for-the-retro-500-on-podium-esports
---
---
2021 BMW SIM GT Cup Season 2—Broadcast Information
Arjuna Kankipati2 posted in the forums that RaceSpot TV is proud to be broadcasting Saturday's 13:00 GMT top split of the BMW SIM GT Cup Season 2!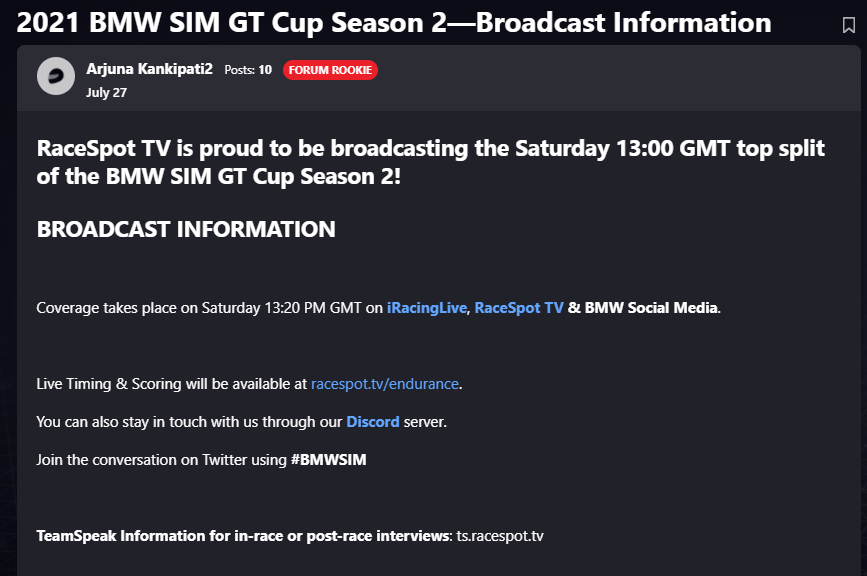 https://forums.iracing.com/discussion/4932/2021-bmw-sim-gt-cup-season-2-broadcast-information
---
---
Richard Childress Racing Fan Event [Mike]
Jeffrey Maconi posted in the forums that Maconi Setup Shop has partnered with Richard Childress Racing (yes, that RCR) this Sunday, August 1st with a race with the current gen Cup Cars at Twin Ring Motegi! This event is 100% FREE to join, with the winner getting some setups from Maconi Setup Shop, a swag bag filled with some AWESOME RCR merch, and most importantly, bragging rights! Signups are at www.maconisetupshop.com/ercr and are currently open. Be sure to head over there and sign up, as well as grab the setup to start practicing! We'll see you there! ?
https://forums.iracing.com/discussion/4959/richard-childress-racing-fan-event
---
---
Road iRating
iRacing asked is members in a Tweet, "What is your current Road iRating?" The majority of the voters claimed to be between 1501-3000 at 45%.
https://twitter.com/iracing/status/1420459098781409280?s=11
---
---
Anti-Cheat Software Engineer
iRacing has a new job posting, this one looking for a Anti-Cheat Software Engineer who will be responsible for the implementation and maintenance of systems and features related to the security and integrity of our racing simulation.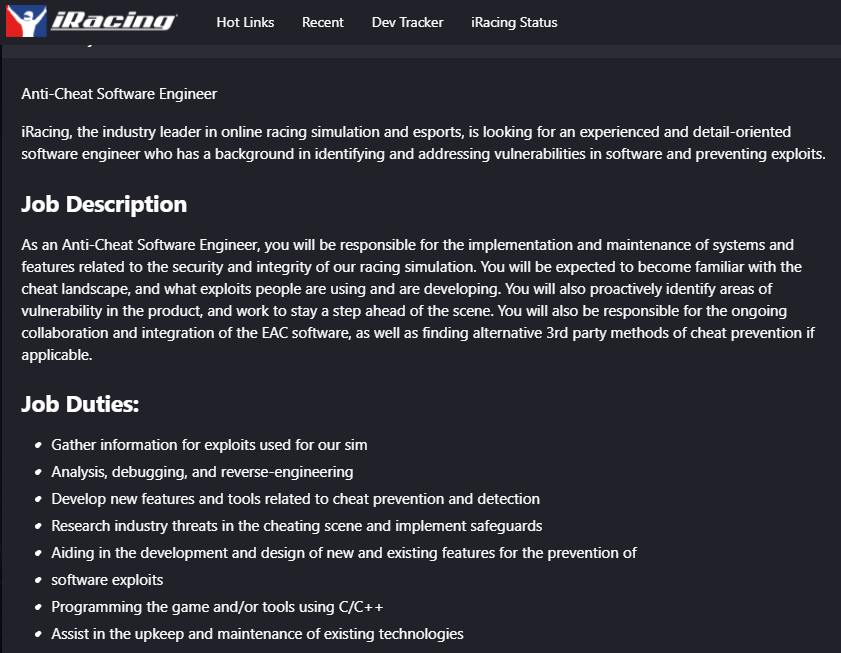 https://forums.iracing.com/discussion/5003/anti-cheat-software-engineer
---
---
User Experience Designer
They are also looking to hire a User Experience Designer, whose roll would make them responsible for ensuring the usability of our next generation user interface.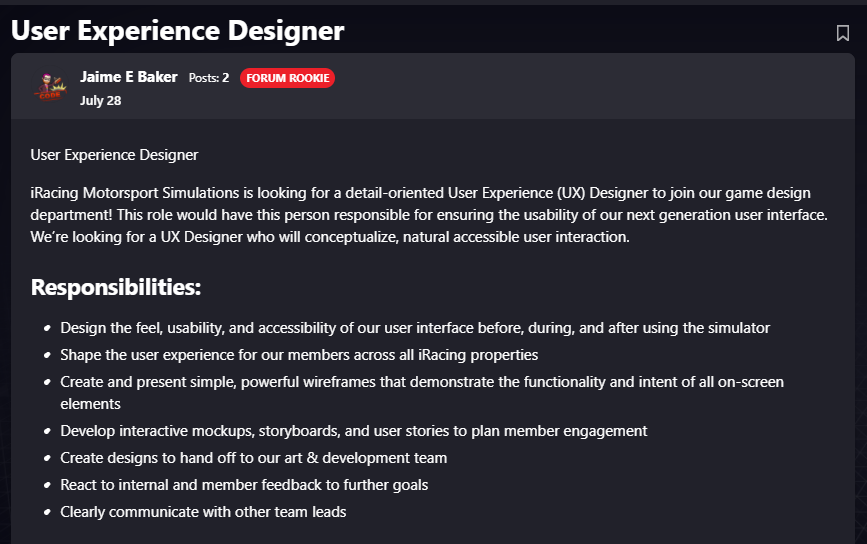 https://forums.iracing.com/discussion/5005/user-experience-designer
---
---
New Track
Townsend Bell Tweeted that the Indycar Series will be adding a new street course in Nashville
https://twitter.com/townsendbell/status/1420834053779902465?s=11
---
---
iRacing for Serious Racers
Kevin Scott posted his thoughts for an iRacing series for 'Serious Drivers." His thoughts were that there would be a membership separated from the regular platform and put into its own division of racers. The platform would be you pay a amount to be in a more professional racing session money races that would pay for the platform and only serious racers need apply. Strict rules would be set in place, something like a road to pro league but for all racers that are serious and records are kept and level ups would take you to the road to pro and contender series. Key being not racing with racers that just wanna wreck or don't care about taking things serious.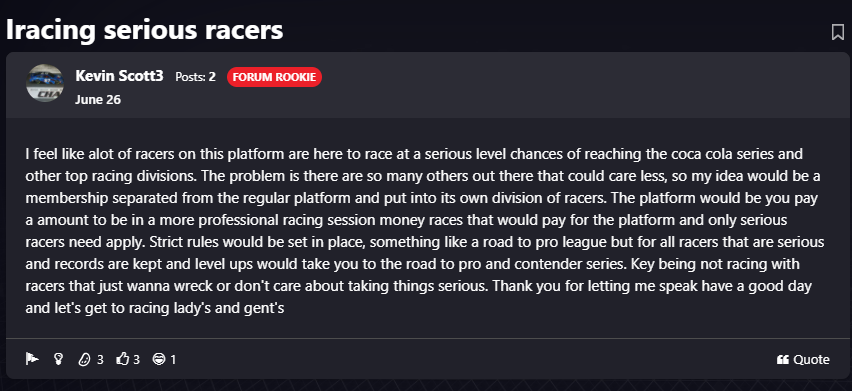 https://forums.iracing.com/discussion/2605/iracing-serious-racers
---
---
Defending Clampitt
iRacing posted a video on their Twitter page of member Christopher Cooke defending his position against Coke Series Driver Logan Clampitt in a truck race on the Daytona Road Course for a great finish.
https://twitter.com/iracing/status/1419707040331714565?s=11
---
---
Indy Slide
iRacing posted on their Instagram page, a video of member Damon Henton of him loosing control of his Indy Car out of turn 4 of IMS only to make the catch and save his car from wrecking.
https://www.instagram.com/p/CR4Ubn3AWcK/?utm_medium=share_sheet
---
---
Side by Side Finish
iRacing also posted on their Instagram page a video of some very close side-by-side racing between members Raphael Bonifacio and Michael Fix at Montreal in the formula Renault.
https://www.instagram.com/p/CR66KFFAC2-/?utm_medium=share_sheet
---
---
Forum Interruption
iRacing announced that their forum provider was down for maintenance just after noon this morning meaning the forums were temporality offline.
https://twitter.com/iracingsupport/status/1420777248005709835?s=11
---
---
iRacing Presents the 2021 Knoxville Nationals
A reminder for the upcoming iRacing Knoxville Nationals, the annual sprint car championship event held at Knoxville Raceway in Knoxville, Iowa using the 410 Winged Sprint Car.
Date: August 16th – August 21st
Monday through Friday 1 timeslot at 9pm ET each day (02:00 GMT)
Saturday Super Session taking the top 60 in overall points from the race week. 9pm ET (02:00 GMT)
https://forums.iracing.com/discussion/4569/2021-knoxville-nationals
---
---
GRID FINDER PAINT FESTIVAL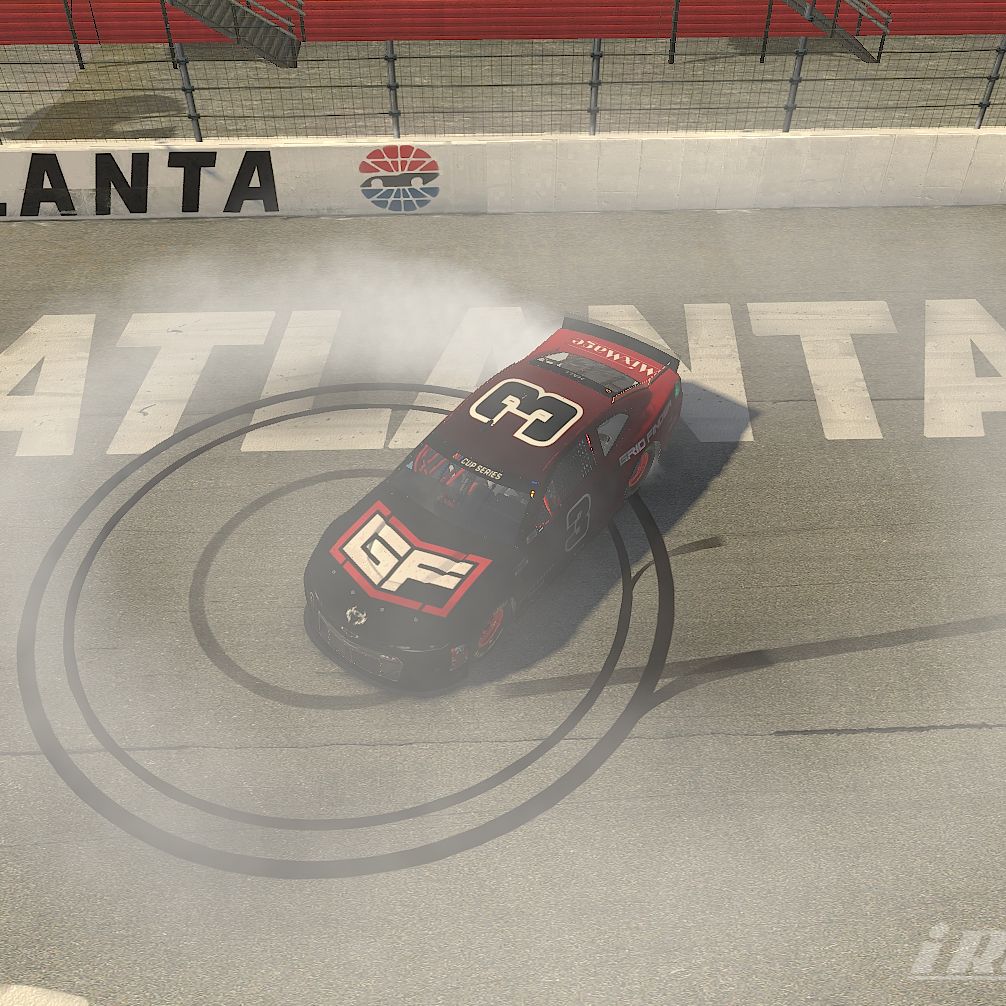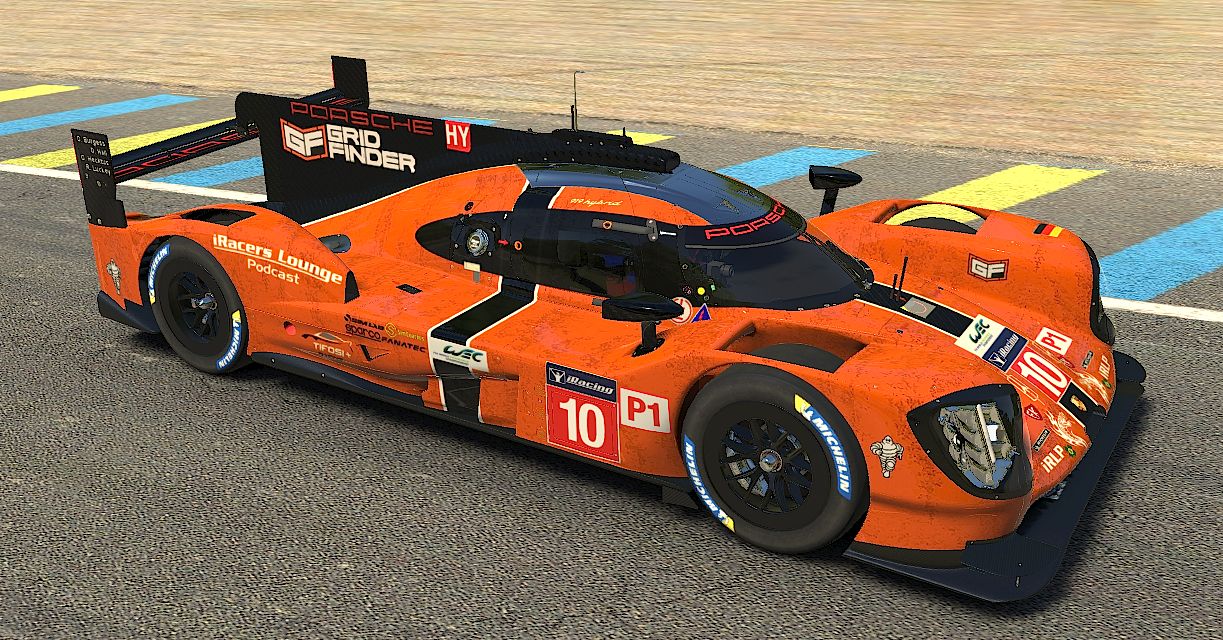 iRacers Lounge Podcast and Grid Finder present a livery competition.
Here are the details:
Livery must be for iRacing
Livery must be uploaded to the Grid Finder paint shop

with all the info filled in and at least 3 sample images

Livery must be posted on social media with iRacers Lounge and Grid Finder tagged
Livery must have a Grid Finder theme
Primary Sponsor will be Grid Finder with iRacers Lounge as secondary

Any other additional sponsorships are welcome

Any car may be chosen
Contest starts on Thursday 7/22/2021.
Deadline for entry is 8/18/2021 Midnight EST.
Prizes Include:
Guest Spot on the iRacers Lounge Podcast
Grid Finder sim racing gloves and $50 in iRacing credit from Grid-Finder.com
https://www.iracerslounge.com/grid-finder-paint-festival/
---
---
Podcast Housekeeping
Aftermath Podcast – Get it!
New Website – Leave Comments https://www.iracerslounge.com/
You've heard us talk about the Spotlights. Those of us that have them here at iRacers Lounge absolutely love them. So much, we have become an affiliate! With the roll out of their new Spotlights Pro. Here's your chance to check them out, you won't be disappointed. Enter coupon code: IRACERSLOUNGE for 10% off!!
https://www.facebook.com/1565571990374134/posts/2832513123680008/?d=n
---
We are in the regular rotation… (Mike)
https://performancemotorsportsnetwork.com/
---
---
Hardware/Software
---
Cubic QS220-PL
Digital Motorsports presents the Cubic QS220-PL, a complete 4 actuator motion system for platform rigs for $8K
https://www.instagram.com/p/CRowJPhNi-I/?utm_medium=share_sheet
https://digital-motorsports.com/
---
---
All in 1 Gaming Pro Sim Cockpit
Barry Rowland reviews the All in1 Gaming Pro Sim Cockpit. In the first video he reviews the building of the cockpit and accessories.
https://www.youtube.com/watch?v=xKKiau4-kNg
---
---
Simcore Rig Review
simcore_
STD20-WD Sim racing USB button box secured on a UM1-ALN servo steering mounting system, extended with a UH1-125 extension hub and complimented by a streamdeck aluminium case,
Installed in NSW, Australia.
Thank you Mark,
https://www.instagram.com/p/CRmIe2Rt-lS/?utm_medium=share_sheet
---
---
Mechatronix
Mechatronix shows of his motion system that sets the driver (rider) several feet off of the floor.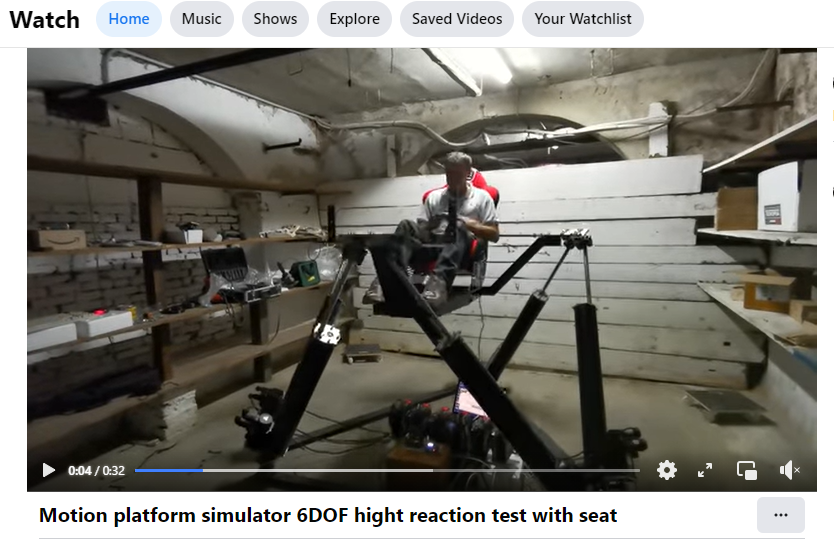 https://www.facebook.com/watch/?v=3075290456083283
https://m.facebook.com/story.php?story_fbid=126536206313468&id=100068712677880
---
---
HRS SVGT3 Wheel
Hybrid Racing Simulations presents the HRS SVGT3 Wheel, based on the OMP 310 ALU GT Wheel Rim. They worked directly with Red Bull Driver Shane van Gisbergen to bring this new wheel to life. These wheels will be limited to 100pcs only, all of which will come with a personalized, signed authentication certificate from Shane van Gisbergen
https://www.instagram.com/p/CRtKakKBRif/?utm_medium=share_sheet
---
---
Vyral
Vyral is a retail E-Sports venue in Ohio that offer all thing including custom PC Builds, PC accessories and include an eSport arena that you can rent including Race Simulators.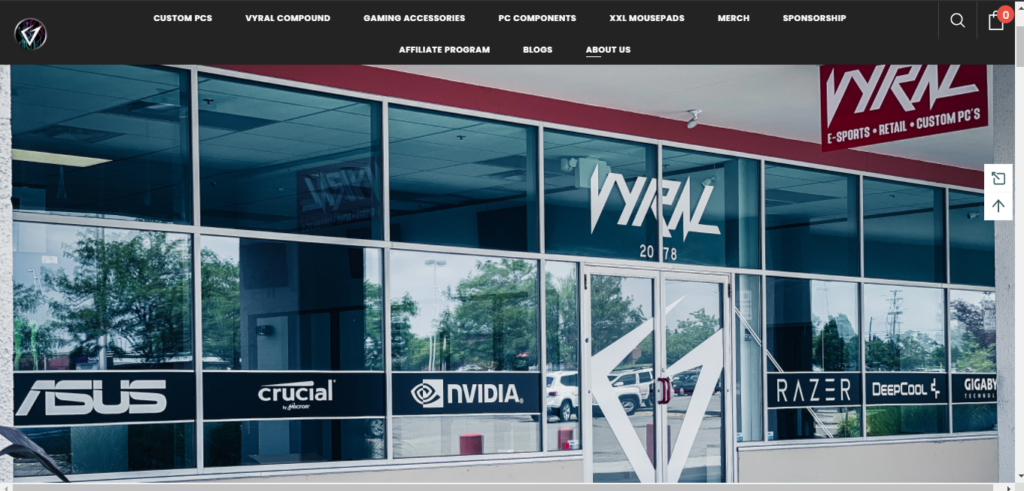 ---
---
Puma Active Gaming Sock
Puma is offering their 'Active Gaming Sock' that could be for those drivers who don't prefer racing in their shoes.
https://www.facebook.com/13892765435/posts/10165831766665436/?d=n
---
---
Mecapit VR Simracing Cockpits
Mecapit is a Spanish company that offers it's aluminum VR cockpit between 390-465euros.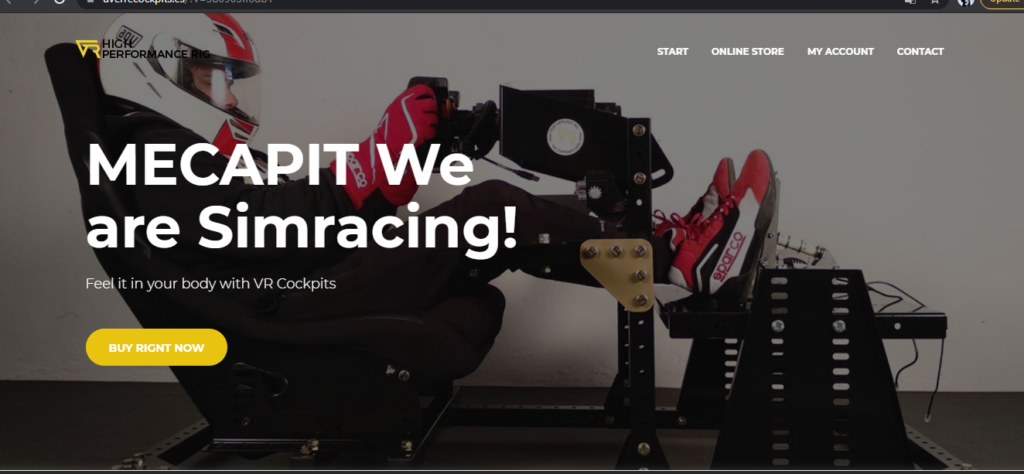 https://www.uverrecockpits.es/?v=3b0903ff8db1
---
---
Helmet G Force Simulator

corridavirtual posted a YouTube video of Felipe Nasr doing some Hard Training testing on simulator with Helmet G force simulation.
---
---
Results
NASCAR iRacing Series
---
---
Official Series
A Fixed

Ellis PWrecked Out – Had a good run going up to 2nd at one point – but i screwed up and floated up and tried to come back down – then w damage i spun tires on final restart and wrecked again
C Fixed
Tyler. P-1! Raced at IRSS in the ganders with Maccubbin calling the moves. Really fun race and working as a team.
---
---
League / Hosted Races
Greg p wrecked
Steve – wrecked
Mike – p .2 – there was a quick caution. Topped off fuel – ran hard from 17th up to 9th – then gf stops was 6th when caution came – got tires – worked my way back to 2nd – alan p wins – class of his own
Hall – p. 3
Joe – p9 – got caught in first caution was dead last about to be lapped – nice recovery
Bobby – Wrecked Out
OBRL ARCA Series

Brian Talladega P6- Found myself in a good position on turn 4 on the last lap for a possible win, just didn't have the fuel to find out.
Congratulations Dwayne McArthur in the REG Custom #97 Chevy Winning The Aftermath Podcast Truck Series Race at Chicagoland Speedway
Steve Thomson In the RideTv #67 Toyota Finished 2nd
Josh Robinson #23 in the Microcenter Chevy Chevy Finished 3rd
Brian P9 – Very clean race. Tough to pass without losing speed and tires. Lots of interesting pit strategies.
---
---
Final Thoughts
---
---
Words Spoken in Closing Audio Clip -""Thank you for listening to the iRacers Lounge podcast make sure to go subscribe to us on iTunes, SoundCloud, or Google Play, Facebook & Twitter, See You On The Track ."
TITLE IDEAS
.Bucket Head
.
Description
On today's show we'll recap the iRacing Coke Series All Star Race at Nashville and talk next gen racing with the voice of eNascar Evan Posocco. We'll check out the evolution of Nascar Video Games from Racehub and where did we see iRacing in real-world victory lanes. So strap in and try to keep up with us on the iRacers Lounge Podcast.
iRacers Lounge Podcast is available on iTunes and Apple's Podcasts app, Stitcher, TuneIn, Google Play Music, Spotify, Soundcloud, Podbean, Spreaker, Podbay, PodFanatic, Overcast, Amazon, and other podcast players.
Sponsors:
www.grid-finder.com
Hosts:
Mike Ellis – twitter.com/MikeDeanEllis
Tony Groves – www.twitch.tv/SirGroves
Chris Scales – twitter.com/JediMcfly
David Hall – www.twitch.tv/mixmage
Greg Hecktus – twitter.com/froozenkaktus – www.twitch.tv/froozenkaktus
Tony Rochette – twitter.com/TonyRochette
Adam Josselyn- twitter.com/Jossad83
Brian Maccubbin – www.twitch.tv/MacRubbinsRacin
Tom Dreiling –
Kyle Pendygraft – twitter.com/LoudPedalGaming
Links:
Old Show Notes – bit.ly/2CFeArM
Facebook – www.facebook.com/iRacersLounge/
Twitter – twitter.com/iracerslounge
Instagram – instagram.com/iracersloungepodcast/
Web (New Show Notes) – iracerslounge.com/