8/5/2021 – Leak Week – Episode 0291
iRacers Lounge Podcast – Conversation Topics
Brought to you by:

Opening Audio Clip -"Your listening to the iRacers Lounge Podcast where we discuss everything iRacing, in a casual setting, enjoy."`
READ THIS AT THE TOP OF EACH SHOW!!!
Welcome to the iRacer's Lounge, I am your host "XXX". iRacer's Lounge is a podcast for the iRacer, where we talk all things iRacing in a casual setting.
Joining me are the usual characters, ————
---
---
Introduction
On today's show we'll recap an exciting Coke Race at Watkins Glen with Series broadcaster Evan Posocco and, thanks to your donations in the 4 Hours of Charlotte, Greg Hill lets go some great secrets from the iRacing vault and we'll cover them all.
And remember you can follow along with us on your PC or mobile device in real time as you listen to the show and see for yourself all of the great topics and products we'll discuss by visiting iracerslounge.com and selecting show notes. Hope to see you there..
---
---
TITLE SPONSOR READ:
Grid Finder 2.0 is bigger and better than ever with more ways to narrow your search for your next sim racing league. Featuring over 1000 leagues from over 25 racing sims across every platform, Your place on the grid is just a couple clicks away.
Visit www.grid-finder.com to find a league, or to upload your own!
Grid Finder – "The home of online sim racing leagues"
---
---
Topics
---
---
Coke Race: Watkins Glen
We got Greg Hill talking about LEAK WEEK, and giving the command, and what a pleasure to have owner Steve Letarte in the booth with you.
And a new iracing commercial featuring none other than director Dale Earnhardt Jr doing the voiceover.
Also a new logitech sponsorship.
https://www.nascar.com/news-media/2021/08/03/logitech-g-partners-with-coca-cola-iracing-series/?sf148438454=1
An issue for @MathesonRacing has him off track before the green.
That was a crazy opening lap!
https://twitter.com/iRacing/status/1422727904761421824
@BowlinGraham hangs on, @bobbyzalenski is right there.
@swilson3_ sits on the final step of the podium and the road king this year @MitchelldeJong1 is down to P4!
Things have settled down throughout the field.
@BowlinGraham's lead isn't a comfortable one, but at least he's got some gap. Currently Lap 9 of 50.
LAP 10: @BowlinGraham leads @bobbyzalenski by about half a second.
LAP 10: @Blade_Whitt slapped the outside wall after contact with @lyonschoice
LAP 13: @bobbyzalenski has chipped a tenth out of @BowlinGraham's lead. Now down to 4 tenths of a second.
@MitchelldeJong1 sent it in on @swilson3_ but couldn't make it stick in T1. Wilson back by into P3
LAP 18: @vicente_salas14 and @GarrettManes Pit.
LAP 18: @lyonschoice went for a wild ride in the gravel and saved it.
LAP 19: @KeeganLeahy and @cshearburn pit.
LAP 20: @MitchelldeJong1, @CVincent34, and @DDuval42
Pit. @aburroughs62 and @john_gorlinsky are also on pit road.
LAP 21: @BowlinGraham pits from the lead.
LAP 22: @bobbyzalenski Pits.
Halfway home and pit stops are in the books.
@BowlinGraham leads but @bobbyzalenski has the fastest lap and the fresher tires.
https://twitter.com/NASCAR/status/1422735528118693894
25 laps to go! Early night for @john_gorlinsky, as he spun on his out lap on cold tires into the tires.
20 laps to go.The pressure is ON for @BowlinGraham
12 to go: @BowlinGraham continues to lead @bobbyzalenski by about 4 car lengths.
With eight laps to go, @BowlinGraham has a bit of a buffer now! HOWEVER… @MitchelldeJong1 is closing in!
7 to go: @MitchelldeJong1 has close in on @BowlinGraham and @bobbyzalenski
5 to go: @MitchelldeJong1 takes 2nd from @bobbyzalenski
THREE LAPS TO GO AND @MitchelldeJong1 IS THERE!
@BowlinGraham now has to hold off the guy whose won EVERY ROAD RACE IN 2021!
@BowlinGraham wins at @WGI and earns his spot in the iRacing Series playoffs. It's his first career points-paying series victory in his second full-time season and the first win for #SHReSports.
https://twitter.com/iRacing/status/1422742534598561795
https://twitter.com/nascar/status/1422743446817804293?s=11
---
---
iRacing Twitter Trend
On a Twitter post started by Max Brady he asks drivers to rate themselves on iRacing in a Maddden-style rating system. Some big names in the sport chimed in with their assessments as well as your show hosts.
https://twitter.com/mikedeanellis/status/1420987237345370122
https://twitter.com/burnzy006/status/1420729683004559361?s=11
https://twitter.com/malikrayttv/status/1420859942089674755?s=11
https://twitter.com/tdhudson001/status/1421151641483481092?s=11
David Hall
Aggression: 40/100 Consistency: 95/100 Finishing: 85/100 Qualifying: 20/100 Road Course: 70/100 Short Track: 90/100 Speedway: 85/100 Superspeedway: 90/100
Greg Hecktus
Aggression: 60/100 Consistency: 85/100 Finishing: 85/100 Qualifying: 95/100 Road Course: 90/100 Short Track: 85/100 Speedway: 85/100 Superspeedway: 60/100
Brian Maccubbin
Aggression: 39/100 Consistency: 81/100 Finishing: 63/100 Qualifying: 59/100 Road Course: 21/100 Short track: 76/100 Speedway: 78/100 Superspeedway: 81-1/2/100
Adam Josselyn
Aggression: 69/100 Consistency: 70/100 Finishing: 80/100 Qualifying: 20/100 Road Course: 20/100 Short Track: 96/100 Speedway: 70/100 Superspeedway: 90/100
Tony Rochette
Aggression: 40/100 Consistency: 90/100 Finishing: 80/100 Qualifying: 70/100 Road Course: 50/100 Short Track: 60/100 Speedway: 70/100 Superspeedway: 85/100
---
---
eNASCAR Fox Show
Last week we mentioned the airing of the NascarCADE-Evolution of Nascar Video Games that was broadcasted on the Racehub show. We missed the original airing, but have found the rebroadcast on YouTube.
https://www.youtube.com/watch?v=VbN895hD1vs
---
---
4 Hours of Charlotte
Last Weekend was the 4 Hours of Charlotte, but despite a great charity event, not everyone had a great event. Aaron Stilwell posted in the forums that a guy drove aound for 1 1/2+ hours wrecking everyone intentionally after spending this first 2 hours wrecking half the field probably unintentionally finishing with 225 incident points in 4 hours and gained SR?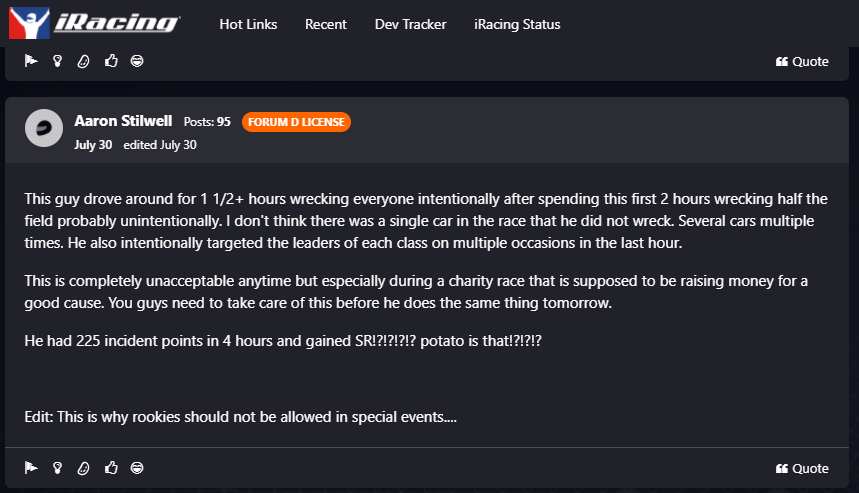 https://forums.iracing.com/discussion/comment/34468/#Comment_34468
---
---
Mt Washington Hill Climb
One of the first announcements made by Greg Hill in the wake of the 24 Hours of Charlotte charity race is that iRacing has been working on a Mt. Washington Hillclimb Race.
It's not actually the first indicator we've had of this, because as I noted in the Formula Vee announcement the render showed one piece of color in an otherwise colorless image, and that was a decal saying "This Car Climbed Mt. Washington.
https://racesimcentral.net/mt-washington-hillclimb-coming-to-iracing/
https://twitter.com/greghi11/status/1421499533498912770?s=11
https://www.youtube.com/watch?v=Sf7aMbQb_t4
---
---
New Disciplines/New Challenges
---
---
Travis Pastrana Record Run
In a preview of what to expect in the sim, there is a YouTube video of Travis Pastrana running a record time up the mountain from 2017.
https://www.youtube.com/watch?v=v-4j6mPkAYM
---
---
Leaks
Next on the list of Greg Hill leaks was work-in-progress photos of iRacing in the rain, assuring us that rain is definitely in the works and being tested.
https://twitter.com/iracing/status/1421481880457814021?s=11
---
---
Hungaroring
The Hungaroring Circuit, home of the Hungarian Grand Prix looks to be coming to iRacing in a iRacing.com Tweet.
https://twitter.com/iRacing/status/1421819640615944192
---
---
Other Leaks
In a Twitter question from Buck@KManger25 he asked Greg Hill if there's any word on updates of Watkins Glen or Phoenix? Greg replied that both are being worked on.
https://twitter.com/greghi11/status/1421509671173640192
---
---
Unintentional Leaks?
Jean-Christophe Bouchat posted in the forums that he just watched the Greg Hill interview… I noticed that he had the Ferrari Evo GT3 in his car list. In the second to last row on the picture the last letter looks like a 4 so that might be the AMG Gt4 confirmed? It could be also the Porsche GT4?
PS: On the list there are also 'Kart' and 3 Formule Renault (but maybe the 3.5a was the old/alpha)
https://twitter.com/ImLuker_XR/status/1421959895214088199
https://forums.iracing.com/discussion/5162/ferrari-488-evo-gt3
---
---
Slinger
Jordon@js19044316 Tweeted to let's get Slinger next. Slinger is the short track in Slinger, Wisconsin whos popularity really grew when the SRX series put on a great show there. This time Dale Earnhardt Jr responded that they are working on it.
https://twitter.com/dalejr/status/1421991319178776577?s=11
---
---
Leaks Keep Coming
Dale Jr kept the leaks flowing with an announcement on Twitter September will see the release of Hickory Motor Speedway the 3/8 mile located in Hickory, North Carolina. It is one of stock car racing's most storied venues, and is often referred to as the "World's Most Famous Short Track" and the "Birthplace of the NASCAR Stars"
https://twitter.com/dalejr/status/1421986301717385217?s=11
---
---
TraXion Article
An online article on TraXion reviews all of the leaks from this week in a concise article including iRacing's plans to build a LMDh car.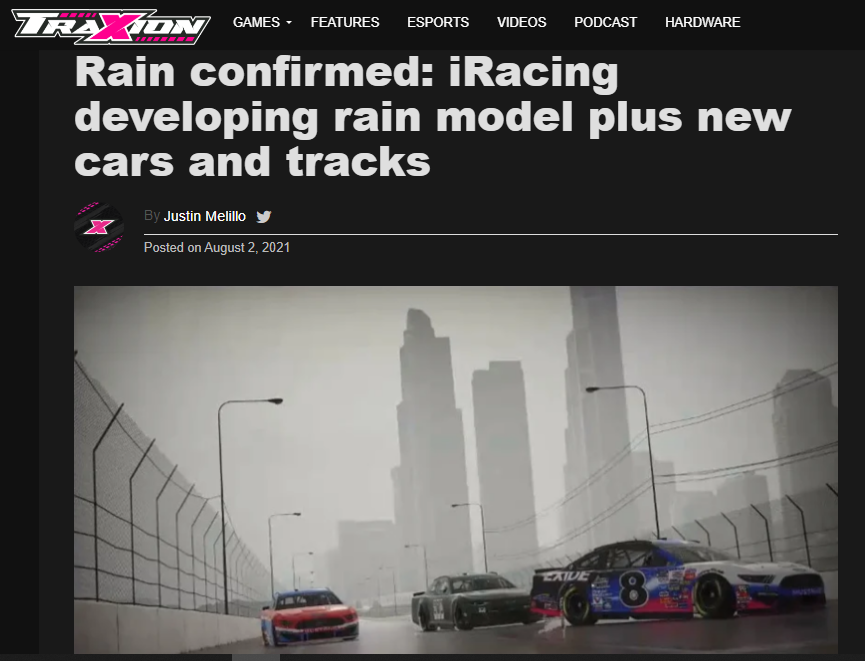 "We are working very hard to have (rain) operational by the end of the year," Hill said on the livestream. "Whether or not that translates into it shipping by the end of the year, I don't think we're ready to say that. We want to make sure we do it right. Internally, at least, we'll certainly be driving around in rain, both graphically and physically, by the end of the year."
Myers answered that one, saying they "definitely have plans to build an LMDh," and that they've been "speaking to some of their partners already" about the prospect.
The LMDh classifies under the new Hypercar category, a joint classification from governing bodies ACO, FIA and IMSA. Spelled out fully as a Le Mans Daytona h, this new prototype car is something brand new for 2022. Car manufacturers such as Acura, Audi, BMW and Porsche are all linked to having a car in this class when it officially starts.
Indianapolis Motor Speedway was the venue recently scanned from top to bottom and the hope is to have that released by sometime next year.
Monaco was mentioned as something that they would be open to doing now that they have more people employed, as well as other street courses. Drag Racing is something that's been talked about, but they don't see it likely just yet.
https://traxion.gg/rain-confirmed-iracing-developing-rain-model-plus-new-cars-and-tracks/
---
---
iRacing Community Raises Over $55,000 For National MS Society in 4 Hours of Charlotte
In what may have been the best news for the community, iRacing helped to raise over $55,000 for the National MS society in the weekends 4 Hours of Charlotte Race.
https://www.iracing.com/iracing-community-raises-over-55000-for-national-ms-society-in-4-hours-of-charlotte/
---
---
Rain, Mount Washington, Hungaroring, Hickory Confirmed Over Huge Weekend of iRacing News
https://www.iracing.com/rain-mount-washington-hungaroring-hickory-confirmed-over-huge-weekend-of-iracing-news/
---
---
Web Engineer
More Job opportunities at iRacing, this time they're looking for a Web Engineer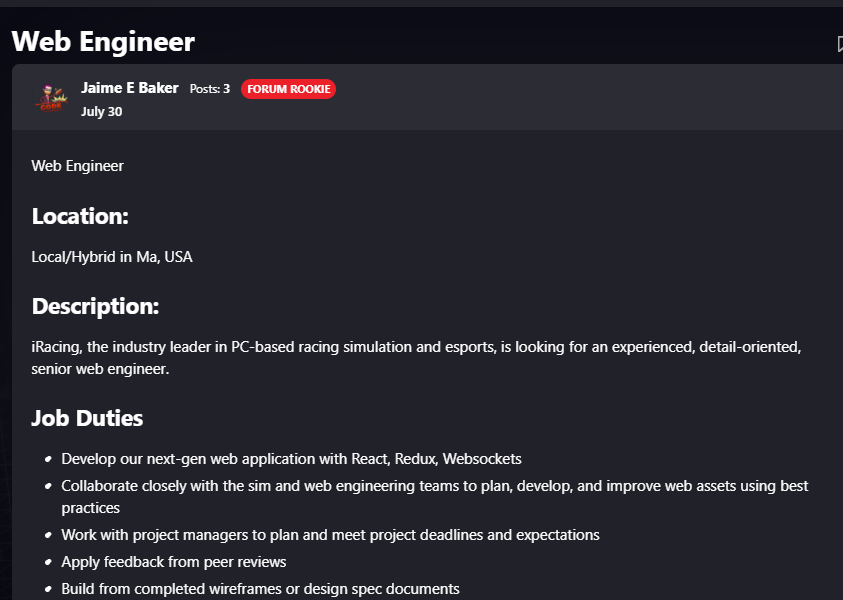 https://forums.iracing.com/discussion/5103/web-engineer
---
---
Prepare to Change Your Paints
Adam Stern Tweeted that Nascar is in the final steps of a potential number switch where the decals will most likely move forward starting next season.
https://twitter.com/a_s12/status/1422203145682309120?s=11
---
---
Pile em Up
Bernard Pollard Jr Tweets out another victory and shared his enthusiasm with a Twitter video.
https://twitter.com/Crushboy31/status/1422011904801845248
---
---
2022 PESC Qualifying & Contender Series
The Porsche Tag Heuer Esports Supercup began it's qualifying round thIs week at The Hockenheimring GP
https://twitter.com/iracing/status/1422549885010812928?s=11
https://www.iracing.com/supercup/qualifying/
---
---
Updates
iRacing's Alex Gustafson announced in the forums that the service was down at 7am EDT on Wednesday for scheduled maintenance. During that maintenance period, they weere will performing some database infrastructure upgrades.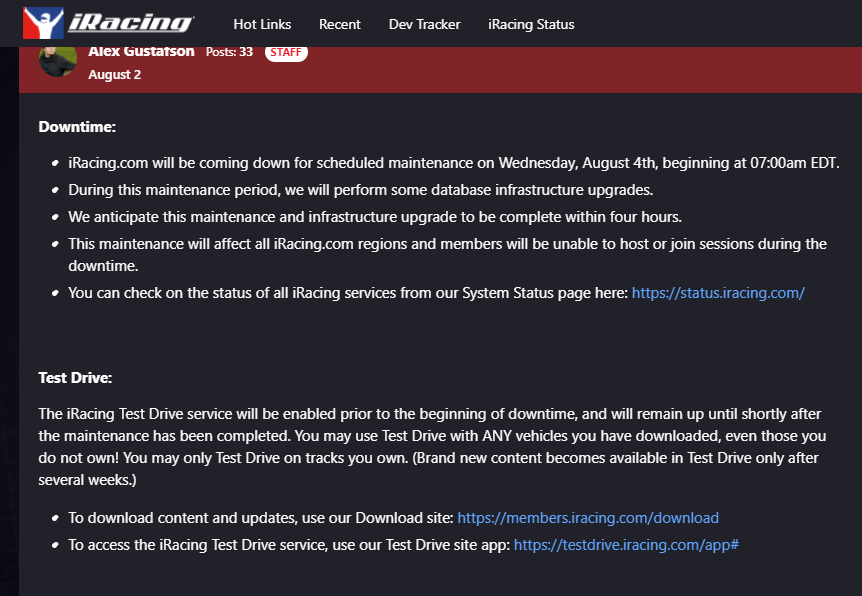 https://forums.iracing.com/discussion/5309/maintenance-database-infrastructure-upgrade-august-04-1100utc-0700est
Scar7752 Retweeted a meme that every single RTP team may be a little nervous after the update.
https://twitter.com/scar7752/status/1423002686677524480?s=11
---
---
Allied Esports, NASCAR announce gaming truck event tour
The Allied Esports Truck, North America's first and only 18-wheel gaming truck, will make seven stops at NASCAR Cup Series race Midways and Fan Zones starting August 6-8 at Go Bowling at the Glen in Watkins Glen, New York and concluding November 7 at the NASCAR Cup Series Championship in Phoenix, Arizona. The 80-foot, 35-ton mobile gaming arena, which includes a main stage, caster booth, roof deck and full production capabilities, will host gameplay featuring Rocket League and Mario Kart 8 Deluxe, as well as iRacing on simulators. Participating fans will have the chance to play for prizes and giveaways throughout each weekend activation.
https://m.nascar.com/news-media/2021/08/04/allied-esports-nascar-gaming-truck-2021-event-tour/
---
---
2021 Knoxville Nationals
A reminder for the upcoming iRacing Knoxville Nationals, the annual sprint car championship event held at Knoxville Raceway in Knoxville, Iowa using the 410 Winged Sprint Car.
Date: August 16th – August 21st
Monday through Friday 1 timeslot at 9pm ET each day (02:00 GMT)
Saturday Super Session taking the top 60 in overall points from the race week. 9pm ET (02:00 GMT)
https://forums.iracing.com/discussion/4569/2021-knoxville-nationals
---
---
GRID FINDER PAINT FESTIVAL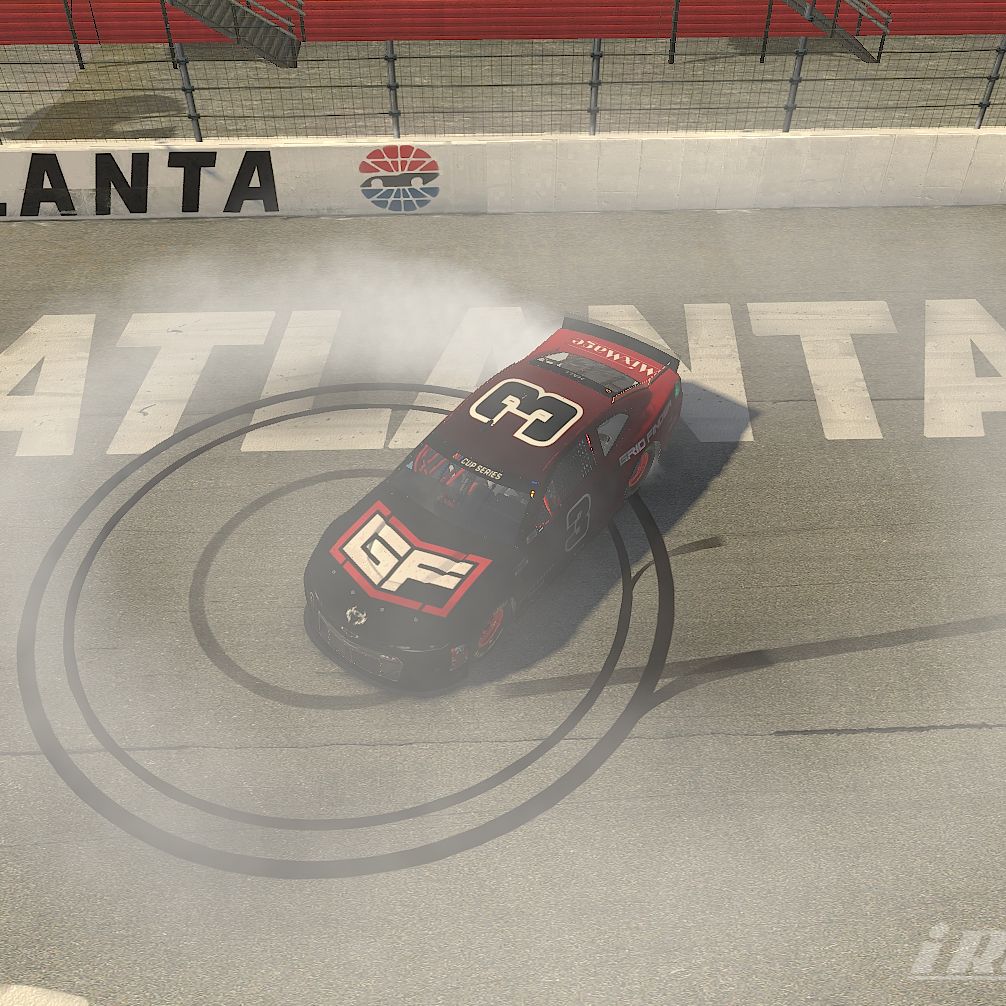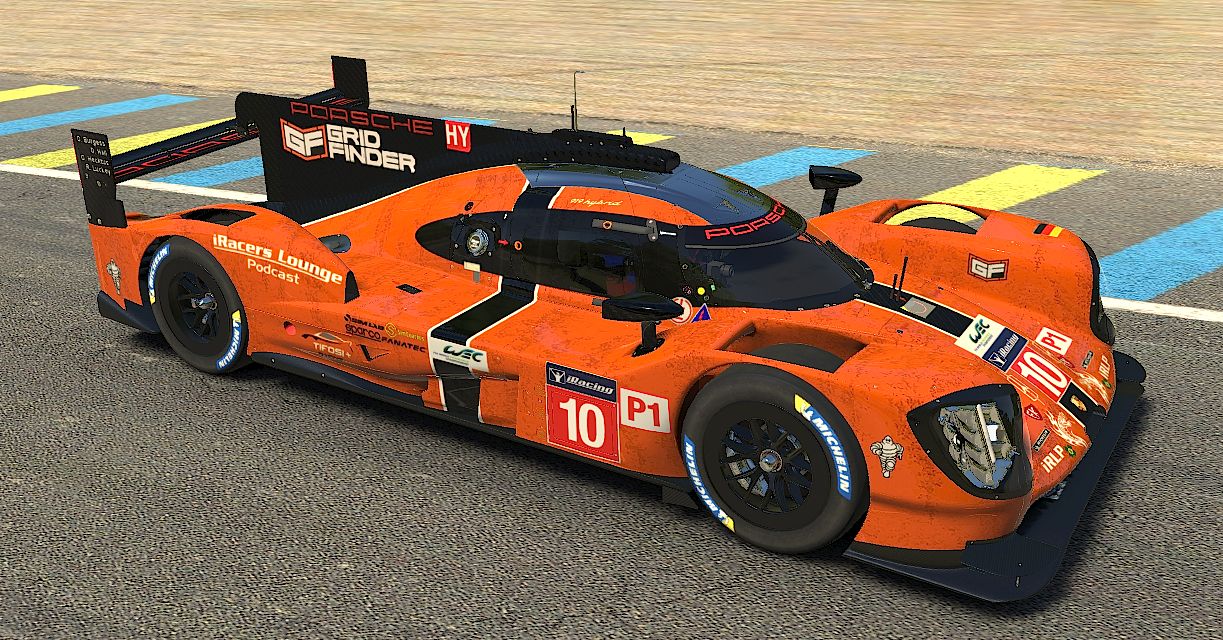 iRacers Lounge Podcast and Grid Finder present a livery competition.
Here are the details:
Livery must be for iRacing
Livery must be uploaded to the Grid Finder paint shop

with all the info filled in and at least 3 sample images

Livery must be posted on social media with iRacers Lounge and Grid Finder tagged
Livery must have a Grid Finder theme
Primary Sponsor will be Grid Finder with iRacers Lounge as secondary

Any other additional sponsorships are welcome

Any car may be chosen
Contest starts on Thursday 7/22/2021.
Deadline for entry is 8/18/2021 Midnight EST.
Prizes Include:
Guest Spot on the iRacers Lounge Podcast
Grid Finder sim racing gloves and $50 in iRacing credit from Grid-Finder.com
https://www.iracerslounge.com/grid-finder-paint-festival/
---
---
---
Podcast Housekeeping
Aftermath Podcast – Get it!
New Website – Leave Comments https://www.iracerslounge.com/
https://www.pandora.com/podcast/iracers-lounge/PC:31680
https://www.podchaser.com/podcasts/iracers-lounge-182248
You've heard us talk about the Spotlights. Those of us that have them here at iRacers Lounge absolutely love them. So much, we have become an affiliate! With the roll out of their new Spotlights Pro. Here's your chance to check them out, you won't be disappointed. Enter coupon code: IRACERSLOUNGE for 10% off!!
https://www.facebook.com/1565571990374134/posts/2832513123680008/?d=n
---
We are in the regular rotation… (Mike)
https://performancemotorsportsnetwork.com/
---
---
Hardware/Software
---
---
All in 1 Cockpit Review pt 2
Barry Rowland posted on his YouTube Channel Part 2 of his All In 1 Gaming review, this time adding his hardware to the blue anodized aluminum rig.
https://www.youtube.com/watch?v=WFi5CsuBD5I
---
---
GTR Simulator Racing Seats
GTR is offering their Simulator racing seats in a variety of colors for $248.00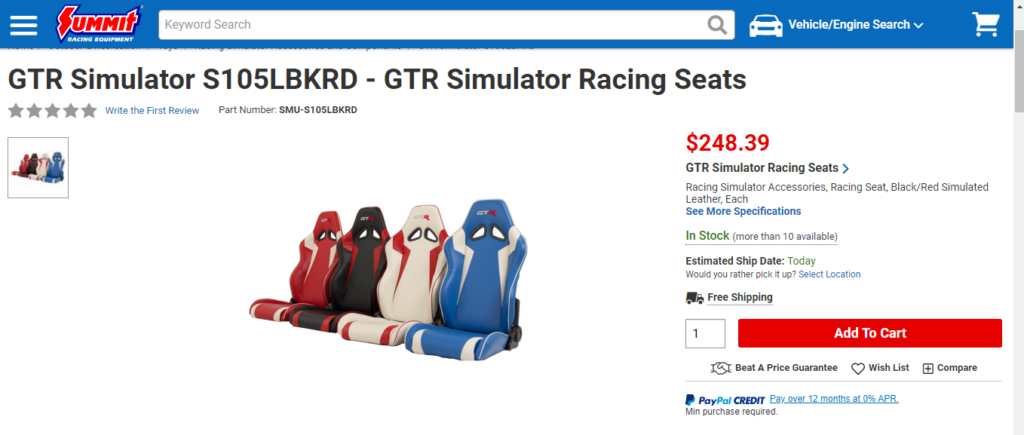 https://www.summitracing.com/parts/smu-s105lbkrd
---
---
SimLab Race seats from Grid Engineering
Grid-Engineering is a Canadian company offering a selection of SimLab seats to the US Market

https://www.grid-engineering.com/collections/seats
Someone on facebook was saying they will be selling the sim lab seats in N America…
---
---
?????? ??? ????? from Advanced SimRacing
Advanced SimRacing is offer an 80/20 swivel button box mount for $49.99
https://www.facebook.com/105765294586466/posts/326522105844116/?d=n
https://www.advancedsimracing.com/collections/accessories-parts/products/button-box-mount
---
---
Results
NASCAR iRacing Series
Wed Open:

Hall –p 17, slow
Ellis – p13 – on first lap hit curb on final corner and spun out hard, took some guys with me. Was second to dead last at that point and drove it back up to 13th. I had one other self spin after the stop, otherwise I might have caught tony
Rochette – P12 broke the top 10 streak on every niS attempt this season just wasnt fast
Kyle = p7 Started p-17 and ran up to the top 5 after 13 laps. Had a couple small brushes with the wall but kept the car going strong. Pitted and went down 1 lap and fell to 11th and worked my way up to P-7.
Greg – P internet Issue
Rochette P5 Redemption, now keeping the top 10 best finishes of the NiS Road of the week almost had 4th if i had 1 or 2 more laps
---
---
Official Series
Ellis PWrecked out IRR – while leading it just came around it took out the field
Four Hours of Charlotte –

Ellis – p2 – 80 laps led out of 171, led the most laps – Missed q and almost missed the race walked in the office and they were gridding up. Start p11 – was up to p6 by lap 3. Then as pit stops came and went I gradually increased positions until I was leading laps. The unlimited resets definitely helped me as I had a meatball not once but twice, and I pitted to fix it. The winning team of 3, had 2 guys that were basically the same speed, and irating as me. The third guy had double the irating of anyone on track at the end. He was a second or more quicker than me every lap, so when he got in the car he was about 9 seconds back from me – he caught me fairly quickly, passed then gapped me… Still loads of fun, blasting through traffic like crazy all the time, there is no lul in the action. What was interesting is I ran it like a sprint race even though it was four hours long I had to go hard every lap
Tony – p4 – Love it. Im about to get lapped by this potato i go high and he runs me off the track and yells at me for being in the way. I got my payback later when i caused him a black flag by not giving him the chicane. So also o read there was supposed to be 2 quick repairs and they gave ya unlimited
Ellis – pwrecked – NextGen at Vegas – Lame
Podium RCR MACONI SETUP SHOP RACE –

Greg – p8 – ran out of laps
---
---
League / Hosted Races
Congratulations Josh Robinson #23 in the Microcenter Chevy Winning The Aftermath Podcast Truck Series Race at Watkins Glen
Ray Smith in the Amsoil #19 Finished 2nd
Steve Thomson In the RideTv #67 Finished 3rd
iRacing IROC Challenge Series Season 3
Kyle P-.Knoxville Started p-6 ran strong all race. Once the track slicked off trying to find grip up top wasnt as quick as the slick bottom. Finished with a P-10
---
---
Final Thoughts
---
---
---
Words Spoken in Closing Audio Clip -""Thank you for listening to the iRacers Lounge podcast make sure to go subscribe to us on iTunes, SoundCloud, or Google Play, Facebook & Twitter, See You On The Track ."
TITLE IDEAS
Leak Week
.
.
Description
On today's show we'll recap an exciting Coke Race at Watkins Glen with Series broadcaster Evan Posocco and, thanks to your donations in the 4 Hours of Charlotte, Greg Hill lets go some great secrets from the iRacing vault and we'll cover them all. So strap in and try to keep up with us on the iRacers Lounge Podcast.
iRacers Lounge Podcast is available on iTunes and Apple's Podcasts app, Stitcher, TuneIn, Google Play Music, Spotify, Soundcloud, Podbean, Spreaker, Podbay, PodFanatic, Overcast, Amazon, and other podcast players.
Sponsors:
www.grid-finder.com
Hosts:
Mike Ellis – twitter.com/MikeDeanEllis
Tony Groves – www.twitch.tv/SirGroves
Chris Scales – twitter.com/JediMcfly
David Hall – www.twitch.tv/mixmage
Greg Hecktus – twitter.com/froozenkaktus – www.twitch.tv/froozenkaktus
Tony Rochette – twitter.com/TonyRochette
Adam Josselyn- twitter.com/Jossad83
Brian Maccubbin – www.twitch.tv/MacRubbinsRacin
Tom Dreiling –
Kyle Pendygraft – twitter.com/LoudPedalGaming
Links:
Old Show Notes – bit.ly/2CFeArM
Facebook – www.facebook.com/iRacersLounge/
Twitter – twitter.com/iracerslounge
Instagram – instagram.com/iracersloungepodcast/
Web (New Show Notes) – iracerslounge.com/