8/12/2021 – Point to Point – Episode 0292
iRacers Lounge Podcast – Conversation Topics
Brought to you by:

Opening Audio Clip -"Your listening to the iRacers Lounge Podcast where we discuss everything iRacing, in a casual setting, enjoy."`
READ THIS AT THE TOP OF EACH SHOW!!!
Welcome to the iRacer's Lounge, I am your host "XXX". iRacer's Lounge is a podcast for the iRacer, where we talk all things iRacing in a casual setting.
Joining me are the usual characters, ————
---
---
Introduction
On today's show we welcome special guest Jeff Marble, administrator of the FastTrack Sim Racing League and 'OG' iRacing Beta tester. Then we'll move onto a surprise mid-season update that yo won't want to miss.
And remember you can follow along with us on your PC or mobile device in real time as you listen to the show and see for yourself all of the great topics and products we'll discuss by visiting iracerslounge.com and selecting show notes. Hope to see you there..
---
---
TITLE SPONSOR READ:
Grid Finder 2.0 is bigger and better than ever with more ways to narrow your search for your next sim racing league. Featuring over 1000 leagues from over 25 racing sims across every platform, Your place on the grid is just a couple clicks away.
Visit www.grid-finder.com to find a league, or to upload your own!
Grid Finder – "The home of online sim racing leagues"
---
---
Special Guest
Jeff Marble
General Questions:
What brought you to iRacing and how did you hear about it?
Which series do you normally run?
What type of hardware do you use? (Wheels, Pedals, ect.)
Software

What gear did you use when you first started iRacing?

Do you run Monitors or VR?

How many monitors?
What VR headset are you running?

Are you part of a team?
Do you participate in any leagues or is it just official racing?
What is your most memorable iRacing moment?
---
---
Topics
---
---
Top of the Mountain 9
On the iRacing Instagram they posted a video of the rendering of the top of Mt. Washington complete with a checkered plaid suit.
https://www.instagram.com/p/CSXppeLANt4/?utm_medium=share_sheet
Mid Season Release
iRacing made a surprise mid season release of the Mt Washington Hill Climb. iRacing posted an official introduction video featuring course record holder Travis Pastrana.
Kneebon posted a video of the complete climb of the course in a Ford Fiesta and a separate video of his decent in a Formula Vee.
https://www.youtube.com/watch?v=T0JrZh5ZX0E
https://www.youtube.com/watch?v=iiKQ4Qk31IU
https://members.iracing.com/membersite/member/TrackDetail.do?trkid=398
---
---
Pikes Peak Hill Climb May be Exclusively Licensed to the Gran Turismo Series
GTPlanet penned an online article noting that Pikes Peak May be an exclusive to Gran Turismo for those hoping the iconic Hill Climb Race would come to iRacing.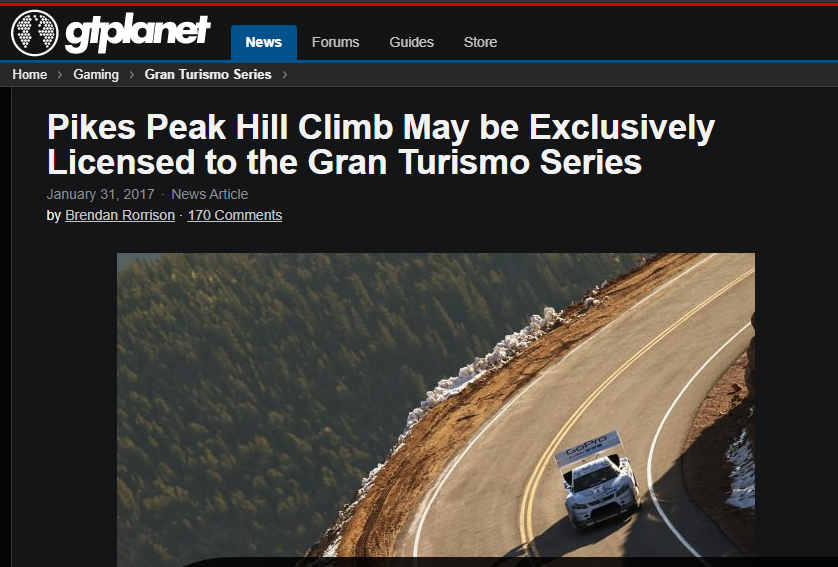 https://www.gtplanet.net/pikes-peak-hill-climb-may-be-exclusively-licensed-to-the-gran-turismo-series/
---
---
European Endurance Series
The VRS European Endurance Series will return for Season 4 with it's well known 6 hour race format every other week. It's schedule will be based on the European Sprint Series and will utilize the same class lineup (LMP1, LMP2, GTE). It will alternate weeks with the new IMSA Endurance Series and use the same timeslot.
The VRS Global Endurance Series featuring 24 hour races will be taken out of the rotation of series but may return at a later date.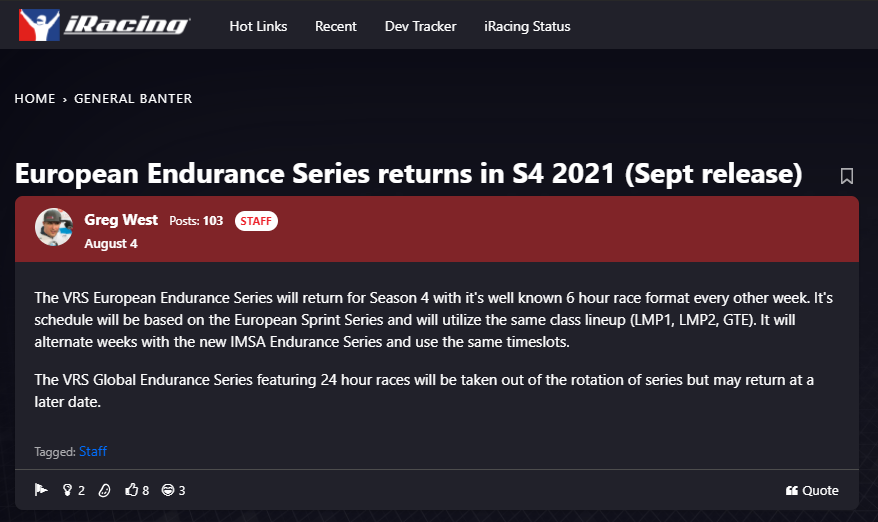 https://forums.iracing.com/discussion/5430/european-endurance-series-returns-in-s4-2021-sept-release
---
---
GTE Endurance Series to become IMSA Endurance Series in Season 4
Beginning with Season 4, the GTE Endurance Series will become the IMSA Endurance Series. This change will also include a format change. Car and track selection will mirror that of the regular IMSA series. The IMSA Endurance Series will feature 2 hour 40 minute team events every 2 weeks using the same timeslots as the current GTE Endurance Series:
Saturday: 7:00 and 18:00 GMT
Sunday: 14:00 GMT
https://forums.iracing.com/discussion/3675/gte-endurance-series-to-become-imsa-endurance-series-in-season-4/p1
---
---
12 Hours of Red Bull Ring Charity Event
Saturday, August 28th will mark the inaugural iRacing 12 Hour of Red Bull Ring charity race benefitting the Star Thrower Group for support and awareness for adults with special needs and disabilities. The race will begin at 9:am Eastern following 50 minutes of practice and a 10 minute single car open qualifying. The event will feature three classes, the GT3, GT4 and TCR. For more info visit ring12hr.weebly.com.
https://forums.iracing.com/discussion/3904/12-hours-of-red-bull-ring-charity-event-benefitting-star-thrower-group
---
---
Next Gen shifter
Michael Bowen asked in the forums, "Why wont the H pattern shifter work for this car the option for me to use it is greyed out?"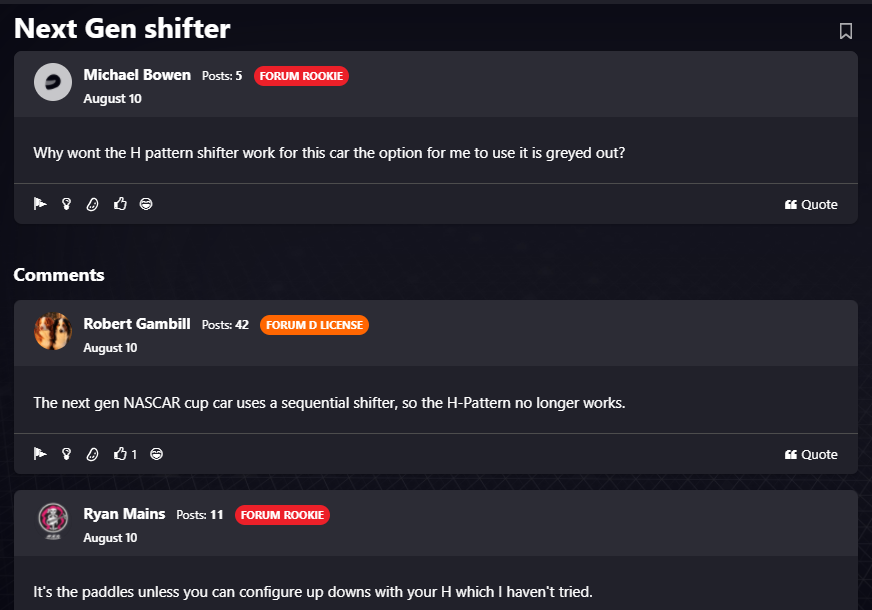 https://forums.iracing.com/discussion/5774/next-gen-shifter
---
---
Hi Res iRacing Series Logos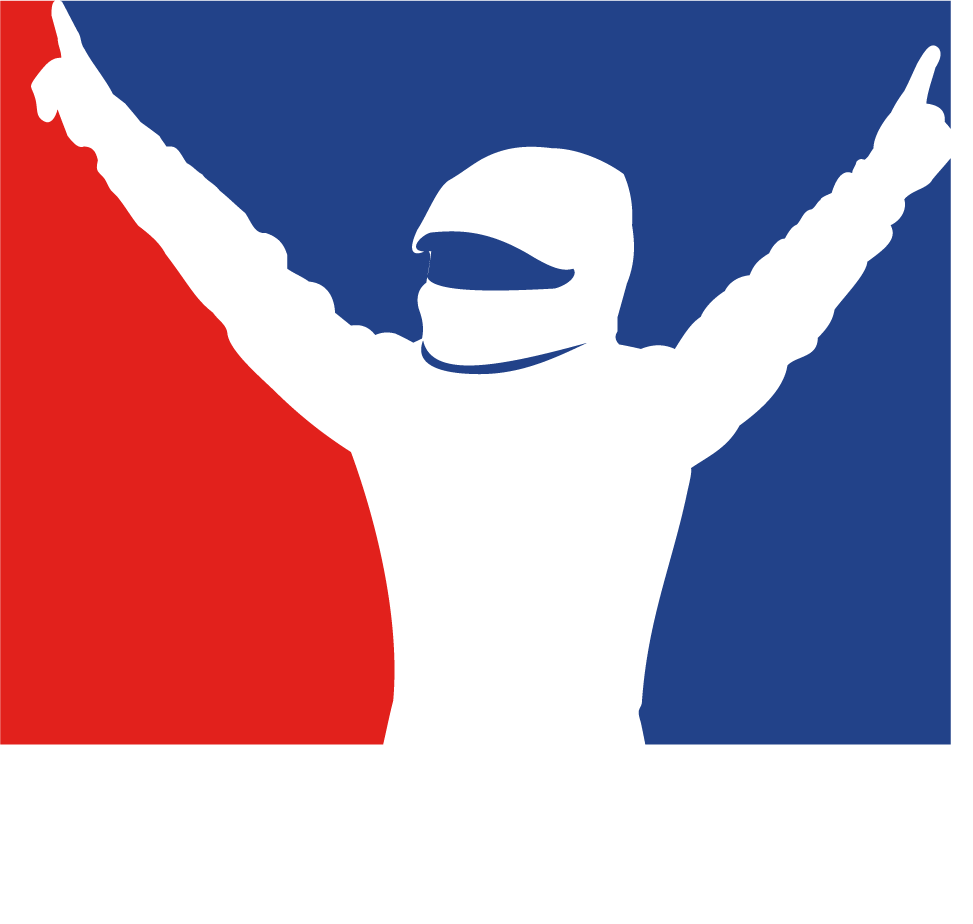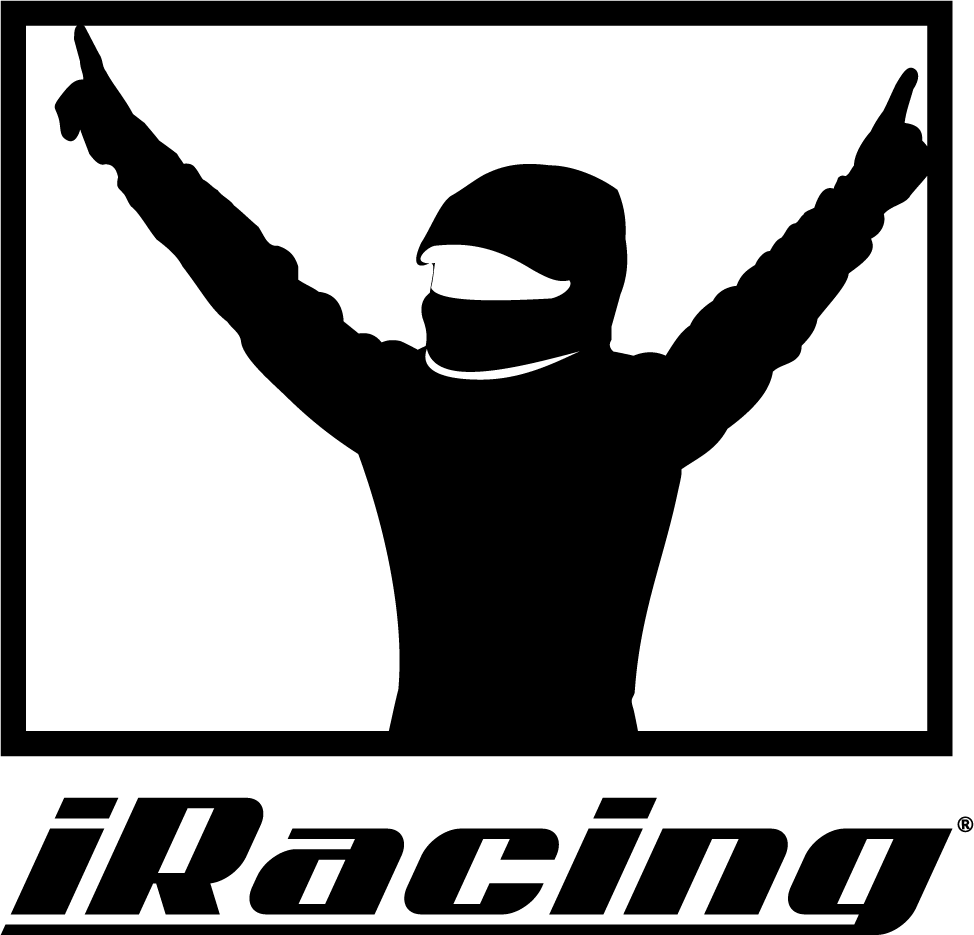 Staff member Ben Regan posted in the forums that he's seen a lot of requests lately for high-res versions of our series logos so I rounded them all up and put them on the public site for everyone to access. I'll do my best to keep this folder updated each season so you always have up to date versions of everything.
https://forums.iracing.com/discussion/5727/iracing-series-logos#latest
https://www.iracing.com/resources/logos/
---
---
The Main issue with the new Forums
Brandon Holtmeier commented in the forums what he thinks is the main issue he has with these new forums is you can't see the latest post in all of the sub forums. For anyone to even know that there is activity, you have to click in each one individually which is going to lead to a lot of missed topics.. It just seems that everything is buried so deep and its not very intuitive at all.
There also doesn't seem to be an easy way to "subscribe" to a particular thread, or turn off notifications once you don't want notifications anymore. If there's a way to do this and I haven't seen it yet, I'd like to know.
It kind of feels like Discord to me, where you'll hear these notifications in all the different servers, but you have no idea where they are coming from.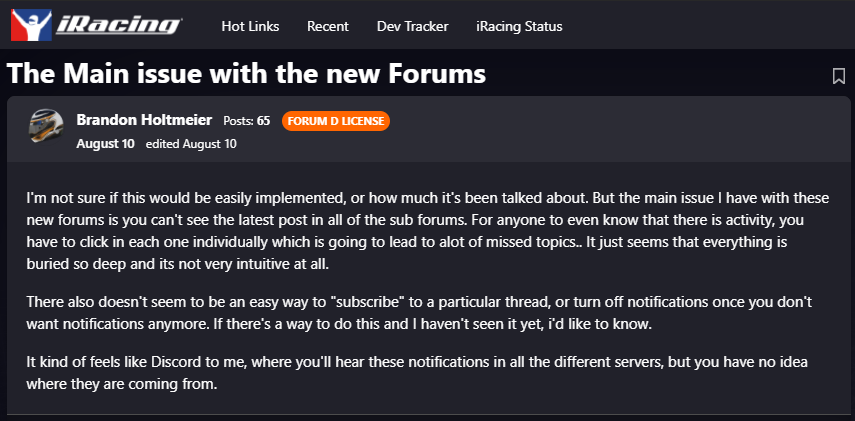 https://forums.iracing.com/discussion/5748/the-main-issue-with-the-new-forums
---
---
2021 Season 3 Patch 5 Release Notes
We have integrated SpeedTree into our simulation/game engine. SpeedTree is a 3D vegetation modeling and rendering system designed for films and real-time games. It provides our artists with tools to build location-specific trees and then quickly place them at our racetracks. The system is engineered to render these trees efficiently and with built-in level-of-detail (LOD) management, and has received specific customization to make it work optimally for iRacing's requirements. This feature is making its debut at Mount Washington and will be used more extensively in the future.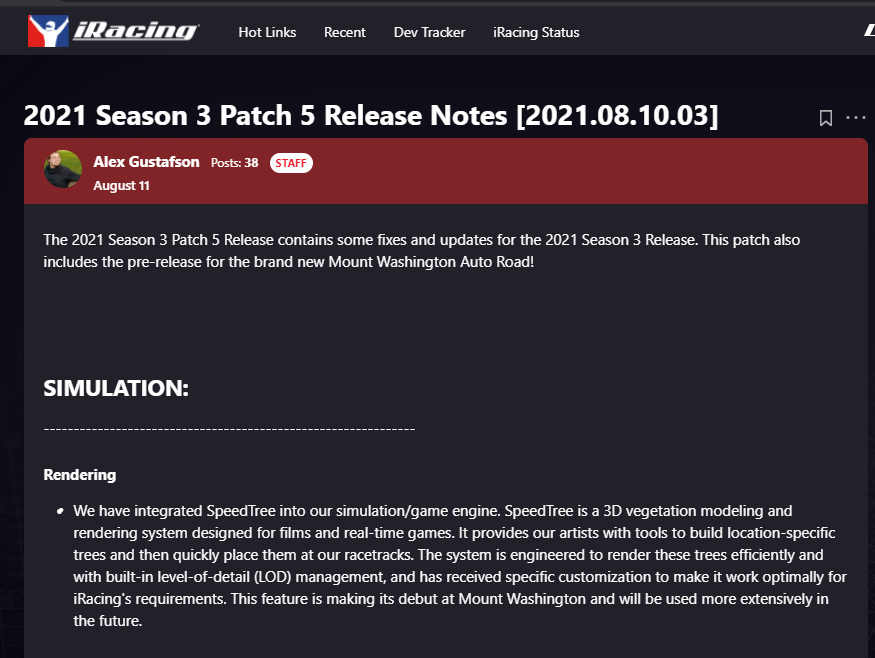 https://twitter.com/iracingsupport/status/1425456960653176834?s=11
https://forums.iracing.com/discussion/5799/2021-season-3-patch-5-release-notes-2021-08-10-03#latest
---
---
Rockingham Surface Updates?
Liam Brotherton posted in the forums that Rockingham has always been one of the best real-life Multi-surface tracks and without changes, this next RTP race will be insanely one groove with the aero push. We don't need the top to be faster, but viable in traffic to create runs and get alongside people would be fantastic, similar to the change level of Dover. Anyhow would love an update if this is even possible before race.
Tyler Hudson replied that it is likely we'll see Rockingham surface updates in the patch this week. Sorry for the inconvenience. Texas will likely be updated as well.

https://forums.iracing.com/discussion/5497/rockingham-surface-updates
---
---
2021 Knoxville Nationals
This weekend iRacing will hold the iRacing Knoxville Nationals for the 410 Winged Sprint Car. to coincide with its real-world counterpart.
Date: August 16th – August 21st
Monday through Friday 1 timeslot at 9pm ET each day (02:00 GMT)
Saturday Super Session taking the top 60 in overall points from the race week. 9pm ET (02:00 GMT)
https://forums.iracing.com/discussion/4569/2021-knoxville-nationals
---
---
GRID FINDER PAINT FESTIVAL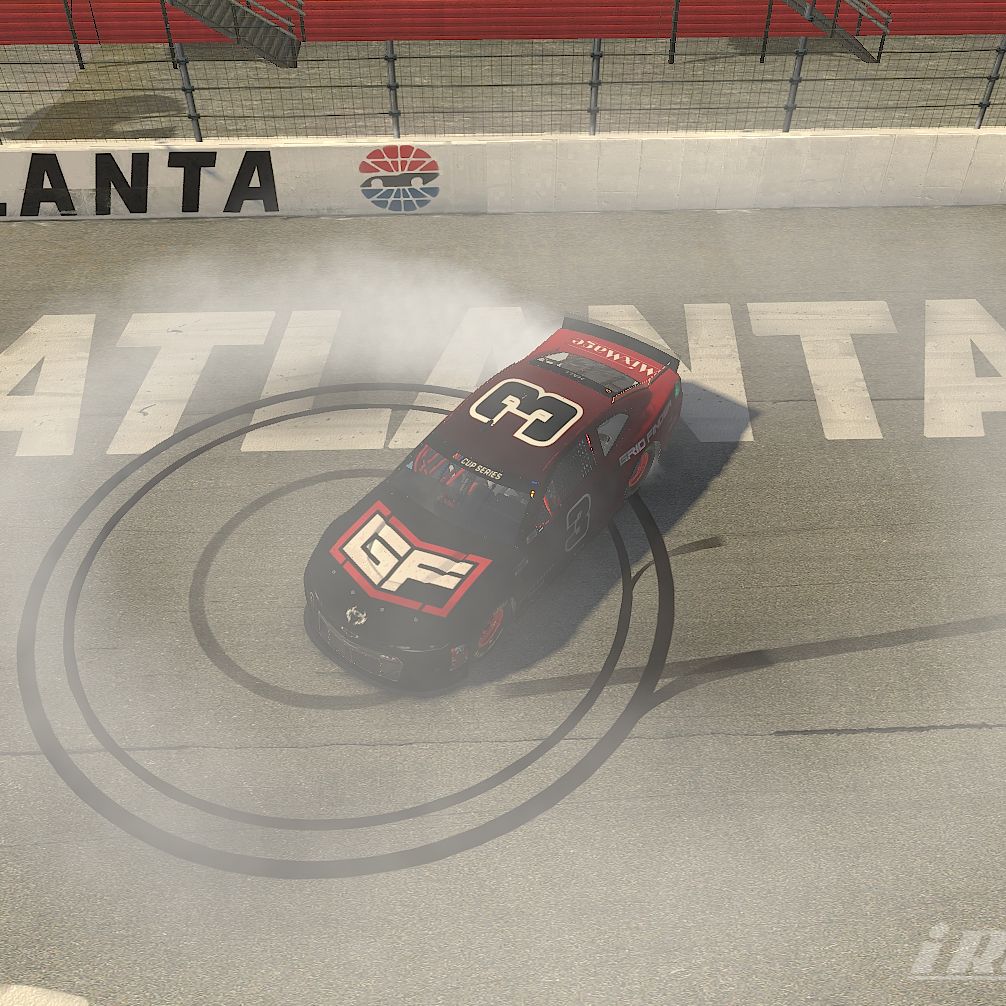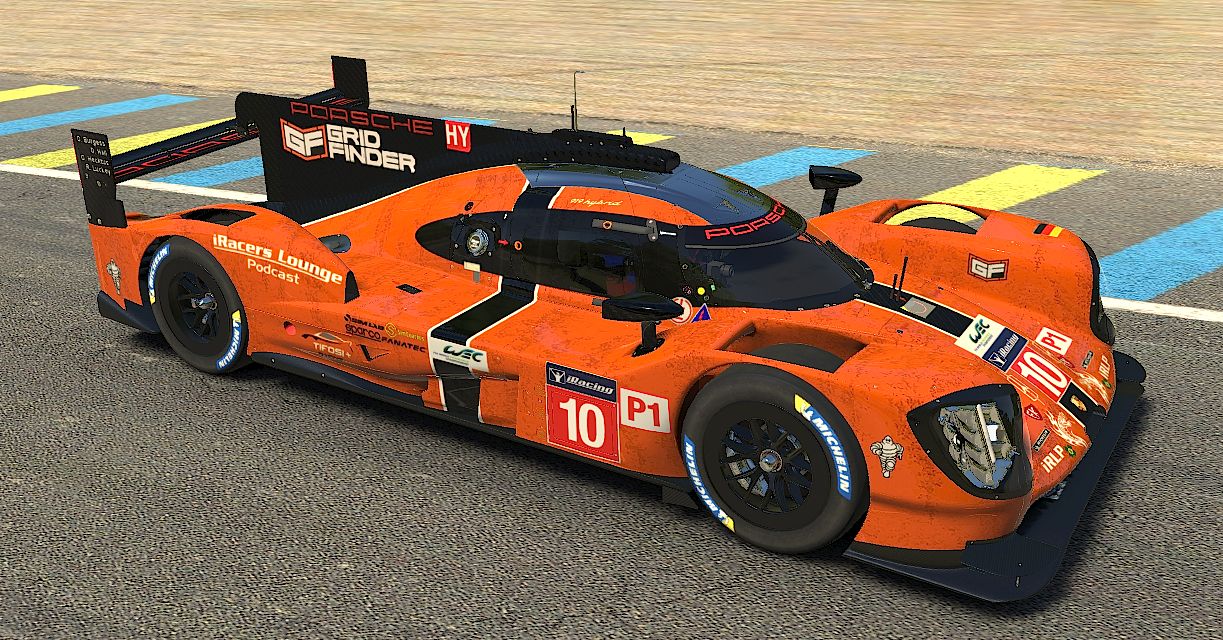 iRacers Lounge Podcast and Grid Finder present a livery competition.
Prizes Include:
https://www.iracerslounge.com/grid-finder-paint-festival/
Entries so far:
https://www.instagram.com/p/CScmf6tMRMP/?utm_medium=share_sheet
https://twitter.com/gridfinder/status/1420299197467799558?s=11
---
---
Podcast Housekeeping
Aftermath Podcast – Get it!
New Website – Leave Comments https://www.iracerslounge.com/
You've heard us talk about the Spotlights. Those of us that have them here at iRacers Lounge absolutely love them. So much, we have become an affiliate! With the roll out of their new Spotlights Pro. Here's your chance to check them out, you won't be disappointed. Enter coupon code: IRACERSLOUNGE for 10% off!!
https://www.facebook.com/1565571990374134/posts/2832513123680008/?d=n
---
We are in the regular rotation… (Mike)
https://performancemotorsportsnetwork.com/
"OK LETS TALK FANTASY…."
Fantasy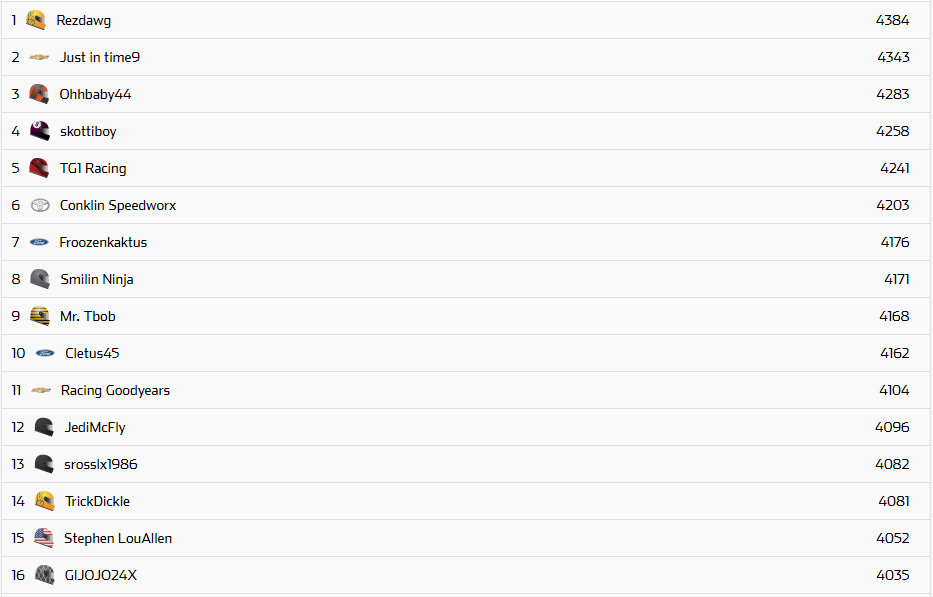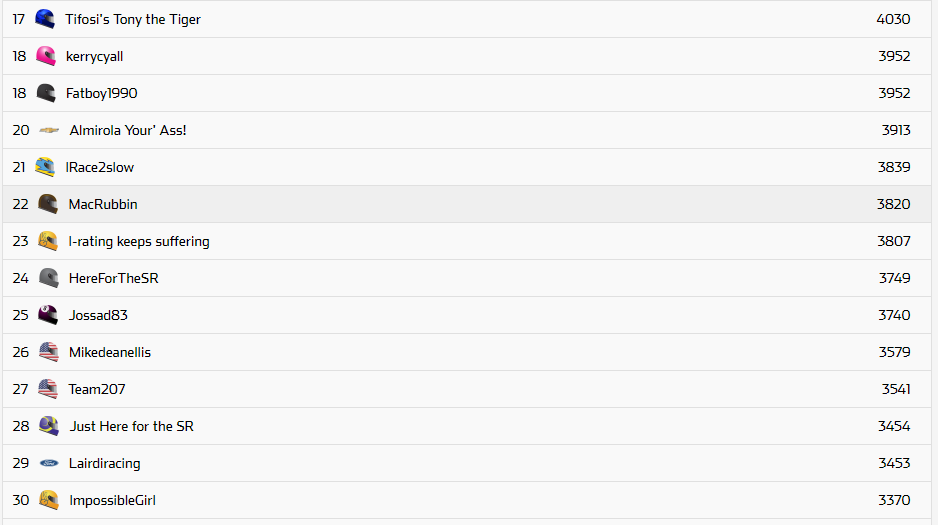 ---
---
Hardware/Software
---
Custom Button Box
Custom button box with 25 inputs with flag, gear, opponent proximity alert display, Along with a seven segment for complete customizable info for $350.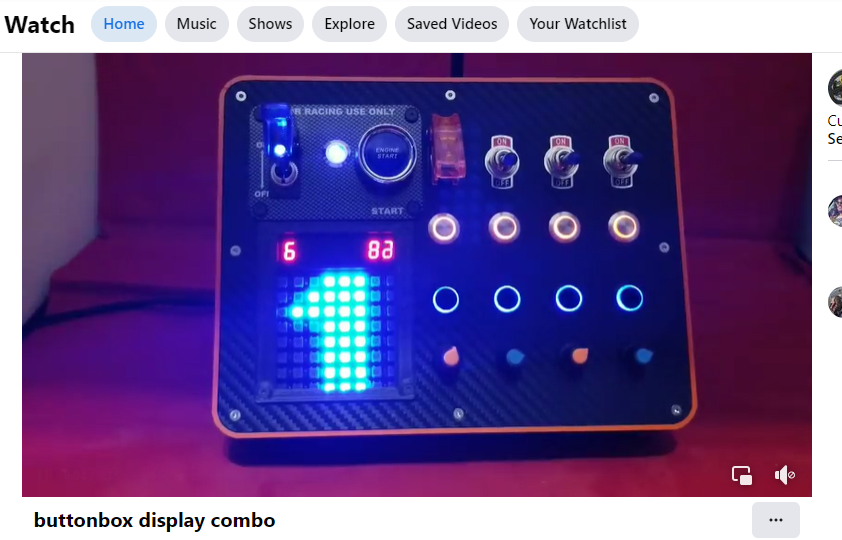 https://www.facebook.com/watch/?extid=NS-UNK-UNK-UNK-IOS_GK0T-GK1C&v=354704266260972
---
---
DIY Hydraulics Kit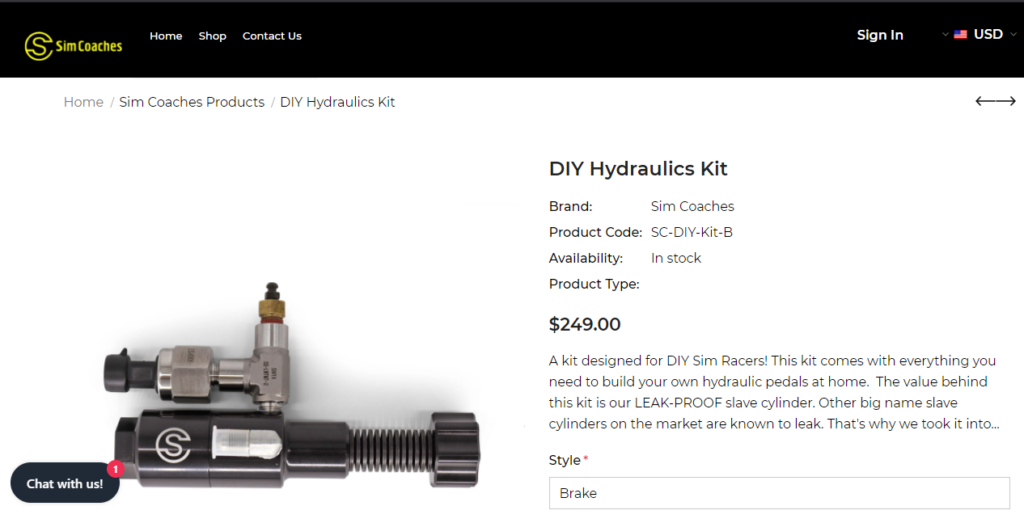 ---
---
New Reverb G2 Cable
The HP Reverb G2 has a new cable redesigned for the Omnicept Headset that will solve connection issues many have had with the Headset. MRTV YouTube channel will give you all of the info and how you can get your old cable replaced for free.
---
---
---
SIMAGIC Alpha Mini – Review
T3Knosis put out a YouTube review of SimMagic Alpha Mini
---
---
Official statement regarding price increases at Trustmaster
This is to inform you that a price increase will be applied starting this summer and in September with respect to many of our products. We regret having to make this announcement, and will endeavor to limit the price increases so that they will impact you as little as possible. The worldwide pandemic has now had other effects including a shortage of components, disorganization in terms of worldwide supply networks, and disruptions in the transport chain. All of these breakdowns (with a return to normal not expected before 2022) have resulted in increases with regard to all costs in the creation and production phases for our products. It is important to us to respect our values, and we will continue to offer you all of our product lines with an emphasis on maintaining quality, ongoing innovation and ensuring that all aspects of our operations run smoothly. After having analyzed all possibilities and having made changes to a variety of our working procedures in order to attempt to avoid this impact, we regret that we are obliged to proceed with these temporary adjustments, as a result of the continuing challenges we are facing.
Please rest assured that we are fully committed to you, and extremely grateful for your attachment to our brands. We will do everything within our power to ensure your satisfaction.
Thrustmaster/Guillemot Corporation S.A.
http://www.thrustmaster.com/node/9909
---
---
AP-Xtreme G-Sense Active Restraints for APX1000+ Simulators
The AP-Xtreme G-Sense Active Restraints for APX100 is a haptic seat belt tensioning system from Ricmotech that sells for $3080.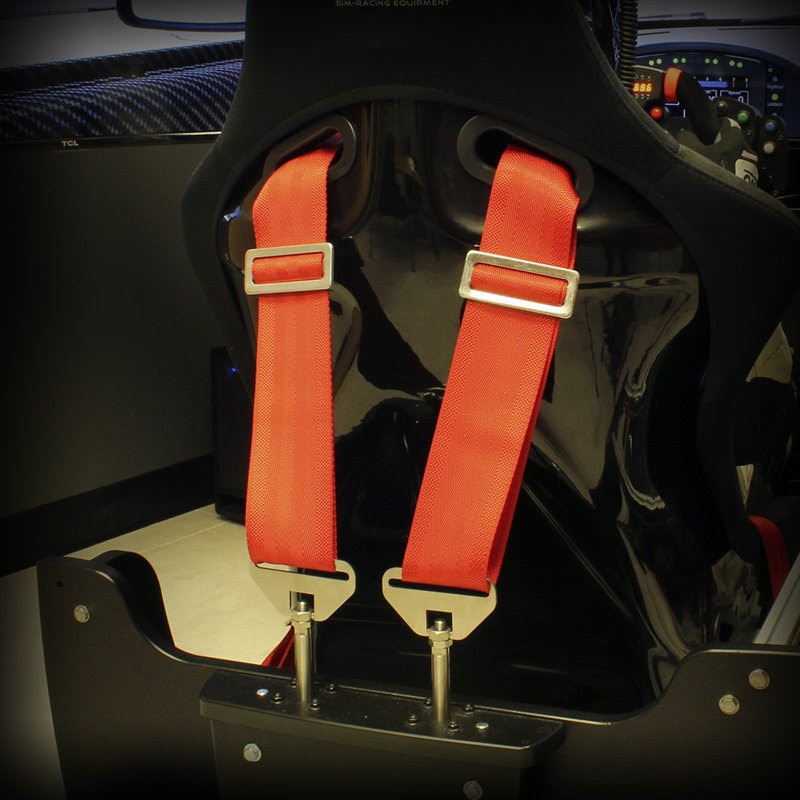 https://www.ricmotech.com/ricmotech-ap-xtreme-g-sense-active-seat-belts
---
---
Frex Dash

FREX is developing a New 4.3" LCD Dash connected to PC by one cable and Quick release adapter the Steering Wheel can disconnect and re-connect while game is running.
https://www.instagram.com/p/CSOfFsILILK/?utm_medium=share_sheet
---
---
O-Rouge Rig
The O-Rouge Rig is a Belgium company that offers an unusual style 80/20 profile rig
https://www.facebook.com/orougesimgear/posts/2926959060954742
https://o-rouge.com/en/cockpits/
---
---
Results
NASCAR iRacing Series
Fri open: Watkins
Ellis – p4!! – Started like 11th – spun once trying to avoid a stopped car but kept it going – great run!
Hall = P wrecked out, a spinning car doesn't know how to hold brakes
Sunday fixed

Mike -p14 – started 19th – got up as high as 13th but everyone in front of me was just plain faster
Wed Open:

Ellis – p16 – Not too bad a couple of self spins put me back 16x….

Rochette P5 the 2021 Tifosi NiS Road King is back, overcoming the odds and adversity. This track sucks needs to be a oval #notmybrickyard
Ellis – p. Wrecked out
---
---
Official Series
24h of Monza

P5 – hopped on with a team that was short a driver

Another driver had some technical issues with freezes, but ultimately in that top split, that was probably our pace.
Greg p4 road america gte
---
---
League / Hosted Races
FastTrack Sim Racing League –
Greg p2
Mike – pwrecked out. Started in the back worked my way up to his highest 13th. Then choked. A couple of times.
Hosted – Schildcar! – Ellis

Kia at Vegas – p2 after starting p21
Formula V at Southern National – Ghosted
Mazda at eldora
Trucks at phx
OBRL ARCA Series

Brian Michigan P11 Was fighting for a top 5 position when I overshot my pitstall on the last set of pit stops and fell back to P15. Could only manage to recoup a few spots.
OBRL Aftermath Truck Series at Indy Oval
1 Steve Tomson
2 Andrew Hess
3 Josh Robinson
---
---
Final Thoughts
---
---
---
Words Spoken in Closing Audio Clip -""Thank you for listening to the iRacers Lounge podcast make sure to go subscribe to us on iTunes, SoundCloud, or Google Play, Facebook & Twitter, See You On The Track ."
TITLE IDEAS
Point to Point
Description
On today's show we welcome special guest Jeff Marble, administrator of the FastTrack Sim Racing League and 'OG' iRacing Beta tester. Then we'll move onto a surprise mid-season update that yo won't want to miss. So strap in and try to keep up with us on the iRacers Lounge Podcast.
iRacers Lounge Podcast is available on iTunes and Apple's Podcasts app, Stitcher, TuneIn, Google Play Music, Spotify, Soundcloud, Podbean, Spreaker, Podbay, PodFanatic, Overcast, Amazon, and other podcast players.
Sponsors:
www.grid-finder.com
Hosts:
Mike Ellis – twitter.com/MikeDeanEllis
Tony Groves – www.twitch.tv/SirGroves
Chris Scales – twitter.com/JediMcfly
David Hall – www.twitch.tv/mixmage
Greg Hecktus – twitter.com/froozenkaktus – www.twitch.tv/froozenkaktus
Tony Rochette – twitter.com/TonyRochette
Adam Josselyn- twitter.com/Jossad83
Brian Maccubbin – www.twitch.tv/MacRubbinsRacin
Tom Dreiling –
Kyle Pendygraft – twitter.com/LoudPedalGaming
Links:
Old Show Notes – bit.ly/2CFeArM
Facebook – www.facebook.com/iRacersLounge/
Twitter – twitter.com/iracerslounge
Instagram – instagram.com/iracersloungepodcast/
Web (New Show Notes) – iracerslounge.com/