9/2/2021 – The Flowers Patch – Episode 0295
iRacers Lounge Podcast – Conversation Topics
Brought to you by:

Opening Audio Clip -"Your listening to the iRacers Lounge Podcast where we discuss everything iRacing, in a casual setting, enjoy."`
READ THIS AT THE TOP OF EACH SHOW!!!
Welcome to the iRacer's Lounge, I am your host "XXX". iRacer's Lounge is a podcast for the iRacer, where we talk all things iRacing in a casual setting.
Joining me are the usual characters, ————
---
---
Introduction

On the show today we'll be covering the first race of the iRacing Coke Series Playoff with Evan Possoco. We'll go over all of the new content released for the upcoming build week and we have a Team Tifosi first in the iRacing NIS series.
And remember you can follow along with us on your PC or mobile device in real time as you listen to the show and see for yourself all of the great topics and products we'll discuss by visiting iracerslounge.com and selecting show notes. Hope to see you there..
---
---
TITLE SPONSOR READ:
Grid Finder 2.0 is bigger and better than ever with more ways to narrow your search for your next sim racing league. Featuring over 1000 leagues from over 25 racing sims across every platform, Your place on the grid is just a couple clicks away.
Visit www.grid-finder.com to find a league, or to upload your own!
Grid Finder – "The home of online sim racing leagues"
---
---
Topics
---
---
Coke Race – Darlington
Pre Race had an interview with Tony Stewart talking his race team and iRacing
Pre race team mentioned the difficulty with sun glare at Darlington
Mitchell deJong wins his 5th pole with teammate Kegan Leahy on the front row
In the pre race interview with Mitchel deJong he mentioned that the difficulty with the pit road entrance could be a factor in the race
Race starts clean with 8 playoff drivers in the top 13 with deJong in the lead, Leahy in second and Graham Bowlin in third
The race settled in early with everyone settling in for a long run and limited passing
Tony Stewart rejoins the broadcast and is interviewed by Evan
We get some good in-car camera work with Corey Vincent and you can really see and hear the throttle control these drivers have in order to run fast laps around this challenging track
@MitchelldeJong1 has pulled out to over a second lead over his teammate at lap 13.
Around lap 30 Bowlin in third is getting pressure from NIck Ottinger and Michael Conti closing on Ottinger.
At the same time Logan Clampitt is on the move passing cars up to P6
Conti passes Ottinger for 4th and pressures Bowlin until he finally concedes p3 after a tough, multi lap battle
Darlington claims her first victim on lap 44 when Bob Bryant earns the first Darlington stripe and is the lowest scoring playoff driver in p31
As playoff contender @vicente_salas14 moves up into ninth, @cshearburn is falling back.
LAP 41: @MitchelldeJong1's lead over @KeeganLeahy is down to about 0.7 seconds.
Shearburn is down in 18th this last time by, lap 50.
First to strike:@KeeganLeahy pits at lap 56.
Pit stops next Brad Davies on lap 58 followed by race leaded Mitchel deJong with a late turn down pit road with the majority of the field following suit
https://twitter.com/NASCAR/status/1432882952149557248
Leahy comes out ahead of deJong after pitstops cycle thru with Nick Ottinger moving up to third.
But on lap 79 deJong reclaims the lead back from Leahy without much of a fight
CAUTION! @BBryant53 gets hooked by @TDawgHurst at lap 93!
https://twitter.com/NASCAR/status/1432888395827748868
RESTART 85 to go: @MitchelldeJong1 and @bobbyzalenski lead the field into turn 1.
CAUTION! 77 to go. @AshtonCrowder spins.@rayalfalla took two tires on that stop.
RESTART 72 to go: @MitchelldeJong1 and @KeeganLeahy lead the field into turn 1.
50 to go: A LOT of fuel saving is going on right now.
45 to go: @LoganClampitt_ takes 2nd from @KeeganLeahy
43 to go: @NickOttinger, @MGuest33 and others pit.
12 to go: @MitchelldeJong1 takes 5th from @mbussa75
7 to go: @MitchelldeJong1 takes 3rd from @CaseyKirwan23
CAUTION! 6 to go! @GarrettManes, @bdavies_88, and @john_gorlinsky crashed.
https://twitter.com/NASCAR/status/1432899162488573960
@MalikRayTTV STAYS OUT! The No. 11 will lead the field to the green flag! @bobbyzalenski lines up outside. @bobbyzalenski lines up outside. @RyanLuza behind Ray. @MitchelldeJong1 behind Zalenski!
Another caution! A chain reaction saw @caine_cook wrecked on the backstretch.
OVERTIME RESTART 2: @bobbyzalenski and @MitchelldeJong1 lead the field into turn 1.
@bobbyzalenski Holds off the other road guy @MitchelldeJong1 to WIN AT DARLINGTON!!!
https://twitter.com/NASCAR/status/1432903437977595911
Unofficial #eNASCAR Coca-Cola @iRacing Series Playoff points:
1. @bobbyzalenski WIN, Locked In
2. @MitchelldeJong1 +9
3. @jmullisracing +3
4. @mbussa75 +1
5. @LoganClampitt_ -1
6. @vicente_salas14 -2
7. @MikeConti5 -4
8. @BowlinGraham -6
9. @BBryant53 -9
10. @KeeganLeahy -27
---
---
Road Trip
https://twitter.com/greghi11/status/1431059441231749120
---
---
NEW CONTENT // Porsche 911 GT3 Cup
https://www.youtube.com/watch?v=ANHU_9LzvYY
https://twitter.com/iracing/status/1431258564748775428?s=11
https://www.instagram.com/p/CTFrTKLJv57/?utm_medium=share_sheet
https://www.youtube.com/watch?v=_j7E0FaSUtc
---
---
Maybe The Van is Going Here?
https://www.instagram.com/p/CTFwUr4i05q/?utm_medium=share_sheet
---
---
Damage Updates for Season 4 2021
Greg West Posts:
With the Season 4 2021 release, members will see notable updates to the manner in which LMP1, LMP2, GTE, GT3, and Supercars are able to repair damage.
The systems updated include both steering and aerodynamic damage. The user experience should now be greatly improved notably in endurance races where steering can be completely repaired so the steering wheel is straight while aerodynamic damage can be repaired as well. The end result is an accident may require a lengthy pitstop but the car will have the opportunity to be competitive after the repairs have taken place.
We are excited to have these updates applied in time for the Bathurst 1000 and Petit Le Mans special events that are the next endurance events on the calendar.
https://forums.iracing.com/discussion/6769/damage-updates-for-season-4-2021/p1
---
---
Results Special Bulletin – David
Tifosi Racing celebrates a major milestone with our first Nascar Iracing Series top split victory. Team mate Gregory Hecktus comes through and gives David Hall just push needed to make a dramatic last lap pass for the win.
David continues a very consistent season holding 4th position in Division 1 points.
https://www.youtube.com/watch?app=desktop&v=4xx-wPp1Svw&feature=youtu.be
https://www.youtube.com/watch?v=fWtCRcLh86U
https://www.facebook.com/1565571990374134/posts/2973776906220295/?d=n
---
---
Mike takes another Crown Jewel Race
Winner winner chicken dinner!!! Our fearless leader @mikedeanellis wins the Southern 500 @NASCAR@iRacing Series Open race at @TooToughToTame. A crown jewel race! This is Mike's 76th career win.
https://twitter.com/tifosiracing/status/1433297158044717058?s=11
---
---
Season Spotlights – AI Updates
Showcasing the additions coming to AI for the season including Supercars, Super Late Model, Bathurst, and Phillip Island.
https://www.youtube.com/watch?v=khEMudV2gto
---
---
Season Spotlights | Class D Road Updates
Overview of tire updates and what to expect on the Ford Mustang FR500S, Pontiac Solstice, and Kia Optima
https://www.youtube.com/watch?v=Ij_kpPHWdT8
---
---
Season Spotlights | Lotus 49
Overview of the tire updates and what to expect for the Lotus 49.
easier to feel tire approaching limit
https://www.youtube.com/watch?v=I7aZSCZMUEg
---
---
Season Spotlights | GT3 Updates
Overview of the tire updates and what to expect for the GT3 class.
focusing on feel of tires in high speed corners like Eau Rouge. Old setups will probably be too loose.
Cold handling will also be worse, with peak handling a few laps in, some fall off and then recovery as fuel burns off.
https://www.youtube.com/watch?v=bJBCV0VICjI
---
---
Season Spotlights | Lotus 79
Overview of the vehicle and tire updates and what to expect for the Lotus 79.
focus on feeling the limit of the tire
likely slower times in slower technical corners, and similar times in high horsepower high speed areas.
https://www.youtube.com/watch?v=Tf6_Nqk-ecc
---
---
NASCAR Shock Updates
Overview of the updates to the shocks on NASCAR Trucks and Xfinity cars. More in depth information can be found here: https://s100.iracing.com/wp-content/uploads/2021/08/Shock-Tuning-User-Guide.pdf
next gen shocks coming to A and B car, with a few less adjustments
previous shocks only allowed for low speed adjustments
now will be able to adjust for track specific characteristics
https://www.youtube.com/watch?v=6qcVWk1EFBw&t=1s
---
---
---
---
Season Spotlights | IR-18 Updates
Overview of the tire updates and what to expect for the Dallara IR-18.
can drive the car more on the edge
more strategy options between tire compounds
https://www.youtube.com/watch?v=HsKnM7WKALI
---
---
AI Hosted Comes to iRacing!
Multiple iRacers from all over the world can trade paint with AI drivers for the first time as AI Hosted events come to iRacing with the 2021 Season 4 build! Using any of our AI-enabled content, you'll be able to create race sessions that fill up the field with virtual drivers to compete alongside real iRacers. This functionality works with both regular Hosted sessions and with Leagues.
Here's how it works:
Create an AI Hosted session the same way you would create any other Hosted session. We recommend that the iRacer with the best connection serve as the host. Only AI-enabled tracks will be eligible for AI Hosted sessions.
iRacers register for, and join, the AI hosted session. While the AI drivers will only be able to compete in AI-enabled cars, the host may create a session that allows other iRacers to run in cars that aren't AI-enabled.
The AI roster in the session will be linked to the iRacer who creates the AI Hosted session. This roster may be generated on the spot, or selected from rosters that you've already built. When the host joins the server, the AI cars join; if the host leaves the server, the AI cars leave. If the host returns, the AI cars return as well.
When the host joins the server, the AI roster they bring will fill as many open grid spots as possible. As with real iRacers, these grid spots are not released once they're claimed by the AI cars, even if the host leaves the session. If the host is bringing a large AI roster, they may still register immediately, but hold off on hitting the button to actually join the session—we recommend that the host join last so that no real users are locked out!
If the AI roster is not big enough to fill all remaining open grid spots, new iRacers will still be able to join.
https://www.iracing.com/ai-hosted-comes-to-iracing/
---
---
What do we have here?
https://twitter.com/iracing/status/1433154393768136705?s=11
---
---
Bubba & iRacing
2nd clip in, is Bubba having a history fit on iracing. Its from the pro invitational last year
https://www.youtube.com/watch?v=JFz77gnicrU&feature=youtu.be
---
---
Operation Motorsport Benefit 4 Hours of the Glen
A reminder that Operation Motorsport Benefit 4 Hours of The Glen will be held on September 12th with the mission to engage, through motorsport, ill, injured, or wounded service members and disabled Veterans, affected by military service, leading to aiding in their recovery and rehabilitation. Now, twenty years after 9/11/01, we aim to recognize and remember the first responders who laid their lives on the line, and the service members who pushed forward thereafter, and over history.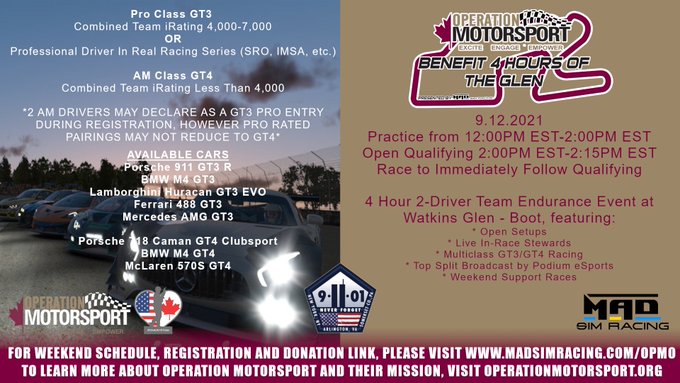 https://forums.iracing.com/discussion/6068/operation-motorsport-benefit-4-hours-of-the-glen
---
---
8 Hour IMSA Race at Daytona
Also, don't forget that this September 18th there is an 8 hour IMSA Endurance Race at Daytona to benefit a local autism organization with practice starting at 1:00pm CST
https://forums.iracing.com/discussion/5924/8-hour-imsa-race-at-daytona-for-autism
---
---
---
Podcast Housekeeping
Aftermath Podcast – Get it!
New Website – Leave Comments https://www.iracerslounge.com/
---
We are in the regular rotation… (Mike)
https://performancemotorsportsnetwork.com/
"OK TONY LETS TALK FANTASY…."
---
---
---
Hardware/Software
---
free cam pack by Finian in new forums
https://forums.iracing.com/discussion/5906/finian-s-camera-pack#latest
Hi guys an amazing free giveaway to talk about in tomorrow's podcast, a free giveaway of a 300 hour build time, full iracing cam pack for all cars and tracks. Absolute broad cast quality used by a broadcaster. Please feel free to share with the lounge community, the above link. Has transformed the sim for me in 24 hours already.
Details In the new forum under cameras (Finian) or use the above link.
Enjoy guys,
Alex Stelbovics long time listener
---
---
Meet The 270 Degree Sim Racing
The new ImmersaSim 270 provides a powerful yet portable display solution that is truly unique in the sim racing and flying sectors. Offering an uninterrupted and distortion free view spanning 270 degrees horizontal, over twice that of most VR headsets. An unparalleled sense of realism may be experienced, where the virtual world is all encompassing.
https://a7af8524-06fc-465f-b29d-f61debc2ba43.filesusr.com/ugd/5a101b_5939877698b444b9bd3fe0b98cbc9cb2.pdf
---
---
Intel Arc High Performance Graphics
Intel Arc, the company's first gaming GPUs, will debut in 2022 and It's taking on AMD and NVIDIA with discrete and integrated models.
https://www.engadget.com/intel-arc-graphics-cards-ray-tracing-ai-super-sampling-152717653.html
---
---
FGT Elite
Next Level Racing reveals it's opening look at the first aluminium profile cockpit that offers Formula, GT, and Hybrid racing positions. The F-GT Elite is designed to set a new benchmark for the simulation industry and hope to introduce the Elite Series to the global community in September 2021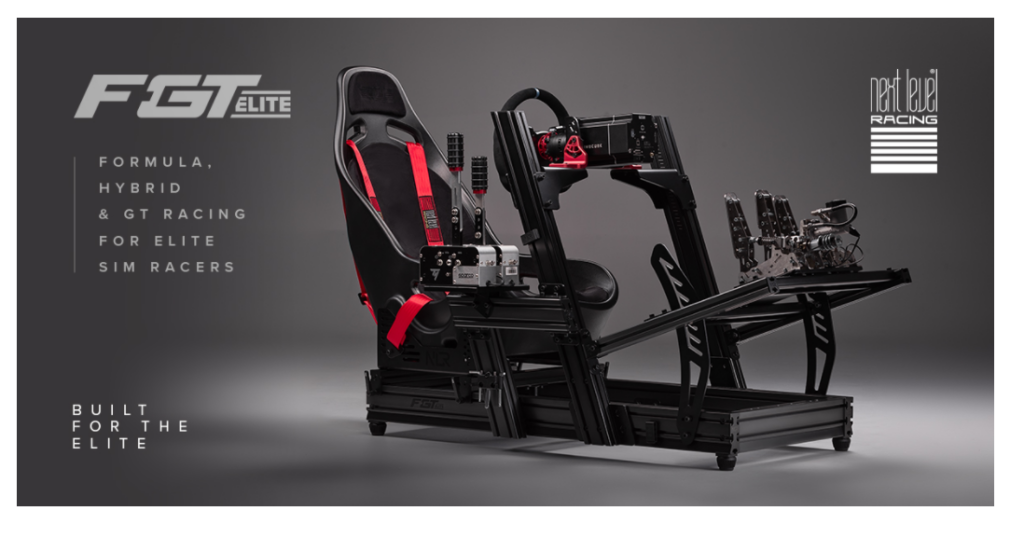 https://www.facebook.com/297579510437225/posts/1668411603354002/?d=n
https://nextlevelracing.com/next-level-racing-set-to-introduce-range-topping-elite-series-cockpits
F-GT Elite iRacing Edition
https://twitter.com/nextlvlracing/status/1433249098216480769?s=11
https://nextlevelracing.com/elite-series/
---
---
SRT Motion System
The SRT Motion system is a 4 actuator motion system complete with Thanos controller and Sim Racing Studio License for 2,840 euros (3,342 usd)
https://scuderiart.com/products/srtmotion-system-thanos-controller-srs-license
---
---
---
---
---
Results
NASCAR iRacing Series
Fri open: Daytona
Ellis – pWreckedOut – it was a frustrating race – i was top ten the whole time, led a lap or so, but could never get anyone to work with me. One restart the guy in front of me checked up big time and let three people from the outside in front of him. Later near the end just trying to get something going on the outside and everyone bails and leaves me hanging out to dry. Eventually they wrecked in front of me and I got collected
Hall – P8 contenting again, drafting help abandoned
Rochette P20 got hit by some dumbass running 3 wide that couldnt hold a line damaging the engine with 3 to go
Groves P5 – turn 4 pass for a top 5
Sunday Open

Rochette- P4 survived a few wrecks pushed the leader on the back at the white but got checked up when tried to make a run

Greg pP16 ran out of fuel pushing @David Hall for the win
Hall – p1, the mostly lucky timing with greg loosing his lap. I had him stay low so he could latch on to the three car brake away. Leader got to much of a push from inside, then greg gave me a perfect push and if leader blocked it would have been a wreck. Good week at Daytona. Funny how I don't like the plate racing but do well at it. FIRST EVER TOP SPLIT WIN
Tom D – p
Sunday fixed

Mike -pBlownEngine – On a restart i went from 3rd to 2nd instead of 3rd to 4th – i am a fool
Stephen – p
Kyle – P
Tyler – P
Wed Open:

Hall -p15, 2 cautions. A few mistakes early probably cost me speed. But I committed the cardinal sin of listening to Mike on pit strategy.
Ellis – p.1 – Redemption! – Wheel performed perfectly. Ran top 5 for a while then took lead – led the most laps too – 165 laps led – Split last 100 lap run into 50 each on tires – the guy who was keeping with me stayed out a few laps longer. W about 20 to go he was catching me big time with about 10 to go he caught me and went on by, i was getting sloppy and hitting the wall a bunch. At end he was more than 3 seconds ahead. On the white, he crashed on the backstretch and I went on to win the race!
Greg P14, wrecked by p2 with 5 to go
---
---
League / Hosted Races
FastTrack Sim Racing League –
David – p1, was sitting duck with 3 of us ending up in front, but irrelevant lap cars opted to stay low and caused us to get split up and become a 2 car brake away.
Greg p5
Mike – pwrecked out
Tony- P9 lost the draft trying to help out some cars. Fuel strategy worked in Tifosi's favor though with the only caution coming quarter way through
Bobby -p2,
Chris Scales get his first Old Bastard WIN https://www.facebook.com/theaftermathpodcast/posts/303770311543419
OBRL Aftermath Truck Series
? ? CONGRATULATIONS Dwayne McArthur in the REG Customs #97 Wins The iRacers Lounge The Aftermath Podcast Nascar Truck Series at Darlington Raceway
Josh Robinson in the Micro Center #23 Finished 2nd
Dode The Hornet Hoskins #66 Finished 3rd
---
---
Final Thoughts
---
---
---
Words Spoken in Closing Audio Clip -""Thank you for listening to the iRacers Lounge podcast make sure to go subscribe to us on iTunes, SoundCloud, or Google Play, Facebook & Twitter, See You On The Track ."
Description
On the show today we'll be covering the first race of the iRacing Coke Series Playoff with Evan Possoco. We'll go over all of the new content released for the upcoming build week and we have a Team Tifosi first in the iRacing NIS series.
iRacers Lounge Podcast is available on iTunes and Apple's Podcasts app, Stitcher, TuneIn, Google Play Music, Spotify, Soundcloud, Podbean, Spreaker, Podbay, PodFanatic, Overcast, Amazon, and other podcast players.
Sponsors:
www.grid-finder.com
Hosts:
Mike Ellis – twitter.com/MikeDeanEllis
Tony Groves – www.twitch.tv/SirGroves
Chris Scales – twitter.com/JediMcfly
David Hall – www.twitch.tv/mixmage
Greg Hecktus – twitter.com/froozenkaktus – www.twitch.tv/froozenkaktus
Tony Rochette – twitter.com/TonyRochette
Adam Josselyn- twitter.com/Jossad83
Brian Maccubbin – www.twitch.tv/MacRubbinsRacin
Tom Dreiling –
Kyle Pendygraft – twitter.com/LoudPedalGaming
Links:
Old Show Notes – bit.ly/2CFeArM
Facebook – www.facebook.com/iRacersLounge/
Twitter – twitter.com/iracerslounge
Instagram – instagram.com/iracersloungepodcast/
Web (New Show Notes) – iracerslounge.com/