8/26/2021 – A Spoonful of Mountain – Episode 0294
iRacers Lounge Podcast – Conversation Topics
Brought to you by:

Opening Audio Clip -"Your listening to the iRacers Lounge Podcast where we discuss everything iRacing, in a casual setting, enjoy."`
READ THIS AT THE TOP OF EACH SHOW!!!
Welcome to the iRacer's Lounge, I am your host "XXX". iRacer's Lounge is a podcast for the iRacer, where we talk all things iRacing in a casual setting.
Joining me are the usual characters, ————
---
---
Introduction
On today's show we'll be welcoming Gridfinder Paint Festival winner Jordan Spoon to the show. We'll take one more trip to Mount Washington, review some more iRacing special events and have lots of new hardware to check out.
And remember you can follow along with us on your PC or mobile device in real time as you listen to the show and see for yourself all of the great topics and products we'll discuss by visiting iracerslounge.com and selecting show notes. Hope to see you there..
---
---
TITLE SPONSOR READ:
Grid Finder 2.0 is bigger and better than ever with more ways to narrow your search for your next sim racing league. Featuring over 1000 leagues from over 25 racing sims across every platform, Your place on the grid is just a couple clicks away.
Visit www.grid-finder.com to find a league, or to upload your own!
Grid Finder – "The home of online sim racing leagues"
---
---
Special Guest
Jordan Spoon
General Questions:
What brought you to iRacing and how did you hear about it?
Which series do you normally run?
What type of hardware do you use? (Wheels, Pedals, ect.)
Software

What gear did you use when you first started iRacing?

Do you run Monitors or VR?

How many monitors?
What VR headset are you running?

Are you part of a team?
Do you participate in any leagues or is it just official racing?
What is your most memorable iRacing moment?
Guest Specific Questions:
---
---
Topics
---
---
The Mountain Week3
iRacing posted a video of Nascar driver Anthony Alfredo who hosted a Formula Vee soapbox derby from the top of Mt Washington with Logan Sheets and Jimmy Mullis. after all was aid and done Alfredo turned out to be the lone survivor to the bottom of the hill.
https://twitter.com/iracing/status/1428755866715664390?s=11
---
---
Alfredo also posted his fast time up the Mountain with a killer 5:24.2 split.
https://www.youtube.com/watch?v=yKEG2Q5MKfE
---
---
Track Walk
irtrackwalk.com lets you do a Google Earth Street view type of point-to-point tour of iRacing's Mt Washington. You can zoom, spin a look all around from each point as you make your way up the mountain.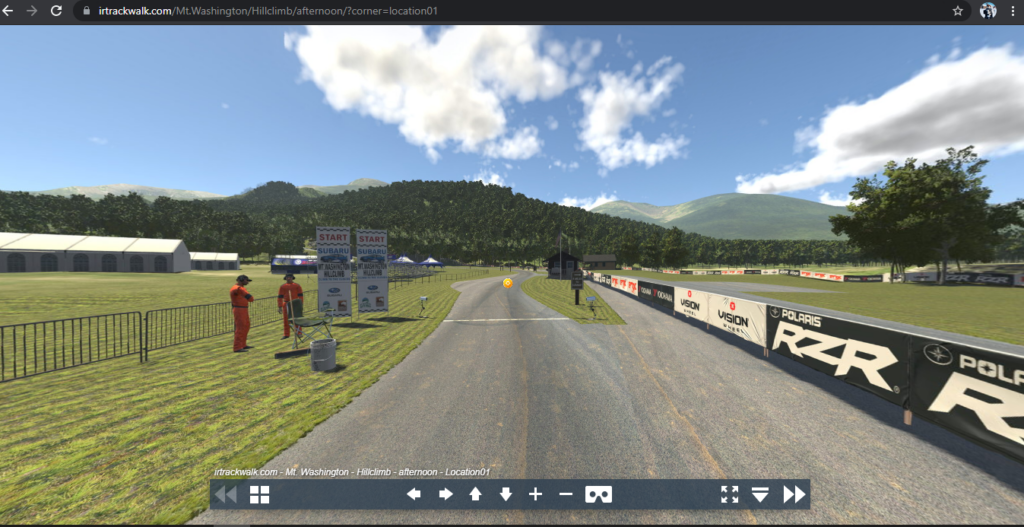 https://irtrackwalk.com/Mt.Washington/Hillclimb/afternoon/?corner=location01
---
---
What new Endurance Races should be added
Twan Van den Beld asked in a post in the forums which endurance race you think should be added to the iRacing service.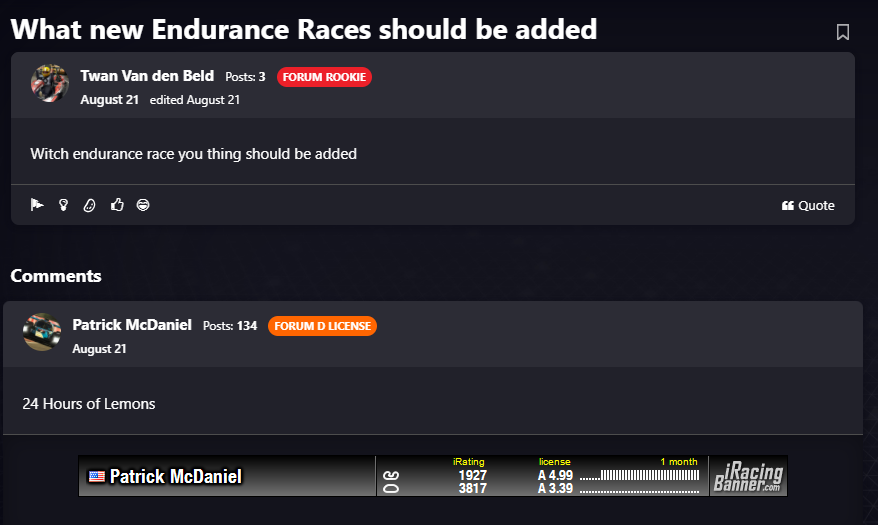 https://forums.iracing.com/discussion/6428/what-new-endurance-races-should-be-added
---
---
IMSA Endurance Series in Season 4
Greg west posted in the forums that, by popular demand. iRacing has added a 2:00 GMT timeslot that will cover Friday evening in the US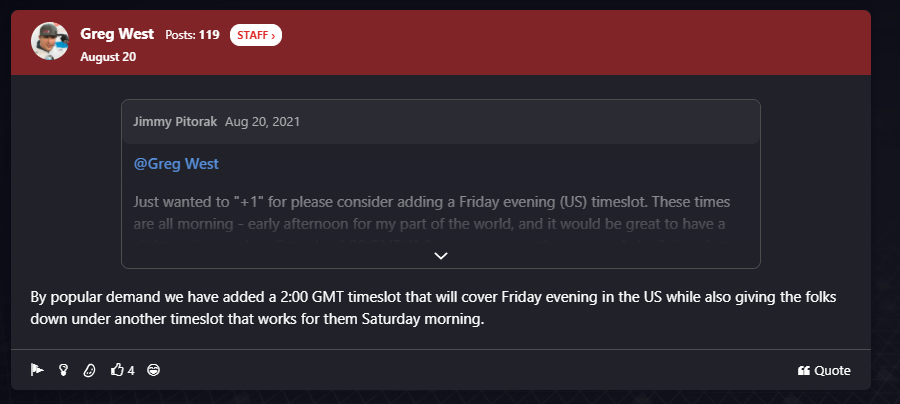 ---
https://forums.iracing.com/discussion/comment/44680/#Comment_44680
---
---
Lotus 49
Christian Challiner eluded to it earlier, but Greg West came out and said it for certain in the forums that the Lotus '49 car is getting a pretty nice tire update with this build and he's super excited for the community to get their hands on it!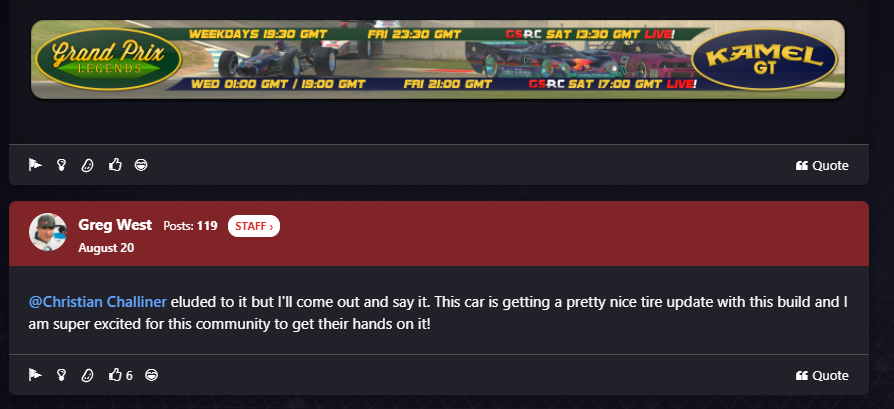 https://forums.iracing.com/discussion/comment/44594#Comment_44594
---
---
IR18 Tires
Greg West also released info that the IR18 also is actually in the middle of a road course tire overhaul that we anticipate will make the September release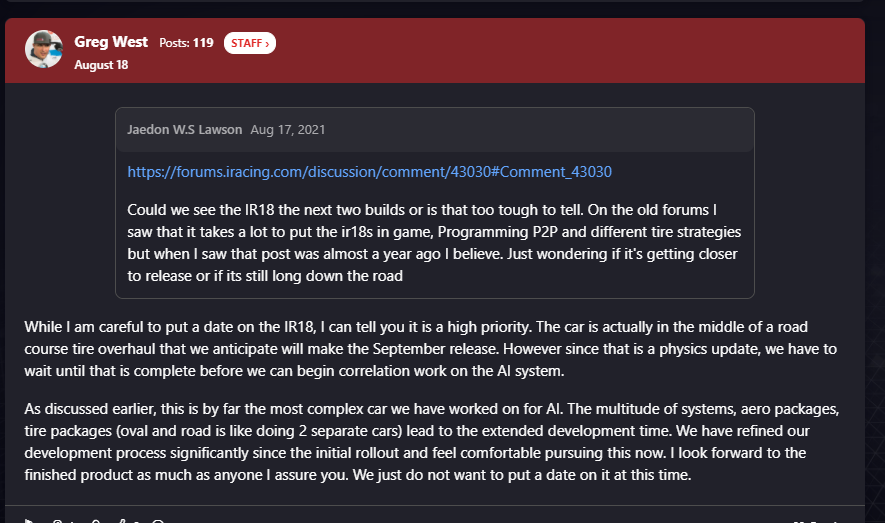 https://forums.iracing.com/discussion/comment/43562#Comment_43562
---
---
AI for indycar and GTE confirmed?
Will Lyon noticed that at the 30:37 mark of the Sounds of iRacing video it clearly features Indy Cars and at the 10;12 mark shows the GTE cars. They're all taking the same line as each other and no one's crashing, so…does this mean they're AI and are both coming to AI in the next build?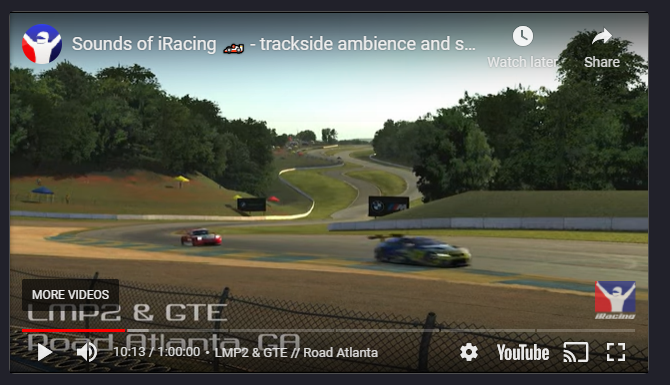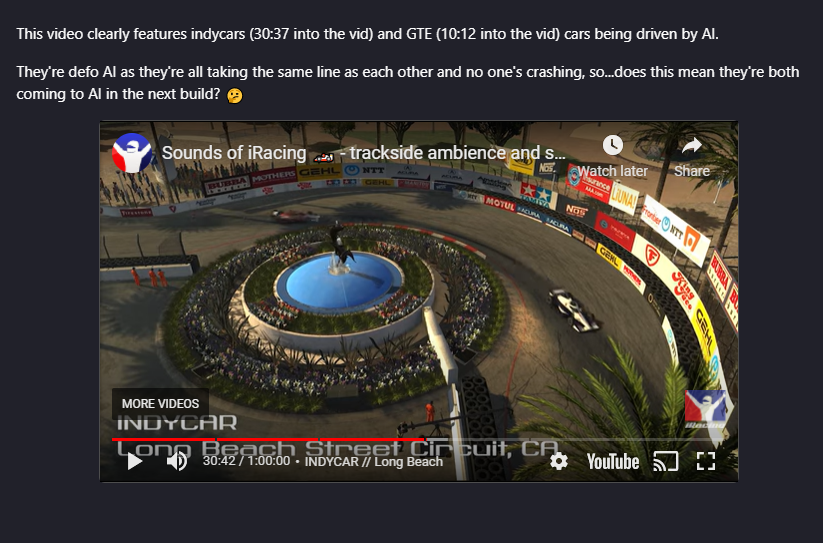 https://forums.iracing.com/discussion/6120/ai-for-indycar-and-gte-confirmed
---
---
2021 Bathurst 1000
September 17th-19th will mark the return of the iRacing Bathurst 1000 from the Mount Panorama Circuit in Bathurst, New South Wales Australia.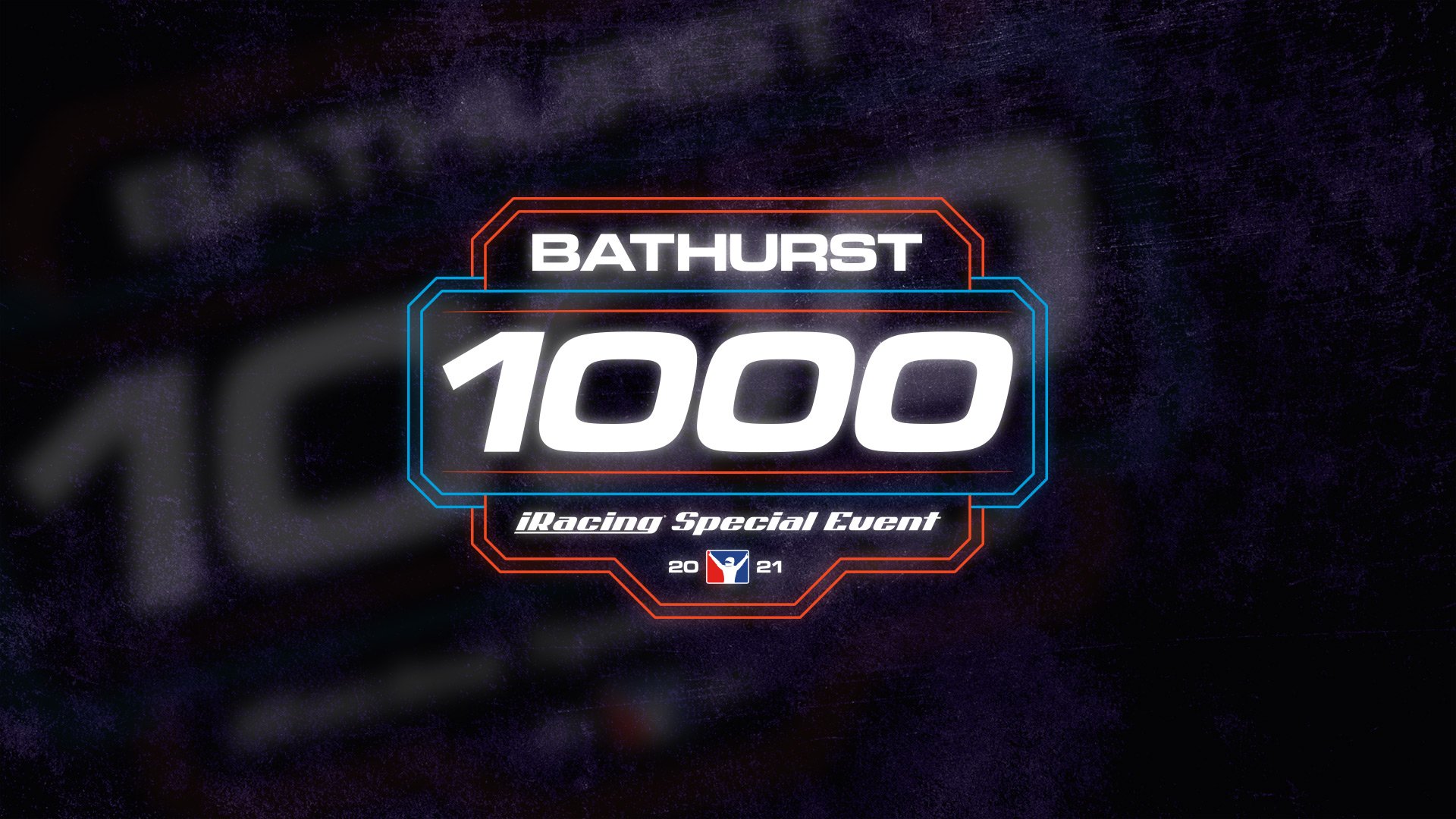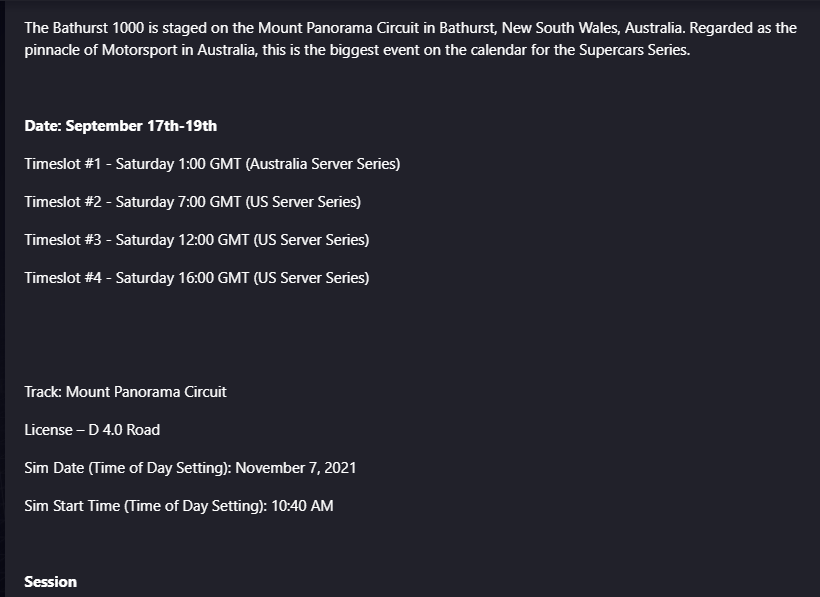 https://forums.iracing.com/discussion/6534/2021-bathurst-1000
---
---
Majeski in Victory Lane
Ty Majeski returned his iRacing sponsored Late Model back to victory lane this time at Hawkeye Downs in Cedar Rapids, IA last Friday night.
https://twitter.com/TyMajeski/status/1429461199306084354
---
---
I Tried iRacing For The First Time

Ermin Hamidovic has been a sim racer for 6 years, but never on iRacing. However he tried iRacing for the first time and posted a YouTube video of his thoughts and comparisons with other racing sims.
https://www.youtube.com/watch?v=x2dS2WoPJQw
---
---
Screenshots
iRacing Tweeted some teaser pictures of the upcoming track, Hungaroring,
https://twitter.com/iracing/status/1430193787071078406?s=11
---
---
Camera Update
Davis Tucker announced in the forums that next season you will be able to hit ctrl-z any time when out of the car and then use the mouse to move around the world. The mouse changes your orientation, left/right buttons move forward and back, center button + mouse movement makes you strafe, and the scroll wheel changes elevation. They have an existing ctrl-z camera already, but it requires the camera tool be up and it does not use the scroll wheel or center button.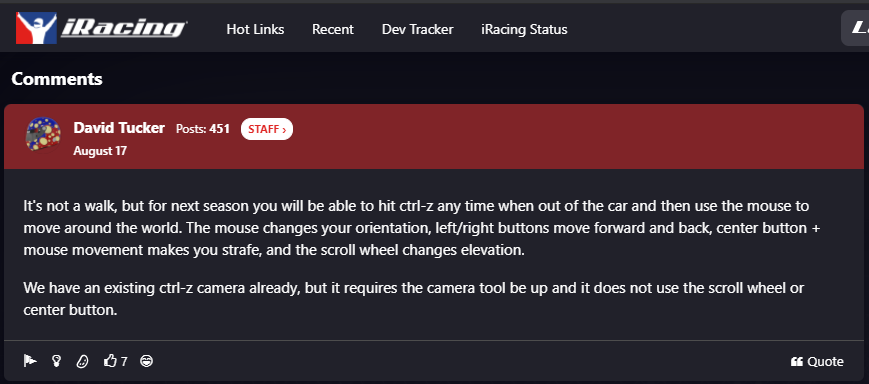 https://forums.iracing.com/discussion/comment/43313#Comment_43313
---
---
A fun read featuring the legendary Dave Kaemmer!
Dave Kaemmer, CEO of iRacing, sat down for an interview with Cnet Roadshow discussing iRacing, it's history and future and comparisons with other driving games.
His thoughts on the comparison to other racing titles he said, "Every racing game manufacturer talks about how realistic they are, but from my biased perspective I think that's all bullshit."
Most racing games, Kaemmer mentioned in the article, create a fantasy aesthetic where you, the player, are really, really good at driving — even if you're not. "The reality is if you get a Ferrari and you don't know what you're doing, you're going to crash it very quickly."
Kaemmer isn't dishing details, but says iRacing's long-awaited rain model is nearing completion, and that there's much more to come: "I've been in an R&D phase now for a while. I've got a pretty big set of changes that I'd like to make that I think will make good improvements."
https://www.cnet.com/roadshow/features/iracing-made-in-america/
---
---
Release Notes for iRacing UI
The release notes were posted in the forums for the latest iRacing UI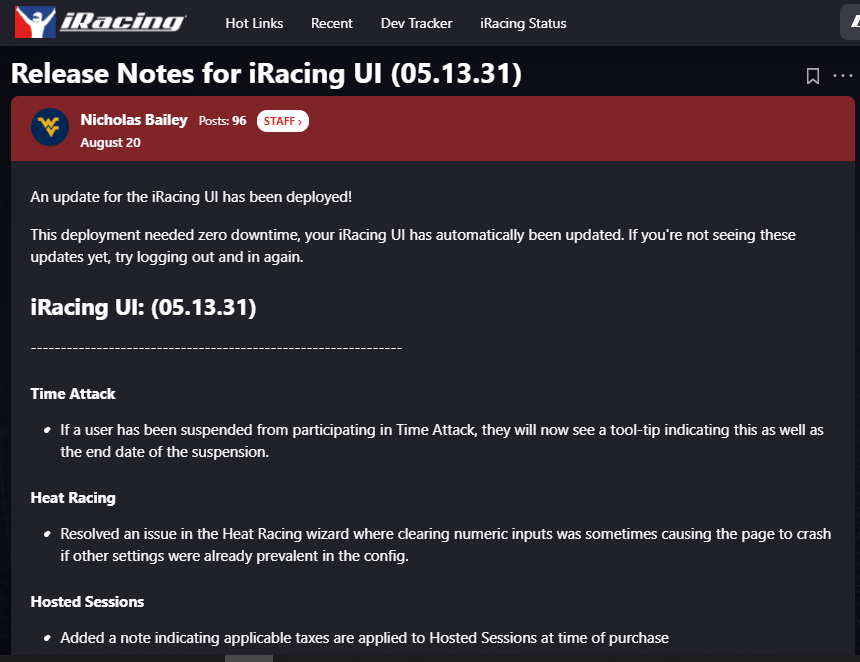 https://forums.iracing.com/discussion/6337/release-notes-for-iracing-ui-05-13-31
---
---
The Force Dynamics Dallara iRacing Grand Prix Championship
The Force Dynamics Dallara iRacing Grand Prix Championship will mark the return of an open wheel World Championship Series back to iRacing. Competitors will be using the Dallara iR01 car with a $25,000 prize pool in the series.
https://twitter.com/iracing/status/1430884220587675656?s=11
---
---
New Aussie Tracks
On the Supercars Twitter account they announced the iRacing will bring Sandown International Raceway a circuit a 1.9 mile road course in the suburb of Springvale in Melbourne, Victoria and Winton Motor Raceway a 1.85 mile track in Winton, Australia.
https://twitter.com/supercars/status/1430462958266630144?s=11
---
---
Operation Motorsport Benefit 4 Hours of the Glen
A reminder that Operation Motorsport Benefit 4 Hours of The Glen will be held on September 12th with the mission to engage, through motorsport, ill, injured, or wounded service members and disabled Veterans, affected by military service, leading to aiding in their recovery and rehabilitation. Now, twenty years after 9/11/01, we aim to recognize and remember the first responders who laid their lives on the line, and the service members who pushed forward thereafter, and over history.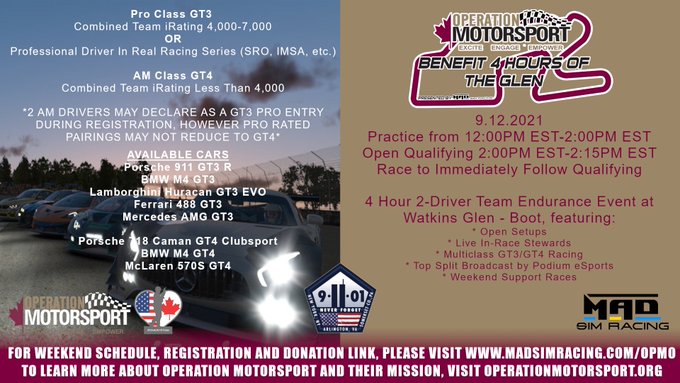 https://forums.iracing.com/discussion/6068/operation-motorsport-benefit-4-hours-of-the-glen
---
---
8 Hour IMSA Race at Daytona
Also, don't forget that this September 18th there is an 8 hour IMSA Endurance Race at Daytona to benefit a local autism organization with practice starting at 1:00pm CST
https://forums.iracing.com/discussion/5924/8-hour-imsa-race-at-daytona-for-autism
---
---
Podcast Housekeeping
Aftermath Podcast – Get it!
New Website – Leave Comments https://www.iracerslounge.com/
You've heard us talk about the Spotlights. Those of us that have them here at iRacers Lounge absolutely love them. So much, we have become an affiliate! With the roll out of their new Spotlights Pro. Here's your chance to check them out, you won't be disappointed. Enter coupon code: IRACERSLOUNGE for 10% off!!
https://www.facebook.com/1565571990374134/posts/2832513123680008/?d=n
---
We are in the regular rotation… (Mike)
https://performancemotorsportsnetwork.com/
"OK, LET'S TALK FANTASY…."
Fantasy [Tony]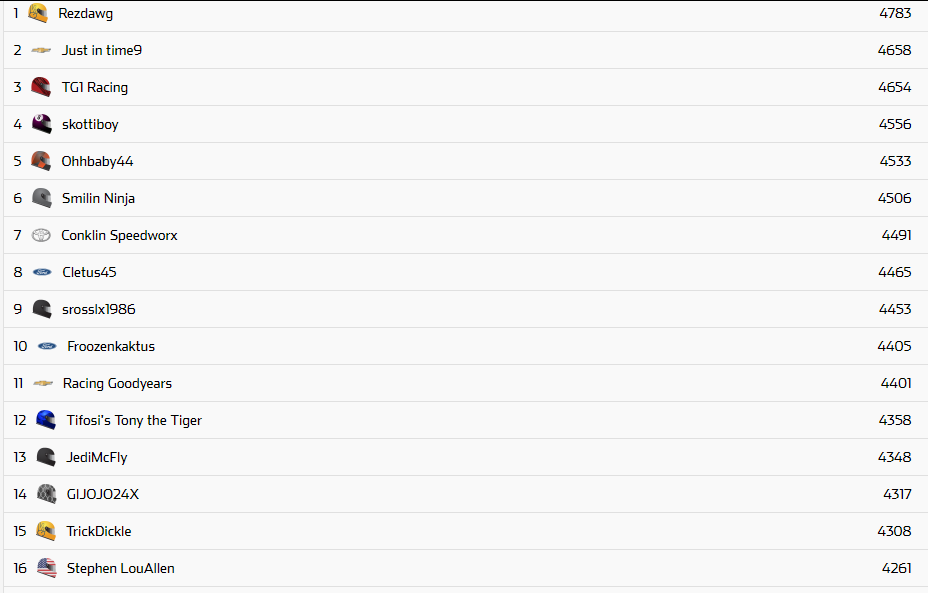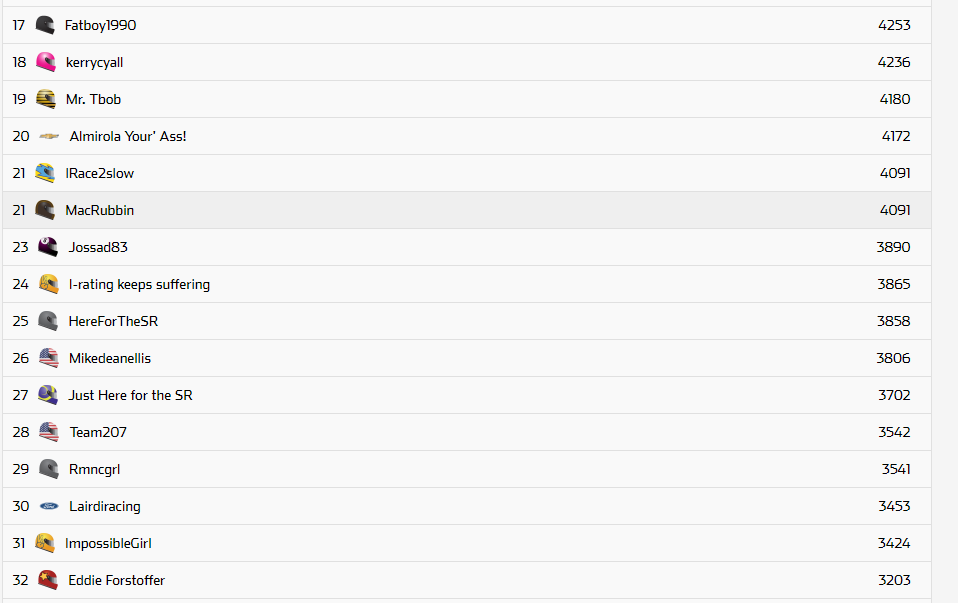 Michigan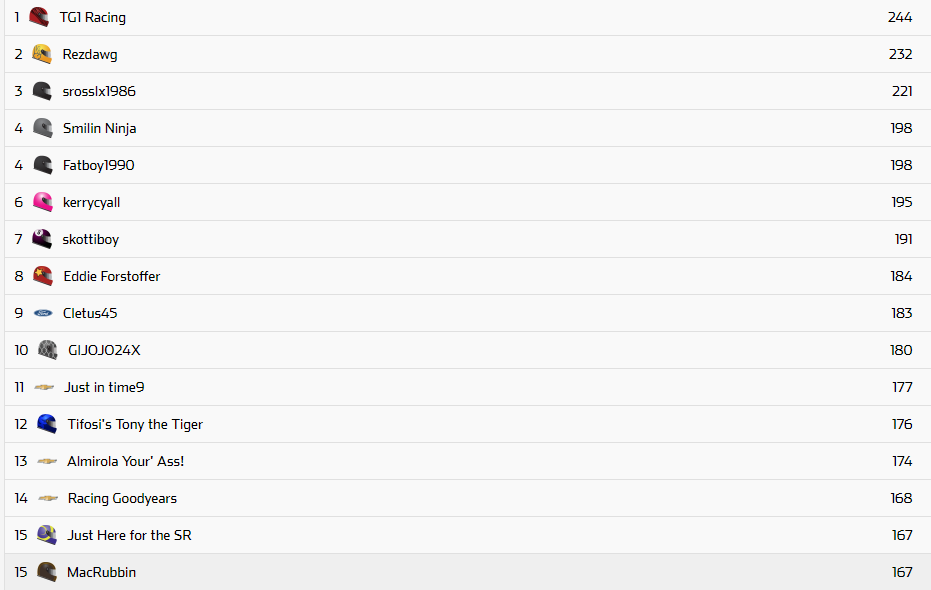 ---
---
Hardware/Software
---
---
Alex Palou's Custom FPE
Gomez Sim Industries adds Indy Car Driver Alex Palou's signature racing wheel to their impressive collection.
---
https://www.instagram.com/p/CSg2aADr-_C/embed/captioned/?cr=1&v=13&wp=471&rd=http%3A%2F%2Fwww.iracerslounge.com&rp=%2Fepisode-0293%2F#%7B%22ci%22%3A3%2C%22os%22%3A2332.7000000029802%7D
---
---
---
---
Simagic Alpha Mini Wheelbase Review
The Sim Magic Mini DD goes thru the stringent review process at Barry Rowland's Sim Racing Garage
https://www.simfai-solutions.com/simagic-alpha-mini
---
---
YRD Button Box
Yuhouse Racing Designs is officially starting a pre order for YRD button box's for sim racing! The box is plug and play! Equipped with a covered switch. Two on off switches. 6 programmable buttons and 3 tune dials and 2 toggle switches and a fully functioning brake bias knob! To get started, send them a Pm on their facebook page. They're asking a $50 deposit to start your order., and will apply that to the Final cost of $130 and are estimating a $10-$15 per box shipping in continental US.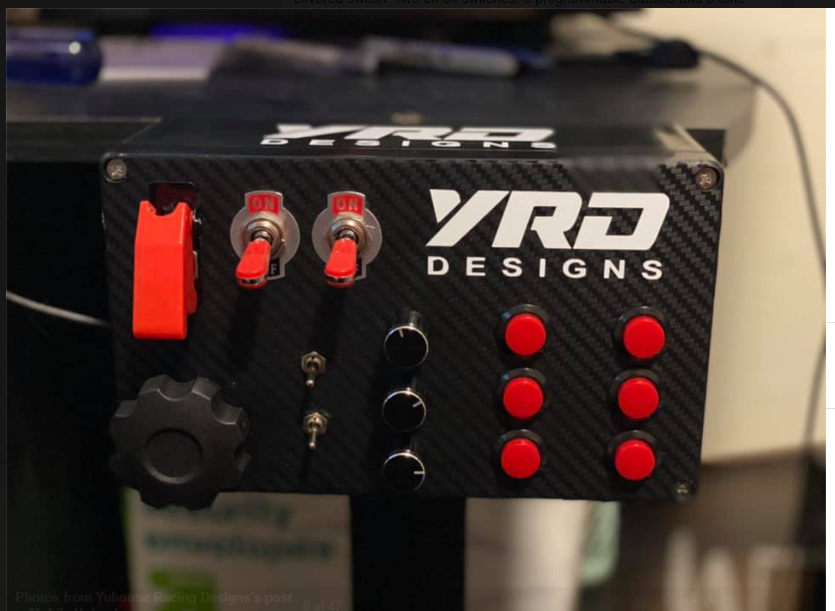 https://www.facebook.com/yuhouseracingdesigns/posts/229292295718172
https://www.facebook.com/103842818263121/posts/242675221046546/?d=n
---
---
New NGASA Brake Pedal
The new 3drap Ngasa Pedals offer a brand new way to think Throttle and Clutch Pedals, thanks to a wide range of customizations and the CBF System
https://www.instagram.com/p/CSjw1M9qg4n/embed/captioned/?cr=1&v=13&wp=471&rd=http%3A%2F%2Fwww.iracerslounge.com&rp=%2Fepisode-0293%2F#%7B%22ci%22%3A4%2C%22os%22%3A2366.1000000089407%7D
---
---
TweakTown posted a list on their Twitter page of Best Buy stores that currently have sock of the hard-to-find Nvidia GeForce RTX 30 series' graphics cards after a large restock.
https://www.pcgamer.com/a-massive-restock-of-nvidia-rtx-30-series-gpus-is-happening-at-best-buy-tomorrow/
https://twitter.com/TweakTown/status/1430705439407099905
---
---
Results
NASCAR iRacing Series
Fri open: Michigan
Ellis – p3 – started 17th worked my way up ran top five most of the night – final stop the two leader short pitted and i stayed out a couple of laps, and that was it – after it shook out they were 4 seconds up on me. Great run
Hall – P 22, was pushing for top 10 in top split, wreck in front of me, once again no where to go
Rochette P11 from the real to virtual irish hills in less time than it took to complete this race. Conservative in the begining. On restarts kept getting checked up when guys dont know how to come out of a corner right. Was good on long run but felt slow. Was just tired
Sunday Open

Hall – p10, saved a descent run for the week
Sunday fixed

Mike -p19 – had a good run going but they stacked up on a restart and like dominoes i got crunched on both front and back – car was slow so just finished off from there.
Brian – P15 no sound! Started in the back, Avoided wrecks, but not black flags:two laps down. Had the speed to run with leaders, but couldn't get laps back.
Tyler – P13 had a great run and felt comfortable during the race. Was side swiped avoiding a crash on backstretch but managed to stay clean and pull out a 13. Thank you to Mike for spotting at the end!
Wed Open:

Hall –p7, contending on gwc, outside line lead, Horrific net code, inside line was holding there line
Ellis – p.wrecked out – was running p5 all lined up just riding and 2nd place spun 1st and i got wiped out – 4 minutes damage can barely steer – go back out just riding around laps down leaders coming by on the bottom im in the middle i get tagged big wreck – i probably screwed up not leaving enough room – i should have parked it

Rochette P24 in the wall early never made it back up to recovery
Thanks to Kyle for the pushing and spotting at the end.
Thurs Open

Ellis – p.11 – was running top 5, first stop rights only got the lead – led many laps – The last run we had to save fuel, then later we got racing and i made several tactical errors on which lane to pick when… A good learning race and redemption a bit after last night
Rochette P stupid gah damn lap cars going 3 wide and wrecked, caugt in it
---
---
Official Series
David- p1 – https://www.facebook.com/948776355468572/posts/winner-winner-chicken-dinnerthe-boys-have-gone-and-won-the-24hrs-of-silverstone-/1593948434284691/
B open- Kyle – Daytona P all i do is win. Started P3 and just hung out behind the leader. On lap 18 the caution came out. I took fuel and tires and just waited my time behind the leader saving gas. 9 laps to go i made my move for the lead when we came up on lap traffic. Held off the field for a P1.
---
---
League / Hosted Races
FastTrack Sim Racing League –
David – p2, survival of the luckiest basically
Greg pwrecked
Mike – p8 – started in the back was up to 7th by 1st stop – ran top 5 for a while but longer runs i ran the tires off then faded.
Tony- Pwrecked
Bobby -pblinked out
Stephen – pwrecked
Joe – pwrecked
Pacific Majors – Southern 500
Hall – p 11 had to spend an entire green flag run nursing overheating from a lap car, never got lead lap back.
Hosted – Mt Washington Hill Climb

Ellis – 5:43 beetle
OBRL Aftermath Truck Series
? ? CONGRATULATIONS Tom Ogle #11 Wins The Iracers Lounge The Aftermath Podcast Nascar Truck Series CHAMPIONSHIP!
? Congratulations To the Final 4 And Everyone from the Finale at Daytona International Speedway
Josh Robinson in the Micro Center #23 Finished 2nd In points
Steve Thomson in the Ridetv #67 Finished 3rd in points
Dwayne McArthur in the REG Customs #97 Finished 4th in points
---
---
Final Thoughts
---
---
Words Spoken in Closing Audio Clip -""Thank you for listening to the iRacers Lounge podcast make sure to go subscribe to us on iTunes, SoundCloud, or Google Play, Facebook & Twitter, See You On The Track ."
TITLE IDEAS
A Spoonful of Moumtain
.
.
Description
On today's show we'll be welcoming Gridfinder Paint Festival winner Jordan Spoon to the show. We'll one more trip to Mount Washington, review some more iRacing special events and have lots of new hardware to check out. . So strap in and try to keep up with us on the iRacers Lounge Podcast.
iRacers Lounge Podcast is available on iTunes and Apple's Podcasts app, Stitcher, TuneIn, Google Play Music, Spotify, Soundcloud, Podbean, Spreaker, Podbay, PodFanatic, Overcast, Amazon, and other podcast players.
Sponsors:
www.grid-finder.com
Hosts:
Mike Ellis – twitter.com/MikeDeanEllis
Tony Groves – www.twitch.tv/SirGroves
Chris Scales – twitter.com/JediMcfly
David Hall – www.twitch.tv/mixmage
Greg Hecktus – twitter.com/froozenkaktus – www.twitch.tv/froozenkaktus
Tony Rochette – twitter.com/TonyRochette
Adam Josselyn- twitter.com/Jossad83
Brian Maccubbin – www.twitch.tv/MacRubbinsRacin
Tom Dreiling –
Kyle Pendygraft – twitter.com/LoudPedalGaming
Links:
Old Show Notes – bit.ly/2CFeArM
Facebook – www.facebook.com/iRacersLounge/
Twitter – twitter.com/iracerslounge
Instagram – instagram.com/iracersloungepodcast/
Web (New Show Notes) – iracerslounge.com/