9/9/2021 – Reverse 180 – Episode 0296
Opening Audio Clip -"Your listening to the iRacers Lounge Podcast where we discuss everything iRacing, in a casual setting, enjoy."`
READ THIS AT THE TOP OF EACH SHOW!!!
Welcome to the iRacer's Lounge, I am your host "XXX". iRacer's Lounge is a podcast for the iRacer, where we talk all things iRacing in a casual setting.
Joining me are the usual characters, ————
---
---
Introduction
On the show this week, we will be unpacking all of the new content from the season 4 build including new tracks, new cars and all of the other updates including the addition of adding AI cars to hosted races. We'll add in some hardware in the mix and get some clues as to what's coming up in next years Nascar/NIS schedule.
And remember you can follow along with us on your PC or mobile device in real time as you listen to the show and see for yourself all of the great topics and products we'll discuss by visiting iracerslounge.com and selecting show notes. Hope to see you there..
---
---
TITLE SPONSOR READ:
Grid Finder 2.0 is bigger and better than ever with more ways to narrow your search for your next sim racing league. Featuring over 1000 leagues from over 25 racing sims across every platform, Your place on the grid is just a couple clicks away.
Visit www.grid-finder.com to find a league, or to upload your own!
Grid Finder – "The home of online sim racing leagues"
---
---
Topics
---
---
Five New Cars, 11 New Tracks, Hosted Sessions Join iRacing AI for 2021 Season 4
iRacing adds five new cars and 11 tracks to hosted sessions with the ability to add AI cars to fill the field.
https://www.iracing.com/five-new-cars-11-new-tracks-hosted-sessions-join-iracing-ai-for-2021-season-4/
---
---
Hickory Speedway is Here
Hickory Speedway was added to the lineup in this season's build including a release video.
https://twitter.com/iracing/status/1433902164888408068?s=11
https://www.youtube.com/watch?v=VWUiXNjMmHE
---
---
iRacing World of Outlaws Sprint Car World Championship Returns, Qualifying Series Announced
The iRacing World of Outlaws Sprint car championship will be beginning it's qualifying series on September 20th at Cedar Lake Speedway and conclude October 25th at Kokomo. Then the November 15th will begin the championship series at Volusia.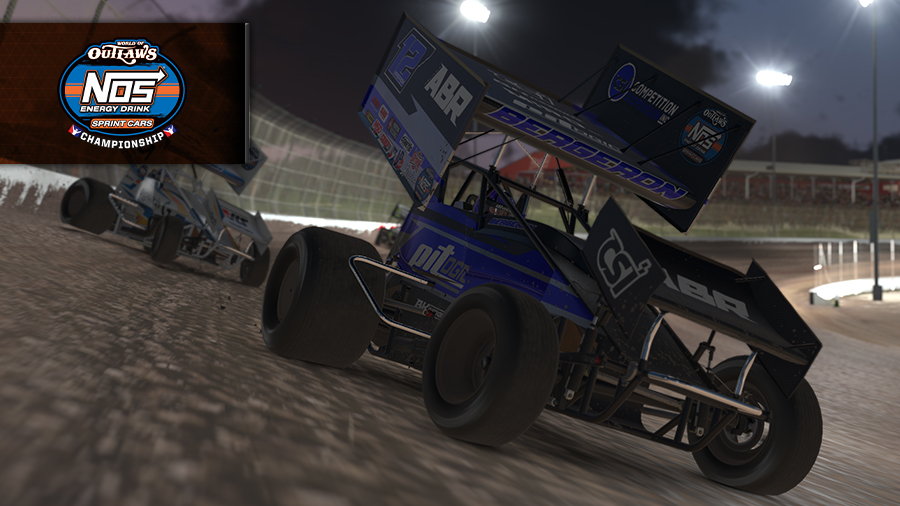 https://www.iracing.com/iracing-world-of-outlaws-sprint-car-world-championship-returns-qualifying-series-announced/
---
---
Tardiff Wins Again!
Alan Tardif brings home his 3rd win of the season at Beach Ridge Speedway in his iRacing sponsored Late Model.
https://twitter.com/alantardiff8/status/1434649277880471555?s=11
---
---
Release Notes
Season 4 release notes were released with all of it's contents on Wednesday.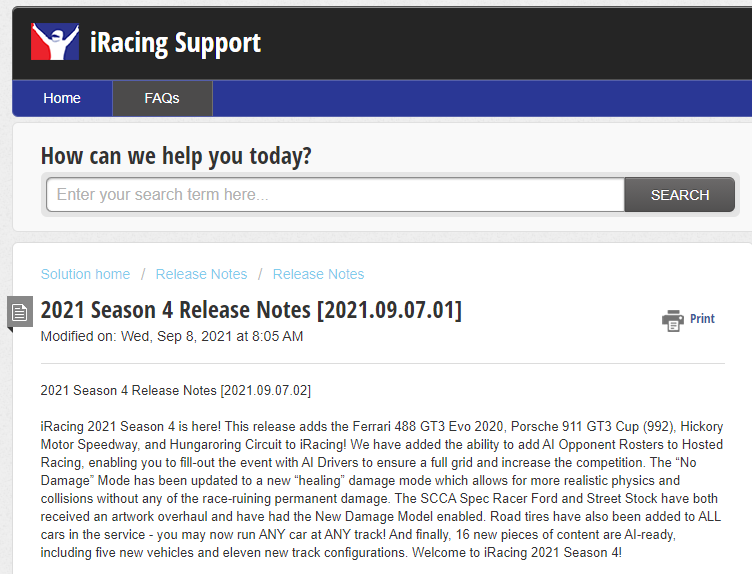 https://twitter.com/iracingsupport/status/1434645913897771008?s=11
https://support.iracing.com/support/solutions/articles/31000161946-2021-season-4-release-notes-2021-09-07-01-
---
---
2021 S4 Paint Templates Released
Paint master Brian Simpson posted the new paint templates for the new Porsche 922 Cup and Ferrari EVO GT3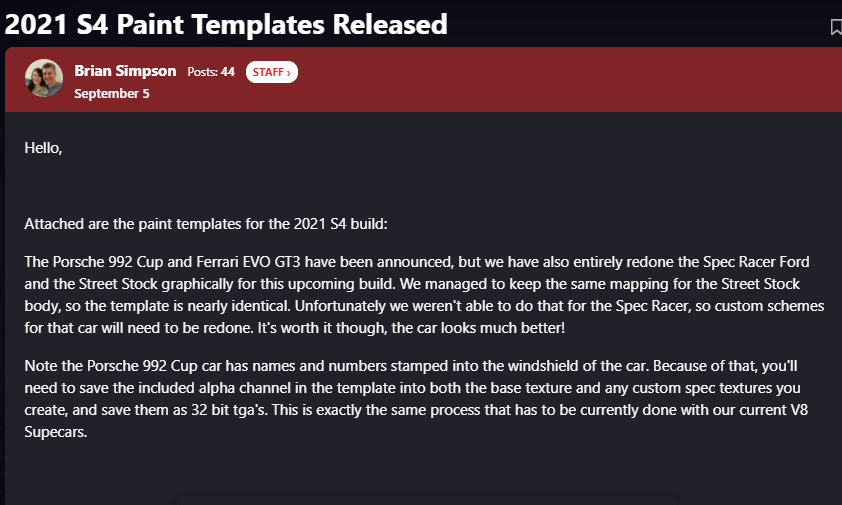 https://forums.iracing.com/discussion/7379/2021-s4-paint-templates-released
---
---
NiS 2022 Schedule
Nascar will be announcing their new 2022 schedule and by association it's NIS schedule as well. Some notable moves may be the addition of WWT Raceway and Pocono dropping a race.
https://twitter.com/a_s12/status/1435407751497371655?s=11
---
---
GT3R can do 180 kph in reverse
How fast can you go in reverse? According to iRacing Streamer Dan Suzuki, he can hit 180KPH in the Porsche GT3R.
https://twitter.com/dansuzukitv/status/1435317111627390984?s=11
---
---
Dynamic Track, Where There Art Thou?
Bryan Black33 Tweeted about his regrets in missing the dynamic track changes in iRacing. Chris Overland was among those who commented his agreement.
https://twitter.com/bryanblack33/status/1435130022457663489?s=11
https://twitter.com/chrisoverland47/status/1435240818260983813?s=11
https://forums.iracing.com/discussion/7474/multi-groove#latest
https://forums.iracing.com/discussion/7545/dynamic-track-on-ovals#latest
And Now Superspeedway Package
Liam Brotherton posted in the forums a response in the thread criticizing the package on Superspeedways.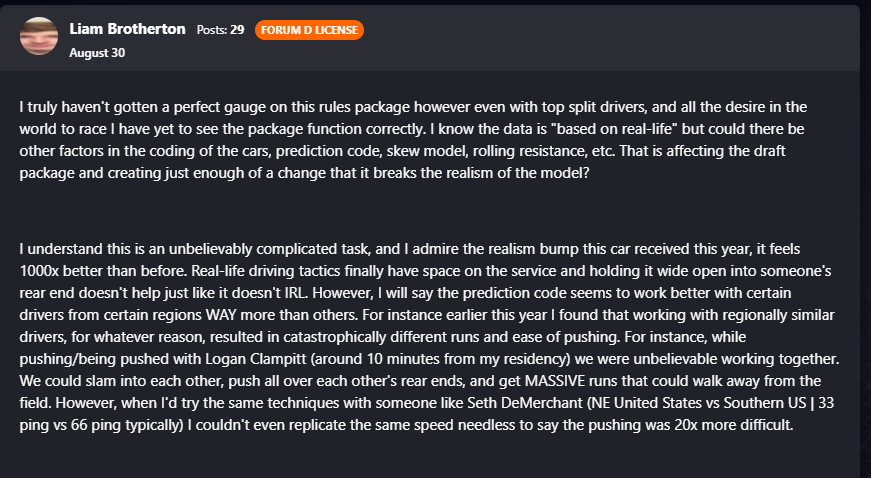 https://forums.iracing.com/discussion/comment/49222/#Comment_49222
---
---
2021 Season 4 Schedule
Tyler Hudson Posted in the forums the 2021 Season 4 schedule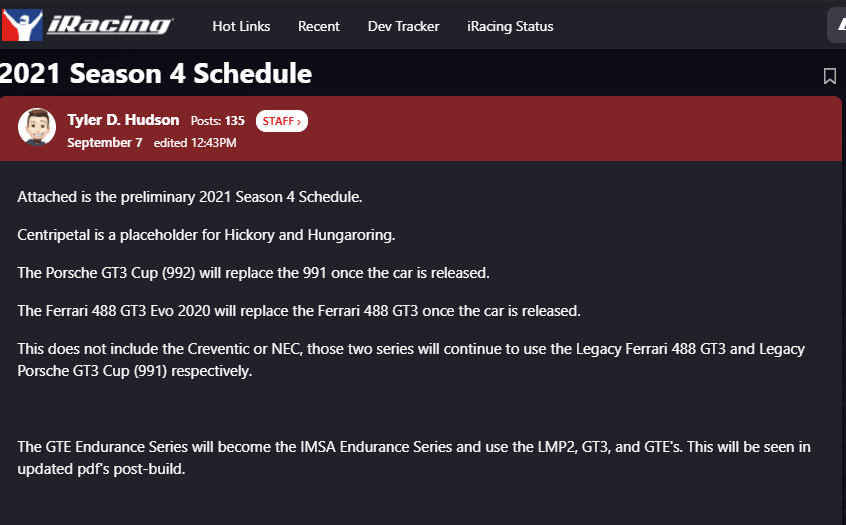 https://forums.iracing.com/discussion/7505/2021-season-4-schedule
---
---
Ferrari 488 GT3 EVO 2020
iRacing posted an introduction to the all new the Ferrari 488 GT3 Evo
https://www.youtube.com/watch?v=cpsgScDUjrc
---
---
NEW CONTENT // Hungaroring
The next introduction video for new content shows off the Hungaroring Grand Prix track
https://www.youtube.com/watch?v=Lt-6iOL9_Xk
---
---
Deceiving Practice – Setup Shops
https://www.facebook.com/106907984441355/posts/359254505873367/?d=n
---
---
Week 13 Tour Mods Saturday
Scott Ross will be hosting a fun, Tour Mod 100 lap race at Dover on Saturday with fixed setups and no damage with a incident limit.
Scott Ross
8:28 PM (1 hour ago)
to iracerslounge
Hey guys could you mention this. It was a big help last week 13.
So the last couple of week 13s I hosted a fun no pressure Tour Mods on road course races. This time I wanted to switch it up to a 100 lap race at Dover with Tour Mods on the Saturday of Week 13. Fixed setup no damage but there will be an incident limit. Tire Changes will also be available. There will be iracing controlled cautions.
Date: Sept 11th 2021
Practice 8:30p et
Qual 9:00p
Race 9:10p
Looking forward to you seeing you there.
Here is a link to the Forum
Week 13 Dover Race 9/11 @9:00p ET — iRacing Forums
Scott
---
---
2021 Bathurst 1000
Just a reminder the Bathurst 1000 is coming up this September 17th-19th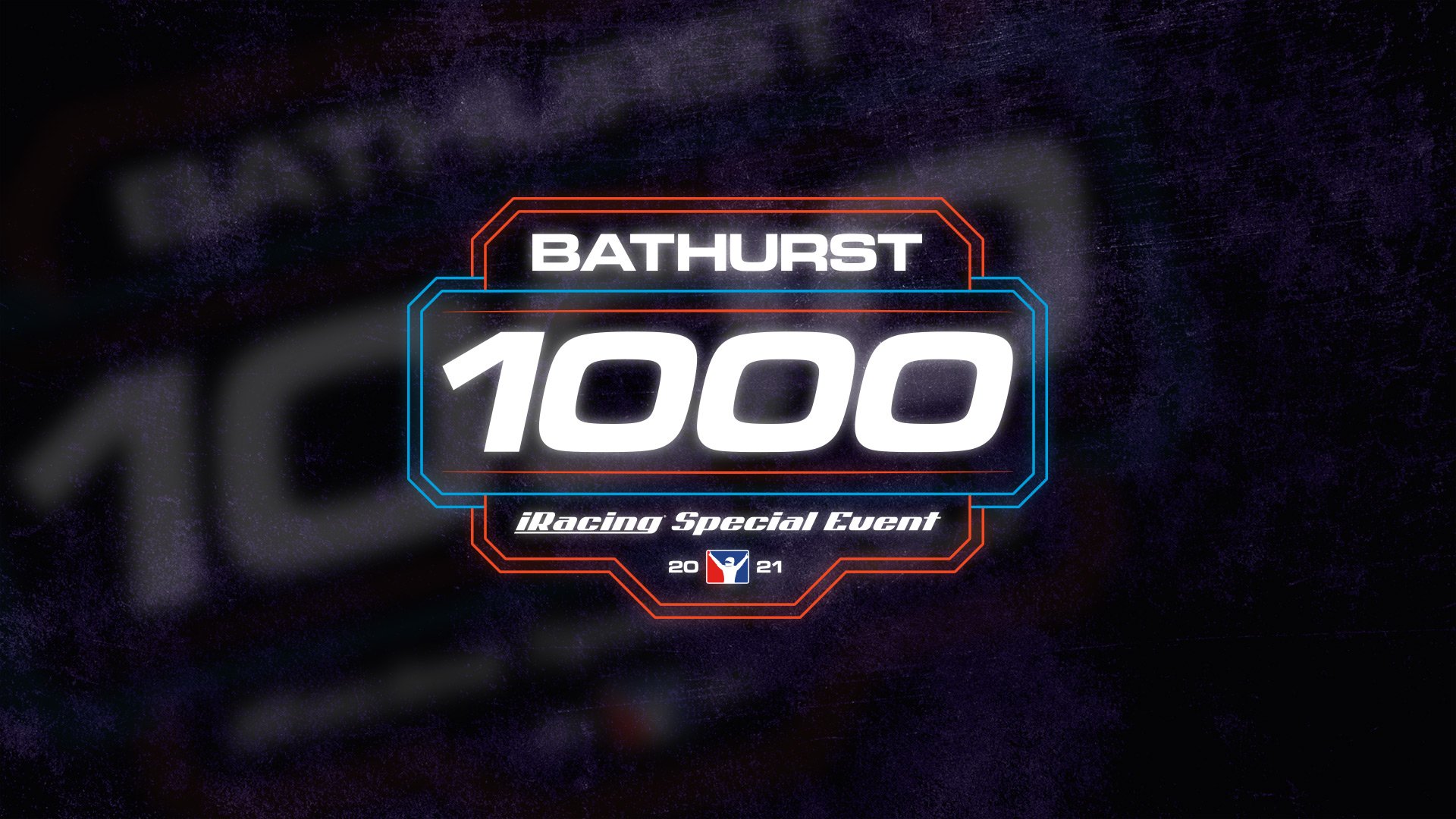 https://forums.iracing.com/discussion/comment/53920
---
---
Intimidator Challenge, Sprint Cars @ Talladega – September 24th
Noah Carmichael2 Posts:
On September 24th my friend and I will be hosting the inaugural Intimdator Challenge. This event will be a week-long process starting with 4 practice sessions taking place between September 18th-21st, we will then have our It's a Robin Miller Pole Night on the 22nd where we will find out which 24 drivers (33 if we receive 60+ entries) will move onto the main event. The pole-sitter will also receive a $50 prize courtesy of Ambitious Cloud.
The race will take place on September 24th at 8:00 pm. The race will be 76 laps and will be broadcasted live on PitStopTV!
The only cost to enter the event is a donation to the gofundme set up to support Marshall and Shabral Pruett as Shabral continues her ongoing battle with cancer.
Anyone interested in joining us for the event can register by following this link https://docs.google.com/forms/d/e/1FAIpQLSd1FvNfytr0T8Fub7iK9r2zg2RIFQsfnmOboQCzpytKfqB9mw/viewform. All the links you will need including the link to the gofundme, discord, and event guide will all be in there.
And if you need more info you can follow me on Twitter (https://twitter.com/MightyMack03/status/1432889613639720961) and keep up with any ongoing updates. We hope to see you all there!
---
---
Operation Motorsport Benefit 4 Hours of the Glen
A reminder that Operation Motorsport Benefit 4 Hours of The Glen will be held on September 12th with the mission to engage, through motorsport, ill, injured, or wounded service members and disabled Veterans, affected by military service, leading to aiding in their recovery and rehabilitation. Now, twenty years after 9/11/01, we aim to recognize and remember the first responders who laid their lives on the line, and the service members who pushed forward thereafter, and over history.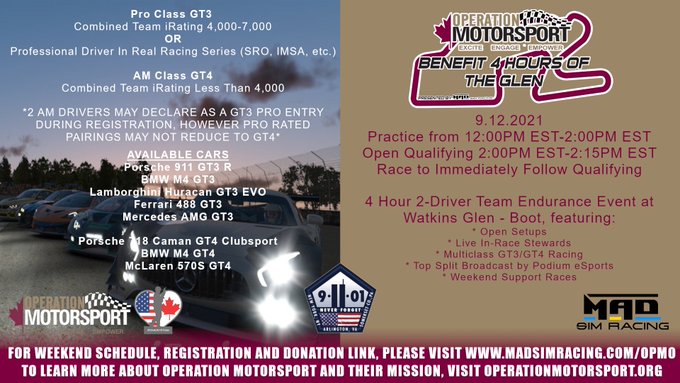 https://forums.iracing.com/discussion/6068/operation-motorsport-benefit-4-hours-of-the-glen
---
---
8 Hour IMSA Race at Daytona
Also, don't forget that this September 18th there is an 8 hour IMSA Endurance Race at Daytona to benefit a local autism organization with practice starting at 1:00pm CST
https://forums.iracing.com/discussion/5924/8-hour-imsa-race-at-daytona-for-autism
---
---
---
Podcast Housekeeping
Aftermath Podcast – Get it!
New Website – Leave Comments https://www.iracerslounge.com/
---
We are in the regular rotation… (Mike)
https://performancemotorsportsnetwork.com/
"OK . LETS TALK FANTASY…."
Fantasy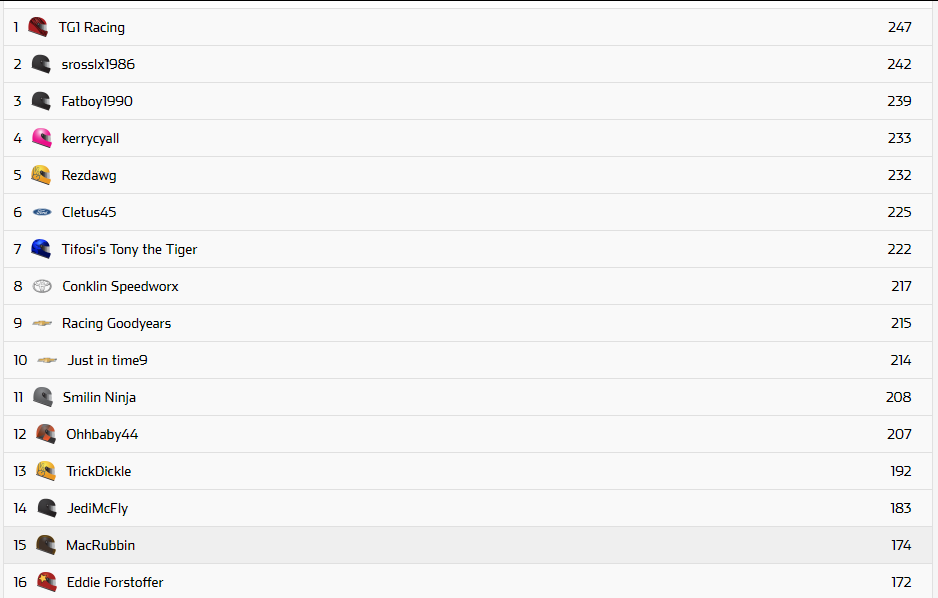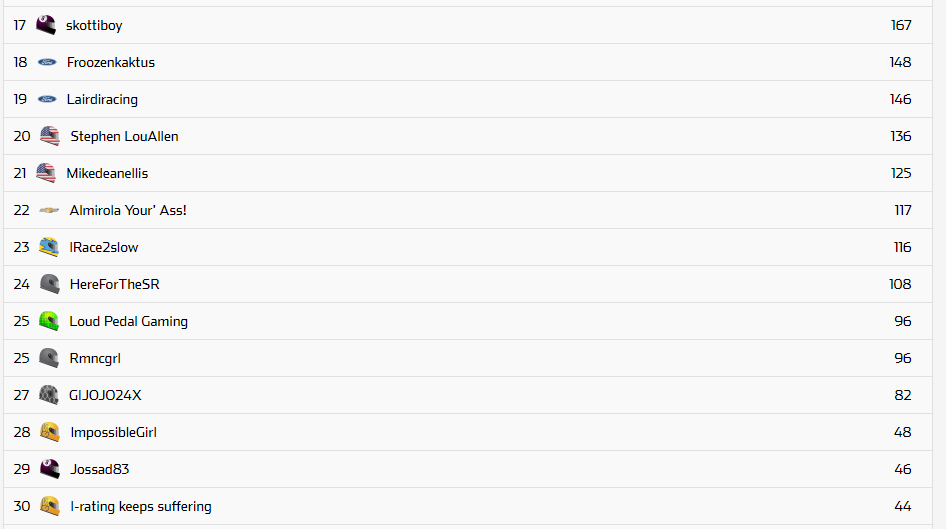 ---
---
---
Hardware/Software
---
EG-R GTR Aluminum Rig
Our flagship rig with the integrated triple screen assembly, ready to mount three 32″ flat or curved screens. It comes with a swivel arm keyboard tray and mouse platform, as well as a gear shifter/handbrake mount. This particular rig was setup with a uniquely designed Fanatec Podium DD1 wheel base mount assembly. We can supply you with a generic reclinable racing seat, or a proper Sparco racing bucket seat of your choice. This rig provides you with a solidly constructed base to setup your own dream racing setup.https://www.instagram.com/p/CSplCPitfh0/embed/captioned/?cr=1&v=13&wp=453&rd=http%3A%2F%2Fwww.iracerslounge.com&rp=%2F%3Fp%3D2244%26preview%3Dtrue#%7B%22ci%22%3A2%2C%22os%22%3A549.1999999992549%7D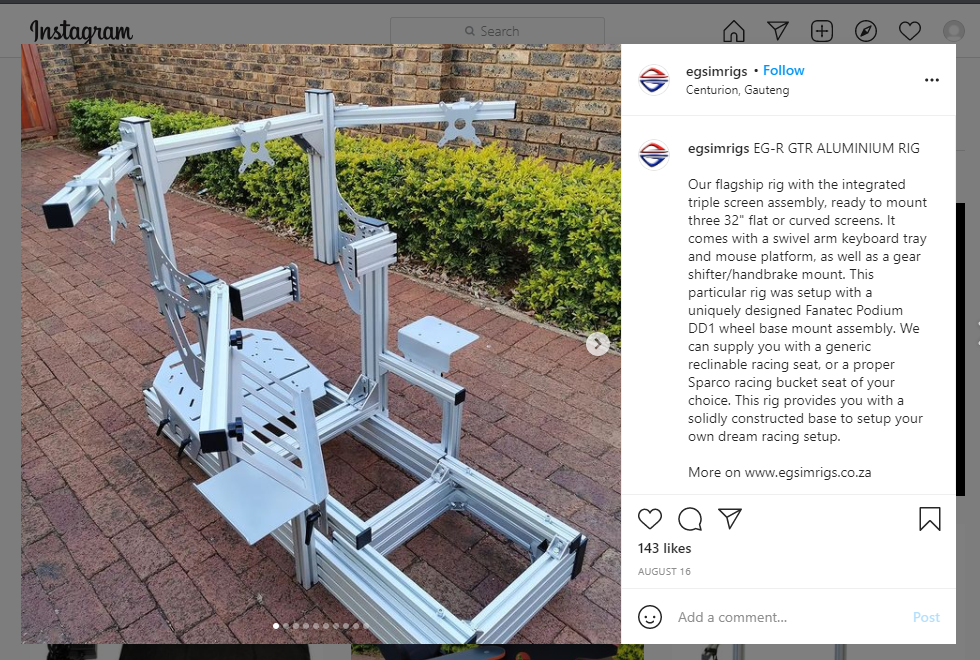 https://www.instagram.com/p/CSplCPitfh0/embed/captioned/?cr=1&v=13&wp=471&rd=http%3A%2F%2Fwww.iracerslounge.com&rp=%2Fepisode-0293%2F#%7B%22ci%22%3A5%2C%22os%22%3A3622.5%7D
---
---
NVIDIA GeForce RTX 40 Series
NVIDIA GeForce RTX 40 series mass production to start in the middle of 2022. According to new reports, NVIDIA's Hopper architecture could tape out at the start of 2022, or late 2021 at an early estimate. Meanwhile, mass production of GeForce RTX 40 series GPUs is expected to start in the middle of next year, so an autumn or winter 2022 release could be on the cards for NVIDIA's next-generation graphics cards.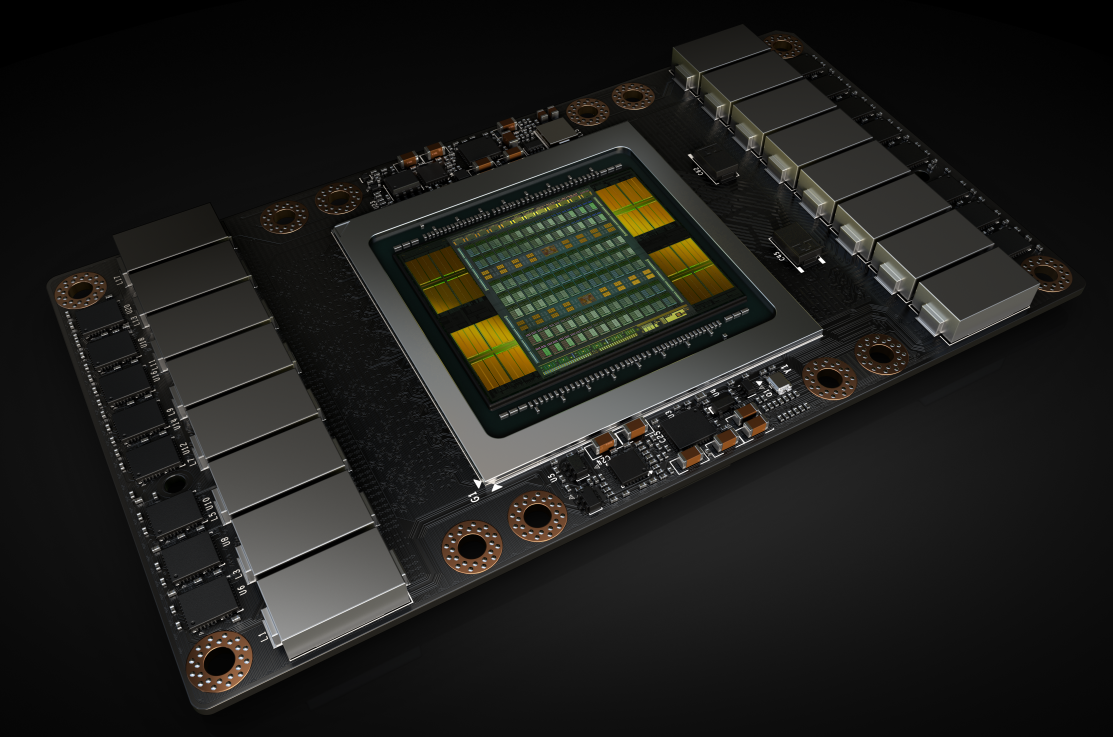 https://www.notebookcheck.net/NVIDIA-GeForce-RTX-40-series-mass-production-to-start-in-the-middle-of-2022.555634.0.html
---
---
All New RSeat P1 Sim Chassis
RSeat reveals it's new P1 Sim Chassis in a variety of colors with your choice with, or without Sparco Seat for $1,200. It works a variety of all of the popular hardware and offers accessories for keyboards, mousepads, shifters and more. A full review can be found on The Simpit YouTube channel.https://www.youtube.com/embed/GZknJ5p7D0s?feature=oembed
---
---
Daks Print Shop Etsy Store
Daks Print Shop on the Etsy Store has a variety of 3D printed sim related products including things like sim inspired lights, dust covers for quick releases, mounting brackets for phones and tablets and much more.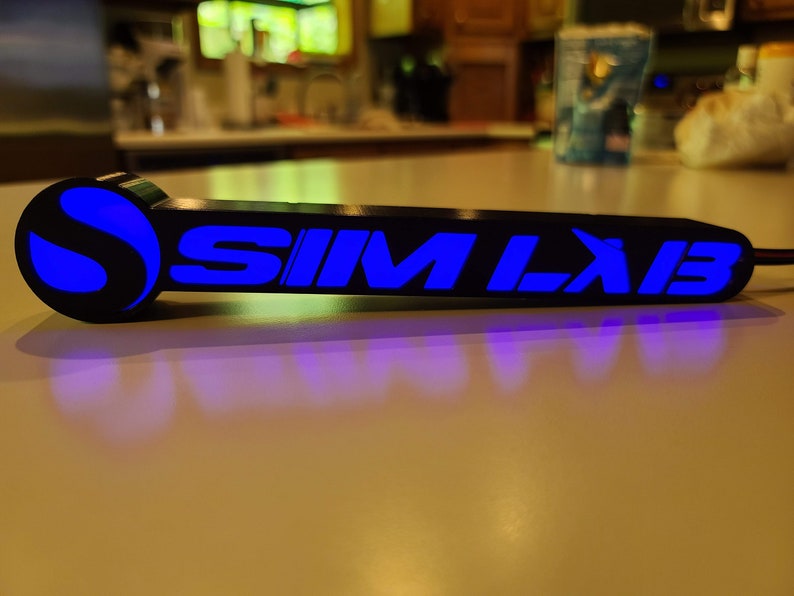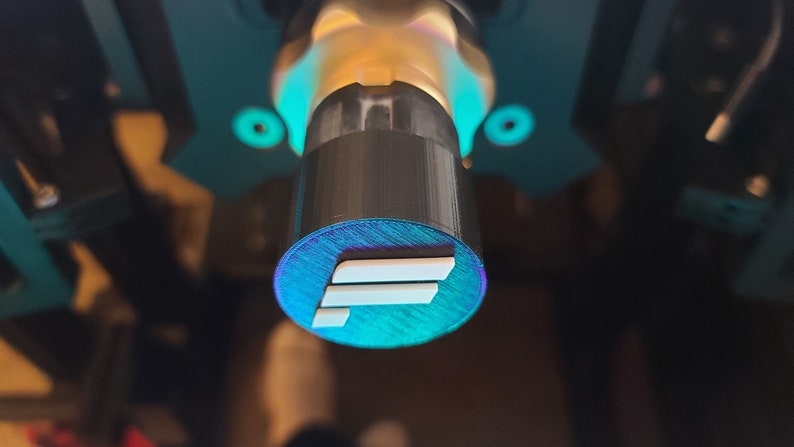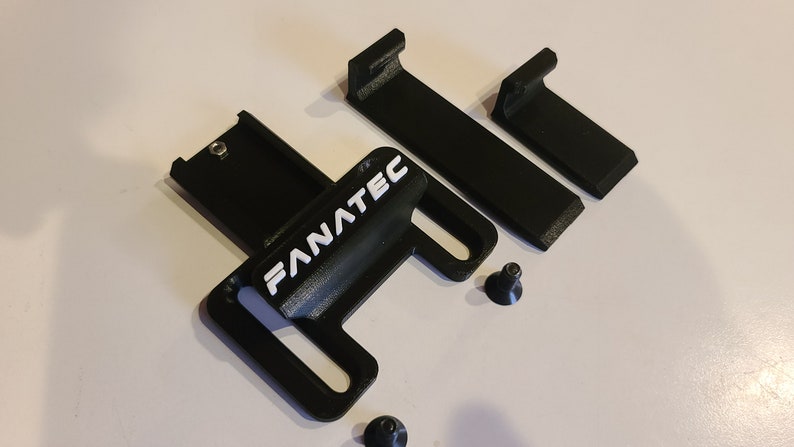 https://www.etsy.com/shop/DaksPrintShop
---
---
MPI SimMax Chassis
Max Papis Industries' new SimMax Chassis is the company's first rig offered in their growing simulation product lineup. The MPI SimMax Chassis comes complete with everything you need to assemble and drive. Simply use the supplied pieces, nuts, and bolts and attach your desired technology which is designed to work with Logitech, Thrustmaster and Fanatec hardware. It comes in three configurable options with a price range of $799.00 – $999.00.https://maxpapisinc.com/product/mpi-sim-c1/embed/#?secret=aUYlgVHi39
---
---
Company Review
RS Button Boxes has a large variety of size, colors and designs of button boxes with multiple style switches.
https://www.rsbuttonboxes.com/
---
---
iRacingReplayCapture
Yvon Cognard posted in the forums that he created an open source command line application allowing the capture of multiple camera angles from a replay where you can record the whole replay or configure specific ranges. It controls OBS and creates a single clip by camera angle, making the video editing synchronization easy. Writing scripts, you can also control the camera live, as it plays, and avoid editing.
You'll find the application and more details here:
https://github.com/yvon/iracing-replay-capture
https://forums.iracing.com/discussion/5919/iracingreplaycapture-an-application-to-record-replays-from-multiple-camera-angles
---
---
Csl dd review
https://youtube.com/watch?v=a12_ztNJ87c%3Ffeature%3Doembed
---
---
What Pedal Flex?
https://twitter.com/nextlvlracing/status/1433595970839883778?s=11
---
---
---
---
Results
NASCAR iRacing Series
Fri open: Darlington
Ellis – p2 – Led some laps and just had nothing for the winner – on the longer run he would gap me for sure – he would have a 10 second lead and I would short pit and wipe it out but eventually he would get by me and drive on – great run to back up my win
Greg – PWrecked from lead with 100 to go
Hall – P12 top split. Should have been top 10, but self made mistakes threw it away including missing the pits on green flag stop. Insane long run speed.
Rochette P7 had speed stayed in top 10 through the first green flag stop when cautio. Came out just as i was leaving box putting me a lap down, moss the lucky dog for the next caution decided to take a wave around which did not work in my favor as i somehow ended 3 laps down for what was probably the longest green flag run i ever had in a nis
Sunday Open

Rochette- P3 definitely had a great car again but lapped cars that wanna race ya and also not understanding what a wave around is kept me behind em
Hall – p wrecked out by a clue less lap car
Wed Open:

Hall –p13 tough top split, green flag running except early caution, climbed from p22 start
Ellis – p.17 – was loose on the 1st caution and took a guy out. I moved forward and ran top ten pretty much as high as 5th. About 35 to go a guy on the inside came up into me and 5 minutes damage.
Kyle P – P4 Started P9 and hung out in the top for most of the race. About halfway through I slid through turn's 3 & 4 on a restart brought out the caution. Fell back to P-19 and worked my way up to a P4 finish. With Stephen L getting a P3 in the same split.

Thurs Open

Ellis – p.4 – Ran back half of top ten basically. At one point I spun off but saved it and worked back up – I was on outside once and they checked the guy behind me hit me, knocked me down into inside car, which wreck him. Turns out to be the same guy i wrecked on Wednesday. Later he came out many laps down and waited until I came around then ran hard side be side with me pushing me up in the corners… I eventually let off to get away from him.
Rochette P13 caught in late wreck blah
---
---
League / Hosted Races
FastTrack Sim Racing League –
David – p8 wrecked early, heavily damaged. Car got the and bounced into me as I was passing
Greg pwrecked out I went to enter the corner and he slowed way up and I got locked to him
Mike – pblown up – was p7 before the caution and caught a lap down – took the wayaround and it put me back in the crap – where someone 3 cars ahead decided to let off the gas just after getting to 4th gear for about 2 seconds which stacked us all up and i got heavy front end damage and blew up shortly after.
Tony- Pwrecked out
Stephen – p3
---
---
Final Thoughts
---
---
---
Words Spoken in Closing Audio Clip -""Thank you for listening to the iRacers Lounge podcast make sure to go subscribe to us on iTunes, SoundCloud, or Google Play, Facebook & Twitter, See You On The Track ."
TITLE IDEAS
Reverse 180
.
.
Description
On the show this week, we will be unpacking all of the new content from the season 4 build including new tracks, new cars and all of the other updates including the addition of adding AI cars to hosted races. We'll add in some hardware in the mix and get some clues as to what's coming up in next years Nascar/NIS schedule.
iRacers Lounge Podcast is available on iTunes and Apple's Podcasts app, Stitcher, TuneIn, Google Play Music, Spotify, Soundcloud, Podbean, Spreaker, Podbay, PodFanatic, Overcast, Amazon, and other podcast players.
Sponsors:
www.grid-finder.com
Hosts:
Mike Ellis – twitter.com/MikeDeanEllis
Tony Groves – www.twitch.tv/SirGroves
Chris Scales – twitter.com/JediMcfly
David Hall – www.twitch.tv/mixmage
Greg Hecktus – twitter.com/froozenkaktus – www.twitch.tv/froozenkaktus
Tony Rochette – twitter.com/TonyRochette
Adam Josselyn- twitter.com/Jossad83
Brian Maccubbin – www.twitch.tv/MacRubbinsRacin
Tom Dreiling –
Kyle Pendygraft – twitter.com/LoudPedalGaming
Links:
Old Show Notes – bit.ly/2CFeArM
Facebook – www.facebook.com/iRacersLounge/
Twitter – twitter.com/iracerslounge
Instagram – instagram.com/iracersloungepodcast/
Web (New Show Notes) – iracerslounge.com/