3/3/2022 – Torpedoes Away – Episode 0320
iRacers Lounge Podcast – Conversation Topics
Brought to you by:

Opening Audio Clip -"Your listening to the iRacers Lounge Podcast where we discuss everything iRacing, in a casual setting, enjoy."`
READ THIS AT THE TOP OF EACH SHOW!!!
Welcome to the iRacer's Lounge, I am your host "XXX". iRacer's Lounge is a podcast for the iRacer, where we talk all things iRacing in a casual setting.
Joining me are the usual characters, ———— 
---
---
Show Introduction
On today's show we'll recap a wild Coke Series Race at Las Vegas with the voice of eNascar, Evan Possoco. We'll take a tour of the Coanda SimSport Facility, Start contemplating what might be coming in the Season 2 build and follow the next steps in purchasing my (Mike) formula wheel.
And remember you can follow along with us on your PC or mobile device in real time as you listen to the show and see for yourself all of the great topics and products we'll discuss by visiting iracerslounge.com and selecting show notes. Hope to see you there..
---
---
TITLE SPONSOR READ:
Did you know changing to a new set of pedals can have an instant impact on your driving?
Changing to pedals that allow you to build your muscle memory and be consistent lap after lap give you an advantage over the rest on track.
With Sim Coaches P1 Pro Pedals, you can completely adjust them to match your driving style.
Their new software, Visor, allows you to adjust the pedals electronically for even more adjustability.
Take control of your driving with these hyper-realistic pedals!
For a limited time, Sim Coaches is giving you guys 10% off a new set of pedals. Head over to simcoaches.com and use discount code IRACERSLOUNGE at checkout to save!
Do it now!
https://simcoaches.com/?fbclid=IwAR1pJASM3C_nV3wFACEHJrHitf8TOQWro4yp-Etaio1zU8Enbojap2Xff5w
---
---
Topics
---
---
Coke Race – Las Vegas
Great long form interview with Femi pre-race
https://www.youtube.com/watch?v=C0NMHk-NagA
Green flag but TROUBLE LAP 2!
Cody Byus and Vicente Salas get together, multiple cars involved in Turn 1! @Nick_Shelton402, @KadenWHoneycutt and others involved
Crazy after the restart as they are all over the 3 lines side by side coming and going… 15 cars within .9 tenths of a second
Caution 2 at Lap 14 – Donovan Straus was hung out on the bottom while the top line was moving he arched it up trying to get a good entry but touched the outside car dylan ault, clipped his left rear and it was on… – Brian Mercurio and Taylor Hurst with big damage too. After DonovanStrauss got sent into the infield, tried to lock it down, but slid back into traffic. Murcurio, @znovak15, Retzlaf, and others collected in that wreck.
https://twitter.com/justinmelillo/status/1498845933991256066
Up front, @MikeConti5 has control, but @RyanLuza is in pursuit. 30 laps complete. 70 to go at Vegas.
A third caution on the speedway – Garrett Lowe got loose, collected Matt Bussa. Just been a bad day for MODE.
https://twitter.com/iRacing/status/1498852229469683713
RESTART LAP 50: Derik Bourdeau and @MikeConti5 lead the field into Turn 1. Luza third, conti ottinger
LAP 53: NEW LEADER, @MikeConti5 as @bobbyzalenski gets loose! He saves it!
Caution #4! Derek Justis gets loose off the wall and gets his teammate Malik Ray!. Briar LaPradd and Kyle Peddle also involved. 46 to go.
RESTART 41 to go: @MikeConti5 and Derik Bourdeau lead the field into Turn 1.
TROUBLE! @MitchelldeJong1 just went head-on into the outside wall! CAUTION. 38 to go. He was a bit slow after a bad exit of Turn 4 and he and Corey Vincent came together..
Before the fifth caution, @MikeConti5 had taken back control of the lead with @NickOttinger just behind – they'll line up on the front row for the restart with 33 laps to go.
Sixth caution! The defending champion Keegan Leahy goes around! Dylan Ault and Zack Novak also involved! When they wreck, they wreck big! A lot of fast guys torn up in that.
https://twitter.com/RFKracing/status/1498857617631891461
RESTART 18 to go:
@MikeConti5 and @NickOttinger lead the field into Turn 1.
, luza in 3rd, bowlin kirwin manes vincent guest
https://twitter.com/iRacing/status/1498860445813329924
Under 10 laps to go. Anyone got anything for @MikeConti5? But the real battle is for 2nd, Luza and ottinger side my side digging hard…. This stacks them up behind them but conti has a nice breakaway
CHECKERED FLAG! @MikeConti5 wins at the virtual LVMotorSpeedway!
https://twitter.com/iracing/status/1498863689465798656?s=11
https://www.enascar.com/coca-cola-iracing-series/
---
---
Coanda Simsport Tour
Traxion posted an article taking you inside the former warehouse turned Esports Hub for Coanda Simsport. The team evolved the new location last month, just before the running of the 24 Hours of Le Mans Virtual.
https://traxion.gg/inside-coanda-simsports-esports-hub/
---
---
Keeping the TK Tradition
Tony Kanaan Tweeted a video of a great start to his Porsche race, keeping up with the Tony Kanaan tradition.
https://twitter.com/tonykanaan/status/1497318116421951491?s=11
https://twitter.com/tonykanaan/status/1499021711815196673?s=11
---
---
Real Life vs Sim Life
In a Tweet at iRacing.com they posted that Seeing all the drivers struggle with this car makes me feel MUCH better about how I've been driving in the sim. Reinforcing the difficulty of handling the next gen car.
https://twitter.com/iracing/status/1498054143390490633?s=11
https://forums.iracing.com/discussion/18497/cup-racing-is-fun-again#latest
---
---
2022 Season 2 Build Thread – Content List
Kyle A Noel posted in the forums what we already know to be coming on the next build, what's been implied, and what's a maybe. He also list what's been confirmed for future bids.
CONFIRMED:
1987 NASCAR Legends Buick –
iRacing Grand Prix Tour –
MOAR Endurance Series –
Multiple Tire Compounds Rule for Grand Prix Open & Tour –
Multiple Tire Compounds Rule for Indycar Open & iRacing Series –
IMPLIED:
Federated Auto Parts Raceway at I-55 –
A new GT vehicle for road
Mercedes AMG Evo?
Audi R8 EVO?
MAYBE:
Atlanta Motor Speedway rebuild – (due to their placement on 2022 Coca Cola Series in mid-March)
RTP confirmed using the old Atlanta scan in mid-March, so maybe not the case.
August 2021 announcements:
Indianapolis Speedway (Oval/Road/Dirt) – announced by IMS president back in August
Sandown Motor Speedway – – scans shown in August 2021
Winton Raceway –
October 2021 announcement:
Brazilian Stock Car Pro Series –
Spilling of Beans:
Formula 4 leak from last build –
Second street stock for pavement and dirt –
Mini stock 4 cylinder oval car for pavement and dirt –
Teasers:
Rain –
3D grass –
CONFIRMED FOR FUTURE BUILDS:
Lucas Oil Speedway –
Port Royal Speedway –
Kern County Raceway Park –
Pro 4 Championship Series –
SCCA Runoffs –
LM Stock update or Pro Late Model –
2022 NASCAR Truck Series new bodies –
Mercedes W13 –
UNCONFIRMED RUMORS:
Lincoln Speedway (PA) – a dirt oval forum commenter listed 4 tracks the van was seen at (with 3 of them later confirmed)
https://twitter.com/greghi11/status/1499221784872337410?s=11
---
---
RTP Drama
Ashton Crowder's team of drivers have decided to disassociate from THEDrillSpill which he owns amid a Tweet that the drivers considered to be disrespectful and unprofessional
https://twitter.com/KennyBrady54/status/1498894358812274693
---
---
Top Highlights from Daytona Week
iRacing posted a video of highlights exclusively dedicated to the Daytona Week.
https://www.youtube.com/watch?v=9tumMgtXfWA
---
---
2022 Sebring 12 Hour presented by Heusinkveld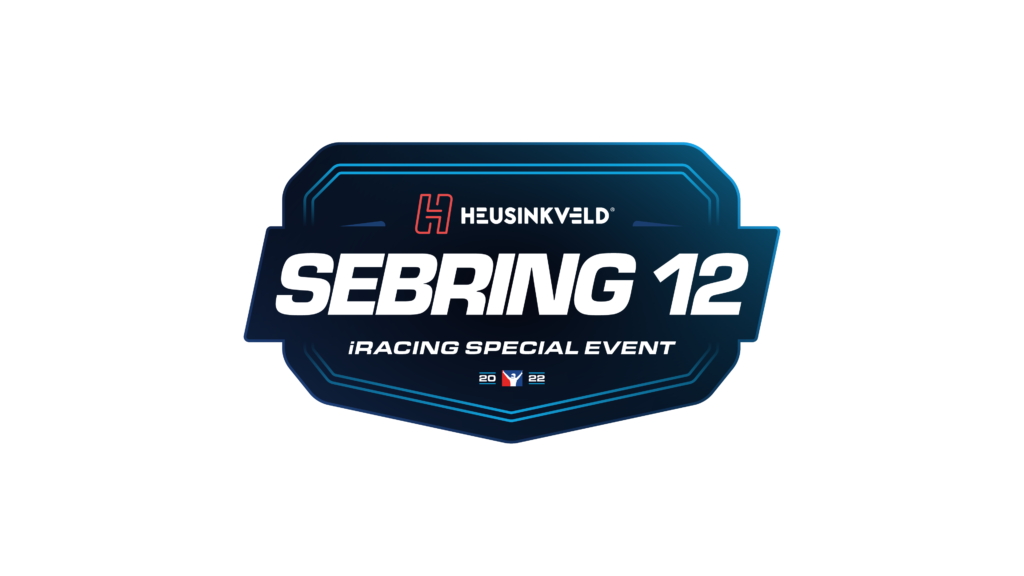 Date: March 25-27
Timeslot #1 – Friday 22:00 GMT
Timeslot #2 – Saturday 7:00 GMT
Timeslot #3 – Saturday 12:00 GMT
Timeslot #4 – Saturday 16:00 GMT
https://forums.iracing.com/discussion/18653/2022-sebring-12-hour-presented-by-heusinkveld
---
---
Podcast Housekeeping
Aftermath Podcast – Get it!
New Website – Leave Comments https://www.iracerslounge.com/
---
We are in the regular rotation… (Mike)
https://performancemotorsportsnetwork.com/
Fantasy Vegas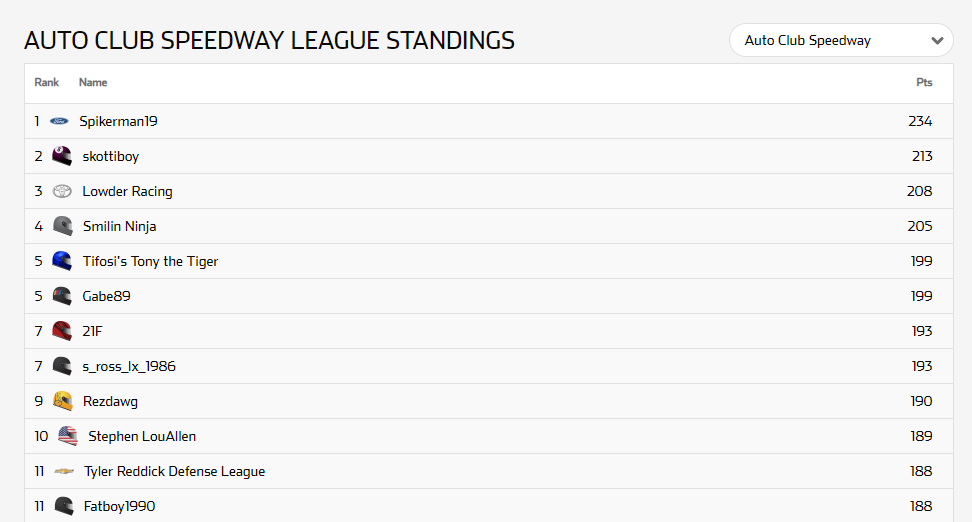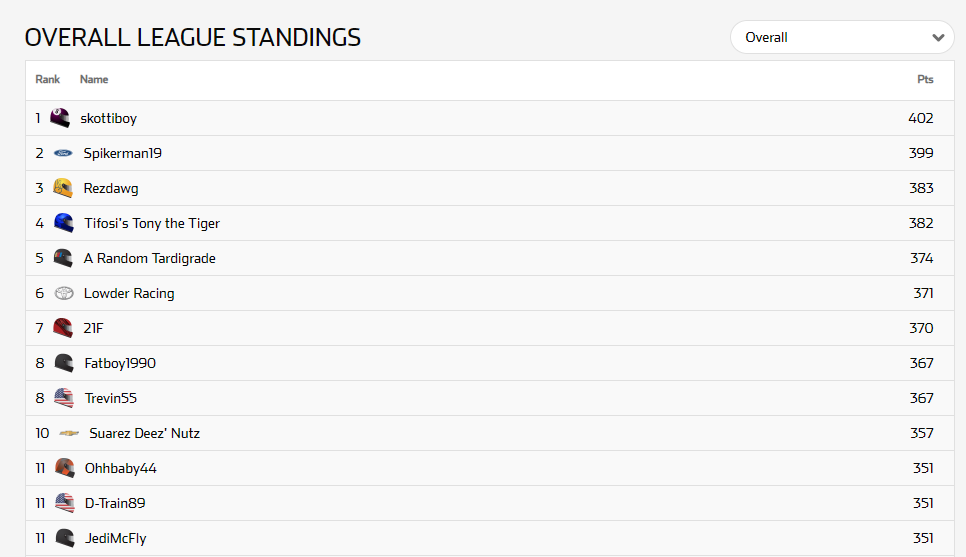 ---
---
Hardware/Software
---
Podium Button Module Rally
Fanatec has revealed more information for their new Podium Button Module Rally including that it will have the following features
nine buttons with RGB backlighting
two D-pads
three 12-way multi-position switches
a 1" OLED display
https://mailchi.mp/fanatec/this-is-the-podium-button-module-rally-2089744?e=511738d246
https://www.racedepartment.com/news/fanatec-reveals-more-about-upcoming-rally-button-module.464/
---
---
Company Review
"ONE3 Speed makes some of the best button boxes for iRacing."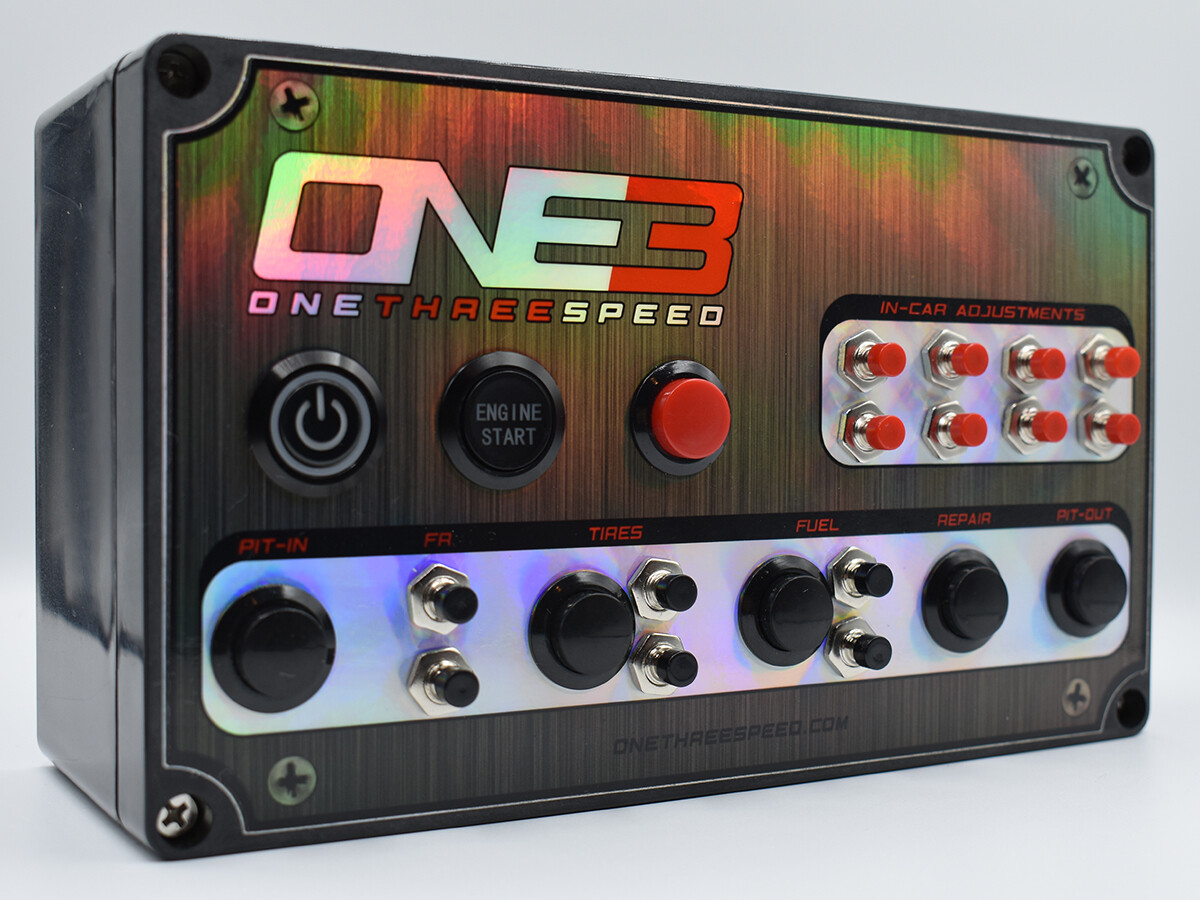 https://www.onethreespeed.com/
---
---
Sim Hound
Sim Hound offers sim racing equipment such as racing shoes, gloves and profile rigs that come in custom painted finishes.
---
---
BDH Shifter
Base Performance Simulators offers their BDH shifter for serious sim racers for 687.5 pounds ( $920 usd)
https://www.facebook.com/100734911869323/posts/381678010441677/?d=n
https://www.baseperformance.net/product-page/bdh-shifter
---
---
From Russia With Love
The Aiologs Projects sim sequential shifter is available at Advanced Sim Racing and sells for $240
https://www.advancedsimracing.com/blogs/news/now-available-aiologs-projects
---
---
Breaking News From Race Dept
British racing car manufacturer, and iconic 60s Formula One champion Jack Brabham, last week announced that they are teaming up with Base Performance Simulators. They are launching limited edition Brabham Motorsport racing themed simulators, celebrating three defining eras in the history of the Brabham name in Formula One.
https://www.racedepartment.com/news/brabham-and-base-performance-simulators-team-up.447/
---
---
Motion Simulation Buys HPP Simulation Pedals IP
Motion Simulation has now established a plan for their pedal supplier by acquiring the intellectual property and production rights relating to HPP Simulation's impressive JBV simulation pedals.
https://www.racedepartment.com/news/motion-simulation-buys-hpp-simulation-pedals-ip.430/
---
---
Elemento S
The VPG Elemento S is an Italian designed formula wheel with a 4.3″ display and sells for 1,150 pounds ($1,540usd)
https://www.youtube.com/watch?v=HsPuwRJWhlE&t=31s
https://vpgsimlab.co.uk/shop/p/elemento-s
---
---
PT Actuator TensionR Belt Tensioning System Review
Barry Rowland at the Sim Racing Garage reviews the PT Actuator TensionR Belt Tensioning System.
https://www.youtube.com/watch?v=1WbCV_2DUCs
---
---
What Makes Cube Controls' F-Pro Different?
On Squirrel's YouTube Page he posted a video review of the Cube Controls F-Pro formula wheel and what surprising new features he found
https://www.youtube.com/watch?v=mg0jg2I3ySk
---
---
Results
NASCAR iRacing Series
Fri open: Cali
Ellis – p7 – Finally stop the bleeding and finished on the lead lap for the first time this year reign very respectable coming up to the field multiple times has higher second we're just a few laps to go I had gotten tight Late in the race
Rochette- P need to relocate to Bell Aire (fresh Prince Theme) Now, this is a story all about how the chubby birb got flipped-turned all around
And I'd like to take a minute
Just sit right there
I'll tell you how I became black flagged Required Repaired
Brian P21- Got 9 minutes required damage on lap 1. Rode it out to a p 21
Hall – P. Torpedoed, plus penalty issue (FIX THIS PLZ)
Stephen-p1
Adam – wrecked out while leading
Sunday Open

Rochette- P2 unlike the hollywood hit Twins with Danny Devito played by David Hall and I as Arnold. Car was fast but not fast enough for the leader. Had a blast with a 3 way for sloppy 2nd in the final 30 laps
Hall – p Torpedoed
Sunday fixed

Mike -pwRecked Out – Couldnt Miss It
Race : Las Vegas
Wed Open:

Hall –p 7. Caught in early wreck, minor damage. Long run slow as result, Loosened the car up on late runs and had a GWC finish went from 13th to 7th
Ellis – p wrecked out – car was a rocket ship always moving forward, as high as p2… got wrecked running 6th where guy in front of me checked for a guy in front of him who was spinning out, i got off gas but it wasnt enough and i plowed in, car destroyed on lap 37

Tyler – P7 solid race car felt great. Gently brushed the wall on the tri oval entering turn 1 and really lost some speed and handling mid race. Happy to see Tom win as I was the last car he lapped before taking the checkered. Great set by the guys.

Tom D – P1. Viva Las Vegas! Car was fast. I was not planning on running, but was able to get out of work early. Used the first ½ of the race to learn the car at Vegas. Was able to take the lead right before green flag stops. Came out of the pits 2nd and was able to run down the leader with about 25 to go. Was able to run my laps and take down my first NexGen and Vegas win at my "Home Track". Closest to Colorado. Happy to take my first NiS win down so early in the season to keep my streak alive for another year. Happy for the team. We are now 3 weeks into the NiS season and we have picked up a win as a team each week. Great job boys

Thurs Open
Ellis – Got wrecked on lap 12 had six minutes optional continued on and ended up P 17
---
---
Official Series
A Open

Hall – P5 in a race with Parker Kligerman, he got wrecked on white flag lap from 3rd
---
---
League / Hosted Races
Leagues/Hosted Races
FastTrack League – cali

David – p11, a little wall damage hurt my long run speed
Bobby – Throughput fell to an unacceptable level
Greg p – 4 – was right on leader on white but hit the wall
Mike – p26 – got tagged by someone and slid the car sideways a ways, could not drive it at all after that, kept getting loose having to stab the brakes to stop it. Never caught a caution to sort it out.
Adam – wrecked out

Hosted –

Ellis – Chris Macguire

Supercars at michigan
Lite Volkswagon bug at figure eight irwindale with the jump – p5 –
87's at Tally
Man Cave After Dark Thursday Night Truck League
Mike – n wilkesboro – fun race ran fairly well back half of top ten…
Saturday – SIM 500 eSports Racing League 87 Car

Mike -p12 – 1 early caution but green after that – pitted at halfway kind of a boring race…
Greg-p13
OBRL Aftermath Truck Series
OBRL CUP Series

Brian P.DQ'd Too many incident points. This car even giving the OBRL guys trouble
Brian P11 Damage-paloza continues. The iRacing open setup was too loose for me in turn 4
Git R Done GT3 Series
Greg – P2
---
---
Final Thoughts
---
---
Words Spoken in Closing Audio Clip -""Thank you for listening to the iRacers Lounge podcast make sure to go subscribe to us on iTunes, SoundCloud, or Google Play, Facebook & Twitter, See You On The Track ."
TITLE
Torpedos Away
Description
On today's show we'll recap a wild Coke Series Race at Las Vegas with the voice of eNascar, Evan Possoco. We'll take a tour of the Coanda SimSport Facility, Start contemplating what might be coming in the Season 2 build and follow the final steps in purchasing Mike's new formula wheel. So sit back, relax and join us on the iRacers Lounge Podcast.
iRacers Lounge Podcast is available on iTunes and Apple's Podcasts app, Stitcher, TuneIn, Google Play Music, Spotify, Soundcloud, Podbean, Spreaker, Podbay, PodFanatic, Overcast, Amazon, and other podcast players.
Sponsors:
Hosts:
Mike Ellis – twitter.com/MikeDeanEllis
David Hall – www.twitch.tv/mixmage
Greg Hecktus – twitter.com/froozenkaktus – www.twitch.tv/froozenkaktus
Brian Maccubbin – www.twitch.tv/MacRubbinsRacin
Kyle Pendygraft – twitter.com/LoudPedalGaming
Tony Groves – www.twitch.tv/SirGroves
Adam Josselyn- twitter.com/Jossad83
Chris Scales – twitter.com/JediMcfly
Tony Rochette – twitter.com/TonyRochette
Tom Dreiling –
Links:
Old Show Notes – bit.ly/2CFeArM
Facebook – www.facebook.com/iRacersLounge/
Twitter – twitter.com/iracerslounge
Instagram – instagram.com/iracersloungepodcast/
Web (New Show Notes) – iracerslounge.com/