4/14/2022 – Woosh Confetti – Episode 0326
iRacers Lounge Podcast – Conversation Topics
Brought to you by:

Opening Audio Clip -"Your listening to the iRacers Lounge Podcast where we discuss everything iRacing, in a casual setting, enjoy."`
READ THIS AT THE TOP OF EACH SHOW!!!
Welcome to the iRacer's Lounge, I am your host "XXX". iRacer's Lounge is a podcast for the iRacer, where we talk all things iRacing in a casual setting.
Joining me are the usual characters, ———— 
---
---
Show Introduction
The eNascar iRacing Coke Series gets dirty for the first time ever at Bristol- Dirt and we'll cover all of the highlights from a wild night of racing with the Voice of eNascar, Evan Possoco. Which Nascar legend is recuperating an injury with iRacing and could the days of grossly overpaying for that new graphics card finally be over?
And remember you can follow along with us on your PC or mobile device in real time as you listen to the show and see for yourself all of the great topics and products we'll discuss by visiting iracerslounge.com and selecting show notes. Hope to see you there..
---
---
TITLE SPONSOR READ:
Want to swap to hydraulic pedals but you're worried about leaks?
We want to take a moment to tell you about Sim Coaches P1 Pro Pedals…
Their proprietary no-leak technology ensures all fluids stay inside where they belong.
They completely re-designed the hydraulic cylinders found on typical pedals and made them spec for sim racing.
Designed, machined and assembled right here in the USA. You can have confidence what you'll get is quality.
Backed by their lifetime warranty, there's no reason not to give them a look.
Head over to Simcoaches.com and use code IRACERSLOUNGE at checkout to save 10% off your total order.
Go do it now!
https://simcoaches.com/?fbclid=IwAR1pJASM3C_nV3wFACEHJrHitf8TOQWro4yp-Etaio1zU8Enbojap2Xff5w
---
---
Topics
---
---
Coke race – Bristol Dirt
Pre Race interview w Beaver drivers and Beaver, T Hudson
Heat Race 1 – odds from q everyone advances…
Green flag: @BowlinGraham and @MitchelldeJong1 lead the field into Turn 1.
LAP 5 Heat 1: Murcurio spins and collects @jmullisracing
No cautions in the heats. @BowlinGraham dominated Heat 1, he'll start from the pole in the feature. @swilson3_
moved his way up from fifth to second in the 25 laps.
mucurio and @jmullisracing had some tough luck.
GREEN FLAG Heat 2: @CVincent34 and @LoganClampitt_ lead the field into Turn 1.
LAP 1: @znovak15, @DDuval42, and @RyanLuza crash.
Corey vincent and garrett manes slid jobbing each other but manes takes the lead w 6 to go
3 to go clampitt gets by vincent, and goes after manes and on the white gets close but manes gets the heat win…
– Manes starts 2nd in the feature. Bad luck for @znovak15, @DDuval42, @RyanLuza, @DerekJustis
https://twitter.com/iRacing/status/1514053627731660809
LAP 3: @KeeganLeahy spins on the frontstretch, no caution.
CAUTION! @vicente_salas14 gets turned! @peddle_flower has no where to go! @DDuval42 and @DerekJustis were also collected in the wreck.
RESTART LAP 10: @BowlinGraham and @GarrettManes lead the field into Turn 1.
CAUTION! It's the big one. @LoganClampitt_ got turned into
@CVincent34 and the track got blocked.
RESTART LAP 15: @BowlinGraham and @GarrettManes lead the field into Turn 1.
CAUTION! Colin Bowden and @bobbyzalenski crash. Lap 16. @MGuest33 and @Parker79p were also involved.
https://twitter.com/riseesports/status/1514058333413642241
RESTART LAP 22: @BowlinGraham and @GarrettManes lead the field into Turn 1.
CAUTION! Bardeua spins into the inside wall. Lap 23.
RESTART LAP 28: @BowlinGraham and @GarrettManes lead the field into Turn 1.
Caution. Lap 36. @GarrettLowe_6, @DonovanStrauss, and @vicente_salas14 spin.
LAP 41: @GarrettManes gets turned by @BowlinGraham! No caution!@Parker79p gets turned! Caution!
CAUTION! Lap 54. @DDuval42, @dylanault42, and others crash..@peddle_flower also involved.
Caution #7 – Tempers are flaring
Caution #8 – Four wide doesn't work out, surprisingly.
RESTART 54 to go: @BowlinGraham lead the field into Turn 1.
49 to go: NEW LEADER, @NickOttinger takes the lead after slight contact with @BowlinGraham shoots the 48 into the wall!
Finally some green flag laps
Leaders are catching lap cars! Wow! 35 to go!
Ottinger bowlin wilson up front – track is rubbered in, slicked off…
With an absolutely fantastic run to the end green, @NickOttinger pulls away and WINS the inaugural eNASCAR Bristol Dirt Race!
https://twitter.com/iRacing/status/1514070298806607879
---
---
VRS at the Australian GP

VRS had a booth set up at the Australian Grand Prix. Race goers were able to drive the VRS rigs as well as real drivers including F2 Champion and F1 reserve driver Oscar Piastri.
https://www.instagram.com/p/CcF_Ru3Pq6W/?igshid=MDJmNzVkMjY=
---
---
Nurburgring 24 Stats
iRacing Reports dropped all of the stats for last weekends Nurburgring 24 Endurance event.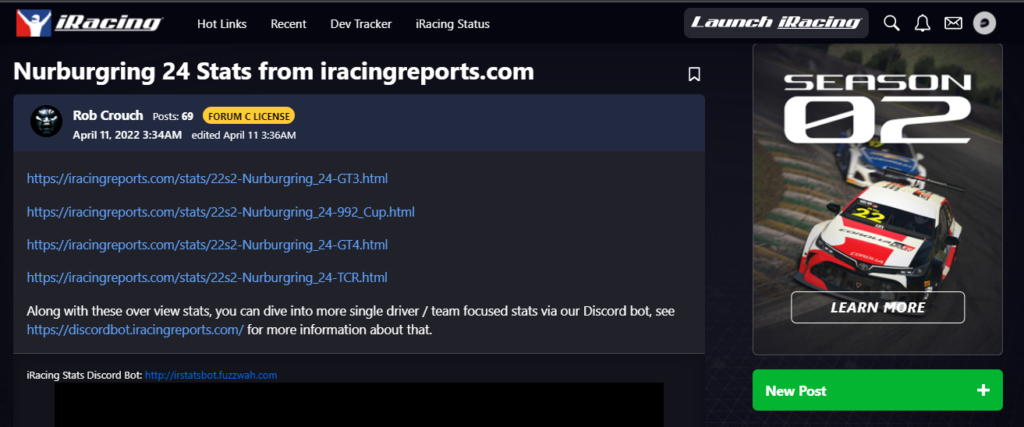 https://iracingreports.com/stats/22s2-Nurburgring_24-GT3.html
https://iracingreports.com/stats/22s2-Nurburgring_24-992_Cup.html
https://iracingreports.com/stats/22s2-Nurburgring_24-GT4.html
https://iracingreports.com/stats/22s2-Nurburgring_24-TCR.html
https://forums.iracing.com/discussion/21346/nurburgring-24-stats-from-iracingreports-com
---
---
Skip Braber Formula iRacing Series
eNASCAR Coca-Cola iRacing Series driver Matt Bussa took the first checkered flag at WeatherTech Raceway Laguna Seca, and three-time series winner Mikkel Gade took the win in the feature, as the Skip Barber Formula iRacing Series kicked off the second half of its 2022 season on Sunday afternoon.
https://www.iracing.com/bussa-gade-split-skip-barber-formula-iracing-series-victories-at-laguna-seca/
---
---
Subscription Give Away
While watching the Coke Series Race at Bristol dirt, Steve Myers Tweeted that any truck or cup driver that tweets a pic of them practicing on iRacing gets 5 free 1-year subscription codes to give away!
https://twitter.com/iRacingMyers/status/1514052518510309379
---
---
New iR-04 Series
Greg West posted in the forums that by popular demand and beginning with Week 5 iRacing will be introducing a second iR-04 series running opposite hours of the current series. The iRacing Formula iR-04 Challenge – Fixed series will follow the same schedule but have fixed setups while also allowing drivers the opportunity to race the car on an hourly basis if they choose to do so. This series, while short due to a mid season release, will still carry 2 drops and will continue as a full 12 week series for Season 3.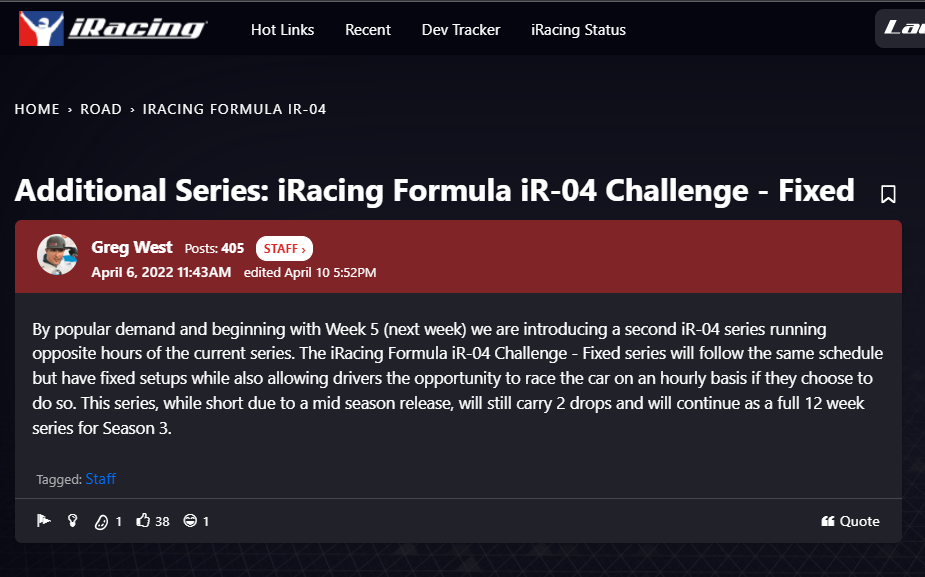 https://forums.iracing.com/discussion/21124/additional-series-iracing-formula-ir-04-challenge-fixed#latest
---
---
Be on an iRacing Broadcast
iRacing staffer Drew Adamson announced in the forums that next Thursday, April 14th, iRacing will be showcasing the brand new Aston Martin GT4, Hyundai TCRs, and the newly bodied NASCAR Trucks. They will be broadcasting the 4:15 PM EST Michelin Pilot Challenge race and the 5:15 PM EST C-Fixed Truck race. Broadcast will be live on our YouTube, Twitch, and Facebook.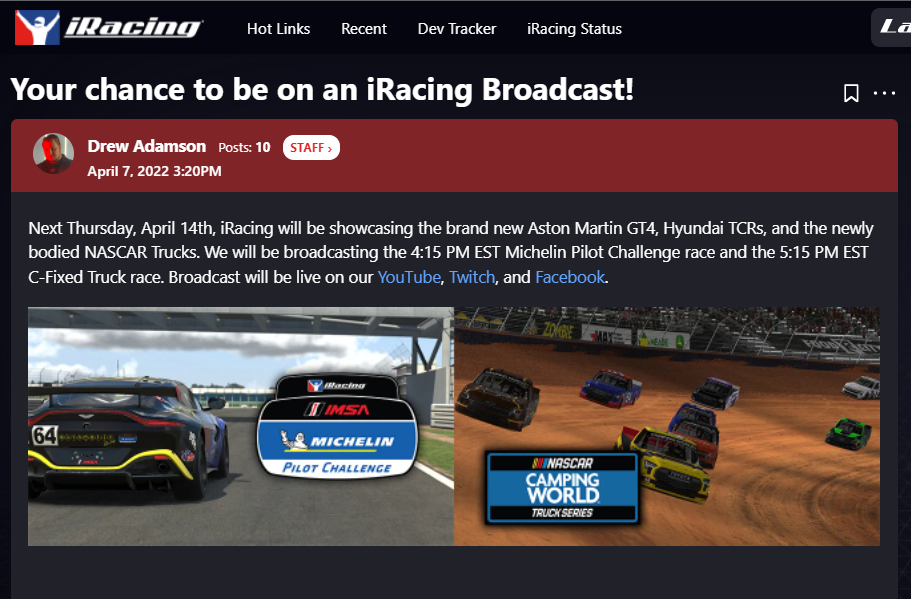 https://forums.iracing.com/discussion/21173/your-chance-to-be-on-an-iracing-broadcast#latest
---
---
Porsche Supercup Series
Dayne Warren scored a breakthrough first career Porsche TAG Heuer Esports Supercup feature win on Saturday at Circuit Gilles Villeneuve, leading all 20 laps of the main event in Saturday's race. Salva Talens finished second and Diogo Pinto was third, continuing the run of consistency that has given him the championship lead for most of the season,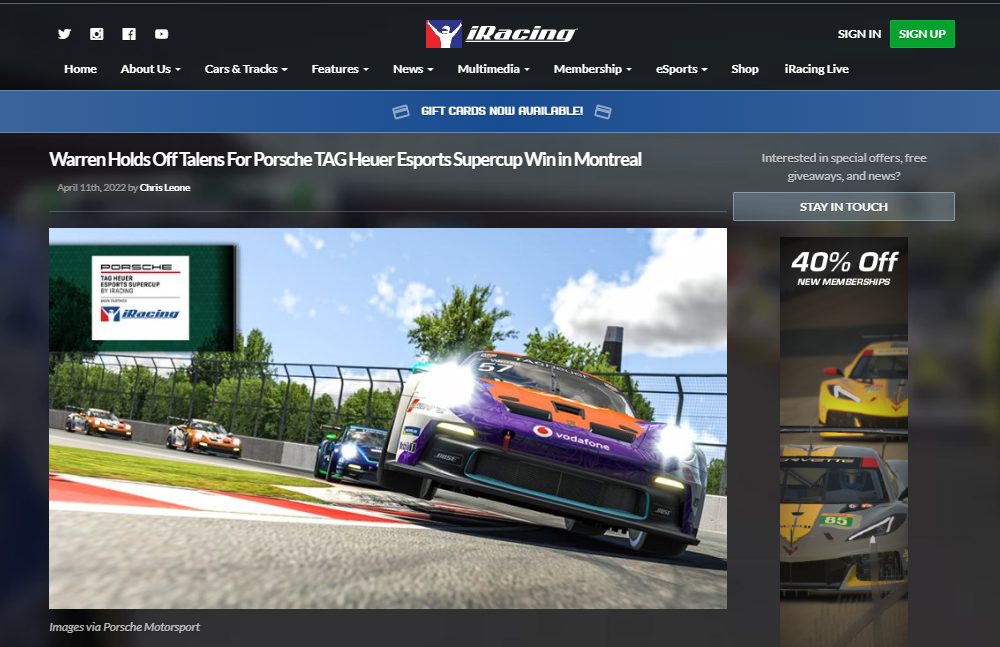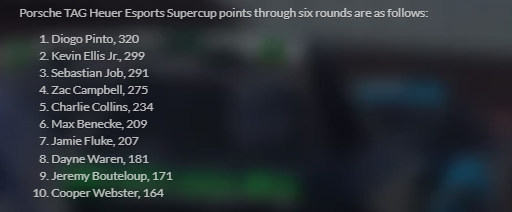 https://www.iracing.com/warren-holds-off-talens-for-porsche-tag-heuer-esports-supercup-win-in-montreal/
---
---
Sprint Challenge Canada Fantastic Finish
The Porsche eSports Sprint Challenge CanadaSprint Challenge Canada saw an absolutely incredible finish between Antoine Lacharite and Phil Bouchard
https://www.instagram.com/tv/CcRAJeCjJsC/?igshid=MDJmNzVkMjY=
---
---
Jimmie Johnson iRacing Recovery
Former Nascar champion and current Indy Car driver Jimmie Johnson underwent surgery Monday night for the fractured right hand he suffered in a practice crash last week for the Acura Grand Prix of Long Beach. He Tweeted a photo of him practicing on iRacing shortly after the surgery with his had in bandages.
https://twitter.com/JimmieJohnson/status/1513879670898544642
---
---
Nurburgring Study Guide
Listener Rowland Wallbank from North Wales lets us know how to use the Crew Chief App to record voice commands you can play back rally style to help learn the track.
Folks,
I enjoy listening to your Podcast (usually whilst doing the dishes!) here in North Wales.
I keep hearing members of your team saying how difficult learning the Nurburgring is.
I thought the same until I discovered that the Crew Chief app has a rally style Pace notes ability.
Basically you map buttons to record, start and stop.
You drive around the course and record yourself saying "slow slow slow" or "right turn ahead, tightens" anything you like.
Your recording is mapped to a distance around the track. So…when you leave the pit you start the replay and when you hit that marker around the track you hear yourself say "slow slow slow" etc. I learnt it in a couple of days doing it this way. It's fantastic. You can adjust the distance to trigger the voice recordings if you want them to come later or earlier.
Cheers,
And please give a shout out to the Lotus 49 and the Huskinveld GT communities.
And Team Trained Monkey Racing…More Monkey than Alien.
Regards,
Rowly (Row as in your boat, not argue with your missus
)
---
---
Falken Tyre Contest
Falken Tyre is now the official sponsor of the GT4 Challenge – Fixed! To celebrate their new sponsorship they are having a special contest where you can win a set of Falken Tyres. Just place the 'Falken Tyre Race' logo in a race in at least 10 official races in 2022 Season 02 and you're automatically entered to win a set of Falken Tyres!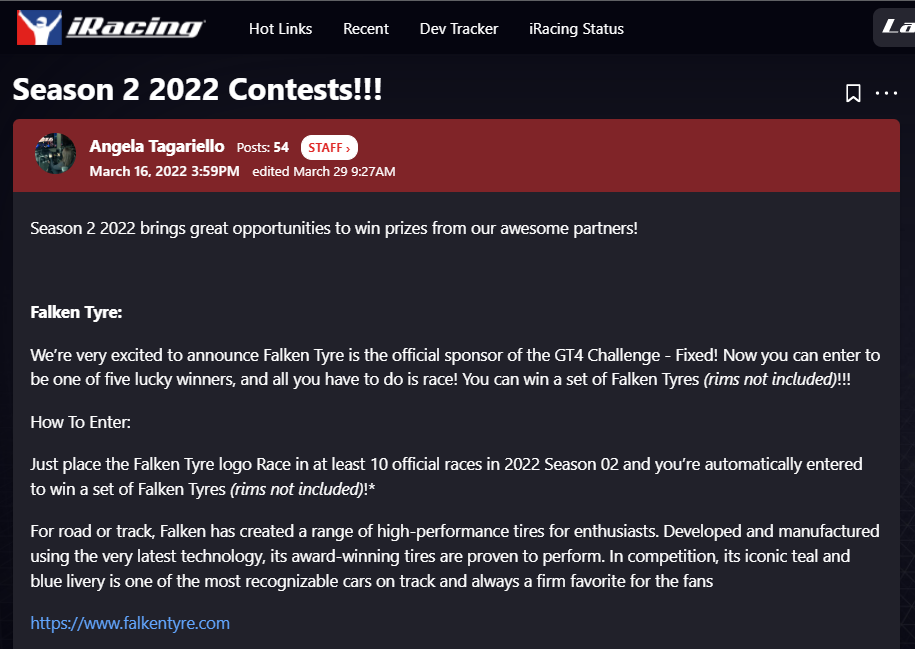 https://forums.iracing.com/discussion/19957/season-2-2022-contests#latest
---
---
Season 3 Schedule Submissions
Tyler Hudson is once again taking 2022 season 3 schedule recommendations from you, the race drivers. Submission forms can be found on the forums.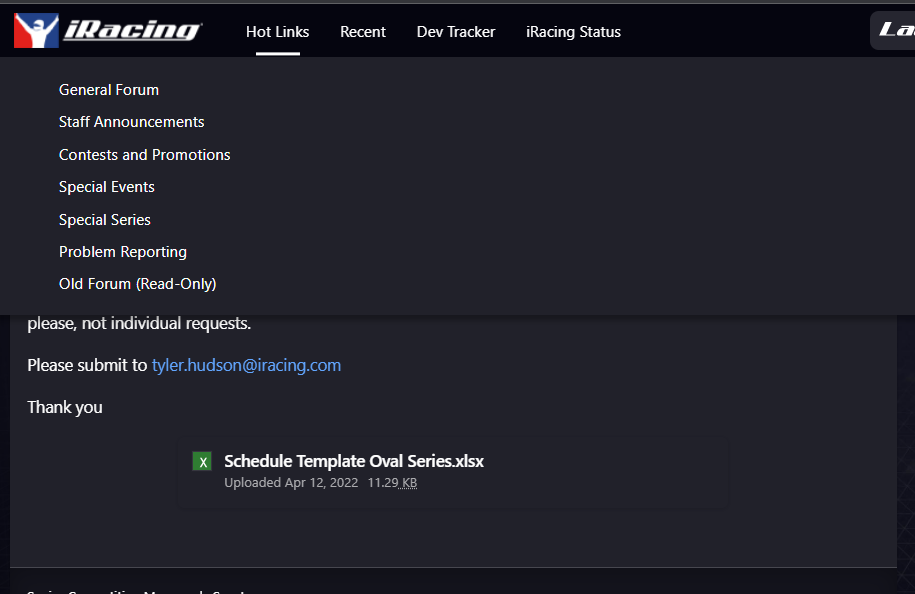 https://forums.iracing.com/discussion/21457/2022-season-3-schedule#latest
https://forums.iracing.com/discussion/21457/2022-season-3-schedule#latest
https://forums.iracing.com/discussion/21442/2022-season-3-schedule#latest
https://forums.iracing.com/discussion/21418/2022-season-3-schedule#latest
https://forums.iracing.com/discussion/21431/2022-season-3-schedule#latest
---
---
Nurburgring Pain
iRacing posted on their Instagram page a video of a Nurburgring 24 massive crash on the first lap
https://www.instagram.com/tv/CcV0PsODajB/?igshid=MDJmNzVkMjY=
---
---
William Byron in iRacing Dirt
Nascar Driver William Byron posed on Twitter that he did a lot of dirt racing on iRacing during the pandemic and is now taking his iRacing sponsored dirt car to The Gap/ Volunteer Speedway in Tennessee.
---
---
Majors 24 at Le Mans
Very happy to announce that the Majors 24 is back! In 2021 we welcomed over 400 teams (1,500 drivers) in EIGHT splits. This year we hope to top 500 teams.
Date | June 4th, 2022
Track | Le Mans
Cars(s) | Porsche 919 LMP1, Audi R18 LMP1, Dallara P217 LMP2, Corvette C8.R, Ferrari 488 GTE, Ford GTE, Porsche 911 RSR, BMW M8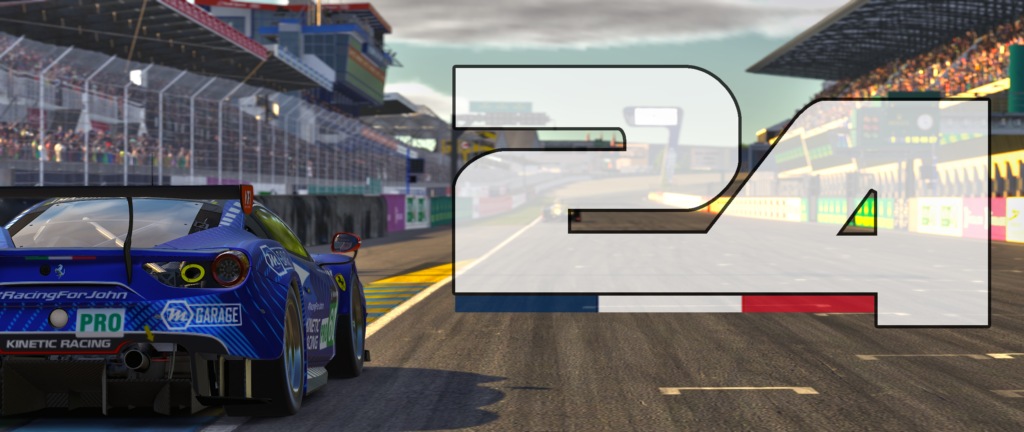 https://forums.iracing.com/discussion/20870/majors-24
---
---
Bristol Doubleheader
Hey guys. I saw where you wanted details on this money race I'm having:
It's going to be a Bristol Doubleheader with Trucks first then nextgen cup cars.
1st place money is guaranteed. Also $100 to a random driver in each field.
Trucks will be irating of 2500 or less at time of signup. Cup is open to all, including pros and will be open setup.
trucks – $15 entry – $500 to winCup – $25 entry – $1000 to win
More than 41 cars, will have heat races to set field.
More info can be found in discord
https://discord.gg/TYvwTZyjGa
---
---
Podcast Housekeeping
Aftermath Podcast – Get it!
New Website – Leave Comments https://www.iracerslounge.com/
---
We are in the regular rotation… (Mike)
https://performancemotorsportsnetwork.com/
Fantasy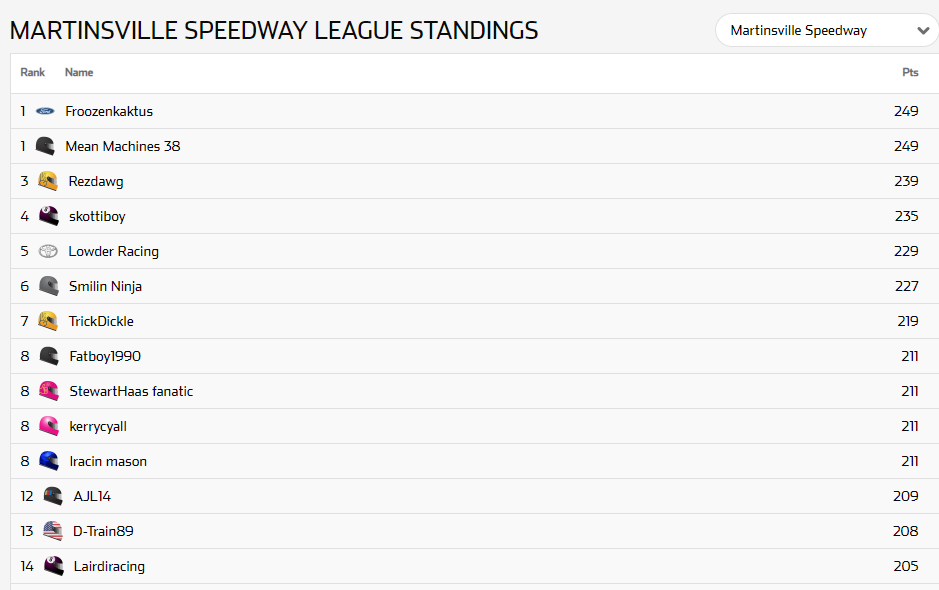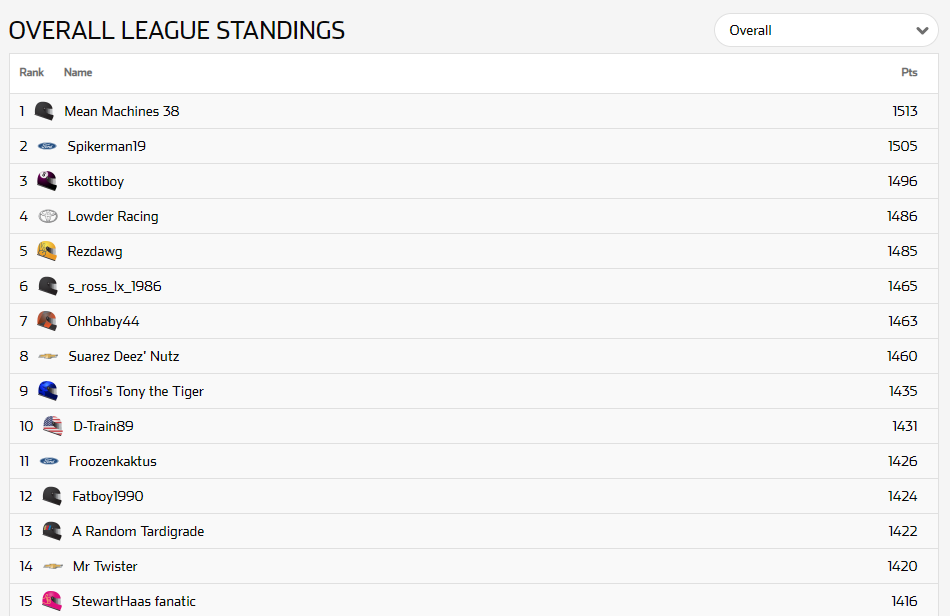 ---
---
Hardware/Software
---
DSD Matrix
Derek Spears Designs unveils their new DSD Matrix Button Controller and posted a YouTube Video on their channel giving an overview of their newest product.
https://derekspearedesigns.com/index….
https://www.youtube.com/watch?v=kAEukHK14UA
---
---
GPU's Priced at MSRP?
PC Builder posted a video on his YouTube channel announcing that GPU's may be finally reaching price drops to their original MSRP price suggested by the manufacturers.
https://www.youtube.com/watch?v=Cdm2jRH8JT0
---
---
Intel GPU Delay
Paul's Hardware posted a video on their YouTube channel announcing a delay in the release of Intel's new desktop GPU's
https://www.youtube.com/watch?v=cFs0G5RbpPs
---
---
Next Level Racing GT-Elite Review
OC Racing posted a video review on their YouTube Channel of the Next Level Racing GT-Elite rig asking, "Is the Next Level Racing GT-Elite the Ultimate Mid-Range Sim Racing Cockpit?"
https://www.youtube.com/watch?v=5ZkDjvP7sEg
---
---
Moza Racing R9 Base and GS Wheel Review
https://www.youtube.com/watch?v=JIl-zXfq8WY
---
---
Stream Deck App
Lourens Speksnijder on Facebook posted that If you always wanted a Stream deck but don't want to spend €120 for the hardware you can get the same options on your phone or iPad with his subscription software with the same options.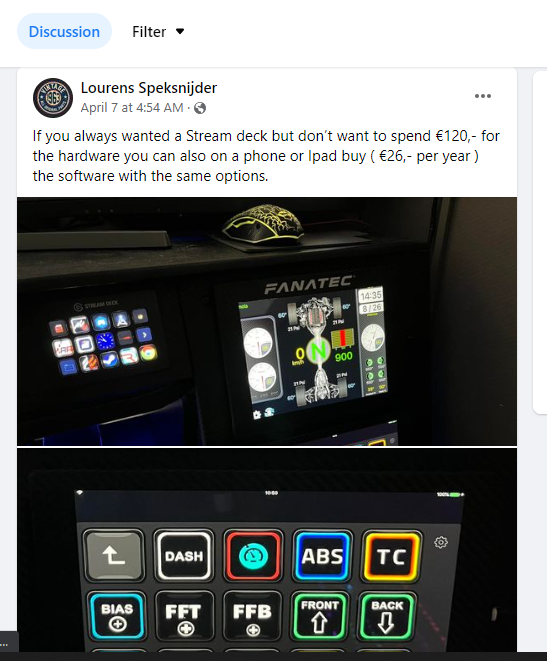 https://www.facebook.com/groups/simracingbuilds/permalink/1413033709153975/
---
---
Listener Rig Review
Listener Heath Ropp sent in to the Lounge his new Racing Cockpits 80/20 rig with Fanatec DD1 wheelbase and Heusinkveld Sprint pedals
Hello my dudes over at iRacers Lounge. First let me start by saying thank you for putting out my favorite podcast each week and putting so much time into making it a great show.
I just upgraded my rig from a GT Omega ART with a Fanatec Club Sport 2.5 and V3 pedals to a proper 8020 rig from racingcockpits.com, Fanatec DD1 and Heusinkveld Sprints.
I went with the Pro rig and I must say I'm truly impressed with how solid it is. I started out by calling Racing Cockpits and spoke with the owner Eric. He got me everything I needed at a great price and fast shipping. I had a few specific requests and called him a couple of times and he always answered the phone even in the evening. It's nice to be able to have that kind of service from right here in the good ol' USA. The rig was easy to put together and the directions were very well written. While putting the rig together I realized I was missing the riser/leg mounts and notified Eric. He immediately sent them over night to me which I greatly appreciated. The seat is the NRG Prism and is super comfortable. I have the Heusinkvelt Sprints mounted to the pedal plate and there is absolutely no flex. I also got the side mounts for the DD1 and they are rock solid. They also included a bunch of extra bolts and t-nuts was is awesome because I have already added some additional pieces. Overall I'm impressed with the rig and with RacingCockpits.com.
I also just got the Butt Kicker Plus a few days ago and I'm loving it. A few quick notes are that the volume knob was not attached tightly to the post and fell off when I took it out of the box and is still a little loose. It sounds like Will Ford from Boosted Media also had this issue. I also used the bolt holes to attach it to my sim rig instead of the clamp, but I had to drill out the holes just a bit to use the standard M8 bolts and t-nuts used on most 8020 sim rigs. After about 3 hours of testing and tuning with the new Haptic Connect software, I determined that the LFE setting in iRacing worked the best, so I ended up not using the Haptic Connect software. Hopefully they will continue to make that better. This is the first Butt Kicker/transducer I've ever owned and I must say it is pretty cool and I don't think I will ever race without one again.
I attached pics of my rig and yes that is a NES with the classic game Days of Thunder playing! I still have all my old racing games (hence the pictures taped to the wall) I grew up playing and I must say Indy Heat is my favorite.
Again thanks to your team for your outstanding podcast.
Sincerely,
Heath Ropp #77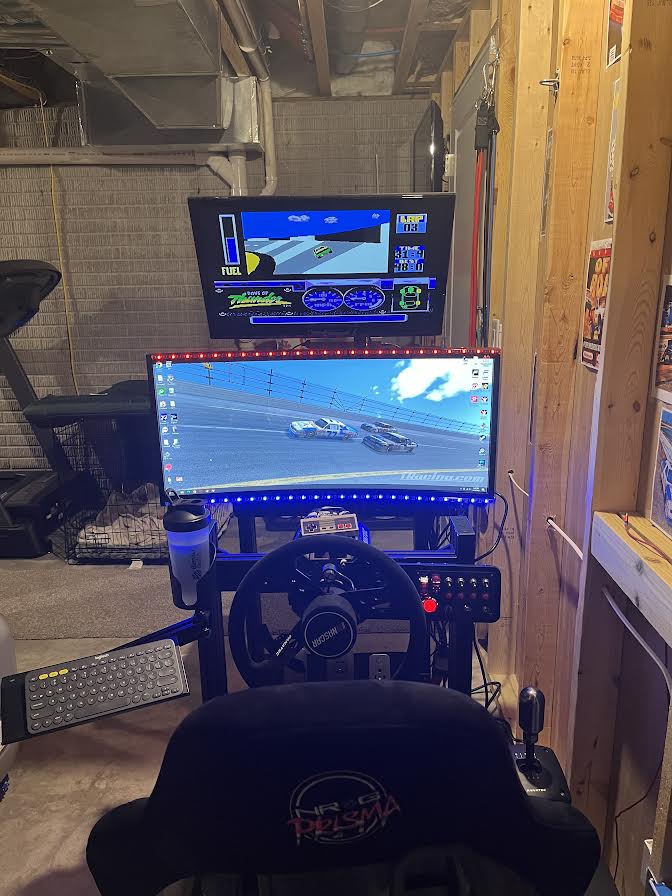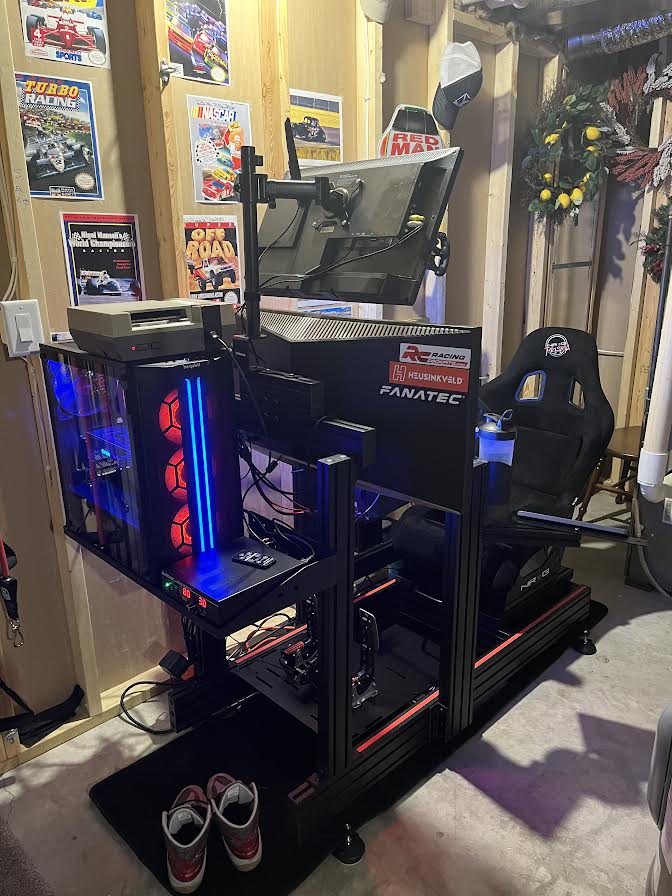 ---
---
Asetek Simsport Pedals
WIll Ford at Boosted reviewed the Asetek Simsports Forte Load Cell Pedals
https://www.youtube.com/watch?v=BwRdaMmuawg
---
---
Mike Has Wind!
Our own Mike Ellis recounts his experience building his home made wind simulation unit.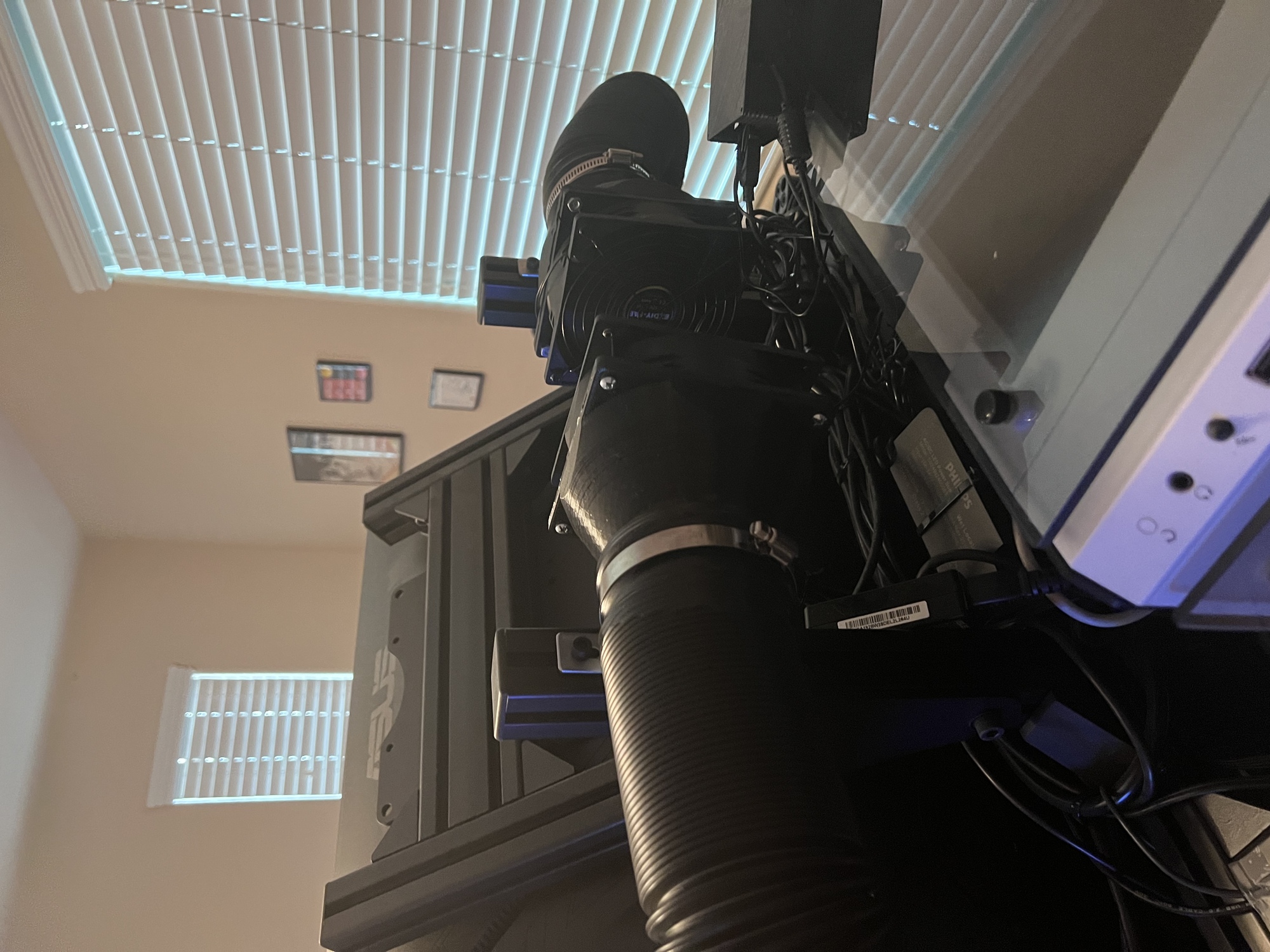 So I got it all mounted and tried it and really couldn't feel any wind coming out of it even though the fans were turning I couldn't quite figure out what was going on. Eventually I found some confetti and taped it to the opening of the hose turn the fans on all the way.
And the confetti got sucked into the fan I installed the fans backwards!
So I've created the first Vacuum Sim. Or maybe we call it the Sim Vacuum.
So tonight I switch them around and it's up and working and blowing pretty great.
Some lessons learned, the SIM hub software now has wind Sim support built right in so you don't need to do the workarounds that were stated in the video.
It kind a looks like the hoses are in an awkward position but they are out of my visual while driving. Not sure if I'm gonna keep them here or move them somewhere else, but done for now.
I did receive my fanatec hub a month early. I'm still awaiting the cube controls wheel to ship…
https://forums.iracing.com/discussion/comment/164740#Comment_164740
---
---
Results
NASCAR iRacing Series
Fri open: Martinsville
Ellis –

p wreck out five minutes damage Unlock 21 the two cars in front of a spiral walked up the track of everyone Plowed in. Got five minutes damage fixed it was nine labs down rolled around the lab 130 got totally wrecked again eight minutes required finally parked it
Rochette-P4

think i broke the caution record of 27. Stayed clean and in top 10 most of the race. Went from 8th to 4th in final gwc as leaders wrecked on the white. Think many guys went without pitting whole race but even fresh tires it was a pain to try to pass
Hall – P. 19, engine damage from blocked track, plus race control has way to many bugs, at one point on a caution, it nearly inverted field and gave so many eol's to cars that didn't even pit that i jumped from 25 to 10th. Later a similar late warning cause some to stop on the out side and i got BF'ed, Did get lap back though, but damage just killed my corner exit
Kyle – P.

. P-14. Started mid pack and just ran a strong race. Got up to P3 with 5 to go and just spun on my own and brought a GWC and had to restart P14 and just stayed ther for 2 laps.
Kyle – P P-10

Started P-12 and had a rough race getting caught up in everyones mess and had to serve a Drive thru went 2 laps down and finally got the lucky dog with about 40 to go and just slowly worked my way back into the top 10. Glad Martinsville is done for now.
Tom – p P-14 Ran strong but just was on board the struggle bus getting spun by others.
Race : Bristol
Wed Open:

Hall –p. 7 survival mode whole race, only caught in minor problems
Ellis – p2 – qualified second and ran top five all night long never could get to the front though.

Tyler – P7 – NIS was Fun! Finally had a fun time in a series race. Started in the back as usual. Got dinged with a 2x early as I made it through a wreck. Kept moving forward to the top ten. Caution fest so restarts we super important. Got Doored with about 50 to go as the chain reaction had me in the middle sitting like a duck but survived. Caution after caution for the GWC and brought it home in 7th with only a 4x. Had a blast after some fine running suggestions from the team. Thanks Tifosi!
Rochette P8 (dont read too fast) remember back when you were a kid playing with your matchbox cars in the dirt? That i just had more fun than than mud caked 6 year old has ever had. Found myself upfront top 3 most of the race watching lap cars nearly kill the leader half dozen times. Final restart in P2, leader disappeared took 1st at the green lost it T2 if white and spun off the guy that took 1st in T4 before the checkered
Thurs Open

Ellis – p8 – Qualified p2 led 87 of 125 laps was leading w 20 to go and the guy behind me took me out. Final restart i was 13th got up to 8th
Rochette P2 decided to run VR after last night on the monitor. Didnt have enough GF runs to adjust properly. I am crap on restarts and it shows after losing spots and getting em back a lap later. This bit me on the gwc was 2nd 4th bumped me, lost a spot to 3rd got it back at the white with leader well ahead. So close im getting that win friday night
---
---
Official Series
---
---
League / Hosted Races
Ellis – Chris Macguire Hosted
Kia at Daytona Wrecked out.
David – p 13

Greg p – pWrecked out

Mike – pWrecked out – Started dead last worked my way up, was p3 w 20 to go on a restart im just riding the inside and the guy in second basically turns himself off my nose, then trys to call me out for it. Same guy that wrecked David earlier, and same guy that took Greg 3 wide in a wreck that took him out.
iRacing IROC Challenge Series Season 4
Kyle P- Tonight is Bristol under the lights. It's a cut off race in the playoffs so we should see a lot of action. Also Season 5 is around the corner and we are looking for new drivers. If you're interested contact Kyle Pendygraft aka Loud Pedal TV for details.
---
---
Final Thoughts
---
---
Words Spoken in Closing Audio Clip -""Thank you for listening to the iRacers Lounge podcast make sure to go subscribe to us on iTunes, SoundCloud, or Google Play, Facebook & Twitter, See You On The Track ."
TITLE
Woosh Confetti
Description
The eNascar iRacing Coke Series gets dirty for the first time ever at Bristol- Dirt and we'll cover all of the highlights from a wild night of racing with the Voice of eNascar, Evan Possoco. Which Nascar legend is recuperating an injury with iRacing and could the days of grossly overpaying for that new graphics card finally be over? So sit back, relax and join us on the iRacers Lounge Podcast.
iRacers Lounge Podcast is available on iTunes and Apple's Podcasts app, Stitcher, TuneIn, Google Play Music, Spotify, Soundcloud, Podbean, Spreaker, Podbay, PodFanatic, Overcast, Amazon, and other podcast players.
Sponsors:
Hosts:
Mike Ellis – twitter.com/MikeDeanEllis
David Hall – www.twitch.tv/mixmage
Greg Hecktus – twitter.com/froozenkaktus – www.twitch.tv/froozenkaktus
Brian Maccubbin – www.twitch.tv/MacRubbinsRacin
Kyle Pendygraft – twitter.com/LoudPedalGaming
Tony Groves – www.twitch.tv/SirGroves
Adam Josselyn- twitter.com/Jossad83
Chris Scales – twitter.com/JediMcfly
Tony Rochette – twitter.com/TonyRochette
Tom Dreiling –
Links:
Old Show Notes – bit.ly/2CFeArM
Facebook – www.facebook.com/iRacersLounge/
Twitter – twitter.com/iracerslounge
Instagram – instagram.com/iracersloungepodcast/
Web (New Show Notes) – iracerslounge.com/