5/12/2022 – Cowboy IT – Episode 0330
iRacers Lounge Podcast – Conversation Topics
Brought to you by:

Opening Audio Clip -"Your listening to the iRacers Lounge Podcast where we discuss everything iRacing, in a casual setting, enjoy."`
READ THIS AT THE TOP OF EACH SHOW!!!
Welcome to the iRacer's Lounge, I am your host "XXX". iRacer's Lounge is a podcast for the iRacer, where we talk all things iRacing in a casual setting.
Joining me are the usual characters, ———— 
---
---
Show Introduction
We have Evan Posocco on to talk Coke racing at Kansas, we get word on a particular long race in the rolling hills of France, and the Indy 500 is in full swing as we prepare for the big race. Take a load off and join us in the iRacers Lounge!
And remember you can follow along with us on your PC or mobile device in real time as you listen to the show and see for yourself all of the great topics and products we'll discuss by visiting iracerslounge.com and selecting show notes. Hope to see you there..
---
---
TITLE SPONSOR READ:
SimCoaches offers the realistic sim racing equipment you need to win more races online…. It is designed for real racers… Hydraulic construction makes them feel just like the real thing. High-Quality Construction, 100% Leak Proof, and Lifetime Warranty are the key features with these pedals. And, they look absolutely amazing… Check out simcoaches.com and use the coupon code IRACERSLOUNGE to get 10% off your purchase. Simcoaches.com is your ticket to feel like your actually sitting behind the wheel of a car. Drive harder and stay on the limit longer…
https://simcoaches.com/?fbclid=IwAR1pJASM3C_nV3wFACEHJrHitf8TOQWro4yp-Etaio1zU8Enbojap2Xff5w
---
---
---
---
Topics
---
---
Coke Race – Kansas
Kyle Peddle was a DNS and Brian Mercurio missed the start and rolls off from pit row, Upfront it is mitchell dejong and logan clampitt
LAP 7: The biggest movers so far are @MalikRayTTV and @vicente_salas14. Both are up 7 from where they started.
CAUTION! @dylanault42 and others crash on Lap 13.
@MitchelldeJong1 leads everyone except @bobbyzalenski and @mbussa75 onto pit road.
TROUBLE! @BriarLaPradd gets out of shape! Others shoot onto the apron. NO CAUTION!
CAUTION! @MikeConti5 gets turned! He's in the wall! LAP 18. Started with @KeeganLeahy breaking loose.
https://twitter.com/CLTPhoenixGG/status/1524195725642457088
RESTART LAP 23: @swilson3_ and @bobbyzalenski lead the field into turn 1.
LAP 27: NEW LEADER, @CLTPhoenixGG's @BowlinGraham. The Carolina #eSports Hub ERUPTS with cheers.
Try as he might, @rayalfalla just couldn't hang on to what looked to be an absolutely evil looking car out of Turn 2. Caution!
The leader when we get back going won the race off of pit road – that would be the leader before the caution as well, @BowlinGraham. Going to have just about 57 laps to go on the restart.
RESTART LAP 44: @CLTPhoenixGG's @BowlinGraham and @SHR_eSports' @swilson3_ lead the field into Turn 1.
During this hear from you about how the williams esports guys got to visit the F1 Team at the Miami race, what a neat opportunity…
https://twitter.com/WilliamsEsports/status/1523350617984364544
Wilson gets the lead, then kirwin 2nd, bowlin third…
"I can read him like a book." Leader @swilson3_ is keeping a close watch on the driver behind him, and the effects caused by the virtual air. 37 to go.
29 to go – caution – It's a spin for Strauss! @Donovan gets a little help around from the front bumper of Matt Bussa and we have pit stops once more!
Differing strategies at the front on this restart. A few drivers stayed out, while most pitted.
RESTART 24 to go: @CVincent34 and @MalikRayTTV lead the field into Turn 1.
CAUTION! @bobbyzalenski is hard hard in the wall! @LoganClampitt_ is involved as well! 23 to go. Steven Wilson got some damage in that.
Restart 19 to go – dejong vincent bowlin keister kirwan lowe manes guest wilson bourdeuea salas olat
Vincent slower on older tires fadin on the outside lane stacking it up. Bowlin going for the lead but they wreck in farther back but no caution they keep going 16 to go, bowlin and kirwin get by dejong…
4 laps racing side by side for the lead bowlin trying super hard pinching down anything he can do to hold it… , but garrett lowe is coming and is now in the mix….
9 to go – lowe takes it 3 wide for the win he had a run and shoved in in the middle between kirwin and bowlin and collides w bowlin and he goes hard to the wall, kirwin gets knocked clear but saved the car –
It is near the end of the race, its for the lead bowlin should have known lowe was coming and would take it, it almost looks like a spotter issue, like the spotter didnt let graham know hey inside inside…
https://twitter.com/MrF4Speed/status/1524217611227217920
RESTART 5 to go: @GarrettLowe_6 and @CaseyKirwan23 lead the field into Turn 1.
Lowe breaks away a bit on the restart and olat fighting for 2nd and gets by kirwin, now 3 to go kirwin trys to push femi up to fight for the lead but has a good 10 car length lead!
CHECKERED FLAG! For the first time since 2019, @GarrettLowe_6 puts his @woodbrothers21 Ford Mustang into @NASCAR @CocaCola @iRacing Series Victory Lane tonight at the virtual @kansasspeedway. After entering tonight on the relegation bubble 20th in points, he'll leave as a Playoff driver.
https://www.enascar.com/standings/
---
---
April Top 10
https://www.youtube.com/watch?v=B0reUlYYRQE
---
---
Passing when it Counts
https://twitter.com/iRacing/status/1523027101854560256
---
---
The Entire History of iRacing…
Robin Truswell – I know I've done a post or two like this in the past, but they've always been snippets and aspects and had vitally important parts missing instead of a full-blown "report". As far as I am aware, nobody has sat down, and compiled/written an article detailing iRacing's "life" from "birth" until the present day, so, as I had a spare Saturday evening, I decided to do just that.
https://forums.iracing.com/discussion/22628/the-entire-history-of-iracing#latest
---
---
Season 3 Road Series Updates
The first of these is the renaming of the MOAR to the IMSA Pilot Challenge.
With the IMSA Pilot Challenge concept replacing the MOAR, we have also split the GT4's and Touring Cars into separate Open series as the C level.
we have also brought back the Global Endurance Series. This series features 24 hour team events using the same vehicles as the European Sprint Series.
we have updated the start time of the LMP2 Prototype Challenge- Fixed to run opposite hours of the IMSA series on the odd:45 time GMT.
https://forums.iracing.com/discussion/22553/season-3-road-series-updates
---
---
A Bush in the Air is like a Bug in the Hand
https://forums.iracing.com/discussion/22642/floating-bush-nurburgring#latest
---
---
Nice Rear End
https://www.instagram.com/p/CdV9sHNuOpA/?igshid=MDJmNzVkMjY=
---
---
Feeling a Little Burned out, this May Help
https://www.youtube.com/watch?v=IMZCZ_RaAv0
---
---
The Good Ole Back Marker
https://www.youtube.com/watch?v=wCwNzjBtmOw
---
---
#Hack
https://twitter.com/mightymack03/status/1523892916015542272?s=11&t=VN0ESMTnF2iyoAx0zxpybQ
Nicholas A Jones says "Pretty uneventful other than watching him make a Richard of himself. The entire session got chat warned by Nim, then it looks they were all muted and then unmuted. Then, in the same session, xqc, or whatever his name is, got DQ'd because of too many incident points, not from Nim directly."
https://forums.iracing.com/discussion/comment/175411/#Comment_175411
Patrick McDaniel sums up the whole event perfectly: With any luck he will turn people like him away from iRacing.
https://forums.iracing.com/discussion/comment/175605/#Comment_175605
---
---
iFarm Simulator
https://www.youtube.com/watch?v=E9N7zamzLR0
---
---
Driven
https://twitter.com/iRacing/status/1524768684920688641
---
---
Indy 500 Open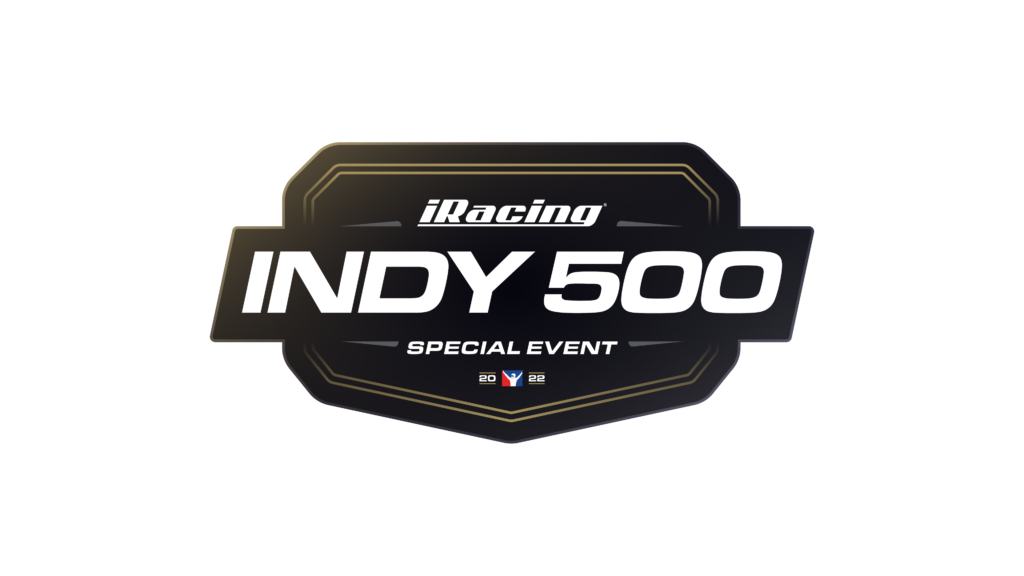 https://forums.iracing.com/discussion/22182/2022-open-iracing-indy-500
---
---
Indy 500 Fixed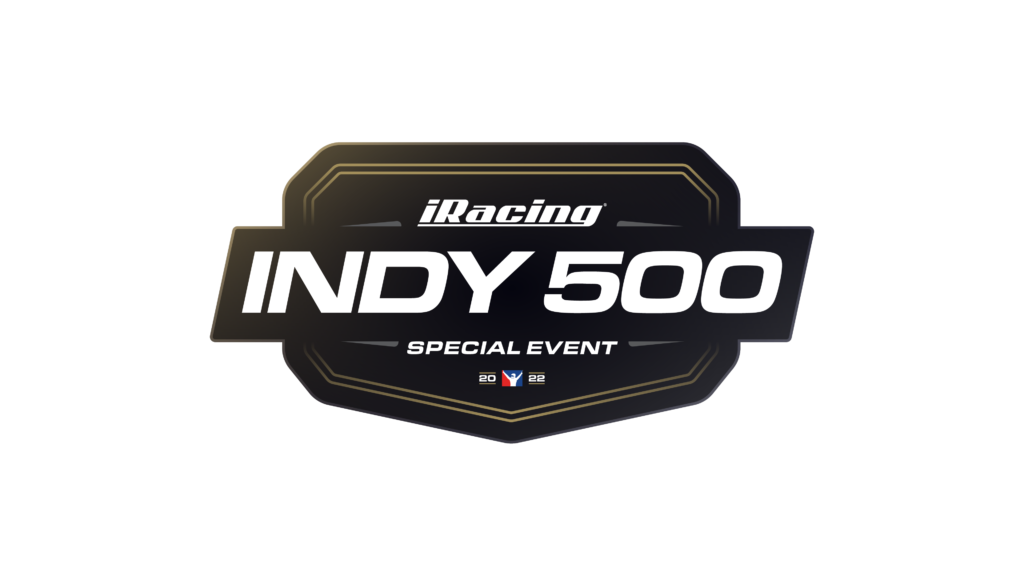 https://forums.iracing.com/discussion/comment/175563#Comment_175563
https://forums.iracing.com/discussion/21836/2022-fixed-iracing-indy-500
---
---
Podcast Housekeeping
Aftermath Podcast – Get it!
New Website – Leave Comments https://www.iracerslounge.com/
---
We are in the regular rotation… (Mike)
https://performancemotorsportsnetwork.com/
Fantasy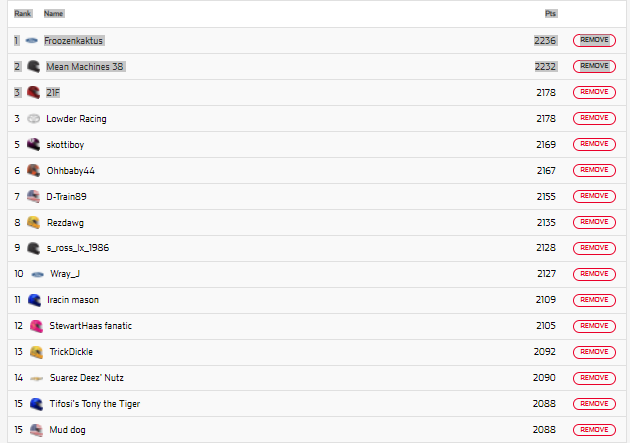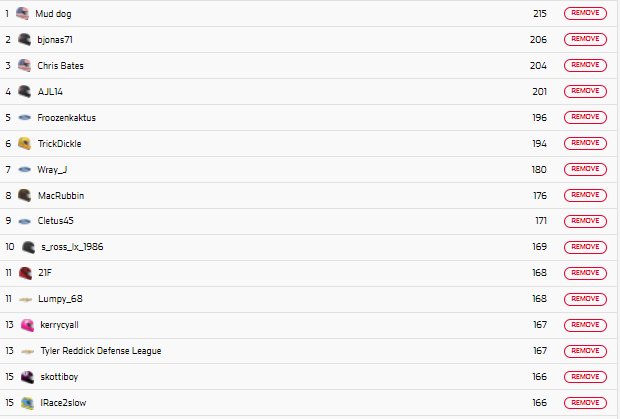 ---
Hardware
---
ThunderStruck Build
https://www.tiktok.com/@mysim.ca/video/7093552564003785989
---
---
Debloating Windows 11
https://www.youtube.com/watch?v=8ReoMuCUdKE
---
---
Simtag AMG Steering Wheel
https://simtag.shop/gb/accueil/505-simtag-amg-steering-wheel.html
---
---
Cammus GT1 DD
https://www.youtube.com/watch?v=ifLi5fQD1C4
---
---
Serious Windows Update Warning
Microsoft has announced that all major versions of Windows are vulnerable to a new zero-day attack. The company confirms there has been "exploitation detected" and you need to take action now.
https://www.forbes.com/sites/gordonkelly/2022/05/11/microsoft-windows-10-windows-11-zero-day-hack-critical-threat-level-update-windows-now/?sh=10b811e754cb
---
---
---
Results
NASCAR iRacing Series
Fri open: Darlington
Rochette-P11 was running 2nd and ran out of gas with 3 laps left. Somehow racelabs turned the auto fuel off and shorted me 3 laps. I run auto fuel off on everything i run so dont know how that worked. Man i was running good at the end too
Hall – P 17 was gona be 10th or 11th gut a guy in the front over corrected, couldn't avoid, still was running even better in this top split race, against tough tough dudes
Groves – Pwrecked out – douche didn't want to hold his brake and came up and took me out
Greg – Pwrecked by taking it easy in the first 20 laps and someone didn't like my entry to the corner or where i let off and wrecked me and said I was to slow running in 3rd place.
Hall – p wrecked out on lap 30 by a self spinner car last 80 more laps but blew up
Mike –p.wrecked out – around lap 20 another restart, i was around twentieth, they all wreck on the back stretch no caution yet i see cars scatter, i go way low on the back stretch and power up to try to get around a guy right in front slows way down i lock them up to miss him dart to left a bit and boom there is a car sitting there sideways stopped i couldnt see and just tboned in super hard…
Race : Kansas
Wed Open:

Hall –p. 12. Hit twice by cars getting loose on my outside. Still gained a few spots on the last run with the RPM count being down.
Ellis – p15 – Guy in front of me lap 8 loses it, i cannot miss i pile in 30 seconds required 8minutes optional – so many cautions i get all 8 minutes fixed –
Tom – pwrecked out – ran as high as p2
Kyle P Pwrecked out
Tyler – P 12 finished with a 4x after a grueling race. Was not a fan of this car on this track but the team kicked butt again helping me through the race. Thanks Tifosi!!!
Rochette P17 you ever drive on what seems to be a nice dry road than all a sudden you hit something that is way too slick? Thats the way Kansas has felt in the Gen7. Super slick in T1 all week trying to practice no matter what i do. But i survived many wrecks in this 1 even in top 3 at points. But couldn't save myself when just spun and killed a few guys in the process with 50 to go
Thurs Open

Ellis – p. Wrecked out – i was the first caution got a hair loose had it saved but somebody came up into me. 2nd caution dove really low to miss it but plowed right in- later in the race went to slow down to miss something ahead and it came around and hooked right into the wall.
Rochette P-5 slammed and put in the wall lap 1 T2 got damage fixed but still down 13 rpms. Hung in there. Though had 4th but a blinker somehow beat me by 0.005 of a sec wtf
---
---
Official Series
---
---
League / Hosted Races
Ellis – Chris Macguire

Supercars at Michigan. Wrecked out
Indy cars at Daytona I got the pole position.
Kias at daytona
Street Stocks at Thompson
Indy cars at Daytona
87s at dega

Hosted

Dallara Dash – Michigan – first race w new wheel, p4 – ran 80 percent ffb pretty crazy
FastTrack League –

David – p 12. The track was 40 degrees colder than any NiS server. I tried all practice to get the set to work and couldn't. So was slow, finished better and worse than I should have. A lot of others had worse trouble, the errors I got caught up in only cost a few spots.
Bobby -p
Greg p Wrecked Myself, Had a decent car after testing a different setup. But couldnt avoid hitting the wall
Mike – p wrecked out – a guy lost it right in front of me in the center of 3 and 4 i plowed right in – no apologies, we see how that team rolls…
Git R Done GT3 Series
Greg – P Winner winner chicken dinner. Purchased V I R 5 minutes before the race and used qualifying to learn track. Was P2 till first pitstop where I went 3 laps further then everyone else which made me not have to pit twice in the race. On to the last race of the North America tracks for this season Road Atlanta
---
---
Final Thoughts
---
---
Words Spoken in Closing Audio Clip -""Thank you for listening to the iRacers Lounge podcast make sure to go subscribe to us on iTunes, SoundCloud, or Google Play, Facebook & Twitter, See You On The Track ."
TITLE
Description
We have Evan Posocco on to talk Coke racing at Kansas, we get word on a particular long race in the rolling hills of France, and the Indy 500 is in full swing as we prepare for the big race. Take a load off and join us in the iRacers Lounge!
iRacers Lounge Podcast is available on iTunes and Apple's Podcasts app, Stitcher, TuneIn, Google Play Music, Spotify, Soundcloud, Podbean, Spreaker, Podbay, PodFanatic, Overcast, Amazon, and other podcast players.
Sponsors:
Hosts:
Mike Ellis – twitter.com/MikeDeanEllis
David Hall – www.twitch.tv/mixmage
Greg Hecktus – twitter.com/froozenkaktus – www.twitch.tv/froozenkaktus
Brian Maccubbin – www.twitch.tv/MacRubbinsRacin
Kyle Pendygraft – twitter.com/LoudPedalGaming
Tony Groves – www.twitch.tv/SirGroves
Adam Josselyn- twitter.com/Jossad83
Chris Scales – twitter.com/JediMcfly
Tony Rochette – twitter.com/TonyRochette
Tom Dreiling –
Links:
Old Show Notes – bit.ly/2CFeArM
Facebook – www.facebook.com/iRacersLounge/
Twitter – twitter.com/iracerslounge
Instagram – instagram.com/iracersloungepodcast/
Web (New Show Notes) – iracerslounge.com/