5/19/2022 – Half A** Cockpit – Episode 0331
iRacers Lounge Podcast – Conversation Topics
Brought to you by:

Opening Audio Clip -"Your listening to the iRacers Lounge Podcast where we discuss everything iRacing, in a casual setting, enjoy."`
READ THIS AT THE TOP OF EACH SHOW!!!
Welcome to the iRacer's Lounge, I am your host "XXX". iRacer's Lounge is a podcast for the iRacer, where we talk all things iRacing in a casual setting.
Joining me are the usual characters, ———— 
---
---
Show Introduction
On today's show we check out some new kings. We'll see if there's a new king of iRacing Oval iRating. Also did we find a king of the iRacing Indy 500. There's a new king in Nascar pit stops, and ask if it should be updated in iRacing. All that and some great hardware.
And remember you can follow along with us on your PC or mobile device in real time as you listen to the show and see for yourself all of the great topics and products we'll discuss by visiting iracerslounge.com and selecting show notes. Hope to see you there..
---
---
TITLE SPONSOR READ:
SimCoaches offers the realistic sim racing equipment you need to win more races online…. It is designed for real racers… Hydraulic construction makes them feel just like the real thing. High-Quality Construction, 100% Leak Proof, and Lifetime Warranty are the key features with these pedals. And, they look absolutely amazing… Check out simcoaches.com and use the coupon code IRACERSLOUNGE to get 10% off your purchase. Simcoaches.com is your ticket to feel like your actually sitting behind the wheel of a car. Drive harder and stay on the limit longer…
https://simcoaches.com/?fbclid=IwAR1pJASM3C_nV3wFACEHJrHitf8TOQWro4yp-Etaio1zU8Enbojap2Xff5w
---
---
Topics
---
---
90's Stock Cars
Ben Easterday posted on Twitter that he's baffled that iRacing Doesn't have mid-90's Nascar Stock cars on the service.
https://twitter.com/TheBenCrazy/status/1525841166796824577
---
---
eNascar From a Different Perspective
Kickin the Tires columnist Seth Eggert posted an article on their website describing the action from the Carolina eSports Hub last Tuesday night at the Coke Series race
https://kickinthetires.net/esports/column-watching-enascar-from-a-different-perspective/
---
---
Stint Analyzer and The Lounge
Ricky Thompson let us know on the Discord Cahnnel that there is a new version of the Stint Analyzer software complete with a new ad for the iRacers Lounge Podcast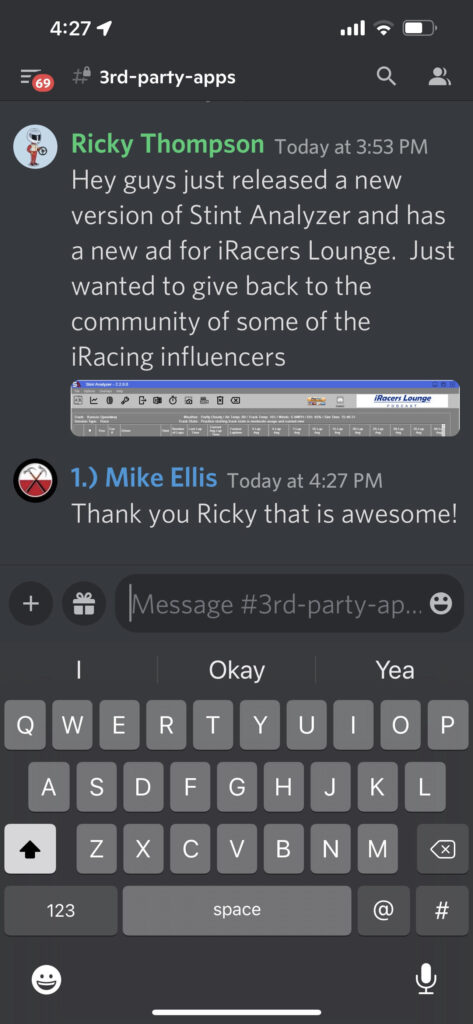 ---
---
Missing the Pits
Adam Cabot posted a video on Twitter where he unfortunately missed the pit road entrance in his Road to Pro Race costing him a top 10 finish
https://twitter.com/acabot88/status/1524947487831760896?s=11&t=TOTIh4FwGKsKkoGzKZewKg
---
---
Indy King?
Robert Obrohta has won his 4th straight Indy 500 from the 32nd spot and 6th overall at the famed track.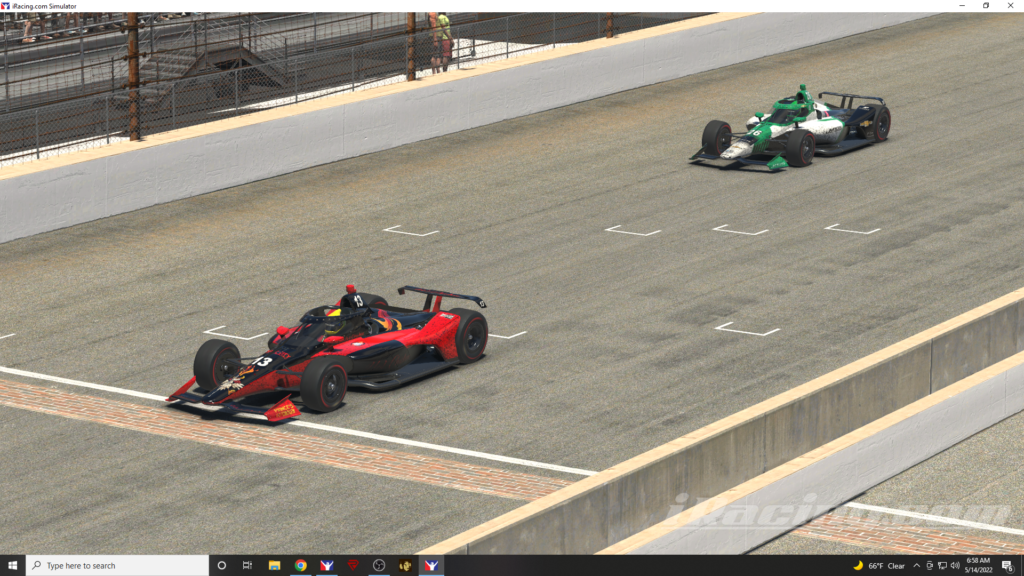 https://forums.iracing.com/discussion/22894/6x-winner-and-4th-in-a-row-from-q32
---
---
Major Indy Finish
The Majors Indy 500 came down to a fantastic finish with Brian Lockwood with the victory.
https://www.instagram.com/tv/CdoMly9j7lH/?igshid=MDJmNzVkMjY=
---
---
iRacing May Happy Hour
Thursday, May 19th, iRacing showcased the Mercedes-AMG F1 W12 E Performance alongside the Dirt Late Models. We will be broadcasting the 3:00 PM EST A-Class iRacing Grand Prix Sprint Series – Fixed and the 3:45 PM EST B-Class World of Outlaws Late Model Series. Broadcast will be live on our YouTube, Twitch, and Facebook.
https://forums.iracing.com/discussion/23004/iracing-may-happy-hour
---
---
---
---
Randle at Winton
Winton's introduction to the iRacing platform has impressed Tickford Racing rookie Thomas Randle.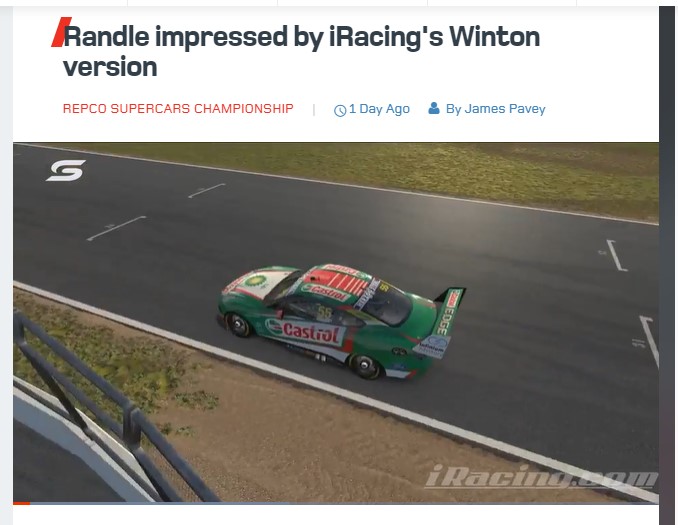 https://www.supercars.com/news/championship/randle-impressed-by-iracings-winton-version/
---
---
Pitstop Update Needed?
With the new faster pit stops, including the fastest in nascar history (8.96 seconds by Kyle Busch's team) we ask if iRacing should update their pit stop times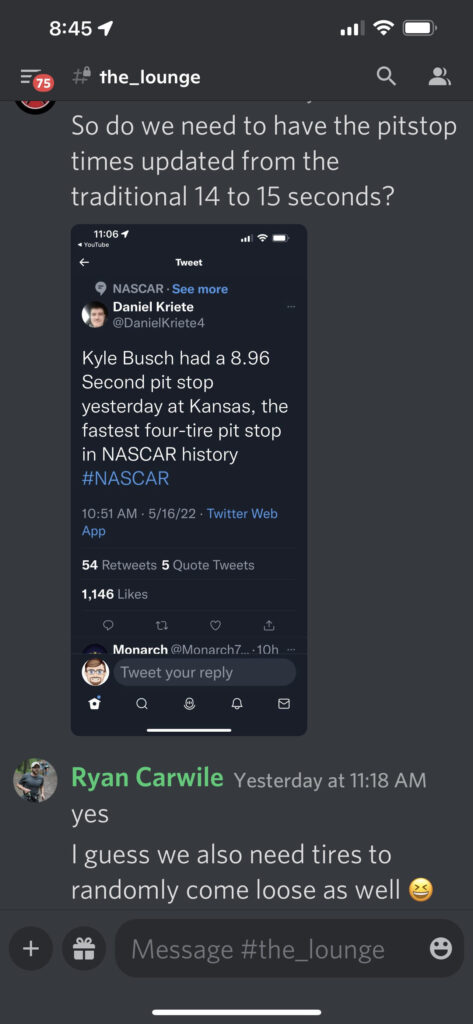 ---
---
New Top iRating
Denver Tergesen let us know that James Curl has taken over Ty Majeski in top overall oval iRating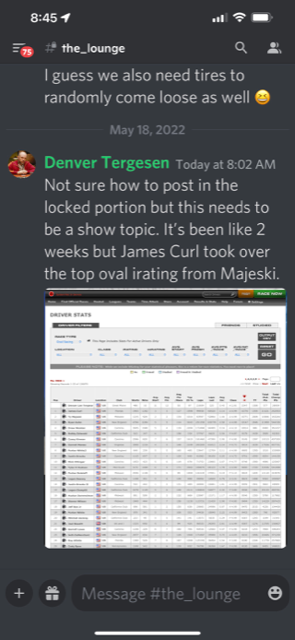 ---
---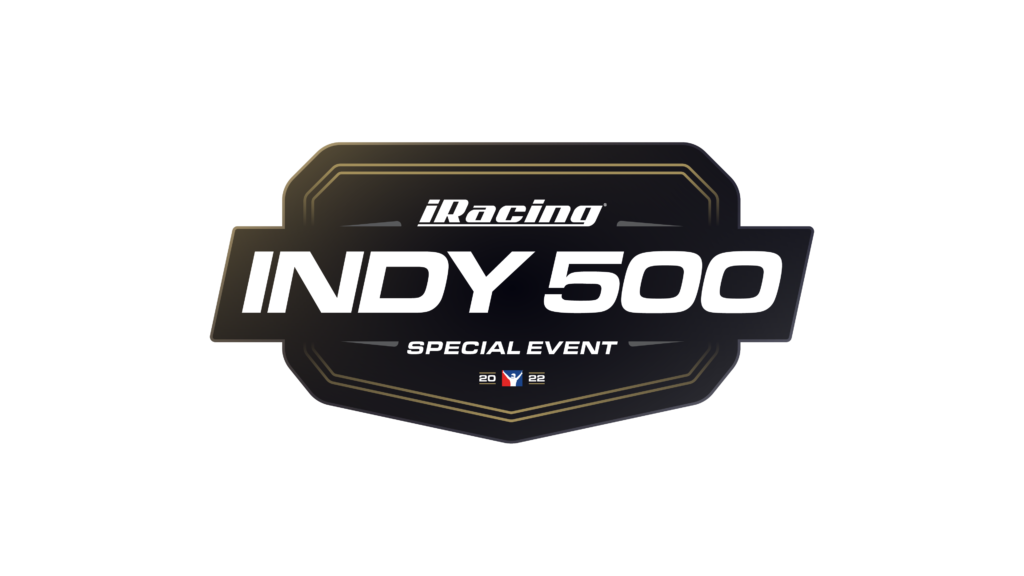 https://forums.iracing.com/discussion/22182/2022-open-iracing-indy-500
---
---
Podcast Housekeeping
Leave us a review on your favorite podcast platform to make it easier for more listeners to find the podcast. Mention the podcast to your fellow drivers so they don't miss out, we would appreciate it.
Check out our Discord https://discord.gg/rvRas4DDqF
New Website – Leave Comments https://www.iracerslounge.com/
---
We are in the regular rotation… (Mike)
https://performancemotorsportsnetwork.com/
Fantasy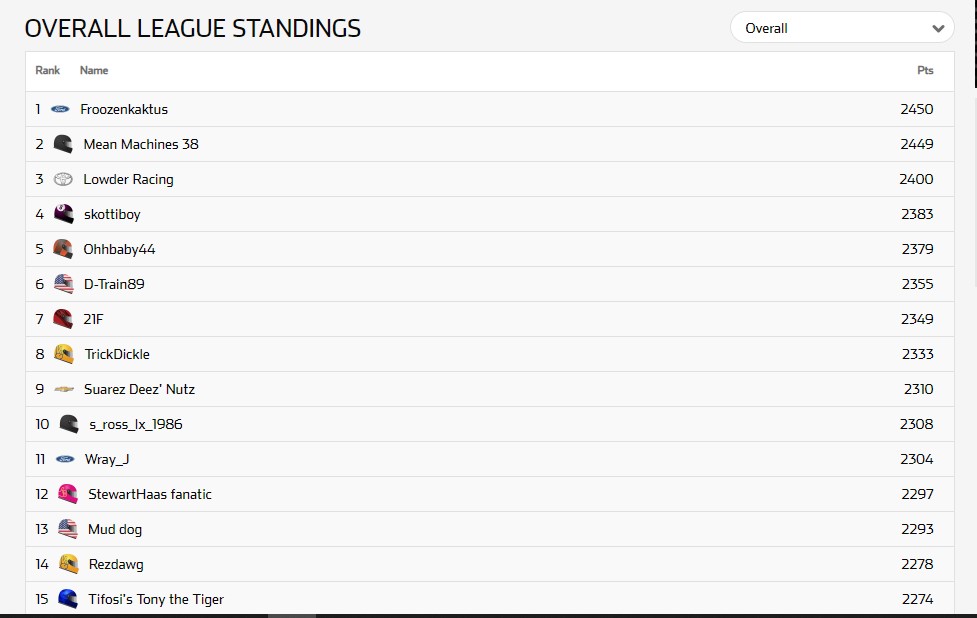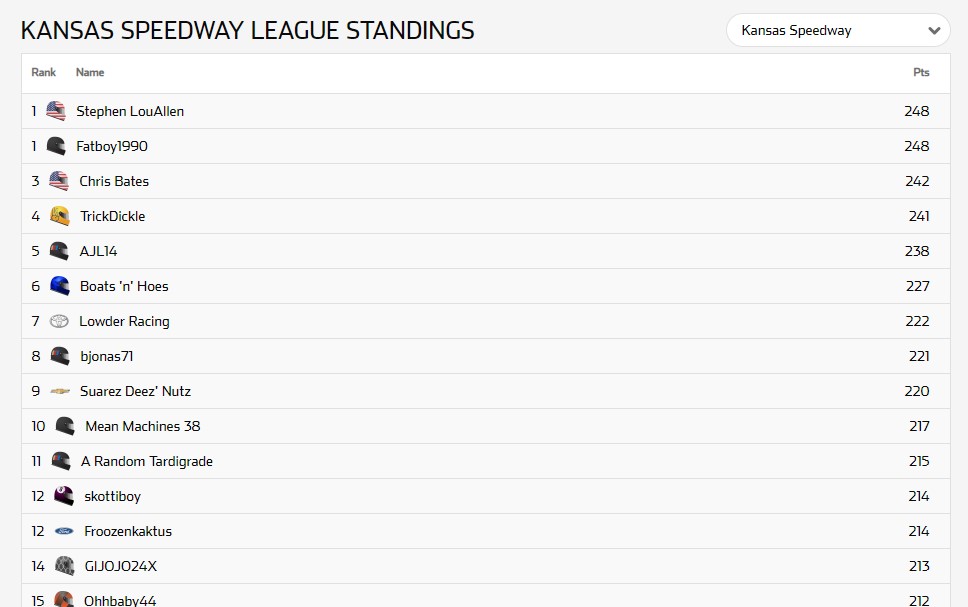 ---
---
Hardware/Software
---
---
ARS Floor Plate
The new ASR Floor Plate is compatible with all Advanced SimRacing Brand Chassis, it provides a flat surface on which you can rest your feet when not racing. It also allows for an easier entry and exit out of your SimRacing chassis and is now available
https://www.instagram.com/p/Cdn5D5ZMLy3/?igshid=MDJmNzVkMjY=
https://www.advancedsimracing.com/collections/accessories-parts/products/asr-floor-plate
---
---
L'atelier du Simu
https://www.instagram.com/p/CdoARdxtJqD/
https://www.latelier-du-simu.fr/categorie-produit/simulateurs-statiques/
---
---
VNM Load Cell Pedals
https://www.youtube.com/watch?v=spiY6-xuvAw
---
---
My New Cockpit Build Thread – iRLP Edition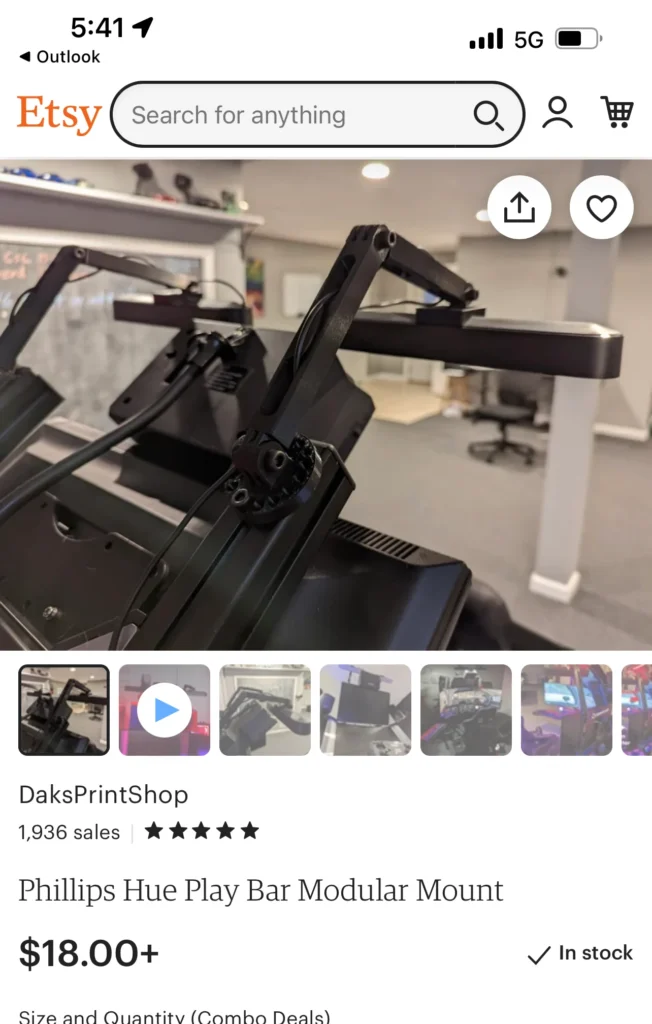 https://forums.iracing.com/discussion/comment/178382/#Comment_178382
---
---
Results
NASCAR iRacing Series
Fri open: Kansas
Hall –

P 21 Top Split. The set that I thought was more stable really started to let go around lap 40. At one point was 23rd 2 laps down after Green flag stops. Caution comes out, take wave around, caution comes out, get lucky dog. Back on lead lap, but then started behind all the lappers and they wrecked in front and killed my car. Limped it home to 21st. I did get caught in an early accident with minor damage and wonder if it is why the long run handle went away.
Groves –

Pwrecked out-ish, self spun and then it stopped shifting
Stephen-p

Adam -p

Greg – PWrecked
Greg pWinner winner final restart pass
Hall – p 3 Great run, finished just in front of adam. Best non plate top split run so far. Needed a long run to get to the top 2
Sunday fixed

Tyler – P9. Was not a Sunday Funday after a grueling demo derby at Kansas. 16 cautions total in my split. Managed to only get 5x and showed some late race speed. Was not thrilled with this car on the track but I'll take a top 10 anyday.
---
---
Official Series
Ellis – Lap 21 and push to the wall and I knocked off the right front. Surprisingly they repaired it and I was back out three laps down. There were some confusion about if I could get a lap back or not but it didn't matter I hit the wall again and then it became undrivable but no damage to fix.
Kyle Friday P6. Started P3 and dropped back to avoid the aggressive drivers. Around lap 35 got caught up in someone else's wreck and had to tow. Needed less then 4 minutes of repairs and decided to fix it. Came back out 3 laps down and way down in the standings. Worked my way back up through the field as drivers started to leave the race and eventually got myself up to a P6.
Michigan – supercars – wrecked, then p4
87 cars at tallAdega. Started 25th finish P6
GEN five cars at Talledega P2
Ellis – So I've restarted my road career. Just finished P8 in the formula V at Lime rock
Got my first official win with the new wheel!!! Winner winner chicken dinner
---
---
League / Hosted Races
David – p 5, race was a shit show, and ended with a shit show of drivers that don't know how to get out of the way if they're out of fuel, and sit right on the inside racing line.

Joe – Wrecked out – david was on apron came back up made it 3 wide and the guy in the middle panicked and wrecked. Joe got caught up.

Greg p

Mike – p wrecked out – got a a few dings in 1st wreck from an arca braker – then later another guy just lost it i had no where to go and plowed in t boned the guy 8 minutes required
Git R Done GT3 Series
Greg – P Ran out of talent / Week off before we move to the next 12 week on the European track
iRacing IROC Challenge Series Season 4
Kyle. Tonight is martinsville and its the 3rd to last race of the playoffs and season 4. Next thursday night at Daytona is the final Round 3 playoff race 3 to determine the final 4 drivers to race for a championship at Auto Club on June 2nd. All races can be found live on thursday nights on PTM tv on facebook and posted the next day to their youtube channel.
Iracing IROC Challenge Season 5 announcements. We are now taking driver applications for season 5. Season 5 is the B car on a fixed setup and is a IROC theme paint scheme. Season 5 has some major changes and a much bigger purse prize reaching the 4 digit amount and also season 5 will have 4 dash 4 cash nights that not only pay cash but also pay regular season points. If you are interested in the league please contact Kyle Pendygraft @Loud_Pedal_TV on twitter. Once I compile a handful of new drivers I will then sit down and get everyone setup with the discord.
---
---
Final Thoughts
---
---
Words Spoken in Closing Audio Clip -""Thank you for listening to the iRacers Lounge podcast make sure to go subscribe to us on iTunes, SoundCloud, or Google Play, Facebook & Twitter, See You On The Track ."
TITLE
Half A** Cockpit
Description
here's a new king of iRacing Oval iRating. Also did we find a king of the iRacing Indy 500. There's a new king in Nascar pit stops, and ask if it should be updated in iRacing. All that and some great hardware.
So sit back, relax and join us on the iRacers Lounge Podcast.
iRacers Lounge Podcast is available on iTunes and Apple's Podcasts app, Stitcher, TuneIn, Google Play Music, Spotify, Soundcloud, Podbean, Spreaker, Podbay, PodFanatic, Overcast, Amazon, and other podcast players.
Sponsors:
Hosts:
Mike Ellis – twitter.com/MikeDeanEllis
David Hall – www.twitch.tv/mixmage
Greg Hecktus – twitter.com/froozenkaktus – www.twitch.tv/froozenkaktus
Brian Maccubbin – www.twitch.tv/MacRubbinsRacin
Kyle Pendygraft – twitter.com/LoudPedalGaming
Tony Groves – www.twitch.tv/SirGroves
Adam Josselyn- twitter.com/Jossad83
Chris Scales – twitter.com/JediMcfly
Tony Rochette – twitter.com/TonyRochette
Tom Dreiling –
Links:
Facebook – www.facebook.com/iRacersLounge/
Twitter – twitter.com/iracerslounge
Instagram – instagram.com/iracersloungepodcast/
Web (Show Notes) – iracerslounge.com/