6/2/2022 = Well Mounted Rig – Episode 0333
iRacers Lounge Podcast – Conversation Topics
Brought to you by:

Opening Audio Clip -"Your listening to the iRacers Lounge Podcast where we discuss everything iRacing, in a casual setting, enjoy."`
READ THIS AT THE TOP OF EACH SHOW!!!
Welcome to the iRacer's Lounge, I am your host "XXX". iRacer's Lounge is a podcast for the iRacer, where we talk all things iRacing in a casual setting.
Joining me are the usual characters, ———— 
---
---
Show Introduction
On the show today we will recap the first ever Coke Series race at World Wide Technology Raceway. We begin to get some Season 3 reveals leading up to next week's update. In Hardware we'll be checking out a great new product from our sponsors at Sim Coaches, and catch up on my (Mike's) sim rig upgrades.
And remember you can follow along with us on your PC or mobile device in real time as you listen to the show and see for yourself all of the great topics and products we'll discuss by visiting iracerslounge.com and selecting show notes. Hope to see you there..
---
---
TITLE SPONSOR READ:
Are you struggling with maximizing your braking zones when you're on iRacing? Locking up when you're trying to push it to the limit?
I was in your shoes not too long ago. I'd see my competition braking deeper then me but no matter what i'd try, I couldn't match them.
Until I started using Sim Coaches P1 Pro Pedals.
With their true hydraulic design, they feel just like you're driving a car.
They're made right here in the USA and even offer a lifetime warranty!
For a limited time, Sim Coaches is offering you guys 10% off your order! You won't find a better discount anywhere…
Head over to Simcoaches.com and use code IRACERSLOUNGE at checkout.
https://simcoaches.com/?fbclid=IwAR1pJASM3C_nV3wFACEHJrHitf8TOQWro4yp-Etaio1zU8Enbojap2Xff5w
---
---
Topics
---
---
---
Coke Series Race
https://racer.com/2022/05/26/clampitt-preparing-to-wind-down-iracing-career/
Pre show – evan impersonations were fun…
Info on road to pro…
GREEN FLAG: @CodyByus and @CaseyKirwan23 lead the field into Turn 1 at @WWTRaceway.
After a few laps @CaseyKirwan23 continues to lead Byus has slipped back to ninth!
LAP 22: BATTLE FOR THE LEAD! @BowlinGraham and
@CaseyKirwan23 fight for the top spot.
LAP 23: NEW LEADER, @BowlinGraham
clears @CaseyKirwan23 for the top spot.
LAP 28: Not only is Darik Bardeau the biggest mover, now up 13 spots to 21st, he's been the fastest car on track the last two laps
https://twitter.com/peddle_flower/status/1531719846764892160
LAP 31: It took less than 10 laps, but @BowlinGraham's lead over @CaseyKirwan23 is already over 1 second.
LAP 35:Trouble but we stay green! Derik Bardeau and @blakereynolds66 collide off of Turn 4 coming to complete Lap 35. Heavy damage for both, and it's enough for Bourdeau to park it for the evening.
LAP 40: @RyanLuza is the biggest mover, up 13 spots from 23rd to 10th.
LAP 42: Liam Brotherton pits. Garrett lowe pits
LAP 43: @NickOttinger takes 2nd from @CaseyKirwan23
LAP 46: @dylanault42 pits.
LAP 46: @vicente_salas14 takes 3rd from @CaseyKirwan23
LAP 52: @TDawgHurst pits.
LAP 54: @blakereynolds66 pits.
LAP 55: @KeeganLeahy pits.
LAP 56: @MGuest33 pits.
Since losing the lead, Kirwan has fallen back to P5. @bobbyzalenski is on the move, up to P4 now with pit stops happening all around.
LAP 56: @MitchelldeJong1, @swilson3_, and @Blade_Whitt are on pit road.
LAP 57: @MikeConti5 pits.
LAP 58: @A_Boes21 and @KollinKeister Pit.
LAP 59: @NickOttinger pits.
LAP 60: @bobbyzalenski and @CaseyKirwan23 pit.
And then Caution!
The caution was for @GarrettManes getting turned by @jmullisracing. Mullis locked up the brakes and clipped Manes.Many pitted before pit road was open.
There's a lot of end of line penalties.
A LUCKY BREAK for once for @BowlinGraham who made it on to pit road before the yellow! He'll maintain the lead on the restart!
RESTART 56 to go: @BowlinGraham and @KeeganLeahy lead the field into Turn 1.
LAP 69: Last week's winner, @mbussa75 is the biggest mover, up 29 spots from 39th to 10th.
42 to go – bowlin, novak, clampitt – ray, leahy, byus, vincent retzlaff, bussa, lowe
39 to go: CONTACT @CaseyKirwan23 and Liam Brotherton.
34 to go: @mbussa75 takes 6th from his @ModeMediaHouse
teammate @CodyByus
20 to go: @mbussa75 enters the top-5.Someone who needs a good finish tonight, @LoganClampitt_'s birthday celebration tonight currently sees him unwrapping a third place effort with 20 to go. He's going to try and catch P2!
Ten laps to go for @BowlinGraham at WWT Raceway.
Bowlin novak clampitt ray luza bussa vincent lowe salas ottinger
The fight for tenth w 5 to go is ottinger over vincent
Meanwhile upfront bowlin extends his lead 2.3 seconds over novak…
CHECKERED FLAG! @CLTPhoenixGG gets their first @eNASCARCocaCola #iRacing Series win with @BowlinGraham at @WWTRaceway and the second win of his career!
https://twitter.com/RyanVargas_23/status/1531824650677780481
---
---
Josh Rogers Video Expose
Recode The Race did a video segment on road race ace Josh Rogers
https://motorsports.porsche.com/international/en/article/2022/05/25/esports-works-driver-joshua-rogers
https://www.youtube.com/watch?v=5GMpKAbCmhM
---
---
Drift King
iRacing posted a video of member Togo Hisada with an insane drifting save in his Lotus
https://twitter.com/iracing/status/1530279848836481025?s=11&t=Bxn37QjGOQipXPDc5c34Fg
---
---
Simming for a Living
Gary Klutt talked on his podcast how one makes a living as a sim racer
https://www.tiktok.com/@garyklutt/video/7102149116544683270
---
---
Superbike Sim
Sim Racing point shares a video of a motion sim racing rig for superbikes
https://www.instagram.com/reel/Cd-wlJ4AXc4/?igshid=MDJmNzVkMjY=
---
---
Sandown
Sandown International Motor Raceway is a 13 turn, 1.928 mile road course in Springvale, Australia
https://www.youtube.com/watch?v=wghRFk163nw
---
---
New Content in 2023
iRacing fans will soon be able to expand their garage with the addition of the Toyota GR86 Cup car coming in 2023 according to the SRO Motorsports Club
https://twitter.com/apawlows/status/1531988778721869825
---
---
Season 3 Downtime
iRacing posted in the forums the upcoming downtimes for the Season 3 patch, including the Test Drive special feature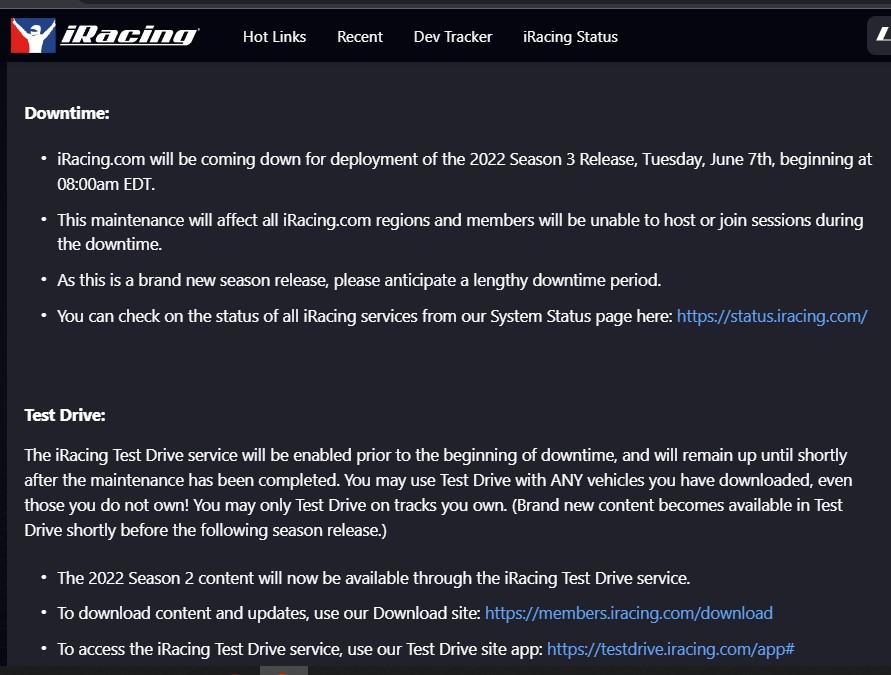 https://forums.iracing.com/discussion/23524/2022-season-3-release-june-7th-0800edt-1200utc
---
---
New Content Teaser
iRacing posted a new content teaser on their Twitter account with the clue "A historic track in Melbourne"
https://twitter.com/iRacing/status/1532099334287810560
---
---
Fuji Speedway
Another, less ambiguous teaser from iRacing's twitter shows a picture of Fuji Speedway located in the foothills of Mt Fuji
https://www.instagram.com/p/CeT34hEOgfE/?igshid=MDJmNzVkMjY%3D
---
---
Cup Series Damage Model
iRacing announced that the long awaited Nascar Cup Cars will finally get a new damage model for season 3
https://twitter.com/iracing/status/1532365438264418306?s=11&t=RPd56xQvzOioVTgB5IOcnQ
---
---
Majors 24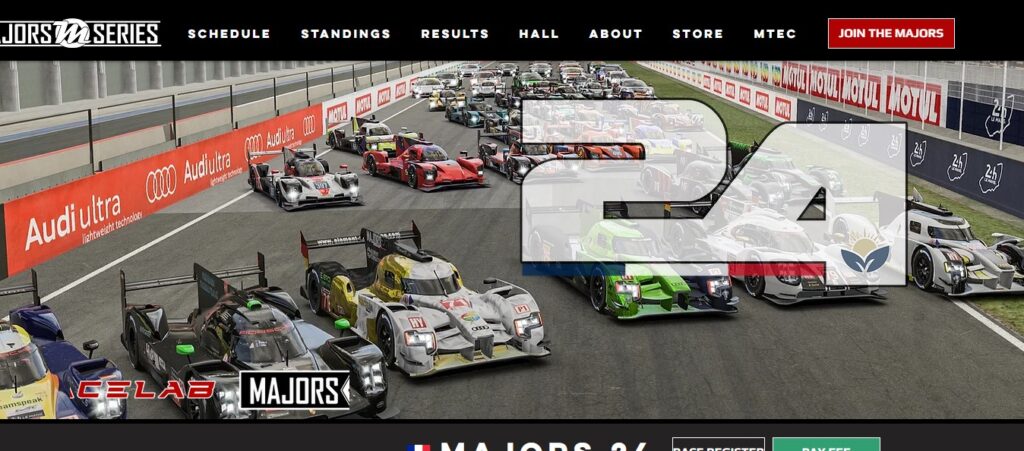 https://www.majorsseries.com/24?fbclid=IwAR0WdG4Z53m8BiDCk-73igQxh02lguxTLBUmjOxaU-vCyZiVa2OFSO6R2JQ
---
---
Creventic Endurance Series
The iRacing CREVENTIC Endurance Series, one of iRacing's longest-standing team racing challenges, returns this Saturday, June 4 with a visit to Hockenheimring Baden-Württemberg. In partnership with CREVENTIC, the organizers of the real-world 24H Series and iRacing's NEO Endurance League, this series of 12-hour endurance events brings a full slate of GT and touring cars to some of the world's most iconic tracks.
Competitors can choose between three different classes, featuring the Porsche 911 GT3 Cup (992), GT4 cars, and touring cars. GT4 racers have the choice of the Aston Martin Vantage, BMW M4, and Porsche 718 Cayman. Touring car teams can select the Audi RS 3 LMS, Honda Civic Type R, or their choice of the Hyundai Veloster or Elantra N TC
https://www.iracing.com/this-week-iracing-creventic-endurance-series-at-hockenheim/
---
---
Podcast Housekeeping
Leave us a review on your favorite podcast platform to make it easier for more listeners to find the podcast. Mention the podcast to your fellow drivers so they don't miss out, we would appreciate it.
Check out our Discord https://discord.gg/rvRas4DDqF
New Website – Leave Comments https://www.iracerslounge.com/
---
We are in the regular rotation… (Mike)
https://performancemotorsportsnetwork.com/
Fantasy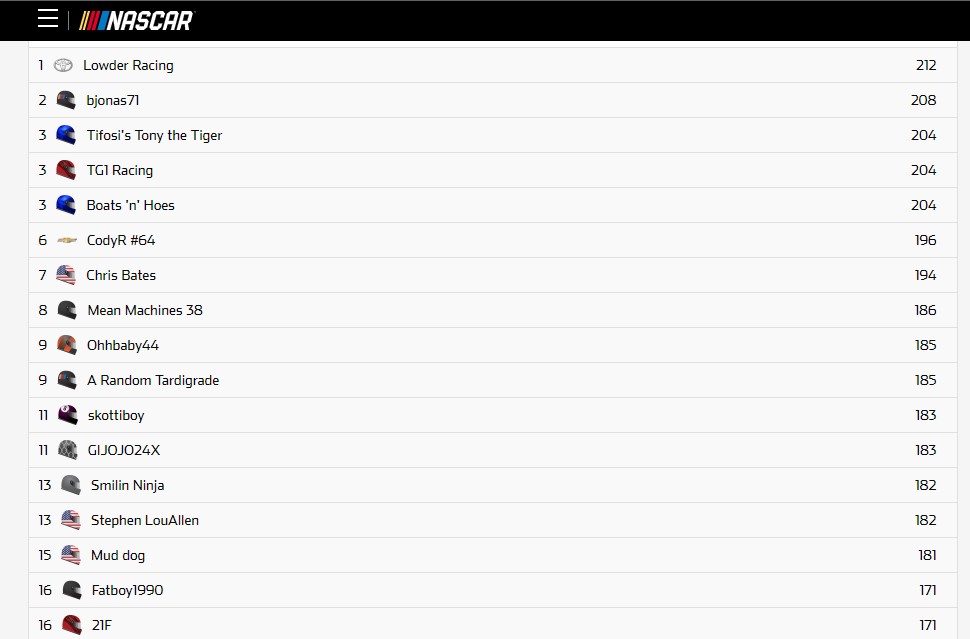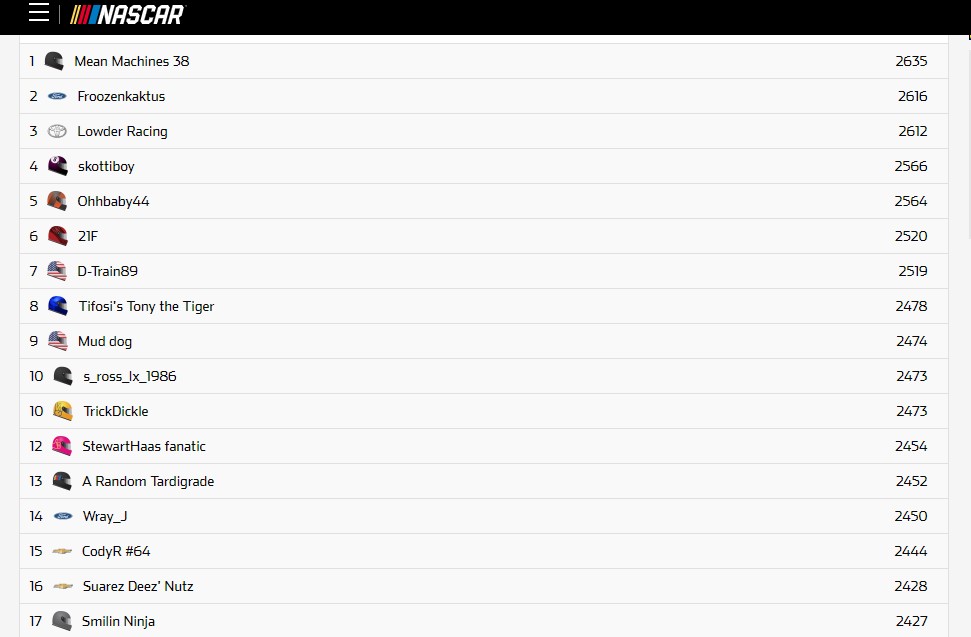 ---
---
Hardware/Software
---
Simlab P911
The Simlab P911 formula wheel is now available for pre orders
https://www.instagram.com/p/CeD6G8wrx_a/?igshid=MDJmNzVkMjY=
https://gridbysimlab.com/shop/product/grid-p911-steering-wheel-v2-3553?category=163#attr=
---
---
Tillett B4
The new Tilett B4 racing seat is moving from GT tp GP
https://www.instagram.com/reel/Cc5rJ67jvxw/?igshid=MDJmNzVkMjY=
https://www.torqued.io/tillett-b4-race-car-seat
---
---
Advanced Sim Racing ASR-K
Advanced Sim Racing introduces their new ASR-K aluminum profile rig
https://www.instagram.com/p/CeBuDgasXLY/?igshid=MDJmNzVkMjY=
https://www.advancedsimracing.com/products/asr-k
---
---
Mike has Wind! (MIKE)
Our own Mike Ellis is making progress on his homemade wind simulator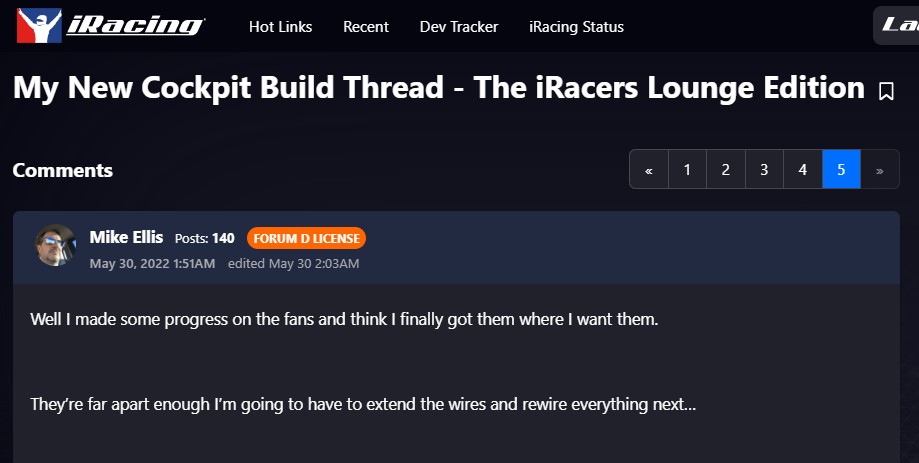 https://forums.iracing.com/discussion/9126/my-new-cockpit-build-thread-the-iracers-lounge-edition/p5
---
---
Moza vs Fanatec
The Ford Brother at Boosted media posted a video comparing the Moza R9 vs the Fanatec CSL DD
https://boostedmedia.net/sim-racing/moza/review-moza-r9-gs-direct-drive-sim-racing-wheel/
https://www.youtube.com/watch?v=SGeAIrPrbCg&t=1s
---
---
Sim Coaches P1 Pro Handbrake
Sim Coaches announces their new Hydraulic P1 Pro Sim Racing Handbrake
https://www.instagram.com/p/CePBZ4Yvui2/?igshid=MDJmNzVkMjY%3D
https://simcoaches.com/products/hydraulic-handbrake-sim-racing
---
---
All-In-1 Pro Series Cockpit
The Pro Series racing simulator cockpits are among the strongest frames on the market. Constructed from beastly 45 series commercial grade aluminum profiles, this cockpit has no flex with even the mightiest of wheelbases.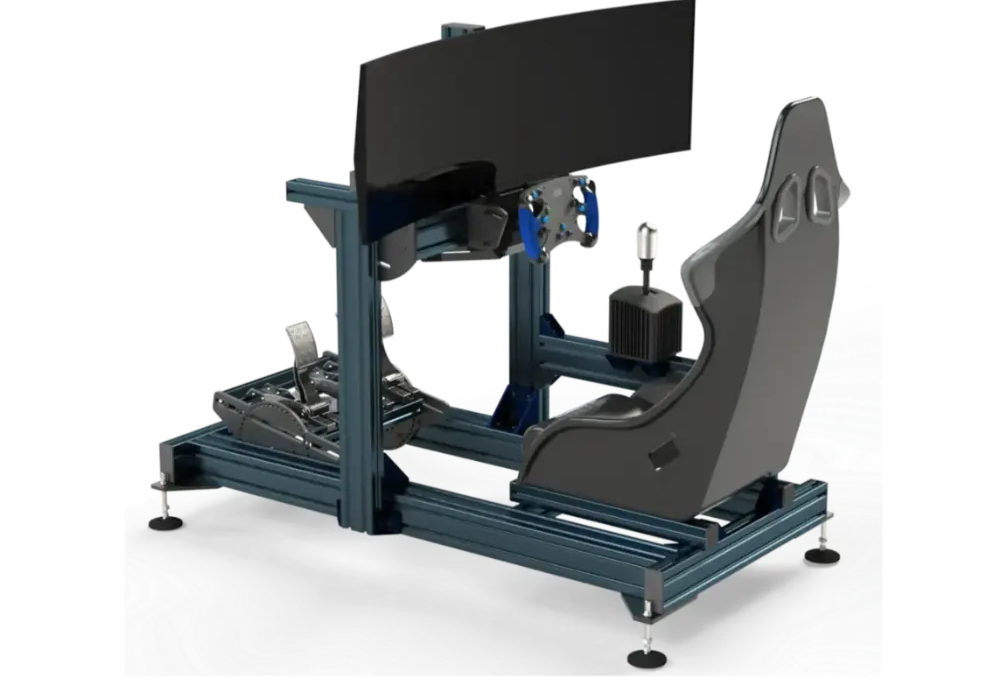 https://allin1gaming.com/pro-series-racing-sims
---
---
Pitlogic Race Team Management Tool
PitLogic is designed to help keep your team organized and make raceday setup choices easier and more precise. Thousands of hours have been spent developing this app for racers, so that anyone from a novice to a professional race team can benefit from it.
https://www.pitlogic.com/about
---
---
DIY Rigs
Mario Bohm Posted on "SimRacing Builds" a picture of his homemade simrig.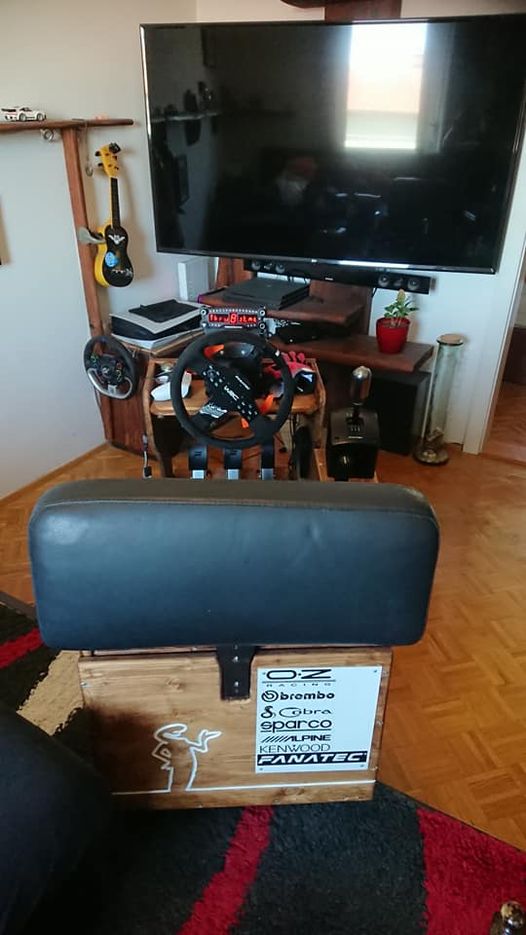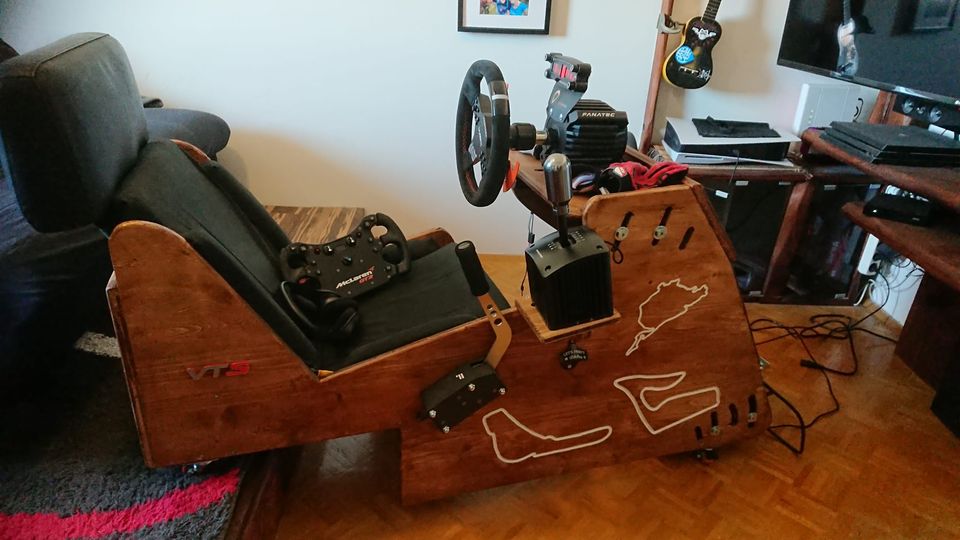 https://www.facebook.com/groups/simracingbuilds/posts/1451525291971483/
---
---
Mike's Got Lights
Mike added his new Hue Light System to his rig!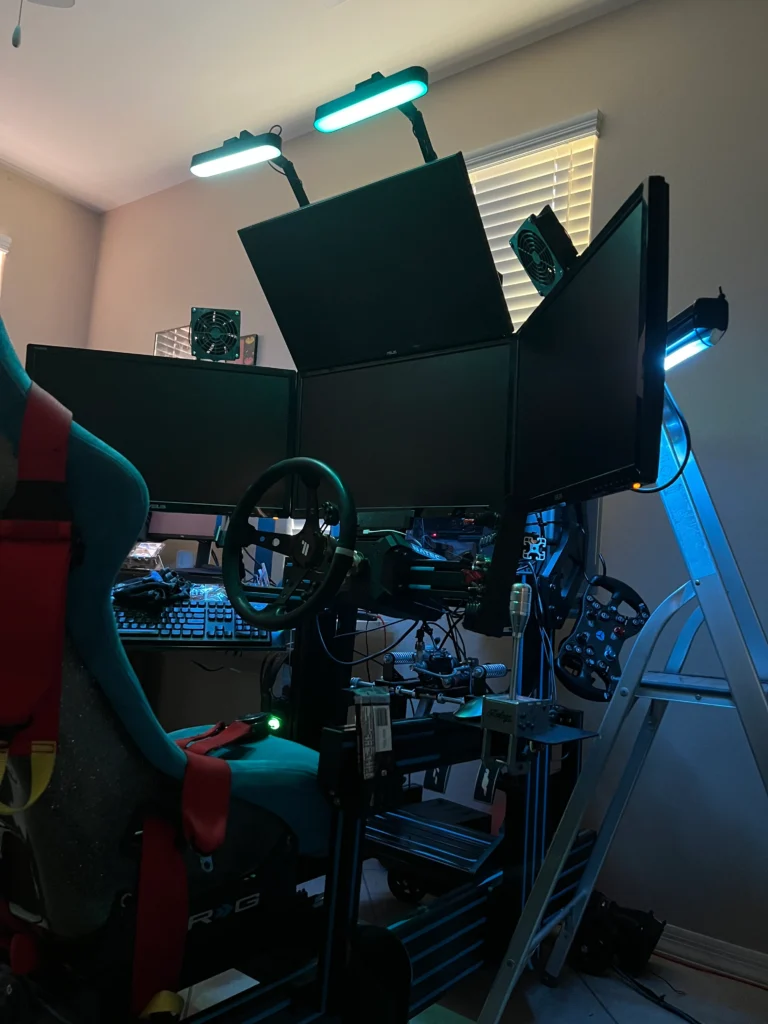 https://forums.iracing.com/discussion/9126/my-new-cockpit-build-thread-the-iracers-lounge-edition#latest
---
---
Results
NASCAR iRacing Series
Fri open: Charlotte
Ellis –

pwrecked out – very uncomfortable loose in was slow out there for sure – made it to lap 83 before i killed it putting it in the wall hard –
Rochette-Pwrecked.

Tried to stay away from the crap but it hit the fan. First had a spinner come back up on the track from just loosing it on the back and knocked some revs outta me. Than just before half way a car went into the infield on the stretch and the dumbass lapper in front of me slams on his brakes and i knock the hell out of him. Im done
Hall –

P 9. Frustrating race, but stuck it out. Trapped a lap down early because a car wouldn't catch up to the pack and we couldn't get wave around after a cation in the middle of green flag stops. Got damage from a lead lap car that decided to go Ryan Newman mode on cars racing for the lucky dog. Forgot to change my wheel setting so ran the whole race with to high a steering ratio. But did finally get back on lead lap and survived for 9th
Groves – P wrecked
Hall – p wrecked out by unavoidable
Race : Gateway
Hall –

p. 19, purely survival. Tough Top Split was car 37. Got damage on 2nd lap as a driver discovered on green his FFB was gone. Caught in a 2nd wreck and just limped around on back of tail lap, but was far enough from the rest of the wrecks.
Ellis – p wrecked out – had a good race going running about 10th to 12th – around half way i got 12 x within 20 laps from people running me over from behind in the corner. After that I spun off on my own late exit down the the inner wall and killed the car 4 minutes optional. Stayed on lead lap and couldnt really repair due to people cant pace. Maybe 20 laps later the engine blows.
Ellis – p. 11 – Was running good top ten as high as second, but someone spun up front and i tboned in for five and half min damage – soldiered on to be last on lead lap
---
---
Official Series
Ellis – skip barber – ring – started p17, finished p7 – missed the big one
Wrecked out four different races in a row
PDS Euro Sprint Series

Hall – 3 WINS at Daytona, one was a 18 second comeback.
---
---
League / Hosted Races
David – p 7, good long run speed but suffered to much on the short run

Greg pDisappointed in the setup and tired of getting run over in this league by A-Holes

Mike – p21- was pretty uncomfortable around the top letting everybody go wasn't racing anyone get the car cleaned till roughly halfway and then started hitting the wall was barely hanging onto it by the end. Glad to get a finish at Charlotte this week that is an accomplishment for me.

Adam – p w Wrecked out
Git R Done GT3 Series
Greg – P2 in head 1, field inverted for heat 2 and made it back up to 2nd. Didn't have anything for the leader
---
---
Final Thoughts
---
---
Words Spoken in Closing Audio Clip -""Thank you for listening to the iRacers Lounge podcast make sure to go subscribe to us on iTunes, SoundCloud, or Google Play, Facebook & Twitter, See You On The Track ."
TITLE
Well Mounted Rig
Description
On the show today we will recap the first ever Coke Series race at World Wide Technology Raceway. We begin to get some Season 3 reveals leading up to next week's update. In Hardware we'll be checking out a great new product from our sponsors at Sim Coaches, and catch up on my (Mike's) sim rig upgrades. So sit back, relax and join us on the iRacers Lounge Podcast.
iRacers Lounge Podcast is available on iTunes and Apple's Podcasts app, Stitcher, TuneIn, Google Play Music, Spotify, Soundcloud, Podbean, Spreaker, Podbay, PodFanatic, Overcast, Amazon, and other podcast players.
Sponsors:
Hosts:
Mike Ellis – twitter.com/MikeDeanEllis
David Hall – www.twitch.tv/mixmage
Greg Hecktus – twitter.com/froozenkaktus – www.twitch.tv/froozenkaktus
Brian Maccubbin – www.twitch.tv/MacRubbinsRacin
Kyle Pendygraft – twitter.com/LoudPedalGaming
Tony Groves – www.twitch.tv/SirGroves
Adam Josselyn- twitter.com/Jossad83
Chris Scales – twitter.com/JediMcfly
Tony Rochette – twitter.com/TonyRochette
Tom Dreiling –
Links:
Facebook – www.facebook.com/iRacersLounge/
Twitter – twitter.com/iracerslounge
Instagram – instagram.com/iracersloungepodcast/
Web (Show Notes) – iracerslounge.com/