7/14/2022 – Beach Bum – Episode 0339
iRacers Lounge Podcast – Conversation Topics
Brought to you by:

Opening Audio Clip -"Your listening to the iRacers Lounge Podcast where we discuss everything iRacing, in a casual setting, enjoy."`
READ THIS AT THE TOP OF EACH SHOW!!!
Welcome to the iRacer's Lounge, I am your host "XXX". iRacer's Lounge is a podcast for the iRacer, where we talk all things iRacing in a casual setting.
Joining me are the usual characters, ———— 
---
---
Show Introduction
On the show today we will have a Nascar up and comer show us the way around Atlanta Motor Speedway, There's more goodies coming from the Peachtree Three Charity race and well look at a sim rig most likely to induce vomiting.
And remember you can follow along with us on your PC or mobile device in real time as you listen to the show and see for yourself all of the great topics and products we'll discuss by visiting iracerslounge.com and selecting show notes. Hope to see you there..
---
---
TITLE SPONSOR READ:
SimCoaches offers the realistic sim racing equipment you need to win more races online…. It is designed for real racers… Hydraulic construction makes them feel just like the real thing. High-Quality Construction, 100% Leak Proof, and Lifetime Warranty are the key features with these pedals. And, they look absolutely amazing… Check out simcoaches.com and use the coupon code IRACERSLOUNGE to get 10% off your purchase. Simcoaches.com is your ticket to feel like your actually sitting behind the wheel of a car. Drive harder and stay on the limit longer…
https://simcoaches.com/?fbclid=IwAR1pJASM3C_nV3wFACEHJrHitf8TOQWro4yp-Etaio1zU8Enbojap2Xff5w
---
---
Special Guest
Guest Name
General Questions:
What brought you to iRacing and how did you hear about it?
Which series do you normally run?
What type of hardware do you use? (Wheels, Pedals, ect.)
Software

What gear did you use when you first started iRacing?

Do you run Monitors or VR?

How many monitors?
What VR headset are you running?

Are you part of a team?
Do you participate in any leagues or is it just official racing?
What is your most memorable iRacing moment?
Guest Specific Questions:
---
---
Topics
---
---
iRacing June Top 10
iRacing released the June edition of the top 10 highlights on their YouTube channel
https://www.youtube.com/watch?v=E9-rQmaxkI4
---
---
Rajah does Atlanta
Fox Sports Tweeted a video of rising NASCAR star and current iRacer Rajah Caruth racing on the new Atlanta Motor Speedway and talking his way thru the race.
https://twitter.com/NASCARONFOX/status/1545445077715193856
---
---
Mick Claridge World Tour
Mick Claridge, who is riding his bike around the world heard that we mentioned his story and messaged the show to let us know.
Mick Claridge <mclaridge2@gmail.com>
to iracerslounge
Hi guys ,
It was so cool to get a mention on your show but I gotta clear one thing up
I'm not a 15 time world champion on iRacing . I'm 15 time Grand Prix legends champion. Big big difference. I'm not a pro driver at any stretch of the imagination. Those pros in the WDC are different level.
Anyway. Like I say it was great to get a mention about the ride and to whoever it was who said they'll buy me a beer in Phoenix? Consider that a given. I never pass up a beer!
So the ride is progressing nicely and I've already met 10 or so iracers on my travels through Europe . I'm in turkey at the moment and heading east into Central Asia and the next guy to meet is in Singapore !
So thanks for mentioning the ride and if you guys would like to meet up just put your names down on my discord page and I'll add you to the list . The list is getting pretty full now as I think I've got about 70 guys to meet..
Thanks again
Mick Claridge
---
---
iRacing Producer goes Mod Racing
Kevin Iannarelli is an iRacing producer but still finds time to race in the Modified Series
---
Racing America on Twitter: ""It's one of my favorite tracks to race at. It's always fun to go up there, they pack the place." An @iRacing producer by day, Kevin Iannarelli still finds time for Modified racing. @WiscSpeedway // @KIannarelli27 https://t.co/wUgbOBteUF" / Twitter
---
So Much Slower
Dave Cam tested the Audi GTE car with each of the drivers aids on and compared his speed with them off and compared the differences.
https://www.youtube.com/watch?v=uTBmMDmNMUk
---
---
Season 4 Schedules
Tyler Hudson posted in the forums that if the community wants to submit 2022 Season 4 track schedules and length of races please do so by Tuesday, August 2nd. Only schedules submitted with the template provided will be considered. Only community-based schedules please, not individual requests.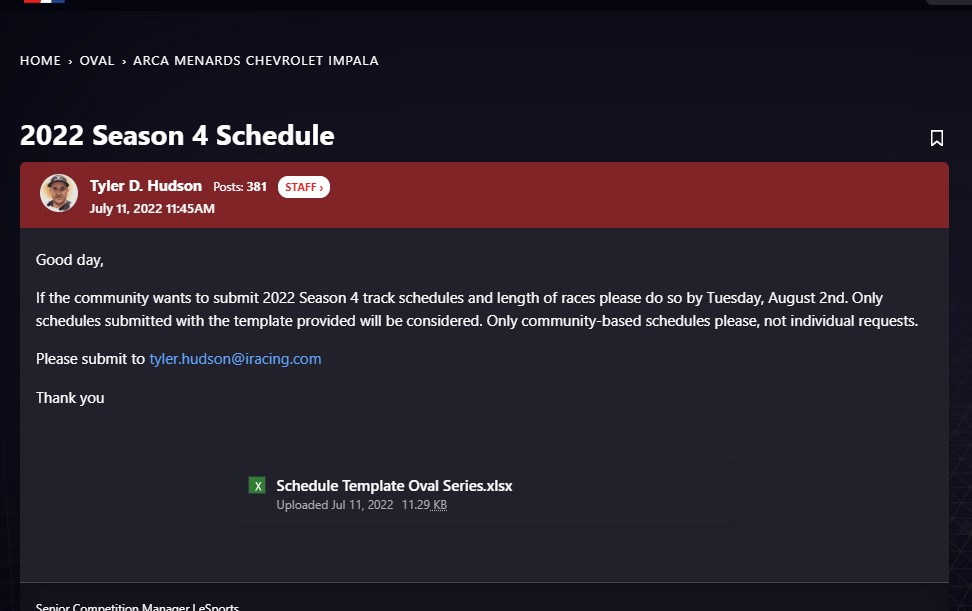 https://forums.iracing.com/discussion/25952/2022-season-4-schedule#latest
https://forums.iracing.com/discussion/25916/2022-season-4-schedule#latest
https://forums.iracing.com/discussion/25939/2022-season-4-schedule#latest
https://forums.iracing.com/discussion/25965/2022-season-4-schedule#latest
---
---
Cockpit Off-Center
Stef Georgeiou posted in the forums that since the latest updates his cockpit view is off-center and looking diagonally left. Staffer Nicholas Bailey replied that he's got the same issue when FSR is enabled. It's something we are investigating.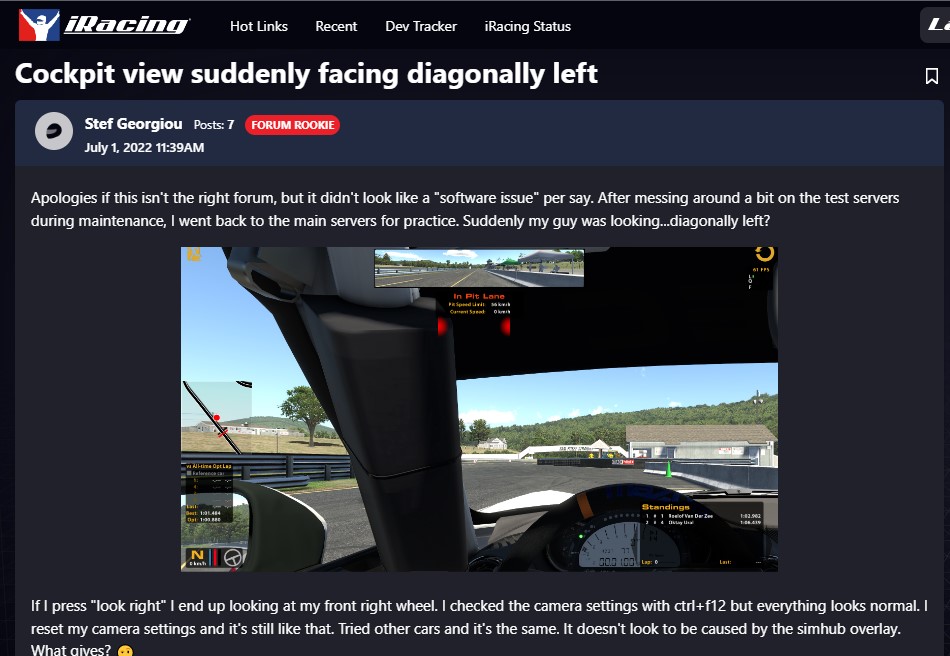 https://forums.iracing.com/discussion/comment/197714/#Comment_197714
---
---
Fifth to First
Driver Nick Sudik drove his Indy car from fifth to first in the Indy car series at Michigan International Speedway
https://www.instagram.com/tv/Cf6sUGUgs-H/?igshid=MDJmNzVkMjY%3D
---
---
Off-Road World Championship
Round 4 of the iRacing Off-Road World Championships was at Bark River with Cam Pedersen and Josh Fox winning their respective features. After the 4th race of the season Keaton Swane, holds the points lead with 356 points over Connor Barry 11 points behind and Felix Roy 47 points back
Top five finishers from iRacing Off-Road Championship Series Round 7 at Bark River were as follows:
#48 Cam Pedersen, 11 laps
#58 Josh Edmundson, +0.868
#21 Keaton Swane, +4.296
#112 Alex Bergeron, +4.763
#2 Connor Barry, +7.703
Top five finishers from iRacing Off-Road Championship Series Round 8 at Bark River were as follows:
#12 Josh Fox, 11 laps
#87 Tommi Hallman, +0.029
#36 Christopher Plumley, +1.204
#112 Alex Bergeron, +1.458
#21 Keaton Swane, +2.260
Keaton Swane, 356
Connor Barry, 345
Felix Roy, 309
Josh Edmundson, 298
Killian Dall'olmo, 294
Alex Bergeron, 282
Connor Parise, 266
Jakob Rafoss, 257
Cam Pedersen, 256
Christopher Plumley, 245
https://www.iracing.com/iracing-off-road-championship-series-race-preview-bark-river/
https://www.iracing.com/pedersen-fox-split-iracing-off-road-championship-series-wins-at-bark-river/
---
---
Porsche Supercup qualifying
The iRacing Tag Heuer Porsche Supercup World Championship will begin July 23rd with 15 spots available in the services top road racing series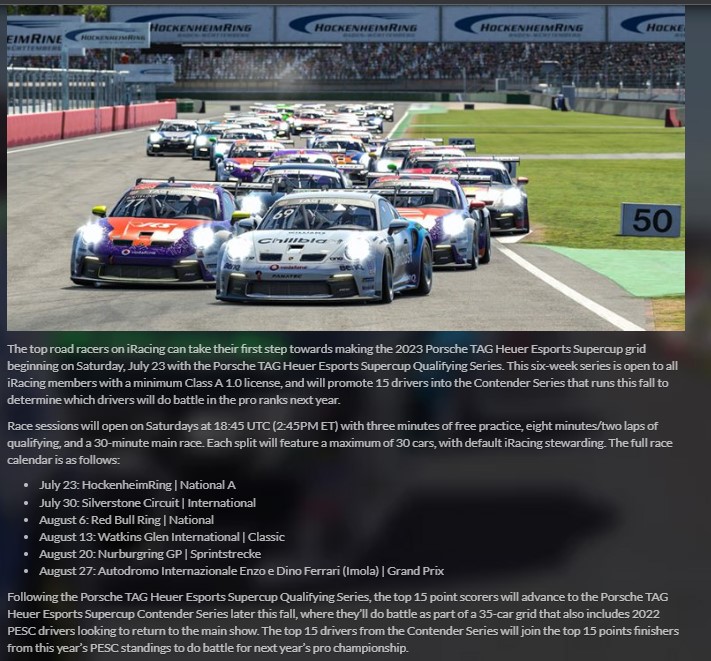 https://www.iracing.com/porsche-tag-heuer-esports-supercup-qualifying-series-kicks-off-july-23/
---
---
Texas comes to WoO Game
The Texas Motor Speedway Dirt Track will be available in the new World of Outlaws dirt console game developed with iRacing
https://twitter.com/outlaws_game/status/1547273925805195264
https://forums.iracing.com/discussion/26065/world-of-outlaw-game-getting-more-tracks-then-iracing#latest
---
---
Monday Night Madness
Daniel Morad's Monday Night Madness has the pro trucks at VIR and let the insanity commence
https://www.instagram.com/p/Cf9VsTCj7L8/?igshid=MDJmNzVkMjY%3D
---
---
Scan Memphis Soon
Nick Kneebon tweeted that iRacing needs to scan the Memphis Motorsports Park before it's too late.
https://twitter.com/kneebon5/status/1547425606467559424
---
---
Knaus/Ottinger Teaming Up
Nascar Crew Chief Legend Chad Knaus will be working with Coke Series Champ Nick Ottenger in preparation for the Peach Tree Three Charity Race.
VIP Drawing
Steve Myers Tweeted that anyone who makes a donation in the next 24 hours will be entered into a drawing for an iRacing VIP account
https://twitter.com/iRacingMyers/status/1547003435677110272
https://twitter.com/iracingmyers/status/1547379262134558721?s=11&t=opWA6ha0p1A672XNh17UCA
---
---
Peach Tree Early Start
Greg West posted in the forums that the Broadcast Race Session will begin at 7:30pm eastern instead of 8:00 to accommodate being on the front page of Twitch

https://forums.iracing.com/discussion/comment/200504#Comment_200504
https://twitter.com/iRacing/status/1545463564441452545
---
---
Podcast Housekeeping
Leave us a review on your favorite podcast platform to make it easier for more listeners to find the podcast. Mention the podcast to your fellow drivers so they don't miss out, we would appreciate it.
Check out our Discord https://discord.gg/rvRas4DDqF
New Website – Leave Comments https://www.iracerslounge.com/
---
We are in the regular rotation… (Mike)
https://performancemotorsportsnetwork.com/
Fantasy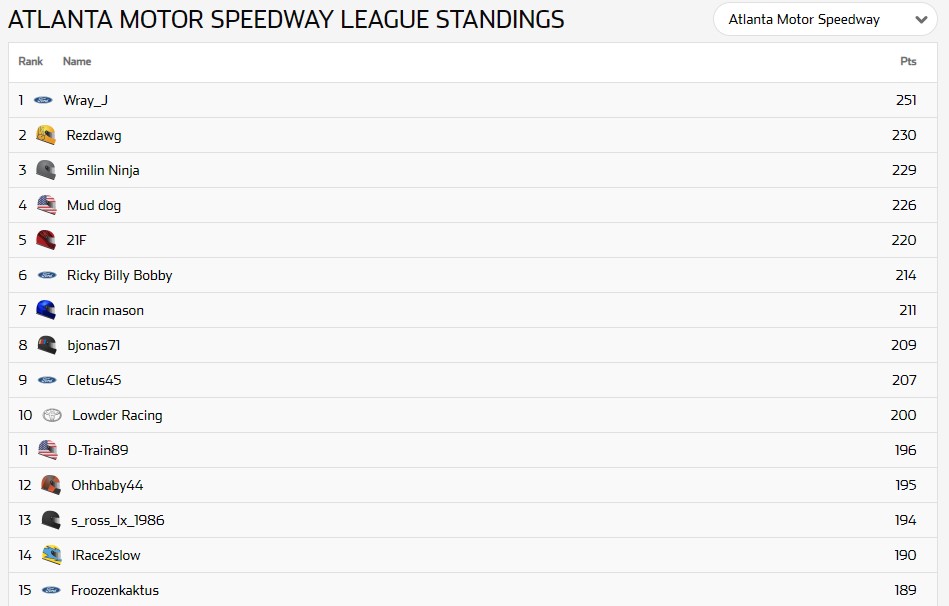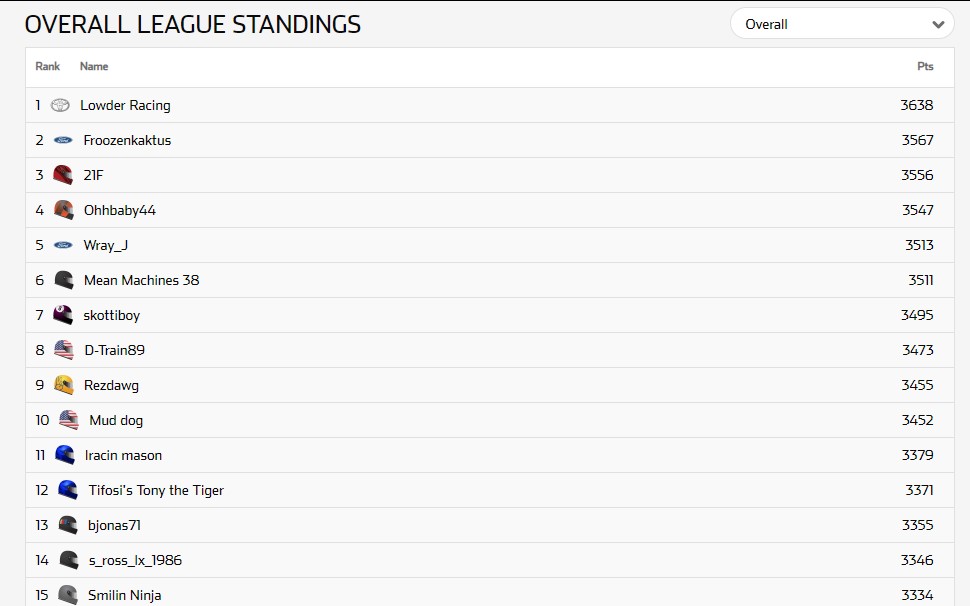 ---
---
Hardware/Software
---
Qubic System QS 220 Review
The Sim Racing Garage reviews the Qubic System QS 220 PL Extended 4 Actuator System
---
---
25% Off 1 Yr Anniversary Sale
6 Sigma Sim Racing is holding a 25% off One Year Anniversary Sale
https://www.6sigmasimracing.com/
https://www.6sigmasimracing.com/collections/all
---
---
The Vomit-anator
The Macross Capsule is a motion simulator rig with the ability to perform 360 barrel rolls
https://www.instagram.com/reel/Ce46lECND4e/?igshid=MDJmNzVkMjY%3D
---
---
Cube Controls Comparison
Theoloop posted a YouTube video of a side-by-side comparison of the Cube Controls FPRO vs The Formula Pro
Theo https://youtu.be/5fZp62y70wA
---
---
Jordan Taylor's Sim Craft Rig
IMSA Champion Jordan Taylor shows off his Sim Craft motion rig on his Twitter channel
https://twitter.com/jordan10taylor/status/1546951140176236544
---
---
Advanced Sim Racing Tour
The guys at Advanced Sim Racing took us on a video tour on Twitter of their new production facility
https://www.instagram.com/reel/Cf9YeVfAinu/?igshid=MDJmNzVkMjY%3D
---
---
Sim Coaches Pedals
Sim Coaches posted another teaser of their new upcoming line of load cell pedals
https://www.instagram.com/reel/CfHomrcl2yl/?igshid=MDJmNzVkMjY%3D
---
---
SimMedal X-GT Wheel
SIMMedal's new X-GT Wheel has Customized button and knob electrical components have excellent hand feel with 9 buttons, 3 knobs that can be pressed as buttons, and 1 seven-way switch. It also boasts a magnetic shift paddle with mute design and the clutch paddle clutch point is adjustable by the combination button for a total of 29 signal outputs
https://www.simedal.com/product/1392398704002076672
---
---
Fanatec got Sued
A simracer sued Fanatec for not honoring their warranty in small claims court and it was settled in his favor
---
---
Results
NASCAR iRacing Series
Fri open: Atlanta
Ellis –

p8 – ran top 10 top 5 all night got shuffled a few times – ended up doing gf stop near end, was p5 and ended up 10th after cycles – not sure what went wrong.
Spiker – P19, Started P3 Ran up front and one point Kyle, Tom, and myself we were running 1-2-3. During our first "long run", the car became looser, I dropped to the end of our pack of five. This was when a lapper decided bup draft down the back stretch sending me into the outside wall breaking my RF. While waiting for repairs, the same lapper takes out Tom
Tom D – p1.

After a bad race on Friday night that saw me get crashed out by a lapped down car racing too hard with the lead card, I was looking forward to Sunday with a pretty good hot rod under us. I qualified 6th. Ran in the top 3 most of not all the race. Lead 51 laps. Got the lead on the second to last restart. Had to fight off a GWC to capture my 2nd NiS win of the season and my 20th overall NiS win. Very proud
Mike –

p2 – Had a good race stephen and I in control much it running 1-2 on the outside mostly – at one point i pushed him in the trioval and he turned off my nose – i felt so bad as we were definitely in position to win. I went on without him and quickly got the lead – final lap they ganged up on me 2nd went onto the apron really low and edged me out.
Stephen – p 6 – Mike wrecked me but w 5 to go came from 20th to 6th
Tyler – P 15 – Solid race, played it safe by staying in the back. Saved enough gas to make it on one stop but a few cautions at the end changed things up. Had a lot of fun watching Mike and Stephen in the front. Was reporting from the back to help them keep digging. Overall just glad to be back in the sim after a eventful time away.
Race : New Hampshire
Wed Fixed
Wed Open:

Hall –p.
Ellis – p24 – i was hot garbage out there – quick on short runs but junk on long runs – got as high as 11th but then fell like a rock through long runs….
Tyler – p26 self spun 2 times. Got caught on pit road twice as I was trying to repair. Then a black flag for passing a car that did not go on the outside line. I started on the inside??? Not a good race at all. Too many mistakes on my part and not enough talent. Gives thanks to Mike for helping me improve rolling through the center and work on balancing my craft.

Thurs Open

Ellis – p Started fifth first 30 lap run and got the third faded to six during pitched ops I got turned completely around trying to get into my box and ended up at the back for the next start. You're the middle part of the race I got up there around 10 where I lost it once but was able to regain my track position flip in a wreck but stayed out regardless of the damage with 39 to go running ten.
We had a bunch of caution and running the five or three to go for the final restart. Then some guy ran over some guy and took out a half dozen cars including me I could not finish the race
---
---
Official Series
Ellis – f2000 – Sebring- Spun out on lot four didn't hear anything but then somebody ran over me DNF
Started p6 – ended up spinning off again dnf
Start p3 – ended up p4 after spinning on my own, a car came by and took off my left front – did a tow and a quick fix and went back out was p6 got to p4 first finish! But 9x out of 11x
Started p5 got p4 – had a spirited battle trying get p3, i got him on the last lap as i passed it appears we hit so as i approached the checker i slowed and gave him back the spot… checked the replay and it was netcode.
SPIKER

Nascar B-Open, New Hampshire – P10, Started P9. For me, it was a good run. One caution around lap 20 which allowed us to race the final 60 laps incident free. This was Top Split, I gained some iRating. The winner of the Race was 6K+
Nascar B-Open, New Hampshire – P9, Started P8. This race was unusually terrible for my time slots. 80 Laps Scheduled, We ran 90, and 48 were under caution. I had a P6 on the radar when under caution, the driver behind me made an abrupt left turn, clipping my right rear, sending me into the fence. Car survived the GWC.
---
---
League / Hosted Races
Mike – p12 – ran as high as p2 in the early parts but as the race wore on got tighter and tighter – hit the wall a few times lost all my track position
---
---
Final Thoughts
---
---
Words Spoken in Closing Audio Clip -""Thank you for listening to the iRacers Lounge podcast make sure to go subscribe to us on iTunes, SoundCloud, or Google Play, Facebook & Twitter, See You On The Track ."
TITLE
Beach Bum
Description
On the show today we will have a Nascar up and comer show us the way around Atlanta Motor Speedway, There's more goodies coming from the Peachtree Three Charity race and well look at a sim rig most likely to induce vomiting. So sit back, relax and join us on the iRacers Lounge Podcast.
iRacers Lounge Podcast is available on iTunes and Apple's Podcasts app, Stitcher, TuneIn, Google Play Music, Spotify, Soundcloud, Podbean, Spreaker, Podbay, PodFanatic, Overcast, Amazon, and other podcast players.
Sponsors:
Hosts:
Mike Ellis – twitter.com/MikeDeanEllis
David Hall – www.twitch.tv/mixmage
Greg Hecktus – twitter.com/froozenkaktus – www.twitch.tv/froozenkaktus
Brian Maccubbin – www.twitch.tv/MacRubbinsRacin
Kyle Pendygraft – twitter.com/LoudPedalGaming
Tony Groves – www.twitch.tv/SirGroves
Adam Josselyn- twitter.com/Jossad83
Chris Scales – twitter.com/JediMcfly
Tony Rochette – twitter.com/TonyRochette
Tom Dreiling –
Links:
Facebook – www.facebook.com/iRacersLounge/
Twitter – twitter.com/iracerslounge
Instagram – instagram.com/iracersloungepodcast/
Web (Show Notes) – iracerslounge.com/