7/21/2022 – Swass – Episode 0340
iRacers Lounge Podcast – Conversation Topics
Brought to you by:

Opening Audio Clip -"Your listening to the iRacers Lounge Podcast where we discuss everything iRacing, in a casual setting, enjoy."`
READ THIS AT THE TOP OF EACH SHOW!!!
Welcome to the iRacer's Lounge, I am your host "XXX". iRacer's Lounge is a podcast for the iRacer, where we talk all things iRacing in a casual setting.
Joining me are the usual characters, ———— 
---
---
Show Introduction
On the show today, we'll review the fantastic finish the iRacing eNascar Coke series race with the voice of eNascar, Evan Possoco, We check out some new reveals from the PeachTree Three Charity race as well as Nascar, "Takin' it to the Streets." And we learn from Dave Cam a lesson many need to learn, Proper Sim Racing Etiquette.
And remember you can follow along with us on your PC or mobile device in real time as you listen to the show and see for yourself all of the great topics and products we'll discuss by visiting iracerslounge.com and selecting show notes. Hope to see you there..
---
---
TITLE SPONSOR READ:
As an enthusiast sim racer we look for the equipment for our rigs that gives us the performance, quality and feel of real world race cars. And that's exactly what Sim Coaches Pedals deliver. Feel the difference of the highest quality constructed premium pedals with 100% leak-proof hydraulic construction that feels as good as the real thing, and look even better. And with full access to their proprietary Visor software you'll be able to customize your pedals to your exact preferences to maximize your results on the track. Also with your purchase you'll receive a lifetime warranty with the best product support in the industry. So, take your rig to the next level, the top level, with Sim Coaches Pedals, at SimCoaches com. And remember, when checking out use the coupon code IRACERSLOUNGE to get 10% off your purchase.
https://simcoaches.com/?fbclid=IwAR1pJASM3C_nV3wFACEHJrHitf8TOQWro4yp-Etaio1zU8Enbojap2Xff5w
---
---
Special Guest
Guest Name
General Questions:
What brought you to iRacing and how did you hear about it?
Which series do you normally run?
What type of hardware do you use? (Wheels, Pedals, ect.)
Software

What gear did you use when you first started iRacing?

Do you run Monitors or VR?

How many monitors?
What VR headset are you running?

Are you part of a team?
Do you participate in any leagues or is it just official racing?
What is your most memorable iRacing moment?
Guest Specific Questions:
---
---
Topics
---
---
Story Title
Pre-Race – Great hearing from Bobby and Dylan Duval
Chicago – Nascar announced it – coke will race it in 2 weeks as the all star race
https://twitter.com/evanposocco/status/1549553072711405568
GREEN FLAG: @TeamDillonMgmt's @TDawgHurst (2nd career pole) and @WilliamsEsports' @DonovanStrauss lead the field into Turn 1.
Lap 1, Turn 1 – not a caution but a meatball for #17 Kaden Honeycutt as he tried avoiding #18 Bobby Zalenski. Honeycutt has a virtually broken toe link and will need to pit for required repairs.
Of note, tonight is not the only time that @KadenWHoneycutt
will run at @PoconoRaceway this week. Tonight he drives for
@RFKracing. On Saturday, he'll drive for @OnPMotorsports
in the @NASCAR_Trucks race.
LAP 7: @znovak15 is the biggest mover so far, up 10 spots from 28th to 18th.
It's been tough to pass all around tonight, but @NickOttinger was able to complete one on Lap 12 – He passes Donovan Strauss to move into P2. Now he sets his sights on the leader Hurst.
LAP 18: @LoganClampitt_ takes 8th from @MikeConti5
LAP 20: CONTACT! @MikeConti5 and @CVincent34
After a few drivers informed Kyle Peddle of his internet issues tonight, he's decided to pull it in and park it just around the quarter race mark.
LAP 21: Big save for @TDawgHurst
LAP 22: The biggest mover now is @vicente_salas14, up 14 spots from 36th to 22nd.
LAP 24: With @NickOttinger taking the lead,@TDawgHurst pits.
LAP 25: @MitchelldeJong1, @KeeganLeahy, and @bobbyzalenski pit.
LAP 26: @swilson3_, @mbussa75, and @FemiOlat_ pit.
LAP 27: @Blade_Whitt and @dylanault42 pit.
LAP 29: @vicente_salas14 pits.
LAP 29: NEW LEADER, @CaseyKirwan23 made his way from fourth to first in a single lap! He takes the lead just before halfway! Everyone else pits the next time by, and Kirwan leads all on his lonesome at halfway.
LAP 30: @NickOttinger leads most of the field onto pit road. Top twelve haven't pitted
LAP 31: @CVincent34 leads another batch of drivers onto pit road.
28 to go: @DerekJustis and @Nick_Shelton402 are the only two drivers yet to pit.
26 to go: @DerekJustis is the only driver yet to pit.
Once Derek Justis pits, the cycle will complete and @MitchelldeJong1 will take control of the lead over Taylor Hurst. 25 laps to go at present.
24 to go: @DerekJustis pits.
CAUTION! Lap 39! Liam Brotherton around on the Long Pond Straight after slight contact with Ray Alfalla! This changes things!!!
.@BigDogBowden, @DDuval42, @rayalfalla, and @DerekJustis stayed out under this caution. Bowden now leads. 10 lap old tires for front row, 9 laps old 2nd row, and 4 laps old for justice
18 to go – crazy restart 2 and 3 wide all the way through the field, lots of slicing and dicing – shakes out bowden kirwin duval…
14 to go: NEW LEADER, @CaseyKirwan23
12 to go we get to 3 wide for the lead – Derek Baurduea, Keegan Leahy and Casey Kirwin the Caution behind them!
CAUTION! 12 to go. @vicente_salas14 has crashed.they were FOUR WIDE until they weren't.
Restart 8 to go – bourdeau kirwin bowden up front – behind them they are 3 wide and 4 wide 6 deep – Then 6 wide getting into one! No holes barred mid pack racing
5 to go big caution as ottinger turns him self off of bowden, leahy had just taken third nick was doing the same but was not clear
It won't be eNASCAR Overtime, but it will be a natural Green-White-Checkered restart
Live Look at the points – 2 to go Kirwin gets a good restart
4 and 5 wide mid pack – zack novak gets to 2nd from bourdeau
Then huge wreck right before the white IT'S THE BIG ONE AT POCONO! We're going to eNASCAR OVERTIME! The back half of the field basically piled up when the guy on the outside got the wall and came down into the field.
Restart – Kirwin gets the jump – Then they wreck on the backstetch again! Caution – @KollinKeister gets turned! It's another big wreck.
eNASCAR Overtime #2 coming up! This one was because of four wide in one lane.
Restart kirwin and novak break free after turn 1 side by side for lead into two and novak takes the lead as the pack wrecks behind them in turn 2 The contact started with Malik Ray and Ray Alfalla. Alfalla was not happy with Malik for hanging back on the restart. They both survive but the field ends up beat up behind them.
Will these guys have enough fuel for even another restart…
FINAL OVERTIME RESTART: @riseesports' @znovak15 and @XSET
's @CaseyKirwan23 lead the field into Turn 1.
Novak gets a good jump – top 3 break away from the pack – kirwin 2nd and leahy third –
Kirwin makes a big try in 3 and gets side by side white flag
Leahy trying to find a way around they get past one lined up
Final corner kirwin dive bombs it they get side by side and bang each other all the way to the checkers and KIRWIN wins it by a hair!
https://twitter.com/iRacing/status/1549585289261338627
https://twitter.com/justinmelillo/status/1549583841538543617
---
---
Indy Rescan
During the Peachtree Three charity race Greg Hill talked about a rescan of a "very popular track" the Indianapolis Motor Speedway
https://twitter.com/iRacing/status/1547974434614435842
https://www.youtube.com/watch?v=k9Tz2G0cjyY&feature=youtu.be
Storm's Comin'
Sneaky Sloth asked for some pictures of rain on Twitter, and his request was granted
https://twitter.com/SuitingRex/status/1547756688853282816
---
---
The Simracer Premier
The Sim Racer, a sim racing themed movie, will premiere at The Plaza theatre in Atlanta, GA. Come walk the red carpet and be the first to see the movie. Event starts at 2:30PM
https://www.instagram.com/p/CgAHYPHuqWt/?igshid=MDJmNzVkMjY%3D
---
---
Sim Racing Stats
Sim Racing Stats is a website that breaks down all of the iRacing series' with a bunch of statistical goodness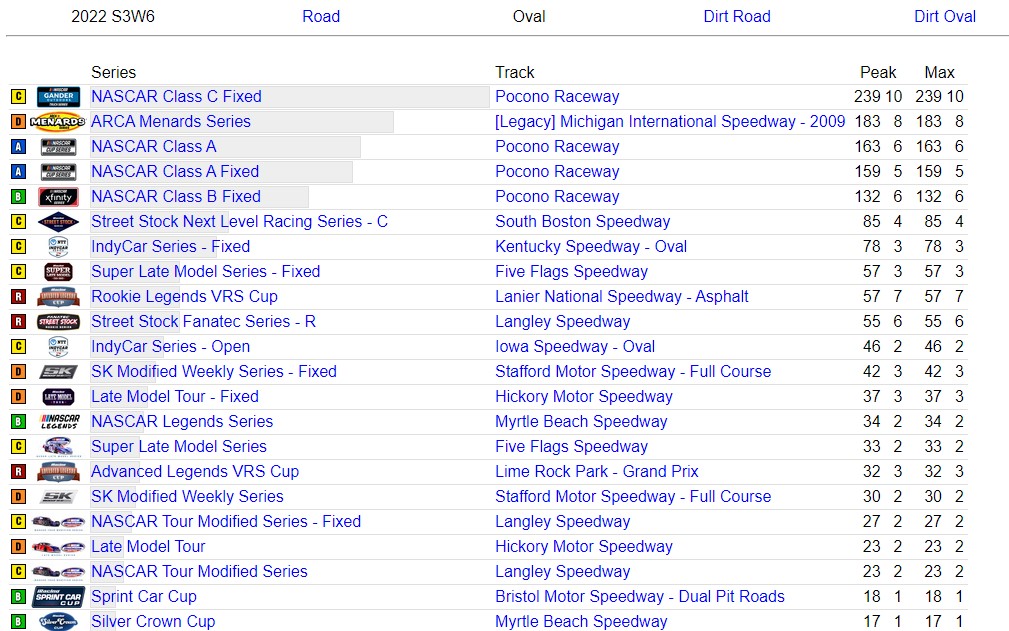 https://www.simracingstats.com/
---
---
Toronto Scan
iRacing is set to scan the Toronto Course at the Toronto Motorsports Park
https://forums.iracing.com/discussion/26161/toronto-to-be-scanned#latest
https://www.reddit.com/r/iRacing/comments/vzyy2h/iracing_is_to_scan_the_toronto_course_tonight/?utm_medium=android_app&utm_source=share
---
---
Speed Record
u/mdetour posted on Reddit proof that here are several tracks where you can glitch into objects and get ejected at mach speeds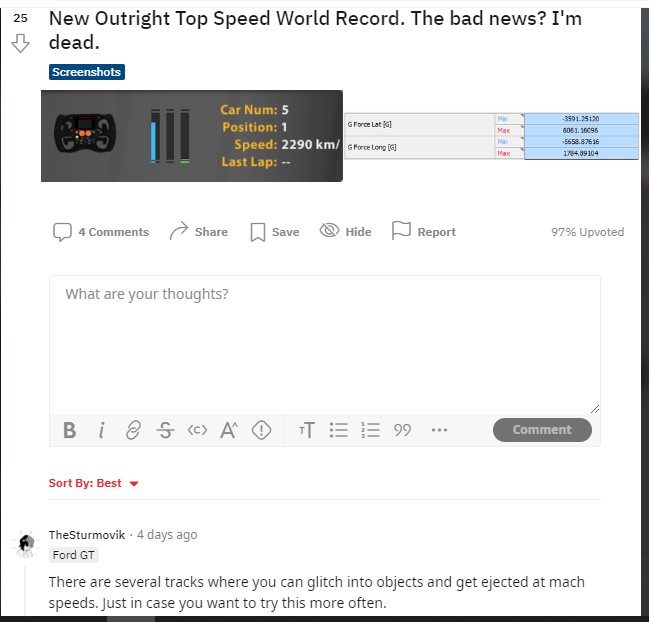 https://www.reddit.com/r/iRacing/comments/w0v5qs/new_outright_top_speed_world_record_the_bad_news/
---
---
Michigan 5 Wide
On iRacing Instagram you can watch an onboard video with Connor Harrington for a crazy final 2 laps at @mispeedway in the @indycar open series – they were 5 wide at one point
https://www.instagram.com/tv/CgK1Wm9DQvC/?igshid=MDJmNzVkMjY%3D
---
---
Not Top 10
iRacing posted the June Not top 10
---
https://www.youtube.com/watch?v=yZ4KIXMQjQA
---
Next Level Sponsors Monday Night Racing
Next Level Racing becomes official partner of the Monday Night Racing series
---
https://traxion.gg/next-level-racing-becomes-official-partner-of-monday-night-racing-series/
---
Free iRacing Resources
JW Miller has been collecting several different free guides including setup guides, car and track tips and telemetry guides and workbooks and is willing to share the links to anyone interested.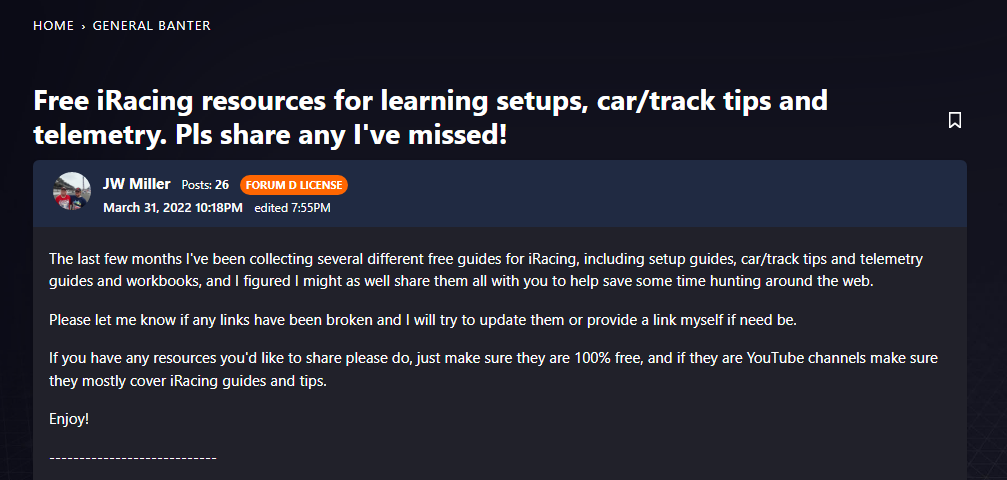 ---
Free iRacing resources for learning setups, car/track tips and telemetry. Pls share any I've missed! — iRacing Forums
---
iRacing is Hiring
iRacing is looking for an experienced javascript developer equipped with vast experience writing React and Redux to join their development team
---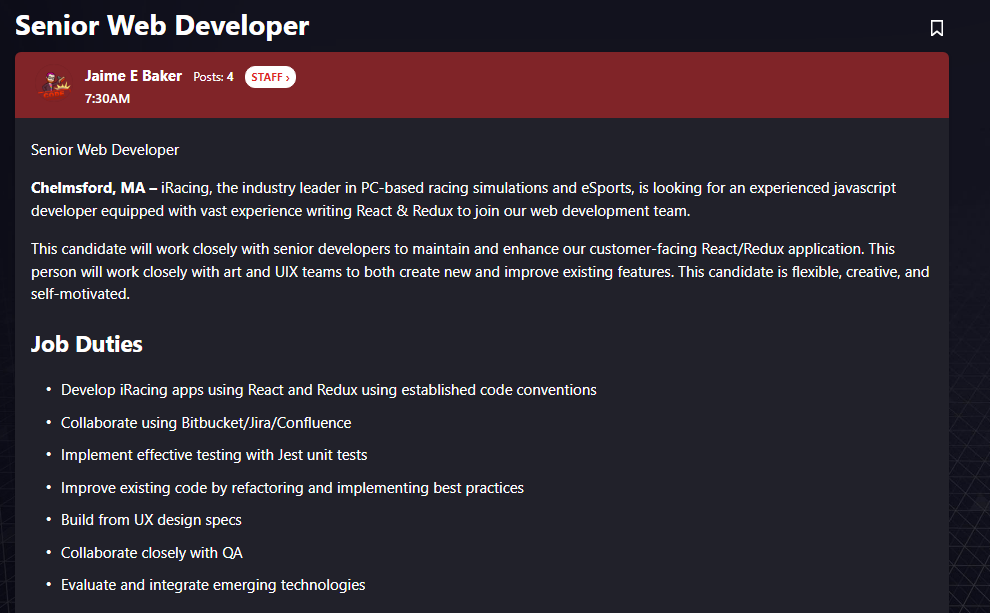 Senior Web Developer — iRacing Forums
---
Fantasy No Longer
The Chicago Street Course is no longer a fantasy, but will be in next year's Nascar schedule. The course is the same one that was released with the help in development by iRacing last year.
https://forums.iracing.com/discussion/26371/chicago-street-no-longer-a-fantasy-track#latest
https://www.iracing.com/iracing-designed-chicago-street-course-to-become-reality-for-nascar-in-2023/
https://twitter.com/DaveyCenter/status/1549487161002676227
https://twitter.com/mbussa75/status/1549519325471690758
---
---
It's in the Game
Anthony Alfredo Tweeted a video of what everyone who runs the next gen cup car fears the most…loosing tires.
https://twitter.com/anthonyalfredo/status/1549559208231804930
---
---
Rajah Looking for a Ride
Rajah Caruth is looking for anyone in the Pocono are who will let him run their rig for his Road to Pro while testing his ARCA car.
https://twitter.com/rajahcaruth_/status/1549405445584044033
---
---
Off Road Championship Week 5
Team ABR's Alex Bergeron and Factory Simsport's Keaton Swane split iRacing Off-Road Championship Series race victories on Tuesday night, splitting the feature rounds at Wild Horse Pass Motorsports Park.
Top five finishers from iRacing Off-Road Championship Series Round 9 at Wild Horse Pass were as follows:
#112 Alex Bergeron, 16 laps
#58 Josh Edmundson, +3.241
#12 Josh Fox, +3.963
#2 Connor Barry, +8.504
#18 Killian Dall'olmo, +9.904
Top five finishers from iRacing Off-Road Championship Series Round 10 at Wild Horse Pass were as follows:
#21 Keaton Swane, 16 laps
#2 Connor Barry, +0.418
#91 Felix Roy, +0.615
#58 Josh Edmundson, +2.076
#48 Cam Pedersen, +2.457
iRacing Off-Road Championship series points through 10 of 16 rounds are as follows:
Keaton Swane, 445
Connor Barry, 442
Josh Edmundson, 391
Felix Roy, 385
Killian Dall'olmo, 367
Cam Pedersen, 340
Alex Bergeron, 336
Connor Parise, 334
Christopher Plumley, 317
Jakob Rafoss, 289
https://www.iracing.com/iracing-off-road-championship-series-race-preview-wild-horse-pass-2/
https://www.iracing.com/bergeron-swane-earn-second-iracing-off-road-championship-victories-at-wild-horse-pass/
---
---
What's Next
Anthony Alfredo asked iRacers on Twitter to send a photo of what cars you think need to be scanned and added to the service
---
https://twitter.com/anthonyalfredo/status/1549406244720590852
---
Scheduled Downtime
Season 3 Patch 3 will put iRacing offline on Monday, July 25th at 9:00am
https://twitter.com/iRacingSupport/status/1549856977504829441
https://forums.iracing.com/discussion/26417/rescanned-indianapolis-road-course-update#latest
---
---
Racing Etiquette
Dave Cam discusses 5 things for proper sim racing etiquette.
Outtlapping
Flashing Headlights
Rejoins (after accidents)
Common Curtesy
Giving up your position
---
https://www.youtube.com/watch?v=8bw_2RZo_II
---
No Future in Grand Turismo?
In other forms of sim racing, top-tier drivers can earn a full-time living racing with a team. Take Keegan Leahy, who won last year's eNASCAR championship on iRacing while driving for Danny Hamlin's 23XI crew. Leahy held a Reddit AMA last November, where one fan asked him about his parents' reaction when they learned he could turn sim racing into a career. Leahy's response describes a scenario that doesn't seem feasible in Gran Turismo:
It was a really slow build up because it really did happen quite slowly. The prize pools kept going up, sponsor interest picked up, teams started paying, etc. The only single "moment" I could think of would be when I quit the warehouse job I was doing during University, to do driver coaching and content creation with Virtual Racing School.
https://jalopnik.com/the-stars-of-gran-turismos-world-tournament-see-no-futu-1848950204
---
---
Spa 24
https://forums.iracing.com/discussion/25605/bop-added-iracing-presents-the-24-hours-of-spa-powered-by-heusinkveld/p1
https://forums.iracing.com/discussion/26287/spa-bop-applied-to-regular-series#latest
---
---
Podcast Housekeeping
Leave us a review on your favorite podcast platform to make it easier for more listeners to find the podcast. Mention the podcast to your fellow drivers so they don't miss out, we would appreciate it.
Check out our Discord https://discord.gg/rvRas4DDqF
New Website – Leave Comments https://www.iracerslounge.com/
---
We are in the regular rotation… (Mike)
https://performancemotorsportsnetwork.com/
Fantasy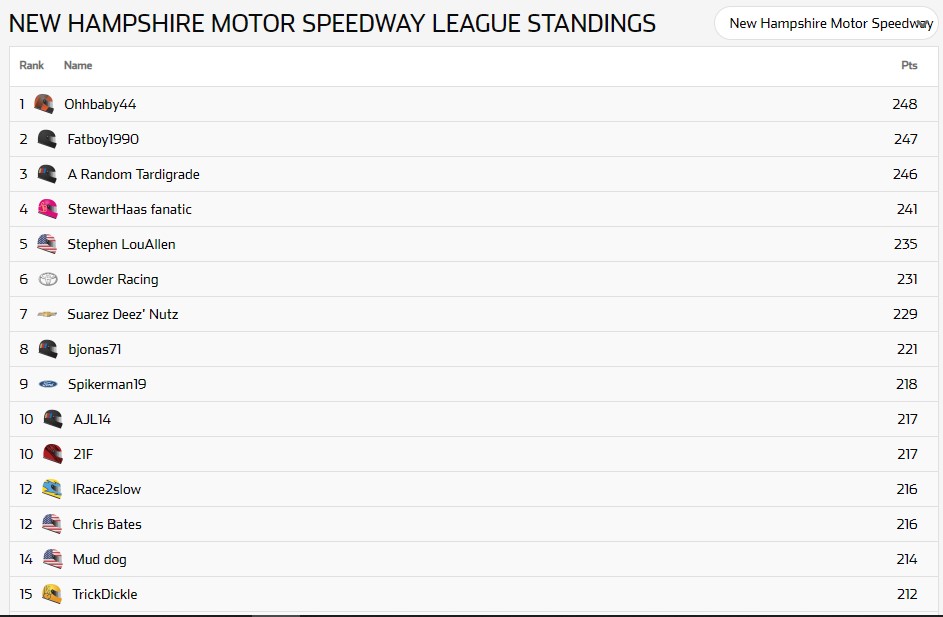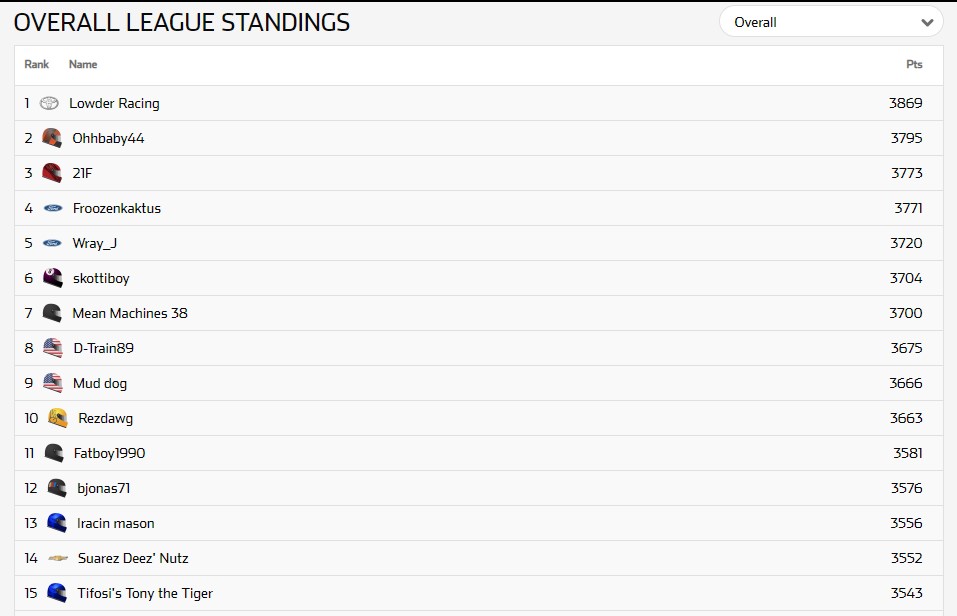 ---
---
Hardware/Software
---
3090 Ti Doesn't work with VR
I (David) installed my 3090 TI only to discover its not working with all VR's that use the display ports.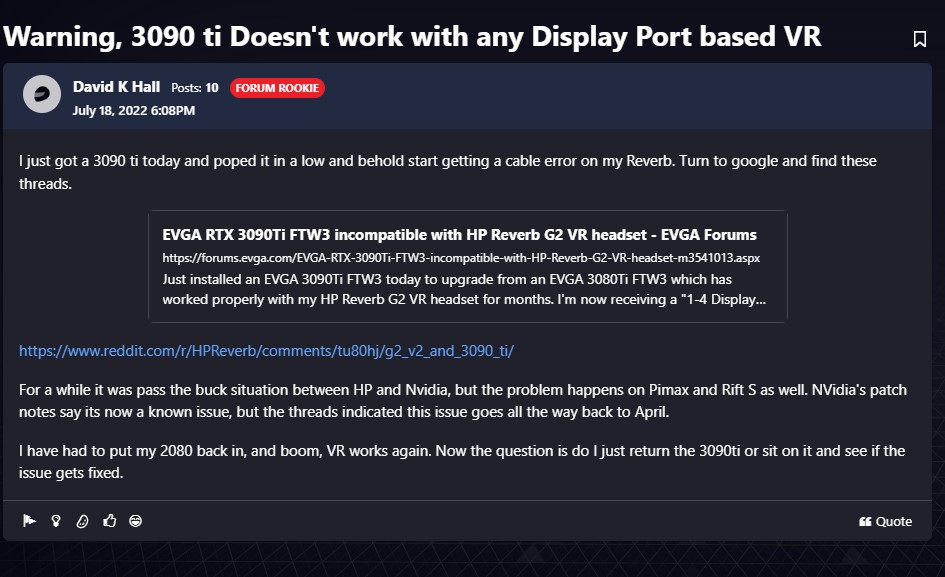 https://forums.iracing.com/discussion/comment/205770
Razor Stream Controller
Razer is going head to head with Elgato's Stream Deck with the launch of its new Stream Controller. The $269.99 touchscreen device is designed to sit on a desk alongside a keyboard and allow content creators — or anyone, really — to quickly launch shortcuts and control hardware and software on a PC
https://www.theverge.com/2022/7/14/23215273/razer-stream-controller-release-date-price-specs
---
---
NjMotion Compact-R Seat Mover Review
Dan Suzuki reviewed on his YouTube Channel the NjMotion Compact-R Seat mover
https://www.youtube.com/watch?v=6aNH8U_ELbo
https://www.njmotion.com/en/motion-systems/39-compact.html
---
---
Ortombo Teknoloji
Ortombo Teknoloji is Turkey's leading manufacturer and supplier of simulation, esports, racing and flight equipment. We have been serving the industry since 2014.
We are the Turkey Distributor of Playseat, Next Level Racing, Virtuix Omni, Buttkicker, Fasetech Racing Cube brands. We produce both cockpits and seats locally. We continue to lead the industry with innovations as the leading brand in the sector in our country, especially with our world-class products in racing equipment. .
https://www.ortombo.com/pages/about-us-2
---
---
iRacer Assistant
iRacer Assistant is an app the will open 3rd party iRacing apps automatically
JtC — What's the app that will open all the 3rd party apps automatically when you open iRacing?
Mike Ellis — Iracer assistant
https://discord.com/channels/238867726335082506/919653509048193055/996816975584055306
https://forums.iracing.com/discussion/4994/iracingassistant-gary-talls-application-latest-version-released-14th-june-2022
---
---
To Triple or not to Triple
Nicky Bobby asked us in our Discord Channel, should he use a single ultrawide or triple monitors on his Tracker TR8 Pro Rig?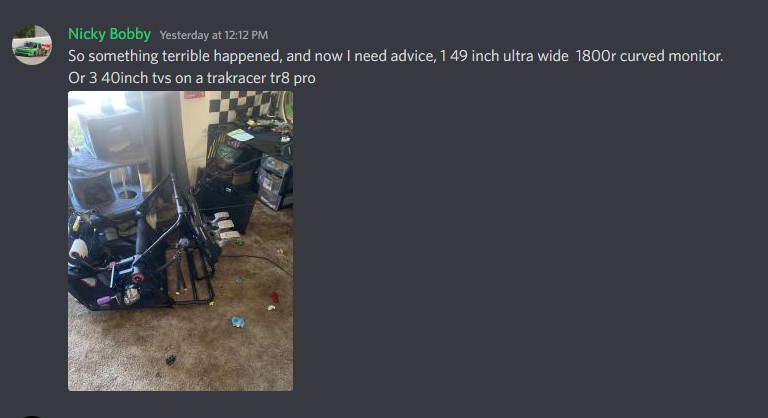 https://discord.com/channels/238867726335082506/238867726335082506/999348046389334026
---
---
Swamp Ass Solved
Will Ford at Boosted Media reviews the O-Rouge Cold Fusion Sim Racing Seat
https://www.youtube.com/watch?v=qaz9BgCP3Xk
---
---
Transmission Simulator
Instead of something boring like an exercise bike in your home to be on while watching TV, this is what everyone should have! Get the workout you need shifting gears and working the clutch
https://www.facebook.com/TremecPerformance/photos/a.182845775104916/5407144892674952/?type=3
---
---
Vesaro TEN
First impressions of the new 100K pound Vessaro TEN Simulator by Gamer Muscle
https://www.youtube.com/watch?v=0bA8SiXCe4g&t=1s
https://www.bsimracing.com/first-impressions-of-the-100000-vesaro-ten-simulator-by-gamermuscle/
---
---
Results
NASCAR iRacing Series
Fri open: New Hampshire
Ellis – p22 – ran around the top 10 most of the night basically q laps every lap trying as hard as i can to keep what I got – final restart was p7 but got wrecked hard and finished p22.
Rochette-P7

I finally did it, a NiS top 10 since Kansas in May. Twice had cars wreck in front of me and tagged em got Damaged fixed. The 2nd tims i stayed in the pits alittle too long and exited after thinking i got clear but nope got flagged so had to do a pass through. When did the pass through caution came out feet before the pit line so had to do it again. Was down 3 laps but attrition got me back on lead For the final 10 to go
Spiker – P18, Started P17

. Not fast at all. During a re-start, I hit the car in front of me who checked up for the car in front of him. I was turned into the T1 fence halfway through the race. Ran most of the race underpowered finished P18 after surviving the last lap, front stretch mele. Finished the Race 16X
Rochette-Psomething

went to avoid a wreck into 1 hot the brakes little too hard and sent myself into the inside wall with the wheel wabble of death
Hall –

p 30 caught in two early wrecks, suddenly have 14x, taking it mild and one dude dive bombs, then another dude gets loose, i'm up top 3 wide and a forth dude punts the bottom guy and destroys my car. Not a good return
Mike –

p18 – Actually crossed the line 2nd but was backwards got my 17x so it put me 18th – 22 cautions –
Race : Pocono
Wed Fixed
Wed Open:

Hall –p.7 almost got snubbed by pit strategy, but a lap car saved all the people to stay out on the first caution.
Ellis – p4 – at the initial start someone spun out and destroyed the field i got wiped out over 2 minutes damage – had to stay out for a wave around while others that pitted had to pit again for penalties. We ended up w a stop w 60 to go so did a gf stop w 30 to go which basically short pitted everyone – ended up p2 but faded back a bit before caution – restart p5 got to p2 but could not catch the leader and at the end faded back to fifth
Kyle P
Tony R – P5 hell yea ran great all night was in 2nd on the leaders bumper coning to the white and slammed the wall out of 3. Man felt good to have a front runner car and not get wrecked by stupid stuff
Tyler – P6 FINALLY A TOP 10! Glad to get a solid finish. Crazy start of the race when half the field got wiped out. I made it through the wreck but net coded with a 4x. Kept the car clean the rest of the night and settled in with a tight car. Late race caution after pit strategy shook things up but I defended well. Stoked to get a good run. Excited for Sunday Fixed.
Tom D – P3 started in the back to get a handle on how these cars would be in a pack. Was able to work my way up into the top 10 before lap 20. Final stop with 20 to go I was able to get myself into 3rd. A few nice battles back and forth and I was able to bring the car home in 3rd. I'll take a top 5.

Stephen – wrecked out before taking the green flag
Bobby -pP20, my fault on pit exit, but not bad after being off for like 5 months, ran near/in top 10 otherwise

Thurs Open

Ellis – p13 – Started 10th worked my way up to the lead, ran top 5 or so, took the lead at 23 to go kept it until about 14 to go and faded hard, hit the wall hard and faded more –

Rochette P whats better than a 5th? How bout a 2nd great fun race was hoping for a long run at the end where i was gonna most likely win on fuel but noooo someone had to bring out a caution with 10 to go. Restarted 3rd chased the leader for about 5 laps but was just too tight at the end of it… first Podium since Kansas and 1st runner up since that faithful night with that dirty Bristol
David – p11. I was really about a 20th car in the this top split, won the coin toss on fuel strategy
---
---
Official Series
SPIKER

Late Model Open Langley, P P10. Just simply out matched. I can't speed in the car.
Late Model Fixed, P P11. Same as the open, the Winner of the Race had a 9K+iR
Nascar B-Open, Pocono, P11, Started P13. Had good long run speed. GWC at the end killed my momentum.
Nascar B-Open, Pocon, P17, DNQ – Spun out after making late adjustments to my Q-Set. As a result., started in the back where on lap 1, a backmarker doored me out of 1 sending me into the wall. Again, good long speed run. Gambled on staying out w/5 to go. Backfired, P17
---
---
League / Hosted Races
Leagues/Hosted Races
FastTrack League –

David – p 9
Greg p10

Mike – pWrecked out – wasn't doing horrible running around 10th about 10 to go the guy on my outside loses it and slams me to the inside wall, 24 minutes damage.
Adam – p 2
Git R Done GT3 Series
Greg p1 and p1
---
---
Final Thoughts
---
---
Words Spoken in Closing Audio Clip -""Thank you for listening to the iRacers Lounge podcast make sure to go subscribe to us on iTunes, SoundCloud, or Google Play, Facebook & Twitter, See You On The Track ."
TITLE
Swass
Description
On the show today, we'll review the fantastic finish the iRacing eNascar Coke series race with the voice of eNascar, Evan Possoco, We check out some new reveals from the PeachTree Three Charity race as well as Nascar, "Takin' it to the Streets." And we learn from Dave Cam a lesson many need to learn, Proper Sim Racing Etiquette. So sit back, relax and join us on the iRacers Lounge Podcast.
iRacers Lounge Podcast is available on iTunes and Apple's Podcasts app, Stitcher, TuneIn, Google Play Music, Spotify, Soundcloud, Podbean, Spreaker, Podbay, PodFanatic, Overcast, Amazon, and other podcast players.
Sponsors:
Hosts:
Mike Ellis – twitter.com/MikeDeanEllis
David Hall – www.twitch.tv/mixmage
Greg Hecktus – twitter.com/froozenkaktus – www.twitch.tv/froozenkaktus
Brian Maccubbin – www.twitch.tv/MacRubbinsRacin
Kyle Pendygraft – twitter.com/LoudPedalGaming
Tony Groves – www.twitch.tv/SirGroves
Adam Josselyn- twitter.com/Jossad83
Chris Scales – twitter.com/JediMcfly
Tony Rochette – twitter.com/TonyRochette
Tom Dreiling –
Links:
Facebook – www.facebook.com/iRacersLounge/
Twitter – twitter.com/iracerslounge
Instagram – instagram.com/iracersloungepodcast/
Web (Show Notes) – iracerslounge.com/