7/28/2022 – Fast Grass – Episode 0341
iRacers Lounge Podcast – Conversation Topics
Brought to you by:

Opening Audio Clip -"Your listening to the iRacers Lounge Podcast where we discuss everything iRacing, in a casual setting, enjoy."`
READ THIS AT THE TOP OF EACH SHOW!!!
Welcome to the iRacer's Lounge, I am your host "XXX". iRacer's Lounge is a podcast for the iRacer, where we talk all things iRacing in a casual setting.
Joining me are the usual characters, ———— 
---
---
Show Introduction
On the show today, the World of Outlaws Buttkicker Late Model Series gets under way, the Off Road Championship is heating up as the series nears its finale, and we will dive deep into "Grass -Dipping"; an iRacing exploit that has shaken up the coveted Spa 24hrs special event.
And remember you can follow along with us on your PC or mobile device in real time as you listen to the show and see for yourself all of the great topics and products we'll discuss by visiting iracerslounge.com and selecting show notes. Hope to see you there..
---
---
TITLE SPONSOR READ:
SimCoaches offers the realistic sim racing equipment you need to win more races online…. It is designed for real racers… Hydraulic construction makes them feel just like the real thing. High-Quality Construction, 100% Leak Proof, and Lifetime Warranty are the key features with these pedals. And, they look absolutely amazing… Check out simcoaches.com and use the coupon code IRACERSLOUNGE to get 10% off your purchase. Simcoaches.com is your ticket to feel like your actually sitting behind the wheel of a car. Drive harder and stay on the limit longer…
https://simcoaches.com/?fbclid=IwAR1pJASM3C_nV3wFACEHJrHitf8TOQWro4yp-Etaio1zU8Enbojap2Xff5w
---
---
Special Guest
Guest Name
General Questions:
What brought you to iRacing and how did you hear about it?
Which series do you normally run?
What type of hardware do you use? (Wheels, Pedals, ect.)
Software

What gear did you use when you first started iRacing?

Do you run Monitors or VR?

How many monitors?
What VR headset are you running?

Are you part of a team?
Do you participate in any leagues or is it just official racing?
What is your most memorable iRacing moment?
Guest Specific Questions:
---
---
Topics
---
---
Freedom to Design
iRacing had a few guidelines when it came to the layout of the Chicago Street Circuit, but the task of defining what NASCAR's venture into Chicago's front yard would look like was largely left up to iRacing.
https://racer.com/2022/07/21/iracing-given-freedom-to-design-chicago-street-course/
---
---
Coanda's Spa Weekend
Coanda eSports posted a video on their Instagram page of what their Spa weekend was like
https://www.instagram.com/reel/CgUuJ6XFlp6/?igshid=MDJmNzVkMjY%3D
Coanda Wins Spa 24hr
Team Coanda goes on to win the top split of the Spa 24hr special event
https://traxion.gg/vrs-coanda-win-2022-iracing-24-hours-of-spa-amongst-grass-dipping-controversy/
Grass-Gate 2022
The win for Coanda was marred by controversy as many of the teams used a hack/ exploit known as grass-dipping which keeps tire temps cooler and makes for faster laps
https://twitter.com/URANOeSports/status/1550944922022330368
https://www.youtube.com/watch?v=4AjtIkDrkPg
https://twitter.com/DannyGiusa/status/1550827400015085569?s=20&t=7ZbbWDrZ0T98n-YcL_HTqw
https://twitter.com/JimmyBroadbent/status/1551527103618863106
https://www.youtube.com/watch?v=2MdNgYJxPr4
https://www.youtube.com/watch?v=WtYrQ8v3rOo
https://www.youtube.com/watch?v=Q1S30RJKxl4
https://forums.iracing.com/discussion/comment/207373#Comment_207373
https://forums.iracing.com/discussion/26650/iracing-spa-24-tire-dipping-issue#latest
https://forums.iracing.com/discussion/26671/stats-24-hours-of-spa-2022
https://iracingreports.com/stats/22s3-24_Hours_of_Spa.html
---
---
World of Outlaws Late Model Series Returns
Fans of World of Outlaws late model action and iRacing, rejoice: the World of Outlaws ButtKicker Late Model Series makes its long-awaited return on Monday, July 25, for a 10-round dash for $25,000 in prizes. The culmination of iRacing's dirt oval ladder for late model drivers, the series sees 35 of the world's best sim racers go wheel-to-wheel at some of the premier dirt tracks in America, including many staples of the real-world World of Outlaws calendar. Each race will be broadcast live at 9PM ET across iRacing's social media channels and DirtVision.
In total, $25,000 is on the line, with $10,000 the big prize for the series champion and each of the top 10 finishers in series standings receiving a payout. The top three finishers in each event also take home cash prizes, with $300 for each race winner, $200 for second place, and $100 for third.
The Series took the green flag this past Monday at Fairbury Speedway.
Results…
2020 series champion Hayden Cardwell broke a trend that had previously seen rookie and first-time winners kick off the series with victories by outdueling fellow series veteran Seay on the final lap in a photo finish to take the victory. 2019 champion Blake Matjoulis completed a veteran-heavy podium, with polesitter Damian Kiefer the top-finishing series rookie in fourth.
https://www.iracing.com/world-of-outlaws-buttkicker-late-model-series-returns-monday-25000-on-the-line/
https://www.iracing.com/cardwell-steals-iracing-world-of-outlaws-buttkicker-late-model-series-opener-in-photo-finish-at-fairbury/
https://worldofoutlaws.com/iracing-news/cardwell-steals-iracing-world-of-outlaws-buttkicker-late-model-series-opener-in-photo-finish-at-fairbury/
---
---
Indy Road Course Update Complete
The current Indianapolis Motor Speedway road course is now available on iRacing as a part of 2022 Season 3 Patch 3, just in time for this weekend's combined NASCAR and IndyCar weekend at the track. Built from all new scan data, the updated IMS road course has been added as a new configuration to the existing track, meaning that all members who already own IMS will receive the new layout as part of today's update. The previous configuration has received the —2009 designation and remains playable.
https://twitter.com/iRacing/status/1551651220388970497
https://www.iracing.com/updated-indianapolis-motor-speedway-road-course-available-now/
https://www.instagram.com/tv/CgewHbwDMv3/?igshid=MDJmNzVkMjY%3D
---
---
How Important is iRating to you?
iRating, does it matter. Gamermuscle put out a video giving his opinion. Throughout the video, Gamermuscle details what he believes are the pros and cons to iRating.
---
---
They all F'N Saved It
The announcers at Mooncar are having a blast with their irreverent calls of their Mooncar race
https://twitter.com/itsmoonhead/status/1550498185902260225
---
---
Sage to the Rescue
Following up on last weeks story, Rajah Caruth did infact use Sage Karums rig for his RTP appearance.
---
Rajah Kirby Caruth on Twitter: "S/o @SageKaram https://t.co/FuC0mIxw4R" / Twitter
---
---
---
iRacers are Back in Class
NASCAR continues to expand into the fast-growing world of college esports, announcing the fall season of its eNASCAR College iRacing Series. The four-race schedule kicks off at Homestead-Miami Speedway on Tuesday, September 20 with students eligible to qualify for the season-opener through a 10-day time attack window.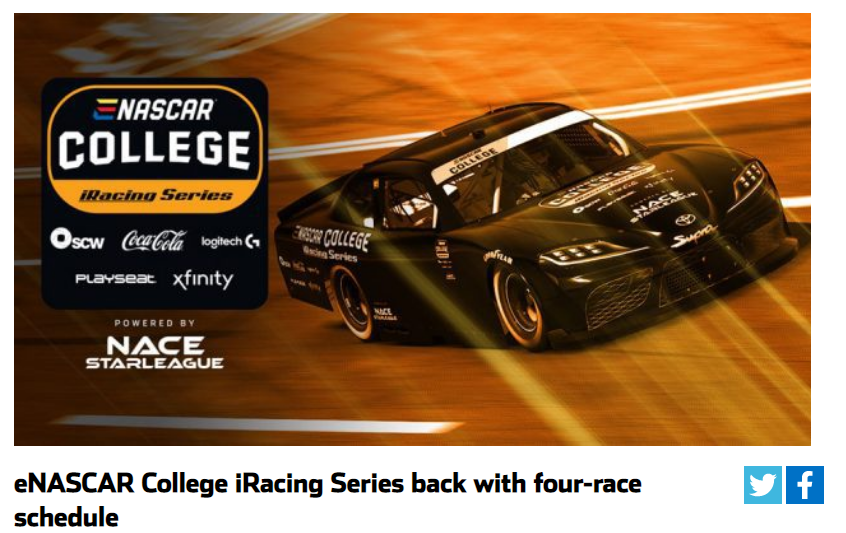 ---
eNASCAR College iRacing Series back with four-race schedule | NASCAR
---
Fontana De-Construction
According to local Kart Racer and Fontana resident, Steven Nava, Auto Club has started it's remodel.
---
---
Top Podium
Chandler Welling and partners, have raised $10 million dollars to open a Sim Racing version of Top Golf in the city of Nashville. The project is called Podium One. Based on project renderings, he plans to have 84 Simulators and a full restaurant and bar. The project is targeted to be completed by Q2/Q3 of next years.
https://www.tiktok.com/@chandlerwelling/video/7120021461892418858?_t=8UKE3An94v5&_r=1
https://www.youtube.com/watch?v=hRq-lsMl0eY
---
---
iRacing Off Road Championship
Conner Barry and Jakob Rafoss took feature wins in rounds 11 and 12 Wednesday in the iRacing Off Road Championship, With the win, Conner Barry takes over the lead in championship points by 7 points over Keaton Swayne.
Top five finishers from iRacing Off-Road Championship Series Round 11 at Wild West Motorsports Park presented by CBR were as follows:
#2 Connor Barry, 16 laps
#112 Alex Bergeron, +5.393
#58 Josh Edmundson, +6.026
#48 Cam Pedersen, +6.569
#18 Killian Dall'olmo, +8.766
Top five finishers from iRacing Off-Road Championship Series Round 12 at Wild West Motorsports Park presented by CBR were as follows:
#13 Jakob Rafoss, 16 laps
#21 Keaton Swane, +0.490
#2 Connor Barry, +2.709
#11 Connor Parise, +6.187
#18 Killian Dall'olmo, +6.388
iRacing Off-Road Championship points through 12 of 16 rounds are as follows:
Connor Barry, 540
Keaton Swane, 533
Josh Edmundson, 478
Felix Roy, 457
Killian Dall'olmo, 454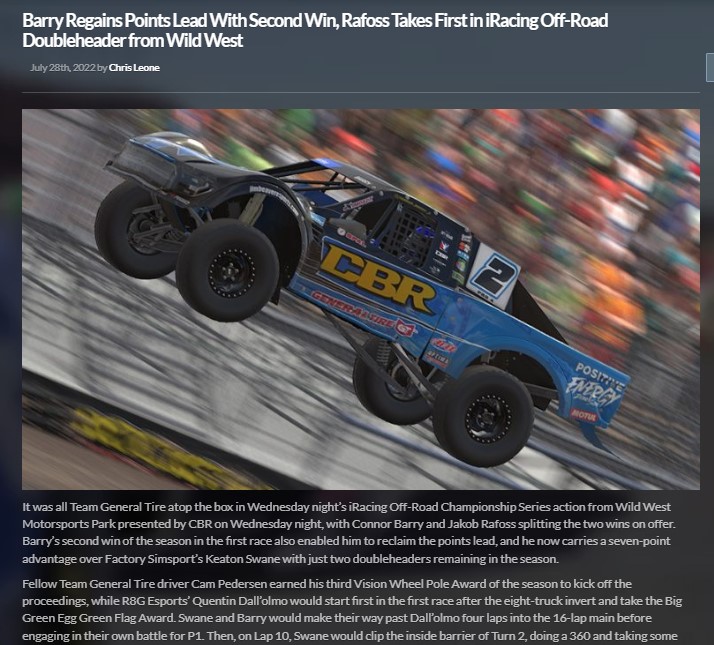 ---
---
Podcast Housekeeping
Leave us a review on your favorite podcast platform to make it easier for more listeners to find the podcast. Mention the podcast to your fellow drivers so they don't miss out, we would appreciate it.
Check out our Discord https://discord.gg/rvRas4DDqF
New Website – Leave Comments https://www.iracerslounge.com/
---
We are in the regular rotation… (Mike)
https://performancemotorsportsnetwork.com/
Fantasy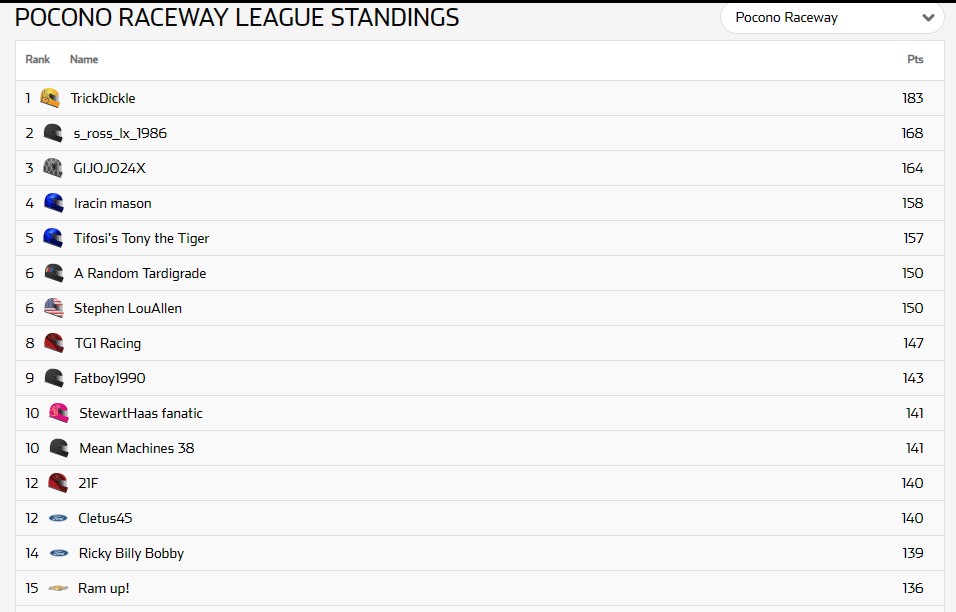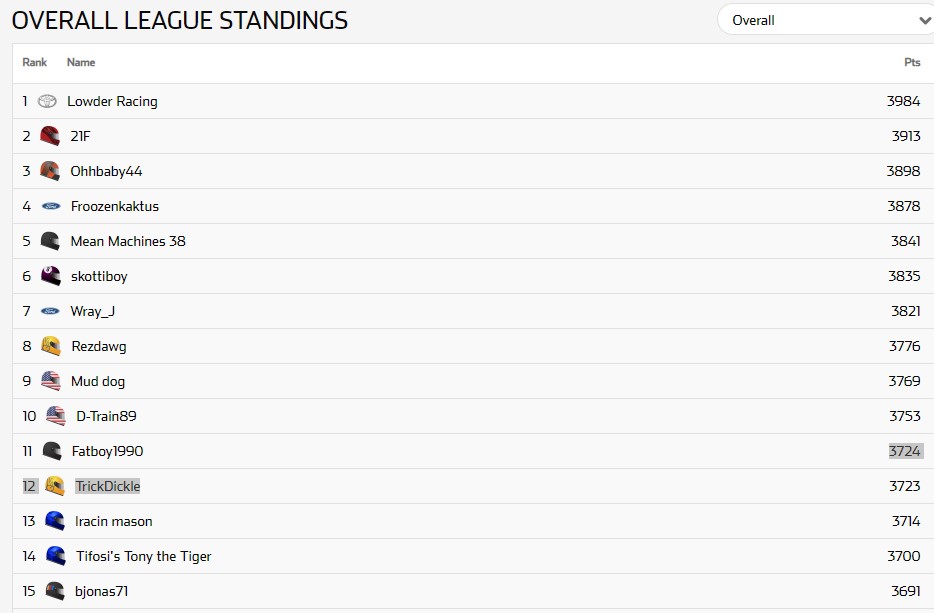 ---
---
Hardware/Software
iRacers Lounge Podcast – Hardware/Software
Brought to you by: SUPREME 3D Printing

Are you looking for that next Sim Rig upgrade, or maybe your man cave needs a little more style, or is your wife wanting to redecorate your home? Well, we here at Supreme 3D Printing have you covered. We create and print tons of different and useful items that is sure to fit everyone's style and budget. If you don't see what you're needing, then feel free to contact us for your needed item.
Check us out Etsy at https://www.etsy.com/shop/Supreme3Dprinting.
---
VRS Formula Wheel
The new Virtual Racing School formula wheel is scheduled to be release Q4 of 2022, but made an early beta appearance at the Spa 24hr
https://twitter.com/realVRS/status/1550506491014168579
---
---
SimLab X1-Pro
The new X1-PRO Cockpit sets a new benchmark regarding sim cockpit design and focuses on ease use of and ergonomics. This spacious cockpit is built as a podium which provides a sense of freedom that is unparalleled until now.
https://www.instagram.com/p/CgUeniOtT-I/?igshid=MDJmNzVkMjY%3D
https://sim-lab.eu/shop/product/x1-pro-sim-racing-cockpit-3953?category=138#attr=3072
---
---
Incoming!!! Child iRacers
OverPower, a European Sim Rig Builder has thier sites set on the kiddos. The OP Child Rig is designed on a smaller scale, making it easier for children to reach the pedals and wheels comfortably and climb in without having to climb up. It also features groove adjustability, so the pedals and wheel can slide back and forth as a child may grow, or different-aged siblings may want to share the set-up.
---
OverPower has made a sim racing cockpit for children | Traxion
---
ProDrive Simulator
Prodrive reveals stunning new racing simulator with enormous price tag. Prodrive is best known for building successful Subaru rally cars. Now, the UK racing company is entering the world of sim racing with its new state-of-the-art racing simulator.
As standard, the Prodrive racing simulator comes with a 12GB GeForce RTX graphics card, 16GB of memory, a curved 49-inch 5K screen, Simucube 2 Pro Direct Drive wheelbase, SIM LM Pro Wheel, electrically adjustable pedals, a Cobra Nogaro Street bucket seat, and Bowers and Wilkins PX7 headphones. It also comes pre-loaded with a copy of Assetto Corsa.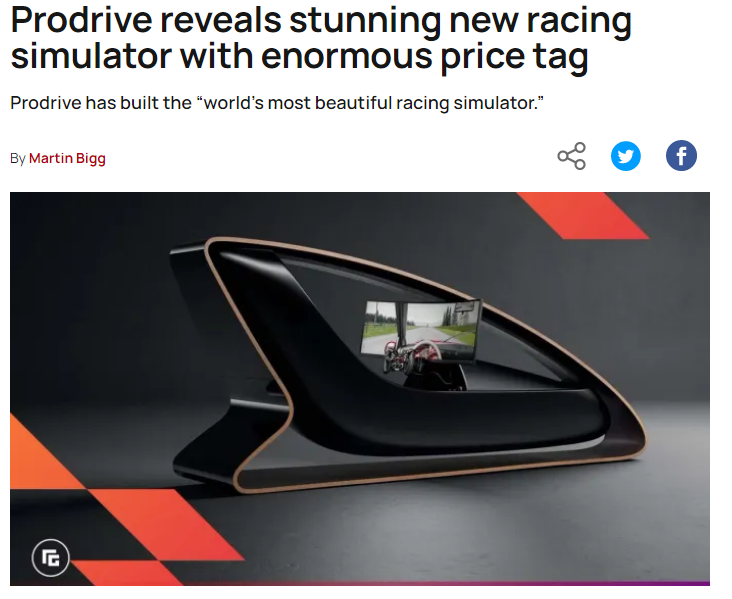 Prodrive reveals stunning new racing simulator with enormous price tag (racinggames.gg)
---
---
IMSIM
Sim Racing manufacturer IMSIM invited GamerMuscle all the way over to there factory in Portugal, not only to check out there new Talento Sim Pedals but to also take a look at how there company operates as well as how they put together there motion simulators !
https://www.youtube.com/watch?v=0LXECzrCwRs
---
---
D-BOX Gen 5
D-BOX's brand-new, cost-effective & extremely compact Generation 5 haptic actuators are officially coming this August! Step up your game with haptic technology that's licensed by the FIA, ultra-immersive and that comes in a plug & play solution that delivers motion and vibration all in one by contacting us today. The first orders will ship out mid-August.
https://www.advancedsimracing.com/products/d-box-generation-5-4250i-haptic-system-1-5-travel-range-4-actuators
---
---
Racebox Button Box
Racebox introduces their new button box including a built-in flagging light system
https://www.instagram.com/reel/CgbrhSEFCsh/?igshid=MDJmNzVkMjY%3D
---
---
AdminBox V2.0
AdminBoxx is a plug-and-play professional button box that requires no key binding. With 32 buttons, it has all the functions needed to administrate a race while competing.
https://www.adminboxx.com/store/p1/AdminBoxx_V_2.0.html#/
---
---
Lovely Dashboard
Lovely Sim Racing posted a video of how to get his Lovely Simhub Dashboard that he has created
https://www.youtube.com/watch?v=_XAIlmhVY0s
https://github.com/cdemetriadis/lovely-dashboard
---
---
Results
NASCAR iRacing Series
Fri open:
Ellis – p wrecked out of 1 gwc on white – p19 – Led some laps and was running top 3 – under a caution i was checking my phone and forgot to pit and fucked myself
Rochette- P-once again The Chubby Angry Birb back squawking in victory Lane.

Win #4 in the season and first since Atlanta in March week before my shoulder surgery. Was seriously debating race or watch the newly renamed LivePD. Glad Groves convinced me. Hung out top 3 most of the race. Was in lead for the gwc. Took off right at the start of the restart zone like a good boy and caught everyone sleeping
Groves –

P 2 didn't Q, started 32, got spun and hit in the rear ¼, got up to 6th before green flag pit stop, back out in 16. Caution comes out with 5 to go i cycle up to 3rd for the first gwc, 2nd attempt still 3rd but get a much better launch and the leader and I break away, I try to make my move in 1 but don't hit the entry and tightened up, it was his from there. Fun battle at the end
Hall – p 6 was in position to do well on fuel strategy, but we had a caution with 20 to go, then 10 to go, and I struggled to hold on to 3rd on a short run and got moved buy a guy without major cost
Spiker – P30, I was wrecked into T1 early on. Went a lap down then rode the back until I got the Lucky Dog. With 25 to go, coming out of 1, down the strait, I shift into 3rd killing my motor. 1 hour 3 minutes of damage. Nothing worse than creating your own problems with such a silly self error.
Race : Indy
Wed Open:

Ellis – p8 – started p13 by end of lap 1 was p7, spun once by myself, had a guy dive bomb me and tag me, he eventually apologized. Race went way better than expected top 10 hell yeah
Kyle P – p9 started p19 got up to p5 but shortly lost it to newer tires. Half way I lost all talent and couldn't keep it on the track for about 5 laps. Finally got focused and worked my way up to P9 2022 Working on my Road
Tony R – P on protest this till we get the Oval back
Tyler – P15 – started from the pits to play it safe. Really stuggled as I was not able to be Consistent with the car at all. I would like to point out how fair the off-track limits were at this track. You could actually clip the curb and run off track a little bit without actually getting a 1X compared to a track like cota so well done iRacing

Thurs Open
Ellis – p3! – Start at P 15 appears to be bottom split car number eight. Got to eight by about halfway through the 1st lap then worked my way up to 3rd before pits, after pits after it cycled ended back in third – great podium
---
---
Official Series
Kyle – P4 Started P4 and stayed up front. And just hung around the top 5. Brought home a solid P4.
Ellis –

Skippys at Sonoma –

Started p4 – quickly got to p2 then the leader checked out – held off 3rd and 4th until halfway, then he got besides me in the s's and i got hit and spun, then another car piled in. Then i was 7th but fought back to finish p6
Start p12 – finish p10 – top split more than half the field above 6k. Got ran over by one guy down to 3 wheels to quick repair came out 12th got back to 10th.

F2000 – Mid Ohio

Started p6 got to p4 but some fast guy got me and fell to p5

Started p5 – was running p5 minding my own came up on a lapper who is way slow way offline i stay in line and as i come by, he comes into the groove suddenly and takes me out. Gelt intentional but who knows.
SPIKER
Nascar B Open, Indy Road

– P5, Started P6. Pretty uneventful for the most part. On L2, I was hit in the rear in the end of the back straight braking zone. I should have prepared better. I was utilizing a curtain third party app which allowed me to see iRating and License class for the first time. Directly behind me was a driver highlighted in red. He booted me off the track in the braking zone. I was able to avoid any contact with any barriers and continued on. Worked my way back up the field to finish P5
---
---
League / Hosted Races
David – p 6, Pulled a real Mark Martin. Was in a hard clean race with Jeff, completed the pass and then something in my head said that was checkered where there was still a lap left. OOOF

Joe – wrecked out

Mike – p15 – got as high as 11th but creamed the wall real hard and faded.
Hosted –

Ellis – Chris MacGuire – Hosted – Saturday Night

Supercars at Michigan, started pretty far back got 11th
---
---
Final Thoughts
---
---
Words Spoken in Closing Audio Clip -""Thank you for listening to the iRacers Lounge podcast make sure to go subscribe to us on iTunes, SoundCloud, or Google Play, Facebook & Twitter, See You On The Track ."
TITLE
Fast Grass
Description
On the show today, the World of Outlaws Buttkicker Late Model Series gets under way, the Off Road Championship is heating up as the series nears its finale, and we will dive deep into "Grass -Dipping"; an iRacing exploit that has shaken up the coveted Spa 24hrs special event. So sit back, relax and join us on the iRacers Lounge Podcast.
iRacers Lounge Podcast is available on iTunes and Apple's Podcasts app, Stitcher, TuneIn, Google Play Music, Spotify, Soundcloud, Podbean, Spreaker, Podbay, PodFanatic, Overcast, Amazon, and other podcast players.
Sponsors:
Hosts:
Mike Ellis – twitter.com/MikeDeanEllis
David Hall – www.twitch.tv/mixmage
Greg Hecktus – twitter.com/froozenkaktus – www.twitch.tv/froozenkaktus
Brian Maccubbin – www.twitch.tv/MacRubbinsRacin
Kyle Pendygraft – twitter.com/LoudPedalGaming
Tony Groves – www.twitch.tv/SirGroves
Adam Josselyn- twitter.com/Jossad83
Chris Scales – twitter.com/JediMcfly
Tony Rochette – twitter.com/TonyRochette
Tom Dreiling –
Links:
Facebook – www.facebook.com/iRacersLounge/
Twitter – twitter.com/iracerslounge
Instagram – instagram.com/iracersloungepodcast/
Web (Show Notes) – iracerslounge.com/