8/25/2022 – Hub on a Hub – Episode 0345
iRacers Lounge Podcast – Conversation Topics
Brought to you by:

Opening Audio Clip -"Your listening to the iRacers Lounge Podcast where we discuss everything iRacing, in a casual setting, enjoy."`
READ THIS AT THE TOP OF EACH SHOW!!!
Welcome to the iRacer's Lounge, I am your host "Mike Ellis." iRacer's Lounge is a podcast for the iRacer, where we talk all things iRacing in a casual setting.
Joining me are the usual characters, ———— 
---
---
Show Introduction
On the show today, we'll give you tips on how to get faster in iRacing, we'll talk more rain after hearing from our listeners on our social media sites. In hardware we'll check out a computer build with real horsepower and a triple set up like no other
And remember you can follow along with us on your PC or mobile device in real time as you listen to the show and see for yourself all of the great topics and products we'll discuss by visiting iracerslounge.com and selecting show notes. Hope to see you there..
---
---
TITLE SPONSOR READ:
SimCoaches offers the realistic sim racing equipment you need to win more races online…. It is designed for real racers… Hydraulic construction makes them feel just like the real thing. High-Quality Construction, 100% Leak Proof, and Lifetime Warranty are the key features with these pedals. And, they look absolutely amazing… Check out simcoaches.com and use the coupon code IRACERSLOUNGE to get 10% off your purchase. Simcoaches.com is your ticket to feel like your actually sitting behind the wheel of a car. Drive harder and stay on the limit longer…
https://simcoaches.com/?fbclid=IwAR1pJASM3C_nV3wFACEHJrHitf8TOQWro4yp-Etaio1zU8Enbojap2Xff5w
---
---
Topics
---
---
How Much Are You Spending
PC Gamers, Phil Iwaniuk, dug deep in the pockets of Sim Racers and found out much one could, or is spending in the hobby. The article mentions Will Ford of Boosted Media has nearly $65K in his rig. The article mentions the $100K Vesaro Rig. The Article targets the 2020 "Pandemic" as a huge catalyst of new enthusiast joining the hobby.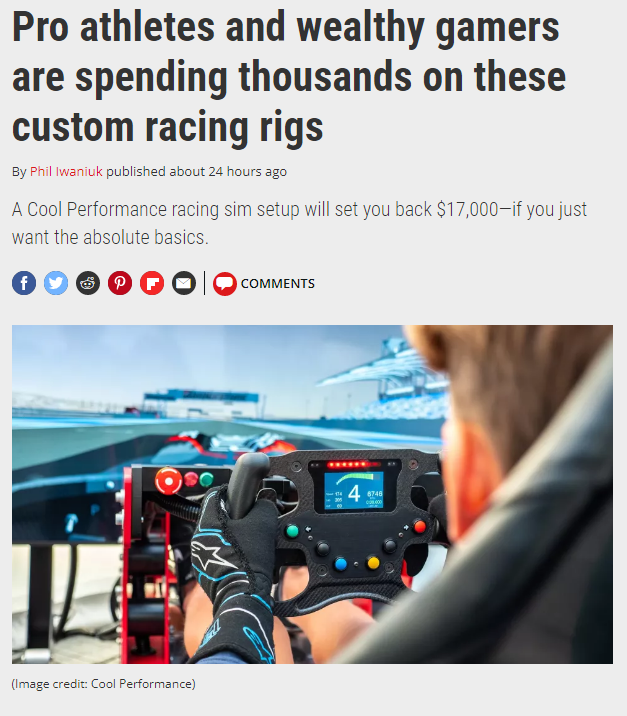 ---
https://www.pcgamer.com/pro-athletes-and-wealthy-gamers-are-spending-thousands-on-these-custom-racing-rigs/
---
Are you Still Not Fast Enough
Traxion posted an article and accompanying YouTube video with tips on showing you how to improve your lap times
https://traxion.gg/this-is-why-youre-not-getting-faster-in-sim-racing/
T https://www.youtube.com/watch?v=5ZXC-uLsjBg
---
---
Let's Talk Rain
This past Sunday's Cup Series race was delayed, then eventually, the race started under Wet Conditions. This prompted the iRacers Lounge Twitter handle to pose the question, "Rain in iRacing, what's your thoughts?
Well, what's your thoughts?
---
https://twitter.com/iRacersLounge/status/1561426353769136128
---
Goodbye Project Cars and PC 2
This past week, Slightly Mad announced Project Cars will be discontinued on October 3 and Project Cars 2 will be discontinued on September 21. The game will still be playable and you can still access the features and multiplayer.
https://twitter.com/projectcarsgame/status/1561730018966904832
---
---
World of Outlaws Late Model Series
Blake Matjoulis Gets his second win of the year at I-55, but Evan Seay maintains his points lead at the half-way mark of the season with another strong finish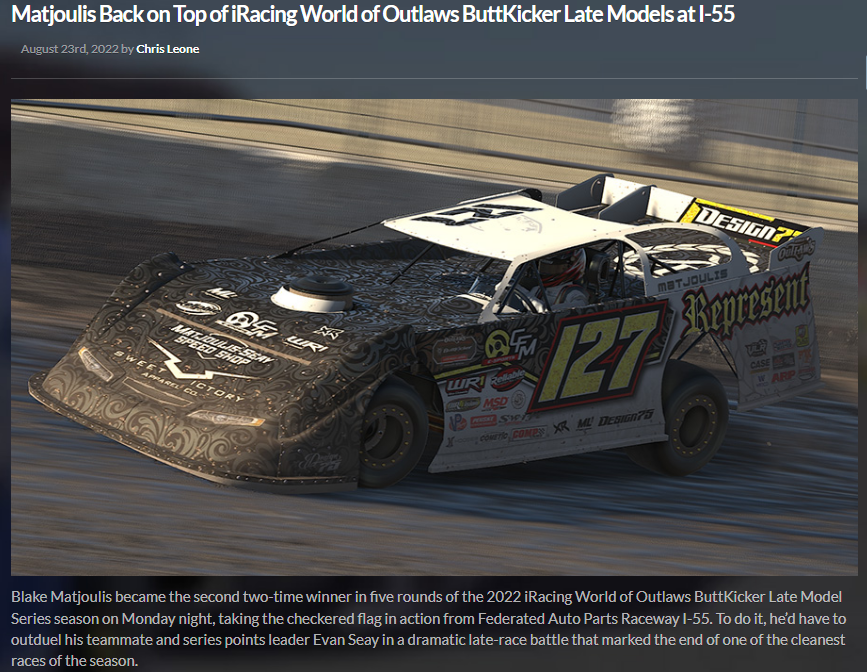 Blake Matjoulis
Evan Say
Barrett Bishop
Zack McSwain
Dylan Wilson
Evan Seay, 380
Blake Matjoulis, 334
Kendal Tucker, 309
Dylan Yeager, 306
Logan Rumsey, 285
https://www.iracing.com/matjoulis-back-on-top-of-iracing-world-of-outlaws-buttkicker-late-models-at-i-55/
https://www.instagram.com/tv/Chmzy2FjiDT/?igshid=MDJmNzVkMjY%3D
---
---
Highlights of the Week
iRacing posts another Highlights of the Week
https://www.youtube.com/watch?v=5-JgGm2juEw
---
---
Monday Night Racing
A GWC settled Monday Night Racing's playoff race at Atlanta. Collin Fern came from 11th to 1st as he made a pass on the high side of turn 4 to take the checkered flag. Fern makes the leagues Championship 4 along with Anthony Alfredo, James Bitford, and Pressley Soren.
https://twitter.com/MonNightRacing/status/1561904250501926912
---
---
Poll Time
The Lounge reached out via our Twitter account asking which version of Daytona do listeners like most
https://twitter.com/iRacersLounge/status/1562476939905867777
---
---
2022 Season 4 Build Confirmations/Rumors
Kyle Noel posed in the forums what may be coming up in the 2022 Season 4 build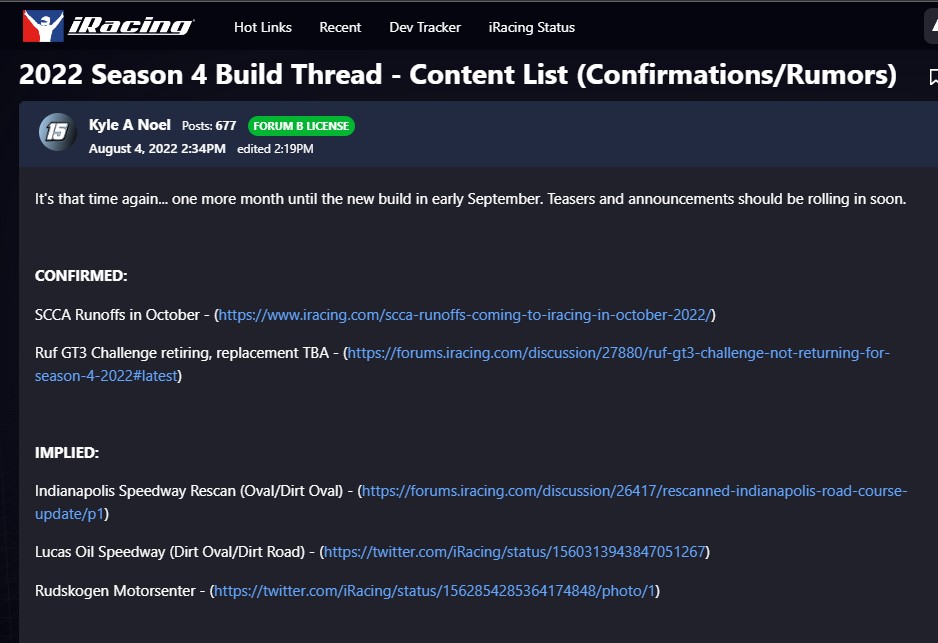 https://forums.iracing.com/discussion/27119/2022-season-4-build-thread-content-list-confirmations-rumors
---
---
ReScan Needed
It looks like Langley has installed LED over the real, Langley Speedway. The entire track surface looks to be covered in light, the pit lane, and the grandstands. Can we expect to see a lighting upgrade to some of the tracks in the sim.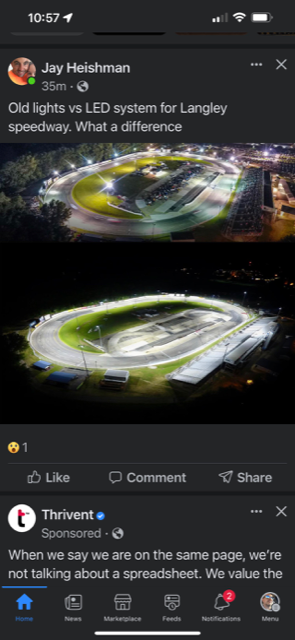 Eau Rouge remains flat out for F1 at "faster" revamped Spa
The iconic Eau Rouge corner will remain flat out for Formula 1 drivers this year in the wake of resurfacing and safety work that has made Spa-Francorchamps faster.
https://www.motorsport.com/f1/news/eau-rouge-remains-flat-out-revamped-spa/10356968/?fbclid=IwAR2cYN1SlLRbTv7NXyO04d0-pEZ67Frqz3eyt_KIYgGeETYmwXksYJG6AeM
---
---
213 Sim Wear
213 Sim Wear, a custom t-shirt company geared towards Sim Racing. The website is limited, but it appears you can print your own logos or paint scheme for your favorite car.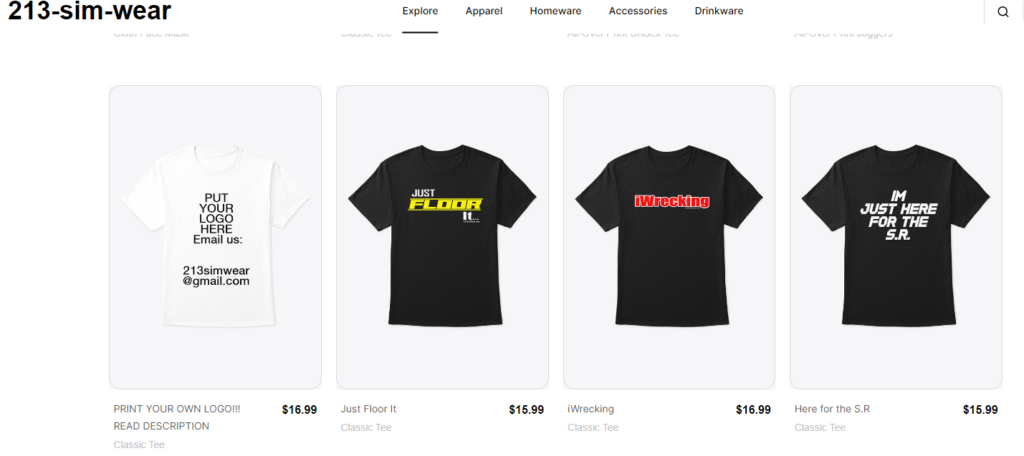 ---
---
"It's not just a boulder, it's a rock."
iRacing posted on their Twitter account a peek of some rocky scenery for an upcoming track build
https://twitter.com/iRacing/status/1562854285364174848
---
---
2022 Bathurst 1000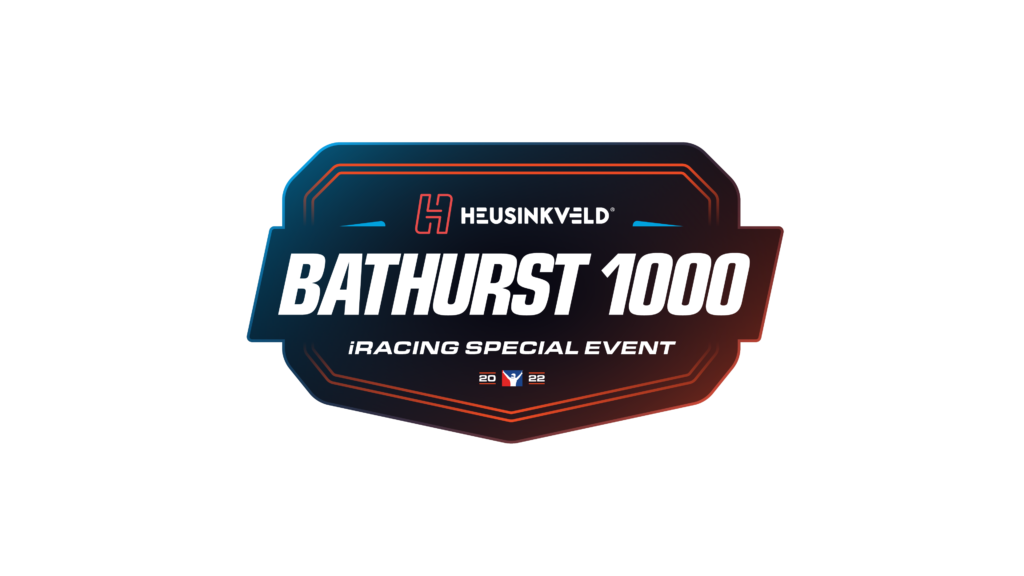 iRacing Presents The Bathurst 1000
The Bathurst 1000 is staged on the Mount Panorama Circuit in Bathurst, New South Wales, Australia. Regarded as the pinnacle of Motorsport in Australia, this is the biggest event on the calendar for the Supercars Series.
Date: September 16th-18th
Timeslot #1 – Saturday 1:00 GMT (Australia Server Series)
Timeslot #2 – Saturday 7:00 GMT (US Server Series)
Timeslot #3 – Saturday 12:00 GMT (US Server Series)
Timeslot #4 – Saturday 16:00 GMT (US Server Series)
Track: Mount Panorama Circuit
License – D 4.0 Road
Sim Date (Time of Day Setting): October 9, 2022
Sim Start Time (Time of Day Setting): 10:40 AM
Podcast Housekeeping
Leave us a review on your favorite podcast platform to make it easier for more listeners to find the podcast. Mention the podcast to your fellow drivers so they don't miss out, we would appreciate it.
Check out our Discord https://discord.gg/rvRas4DDqF
New Website – Leave Comments https://www.iracerslounge.com/
---
We are in the regular rotation… (Mike)
https://performancemotorsportsnetwork.com/
https://channelstore.roku.com/details/9d27a1e9dd15b92535d7cfe85407288e/the-sim-racing-channel
https://thesimracingchannel.com/watch-live/
Fantasy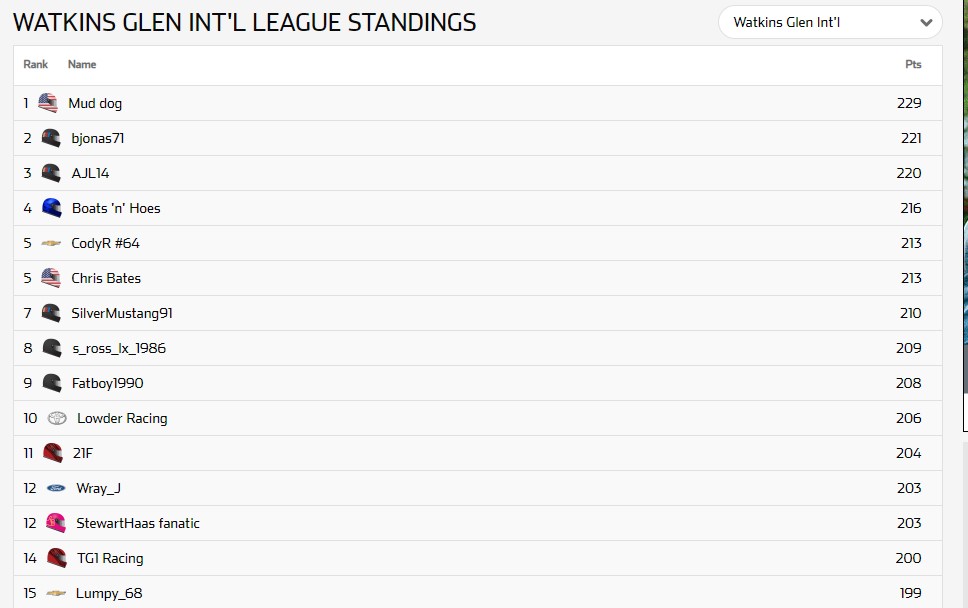 ---
---
Hardware/Software
Brought to you by: SUPREME 3D Printing

Are you looking for that next Sim Rig upgrade, or maybe your man cave needs a little more style, or is your wife wanting to redecorate your home? Well, we here at Supreme 3D Printing have you covered. We create and print tons of different and useful items that is sure to fit everyone's style and budget. If you don't see what you're needing, then feel free to contact us for your needed item.
Check us out Etsy at https://www.etsy.com/shop/Supreme3Dprinting.
---
EXTREME Sim Racing Button Box
✔️ Bolts directly to any Extreme Simracing product (Wheel Stands and Chassis)
✔️ Get more functions in your simulator with Button Box
✔️Box with 11 functions, 3 switches and 07 buttons configurable via USB
✔️ Uses its own USB power Plug and Play is perfect for virtual racing
✔️ Aluminum finish case with 5.29ft USB cable
✔️ It has an on and off button.
✔️ Compatible with PC ONLY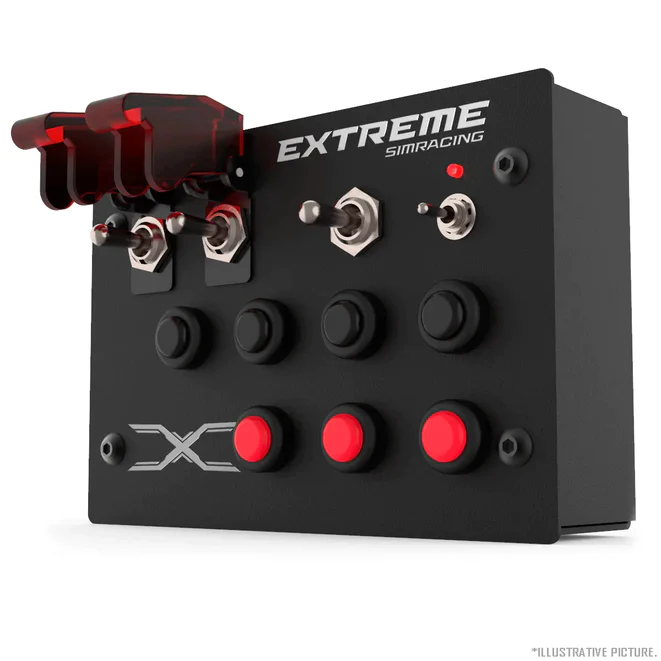 https://extremesimracing.com/collections/new-arrivals/products/button-box
---
---
Carson Flyer?
A instagram post by FREXSIM shows off a carbon fiber, hydraulic pedal set.
---
---
Turn you CPU Into a Real Looking Motor
An Instagram post by VYRALTEG shows off a CPU build designed to look like a real engine.
https://www.instagram.com/reel/ChXszETAdjL/?igshid=MDJmNzVkMjY%3D
---
---
Dashboard from SimSportGadget
SimSportGadget posted a new dashboard to their Instagram account.
https://www.etsy.com/listing/1281793781/dashboard-screen-for-sim-racing-rig
---
---
A Luscious Luxury Seat
Luso Motors posted to their Instagram account a a racing seat designed for classic sports.
---
---
Moza Wheel Base Quick Release
How to setup a Quick Release adapter and any steering wheel, drift, rally or DIY on the MOZA R9 sim racing. Using a NRG innovations Quick Release Gen 2 Black – a quality, solid, good quick release and makes ding sound! *Any wheel – that has a 70mm PCD, standalone or connected via USB *
https://www.youtube.com/watch?v=5S0KsJGorok
---
---
Fanatec App
The all-new Fanatec mobile App is a convenient way to access our News channels, contact Support swiftly, as well as displaying telemetry data from PC games and using the Tuning Menu on your touchscreen. The first version of our iOS and Android app sets the foundation for new and improved features later on.
https://forum.fanatec.com/discussion/22700/download-the-fanatec-app-for-ios-or-android-alpha-and-compatible-pc-driver
---
---
New Hydraulic Pedal Hitting the Market, Maybe…
Hyperdrive Sim Racing teases a new pedal set.
https://www.instagram.com/reel/CgcNoorjd63/?igshid=MDJmNzVkMjY=
https://www.hyperdrivesimracing.com/
---
---
Fanatec CockPit
Fanatec Owners Group posted a photo of what looks like a new Fanatec cockpit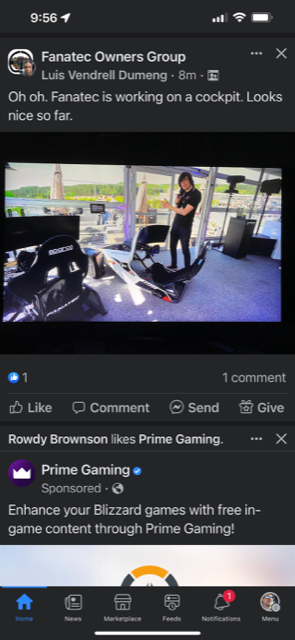 ---
---
Odyssey Arc Triples
Marc-Andre Ladouceur posted picture of a rig using triple 55″ Odyssey Ark's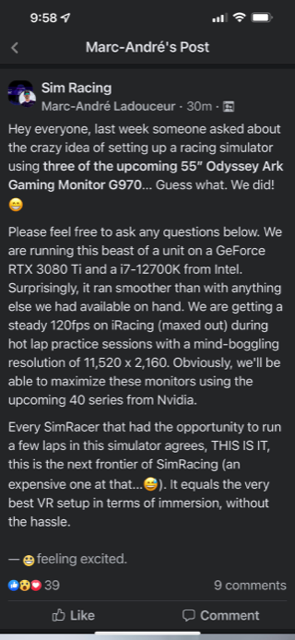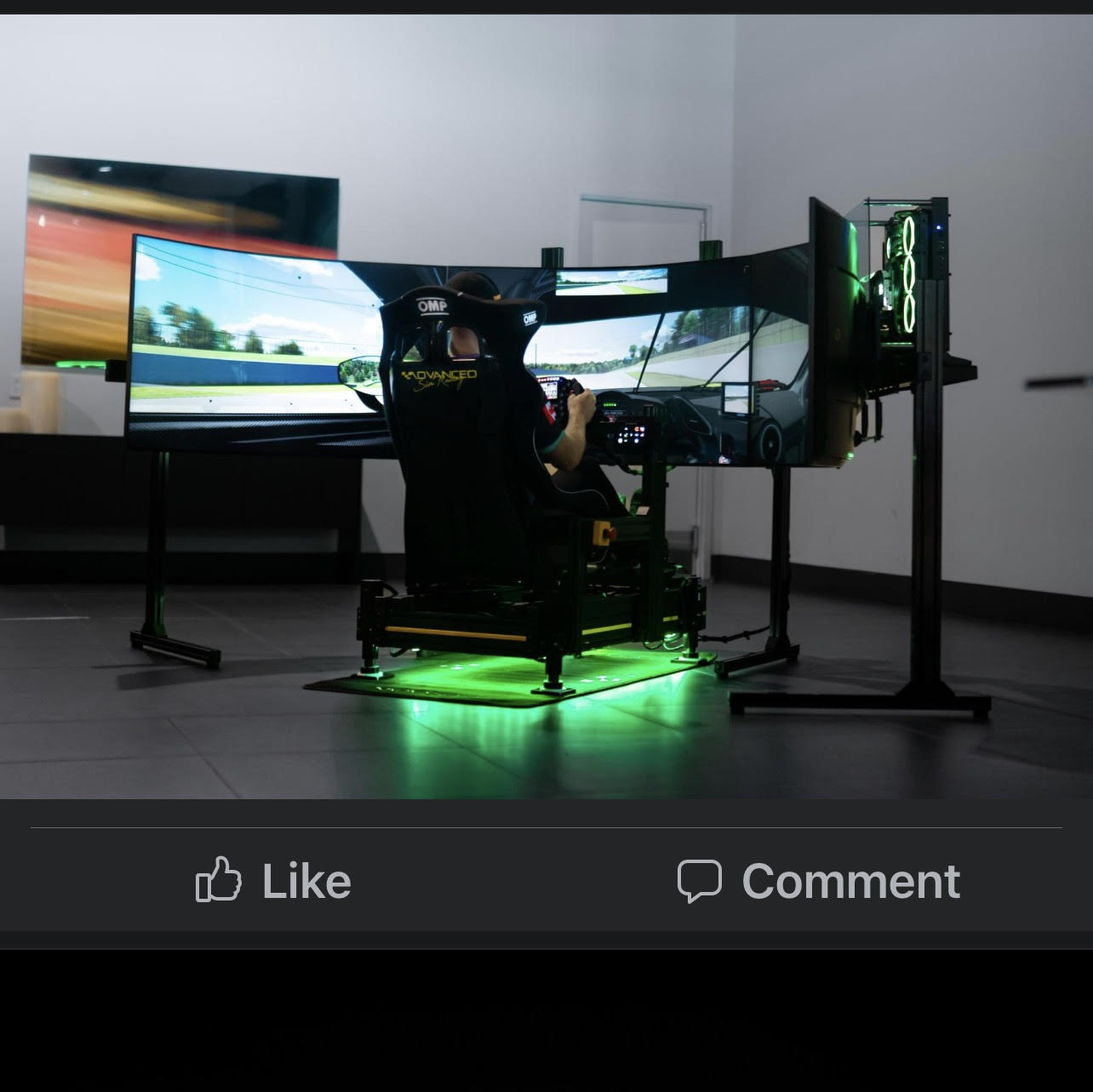 https://www.instagram.com/p/ChlNeXmq-WK/?igshid=MDJmNzVkMjY%3D
---
---
Birthday Competition
Trak Racer is celebrating their 14th birthday by giving away a TR8 Pro cockpit
https://trakracer.com/pages/birthday-competition
---
---
Sim Coaches Drivers Lounge
Sim Coaches has started a Discord Community Channel
https://www.instagram.com/reel/Chnq0MalKPa/?igshid=MDJmNzVkMjY%3D
---
---
Ford Cockpit
Next Level Racing posted on Instagram their new Officially Licensed Ford GT Edition sim cockpit
https://www.instagram.com/p/ChoTfnuNECQ/?igshid=MDJmNzVkMjY%3D
https://nextlevelracing.com/ford-motor-company-and-next-level-racing-are-set-to-debut-official-licensed-ford-gt-edition-range-of-products/
---
---
Nvidia says it built too many GPUs
Did Nvidia over-produce GPU's? And if so, how will it effect the price of GPU's and the new 4000 series units. An article on The Verge explains the situation.
https://www.theverge.com/2022/8/24/23320758/nvidia-gpu-supply-demand-inventory-q2-2022
---
---
Ricmotech SlimBox Button Box
Ricmotec offers a slim profile button box with 9 push buttons and 3 encoders
https://www.ricmotech.com/slimbox
---
---
Results
Brought to you by: SIMWRAPS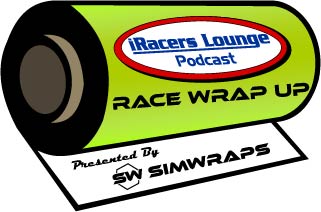 In need of a identity? A wrap is more then vinyl on car, it's you and your teams identity on track, so standout not blend in. SIMWRAPS can design not only race vehicle, but fire suits and helmets as well. SIMWRAPS can work with any budget to make sure you do standout in a crowd field. Make sure to pull in for a pit stop and check out our work at www.SIMWRAPS.com or your typical social media sites like facebook and Instagram.
NASCAR iRacing Series
Fri open: Glen
Ellis – p20.
Hall – p21 taken out by ridiculous dive bomb

Spiker – P P16, Q17 – Running P8-P12,

I was too conservative on pit entry being too afraid to get caught speeding. Ruined my run. But Watkins Glen is a blast.
Hall – p 10 would prefer a better result but the race was fun as we had 4 cars basically in a close pack the whole run. Had to stay on toes and turned fastest laps of the week.
Race : Daytona
Wed Open:

Hall –p 6 Struggled to get to the front, had to fix damage twice, finally caught some brakes at the end and had a shot but when it shook out i had no help
Ellis – p2 Got to the front pretty quick and led the first half of the race pretty much leading most of the laps. Obviously I used more fuel than everybody else and had to pit it before the halfway mark called out to my team member to stay out so he wouldn't be screwed and pitted by myself. Much later in the race I finally catch a caution which puts me back into the race and on the same fuel strategy then restarted P seven. Then a couple late cautions I was able to get myself up to fourth , with this great run around the outside of a bunch of checked cars i went from 14th to 4th in one lap then was able to mix it up for the lead, on the white i was leading on the outside but no help 3 cars went low on me, fell to 4th but was able crossover and they wrecked but not quite enough P2.
Kyle P – Pwrecked out

Tony R – P18 started on pole tucked in behind leader til green flag stops he pits 3 laps before me i take the lead back. Came out 2nd after my stop behind some lapped cars and hung out with them, took the lead back. Was gonna make it with only 1 stop but first caution came out with 20 to go. Should've stayed out as i fell back to 7th. But fast forward to white flag. Jumped to the outside in 8th had a car jump out in front let off the gas so i wouldn't wreck him and got plowed from behind ugh…
Tyler – P 16 – started dead last as I was number 35 in my split. Played it safe and rode in the back. Out of 3 cautions I got tangled up in one with about 20 to go. Left front damage but not bad. Was able to rally up to 16th. Best part of the night was listening to our team finish solid.
Tom D – P12 – had a top 5 q and ran up there the 1st run – once Mike took the lead I settled in behind him for the whole 1st run… He pitted before half way I stayed out w the leaders – after gf stops, still leading with enough fuel to make it… Much later a caution. Then the guy leading the outside gets bumper hooked into me and cleaned me out, no damage though, and tried to get back up there to help Mike but didnt have enough time. Great run, lead 5 laps, teammates running 1 and 2 the first half the race, a great event…

Bobby –p1 So I shorted pitted under yellow, took tires and fuel, went 15ish laps, leaders pit, I made up enough spots picking way through to pit with them, came out in front and lead all the way til the white, then out of 4 took it back – 3 years straight wins at Daytona summer race! 6 straight years with a win in the nascar iracing series.That was crazy. Can't thank my teammates at tifosi racing enough.
Spiker – P18, Q9. I received a drive through penalty for passing under yellow. After receiving the wave around and pit strategy, found my running P3 w/ 6 laps to go, I Lagano'd the outside line going into T1. The most embarrassing moment yet.

Thurs Open

Ellis – p Pole position! Couldn't get away from the front so pulled over on the back stretch and fell the eight to try to save fuel. Eventually caught enough cautions where we didn't need to save fuel anymore and I was leading at 30 to go. Second line finally form and got by me before another Caution at P7 was 17 to go.
Did another caution restart it P6 with eight to go. Was rat P5 and got turned on a guy that was trying to go around the outside. Car done.
Rochette P15 so car 27 check. Got pole check. Last 2 times i was the 27 on a pole i was a weiner. As my old football / weightlifting coach used to say: NOT TODAY. had a save of a lifetime early on as a car from the outside just murders my right rear and was sideways and saved it but wouldnt be the only time i would be sideways. White flag on the outside was hit and hit again making me ride the wall and than just slid to the backstretch on my driverside door. Fun times
---
---
Official Series
24 Hour Endurance Series

Hall – P6, we should have had a podium. But still held on after a lot of damage to take 6th.

A Open

Ellis – startedp30 to leave by Lap three. Wrecked out a few laps later.
Got wrecked out on left two on a huge check up on the inside lane in the middle of the backstretch got wrecked from behind 2 1/2 minutes damage. I got it all fixed I missed the second caution but was involved in the third one. 126 damage on this wreck.
Ellis – Skippy is at Nuremberg Ring.

Started mid pack and wrecked out on the first lap.
Started seventh out of 14 and made it to P5
Started 13th got to 10th but then wrecked it
Start a P5 out of 14. By end of lap 1 i was up to second – i hunted the leader and forced the issue and got by, then i gapped him… Some guy who had started from pits was coming, was up to 3rd about 9 seconds back and he made up 7 seconds on me… my 85th career win

F2000 – Indianapolis

F2000 -started P5 out of 16. Wrecked our lap one turn 2
SPIKER

Nascar B Open, P10, Q9
Nascar C Open – P13, Q2. Running P4, w/ less than 10 Laps to. Taken out by P2 and P3
---
---
League / Hosted Races
FastTrack League – Michigan
David – p game crashed half way through race

Mike – p15. Started dead last in P 29 got to pee 20 by the end of lap one. Hit it when the fuel window opened from 15th and pretty much ran that position the rest of the race.
Ellis – Chris MacGuire – Hosted – 87 cars at Talladega started last p30. Got the lead by lap 10. Some guy parked it on the back stretch and the field came around and we plowed in. Hosts and admins were livid.
Then started P 29 out of 35. I quickly get upto about 12th within three laps and sure enough there's a slow lap car in the middle of the track as the pack is coming they tell him to move he doesn't do anything we all wreck. So frustrating but this is happened twice in a row. And they have over a dozen admins.
Supercars at Michigan- the sim crashed twice while getting into the car I rebooted and joined the race 4 laps Down.
The gen 5 at iss. 261 top speed. Was p1 on the white and a guy passed me under the yellow and wiped me out.
GEN five at Talladega. Got wrecked out lap 1
87s and Pro two at wild West Park.
---
---
Final Thoughts
---
---
Words Spoken in Closing Audio Clip -""Thank you for listening to the iRacers Lounge podcast make sure to go subscribe to us on iTunes, SoundCloud, or Google Play, Facebook & Twitter, See You On The Track ."
TITLE
Hub on a Hub
Description
On the show today, we'll give you tips on how to get faster in iRacing, we'll talk more rain after hearing from our listeners on our social media sites. In hardware we'll check out a computer build with real horsepower and a triple set up like no other. So sit back, relax and join us on the iRacers Lounge Podcast.
iRacers Lounge Podcast is available on iTunes and Apple's Podcasts app, Stitcher, TuneIn, Google Play Music, Spotify, Soundcloud, Podbean, Spreaker, Podbay, PodFanatic, Overcast, Amazon, and other podcast players.
Sponsors:
Hosts:
Mike Ellis – twitter.com/MikeDeanEllis
David Hall – www.twitch.tv/mixmage
Greg Hecktus – twitter.com/froozenkaktus – www.twitch.tv/froozenkaktus
Brian Maccubbin – www.twitch.tv/MacRubbinsRacin
Kyle Pendygraft – twitter.com/LoudPedalGaming
Tony Groves – www.twitch.tv/SirGroves
Adam Josselyn- twitter.com/Jossad83
Tony Rochette – twitter.com/TonyRochette
Tom Dreiling –
Donnie Spiker –
Bobby Jonas –
Links:
Facebook – www.facebook.com/iRacersLounge/
Twitter – twitter.com/iracerslounge
Instagram – instagram.com/iracersloungepodcast/
Web (Show Notes) – iracerslounge.com/