1/5/2023 – Sisirc Noitcerid – Episode 0364
iRacers Lounge Podcast – Conversation Topics
---
---
Opening Audio Clip -"Your listening to the iRacers Lounge Podcast where we discuss everything iRacing, in a casual setting, enjoy."`
READ THIS AT THE TOP OF EACH SHOW!!!
Welcome to the iRacer's Lounge, I am your host "XXX". iRacer's Lounge is a podcast for the iRacer, where we talk all things iRacing in a casual setting.
Joining me are the usual characters, ———— 
---
---
Show Introduction
Ont today's show we'll take a look at the newly released iRacing Nascar Coke Series Schedule. There's a new player in the Sim Racing market, and may be drawing talent from other platforms. We'll check out a change in direction poll and see what's the best wheel and base combo for under $500.
And remember you can follow along with us on your PC or mobile device in real time as you listen to the show and see for yourself all of the great topics and products we'll discuss by visiting iracerslounge.com and selecting show notes. Hope to see you there..
---
---
Topics
---
---
ESL Makes Move Into Sim Racing
Upcoming sim racing platform Rennsport's partnership with ESL looks set to shake up the racing esports driver market, with several top talents thought to have signed with squads new to the virtual motorsport scene.
Traxion.GG understands that several high-profile drivers have signed to ESL-affiliated teams, either effective at the start of this year, or after the upcoming 24 Hours of Le Mans Virtual.
https://forums.iracing.com/discussion/34655/esl-making-moves-into-sim-racing#latest
https://traxion.gg/top-racing-esports-talent-set-for-shock-esl-rennsport-switch/
---
---
Will Sim Racing Become a Major eSport Player?
Luke Crane, via Twitter @Actrollvision proclaims this will the year Sim Racing becomes a bigger part among the eSport landscape.
---
---
Tyler's New Wrap
iRacing's own, Tyler Hudson showing off his new paint scheme on his Dirt Late Model.
---
Should We Have Series Specific iRating?
iRacer, Marley Harrison posted a topic in the forums, "Should we have series specific iRating?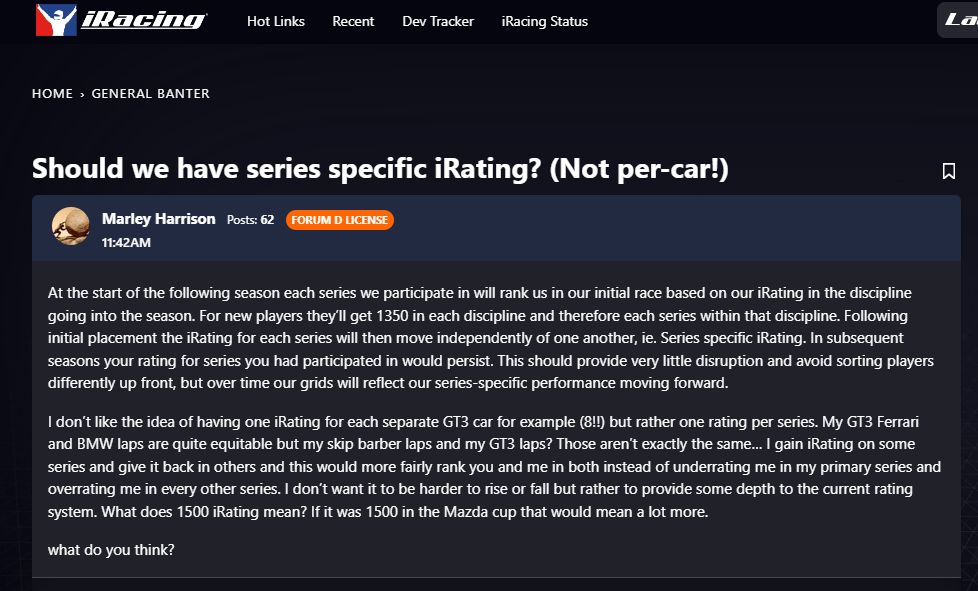 https://forums.iracing.com/discussion/34809/should-we-have-series-specific-irating-not-per-car#lates
---
---
Session Adim Chat Commands
iRacing shows in their support pages how to set up Session Admin Chat Commands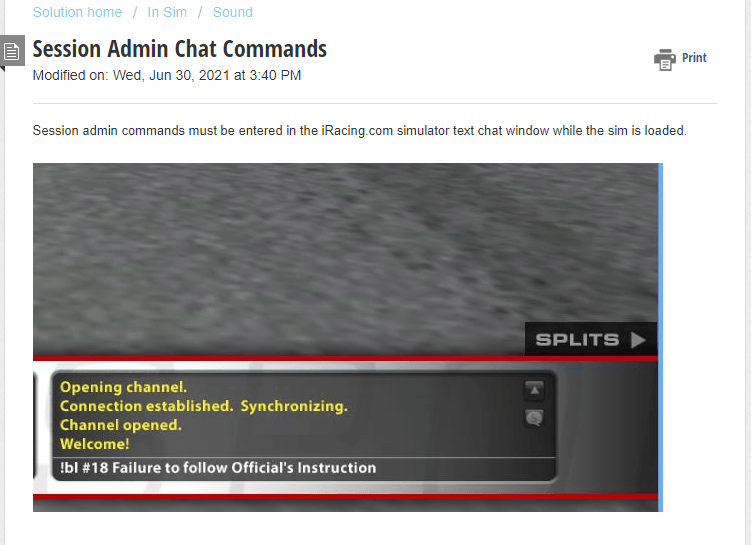 https://support.iracing.com/support/solutions/articles/31000133518-session-admin-chat-commands
---
---
Dale Junior Enters the Chat Stutter
iRacing Staff member Dale Jr. posted a topic in the forums asking if there has been a resolution to the stuttering many are finding in the replay playback.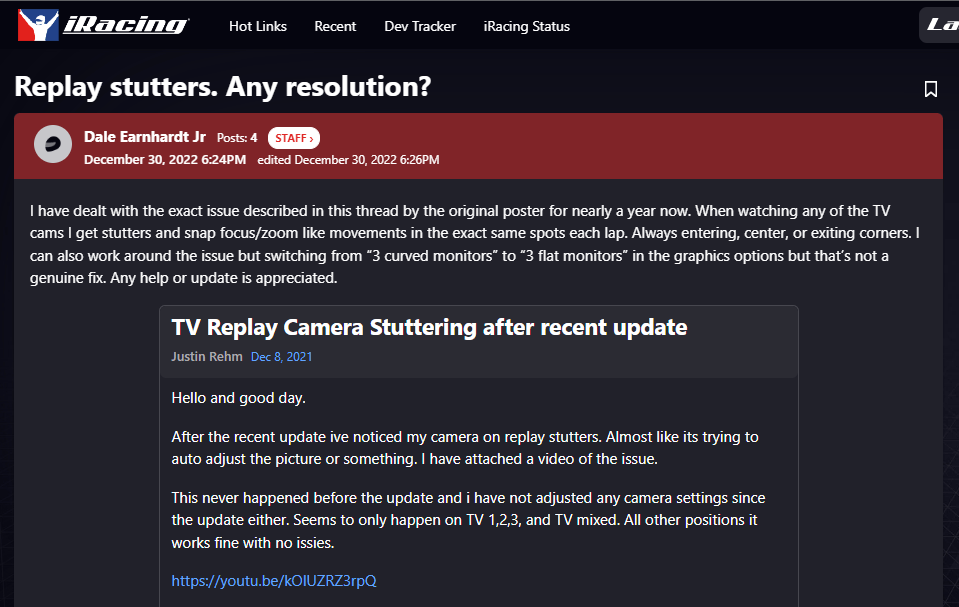 https://forums.iracing.com/discussion/34528/replay-stutters-any-resolution
Is the Damage Model Broken?
iRacer, David Beattie, posted in the forums indicting the current Damage Model, since the recent build, has become a complete joke.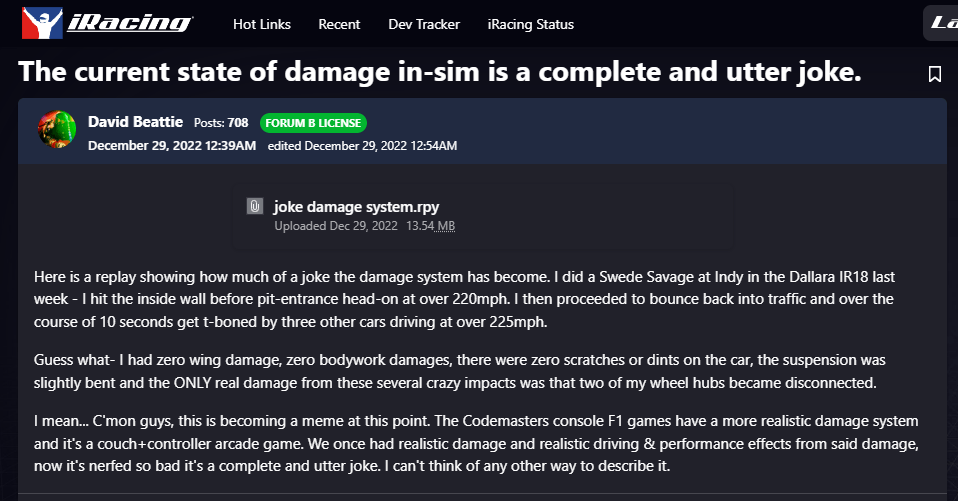 https://forums.iracing.com/discussion/34435/the-current-state-of-damage-in-sim-is-a-complete-and-utter-joke#latest
---
---
Sim Racing Chicago
Sim Racing Chicago is a professional driving simulator studio that features 10 fully built simulators. These simulators are designed to showcase the best of what sim racing has to offer. Our studio is available for any events that you may be organizing.
https://www.simracingchicago.com/
---
---
Sisirc Noitcerid
Kaleb Belak posted his idea in the forums an idea for a 'Diretion Crisis" week 13 series where tracks would be run in reverse with a poll to go along with it.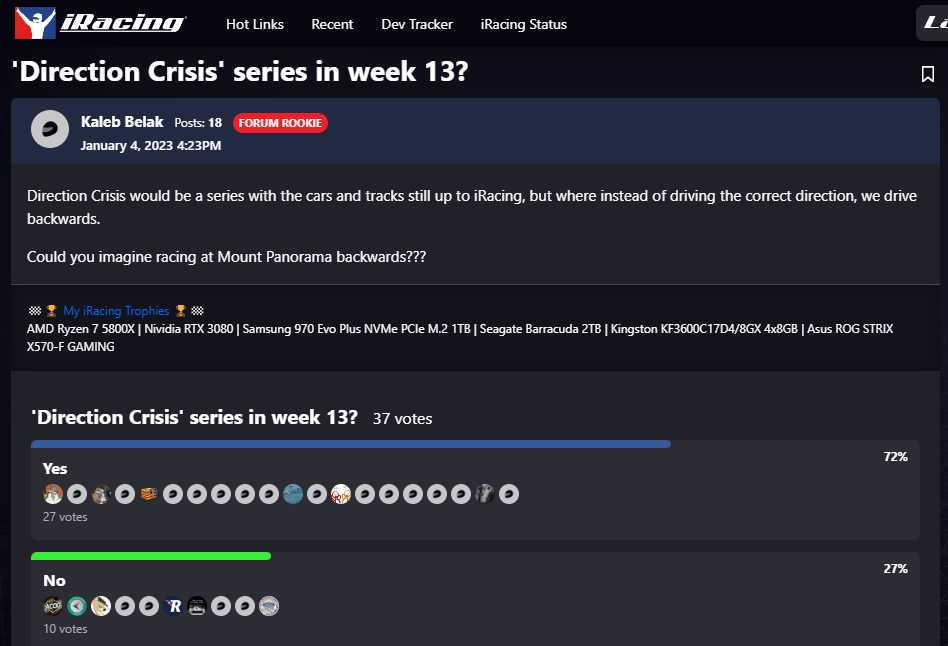 https://forums.iracing.com/discussion/34829/direction-crisis-series-in-week-13
---
---
Coke Series Shedule
iRacing released the 2023 Coke Series schedule with some unusual venues
https://traxion.gg/monza-homestead-miami-finale-headline-2023-enascar-coca-cola-iracing-series-schedule/
https://www.iracing.com/2023-enascar-coca-cola-iracing-series-schedule-blends-new-tracks-with-familiar-favorites/
---
---
Gripwerx Racing
Gripwerx Racing is a company in Washington, east of Seattle where you can rent time in a highly immersie racing simulator.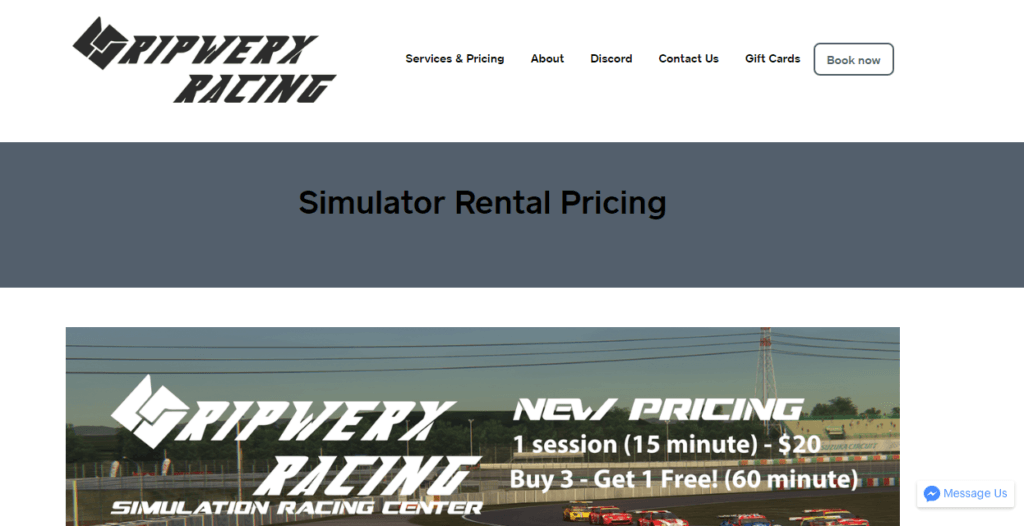 https://www.gripwerxracing.com/
---
---
World of Outlaws Week 6
James Edens joined Hayden Cardwell as the second repeat winner of the 2022-23 iRacing World of Outlaws Carquest Sprint Car Series season on Monday night, leading the most laps in the series' return to Fairbury Speedway in Illinois from his front row starting spot. Like Cardwell, who went back-to-back at Eldora and Williams Grove, both of Edens' wins have come in a row, after he took the inaugural checkered flag at the virtual Federated Auto Parts Raceway at I-55 one week ago.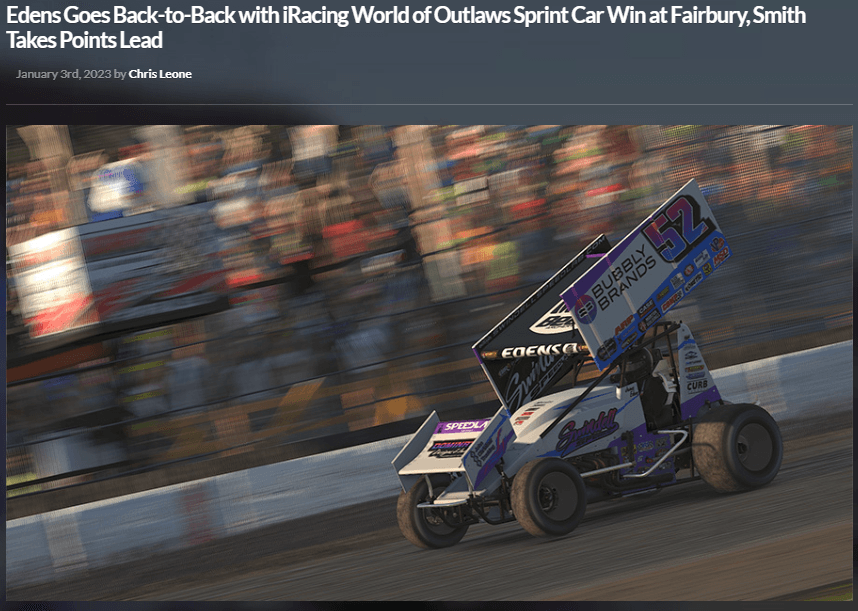 | | | | | | | | | |
| --- | --- | --- | --- | --- | --- | --- | --- | --- |
| Fin. | St. | No. | Driver | Laps | Interval | Led | Best | Pts. |
| 1 | 2 | 52 | James Edens | 35 | | 31 | 11.559 | 78 |
| 2 | 1 | 23 | Kenny Miller | 35 | -0.486 | 1 | 11.541 | 75 |
| 3 | 5 | 86 | Timothy S Smith | 35 | -1.868 | 0 | 11.651 | 71 |
Timothy Smith, 364
Alex Bergeron, 362
Tyler Schell, 340
---
---
iRacing Roar Special Event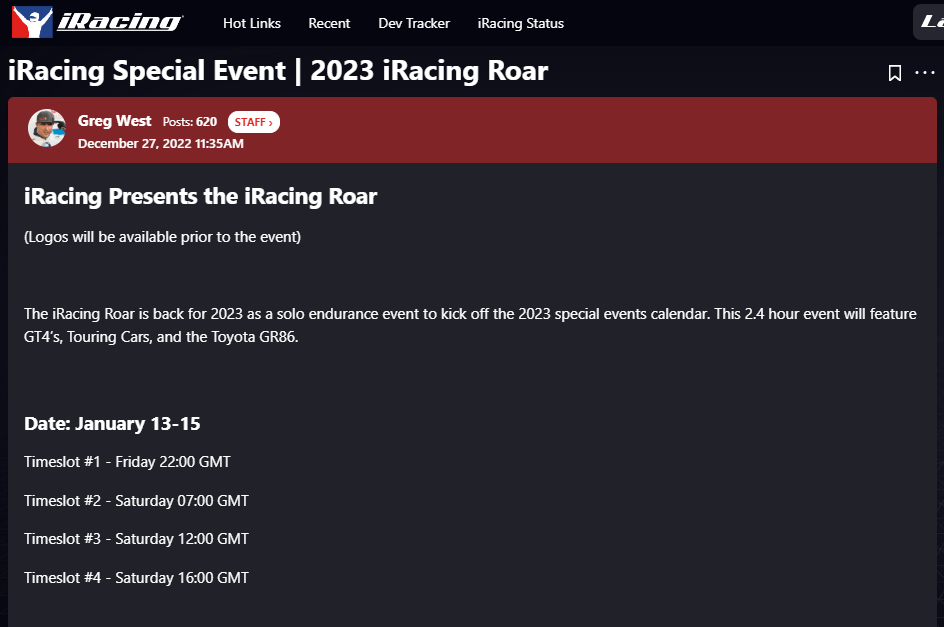 https://forums.iracing.com/discussion/34352/iracing-special-event-2023-iracing-roar/p1
---
---
January Special Event Reminders
---
---
https://forums.iracing.com/discussion/34353/special-event-2023-iracing-daytona-24h-powered-by-vco
---
Podcast Housekeeping
Leave us a review on your favorite podcast platform to make it easier for more listeners to find the podcast. Mention the podcast to your fellow drivers so they don't miss out, we would appreciate it.
Check out our Discord https://discord.gg/rvRas4DDqF
New Website – Leave Comments https://www.iracerslounge.com/
---
We are in the regular rotation… (Mike)
https://performancemotorsportsnetwork.com/
https://channelstore.roku.com/details/9d27a1e9dd15b92535d7cfe85407288e/the-sim-racing-channel
https://thesimracingchannel.com/watch-live/
Fantasy
---
---
Hardware/Software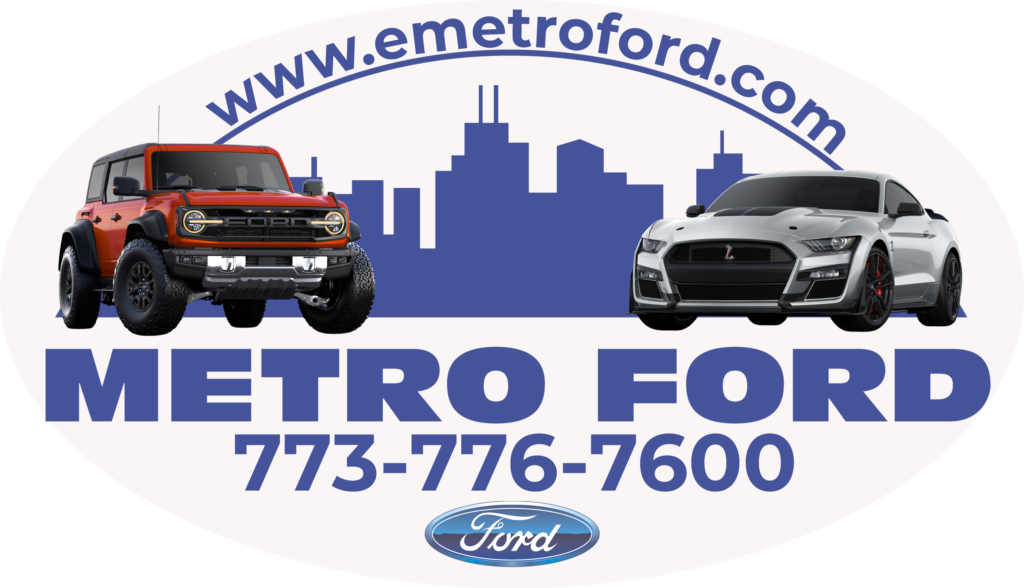 ---
Best Wheel Combo Under $500
Shaun Cole from the Sim Pit reviews the best sim wheel combo for under $500
In this video Shaun Cole of the Simpit shares his thoughts on the best starter setups for gamers new to sim racing in 2022.
PXN V10 Racing Wheel Kit $299
Logitech G29/G920 $399 on sale $299
Thrustmaster T248 $399
Thrustmaster T300 RS $449 (Limited Stock)
Thrustmaster T300 Ferrari Integral $499
---
---
Asetek Ultimate LMP?
Asetek is selling the carbon fiber from their LMP that a creative designer could make an ultimate LMP rig
---
---
Load Cell Pedals Explained
The Sim Racer Corner explains the basics that you need to know about load cell pedals…it changes the braking amount based on how much force you are pushing down with rather then the actual movement of the pedal…
---
---
The Simcore SD-1XL with the SDC
The Simcore SD-1XL with the SDC-1 button box. Loads of you had feedback on my stories so I said I'd make a post with the model numbers for the parts.
---
---
DSD Fobster
Derek Spears Designs will be releasing their new Fobster next week, a wheel attached button box with fob lever.
http://derekspearedesigns.com/ubox12-266839.html
---
---
---
DD Price Guide
Traxxion posted a Youtube video going over a list of several DD's and their prices ranging from Entry Level to the High End.
Fanatec – dd1 and 20 – 25nm – 1200 or 1500, dd and ddpro 350 5nm 200 more to get to 8nm, dd pro works on console
Moza – r5 and r 9 – 350 or 439 – r16 and r21 – 1000 and 1200
Asetek – la Prima 840 bundle only 12nm – forte 800 18nm – invicta 1200 27nm
Logitech – bundle – 1000 – 11 nm –
Thrustmaster – 10nm – 650
VRS – – 800 – 20 nm –
–Cammus – 15nm – 900
Leo Bodnar – 4585 – 15nm
– Simucube – sport pro ultimate – 17nm- 1292 – – pro 25nm 1500 – ultimate 32nm – 3276
---
---
First Flexable 45″ Gaming Monitor
Corsair is tsking pre-orders for their Xeneon Flex, the worlds first bendable 21:9 OLED gaming monitor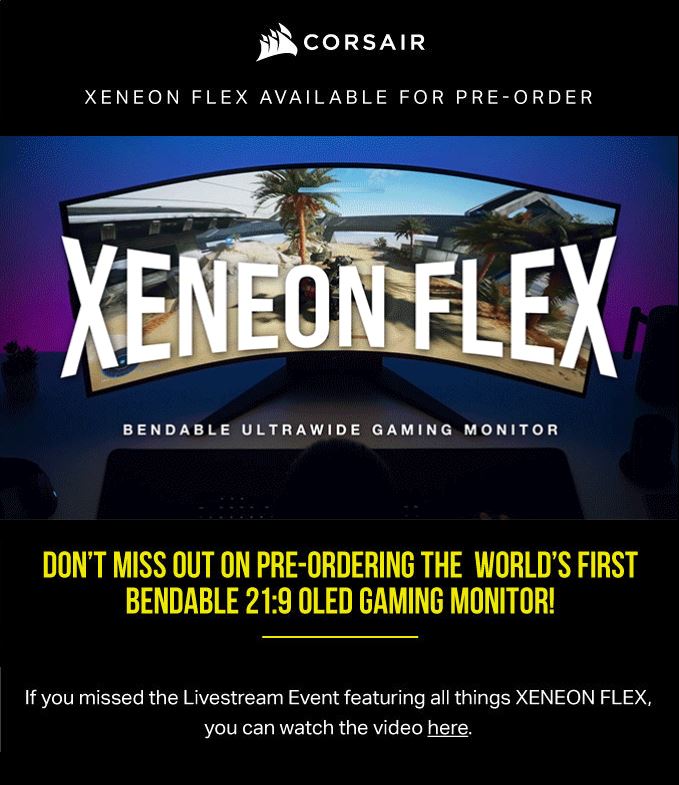 https://www.corsair.com/us/en/Categories/Products/Monitors/CORSAIR-XENEON-FLEX-45WQHD240-Gaming-Monitor/p/CM-9030001-NA
---
---
NVIDIA RTX 50 Series Rumors
NVIDIA's RTX 50 series might turn out to be the first mainstream MCM-based GPU from the company – if recent reports are to be believed. Not only that but Blackwell architecture could very well bring the largest performance leap in the company's history. NVIDIA recently confirmed that the Blackwell GPU architecture will be releasing in 2024.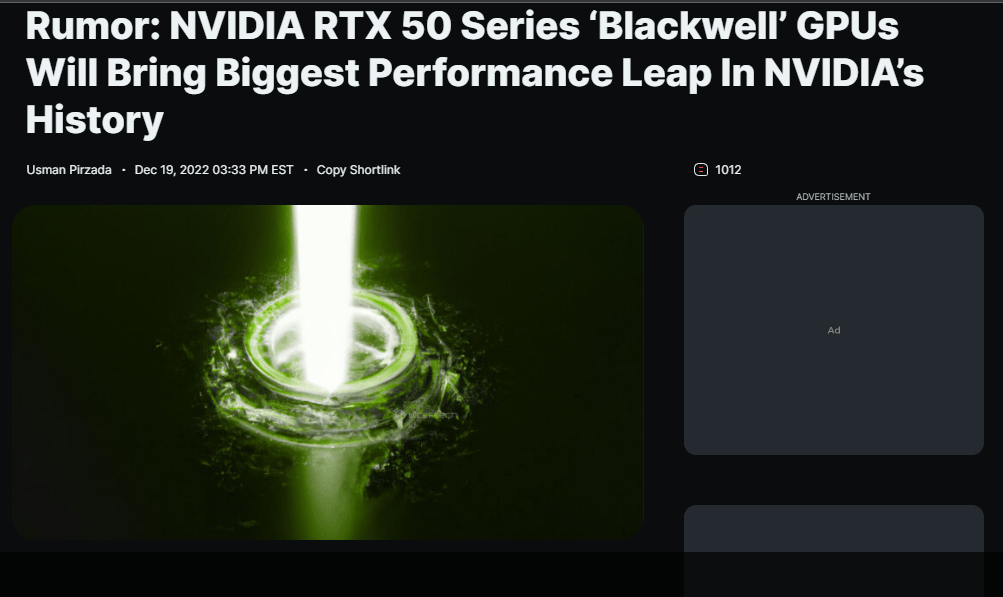 https://wccftech.com/rumor-nvidia-rtx-50-series-blackwell-gpus-will-bring-biggest-performance-leap-in-nvidias-history/
---
---
Fanatec Driver and Fanalab Update
Fanatec released a new driver and Fanalabs version that has car specific profiles
Cody Richardson3 — (Listener on our discord)
Oh Fanalab has had the ability to use profiles, with the gentleman making them in the forums, for about 2 years now. They don't do a very good job telling their customers about it though.
Cody Richardson3 —
Looks like the difference is now it can automatically load the car profile in for you. Saves me a couple of steps for sure.
---
---
Grid MPX Preorders
The new Grid MPX formula wheel is now available for preorder
---
---
TS Customs Response Pro
The Response PRO is the most compact motion simulator on the market, built without compromises to deliver all the important tactile information present in a race car. Fast and precise motion and vibration feedback in the right time were key features during the development of the Response PRO motion simulator. Driver position is electrically controlled and fully customizable to owners preference, even during the race. Available with virtual reality headset, or the most advanced curved triple screen setup. The simulator is intended for racing teams, simracing drivers and racing enthusiasts, demanding the highest quality and performance. Response PRO is the Hypersimulator in the simulator world.
---
---
LG Ultra Geer 48″ Gaming Monitor
LG's new Ultra Geer 48″ Gaming Monitor may be the best large screen gaming monitor
---
---
Sim Rep Engineering P9XX
Sim Rep Engineering is now taking preorders for the P9XX formula wheel
https://simrep-engineering.com/pages/p9xx-pre-subscription
---
---
V-RIG
The V-Rig offers a highly adjustable simulator allowing multiple configurations from Road & Rally to GT and Formula.
To save space in your home the S1 features quick release foldaway pedal system and a quick release slide mechanism to move the rear of the rig into the front.
---
---
Odessey Neo G9
Samsung revealed the Odyssey G95SC monitor, a 49-inch model that it claims is the world's first 32:9 aspect ratio OLED gaming monitor. It also reminded us that its 34-inch Odyssey G8 QD-OLED monitor that debuted in the fall during IFA 2022 will be releasing "very soon.
https://www.engadget.com/samsung-ces-monitors-8k-57-inch-ultra-wide-odyssey-150046205.html
https://www.theverge.com/2023/1/2/23529275/samsung-qd-oled-odyssey-g8-g95sc-curved-gaming-monitor-specs-price
---
---
Thrustmaster Flaw?
on a Youtube Video found that the new Trustmaster T818 Direct Drive Wheel may have a flaw, that the mounting hole don't line up with most rigs without buying a mounting plate.
---
---
Is the Nvidia 4070Ti a 3090Ti Kiler
Jazs2cents on his Youtube channel compares benchmarks scores and value between the new Nvidia 4070Ti benchmarks and the 3090Ti.
---
---
Buttkicker Settings
Gitgud Racing posted a Youtube video shoring his best settings for the Buttcicker Gamer Pro
---
---
Results
NASCAR iRacing Series
Wednesday Open: Michigan
Mike – p21- I save fuel like crazy to make it on a one stop strategy. I saved enough to get to lap 51 out of 100 but the leaders also did I don't know how. I was dead last when I put it under green and I would've made it on one stop, but the caution came out shortly after. Later I got involved in an incident when a guy let off the gas weigh early getting into the corner and I ran over him. Several minutes damage. Otis Road it home.
---
---
Official Series
Ellis- F 2000 at Olton park. Qualified P5 out of 14. Qualified fifth quickly. Got to pee to buy lap one but got ran over from behind in a corner and fell back to fifth work my my way forward to finish P2

Qualified six out of 10. Finishes p6

Indy pro 2000 at Alton Park qualify fifth finished fourth.
Skip barber at Bathurst qualified six out of 14. Got to pee for by the end of lap one and end up finishing P3.
In the pro at Road Atlanta qualified 12th out of 19. Spun off all my own twice, but save the car and finish p9
F2000 road Atlanta qualified nine out of 16 on the first lap, got into it with a guy who was being super aggressive. He knocked off my front wings. I pity for repairs came back out and finished P 12.
In the pro 2000 at Road Atlanta qualified nine out of 15. I spun off on my own and turn to lap one and destroyed the car. I suck.
IMSA – The Glen

Hall – pwrecked, unavoidable, p wrecked, locked brakes up, p6, p5, p3, p4 with 6 min of optional and 4 seconds of pace. Rear ended a gt3 that got loose right on the exit. But the DTP field was extra careless

Euro Sprint Series – Monza

Hall – p3, p7,p6, p7, p4

Lemans – p9 in a 3500 SoF, has a 10k driver on track, p8, p8
---
---
League / Hosted Races
Hosted –

Ellis-87s at Talladega. They had a caution halfway, but it wasn't enough for a fuel. I lead coming up to the white and ran out of fuel on the back stretch.
Riley Daytona prototypes at Texas. Finished P9.
87 Talladega started 37 out of 40 wrecked out.
Super cars at Michigan started in the back got P3
Pro Mazda at Lenier dirt.

Hosted 24 Daytona race. P4.
Winter league- homestead

Mike -pdnf- got loose and overcorrected and how did the wall really hard knocking off the right front. Add good tire where the first run but if I wrecked the car doesn't help much.

Steve Thomson – p
Steve LouAllen-p

David – P13, only one to finish. Didn't make any major mistakes or get caught up. Late caution, don't know if it helped me or not

OBRL Cup
Brian -Kentucky P23 Had to start from the pits and fell a lap down immediately. Needed an early caution, didn't get one. Tried long run strategy but had no help getting lap back finishing P23
---
---
Final Thoughts
---
---
Words Spoken in Closing Audio Clip -""Thank you for listening to the iRacers Lounge podcast make sure to go subscribe to us on iTunes, SoundCloud, or Google Play, Facebook & Twitter, See You On The Track ."
TITLE
Sisirc Noitcerid
Description
Ont today's show we'll take a look at the newly released iRacing Nascar Coke Series Schedule. There's a new player in the Sim Racing market, and may be drawing talent from other platforms. We'll check out a change in direction poll and see what's the best wheel and base combo for under $500. So sit back, relax and join us on the iRacers Lounge Podcast.
iRacers Lounge Podcast is available on iTunes and Apple's Podcasts app, Stitcher, TuneIn, Google Play Music, Spotify, Soundcloud, Podbean, Spreaker, Podbay, PodFanatic, Overcast, Amazon, and other podcast players.
Sponsors:
Hosts:
Mike Ellis – twitter.com/MikeDeanEllis
David Hall – www.twitch.tv/mixmage
Greg Hecktus – twitter.com/froozenkaktus – www.twitch.tv/froozenkaktus
Brian Maccubbin – www.twitch.tv/MacRubbinsRacin
Kyle Pendygraft – twitter.com/LoudPedalGaming
Tony Groves – www.twitch.tv/SirGroves
Adam Josselyn- twitter.com/Jossad83
Tony Rochette – twitter.com/TonyRochette
Tom Dreiling –
Donnie Spiker – twitter.com/Spikerman19
Bobby Jonas –
Links:
Facebook – www.facebook.com/iRacersLounge/
Twitter – twitter.com/iracerslounge
Instagram – instagram.com/iracersloungepodcast/
Web (Show Notes) – iracerslounge.com/