1/12/2023 – Let's Roar – Episode 0365
iRacers Lounge Podcast – Conversation Topics
---
---
Opening Audio Clip -"Your listening to the iRacers Lounge Podcast where we discuss everything iRacing, in a casual setting, enjoy."`
READ THIS AT THE TOP OF EACH SHOW!!!
Welcome to the iRacer's Lounge, I am your host "XXX". iRacer's Lounge is a podcast for the iRacer, where we talk all things iRacing in a casual setting.
Joining me are the usual characters, ———— 
---
---
Show Introduction
On the show today, we find out what iRacing may have in store for their next new vehicle, There's more clues as to the wet stuff, what legendary wheel manufacturer may be in the sim racing market, and Dave Cam goes legend in his own way at Bathurst.
And remember you can follow along with us on your PC or mobile device in real time as you listen to the show and see for yourself all of the great topics and products we'll discuss by visiting iracerslounge.com and selecting show notes. Hope to see you there..
---
---
Topics
---
---
New Car Coming?
iRacing posted a Tweet with a CAD drawing of a posible new entry into the stable of formu;a cars
---
---
MSG Financial Woes?
A rumor from a source at Motorsports Games claim that they have not been paying their employees and they may be threatening a lawsuit.
---
---
iRacing Days Numbered?
Overtake has an article asking if iRacing's days may be numbered with the controversy with Motorsport Games along with the LFM adding rFactor 2
https://www.overtake.gg/opinion/why-low-fuel-motorsport-threatens-iracing/
---
---
We Are Not Worthy
Dave Cam posted a video on his YouTube Channel taking the jump at Bathurst on the last lap, while leading.
---
---
Empty Box is BACK!
Popular iRacing youtuber extraordinare, EMPTY BOX (Matt Orr), is back putting up videos of him doing iRacing again after a long hiatus away… He has been away from youtube for a bit over a year but appears to be back for good.
---
---
Soon, Sooner and Soonest
Dan Suzuki noticed a setting for wet tyres in the setting. Could this mean rain is soon to follow?
https://forums.iracing.com/discussion/35084/wet-tyres-alert#latest
---
---
Season 1 Patch 2
iRacing released the notes for Season 1 Patch 2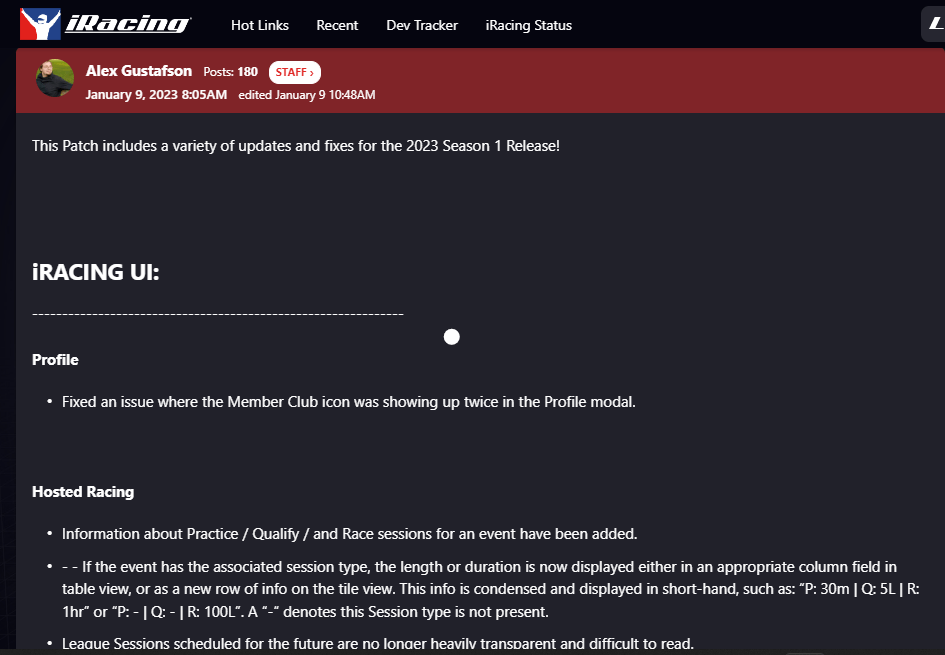 https://forums.iracing.com/discussion/35079/2023-season-1-patch-2-release-notes-2023-01-06-02
---
---
World of Outlaws Week 7
Tim Smith took home his first win of the season and slightly increased his championship points lead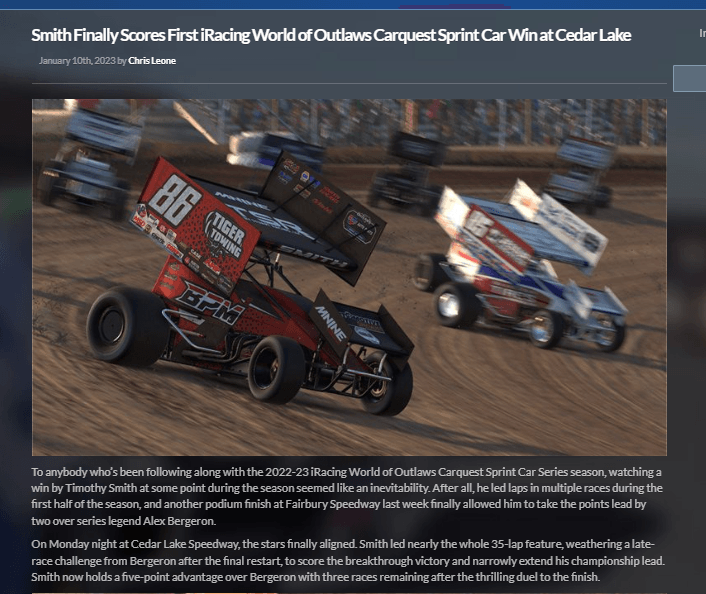 https://www.iracing.com/smith-finally-scores-first-iracing-world-of-outlaws-carquest-sprint-car-win-at-cedar-lake/
| | | | | | | | | |
| --- | --- | --- | --- | --- | --- | --- | --- | --- |
| Fin. | St. | No. | Driver | Laps | Interval | Led | Best | Pts. |
| 1 | 1 | 86 | Timothy S Smith | 35 | | 32 | 11.038 | 78 |
| 2 | 4 | 12 | Alex A Bergeron | 35 | -0.625 | 1 | 11.125 | 75 |
| 3 | 6 | 24 | Tanner Pettit | 35 | -1.070 | 0 | 11.172 | 71 |
| 4 | 3 | 85 | Tyler Schell | 35 | -1.830 | 0 | 11.183 | 69 |
| 5 | 10 | 33 | Evan Seay | 35 | -2.025 | 0 | 11.094 | 64 |
iRacing World of Outlaws Carquest Sprint Car Series points through seven rounds are as follows:
Timothy Smith, 442
Alex Bergeron, 437
Tyler Schell, 409
James Edens, 376
Kendal Tucker, 369
---
---
New Linup for Jim Beaver Sports
Justin Melillo reporst that Jim Beaver Sports will have an all new lineup in 2023 with drivers Malik Ray and Garrett Lowe
---
---
Real A.I.
Driverless race cars look a lot like AI drivers in iRacing
---
---
The Roar
https://www.iracing.com/this-week-iracing-roar-special-event-2023/
---
---
Daytona 24


Greg West Posts:
We have added the special event BOP to IMSA and IMSA Endurance for the coming week. Please be advised.
https://forums.iracing.com/discussion/35249/daytona-24h-bop-added-to-support-series#latest
https://forums.iracing.com/discussion/34353/special-event-2023-iracing-daytona-24h-powered-by-vco/p1
---
---
Podcast Housekeeping
Leave us a review on your favorite podcast platform to make it easier for more listeners to find the podcast. Mention the podcast to your fellow drivers so they don't miss out, we would appreciate it.
Check out our Discord https://discord.gg/rvRas4DDqF
New Website – Leave Comments https://www.iracerslounge.com/
---
We are in the regular rotation… (Mike)
https://performancemotorsportsnetwork.com/
https://channelstore.roku.com/details/9d27a1e9dd15b92535d7cfe85407288e/the-sim-racing-channel
https://thesimracingchannel.com/watch-live/
Fantasy
---
---
Hardware/Software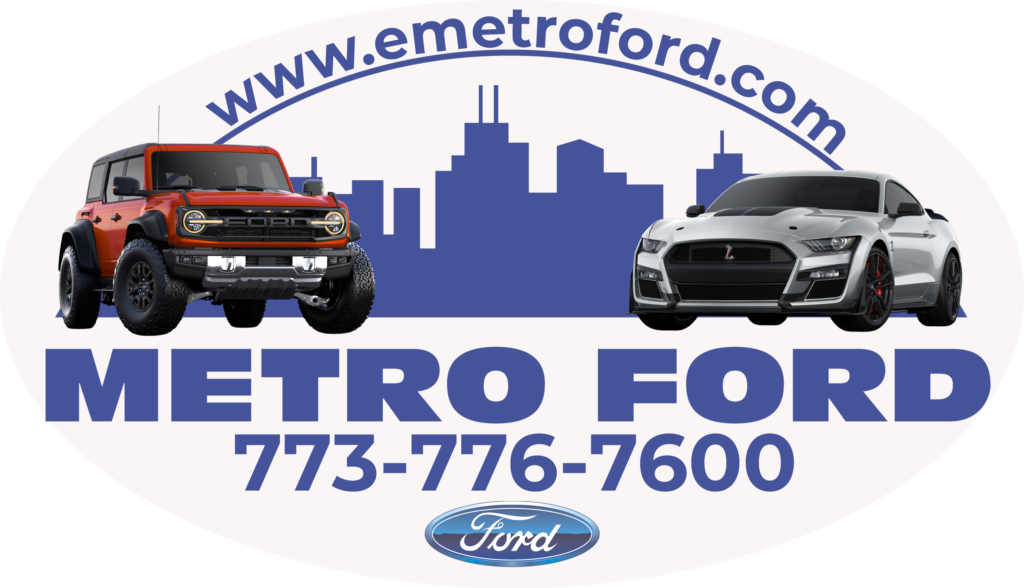 ---
---
Dynisma DMG-1
Dynisma is leading the charge with their DMG-1, the world's most advanced F1 simulator
---
---
Moza FSR on any Base
Shaun Cole from The Sim Pit shows you how to use a Moza FSR Wheel on any wheel base
---
---
The MagSafe Charger
The MagSafe charger mount is an easy and fast way to mount your iPhone directly to your rig. The mount is equipped with two swivel modes: horizontal and vertical.
https://www.etsy.com/listing/1372143890/magsafe-charger-mount-for-sim-racing-rig
---
---
Grid MPX Review
Adam Heart on his You Tube Channel says that the new Grid MPX formula wheel is the perfect racing wheel for him.
https://grid-engineering.com/en-us/products/grid-mpx-sim-racing-wheel
---
---
Best Sim Racing VR
Advanced Sim Racing Tweeted that they have found the Holy Grail of VR, the much lauded Varjo Aero
https://www.advancedsimracing.com/products/varjo-aero-vr-headset
---
---
Rig Review
SimAlphaProject shows off their custom rig
---
---
Triple Screen Glory
Dave Cam on his Youtube Channel shows how he sets up his triple screen monitors
---
---
Brelyon VR-Like Experience
Tha the Consumer Electronoics Show the Brelyon VR-Like display redefines what VR can be.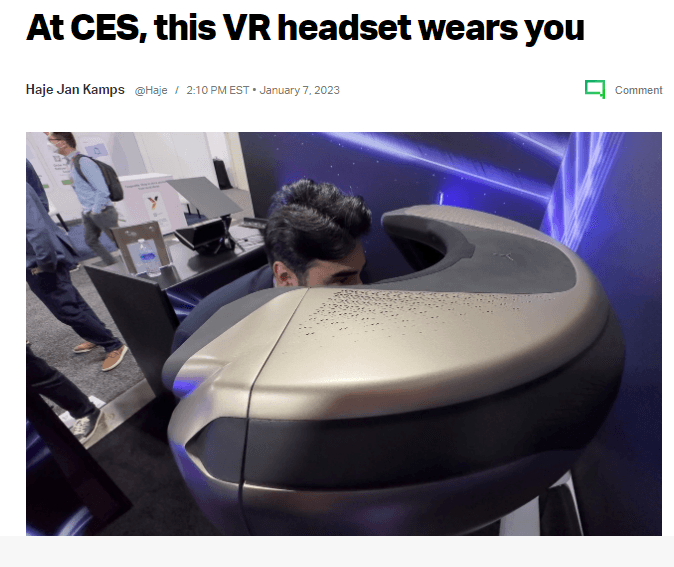 https://techcrunch.com/2023/01/07/brelyon-display/
---
---
Inizio Cockpit

Formula Sim Rig offers their new 80/20 Inizio Cockpit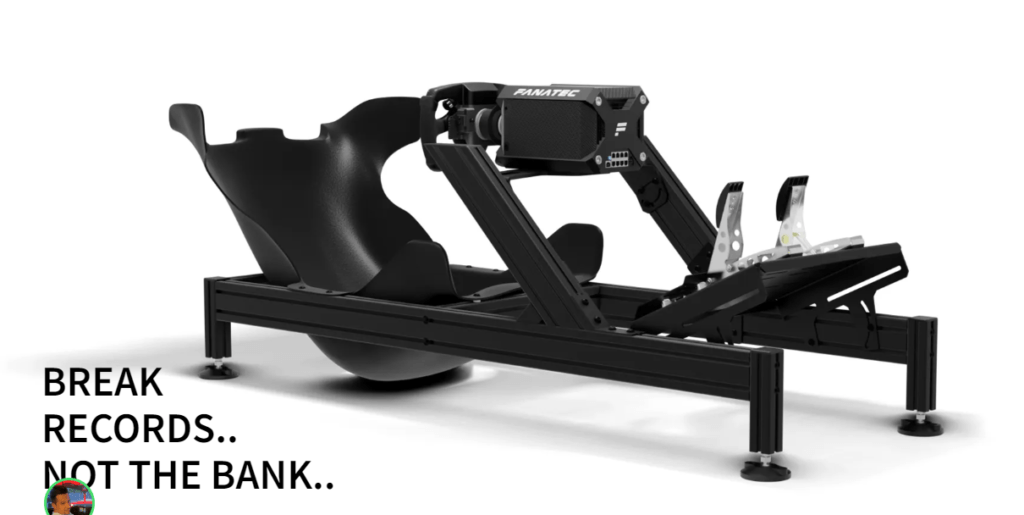 https://www.formulasimrigs.com/product/inizio/
---
---
SlimLine Sim Hardware
SlimLine offers tons of Sim Racing Products.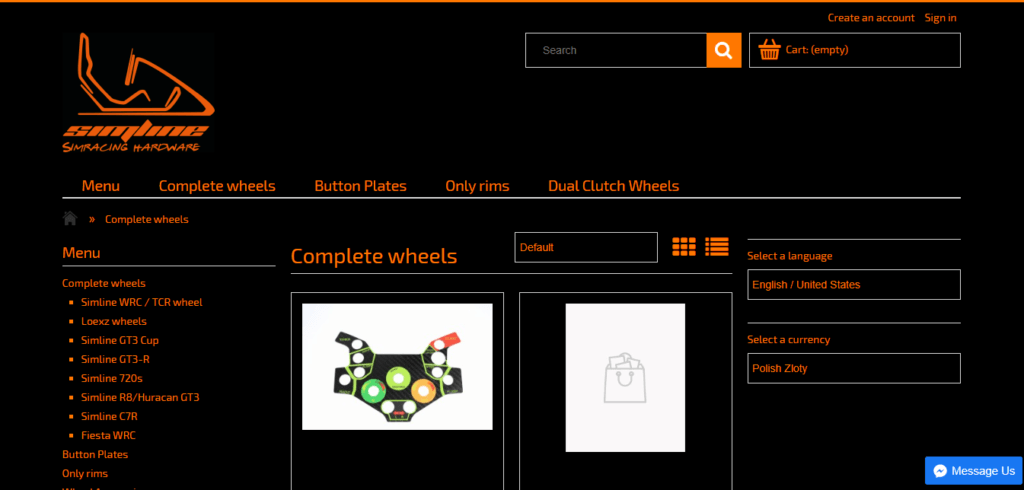 https://simline.eu/en_US/p/LEOXZ-XF-1-Sport/88
---
---
HF8 Gaming Pad Review
The Simpit reviews the HF8 Haptic Feedback Gaming Pad
https://nextlevelracing.com/products/hf8-haptic-gaming-pad/
---
---
Cosworth Formula Wheel
Legendary motorsport engineers Cosworth launch sim racing wheel
---
---
Results
NASCAR iRacing Series
Friday Open: North Wilkesboro
Mike- p. Got involved in the first caution, and somehow ended up with 8x. Second caution I absolutely got ran over from behind the dump ed. The third portion I spun out on my own, racing to hard for the lucky dog. Stayed out of trouble for a while until the seventh caution. When I was completely run over from behind fighting for the lucky dog I was dumped. Route 95 I finally get to Lucky dog. Halfway. Bob 133 a big wreck in front of me and I've Hialeah. I can't miss it and I hate the incident limit. I have to do a pass through penalty. Ended up P 13 with 22x
---
---
Official Series
Ellis- in the pro F2008 Road Atlanta qualify 15 out of 16. Got to 10th by the end of lap one. Had a great race and got to P6.
F 2000 at Rd., Atlanta qualified fourth of 17. P2!!
In the pro 2000 at Rd., Atlanta qualify fourth of nine. P4!
Indy pro at Phoenix start at 18th at a 24 finished P9. Gotten one incident where a guy was getting freight trained. I was the third in line when I went by. He tried to pinch me and we banged wheels and he wrecked. He was not happy with me but I stayed out of trouble and brought it home moving forward most of the time I only got passed on track twice. I was usually the one making the passes.
F 2000 at Phoenix was running in the top seven and I was inside a guy who cut down on me in Spun us both out
In the pro at Phoenix was running around 14th out of 18 lot 14. They wreck in front of me. I barely nicked it meatball with 15 minutes damage.
F 2000 started tenth and finish third.

SPIKER – RAN A BUNCH OF DIRT
---
---
League / Hosted Races
Hosted –

Ellis-old INDYCAR at old Michigan. Finished P 16 Tony Rochette got P7.

Hosted — super cars at Texas. Start at 21st finished seventh.
87th at Talladega started a 37. Rect out
87 at Talladega – several times cannot seem to finish these now always wrecked out
Riley DP's at Daytona – wrecked out
DW 12 at Michigan.
Winter league- homestead

Mike -p 22- caution came out after green flag stops. I was one away from the lucky dog, so I was trapped a lap down. Retard to keep the lucky dog for a while but eventually lost it I suck.

David – P 9, the coin flip split decision on a middle caution fell in my favor, + long run speed and ability to control a loose set paid off. Though almost didn't run, been sick all week with a non covid non flu virus. Didn't feel like getting back up, but did. Felt fever break again right the middle of the race.

OBRL Cup

Brian -Indy P20 Touched the wall on both Q laps, started in the rear. Had a crappy race. Was involved in a couple of incidents, but really liked the cup car at Indy Oval.
---
---
Final Thoughts
---
---
Words Spoken in Closing Audio Clip -""Thank you for listening to the iRacers Lounge podcast make sure to go subscribe to us on iTunes, SoundCloud, or Google Play, Facebook & Twitter, See You On The Track ."
TITLE
Let's Roar
Description
On the show today, we find out what iRacing may have in store for their next new vehicle, There's more clues as to the wet stuff, what legendary wheel manufacturer may be in the sim racing market, and Dave Cam goes legend in his own way at Bathurst. So sit back, relax and join us on the iRacers Lounge Podcast.
iRacers Lounge Podcast is available on iTunes and Apple's Podcasts app, Stitcher, TuneIn, Google Play Music, Spotify, Soundcloud, Podbean, Spreaker, Podbay, PodFanatic, Overcast, Amazon, and other podcast players.
Sponsors:
Hosts:
Mike Ellis – twitter.com/MikeDeanEllis
David Hall – www.twitch.tv/mixmage
Greg Hecktus – twitter.com/froozenkaktus – www.twitch.tv/froozenkaktus
Brian Maccubbin – www.twitch.tv/MacRubbinsRacin
Kyle Pendygraft – twitter.com/LoudPedalGaming
Tony Groves – www.twitch.tv/SirGroves
Adam Josselyn- twitter.com/Jossad83
Tony Rochette – twitter.com/TonyRochette
Tom Dreiling –
Donnie Spiker – twitter.com/Spikerman19
Bobby Jonas –
Links:
Facebook – www.facebook.com/iRacersLounge/
Twitter – twitter.com/iracerslounge
Instagram – instagram.com/iracersloungepodcast/
Web (Show Notes) – iracerslounge.com/