8/3/2023 – Genius to the Max – Episode 0394
iRacers Lounge Podcast – Conversation Topics
---
---
Show Introduction
On the show today, we will review another exciting eNascar Coke Series Race at Pocono. We celebrate a milestone anniversary for iRacing, and we see what happens when your pit crew goes on strike.
And remember you can follow along with us on your PC or mobile device in real time as you listen to the show and see for yourself all of the great topics and products we'll discuss by visiting iracerslounge.com and selecting show notes. Hope to see you there..
---
---
Topics
---
---
Coke Series Pocono
https://www.iracing.com/guest-wins-first-career-enascar-coca-cola-iracing-series-race-at-pocono-as-2023-playoff-field-is-set/
---
---
Throwback Month
iRacing is celebrating their 15 year anniversary of the launch of their servers. Throughout the month of August, iRacing will be running 4 'throwback' series honoring the cars & tracks that have been with us since Day 1!
https://www.iracing.com/iracing-to-launch-four-15th-anniversary-series-in-august/
---
---
Sim Racing Genius, Max Verstappen
Driver 61 posted a Tik Tok video of why Max Verstappen is a sim racing genius
---
---
Brad Miller RIP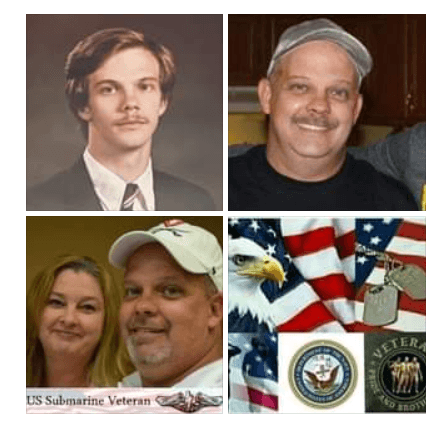 https://m.facebook.com/story.php?story_fbid=pfbid0eiEaqCgbPDqeyea56x5DD39kTLHsRgDeamJDPNT6xCzW9Xu2YionDq7sWDJXDRVYl&id=100007720726093&mibextid=K8Wfd2
---
---
Improving Performance
Dan Sizuki posted a video showing 2 ways to really help improve your lap times. Using Active Reset and Live telemetry.
---
---
Junior eSports Challenge
Motorsports Australia is has an exciting opportunity for aspiring Esports competitors aged 14-17 in the Asia-Pacific and Oceania region, with a once-in-a-lifetime prize up for grabs
---
---
Gen4 Bugs
Tim Moore posted a bug in the Gen 4 Model causing bad netcode type issues
---
---
Fastest iRacers Ever
D.J Yee J posted a Youtube video posting trying to set the fastest lap average speed in iRacing
---
---
WoO Round 4 – Port Royal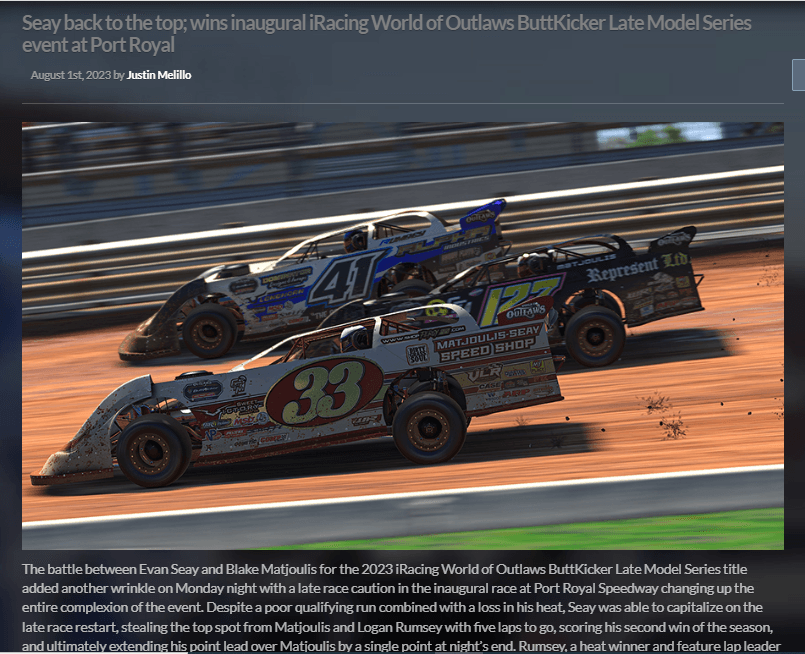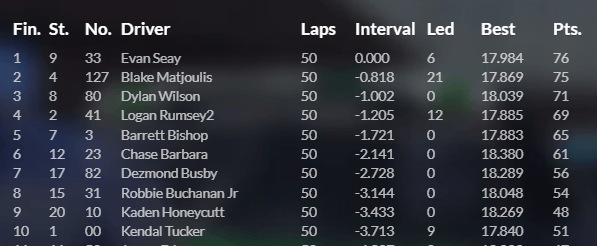 https://www.iracing.com/seay-back-to-the-top-wins-inaugural-iracing-world-of-outlaws-buttkicker-late-model-series-event-at-port-royal/
---
---
Mike's Gen 7 Makes Instagram Reels
---
---
Cam and the Pros
Dave Cam posted a video of him racing with real world racers and gettig the worst end of the deal
---
---
Not Top 10 July
---
---
Off Road Championship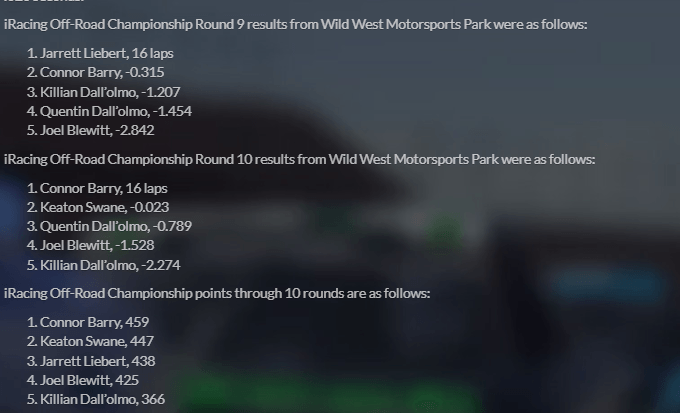 https://www.iracing.com/barry-takes-iracing-off-road-championship-points-lead-at-wild-west-splits-wins-with-liebert/
---
---
No Pits for You
Gabriel Mauricio posted a gitch where he gets into the pits, but the crew won't perform a service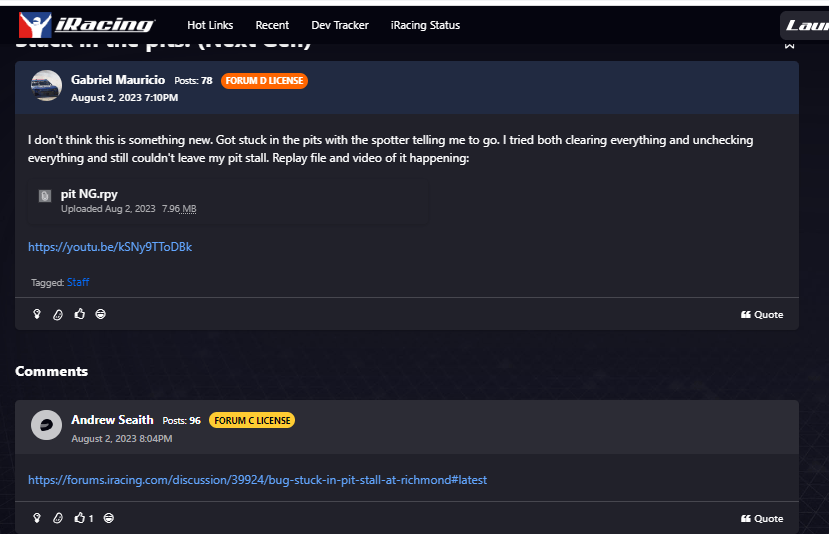 https://forums.iracing.com/discussion/comment/386094#Comment_386094
---
---
Podcast Housekeeping
Leave us a review on your favorite podcast platform to make it easier for more listeners to find the podcast. Mention the podcast to your fellow drivers so they don't miss out, we would appreciate it.
Check out our Discord https://discord.gg/rvRas4DDqF
New Website – Leave Comments https://www.iracerslounge.com/
---
We are in the regular rotation… (Mike)
https://performancemotorsportsnetwork.com/
Fantasy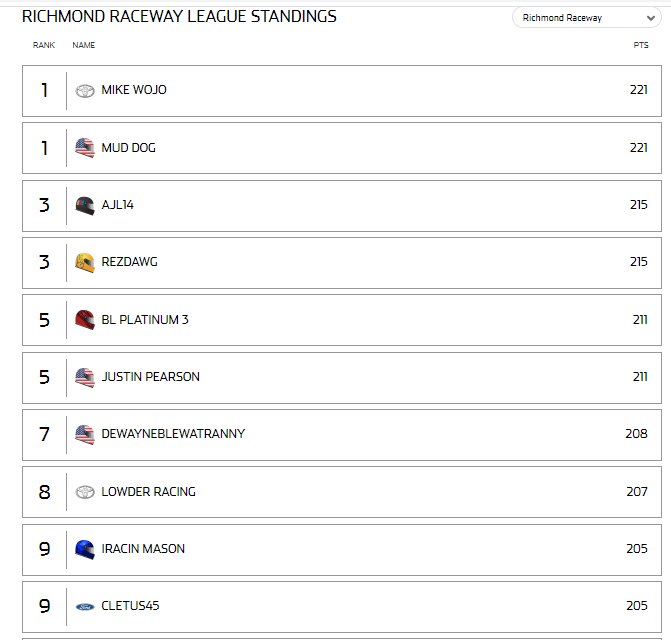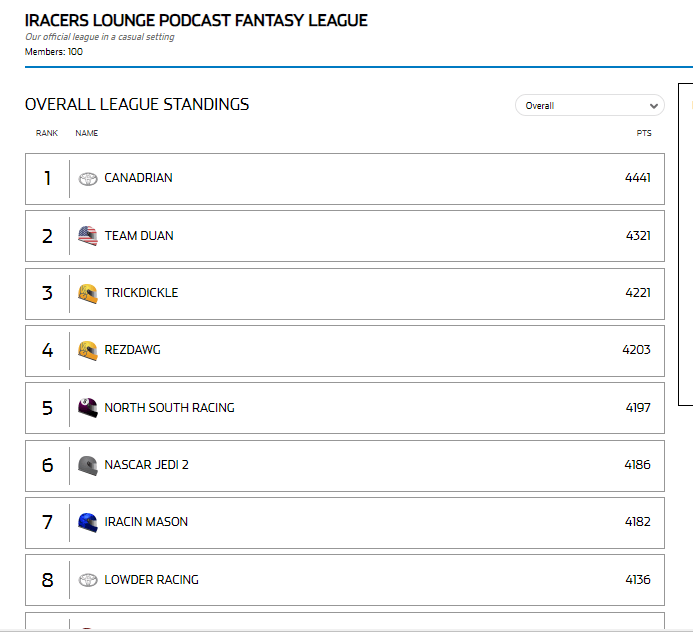 ---
---
Hardware/Software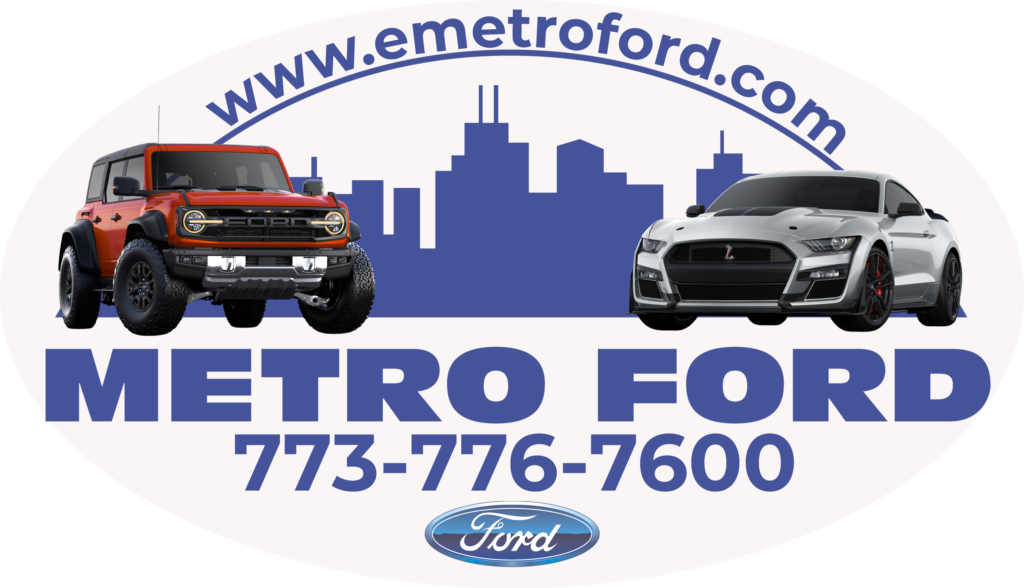 ---
Why Hydraulic is th Best
Sim Coaches posted a video decribing why hydralic sim racing pedals are the best
---
---
Advanced Sim Racing
Marc From Advanced Sim Racing shows his $30k rig they use for race events
---
---
GT-LM Button Box
The Racebox GT-LM Carbon Fiber sim racig Button Box has a 2 mm carbon fiber front panel. 6.8″ Display, 16 RGB LEDs ring plus 7-way ALPS Switch. This button box can be configured with 28 in-game inputs. Made with high quality components.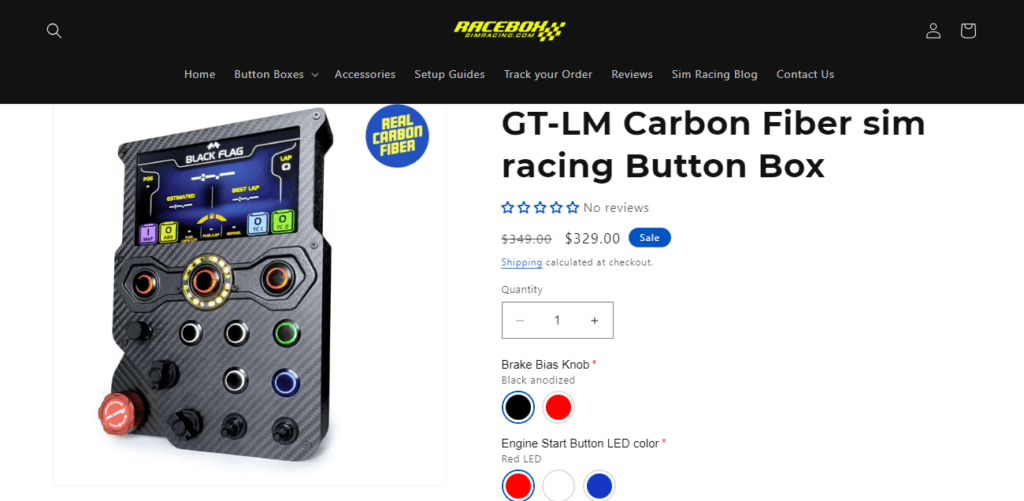 ---
---
Active Pedal Power Brick Mount
Sim Sport Gadget makes a Power brick mount for the Simucube Active Pedals
---
---
Cammus LC100 Pedals
Cammus is taking pre oorders for their new LC100 pedals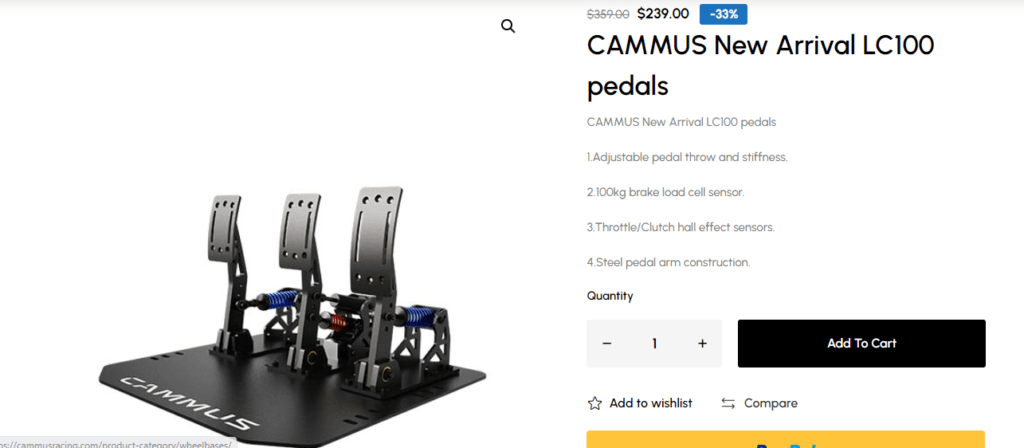 https://cammusracing.com/product/per-order-cammus-lc100-pedals/
---
---
Asatek QR
Lawrence Dusoswa shows off the versatility of the new Asetek Quick Release System
---
---
Mid Range DD Review
Lawrence Dusoswa compares mid range direct drive wheel bases including the Asetek, SimMagic, Moza Logitec and Thrustmaster offerings
---
---
V-PGT Sim Formula Wheel
V-PG teases their new formula wheel the V-PGT professional gaming wheel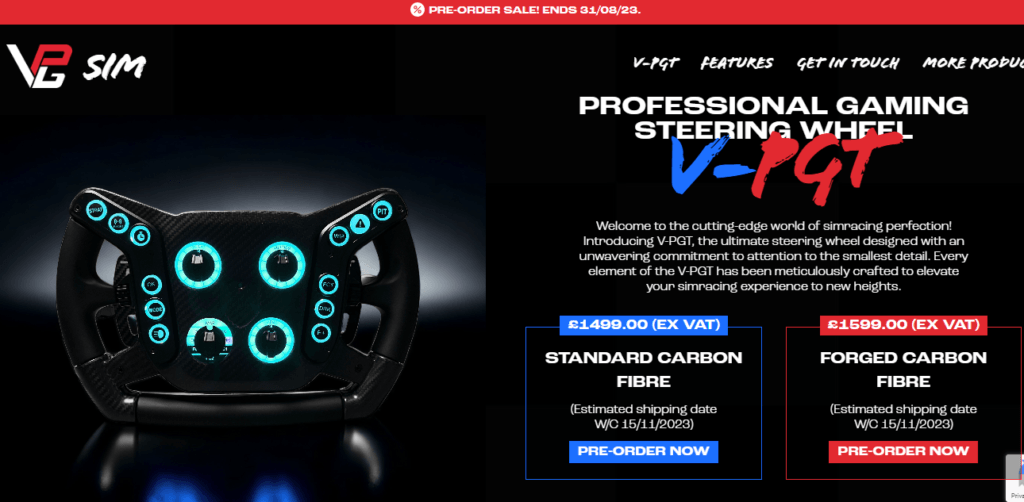 ---
---
Asetek La Prima Bundle Review
Boosted Media reviews the Asetek La Prima Bundle
---
---
Results
NASCAR iRacing Series
Friday Open – Richmond
Mike -. P 9- round basically top five most of the race with the reset at 40 to go. I restarted fifth ran the tires off pretty much and faded back to ninth.
Justin – p3 started 23rd. Not much to say about it, very well executed race only 2 cautions had the lead for a bit. If that race went past 50 lap runs I was the fastest. Maybe I need to drive harder in the short run?
Chris Waldron- finished several laps down sped on Pitt Road and then got in a wreck, fighting for the lucky dog
Rochette P20 was wrecked out of 12th with no caution and lost 3 laps this race sucked
Sunday Open- Richmond
Tom D – p10. Don't know how much more I had. But I'll take a top 10 in Sunday top split
Tony – Welp had a good top 5 car til i got side swiped by a guy that couldn't hold it out of 4 and into the wall for a green flag meatball p19
Hall – p 11 top spit, only race this week other than 1 A open. Same dirty driving but I got lucky with caution timings and came back from last to 11th.
Wednesday Open: Michigan
Mike- p 13- ran around 10 to 15. Most of the reason I kept hitting the wall coming off two. We had a green flags stop near the end and I somehow cycled backwards quite a bit. Not sure what went wrong.
David – p one stop versus two.
Kyle– P6
Justin – p 6 started p33 kinda adopted Tom's idea of starting in the back at least guaranteed to miss 1 or 2 wrecks. Did get super lucky and dodged a lot of wrecks kept it clean. Any 3 wide situation i backed out. I think I would have had a shot if I pitted 10 laps earlier. Didn't expect the last half to go green. Never taken 2 tires before could have pushed harder. Fun rance
Tony – Had a top 5-10 car but got pinched against the wall and damage but 22nd on the final restart with 4 to go and finished 15th
Tom -p23? – Wasn't positioned to Win on a long green flag run but they got a late caution and then got ran into the wall after the restart. Was going to finish either 1st or second. A yellow comes out with 5 to go. I get crashed and finish 26th. That's a lot of points left on the table
Tyler – P10! Finally a good result. Car #35 and started dead last. Even better was the 0x! Great set from the team and had my son, Parker, next to me as crew chief for the entire race. He made the right calls and got us to finish strong. So happy to get this top 10.
David – p13, was on the way to a poor finish as stretching fuel for an entire stint was not effective, late caution and the late wreck gave me a lot of spots back.
Thursday Open: Michigan
Justin- p6 started p7. Stayed in the top 10 most of the race had a little run at the end again just a few positions didnt have alot of long run speed isn't like me. The track temps were lower than normal
---
---
Official Series
Ellis–
A open- p8.
Ringmaster FF 1600. Wrecked out.
---
---
League / Hosted Races
OBRL Cup
Brian -P DQ first set of incident points were on me, the second not so much
---
---
Final Thoughts
---
---
Words Spoken in Closing Audio Clip -""Thank you for listening to the iRacers Lounge podcast make sure to go subscribe to us on iTunes, SoundCloud, or Google Play, Facebook & Twitter, See You On The Track ."
TITLE
Genius to the Max
Description
On the show today, we will review another exciting eNascar Coke Series Race at Pocono. We celebrate a milestone anniversary for iRacing, and we see what happens when your pit crew goes on strike. So sit back, relax and join us on the iRacers Lounge Podcast.
iRacers Lounge Podcast is available on iTunes and Apple's Podcasts app, Stitcher, TuneIn, Google Play Music, Spotify, Soundcloud, Podbean, Spreaker, Podbay, PodFanatic, Overcast, Amazon, and other podcast players.
Sponsors:
Hosts:
Mike Ellis – twitter.com/MikeDeanEllis
David Hall – www.twitch.tv/mixmage
Greg Hecktus – twitter.com/froozenkaktus – www.twitch.tv/froozenkaktus
Brian Maccubbin – www.twitch.tv/MacRubbinsRacin
Kyle Pendygraft – twitter.com/LoudPedalGaming
Tony Rochette – twitter.com/TonyRochette
Tom Dreiling –
Donnie Spiker – twitter.com/Spikerman19
Bobby Jonas –
MacKenzie Stevens – https://twitter.com/MackStevens48
Justin Pearson – https://twitter.com/big7bang_
Links:
Facebook – www.facebook.com/iRacersLounge/
Twitter – twitter.com/iracerslounge
Instagram – instagram.com/iracersloungepodcast/
Web (Show Notes) – iracerslounge.com/