8/24/2023 – Who's Your Sugar Daddy? – Episode 0397
iRacers Lounge Podcast – Conversation Topics
---
---
Show Introduction
On the show today, the Nascar game license may be up for grab, and how might this effect iRacing. iRacing continues to celebrate their anniversary in new ways and we'll let you know about some nice end of summer sales for iRacing gear.
And remember you can follow along with us on your PC or mobile device in real time as you listen to the show and see for yourself all of the great topics and products we'll discuss by visiting iracerslounge.com and selecting show notes. Hope to see you there..
---
---
Topics
---
---
Circuit de Ledenon
iRacing unveiled a photo of their a new track in French
---
---
Conner Barry Clinches Championship
Conner Barry wins his second consecutive iRacing Off-Road Championship at Crandon with a second and fourth place finish at Crandon.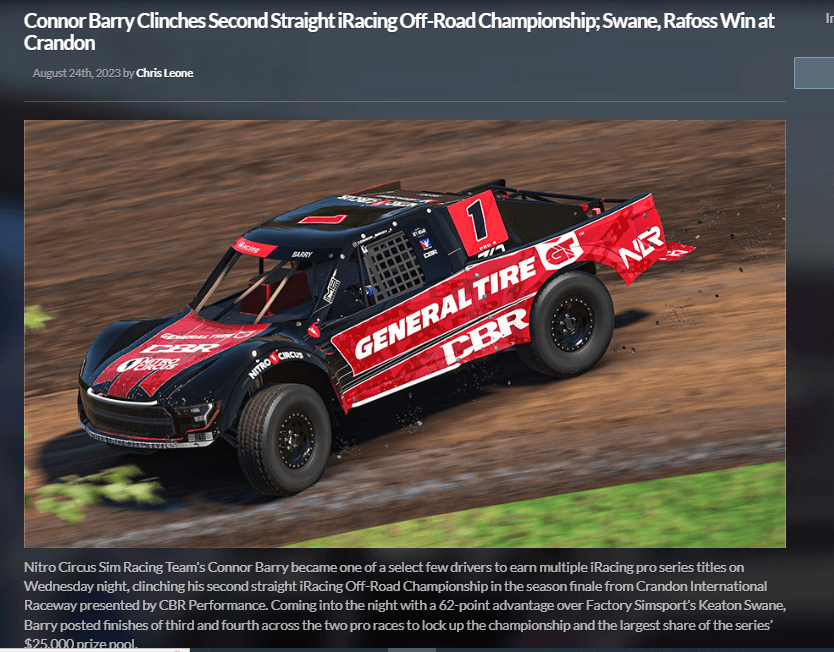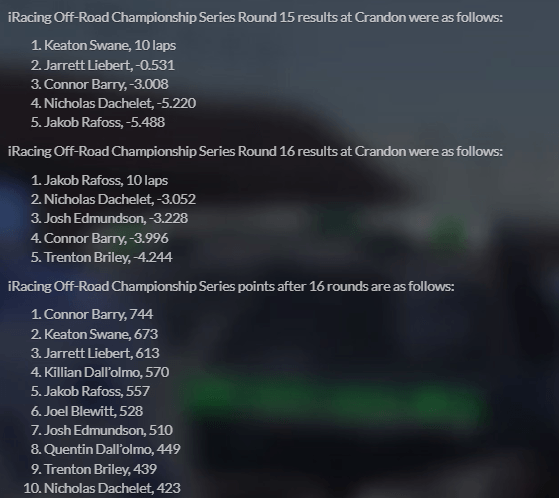 https://www.iracing.com/connor-barry-clinches-second-straight-iracing-off-road-championship-swane-rafoss-win-at-crandon/
---
---
Mazda's at Martinsville
Dale JR tested the Mazda Miata car at Martinsville, using his experience in iRacing as a guide
---
---
More Bad News from Motorsport Games
MSG financial reports look bleak as the company tries to sell off their Nascar License
https://www.racedepartment.com/news/motorsport-games-might-not-see-the-end-of-2023-tries-selling-nascar-license.1302/?utm_source=dlvr.it&utm_medium=instagrambusiness
https://forums.iracing.com/discussion/46844/motorsport-games-on-its-knees#latest
---
---
iRacing Customer Research
iRacing is reaching out to members to conduct a series of online interviews about member's experiences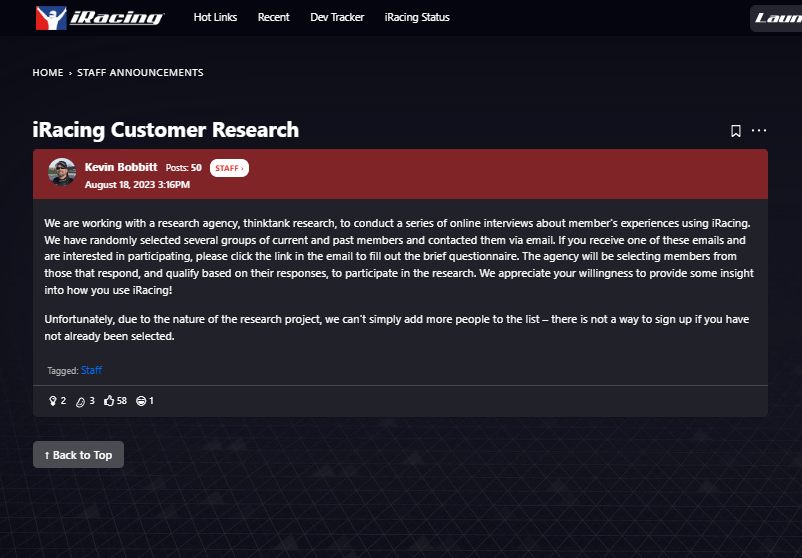 https://forums.iracing.com/discussion/46685/iracing-customer-research
---
---
Protesters Getting Protested
Nathan Stacey was dinged by iRacing because the protest videos he submitted included him using foul language during the exchanges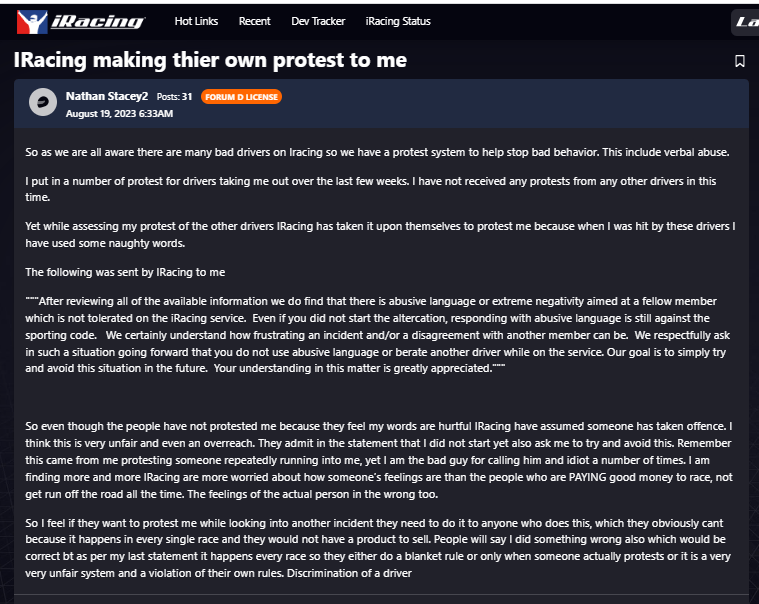 https://forums.iracing.com/discussion/46712/iracing-making-thier-own-protest-to-me#latest
---
---
Crazy Names
Kevin Lemburg asks what are the craziest profile names on iRacing and submits his list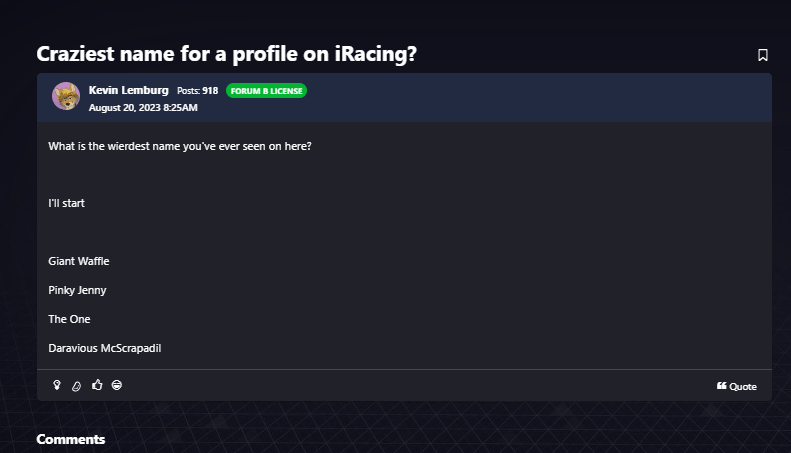 https://forums.iracing.com/discussion/46753/craziest-name-for-a-profile-on-iracing#latest
---
---
Classic Screen Shots
iRacing posted some of their oldest screenshots since their beginning 15 years ago, and asks to share your old screenshots as well
---
---
iRacing Anniversary Discounts
iRacing is offering great discounts in celebration of their 15 year anniversary
---
---
WoO Late Models
Blake Matjoulis returns to the winners circle at Williams Grove. Evan Seay finishes 2nd to add to his series lead.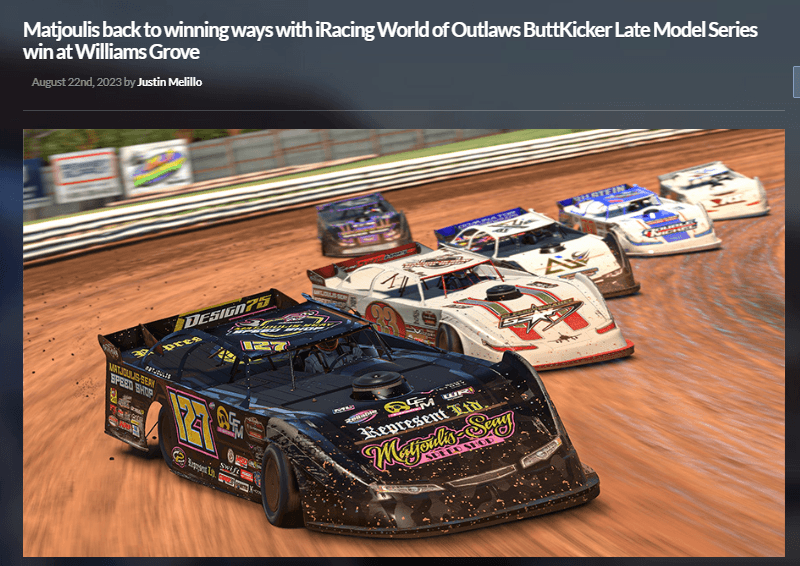 https://www.iracing.com/matjoulis-back-to-winning-ways-with-iracing-world-of-outlaws-buttkicker-late-model-series-win-at-williams-grove/
---
---
Moza Contest
Moza is running a contest to win Moza products in the Dallara F3 Series
---
---
Podcast Housekeeping
Leave us a review on your favorite podcast platform to make it easier for more listeners to find the podcast. Mention the podcast to your fellow drivers so they don't miss out, we would appreciate it.
Check out our Discord https://discord.gg/rvRas4DDqF
New Website – Leave Comments https://www.iracerslounge.com/
---
We are in the regular rotation… (Mike)
https://performancemotorsportsnetwork.com/
https://channelstore.roku.com/details/9d27a1e9dd15b92535d7cfe85407288e/the-sim-racing-channel
https://thesimracingchannel.com/watch-live/
Fantasy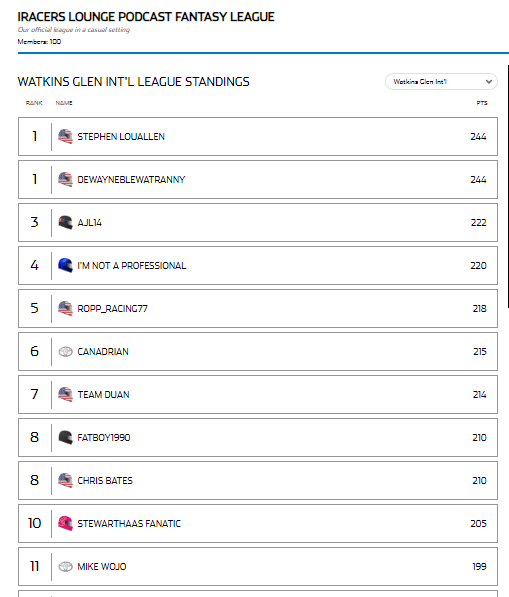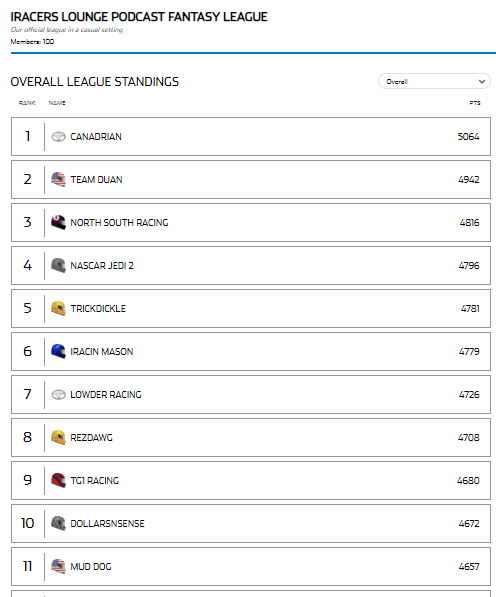 ---
---
Hardware/Software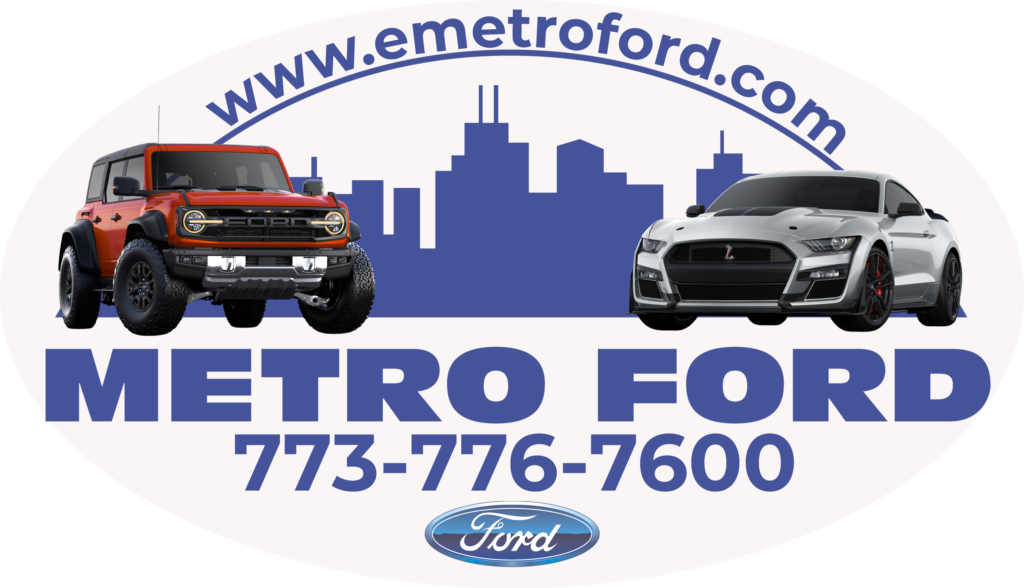 ---
Simucube Active Pedal Review
Sim Sport Gadget gives their impression of the Simucube Active Pedals
---
---
Ascher Sale
Ascher is offering their Summer Sale where you can get a 10% discount on selected products in their shop! Use the code "SUMMER2023" at check-out and benefit until September 17th, 2023!
Also, if You want to get featured on the Ascher channels, Tag them on your post or use #ascherracing!
---
---
Fanatec CSL DD Bundle
Fanatec is offerin their CSL DD and McLaren wheel in a bundle package
---
---
Asetek Invicta Bundle
Matt Malone reviews the Asatek Invicta Bundle
---
---
OMP Cooling Seat
OMP America sells a cooling system add-on for you racing seat shell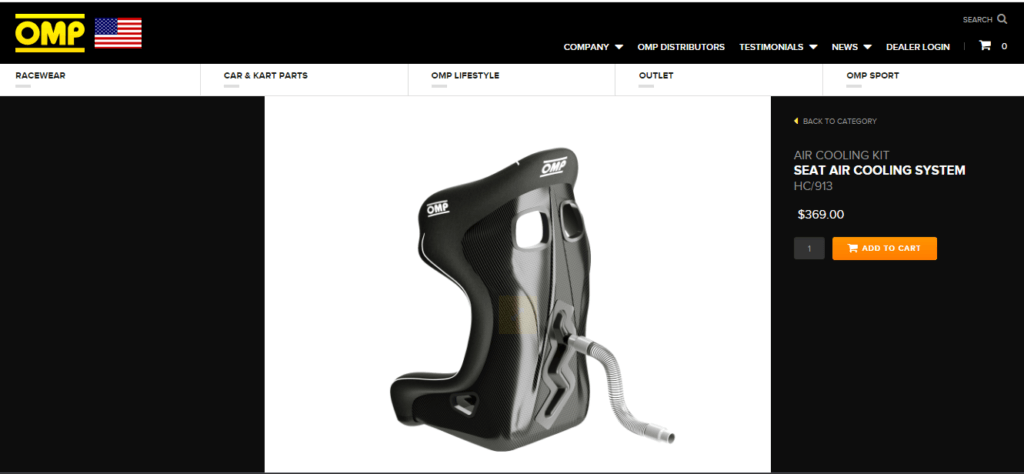 https://www.ompamerica.com/en_us/car-kart-parts/seats-accessories/seat-air-cooling-system.html
---
---
Pimax Crystal Update
Karl Gossling re-reviews the Pimax Crystal after an update of the firmware and software
"With the weight of it, and is only suitable for sim or flight other titles it would be too heavy… "
"It is now 99% reliable on one pc, and 70 percent on my other pc… Software/firmware has obviously been improved…"
A lot of the video is him rehashing his first gripes in the first video…
---
---
G2 Alternatives
Marc De Loose asks what are his alternatives if his HP Reverb G2 dies given the rumors that HP is leaving the VR market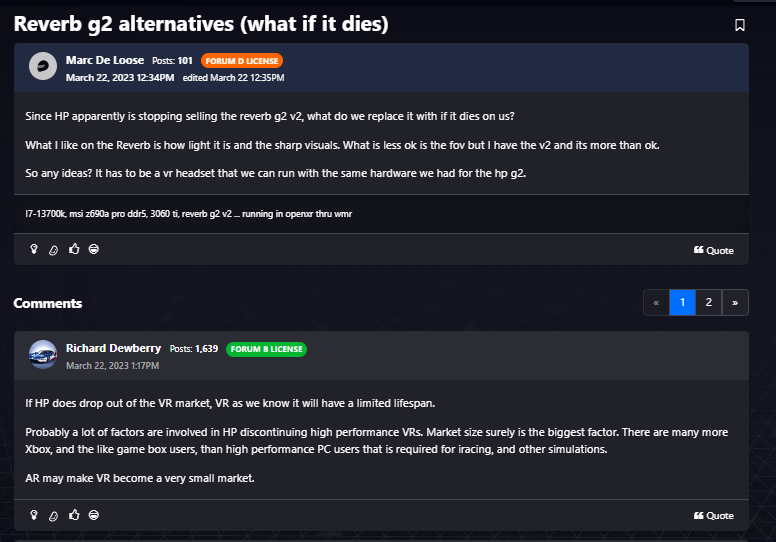 https://forums.iracing.com/discussion/39403/reverb-g2-alternatives-what-if-it-dies#latest
---
---
Grid by Simlab MPX Review
Boosted Media reviews the Grid by Simlab MPX wheel
---
---
Moza R12 Wheelbase & KS Wheel Bundle
The Sim Racing Den reviews the Moza R12 wheelbase with KS Steering Wheel bundle package
---
---
Fanatec Direct Drive Price Drop
Fanatec has announced a price drop on their DD1 Podium DD Wheel base and Podium Racing Wheel Formula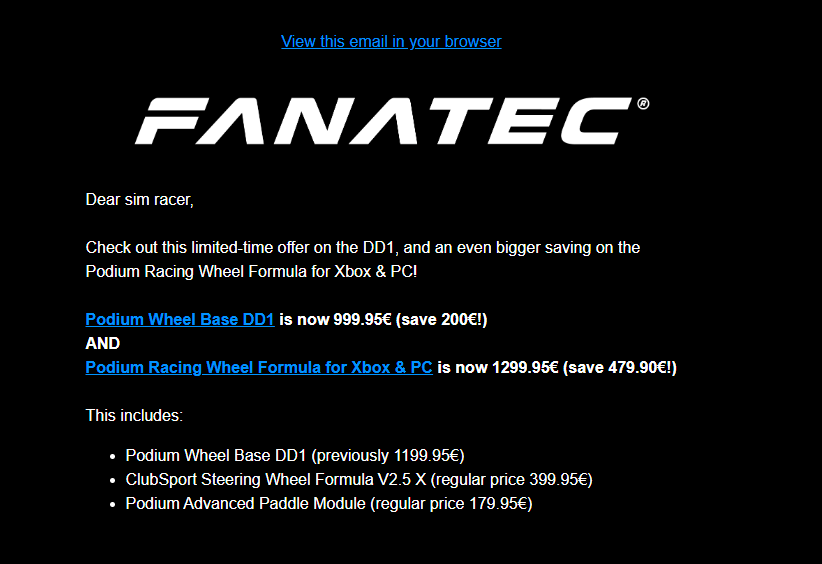 https://mailchi.mp/fanatec/the-gran-turismo-dd-pro-express-version-is-available-now-2089980?e=511738d246
---
---
Results
NASCAR iRacing Series
Friday Open –
Mike -. P qualified 13th. Car number 20. Finish p12.
David – p dnf
Greg – p2
Sunday Open-
Tom D – P 8
Hall – p 9 lost one spot to tom because pitted to far to the right
Sunday Fixed
Justin P5, started 30th my first clean run finally getting comfortable on passing cars but still not even close to fast times 12.1 was my fastest averaged 13.0
Wednesday Open: Daytona
Mike- p 15- had some lucky breaks in missed a lot of Rex throughout the race I was leading the Outside lane P2 on the green white checkered, and the guy behind me going down the backstreet try to shove it in the middle and turn my ass.
David – p. 9 was leading outside, got hung out by a guy who thought I was going to the inside, he showed me his cockpit view, and how it basically looked to him like i did, even though the overhead looked like i didn't. So a little deflated but at least in contention.
Justin – p10, stay clean the first half got caught up in a mess. 3 min of damage took about 10 to go to get back to normal just took advantage of some check ups on the green white checkered managed a 10p i couldn't complain still plussed up for the night/
Tony – p 9 typical plate racing. Got stuck behind a Logano and a flaming Gordan car got my ass kicked like Terry Funk in roadhouse as they wrecked. Made the mistake of staying out when shouldve got my minute damage fixed. Fell 6th to 23th but got a lucky caution and got damage fixed and went from 19 to 9 on the white
Chris – P2 – was spun on lap 16 and went a lap down. Got the lucky dog and road the high line on a GWC to finish 2nd
Thursday Open:
Mike – p 3- top 10 most of the Rece. Made a bad move with about 10 to go to the middle and got hung out made my way back up so on the final green white checker I was fifth comment to the checker the top three wrecked and I was able to get by a couple of them I had a bit of nose damage at that point so I'm glad to get a nice top three
Rochette P11 was all over the place. Thought I had the whole world in my hand But had a green flag wreck avoidance had screwed up my top 5 run and had to follow some buzzards as we lagged behind the main pack. Definitely Fiend'n for a win this year
---
---
Official Series
Ellis– 15th anniversary late model stock car at USA international started dead last 13th finished night actually got spun from behind at one point.
SPIKER
FTSCC – 3
A Open
Hall – p1 at Daytona, got the lead from the outside start with a perfectly anticipated jump.
Ellis -p fps issue dnf.

Round top 10 it was a green flag. Stop came out second. As we near the end with thunder 10 to go, I was first in line on the outside and got dumped from behind. Had a meatball but was able to stay on the lead lap and finish P 16.
---
---
League / Hosted Races
---
---
Final Thoughts
---
---
Words Spoken in Closing Audio Clip -""Thank you for listening to the iRacers Lounge podcast make sure to go subscribe to us on iTunes, SoundCloud, or Google Play, Facebook & Twitter, See You On The Track ."
TITLE
Who's Your Sugar Daddy?
Description
On the show today, the Nascar game license may be up for grab, and how might this effect iRacing. iRacing continues to celebrate their anniversary in new ways and we'll let you know about some nice end of summer sales for iRacing gear. So sit back, relax and join us on the iRacers Lounge Podcast.
iRacers Lounge Podcast is available on iTunes and Apple's Podcasts app, Stitcher, TuneIn, Google Play Music, Spotify, Soundcloud, Podbean, Spreaker, Podbay, PodFanatic, Overcast, Amazon, and other podcast players.
Sponsors:
Hosts:
Mike Ellis – twitter.com/MikeDeanEllis
David Hall – www.twitch.tv/mixmage
Greg Hecktus – twitter.com/froozenkaktus – www.twitch.tv/froozenkaktus
Brian Maccubbin – www.twitch.tv/MacRubbinsRacin
Kyle Pendygraft – twitter.com/LoudPedalGaming
Tony Rochette – twitter.com/TonyRochette
Tom Dreiling –
Donnie Spiker – twitter.com/Spikerman19
Bobby Jonas –
MacKenzie Stevens – https://twitter.com/MackStevens48
Justin Pearson – https://twitter.com/big7bang_
Links:
Facebook – www.facebook.com/iRacersLounge/
Twitter – twitter.com/iracerslounge
Instagram – instagram.com/iracersloungepodcast/
Web (Show Notes) – iracerslounge.com/