8/17/2023 – The King's Rig – Episode 0396
iRacers Lounge Podcast – Conversation Topics
Brought to you by:
---
---
Opening Audio Clip -"Your listening to the iRacers Lounge Podcast where we discuss everything iRacing, in a casual setting, enjoy."`
READ THIS AT THE TOP OF EACH SHOW!!!
Welcome to the iRacer's Lounge, I am your host "XXX". iRacer's Lounge is a podcast for the iRacer, where we talk all things iRacing in a casual setting.
Joining me are the usual characters, ———— 
---
---
Show Introduction
On the show this week, we will review the first Coke Series Race of the 2023 playoffs and see who has punched their ticket to the final four. We discuss all of the ways iRacing is celebrating and reminiscing thier 15th anniversary, and we'll check out a rig built for a King
And remember you can follow along with us on your PC or mobile device in real time as you listen to the show and see for yourself all of the great topics and products we'll discuss by visiting iracerslounge.com and selecting show notes. Hope to see you there..
---
---
TITLE SPONSOR READ:
---
---
---
---
Topics
---
---
---
---
SVG Practicing His Ovals
Shane Van Gisbergen was spotted running the Trucks at South Boston
---
---
Stop The Pain
Daniel Morad posted a video on his YouTube channel showing you 5 areas to improve your comfort while sim racing
---
---
Indy Cars at North Wilksboro
Team I5G posted a video of his Indy Car race at North Wilksboro with his JFK voiced spotter
---
---
Iconic iRacing Moments
Kevin Lemburg asks in the forums what are you most iconic iRacing moments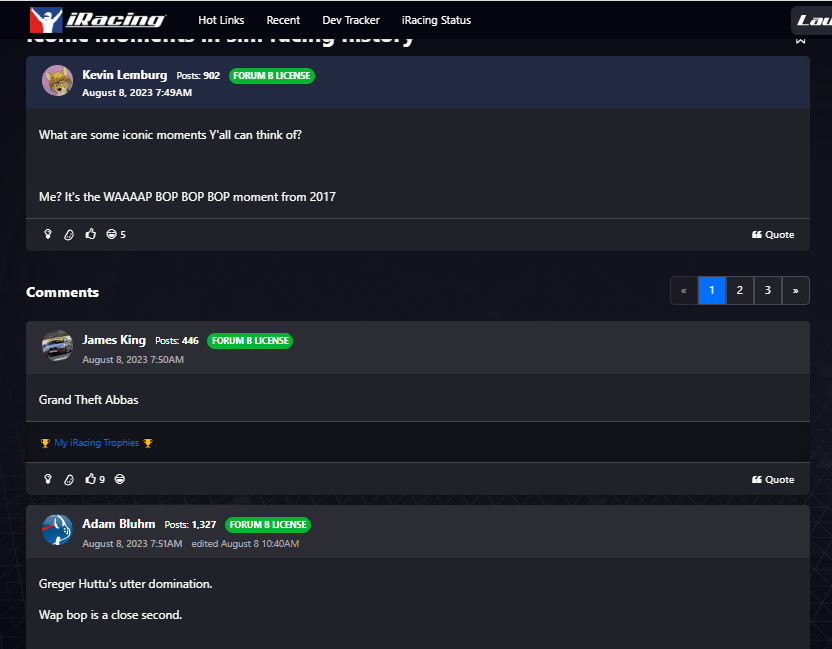 https://forums.iracing.com/discussion/46276/iconic-moments-in-sim-racing-history/p1
---
---
The First 15
Clyde Coman asks in the forums what were the first 15 cars available in iracing?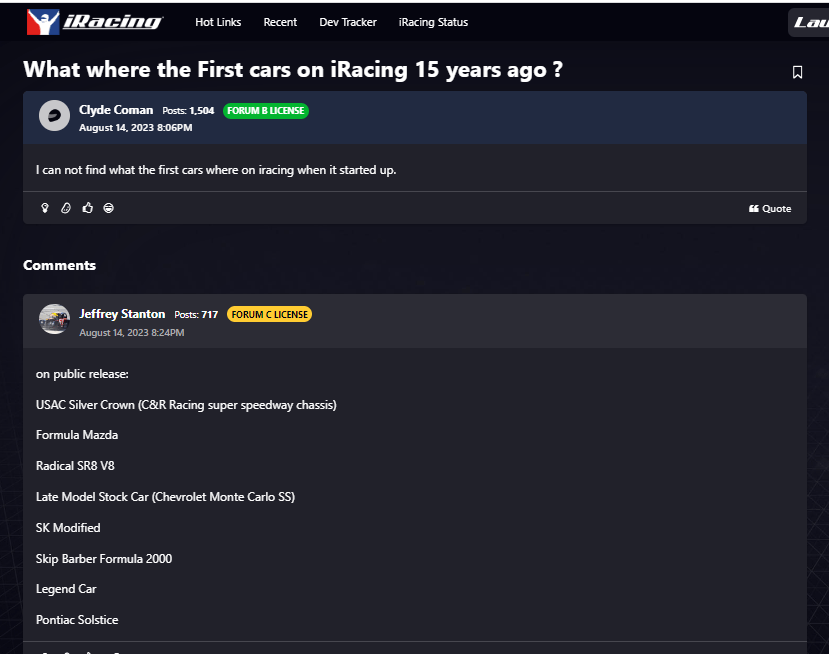 https://forums.iracing.com/discussion/46546/what-where-the-first-cars-on-iracing-15-years-ago#latest
---
---
Three Years from the Boom
Robin Truswell chronicals the last three years in iRacing since the pandemic boom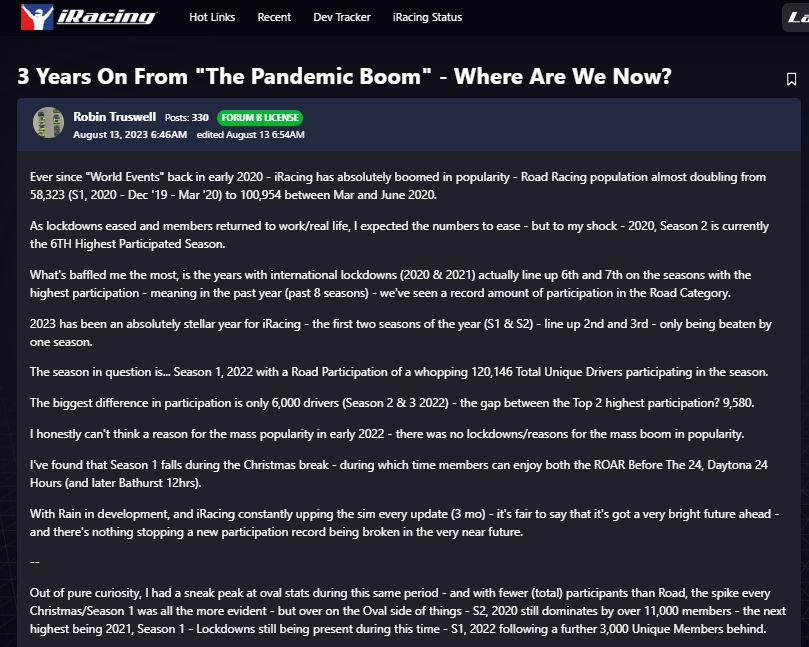 https://forums.iracing.com/discussion/46472/3-years-on-from-the-pandemic-boom-where-are-we-now#latest
---
---
Season 4 Content
Kyle Noel lists out what we know of that will be coming in the season 4 build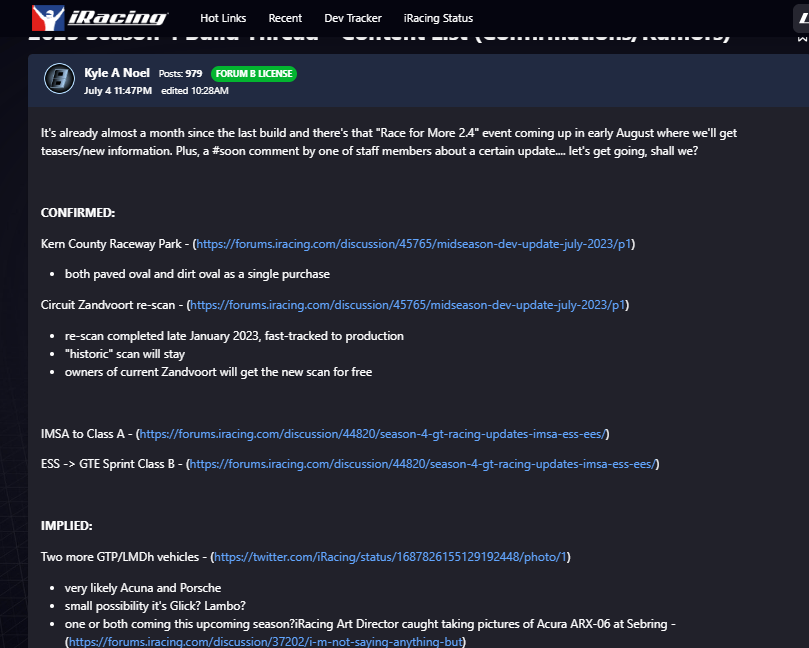 https://forums.iracing.com/discussion/44720/2023-season-4-build-thread-content-list-confirmations-rumors/p1
---
---
Anniversary Credits
iRacing is offering an iRacing credit for each year you've been an active member to celebrate thier anniversary
https://forums.iracing.com/discussion/46413/iracing-15th-anniversary-credits/p1
---
---
How About Both
iRacing posted a teaser photo of the Kern County Raceway Park dirt and asphalt tracks to possibly be added in the next build
https://forums.iracing.com/discussion/46580/kern-county-raceway-park-teaser-pictures-thanks-to-iracing-on-twitter-x#latest
---
---
World of Outlaws Late Models
Kendal Tucker holds off a charging Evan Seay to take week 6 of the World of Outlaws Late Model Series at i-55 Speedway and jumping into 2nd in the points. Seay continues his podium finish streak dating back to the start of last season and extending his comfortable points lead.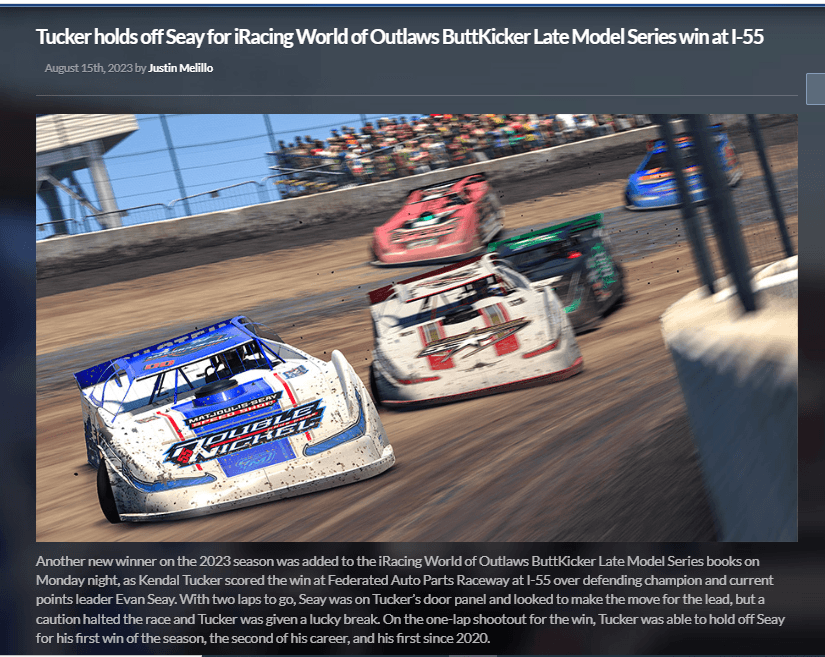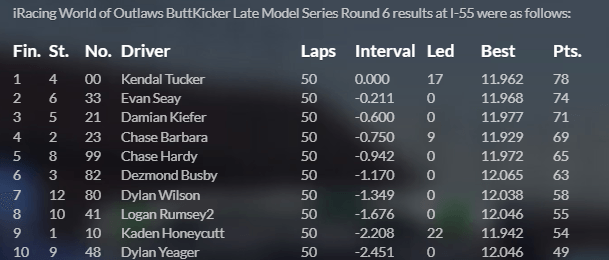 https://www.iracing.com/tucker-holds-off-seay-for-iracing-world-of-outlaws-buttkicker-late-model-series-win-at-i-55/
---
---
Floating Fans
Ken Dent noticed some floating fans at COTA. Staffer Michael Hinkle replied that a few extra fans appear with the Graphics option Crowds set to High. Because this is not a default setting for any of the pre-made graphics configs it looks like most users haven't seen it yet.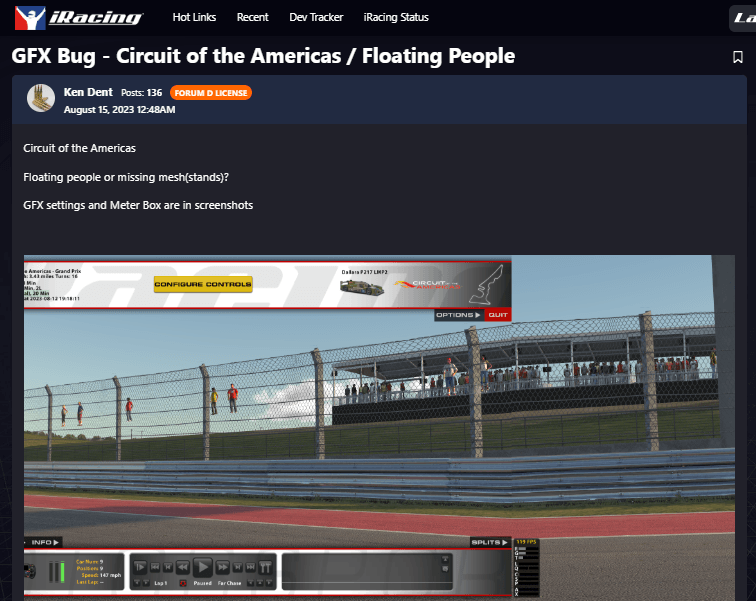 https://forums.iracing.com/discussion/46553/gfx-bug-circuit-of-the-americas-floating-people
---
---
iRacing Growth Stats
iRacing posted in the forums some growth stats from the last 15 years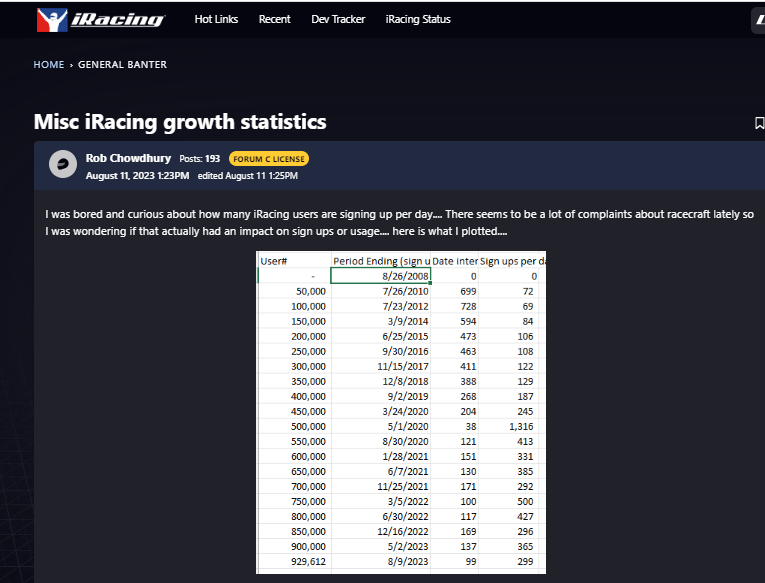 https://forums.iracing.com/discussion/46408/misc-iracing-growth-statistics
---
---
BMW M Sim Cup
The BMW M SIM Cup pits iRacers from around the world against one another on legendary racetracks, competing behind the wheel of the BMW M Hybrid V8 GTP or BMW M4 GT3. This Sunday's BMW M SIM Cup event sends racers to the venerable Fuji Speedway. Team up with another driver in this series of 120-minute, multi-class team races, and see if you have what it takes to stand on top of the podium!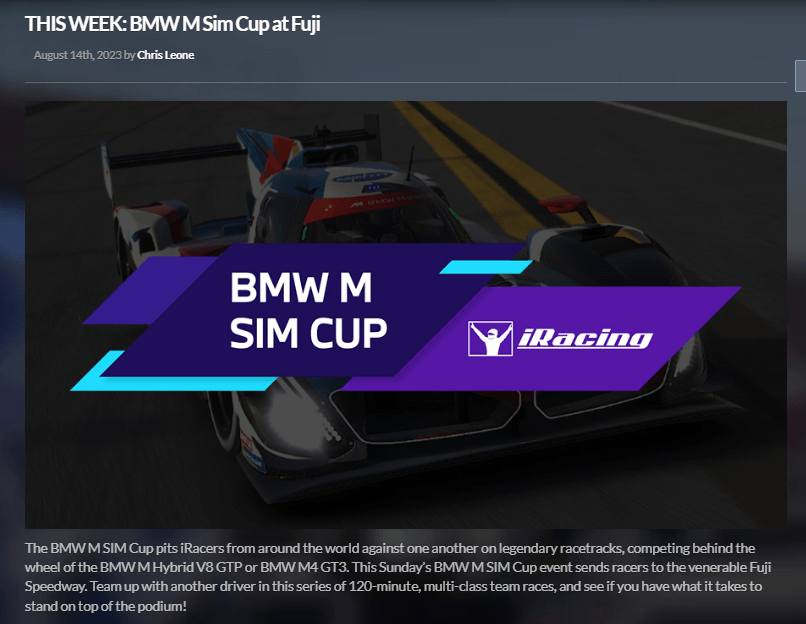 https://www.iracing.com/this-week-bmw-m-sim-cup-at-fuji/
---
---
Podcast Housekeeping
Leave us a review on your favorite podcast platform to make it easier for more listeners to find the podcast. Mention the podcast to your fellow drivers so they don't miss out, we would appreciate it.
Check out our Discord https://discord.gg/rvRas4DDqF
New Website – Leave Comments https://www.iracerslounge.com/
---
We are in the regular rotation… (Mike)
https://performancemotorsportsnetwork.com/
Fantasy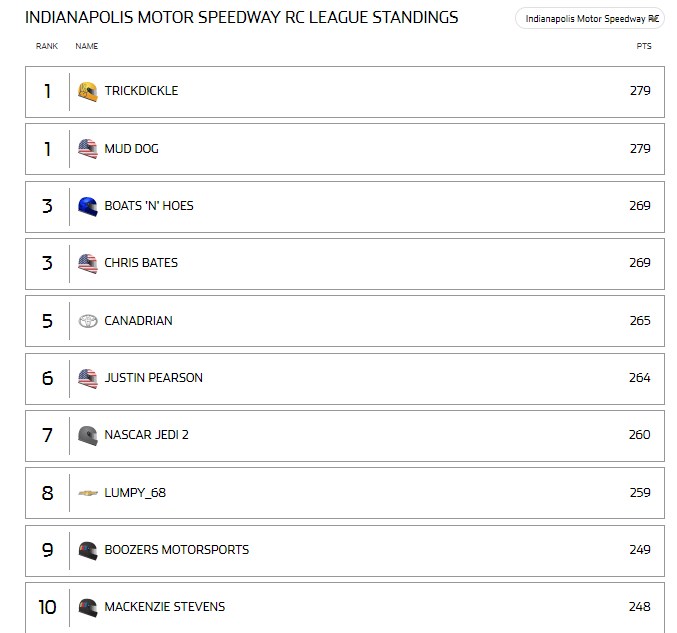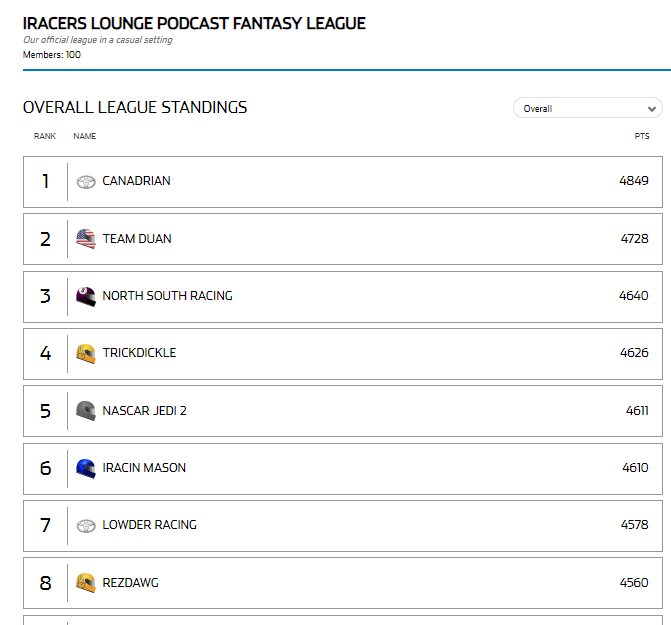 ---
---
Hardware/Software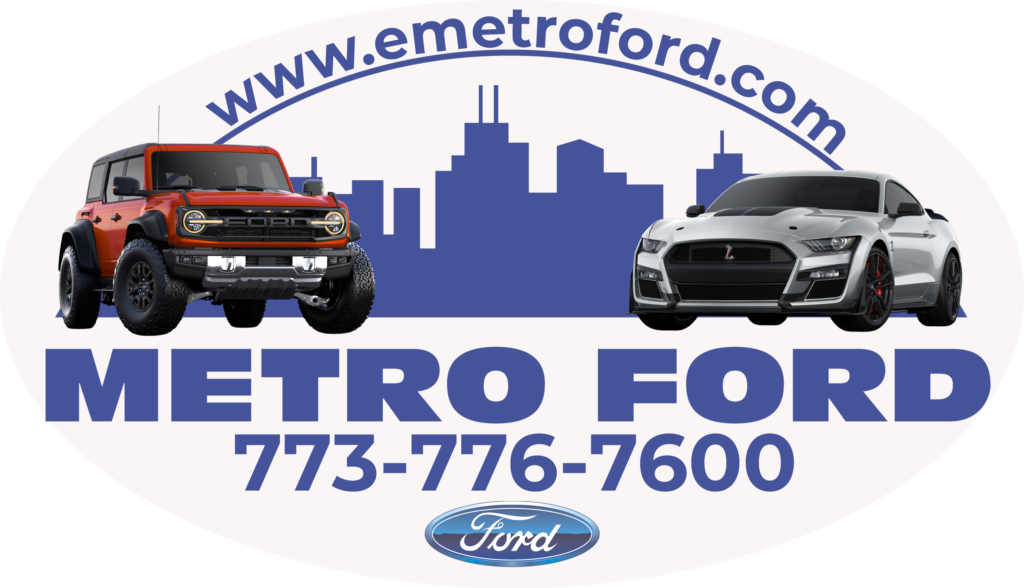 ---
Apex Sim Racing Dash
Apex Sim Racing has a dashboard for the Fanatec CSL DD wehhelbase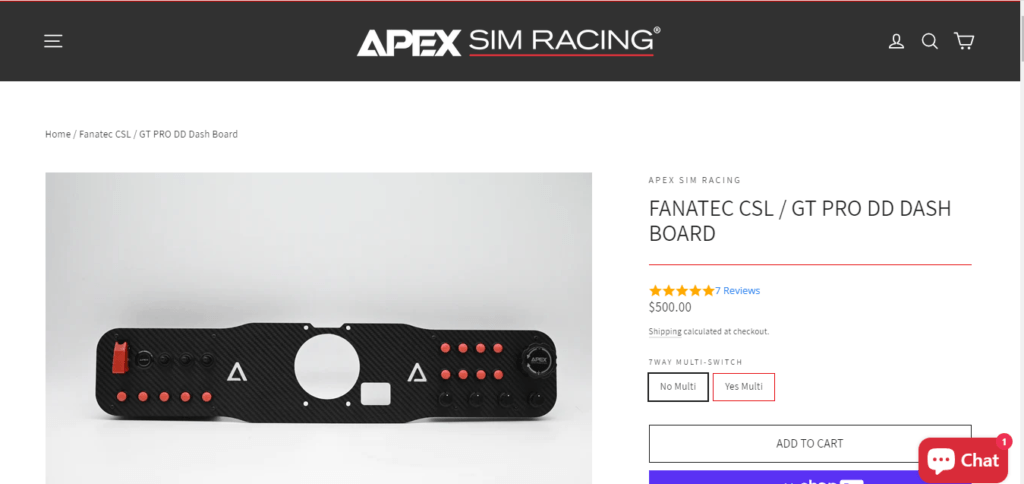 https://www.apexsimracing.com/collections/dashboards/products/fanatec-csl-dd-dash-board
---
---
Pimax Crystal Review
Karl Gosling reviews the Pimax Crystal VR headset. Great optics, but…
---
---
The King's Rig
The Petty Museum will sport Richard Petty's 'sim rig'
---
---
It Is Finished
Jon – Race Craft Simulations has put the final touches on his personal rig
---
---
PC and Monitor Setup
iracing posted a new how-to video on how to optimize your PC amd monitor set up
---
---
All About Triples
Daniel Suzuki teaches all you need to know about triples in iRacing
---
---
Oktane Designs Shifters
Oktane designs SEQ V2 sequential shifter
https://www.oktanedesigns.com/store/p/seq
---
---
VNM Simulations Sim Racing Pedals
Will Ford at Boosted Media reviews the VNM Simulations Sim Racing Pedals
https://us.sim-motion.com/products/vnm-simulation-pedal-set
---
---
Coffee Racer
Coffee Racer makes sim racing rigs that convert into fine coffe table furniture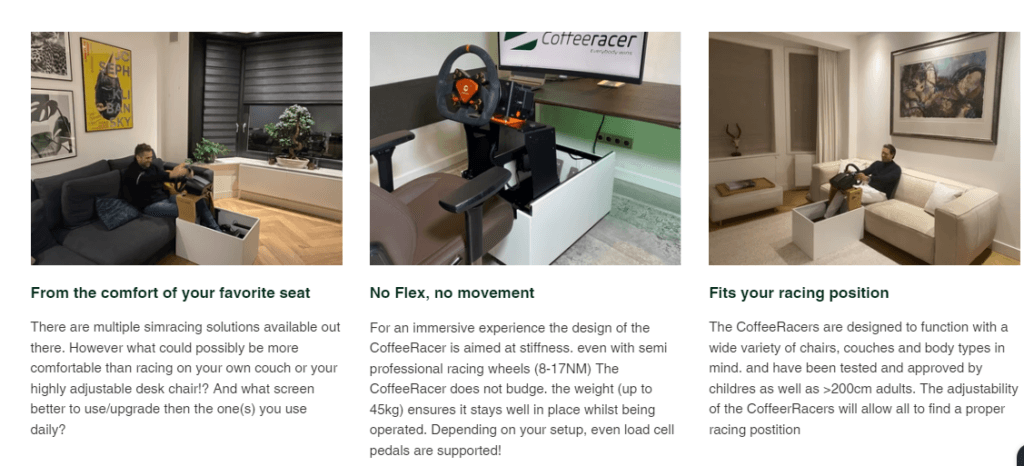 ---
---
Kenough, or Too Much?
Vyralteq has made a Barbie and Ken themed computer if you have been swept up by Barbiemania
---
---
Results
NASCAR iRacing Series
Friday Open –
Mike -. P9 – got what i deserved – started 18th got to 9th on lap 1 – up to 3rd before putting – came out 7th but had a few offs and fell to 9th
Rochette i will continue my protest of that 2.5 mile round rectangle track til we get *ndycar back in iracing and nascar brings back the oval
Sunday Fixed
Kyle P. P26 Started 22nd. After talking with Lawrence from Sim Coaches and having him help iron out my pedal issues I felt confident and was excited for this race, but little did I know what was about to unfold. Ran a perfect half of a first lap and then turn 7 got caught up in an unavoidable wreck and got the dreaded Italian Meatball. Went to pit right after and the steering was so bad that the car whipped around and I spun on pit entry and got an unsafe pit. Came on down, served my penalty and got the required repair of 27 seconds and decided to wait out the optional as I was hoping to fix the steering fully and just start knocking out laps. Ran a consistent race to the end. Finished P26, not sure if I am looking forward to the Glen next week.
Tom D P15 started p24 Seemed to of had a clean race for the most part.
Justin P8 finally got the hang of this track x2 still off a couple seconds on lap time. Started 21st
Wednesday Open: Watkins Glen
Mike- p 11. Went from 20th to 15th on the first slab was ninth when pitstop cycle started came out seventh quickly got loose and spun out and spun out another time and fell back to 11.
David – p. 9 avoided some early mess, stayed clean and finished about as fast as I was
Justin – p10, just need to learn that its real slick on new tires only made mistakes on the first couple laps on new tires plus up'd on ir
Tony – p 45 minutes of required 6 laps in…. Started 9th was ok til someone messed up T1 and sent me in the wall. This car sucks on the road and i like the Glen too
Chris – P 7. For the most part stayed on the track and stayed clean.
Tyler – P- 15. Started from the pits and quickly made it up to the top 20. Made my pitstop and got caught speeding. 15 sec penalty put out me 22nd. Raced back up to finish 15th. Let's talk about a 0x! Beyond proud of myself to have a clean road finish.
Thursday Open: indy
Mike – p qualified fifth car number 10. Had a couple of loose moments in the first three laps and fell back to 12 Made my Way back up to fourth before stops and ended up fourth after stops. Great run.
---
---
Final Thoughts
---
---
Words Spoken in Closing Audio Clip -""Thank you for listening to the iRacers Lounge podcast make sure to go subscribe to us on iTunes, SoundCloud, or Google Play, Facebook & Twitter, See You On The Track ."
TITLE
The King's Rig
Description
On the show this week, we will review the first Coke Series Race of the 2023 playoffs and see who has punched their ticket to the final four. We discuss all of the ways iRacing is celebrating and reminiscing thier 15th anniversary, and we'll check out a rig built for a King So sit back, relax and join us on the iRacers Lounge Podcast. 
iRacers Lounge Podcast is available on iTunes and Apple's Podcasts app, Stitcher, TuneIn, Google Play Music, Spotify, Soundcloud, Podbean, Spreaker, Podbay, PodFanatic, Overcast, Amazon, and other podcast players.
Sponsors:
Hosts:
Mike Ellis – twitter.com/MikeDeanEllis
David Hall – www.twitch.tv/mixmage
Greg Hecktus – twitter.com/froozenkaktus – www.twitch.tv/froozenkaktus
Brian Maccubbin – www.twitch.tv/MacRubbinsRacin
Kyle Pendygraft – twitter.com/LoudPedalGaming
Tony Rochette – twitter.com/TonyRochette
Tom Dreiling –
Donnie Spiker – twitter.com/Spikerman19
Bobby Jonas –
MacKenzie Stevens – https://twitter.com/MackStevens48
Justin Pearson – https://twitter.com/big7bang_
Links:
Facebook – www.facebook.com/iRacersLounge/
Twitter – twitter.com/iracerslounge
Instagram – instagram.com/iracersloungepodcast/
Web (Show Notes) – iracerslounge.com/