11/2/2023 – iRacing in Dog Years – Episode 0407
iRacers Lounge Podcast – Conversation Topics
---
---
Show Introduction
On the show today we will be taking a look ahead to the next season build and a look behind at the 2023 NIS Season. We'll look at more iRacers makng their way to the real tracks, and ask what tracks need to be scanned before they disappear.
And if you join us at iracers lounge.com and select show notes, you'll be able to see all of the great stories and products we'll be discussing in todays show. So log in, check it out and we'll see you there.
---
---
Topics
---
---
The Martinsville Full Send
Tuckles Tweeted a video of him being victimized be the Martinsville full send
---
---
Nascar Next Gen Manual
iRacing released the manual for the Next Gen Cup Car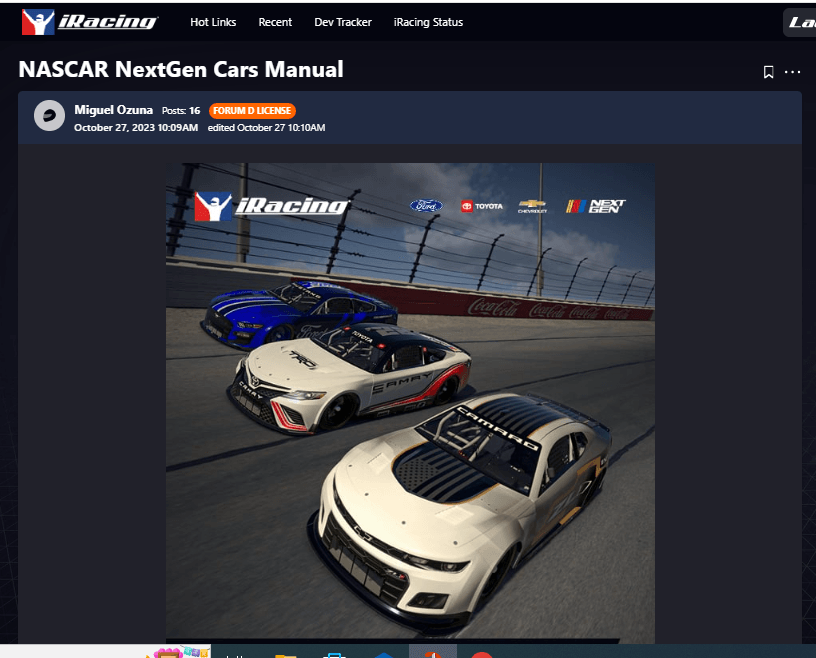 https://forums.iracing.com/discussion/50387/nascar-nextgen-cars-manual
---
---
Fontana Demo
Alan Bailey at Team Spire posted photos of the demo at Fontana preping for it's new configuration
---
---
Scan Before It's Too Late
D J Yee J posted a video that should be scanned before they are no longer available
Rockingham
Greenville Pickens
Nazareth
de curtibita spain
calder park (thunderdome)
de terramar – high banks 66 degrees 1.2 mile oval spanish grand prix 1922
Heartland Park Topeka
Orange County Fair Speedway in Ny dirt oval
Wakefield Park Australia
---
---
NIS 2023 Wrap Up
With the NIS Season coming to a close, we look back to the 2023 Season
---
---
Sim to Real Life
16 iRacers from the Moradness M Squad sim racing team drove the real world Mercedes GT4 car 
---
---
Mid Ohio Repave
Mid Ohio has finished their full repave of the racing surface
---
---
Salas Hat Trick
Vicente Salas won his third consecutive race in the eNascar iRacing contender series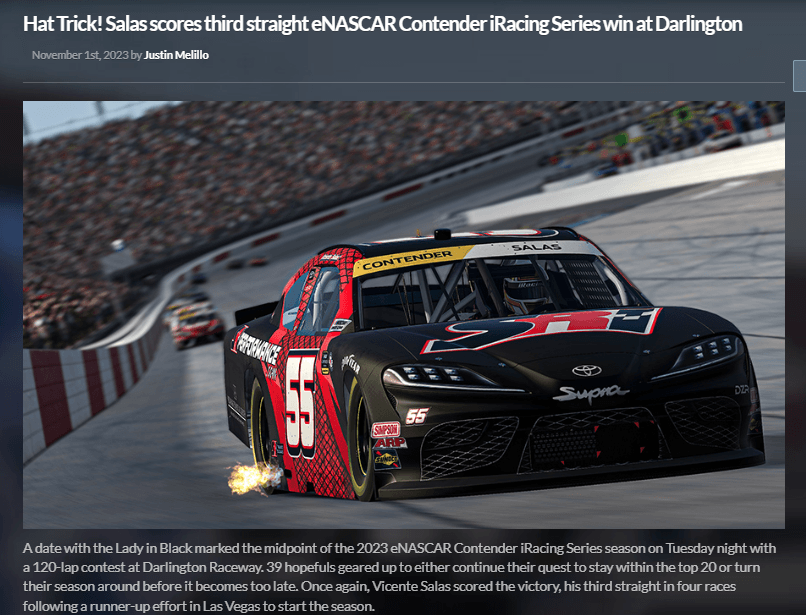 https://www.iracing.com/hat-trick-salas-scores-third-straight-enascar-contender-iracing-series-win-at-darlington/
---
---
Season 1 Build Content List
Take a behind-the-scenes look at what we're working on at iRacing in our November Development Update with Executive Producer Greg Hill!

Read the blog: https://t.co/gIaitMsAeD pic.twitter.com/0LupLxWyZJ

— iRacing (@iRacing) November 2, 2023
---
---
New Graphics Engine
we are thrilled to upgrade our graphics team later this year through the addition of multiple industry-leading principal-level rendering programmers who (together with our existing team) will help evolve iRacing's graphics tech in a way never before seen on this platform. These developers have spent the last 20 years building and leading graphics/rendering teams across a broad spectrum of powerful graphics engines such as id Tech, Unity, Unreal, Decima, and Glacier. Our reconstituted graphics team will be more formidable than ever and we couldn't be more excited about what's to come. It is important to note that a graphics engine upgrade is a major long-term project and results will take time. That said, it will be well worth it. In the short term, we will continue improving the current rendering technology.
---
---
Temptest
Weather/Rain:
And now for another big-picture update that I know many have been following closely: the status of our advanced new weather system, called Tempest internally. While we aren't quite ready to guarantee it for December, we are now confident enough to say that the release of this incredibly complex system is imminent. That means it's going to rain soon, folks.
Tempest was built from the ground up and consists of several interconnected systems that simulate not only rain and the effect that water has on the racetrack, racecars, and surrounding area but also the physical components that combine to create various types of weather. This system is fueled by extensive real-world data from the very locations where you'll be racing. Together with our Dynamic Track systems, the combined experience is unparalleled in simulation/gaming.
we do want everyone to understand that this system requires per-car development. It's not as simple as adding a generic rain tire onto our vehicles; rather, we are doing car-by-car R&D to ensure proper rain tire construction/modeling and driving characteristics. As a result, rain support will be added to the sim in batches, starting with a compelling initial offering that is likely to include the Formula 1600, Toyota GR86, and Ferrari 296 GT3.
---
---
Protest System Updates
we have built a department whose job is to coach, correct, and take regulatory action when things go wrong. This team does a phenomenal job working through thousands and thousands of manually intensive reports, each of which requires research and careful thought to ensure that if a response is needed, it is an appropriate response. With the December build, we will equip this team with a more expansive toolset to do their jobs. A comprehensive list will be provided in our next sporting code update, but for now, a preview of what's to come
Post-Results Race Disqualification. A member or team may be disqualified from a Race or event after Results have been posted. Their Championship Points for the Race or event will become 0, and they will drop to a last-place finish.
---
---
One New Car
our team has been focusing on some of our longer-term R&D initiatives this season, such as rain, our aero-modeling program, Oval Refresh, and tire model updates. That said, we are excited to be debuting one new car in December: the Audi R8 LMS Evo II GT3.
---
---
Track Updates
On the oval side, we are excited to release Slinger Speedway. Slinger is so much fun to drive, and you all will have a blast turning laps at the "World's Fastest Quarter Mile Oval." And yes, folks, it will include the figure eight configuration!
Mugello Circuit is looking amazing and will also debut in December.
Okayama Circuit will be re-released (for free) with modern artwork that meets our current standards for quality. It looks great.
Our scanning department has been busy. Processed data was delivered to the team recently for both Portimao and Navarra, and our production and art teams are already underway.
The scan team has also just returned from a big trip to the heart of oval racing country (North Carolina), where they scanned the SRX cars (pavement and dirt) and a handful of different Street Stock car bodies.
We are working on a Micro Sprint, which will provide a great entry point to dirt oval racing (do you all want a pavement version too?). This car will lend itself well to Millbridge Speedway (in progress), the already-released Kern, and a handful of additional current and future short tracks on iRacing.
---
---
Other Items
Our Career Mode team is making significant headway on this project, and we are really picking up steam across all supporting departments, including design, sim engineering, web engineering, and backend systems.
Our User Experience and Design teams are working on a new structure for the UI, which will move us away from the modal-based experience available now to a more approachable and accessible design for the future.
Pictures –
https://forums.iracing.com/discussion/comment/430661#Comment_430661
---
---
Oval Refresh
Oval refresh has a full complement of developers working on it each day, and they are making significant progress. These efforts will continue for some time as we iterate the many systems involved. That said, we don't want to wait until we're "done" to release these improvements to the service. With the December build asphalt ovals have been updated to produce an improved dynamic racing experience. Track surface grip levels will change more rapidly as temperature rises and fall depending on weather, time of day, and the energy the cars are putting into the track. Be prepared to tune setups for changing track conditions and search for grip as various lanes heat up and cool down throughout a race session.
---
---
Racing Prodigy
Racing Prodigy will take 12 sim racers to learn, train and compete at Atlanta Motorsports Park
---
---
This Week in iRacing
This Week in iRacing is iRacings weekly post which details all you need to know about what is going on in the world of iRacing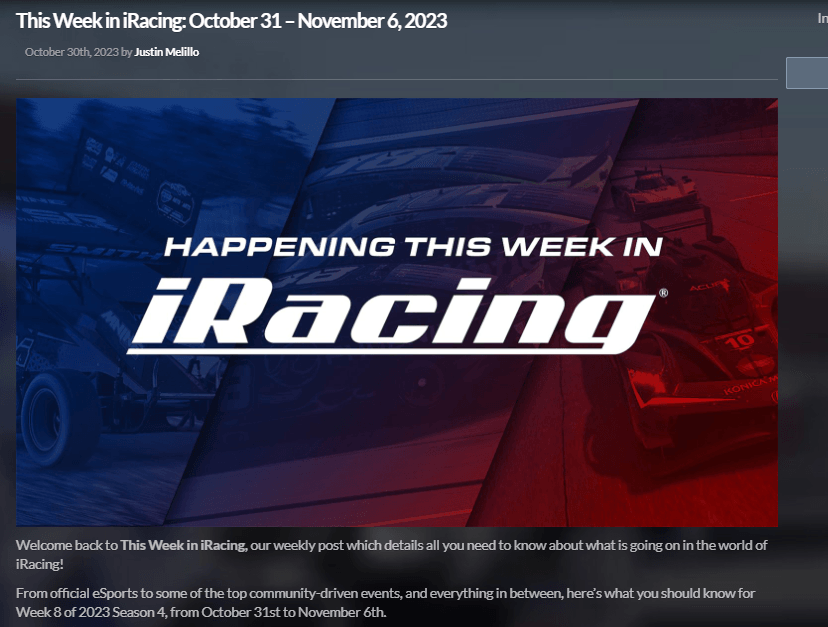 https://www.iracing.com/this-week-in-iracing-october-31-november-6-2023/
---
---
IMSA Global Championships
IMSA's official Twitter account announced the list of entries for the 2023 eSports Global Championships
---
---
Winter NIS 
iRacing posted the details of the Winter NIS Season starting in November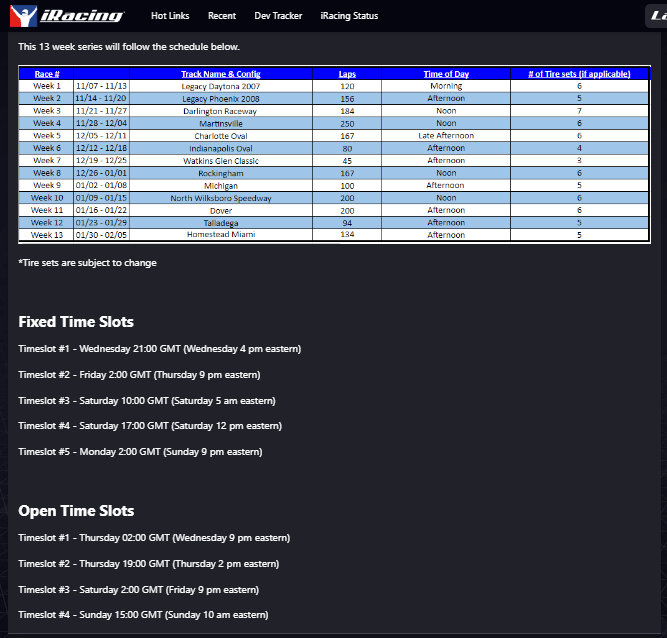 https://forums.iracing.com/discussion/50258/winter-iracing-nascar-series-wins-is-back-for-2023
---
---
Fuji 8 Hours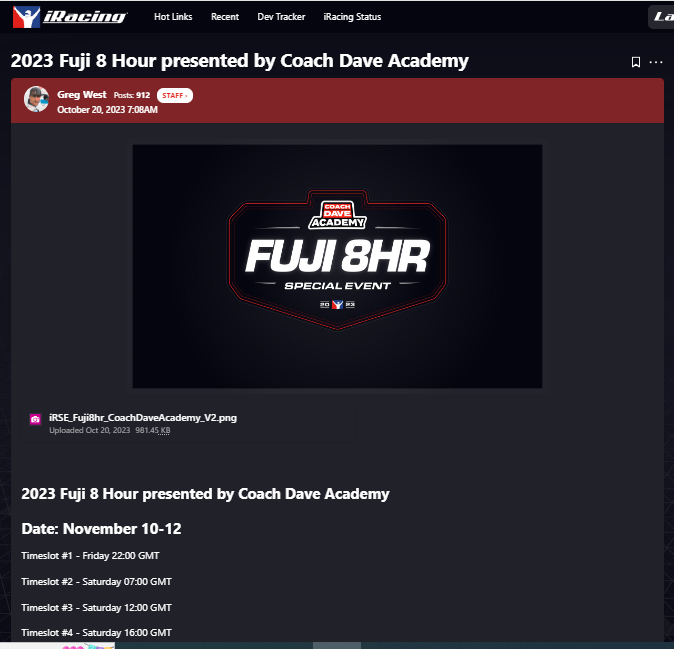 https://forums.iracing.com/discussion/50107/2023-fuji-8-hour-presented-by-coach-dave-academy
---
---
2023 BRSCC iRacing FF1600 Festival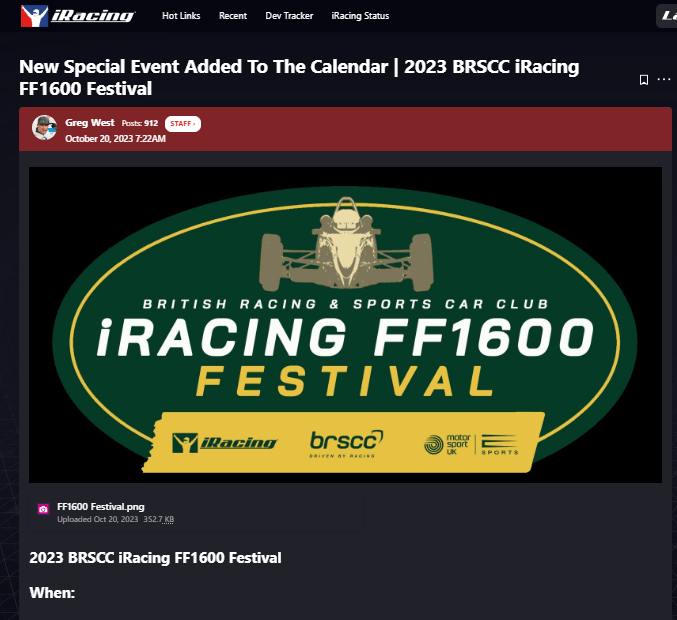 https://forums.iracing.com/discussion/50108/new-special-event-added-to-the-calendar-2023-brscc-iracing-ff1600-festival
---
---
Podcast Housekeeping
Leave us a review on your favorite podcast platform to make it easier for more listeners to find the podcast. Mention the podcast to your fellow drivers so they don't miss out, we would appreciate it.
Check out our Discord https://discord.gg/rvRas4DDqF
New Website – Leave Comments https://www.iracerslounge.com/
---
We are in the regular rotation… (Mike)
https://performancemotorsportsnetwork.com/
iRacers Lounge Merch!!!

You can now order fantastic looking merchandise for your favorite iRacing show, The iRacers Lounge Podcast!
Visit iRacerslounge.shop to get yours Today!
Fantasy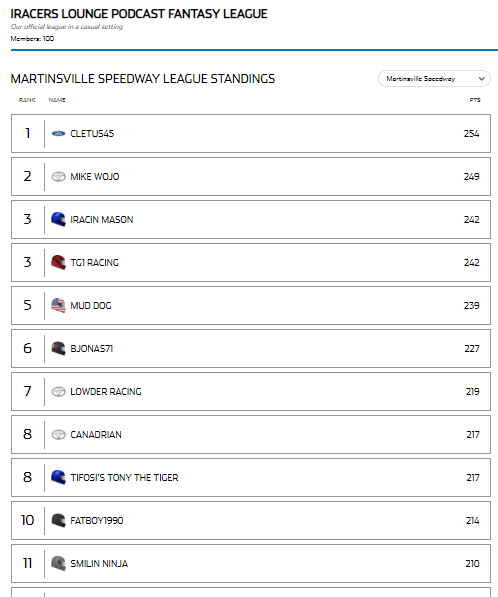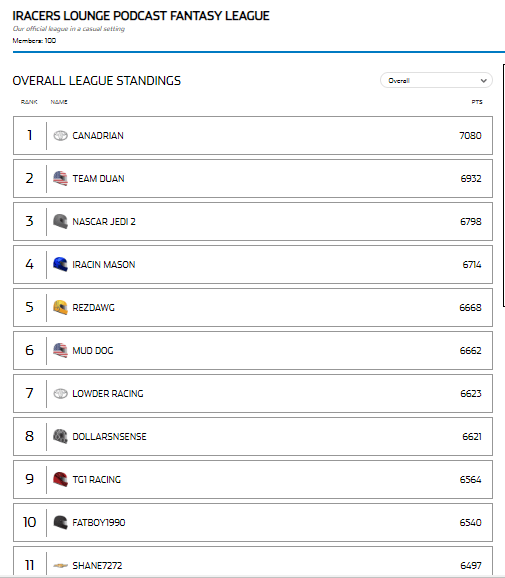 ---
---
Hardware/Software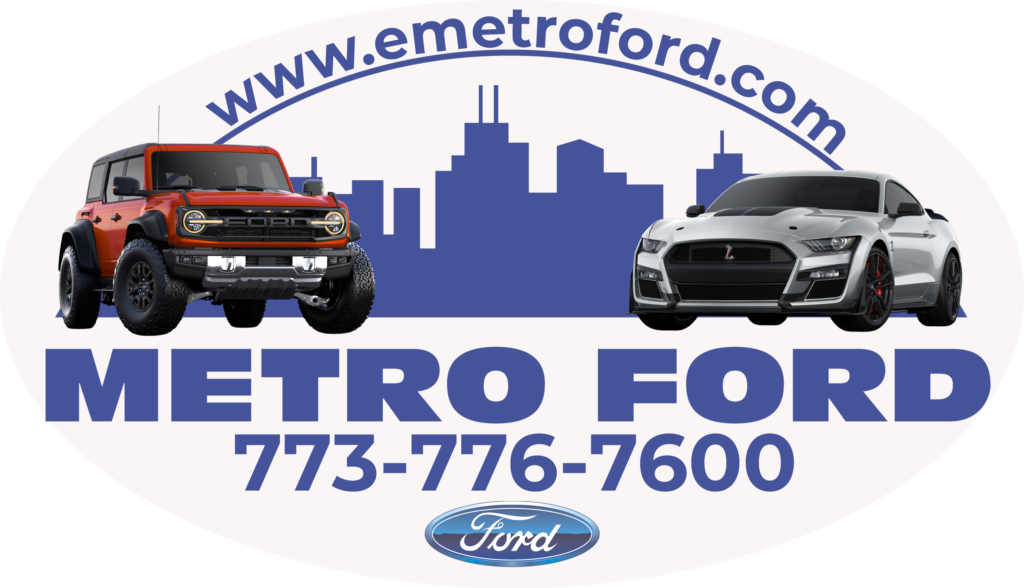 ---
Simucube Throttle
Dan Sizuki reviews the throttle pedal for the Simucube throttle that you can get in conjunction with the Simucibe Active Pedals
https://simucube.com/simucube-activepedal/?v=fa868488740a
---
---
Is Motion Worth It?
Dan Sizuki reviews the D-Box Gen 5 4250i Haptic System and asks if motion is worth it?
https://simraceshop.de/D-BOX-Generation-5-4250i-Haptic-System.html?refID=34564684
---
---
Gomez Hyper SL
Gzomez unveols their new HYPER SL screenless wheel
---
---
 Apevie Simulator
Apevie Simulator offers sim racing hardware as well a complete turn key systems
---
---
Simubox DDU Dashboard
SIMUBOX's DDU Sim Racing Dashboard with 16 RGB LED. SIMHUB Compatible VOCORE 5inch
https://www.ebay.co.uk/itm/225828971698?hash=item349474a4b2:g:L54AAOSwaeVlM8bG
---
---
Simagic P100I Pedal Review
Shaun Cole from the Sim Pit reviews the Simagic P100I Inverted pedals
---
---
15% Off Trak Racer Black Friday
Black Friday deals are available from Trak Racer with a 15% off discount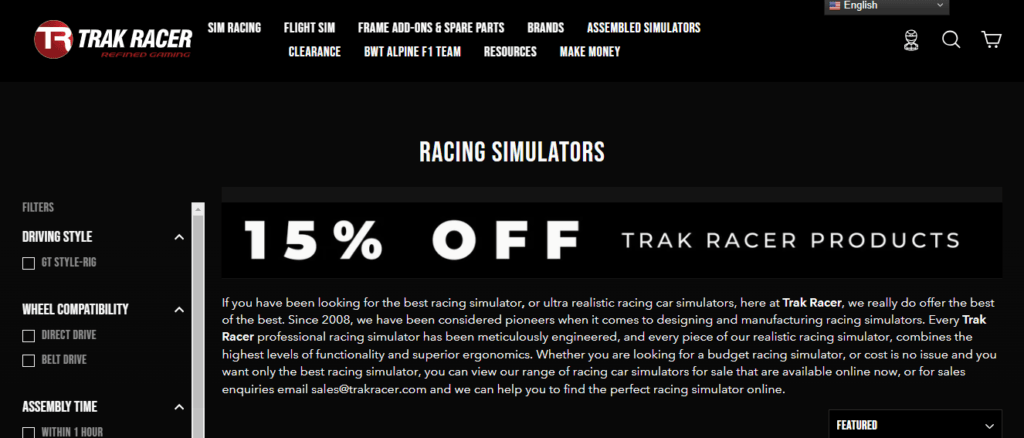 ---
---
Results
NASCAR iRacing Series
Friday Open – Martinsville
Mike -. P5 top split 231 points might be the most points I've ever got in a race. Just try to keep my nose, clean and not get to the incident limit and the strategy worked. I was right below. It.
David – p Dq out – thats all i'm saying
Joe- dnf
Saturday Fixed-
John – P13. Somehow got in the top split and was against 5-6k drivers. Way out of my league, but a good clean race.
Wednesday Open: Phoenix
Mike– P8 Ray I'm pretty much 5th to 10th most most of the race spent out on my own once had about two minutes damage but just kept it clean and brought it home top 10 I'll take it
Chris- P16. Car ran great most the race and was able to drive up to Top 10 under green. Spun in the dog leg twice and took some damage and it was downhill from there . Finished P16 1 lap down.
Tony – P8 was stuck in 6-9Th all of the 3 ½ hours of it. Never really passed or got passed much just stuck
John – p21. Committed the unpardonable sin – spun out in turn 2 on the first last and sustained right front wheel damage that could not be completely repaired. Stayed in the race anyway and went up from P32 due to attrition.
Tyler – P12. Long Race! Got caught a lap down, 3 separate times. Two wave arounds and 1 lucky dog. Had solid speed the entire race and felt pretty comfortable. Happy to complete this race with a 0x. I'm ready for Daytona! Shoutout to the entire team. What a season for Tifosi. Well done fellas. Congratulations Tom!
Brad – P wrecked out
---
---
Official Series
Draft Master
John – Saturday P10. Started P16 and dodged the bullets. Zero X – thats a first in this series at Dega.
Sunday P6. Got wrecked twice and had a damaged right wheel. Kept driving anyway and got a respectable finish
---
---
Final Thoughts
---
---
Words Spoken in Closing Audio Clip -""Thank you for listening to the iRacers Lounge podcast make sure to go subscribe to us on iTunes, SoundCloud, or Google Play, Facebook & Twitter, See You On The Track ."
TITLE
iRacing in Dog Years
Description
On the show today we will be taking a look ahead to the next season build and a look behind at the 2023 NIS Season. We'll look at more iRacers makng their way to the real tracks, and ask what tracks need to be scanned before they disappear. So sit back, relax and join us on the iRacers Lounge Podcast.
iRacers Lounge Podcast is available on iTunes and Apple's Podcasts app, Stitcher, TuneIn, Google Play Music, Spotify, Soundcloud, Podbean, Spreaker, Podbay, PodFanatic, Overcast, Amazon, and other podcast players.
Sponsors:
Hosts:
Mike Ellis – twitter.com/MikeDeanEllis
David Hall – www.twitch.tv/mixmage
Greg Hecktus – twitter.com/froozenkaktus – www.twitch.tv/froozenkaktus
Brian Maccubbin – www.twitch.tv/MacRubbinsRacin
Kyle Pendygraft – twitter.com/LoudPedalGaming
Tony Rochette – twitter.com/TonyRochette
Tom Dreiling –
Donnie Spiker – twitter.com/Spikerman19
Bobby Jonas –
MacKenzie Stevens – https://twitter.com/MackStevens48
Justin Pearson – https://twitter.com/big7bang_
Links:
Facebook – www.facebook.com/iRacersLounge/
Twitter – twitter.com/iracerslounge
Instagram – instagram.com/iracersloungepodcast/
Web (Show Notes) – iracerslounge.com/