9/30/2022 – Good Vibrations – Episode 0350
iRacers Lounge Podcast – Conversation Topics
Brought to you by:

Opening Audio Clip -"Your listening to the iRacers Lounge Podcast where we discuss everything iRacing, in a casual setting, enjoy."`
READ THIS AT THE TOP OF EACH SHOW!!!
Welcome to the iRacer's Lounge, I am your host "XXX". iRacer's Lounge is a podcast for the iRacer, where we talk all things iRacing in a casual setting.
Joining me are the usual characters, ———— 
---
---
Show Introduction
On the show this week we will be recapping a fantastic eNascar Coke Series race at Talladega. We'll try to answer some questions from a podcast listener. We'll see if there might be some concerns if you're getting a new Nvidia 4000 series GPU, and we'll look at what might be the best steering wheel on the market.
And remember you can follow along with us on your PC or mobile device in real time as you listen to the show and see for yourself all of the great topics and products we'll discuss by visiting iracerslounge.com and selecting show notes. Hope to see you there..
---
---
TITLE SPONSOR READ:
SimCoaches offers the realistic sim racing equipment you need to win more races online…. It is designed for real racers… Hydraulic construction makes them feel just like the real thing. High-Quality Construction, 100% Leak Proof, and Lifetime Warranty are the key features with these pedals. And, they look absolutely amazing… Check out simcoaches.com and use the coupon code IRACERSLOUNGE to get 10% off your purchase. Simcoaches.com is your ticket to feel like your actually sitting behind the wheel of a car. Drive harder and stay on the limit longer…
https://simcoaches.com/?fbclid=IwAR1pJASM3C_nV3wFACEHJrHitf8TOQWro4yp-Etaio1zU8Enbojap2Xff5w
---
---
Topics
---
---
Coke Race
Pre-Race Logan Clampitt announces his retirement from the series.
GREEN FLAG: @BowlinGraham and @GarrettLowe_6 lead the field into Turn 1.
@GarrettLowe_6 leads Lap 1.
LAP 2: NEW LEADER, @RyanLuza
LAP 3: @BigDogBowden enters the top-5. He started 34th.
we may have a lead change every lap at this point. @GarrettLowe_6 led the first lap but Ryan Luza, Casey Kirwan and now Malik Ray have led the following three laps. Now Lap 5
Six laps, six lead changes. Luza back to the lead on lap 5 and Kollin Keister gets Lap 6. Bowlin on pole didn't lead a single lap.
LAP 8: @RyanLuza is back in the lead once again.
LAP 10: @Parker79p, who will make his @NASCAR_Trucks debut this weekend, enters the top-10.
LAP 13: @BigDogBowden takes the lead.
LAP 16: @Parker79p enters the top-5.
Things have settled down – @BigDogBowden has been leading for a little bit now that he's got a committed combo of cars behind him working together. 18 laps complete!
A lot of red names running in the back – those are the Playoff guys! Mitchell deJong, Michael Conti, Nick Ottinger, Femi Olatunbosun, Bobby Zalenski and Matt Bussa (6 of the 10) all in a pack of their own!
Back to lead changes! @LoganClampitt_ pushed @Parker79p to the lead and then took it himself! Multiple lead changes followed! Currently leading at lap 26 is Casey Kirwan
A special moment for @KadenWHoneycutt, leader of lap 30 – Kaden is racing for his Grandfather tonight, who passed away earlier today.
Coming up on halfway still clean and green – kirwan reynolds ray boes bourdeau bowden keister vincvent duval ault
LAP 34: @CaseyKirwan23 leads 7 cars onto pit road.
LAP 35: @KadenWHoneycutt and more pit.
LAP 36: @dylanault42 leads another small group onto pit road.
32 to go the rest pit except for cody byus – he's out there all by himself… Not good
31 to go:@BowlinGraham cycles to the lead.
Pit stops have cycled. well they're four wide and still green flag racing!
27 to go: @FemiOlat_ gets squeezed into the wall.- we stay green
25 to go: @swilson3_ takes the lead
25 to go: @KadenWHoneycutt spins into the inside wall! NO CAUTION!
25 to go: @MalikRayTTV leads
3 lanes wide lanes coming and going – Still big pack racing
20 to go: I've seen about 5 or 6 wrecks over the past 2 laps that didn't happen.
CAUTION! DISASTER FOR OLATUNBOSUN! Femi goes around after contact with Liam Brotherton, who may have hit Dylan Ault! Blake Reynolds, Ryan Luza, and MORE involved!. 19 to go.
RESTART 15 to go: @NickOttinger and @CaseyKirwan23 lead the field into Turn 1.
13 to go: @rayalfalla leads. Lots of comers and goer's three lines of racing in the pack lots of jostling and changing of lanes
12 to go: @A_Boes21 now leads.
CAUTION! It's the big one! NICK SHELTON UP OVER ONCE TWICE… MULTIPLE TIMES!!! Mitchell deJong and Femi Olatunbosun involved!. He;s on the bottom they stackup and check up big time and he gets ran over and turned from behindmaybe 8 cars involved a lot down into the grass
RESTART 7 to go: @A_Boes21 and @MalikRayTTV lead the field into Turn 1.
Malik takes the lead on the top and they are three and 4 wide then contact and a big wreck on the backstretch!
Oh no..Wilson had connection issues happening at the same time that the field accordioned. More trouble for more playoff drivers, including Wilson and Ottinger! Caution
Conti gets shuffled w 3 to go on the restart – 2 and 3 and 4 wide then they pile up out of 4!!! Two cars went to the middle at the same time and they wreck mid pack! We are going to overtime
Overtime Restart 1: @MGuest33 and @MalikRayTTV lead the field into Turn 1.
Both looking for their first win
Outside lane forms guest ray ault they break free on the back stretch…. Ault dips out of line and gets freight trained we now have a line of 6 at the white still on top – bowden gets pushed by kirwin to the bottom to the lead the top dientigrates – Kirwin takes a look they hit he goes below the line and comes back up door slam door slam door slam bowden up the track, bowden goes up and clips bobby who is in third but bobby zalenski squeezes by for the win!!!
@bobbyzalenski wins at @TALLADEGA by 0.024 seconds!
iRacing Highlights Week
iRacing Posted the Highlights of the week for September 23rd, including a video of Dale Jr
---
---
Coke Championship Race Details
John Dubuque posted in the forums that he's looking for more details about the Coke Series Championship Race held at the Nascar Hall of Fame and hosted by Dale Jr.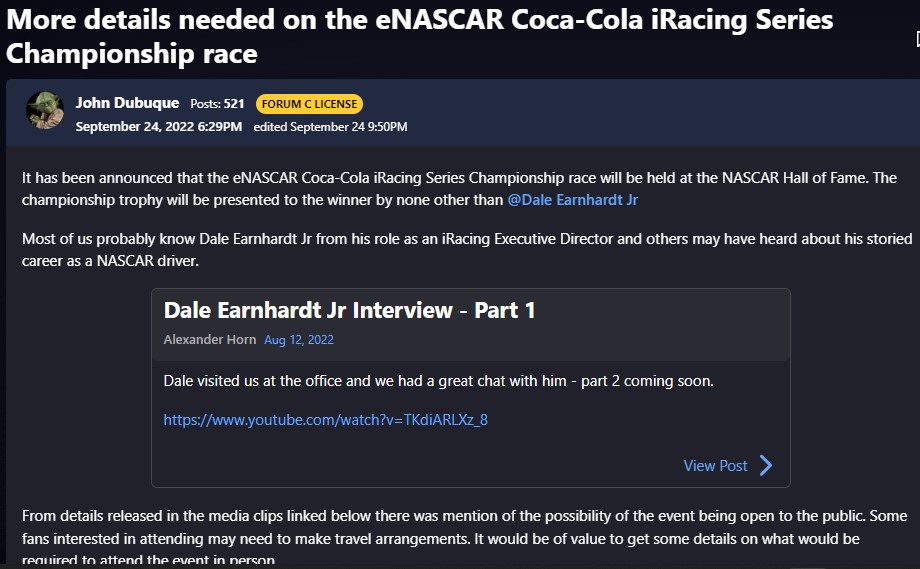 https://forums.iracing.com/discussion/29817/more-details-needed-on-the-enascar-coca-cola-iracing-series-championship-race
---
---
Download / Update Problems
We have seen an increase in the number of people encountering issues with downloading updates over the last two weeks and are trying to gather more information on this issue. In order to do so, we have adjusted a setting on our end that the iRacing Service running locally on your machine should pick up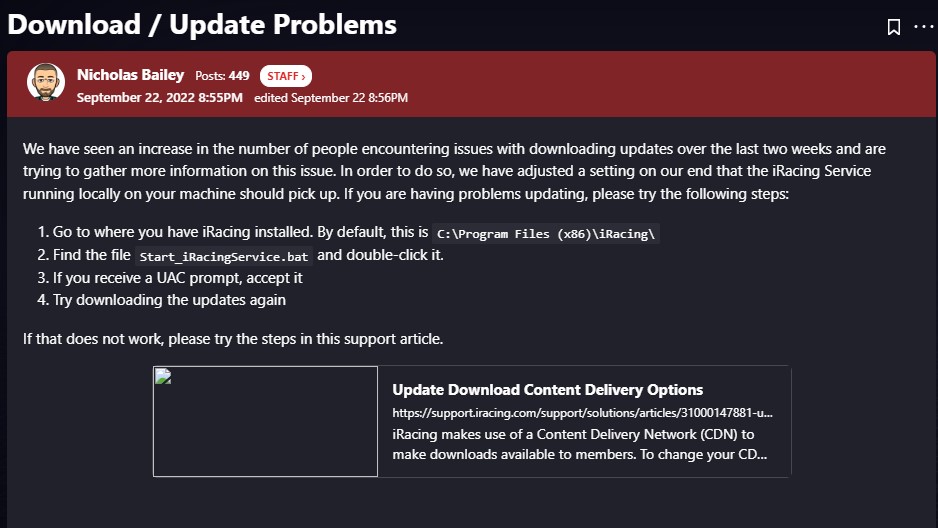 https://forums.iracing.com/discussion/29735/download-update-problems#latest
---
What is the Most Difficult T1 in Motorsports
iRacing Tweeted a question asking what is the most difficult turn 1 in motor sports
---
---
Dave Cam's New favorite Oval Track
Dave Cam posted a Nascar Truck Class C Race Fixed at Texas Motor Speedway and found that it is newest favorite oval track.
---
---
An Emotional PESC Contender Series Win
Jeff Giassi has a very emotional response after his first win in the Porsche eSports Contender Series
---
Seay Back on Top After Dramatic iRacing World of Outlaws Late Model Finish at Volusia
Evan Seay's march towards the iRacing World of Outlaws ButtKicker Late Model Series title took another step forward on Monday night, as he took his fifth win of the season in Monday night's penultimate round from Volusia Speedway Park. After the victory, Seay now boasts an 83-point lead on teammate Blake Matjoulis with a single race remaining, next week's finale at The Dirt Track at Charlotte.
https://www.iracing.com/seay-back-on-top-after-dramatic-iracing-world-of-outlaws-late-model-finish-at-volusia/
1 Evan Seay 50 11 16.196 78
2 Blake Matjoulis 50 -0.006 0 16.178 69
3 Barrett Bishop 50 -0.234 0 16.337 71
4 Damian Kiefer 50 -1.742 17 16.218 69
5 Justin Norwood 50 -1.968 0 16.300 65
Evan Seay, 688
Blake Matjoulis, 605
Kendal Tucker, 523
Logan Rumsey, 500
Dylan Wilson, 453
---
---
A New GT4 Coming to iRacing?
According to Sportscar365, Nissan has launched the Nissan Nismo Z GT4 car ahead of its competition next year.
---
---
Are you looking for a team?
IWC Watches is calling for all F1, eSports, and iRacing fans to join their eSport Team.
Calling all gamers, Formula One™ fans and Esports enthusiasts. It's time to choose your team and put your skills to the test. Race for your favourite driver. Win incredible prizes.
JOIN. RACE. WIN.
https://www.iwc.com/gb/en/specials/iRacing-Esports-sim-challenge.html
https://twitter.com/IWC/status/1572865787597144065
---
---
Listener Question
iRacingaussie asked us two questions we will be happy to answer
---
---
iRacing Presents the 2022 Petit Le Mans
Petit Le Mans is a 10 hour endurance race held annually at Road Atlanta in Braselton, Georgia. It is a marquee event in the IMSA WeatherTech SportsCar Championship.
When:
Date: October 7-9th
https://forums.iracing.com/discussion/29535/iracing-presents-the-2022-petit-le-mans-powered-by-vco
---
---
iRacing SCCA Runoffs
The SCCA National Championship Runoffs is the end-of-year championship race meeting for Sports Car Club of America Club Racing competitors. Divisional champions and other top drivers from the SCCA's 116 regions are invited to participate at the Runoffs. National championships are awarded to the winners of each class. The iRacing version will use Super Sessions. The top 40 drivers in the points for the week in each of the corresponding series, will be eligible to race in the Super Session. However if someone doesn't show up, the next highest person in points is promoted.
Each of these races will be broadcast on RaceSpot for 8 hours of wall-to-wall racing across multiple disciplines.
When:
Date: October 17-22nd (Super Session events held on October 22nd and 23rd)
Weekday race times GMT (every 4 hours)
https://forums.iracing.com/discussion/29978/iracing-scca-runoffs-presented-by-sim-lab
---
---
Podcast Housekeeping
Leave us a review on your favorite podcast platform to make it easier for more listeners to find the podcast. Mention the podcast to your fellow drivers so they don't miss out, we would appreciate it.
Check out our Discord https://discord.gg/rvRas4DDqF
New Website – Leave Comments https://www.iracerslounge.com/
---
We are in the regular rotation… (Mike)
https://performancemotorsportsnetwork.com/
https://channelstore.roku.com/details/9d27a1e9dd15b92535d7cfe85407288e/the-sim-racing-channel
https://thesimracingchannel.com/watch-live/
Fantasy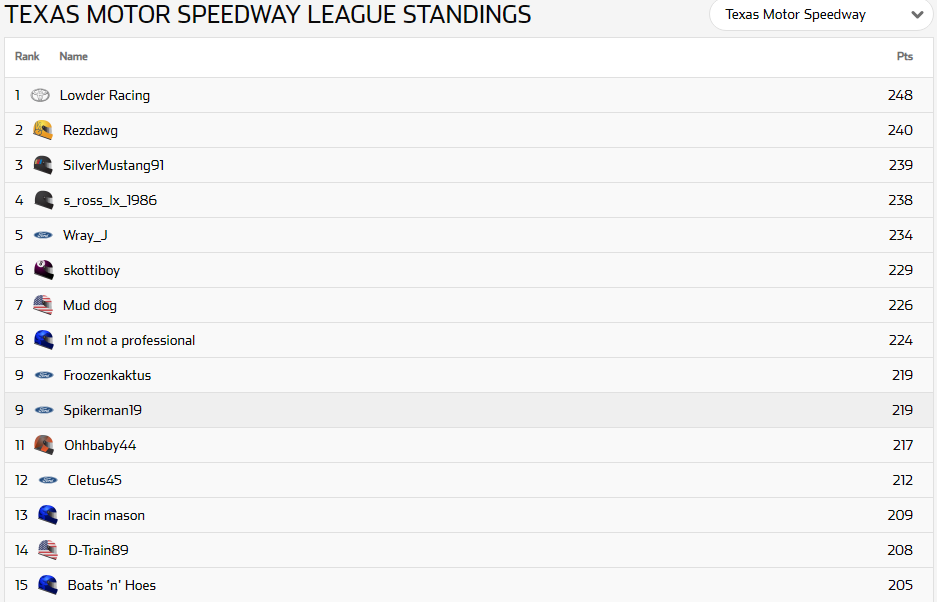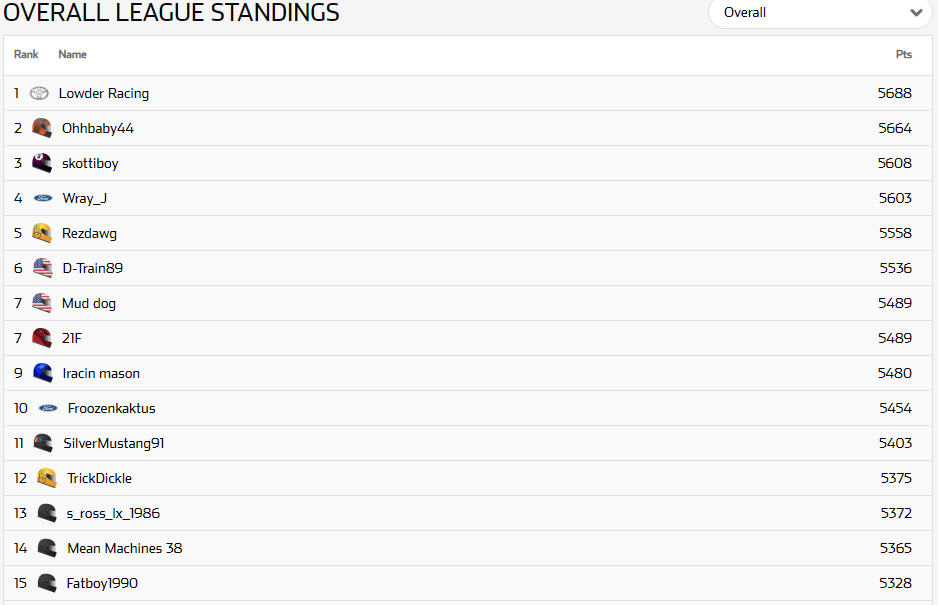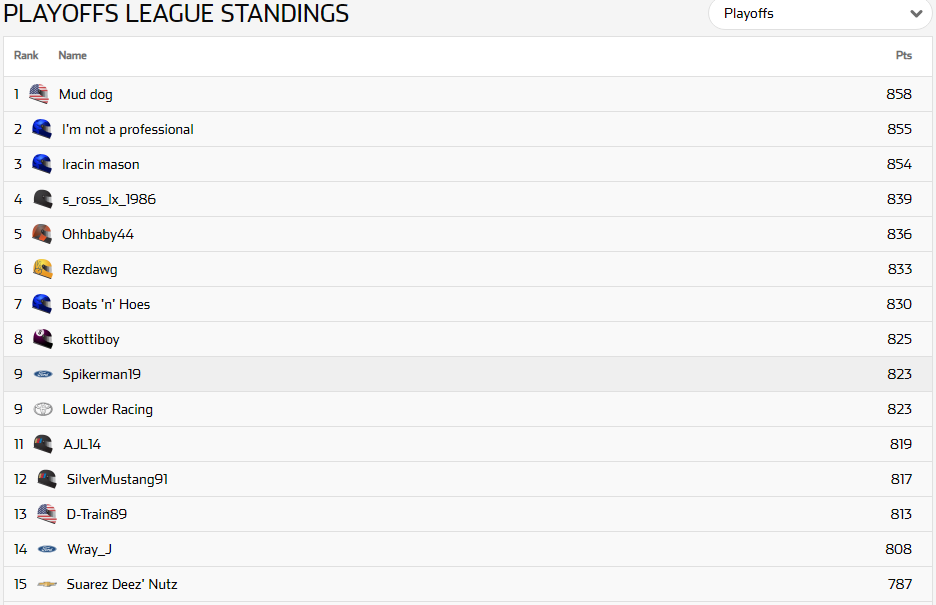 ---
---
Hardware/Software
Brought to you by: SUPREME 3D Printing

Are you looking for that next Sim Rig upgrade, or maybe your man cave needs a little more style, or is your wife wanting to redecorate your home? Well, we here at Supreme 3D Printing have you covered. We create and print tons of different and useful items that is sure to fit everyone's style and budget. If you don't see what you're needing, then feel free to contact us for your needed item.
Check us out Etsy at https://www.etsy.com/shop/Supreme3Dprinting.
---
SimHub to Extend Compatibility
https://www.youtube.com/watch?v=Q72PiWzbf24&t=2s
---
---
A new wheel coming to the market
P1Sim releases the P1-Arnage.
0 https://p1sim.fr/products/p1-arnage
---
---
NVIDIA's 40 Series off to a rocky a start
JayZTwoCents posted a video to his Youtube channel detailing his findings of the new card from NVIDIA
ATX 3.0 New Spec for PSU's…. PCI-SIG Warns of Potential Overcurrent/Overpower Risk With 12VHPWR Connectors Using Non-ATX 3.0 PSU & Gen 5 Adapter Plugs….Zotac Reveals Surprising Fragility Of 12VHPWR Cable Adapters For GeForce RTX 40 Cards
https://www.youtube.com/watch?app=desktop&v=K6FiGEAp928
---
---
Is the MOZA R9 as good as they say?
Karl Gosling posted a review video to his Youtube channel of the new MOZA R9 Base and GS GT Wheel.
https://mozaracing.com/?ref=kg
---
Any Europeans Looking for a Prime Cockpit
GT Omega Racing announced via Instagram a deal on their Prime Cockpit for buyers out of the European Union.
https://www.instagram.com/p/CihysV1uBZb/
https://www.gtomega.com/products/prime-cockpit
---
---
A New VR Headset
Road TO VR announced their PICO 4 VR Headset and is looking to compete with the Quest 2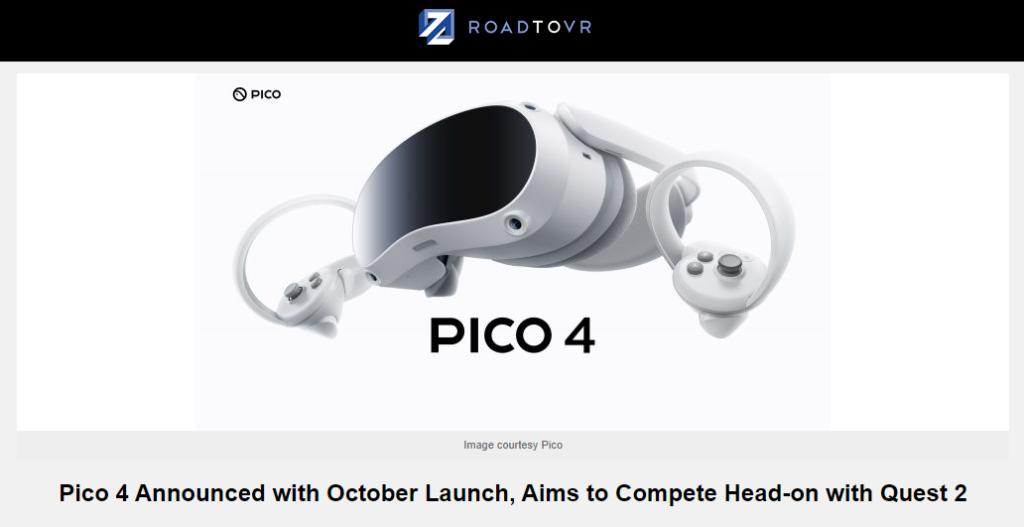 https://www.auganix.org/pico-announces-launch-of-new-pico-4-standalone-vr-headset/
---
Sim Craft
Sim Craft announced a new audio package to the APEX6 GT Pro Sim Rig.
---
---
Best Wheel On The Market?
The Porsche RSR 911 Steering Wheel by Sim Labs is vying for the best steering wheel on the market today.
https://sim-lab.eu/shop/product/porsche-911-rsr-steering-wheel-3553
---
20% off Simucube Tahko GT-21
Simucube is offering 20% off of their Tahko GT-21 steering wheels
https://www.instagram.com/p/Ci9b4bPNp2c/?igshid=MDJmNzVkMjY%3D
---
---
SIMUCUBE Teases a New Product
Simucube also is teasing a new product reveal to be announced on their October 27th podcast at 6:00 pm CEST
---
---
Nascar / Logitech Partnership
---
---
Hamlin Endorses Logitech
---
---
Logitech DD Review
---
---
Results
Brought to you by: SIMWRAPS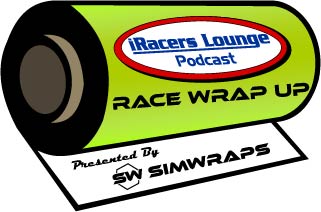 In need of a identity? A wrap is more then vinyl on car, it's you and your teams identity on track, so standout not blend in. SIMWRAPS can design not only race vehicle, but fire suits and helmets as well. SIMWRAPS can work with any budget to make sure you do standout in a crowd field. Make sure to pull in for a pit stop and check out our work at www.SIMWRAPS.com or your typical social media sites like facebook and Instagram.
NASCAR iRacing Series
Friday Open: Texas
Hall – p15, 1 yellow, but came while lap down for green pit. Might have gotten closer to 10th if no yellow
Donnie – P13, Q15
Sunday Open

Hall – Punted with 20 to go while leaving a lane open and holding my line. Welcome to
Sunday fixed

Mike -p6 – I don't know how to describe that early first run tonight in Fixed, after 10 or so labs every single person was hospital loose out of two. I mean loose loose loose, super loose hang on for your life. Know I just mean literally everyone in the room we all pitted for tires the second run it was like nothing ever happened. We all stuck like glue third run. It started getting loose again after 15 but that first run was weird. I got some short runs at the end. We had enough tires and I was able to make a run forward.
Wednesday Open: Tally
Hall – p wreck on gwc, no where to go
Ellis – Pole! 12 teammates in TeamSpeak to run the event. Lost force feedback around Lap twenty . I could not get it back on finally a caution around lap 30. I had to pit and turn the wheel off and turn it back on and went to dead last. I eventually got to the front all the way from the back and led a bunch of laps before caution with 24 to go, now we are good on fuel running P3 for the restart. With some more laps in with a restart it was eight to go the wreck in front of me, and I get clipped and destroyed. dnf
Kyle P – P2 Started up in P7 and just kept it clean. Got to the front at the halfway mark. And had Tom Dreiling pushing me until we had a green flag pit. Came out of the pits with 7 to go and Tom was to nice and let me get back ahead of him to hold the lead. Came to 1 to go and P3 and P4 decided to make a run on the top side and I went to block but started to leave Tom Behind so I dropped back down to pick up tom and on the front we decided to go high and try for the win but just ran out of track Came home with a P2 and Tom with a P3. I led the most laps with 43 and set the fastest lap at a 48.974 finishing 0.0092 behind the lead and Tom and P4 finished tied 0.156 behind the leader. Thank you again to Tom for pushing me around Dega. iRacing farming has began again this week. 2500 IR is the goal by sunday.
Tony R – P7 got clipped and damaged early in the race sp just putted along. Ended up getting fuel for last caution before the gwcs kicked in. Plenty of guys ran out of fuel at the white so just zoomed by – `
Steve – Did not qualify, started 27th and had two team mates in the split. Bobby Jonas and Brian Maccubin. This was my first race with Tifosi and first race ever in NIS. Rode around in the back thru a few cautions. On the 3rd to last caution on lap 58 I went in and got just fuel with Brian and Bobby with around 40 to go. We figured we could save fuel and finish to the end. Another caution came out on lap 85 and all 3 of us stayed out gaining great track position with Brian running 1st, myself 2nd and Bobby was 5th. I was going to push Brian to the win when the yellow came out on lap 94 about a ¼ mile from the start finish line. Brian restarted 1st and I started on the outside in 2nd with Bobby starting I think 5th. Mike Ellis was spotting for us and on the last lap Brian was behind me with a car in front of me and a car to the outside. Mike told me to shoot the middle, which I did and Bobby punted me over the line for the Win! Thanks to Mike, Bobby and Brian for all the help. I was definitely outside my comfort zone as I have run an official race in years. Thanks for allowing me on Team Tifosi!
Thurs Open

Ellis – p13- Ran top 10 pretty much all race led a bunch of laps. About 15 to go. They wreck in front of me while I was run. An eighth and I got collected was seven minutes damage. Surprisingly the car was still fairly fast and I brought it home.

Rochette -P issed off got outside pole. Just did my thing till got through a wreck and a asshat just doors me for no reason (sorry mike if i hurt your virgin ears with my very loud hot mic obscenities) Got Damage fixed and still had good speed while 8 to go and was just taken out by some **************************** ending my race
---
---
Official Series
Ellis – F 2000 at Oulton park – qualified P8 out of 16. Got wrecked out in lab one. I actually went into the grass to avoid an incident end up in the back came around towards the end of the lap and the guy was fun and stopped. I went to go around him and as soon as I did he back in to me.
Q p seven and I finished P7. I finally got a finish even though I sped off on my own it was that last I did work my way up through attrition
Q p5. Got myself up the second on the first Lap. By Lap five I had fallen to fourth. That I spun all by myself off the last corner, and killed the car. dnf.
A Open

Ellis – pole! – I tied for the most laps lead at 27. pitting other green worked out fine was p3 after that, but then late cautions set up a final restart and I got destroyed come into the checkered P 16
Kyle –
Spiker – P
Rochette P2 had fun made it 3 wide on the white and wiggled just a bit causing a wreck but no lifting and plowed my way through
SPIKER -.ARCA – Charlotte Roval P9
Legends Rookie – Atlanta, Pole – Wrecked
Super Late – Martinsville P7, Q7
Trucks Open – Talladega P9, Q4
Kyle P4 ran a sloppy first half of the race and finally got it together and got back to the front and led 8 laps but just couldn't hold the lead on the last lap and walked home a p4
---
---
League / Hosted Races
Hosted –

Ellis – Chris Maguire 87 cars at Talladega. P7. Great race all the way to the end about 10 or so cars in the mix for the win very clean racing.
OBRL ARCA

Brian – P7 Started in the back (P23) in case I had any technical issues. Turned out to be ok, so I started pushing a bit. Had some really great racing along the way and managed to make my way up to top ten. A caution with about 25 to go brought the field back together. Had to push a little too hard to catch up to p5, but ran out of tires and fell off to p7. All around great race.
---
---
Final Thoughts
---
---
Words Spoken in Closing Audio Clip -""Thank you for listening to the iRacers Lounge podcast make sure to go subscribe to us on iTunes, SoundCloud, or Google Play, Facebook & Twitter, See You On The Track ."
TITLE
Good Vibrations
Description
On the show this week we will be recapping a fantastic eNascar Coke Series race at Talladega. We'll try to answer some questions from a podcast listener. We'll see if there might be some concerns if you're getting a new Nvidia 4000 series GPU, and we'll look at what might be the best steering wheel on the market. So sit back, relax and join us on the iRacers Lounge Podcast.
iRacers Lounge Podcast is available on iTunes and Apple's Podcasts app, Stitcher, TuneIn, Google Play Music, Spotify, Soundcloud, Podbean, Spreaker, Podbay, PodFanatic, Overcast, Amazon, and other podcast players.
Sponsors:
Hosts:
Mike Ellis – twitter.com/MikeDeanEllis
David Hall – www.twitch.tv/mixmage
Greg Hecktus – twitter.com/froozenkaktus – www.twitch.tv/froozenkaktus
Brian Maccubbin – www.twitch.tv/MacRubbinsRacin
Kyle Pendygraft – twitter.com/LoudPedalGaming
Tony Groves – www.twitch.tv/SirGroves
Adam Josselyn- twitter.com/Jossad83
Tony Rochette – twitter.com/TonyRochette
Tom Dreiling –
Donnie Spiker –
Bobby Jonas –
Links:
Facebook – www.facebook.com/iRacersLounge/
Twitter – twitter.com/iracerslounge
Instagram – instagram.com/iracersloungepodcast/
Web (Show Notes) – iracerslounge.com/