3/11/2021 – The Bubble has Arrived – Episode 0270
iRacers Lounge Podcast – Conversation Topics
Brought to you by: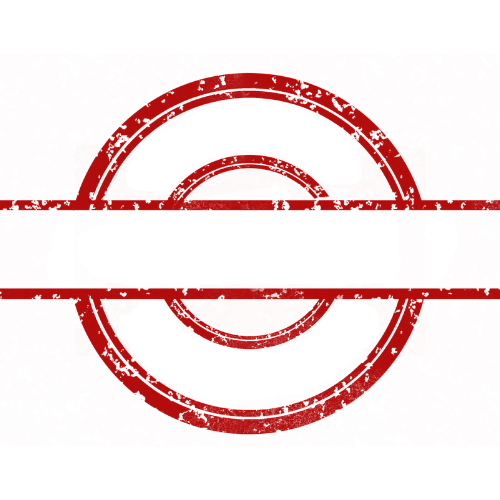 Opening Audio Clip -"Your listening to the iRacers Lounge Podcast where we discuss everything iRacing, in a casual setting, enjoy."`
READ THIS AT THE TOP OF EACH SHOW!!!
Welcome to the iRacer's Lounge, I am your host "XXX". iRacer's Lounge is a podcast for the iRacer, where we talk all things iRacing in a casual setting.
Joining me are the usual characters, ————
---
---
Introduction
It's build week everyone, and we'll be going over all of the new content for the season 2 build and what we think about it. It'll be a loaded show so let's get started.
---
---
TITLE SPONSOR READ:
Cash League
Grid Finder, your go to source for finding your next sim racing "CASH" league. A new premium feature within grid-finder.com to promote your cash league/race to over 1000 racers that visit every week. A low cost of £4.99/month will allow you to feature up to 3 divisions in Grid Finders newest section, That's only £1.25/week to make sure you have a full grid for your next cash league or race. Special iRacers Lounge offer – sign up now and get a free week!, this is only good for the rest of December so get your cash league signed up now.
Grid Finder – "The home of online sim racing leagues"
Visit www.grid-finder.com to find a league, or to upload your own!
---
---
---
---
Topics
---
---
Content Teasers [Hall]
Dale Earnhardt Jr had the honor of tweeting the teaser of the new, updated super late model car.
---
---
iRacing SLM Reveal Video [Adam]
iRacing accompanied the reveal of the super late model update with a companion video to show off the new car in action.
---
---
New Dirt Road [Greg]
iRacing challenges it's fans to try to guess the new Pro Truck track that will make it's debut in the season 2 build.
---
---
Bark River International Raceway [Adam]
iRacing reveals the new Bark River International Raceway in a new introduction video.
---
---
Hockenheim [Mike]
The newest road course on the service is a classic from Germany. iRacing video introduces HockenheimRing to the service.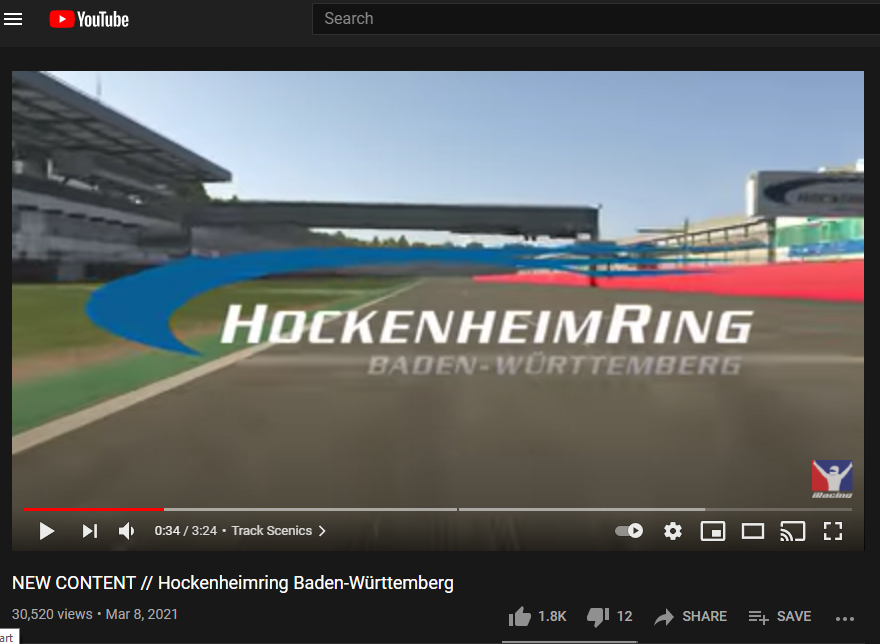 https://www.youtube.com/watch?v=weDuTcsPCCI
Hockenheim Hot Lap [Hall]
Take a lap along with iRacing around Hockenheimring in a Dallara P217
Jim Clark Memorial [Brian]
iRacing adds a nice touch detail to the Hockenheimring, the Memorial of Jim Clark, the British Grand Prix driving legend who died in a fatal crash at the track in 1968.
---
---
New Pace Car [Greg]
iRacing has added a new sedan styled pace car to the service in the new season 2 build
---
---
Barcelona Rallycross [Adam]
A new rallycross track configuration has been added to the Barcelona Circuit bringing more rallycross fun to the sim.
---
---
New Paint Shop in iRacing UI [Mike]
Jimmy Van Veen on Tweeted out for everyone to check out the new paint shop in the iRacing UI for those who don't want to want to use Photoshop.
---
---
NDM – '87 Legend Cars [Hall]
The Nascar '87 stock cars were one of the cars receiving a new damage model with some spectacular results.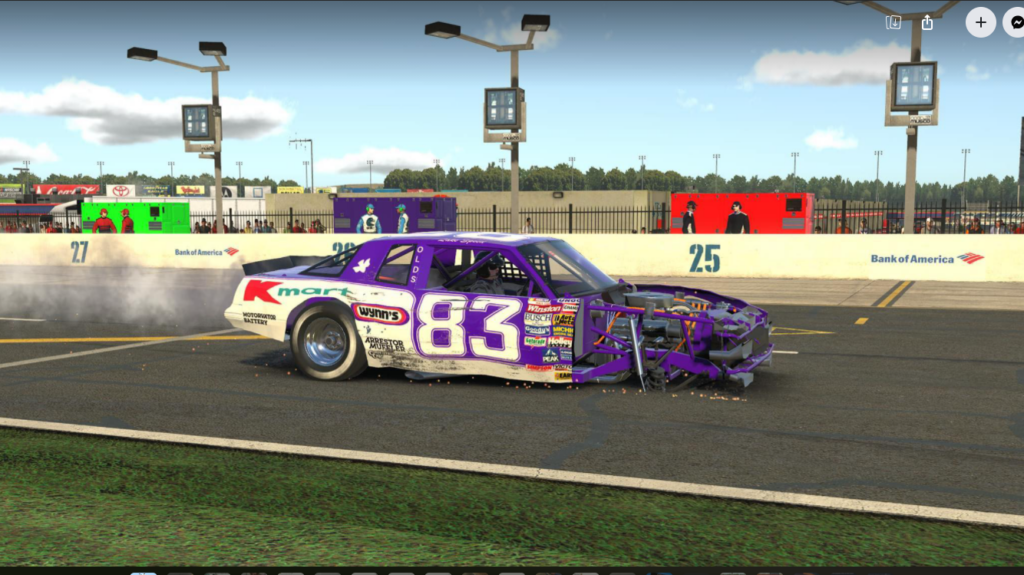 ---
---
GT3 AI [Brian]
The GT3 cars are getting an AI update in the new build and iRacing posted a video of a human driver with an AI field at Road Atlanta.
Greg West reveals the release of the GT3 AI coming to the 7 GT3 cars on the service.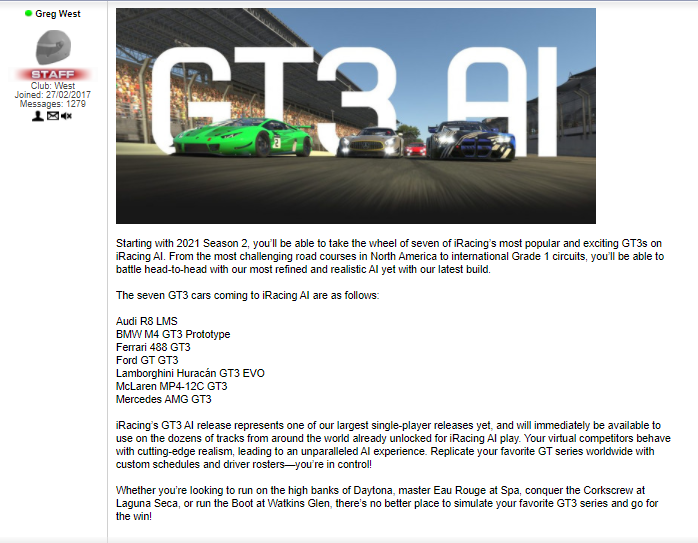 https://members.iracing.com/jforum/posts/list/3794866.page#12414325
---
---
Release Notes [Mike et all]
Here we go, the pre-release draft notes for the 2021 Season 2, with the final notes to be released after the build is officially deployed.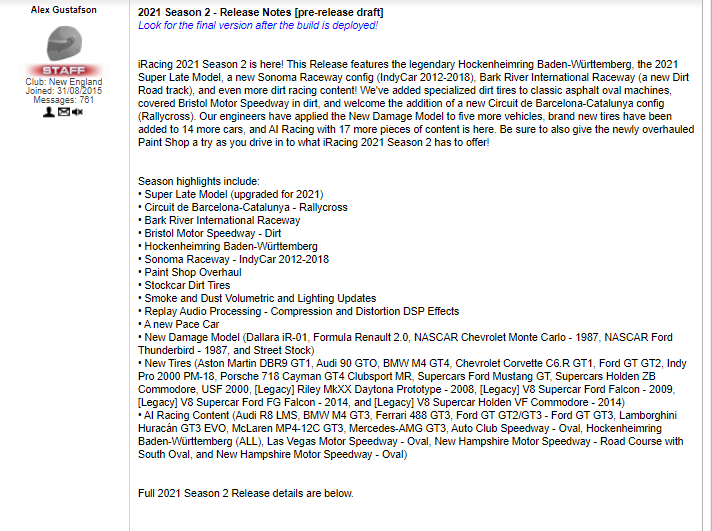 https://members.iracing.com/jforum/posts/list/3795073.page
---
---
Build Aftermath [Greg]
Shortly after the release of the new build iRacing had an issue where you couldn't get into practice sessions. If you registered early for a race you couldn't get into the Open Practice, but when the race started you could get in at that time.
---
---
UMP Modified Problems [Adam]
Tanner Clawson posted in the forums that he thinks the update ruined what was a fun class to run, the UMP Modifieds. The car has no hike and is nothing like what a real Modified would be like. Tyler Hudson for iRacing replied that they're looking to patch soon and have improvements in for this car. He just tested them and it's back to more like it was prior to the patch but with the current car's tire.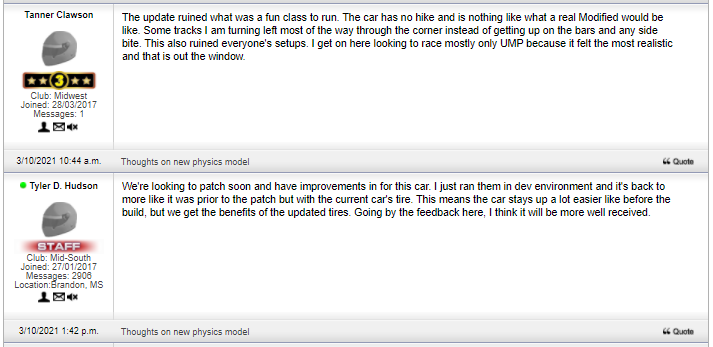 https://members.iracing.com/jforum/posts/list/25/3795680.page#12423442
---
---
UMP Gets Pulled [Mike]
The UMP's did get pulled from week 13 as announced by Tyler Hudson as the patch will not be deployed until early next week.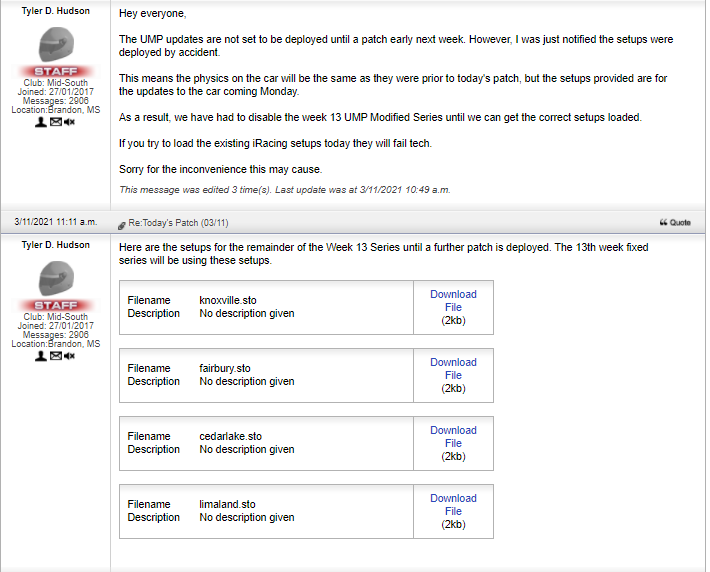 https://members.iracing.com/jforum/posts/list/3796127.page#12425163
---
---
Bark River Bumps [Hall]
Nick Neben noticed that it appears a bump was modeled graphically on the second to last corner, but does nothing as the underlying track we drive on does not have it. So every car just drives through the mound on corner entry. Others in the forums confirmed the situation, but iRacing has yet to resolve the problem.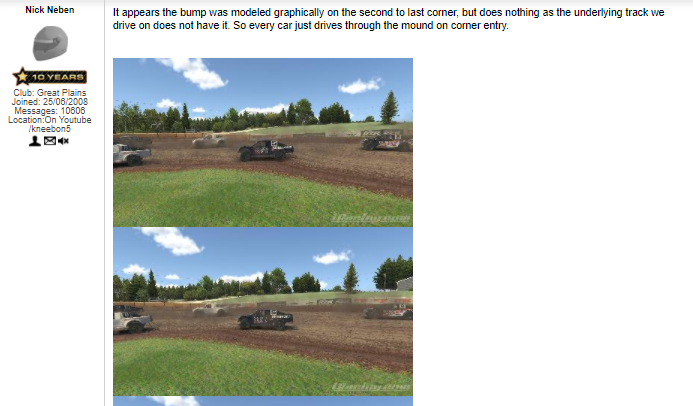 https://members.iracing.com/jforum/posts/list/3796041.page#12424379
---
---
Season 2 Hotfix 1 [Brian]
The first hotfix was already released this morning including the late release of the McLaren 570s GT4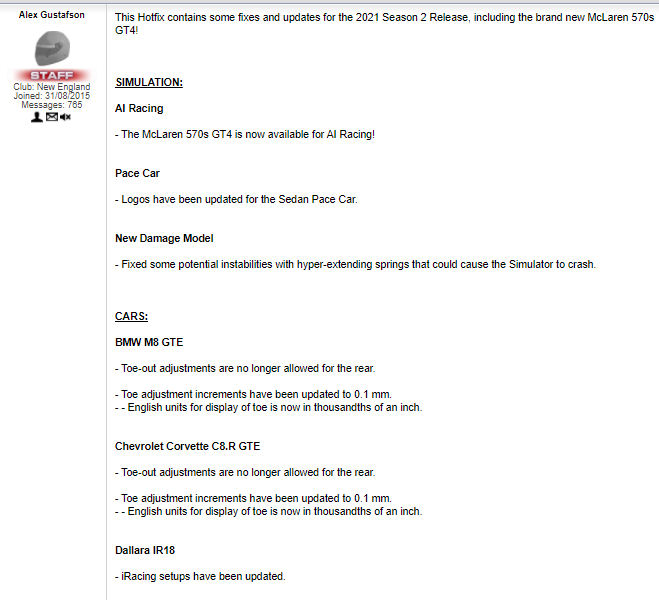 https://members.iracing.com/jforum/posts/list/3796112.page#12424997
---
---
Late Addition the McLaren 570s GT4 [Greg]
The McLaren 540s GT4 was a part of the season 2 hotfix update.
Why in a Hotfix [Adam]
So, why was the release of the McLaren done in a hotfix and not with the build update? According to Shawn Nash at iRacing it had to do with a last minute licensing approval and came as a surprise to many of the staff as well as us.

https://members.iracing.com/jforum/posts/list/3796116.page#12425230
---
---
Multiple Groove Racing ? [Mike]
Tyler Hudson explains the how the new aero model is the first step in the goal of opening up the lanes for multiple groove racing.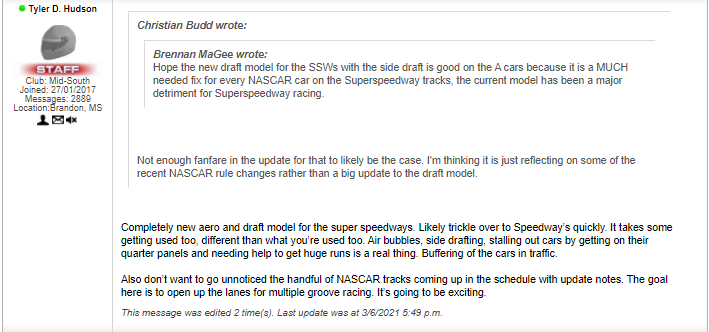 https://members.iracing.com/jforum/posts/list/50/3795079.page#12417324
---
---
The Bubble has Arrived [Hall]
Paul Johnson mentioned in the forums regarding the new aero package that you can't just run wide open anymore, you have to have the guy in front back up to you by dragging the brake or you have to get a huge run to break the bubble. But the bubble feels a little strong right now. iRacing's Eric Hudec responded that Paul is correct, and we spent a lot of time making sure what happens in the sim is what's happening on the real cars. Cars up in the front should be roughly "stalled" behind another car and stuck against a bubble, cars in the back (or locked onto another car) should be having to lift off the throttle to keep from driving through cars in front.


https://members.iracing.com/jforum/posts/list/3795803.page#12424189
---
---
RTP [Brian]
The iRacing Road to Pro Series debuted this week with a photo fines in split 2 with Santiago Tirres barely holding off teammate Nick Shelton. Jacob Hitz Tweeted the video with a shout out to STN Racing for running the show.
Santiago Tirres also Tweeted his thanks to everyone in his box and the Norse Force Racing setup guys after the photo finish victory.
---
---
RTP Top Split
RTP Top Split [Greg]
Justin Melillo tweeted out the results of the Road to Pro top split with the win going to Parker Retzlaff and second going to Darik Bourdeau.
---
---
Season 2 Schedule [Mike]
Tyler Hudson dropped the Season 2 schedule in the forums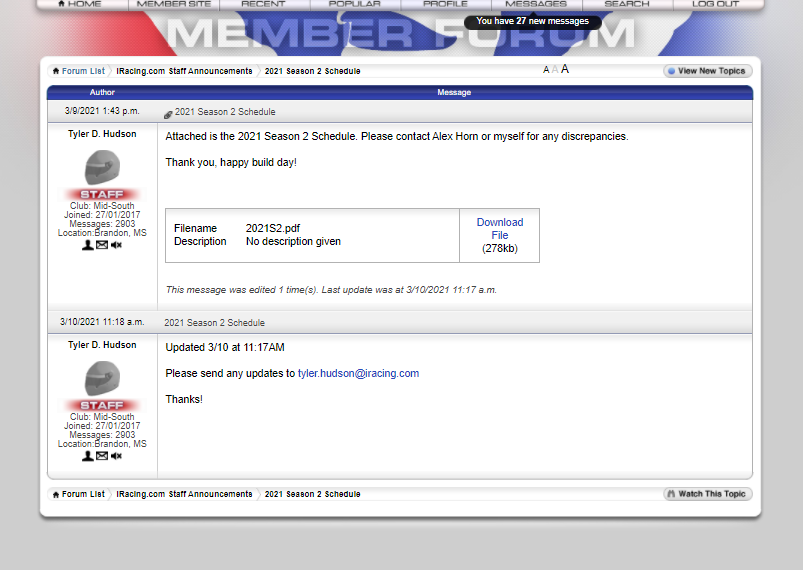 https://members.iracing.com/jforum/posts/list/3795609.page#12421042
---
---
Who Knows the Nordschleife [Hall]
Alex McFarlane asks on the forums who knows the Nordschleife by heart and created a poll to ask the community.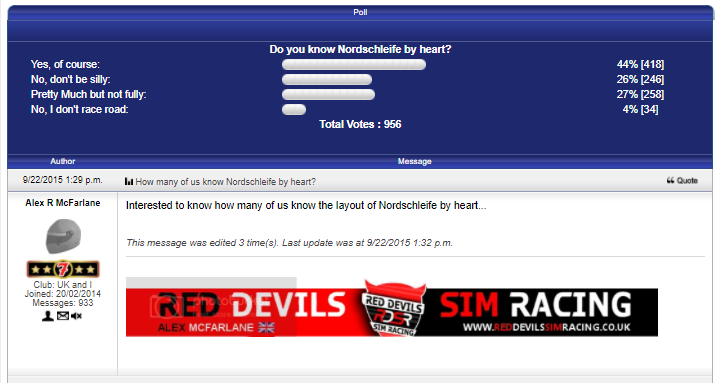 https://members.iracing.com/jforum/posts/list/3332940.page#9249891
---
---
Josh Berry Diecasts [Brian]
At PlanB Sales you can pre-order your own autographed, or non-autographed Josh Berry 1:24 iRacing die cast car
---
---
Season 1 Stats [Hall]
Rob Crouch has come thru again with the full iRacing stats from 2021 Season 1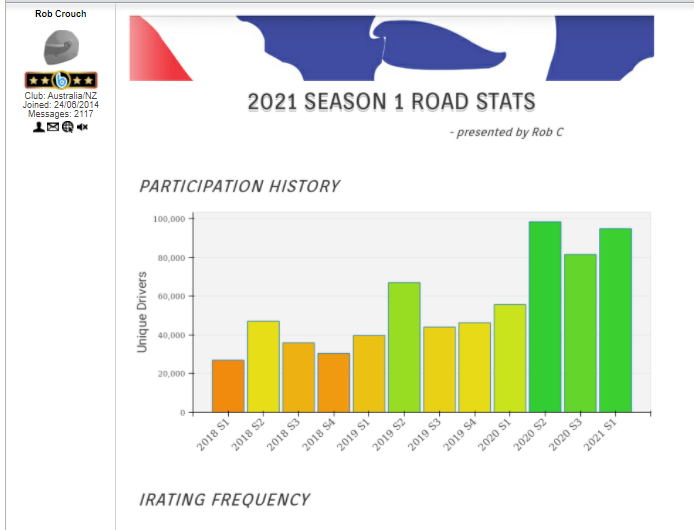 https://members.iracing.com/jforum/posts/list/3795881.page#12422811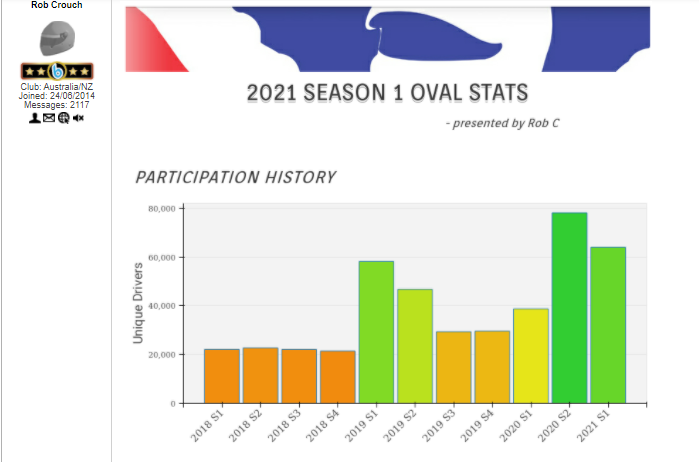 https://members.iracing.com/jforum/posts/list/3796025.page#12424247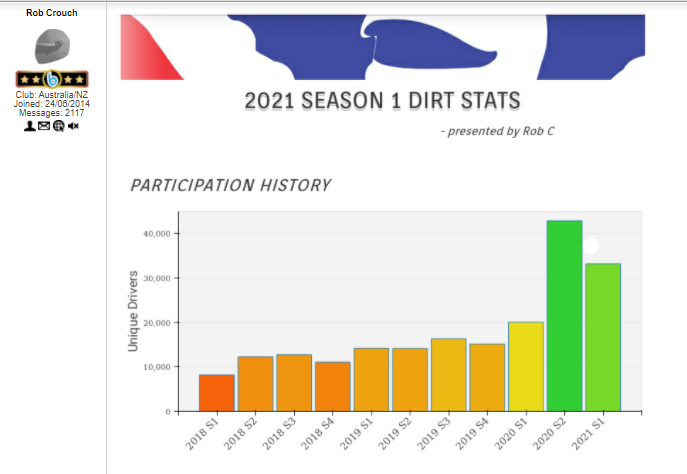 https://members.iracing.com/jforum/posts/list/3796080.page#12424622
---
---
Neat Idea [Brian]
Andrew Berry posted in the forums the interesting idea that the iRacing Superspeedway should have it's own series where the cars change every week, but the track stays the same.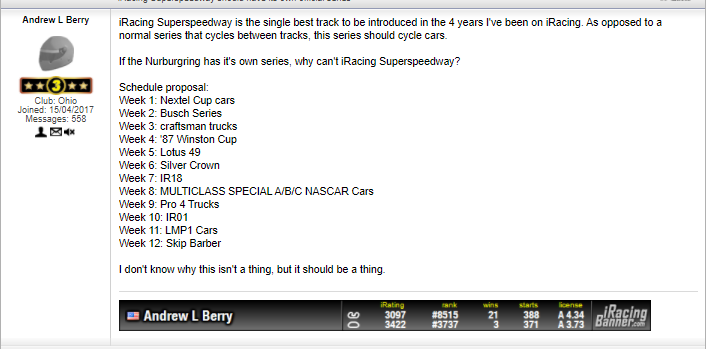 https://members.iracing.com/jforum/posts/list/3795944.page#12423553
---
---
2021 iRacing Nurburgring Endurance Series [Greg]
Greg West posted in the forums the details of the new iRacing Nurburgring Endurance Series. I will feature a series of 9 endurance races – each 4-6 hours long – on the combined Nürburgring VLN circuit. Drivers may participate solo or with a team.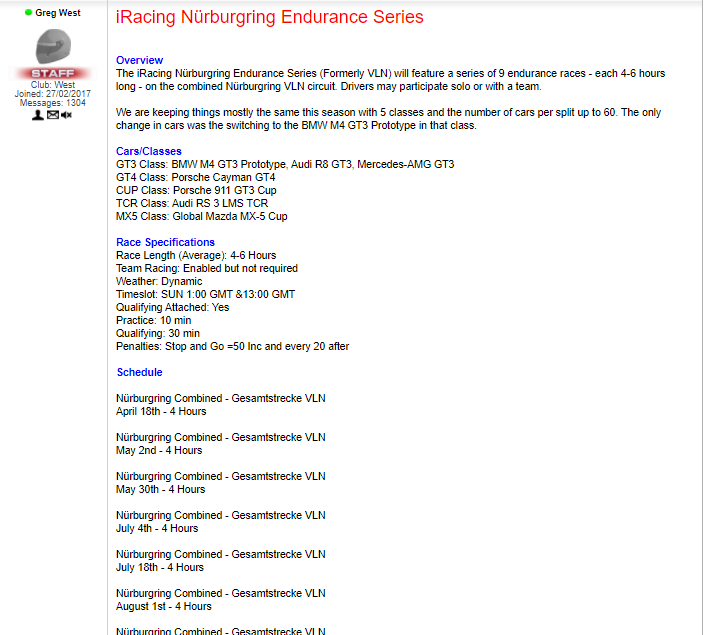 https://members.iracing.com/jforum/posts/list/3796005.page
---
---
IndyCar is Back [Mike]
The iRacing NTT Indy Car series will be making it's return on March 18th at Montreal and March 25th at Homestead and you can watch these events live on indycar.com.
---
---
Curb Appeal [Hall]
Greg West posted in the forums the process and difficulty in modeling 3D curbs in response to members noticing the flat curbs at the new HockenheimRing track.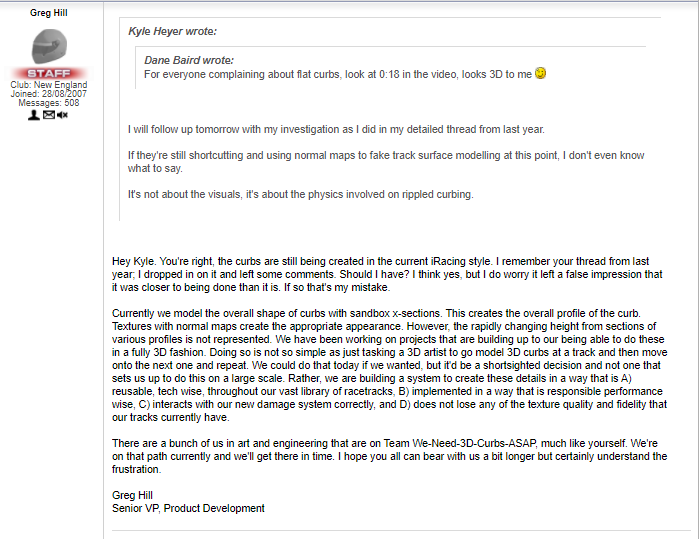 https://members.iracing.com/jforum/posts/list/25/3795285.page#12420084
---
---
The Power of Giving [Mike]
In a Facebook video on People, a woman gifts her physically challenged sister who loves cars a dream present, and her reaction is priceless.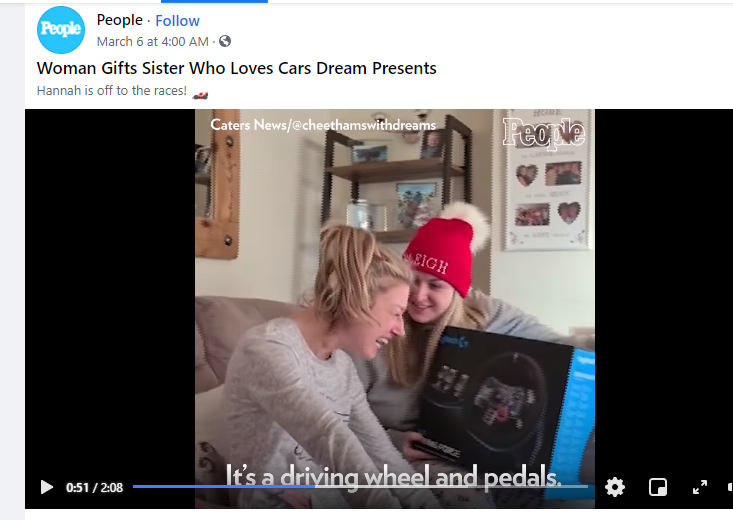 https://www.facebook.com/watch/?v=446636990090285
---
---
Podcast Housekeeping
Aftermath Podcast – Get it!
New Website – Leave Comments https://www.iracerslounge.com/
Looking for a new Content Producer – that is available to be on the show weekly – that currently run's NiS and wants to join the team
You've heard us talk about the Spotlights. Those of us that have them here at iRacers Lounge absolutely love them. So much, we have become an affiliate! With the roll out of their new Spotlights Pro. Here's your chance to check them out, you won't be disappointed. Enter coupon code: IRACERSLOUNGE for 10% off!!
https://www.facebook.com/1565571990374134/posts/2832513123680008/?d=n
---
We are in the regular rotation… (Mike)
https://performancemotorsportsnetwork.com/
---
Fantasy [Brian]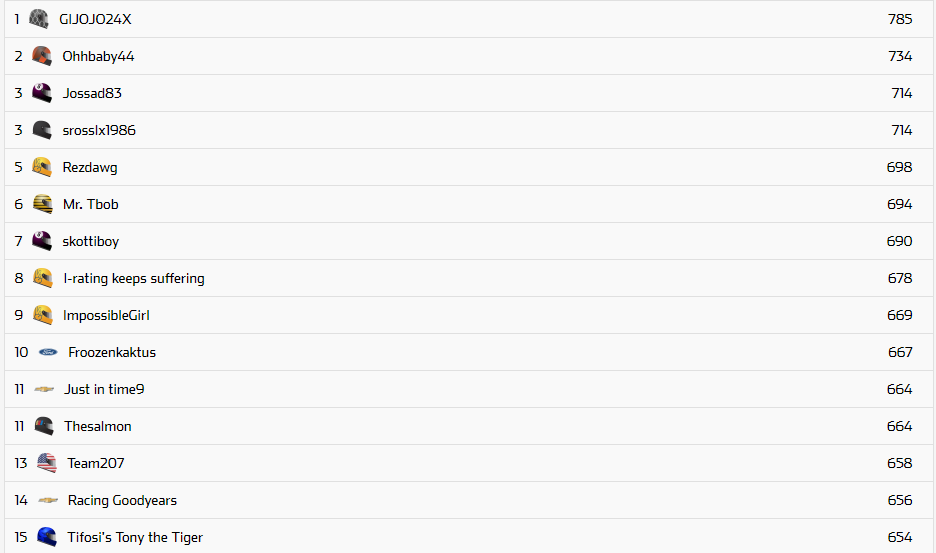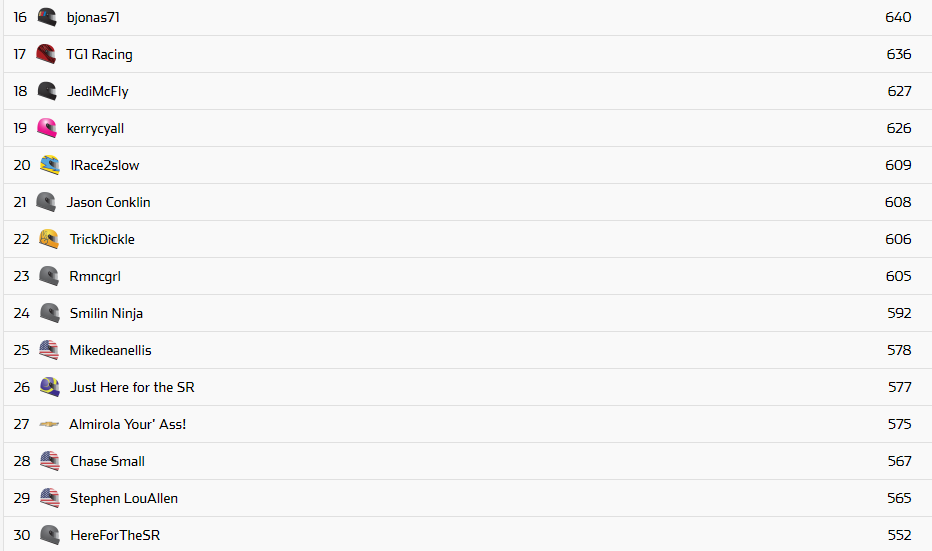 ---
---
Hardware/Software
---
How Many Cores Do We Use Now? [Mike]
In a forum thread wondering about the amount of threads iRacing uses David Tucker mentioned on a forum thread that "now that sound is using a full thread it is possible to have 4 working very hard with our physics, graphics, particle effect, and sound threads. We also have a pile of helper threads to handle side tasks like painting cars and loading faster Having more cores for those helps but usually not when out on track".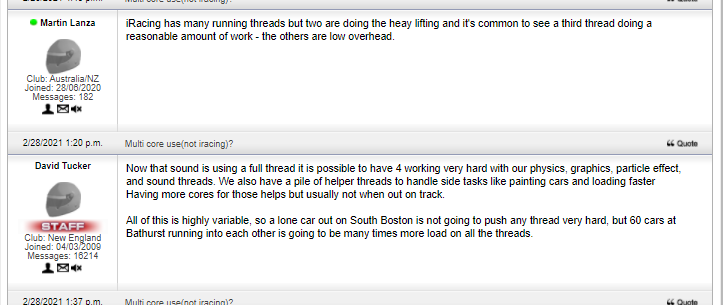 https://members.iracing.com/jforum/posts/list/3794225.page#12409634
---
---
Helmet View? [Brian]
Tom Walstra posted a helmet view that he's created on his triple monitor screens that mimics the field of view while wearing a helmet by using JRT dashboards. If you're interested you can reach him by private message.
https://members.iracing.com/jforum/posts/list/25/3765688.page#12199310
---
---
New DSD Wheel Adapter [Adam]
Derek Speares Design is now offering a DSD WSQR wheel adapter for Simucube 2 servos for $40 US shipments and $50 international. It's 3d printed (FDM) and ultra strong. This allows you to attach any aftermarket rim with a 70mm hex pattern to your SC2 dovetail slot snout.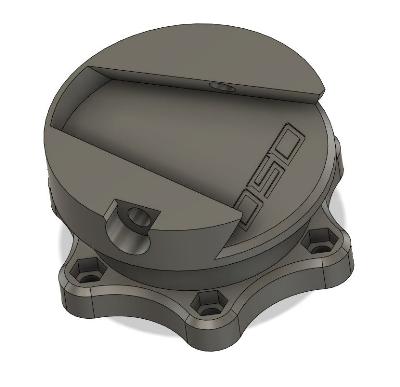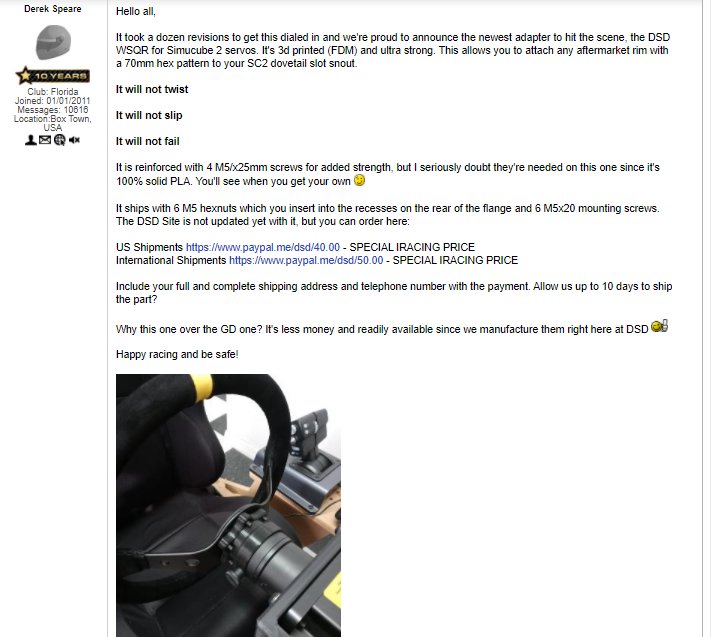 https://members.iracing.com/jforum/posts/list/3794703.page#12412589
---
---
Results
NASCAR iRacing Series
Race: Vegas
Fri op en: Vegas

Ellis – – p blew up – started 4th ran good to the first caution – realized on the 2 to go my shifter is not working and i cant get out of 4th – so i pit on 1 to go to green to reboot wheel – get black flag, have to pit under green – Finally got a wave around and then on the restart some guy went up from 2nd to 3rd then just stopped going and we all piled in – blew up not long after that
David = P horrible, loaded Q set, not didn't change, loaded Q set
Brian- P 8 Started P2 Liked this set good on long runs, but there were none. Fighting for top 5 after late restart but was caught up in a wreck in front of me.
Sunday Open

David – p bad, sped in pits, never got it back
Tom D – P11. Was a huge up and down race. Qualified 4th. Got spun, no yellow. Was able to work my way back up
Rochette- P5 stayed top 8 all race late yellow killed my long run 2nd place spot with 28 to go
Sunday fixed

Mike -p 12 got wrecked lap 1 – enough damage that i was running about 30th the whole race – with late cautions and other wrecks, hung in there and got clear up to p12~!
Stephen – wrecked out
Tyler – P 10 did not qualify but stayed clean. Longest run was early at about 30laps. Kept digging on late restarts and snagged a top 10. Car was super tight but the tires were still good.
Race: Phx
Wed Open:

Hall – p9 good on long run, got to return a favor
Ellis – p6 – Had a couple of minor incidents not too much damage – but had to come from the back maybe 3 or 4 times – was as high as 4th faded a bit on the long run –
Ellis – p – DNF – Had a good run going, running top 5 as high as 2nd – 20 something cautions it was nuts – at some point i pitted for tires after 50 laps and that put me back where i got involved in some of the wrecks – Eventually 5 to go another wreck put me out
---
---
Official Series
Euro Sprint
IMSA

Hall – Sebring

Podium in the 488 and 217
Brian P6 Long Beach Started in the back, couple of wrecks. Enjoyed this track a lot in the Skippies
---
---
League / Hosted Races
FastTrack Sim Racing League

Mike- p16 – stayed out on early caution so we would have an extra set of tires, but never got the late caution to use it – last run was slick and i was sliding around losing spots.
Stephen – Throughput fell to unacceptable levels
Tom D. P9. Good points day. Kept my nose clean during early carnage. Got shuffled around, but I'll take a top 10
Premier Race Network Cup:

Tom D – p3. Qualified on the pole, my second of the year. Fell back to 15 on start will a bad turn 1 and being way too conservative. Was able to work my way back to top 5 and ran there the rest of the race.
OBRL ARCA Series

Brian P21 Talladega Stayed in the back due to technical issues. Coulda been worse
---
---
Final Thoughts
---
---
---
Words Spoken in Closing Audio Clip -""Thank you for listening to the iRacers Lounge podcast make sure to go subscribe to us on iTunes, SoundCloud, or Google Play, Facebook & Twitter, See You On The Track ."
TITLE IDEAS
The Bubble has Arrived
.
.
Description
It's build week folks, and that means lots and lots of topics! We go through all of newly released content including new cars, new tracks and track configurations, and a slew of new updates…even a new pace car. How much different will our restrictor plate races be? We'll answer these questions and more on the iRacers Lounge Podcast.
iRacers Lounge Podcast is available on iTunes and Apple's Podcasts app, Stitcher, TuneIn, Google Play Music, Spotify, Soundcloud, Podbean, Spreaker, Podbay, PodFanatic, Overcast, Amazon, and other podcast players.
Sponsors:
www.grid-finder.com
Hosts:
Mike Ellis – twitter.com/MikeDeanEllis
Tony Groves – www.twitch.tv/SirGroves
Chris Scales – twitter.com/JediMcfly
David Hall – www.twitch.tv/mixmage
Greg Hecktus – twitter.com/froozenkaktus – www.twitch.tv/froozenkaktus
Tony Rochette – twitter.com/TonyRochette
Adam Josselyn- twitter.com/Jossad83
Brian Maccubbin – www.twitch.tv/MacRubbinsRacin
Tom Dreiling –
Links:
Old Show Notes – bit.ly/2CFeArM
Facebook – www.facebook.com/iRacersLounge/
Twitter – twitter.com/iracerslounge
Instagram – instagram.com/iracersloungepodcast/
Web (New Show Notes) – iracerslounge.com/