10/7/2021 – ToadyDega
iRacers Lounge Podcast – Conversation Topics
Brought to you by:

Opening Audio Clip -"Your listening to the iRacers Lounge Podcast where we discuss everything iRacing, in a casual setting, enjoy."`
READ THIS AT THE TOP OF EACH SHOW!!!
Welcome to the iRacer's Lounge, I am your host "XXX". iRacer's Lounge is a podcast for the iRacer, where we talk all things iRacing in a casual setting.
Joining me are the usual characters, ————
---
---
Introduction
Welcome along as we celebrate 300 episodes of the iRacers Lounge Podcast. As we reflect on this achievement Mike's gonna walk thru his progress in his new sim rig build and we'll continue with all of the stories and reviews you've come to expect for the 300th time!
And remember you can follow along with us on your PC or mobile device in real time as you listen to the show and see for yourself all of the great topics and products we'll discuss by visiting iracerslounge.com and selecting show notes. Hope to see you there..
---
---
TITLE SPONSOR READ:
Grid Finder 2.0 is bigger and better than ever with more ways to narrow your search for your next sim racing league. Featuring over 1000 leagues from over 25 racing sims across every platform, Your place on the grid is just a couple clicks away.
Visit www.grid-finder.com to find a league, or to upload your own!
Grid Finder – "The home of online sim racing leagues"
---
---
Topics
---
---
Unofficial Top 20 for RTP
Justin Melillo posted on his Twitter page the updated (but unofficial) top 20 in points for the Road to Pro Series. Ray Alfalla, who is on the bubble in the Coke Series, posted his thoughts about the possibility of racing the top 20min the Qualifier Series coming up next month.
https://twitter.com/justinmelillo/status/1443776801780781057?s=11
https://twitter.com/rayalfalla/status/1443942242788552742
---
---
IMSA Vehicle Class Updates [Hall]
Greg West Posted in the forums that in an effort to better replicate the 2022 IMSA vehicle lineup, beginning with Season 1, 2022 (December build) iRacing will be adjusting the car classes included in both the IMSA and IMSA Endurance series.
The new vehicle lineup will include 2 classes; LMP2 and GT3 (GTD). The included vehicles will be as follows:
LMP2:
Dallara P217
GT3:
Audi R8 LMS
BMW M4 GT3
Ferrari 488 GT3 Evo 2020
Lamborghini Huracán GT3 EVO
McLaren MP4-12C GT3
Mercedes-AMG GT3
Porsche 911 R GT3
The 4 GTE cars that are no longer racing in this series can still be raced in the European Sprint and European Endurance Series.
https://forums.iracing.com/discussion/9282/imsa-vehicle-class-updates
---
---
Petit Le Mans 2021 Stats
iRacing Reports posted the stats from last week's Petit Le Mans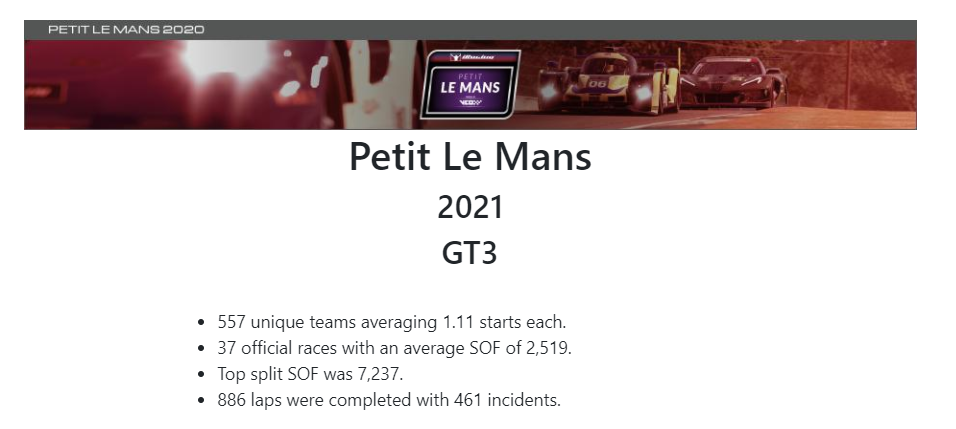 https://iracingreports.com/stats/21s4-Petit_Le_Mans-GT3.html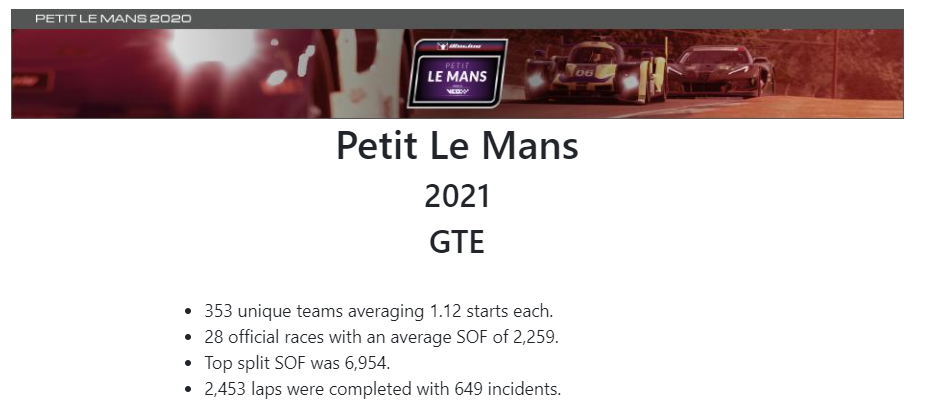 https://iracingreports.com/stats/21s4-Petit_Le_Mans-GTE.html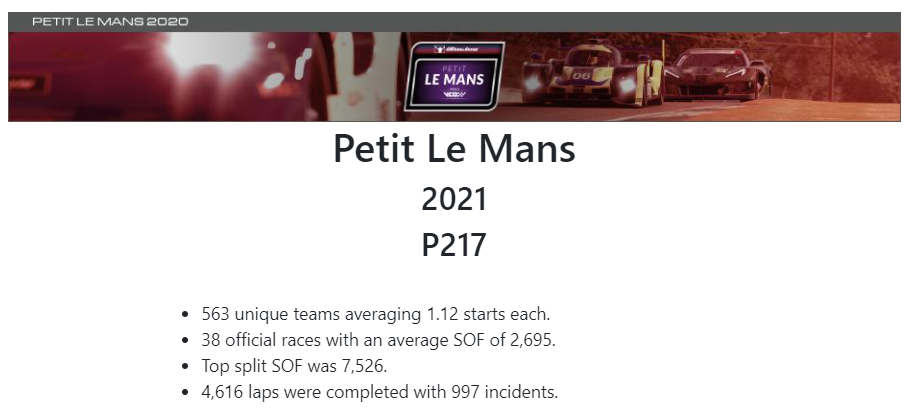 https://iracingreports.com/stats/21s4-Petit_Le_Mans-P217.html
---
---
iRacing Top 10 Highlights – August/September 2021
iRacing dropped on their YouTube channel September's Top 10 Highlight Video.
https://www.youtube.com/watch?v=3yNQ0c8IHIk
---
---
walking us through a setup
On the iRacing Twitch channel they streamed a video of their Vehicle Production Associates Mat and Tom walking through hoe they do a race setup for the Trucks at Charlotte.
https://twitter.com/iracing/status/1445426944510730240?s=11
---
---
Force Dynamics Dallara iRacing Grand Prix Series
Peter Berryman from the Apex Racing Team, scored his first iRacing pro-level victory of his sim racing career in the Force Dynamics Dallara iRacing Grand Prix Championship round from Interlagos, Brazil. Berryman led 21 of 51 laps including the final 10, and now holds the points lead on a tiebreaker with fellow Apex racer Yohann Harth and last weeks winner at Spa Michele Constantini in third.

---
---
iRacing Van at Port Royal?
The iRacing track scanning truck just may have been spotted at Port Royal Speedway in Pensylvania.
https://twitter.com/portroyalspdway/status/1445816534862082052?s=11
Wes Hurd said he heard they were going to Lincoln Speedway after this one…
---
---
IRACING TIPS FOR BEGINNERS WITH DAN SUZUKI
Overtake the online racing magazine included a video from iRacing streamer Dan Suzuki who talks about what he wish he knew when he started iRacing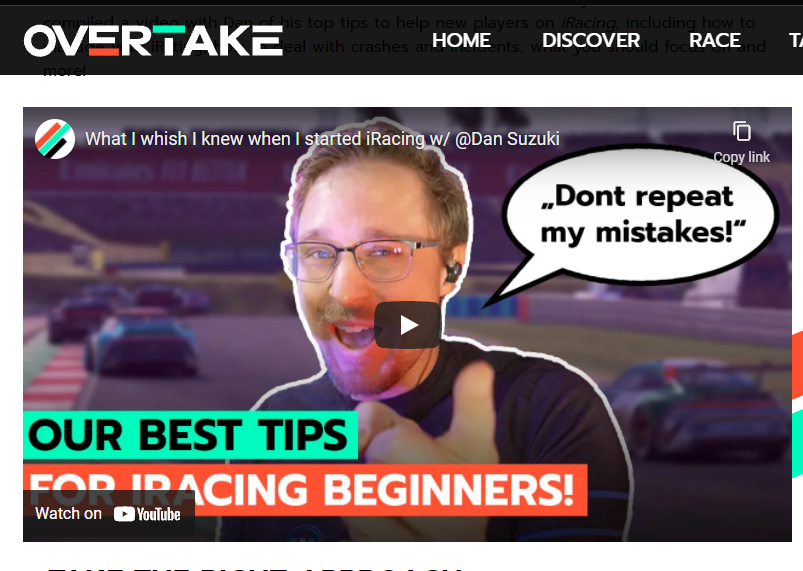 https://www.overtake.gg/news/4879-the-best-iracing-tips-for-beginners-with-dan-suzuki?sf152405904=1
---
---
2021 Season 4 Patch 2 Release Notes
The second patch for 2021 Season 4 has been released and staffer Alex Gustafson released the details in the forums.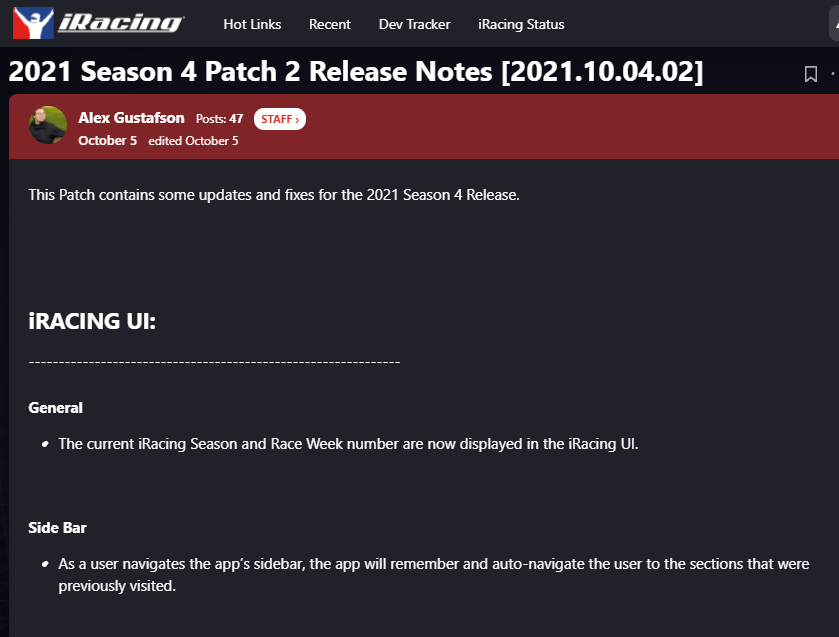 https://forums.iracing.com/discussion/9541/2021-season-4-patch-2-release-notes-2021-10-04-02
---
---
BenQ MOBIUZ Cup of Nations, presented by VCO [Greg]
The VCO BenQ Mobiuz Cup of Nations returns on December 5th but you can register now to receive all of the information about the qualifying process and represent you country
https://twitter.com/vcoesports/status/1443198881450192908?s=11
---
---
iRacing Presents 2021 Crandon Championship [Mike]
Tyler D. Hudson posts the information regarding the iRacing Crandon Pro 4 Championship special event in October 11th to the 17th.
iRacing Presents 2021 Crandon Championship
The Crandon Championship is an iRacing Special Event held at Crandon International Raceway using the Pro 4 Off-Road Racing Trucks.
Date: October 11th – October 17th
Monday through Friday 1 timeslot at 9pm ET each day (01:00 GMT)
Saturday Super Session taking the top 20 in overall points from the race week.
Timeslots – Saturday at 1pm ET (15:00 GMT) and Saturday at 9pm ET (01:00 GMT Sunday)
Track: Crandon International Raceway
License – D 4.0 Dirt Road
Sim Date (Time of Day Setting): October 16th, 2021
Sim Start Time (Time of Day Setting): Noon
Session Formats for ALL nights
Split Sizes of 20
Practice – 5 Minutes (Track 0%)
Qualifying – 7 Minutes, 2 Laps
1, 6 lap heat race, 20 drivers, finishing order determines main race line-up.
3 – Minute Warmup
Feature Race, 10 laps, 20 drivers
Splits By iRating | Saturday top 20 in race week points. Supersession Points Winner = 2021 iRacing Crandon Championship Champion
https://forums.iracing.com/discussion/9228/iracing-presents-2021-crandon-championship
---
---
Podcast Housekeeping
Aftermath Podcast – Get it!
New Website – Leave Comments https://www.iracerslounge.com/
---
We are in the regular rotation… (Mike)
https://performancemotorsportsnetwork.com/
"OK TONY LETS TALK FANTASY…."
Fantasy [Tony]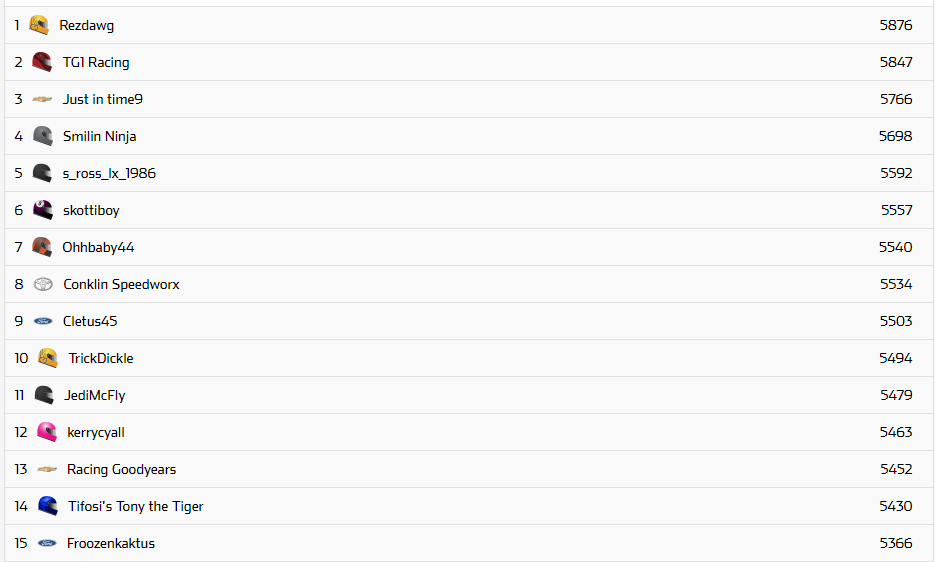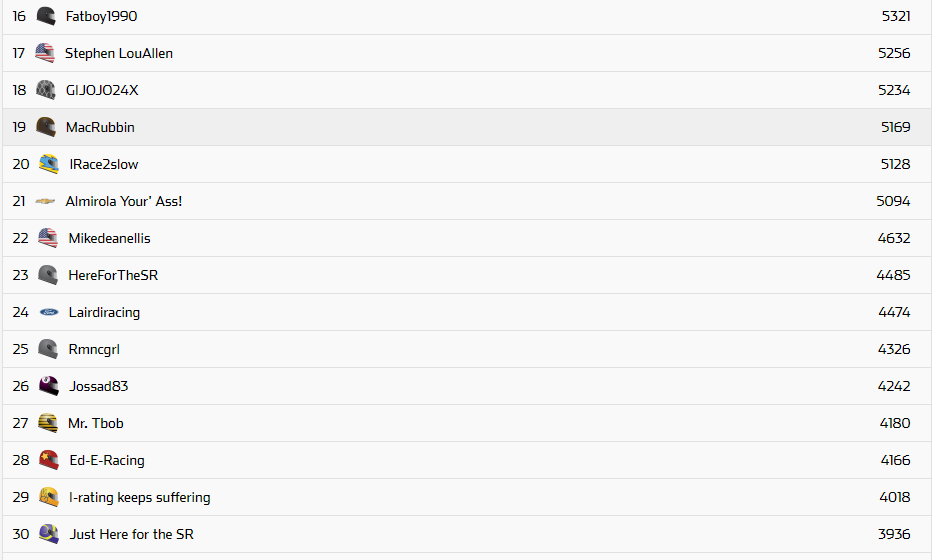 Talladega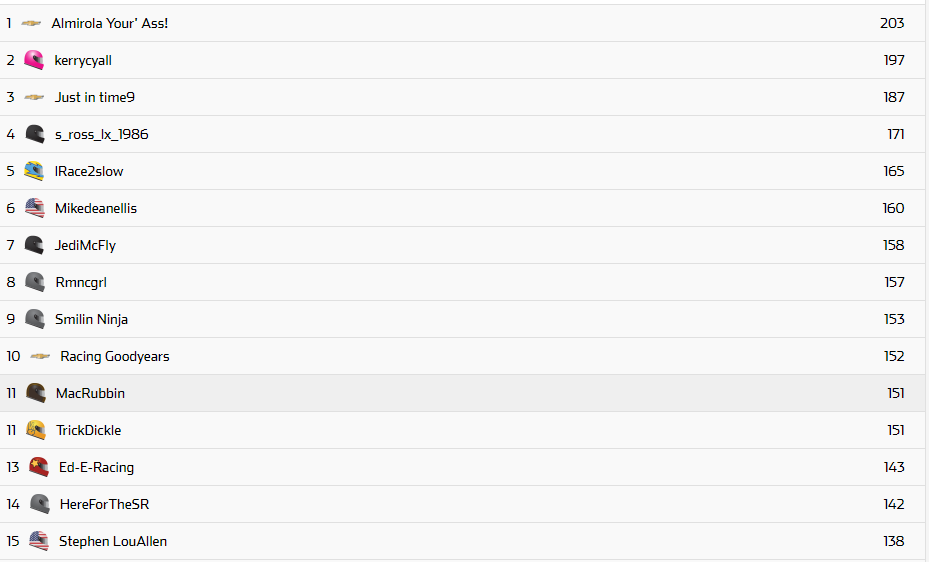 ---
---
Hardware/Software
---
---
My New Cockpit Build Thread – The iRacers Lounge Edition
Next up got from Etsy a cell phone holder.
This by turned out to be a bust because my big a@@ phone with otterbox doesn't fit in it. Well it does but you kind of have to push it down in there nice and firm.
So, it's been relegated to my candy dish. I had a concept for bolting a horizontal ring that a steel bowl could sit in where I would store my Hershey chocolates and sweet tarts. A necessary need for any oval race. I never did find the ring I was hoping for so this will suffice I can put the individual Hershey chocolates in there, maybe six at a time.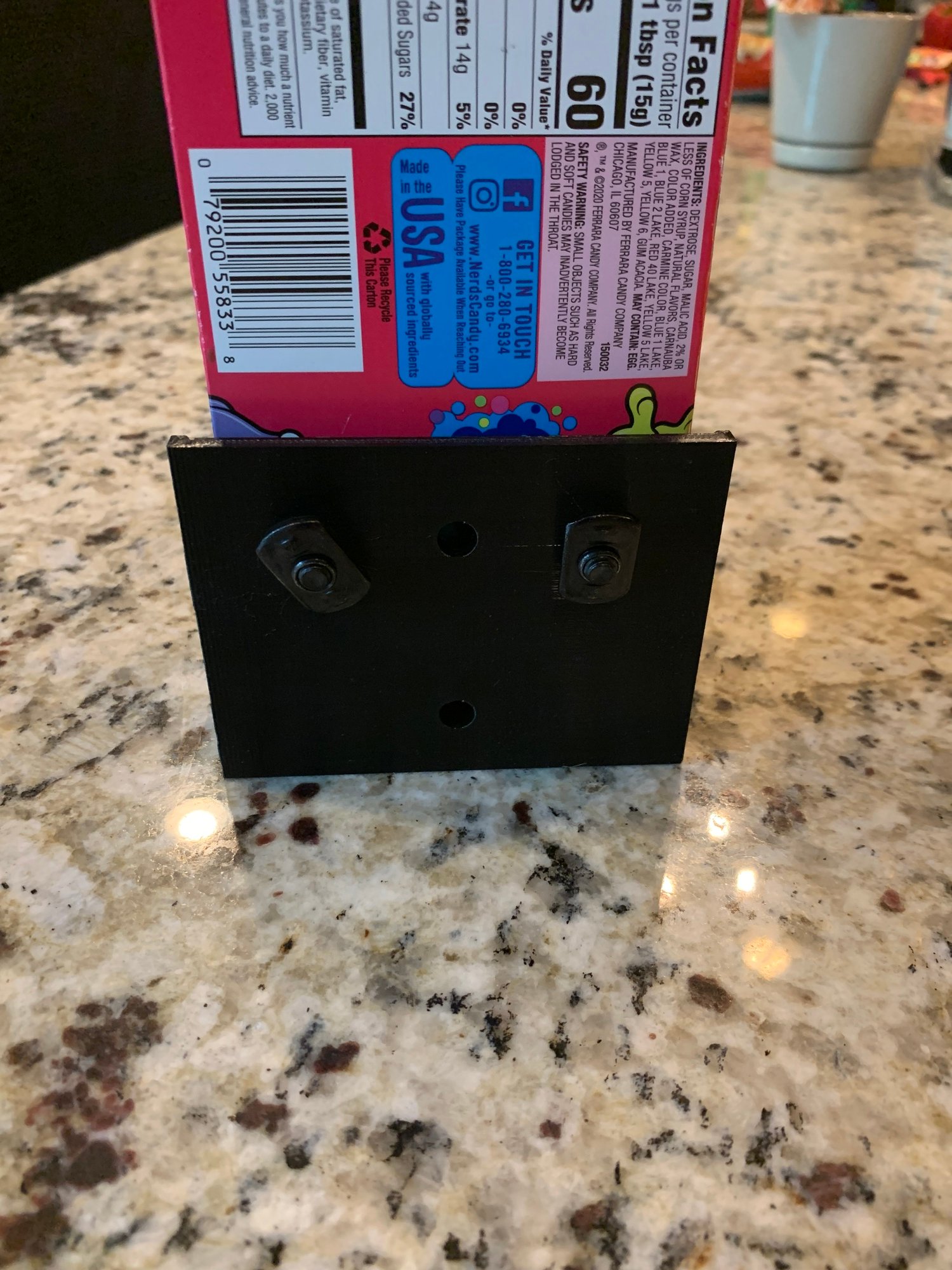 i'll probably figure out something different for the phone I've been eyeballing this but it's so darn expensive.
Got another arrival the Seat Slider… got the seat stuff from Jegs. I'm still waiting on the seatbelt though…
So far I've spent about 100 at Home Depot in two trips. Had to place another order for McMaster Carr to get smaller t nuts for the pedal mount hardware.
Most of the rig arrives Monday or Tuesday I believe I'm getting all the other stuff first…
I'm realizing that it's going to take me a long time to finish this rig…
Especially the way I want to get it done with the wiring right. I'm gonna have downtime for sure.
The power strip I ordered the run the whole thing doesn't even arrive until the 14th…
My goal is it will be self contained on wheels, all cabling is on the rig and the only thing attached to the outside world is an ethernet cable a power cable and an audio cable (to a sub)…
The other thing is where do I put the new power strip. It's got to be centrally located I intend to run my USB cables to the two phones and headphones. And those are fairly short cables. I'm kind of thinking to the underside of the computer tray somehow.
Also have my hue light strip to power. The hue hub I can plug in elsewhere I think. I'm also trying to figure out how I'm going to implement the Philips hue strip. In other words where am I going to mount it. My initial thought is behind the three monitors shining down somehow.
I have No Idea at all what I'm doing for sound yet. Guess I need to figure it out. Trying to make do with speakers I have (they're decent left and right computer speakers but no real way to mount them…) but don't know where to put or mount them. I don't think they are mountable. Might be zip tie city behind the monitors is my first reaction…
And another arrival… if there's any one thing that I'm overdoing this is probably it yeah oh my these things are huge. I was concerned that the top of the belt goes from 3 inch to 2 inch I was thinking oh that's gonna be too narrow but heck no these things are huge…
Mounting these is still an unknown… I saw somewhere where people were taking the lap and the crotch belt and attaching them together under the seat to each other with no other anchor. So I could do that. They all attached to a ring under the seat and pull on each other. But the shoulder belts because the seat is moving I think they have to attach to the seat somehow it might be weird if they're attached to the frame and I'm sliding the seat forward and backwards getting in and out…?
Got one more arrival today the computer shell from advanced Sim racing.
OK I got put together the advanced Sim racing computer tray. Very nice. I must say, the lack of offerings on this particular item I was a bit surprised about this was the only one I could find that would fit my tower and it barely fits.
This is something I'm really going to like because my computer currently sits on a piece of particle board spanned across a couple stacks of ammo boxes… #OutOfTheGhetto
I got another piece of the puzzle today, these are the brackets to hold the power supply for the wheel. It's going to be either mounted under the seat or under the pedals likely against the frame.
I had to place a second order to McMaster Carr for some M6 T nut packages as I had only ordered M8s. I have two extra which will be perfect for the shifter Install.
So now I was able to install these metal round coupler things that the pedals will hang off of.
i've only hand tightened it as I'm sure they'll need to be adjusted once I put the pedals on them.
Well the rig finally arrived and the official build begins!
Wheels on the front a bit funky but functional I got them diagonal with two bolts in the same slot but it's still rocksolid and the weight distributed directly above the wheel spoke.
I just love the idea that everything is up off the ground and all cabling self-contained.
I got a lot more done than I thought I would tonight.
Well after work today I said in again this time to complete the back half and get the seat done.
The seat slider first even though I watched the Videos I still installed it upside down.
After several times of taking it apart and putting it together I finally figured it out. Then I figured it has to be done in a certain order, put the seat brackets on first then the slider onto the frame then the seat onto the bracket.
And now the seatbelts. Initially I just gathered all the ends underneath the seat and zip tied them. After many experiments I ended up with the lap belts tied separately together with a gap because they were too short. Than the crotch and shoulder belts were zip tied together. Got everything to the right length and it's nice and snug it stays tight even when the seat slides.
I love the belts are way more comfortable than I thought they would be. The black and yellow things on the shoulders are quick release and quick tighten…
Well I pushed forward with the wheel install. Of course I install the brackets on backwards but it kind a looks like a fanatec tie fighter…
I got it straightened out and installed and mission accomplished there's no play in the seat or the wheel.
With the seat all the way back the wheel is in the perfect position so I'm not sure the seat slider helps me, or would not be used unless I slide everything forward. Ugh.
My plan for the computer tray isn't going to work as the wheel is in the way. So I will have to modify that as we go. Going to get some sleep and start on the pedals tomorrow.
---
---
Fanatec Bentley Sim Racing Wheel | First Look
Chris Haye on his YouTube Channel reviews the new Fanatec Bentley Sim Racing Wheel
https://www.youtube.com/watch?v=oJW99mY2gT0
---
---
Cube Controls pedals SP01 in action
Simracing PC posted a video of the Cube Controls SP01 pedals in action from the Sim Racing Expo
https://www.instagram.com/p/CUM6oOil9e8/?utm_medium=share_sheet
---
---
P1-3 Pro Inverted
Simcoaches offers the P1-3 Pro Inverted pedals for just under $1900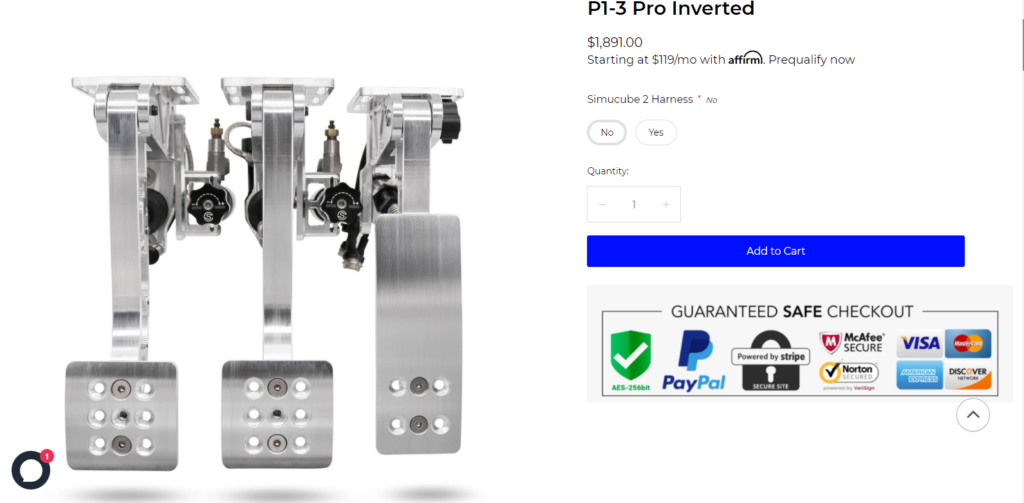 https://simcoaches.com/products/inverted-p1-3-sim-pedals
---
---
Fanatec CSL DD Explained Part 1: Introduction
Fanatec posted on YouTube a video of the new CSL DD as explained by the manufacturer. Other user created review videos are pouring in as the units are being shipped to market.
https://www.youtube.com/watch?v=ydt5wEka7YQ
Fanatec CSL DD Review
Fanatec CSL DD Review
https://www.treq-sim.com/2021/08/24/fanatec-csl-dd-review
---
---
Moza DD Wheel Base
Moza offers a 16 and 21NM direct drive wheel bases and recent guest Dave Cam has picked one up for testing.
https://www.facebook.com/102813217818342/posts/591341698965489/?d=n
https://simracing-pc.de/2021/09/27/moza-racing-direct-drive-base-wheels-pedale-dash/?fbclid=IwAR2H2IoLQG6JnHS3nukELxb9HHs8kLrFBW5mR7857nw7Y1bZ4ygaiO7e6PQ
https://twitter.com/davey_cam/status/1445347393101307916?s=11
---
---
Sorry folks, the tech supply crisis just got a lot more complicated
Slowdowns in the tech supply chain may continue and become even more complicated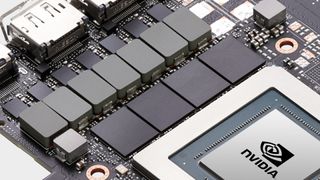 https://www.pcgamer.com/sorry-folks-the-tech-supply-chain-just-got-a-lot-more-complicated/
---
---
DSD Conversion Frames for Wheel Mounted Panels
If you have a DSD Wheel Mounted Panel and want to replace the frame or migrate to a new wheel platform, you can order frames for each type of panel we manufacture.
https://derekspearedesigns.com/replacement-parts.html?mc_cid=1aa39b6ced&mc_eid=992fef7c06
---
---
F1 Motion rig
Listener Troy Eaton sent in this video of a DIY 80/20 formula style seating position rig
https://www.reddit.com/r/simracing/comments/pxrozr/pic_of_the_updated_f1_motion_sim/?utm_source=share&utm_medium=ios_app&utm_name=iossmf
https://www.youtube.com/watch?v=4r08pqXO-wo
---
---
The TS-PC RACER
To celebrate the 70th anniversary of the Ferrari® brand, the TS-PC RACER now comes with a replica of the wheel of the real Ferrari 488 Challenge car to create the TS-PC RACER FERRARI 488 CHALLENGE EDITION.
---
---
Story Title
---
---
Simvertex V2 Sim racing Shifter
https://www.youtube.com/watch?v=RLcLAHnxUtA
https://www.aliexpress.com/item/1005002971138955.html
---
---
SIMAGIC SEQUENTIAL SHIFTER
https://simracingpros.com/products/simagic-sequential-shifter?variant=37958364364974
https://www.youtube.com/watch?v=-qZo__0iVyo
https://www.youtube.com/watch?v=1SKkQMT4Muw
---
---
Something new coming
Precision Sim Racing posted on their Facebook page a teaser of a new motion system coming to their lineup.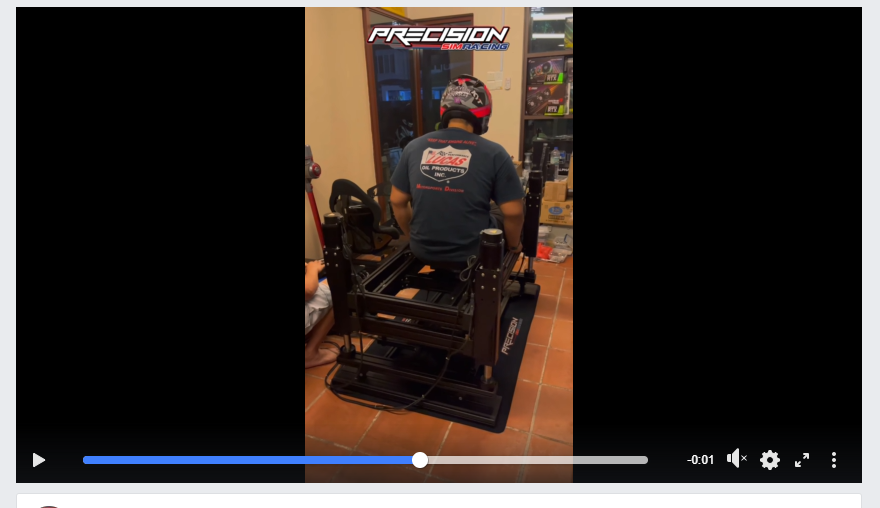 https://www.facebook.com/watch/?extid=NS-UNK-UNK-UNK-IOS_GK0T-GK1C&v=658074488492705
---
---
Results
NASCAR iRacing Series
Fri open: Tally
Ellis – p2 – Gradually made my way forward, pretty much stayed in the top two packs – had great gf pit stops both times the second one i came out side by side with the leader he was no the outside so when we got to turn 1 I had to give… That was the winning move.
Greg – p31
Hall – P wrecked, got put a lap down cause a car passed me under the yellow and hit me out of line.
Sunday Open

Hall – p 12, weird pit strat had me tail end of lead pack, leading pack. Part of pack stops to pit, other part of pack passes me under the yellow line then a slower car that just got lapped with me pulled across my nose trying to get in line to late. Blames me, I blame him. See him next time on the track. Usually if they hit your wheel, the moved to late.
Sunday fixed

Mike -p P4. I was P2 coming out at four to the checker but had no help as I pulled out to try to win, This next video is a near miss when Tom gets turned

Tyler – P7
Brian – P15 Typical Talladega race with lots of cautions.
Tom – pWrecked out – got turned from behind running 4th.
Hall –p wrecked lap 1, spun in a place i didn't get loose for an hour of practice
Rochette P5 I AM THE 2021 TIFOSI NiS TOAD KINNNGGG. BOW DOWN out of the 7 weeks of Road fun i have Top 10'd everyone with 5 of the 7 Top 5.
---
---
League / Hosted Races
FastTrack Sim Racing League –
David – p16, loaded wrong set
Greg p
Mike – p4
Tony- P14 was taken out on GWC in 8th. Didn't rochette the pit stop while others did
Stephen – p
Hosted – Chris MacGuire

Ellis – gen5 at tally
SS at Oran
OBRL ARCA Series

Brian USA Speedway P8 Not a bad run. Hard to pass. One caution early in 100 lap race and cars were running out of fuel on last 2 laps
OBRL Aftermath Truck Series
???? ???? Dwayne McArthur in the REG Customs #97 Wins The Iracers Lounge The Aftermath Podcast Nascar Truck Series at Charlotte Roval
Eddie Jones #14 Jones Signs Finished 2nd
Steve Thomson #67 Ridetv Finished 3rd
Brian P12 Good turnout of 35 cars for a road course. Had to start in the pits because of high IPL. Moved forward ost of the race. Kept clean and had 0 incidents.
---
---
Final Thoughts
---
---
Words Spoken in Closing Audio Clip -""Thank you for listening to the iRacers Lounge podcast make sure to go subscribe to us on iTunes, SoundCloud, or Google Play, Facebook & Twitter, See You On The Track ."
TITLE IDEAS
ToadyDega
.
.
Description
Welcome along as we celebrate 300 episodes of the iRacers Lounge Podcast. As we reflect on this achievement Mike's gonna walk thru his progress in his new sim rig build and we'll continue with all of the stories and reviews you've come to expect for the 300th time! So strap in and try to keep up with us on the iRacers Lounge Podcast.
iRacers Lounge Podcast is available on iTunes and Apple's Podcasts app, Stitcher, TuneIn, Google Play Music, Spotify, Soundcloud, Podbean, Spreaker, Podbay, PodFanatic, Overcast, Amazon, and other podcast players.
Sponsors:
www.grid-finder.com
Hosts:
Mike Ellis – twitter.com/MikeDeanEllis
Tony Groves – www.twitch.tv/SirGroves
Chris Scales – twitter.com/JediMcfly
David Hall – www.twitch.tv/mixmage
Greg Hecktus – twitter.com/froozenkaktus – www.twitch.tv/froozenkaktus
Tony Rochette – twitter.com/TonyRochette
Adam Josselyn- twitter.com/Jossad83
Brian Maccubbin – www.twitch.tv/MacRubbinsRacin
Tom Dreiling –
Kyle Pendygraft – twitter.com/LoudPedalGaming
Links:
Old Show Notes – bit.ly/2CFeArM
Facebook – www.facebook.com/iRacersLounge/
Twitter – twitter.com/iracerslounge
Instagram – instagram.com/iracersloungepodcast/
Web (New Show Notes) – iracerslounge.com/