5/20/2021 – Wanna see my COTA? – Episode 0280
iRacers Lounge Podcast – Conversation Topics
Brought to you by:

Opening Audio Clip -"Your listening to the iRacers Lounge Podcast where we discuss everything iRacing, in a casual setting, enjoy."`
READ THIS AT THE TOP OF EACH SHOW!!!
Welcome to the iRacer's Lounge, I am your host "XXX". iRacer's Lounge is a podcast for the iRacer, where we talk all things iRacing in a casual setting.
Joining me are the usual characters, ————
---
---
Introduction
On the show this week, we welcome back Evan Possoco, the voice of eNascar, to review it's first ever visit to The Circuit of the Americas. The Pro Invitational was also at COTA and we'll review their race and much, much more coming right up.
And remember you can follow along with us on your mobile device in real time as you listen to the show and see for yourself all of the great topics and products we'll discuss by visiting iracerslounge.com and selecting show notes. Hope to see you there..
---
---
TITLE SPONSOR READ:
After a complete new build, Grid Finder 2.0 is here and better than ever. Along with a brand new look, Grid Finder has made league searching even easier and much more enjoyable by adding more search options for the driver and giving league owners a better way to promote their league features and making it easier to connect with drivers with the brand new "join now" button. Make sure to check out www.Grid-Finder.com and find your place on the grid
Visit www.grid-finder.com to find a league, or to upload your own!
Grid Finder – "The home of online sim racing leagues"
---
---
Topics
---
---
Coke Race – COTA
Late start – word was they restricted the session to 'pro's' only, but it was 'Road Pro's Only', so there were only two drivers who could get into the server…
Grid – Dejong 3 tenths over bobby, salas, bowlin, ottinger, leahy, mullis , vincent,
@bobbyzalenski gets turned in turn 1! Ottinger locked them up just a bit getting into 1 and spins bobby now 13ths. Puts mullis up to 2nd bowlin leahy wilson vincent hurst reynolds manes conti
<<<<Evan speaks….>>>>
Trouble! @rayalfalla gets CLOBBERED by @AshtonCrowder! Crowder is done for the night. Alfalla got help from @LoganClampitt_,
Excellent run so far for @blakereynolds66, up from 21st to 7th after the early chaos. He's the biggest move of the race so far at lap 9.
<<<<Evan speaks….>>>>
On the opposite side of things, @NickOttinger is having the toughest night after starting in fifth, he's running 37th, beaten and battered.
LAP 11: @MitchelldeJong1 leads @jmullisracing by about 4.5 seconds.
Twenty to go – stops starting – 19 to go a bunch of the top ten pit – including bobby
Leahy on cold tires after pitting drives it nose 1st into the barrier and loses maybe 10 seconds
<<<<Evan speaks….>>>>
Got a good look at pit lane and the temporary pit wall needed for nascar
<<<<Evan speaks….>>>>
Finally, @MitchelldeJong1 is one of the last to pit, and he retains the lead.
15 laps remaining at COTA.
11 to go: @GarrettLowe_6 just bullied @MikeConti5 out of the way for 12th.
<<<<Evan speaks….>>>>
Virtually perfect day from @MitchelldeJong1 as he takes 10 laps to go at COTA.
He's got more than 11 seconds on second place. Mullis then Bowlin – @bobbyzalenski running in fourth, while a fantastic outing for rookie contender @swilson3_, running in fifth.
<<<<Evan speaks….>>>>
Alfalla brings it behind the wall, he'll finish 38th today.
How about that three-wide action between @vicente_salas14, @DDuval42, and @BBryant53?
<<<<Evan speaks….>>>>
Make it eight different winners in eight races in 2021.
@23XIRacing's @MitchelldeJong1 goes flag to flag to win his first career eNASCAR Coca-Cola iRacing Series race at virtual @COTA.
<<<<Evan speaks….>>>>
https://www.enascar.com/standings/
---
---
Tidbits on NextGen Car
In the forums we see some members sharing their thoughts on the Next Gen Car as well as iRacing staffers answering member questions and giving some background of its development on iRacing.

https://members.iracing.com/jforum/posts/list/25/3804543.page#12492983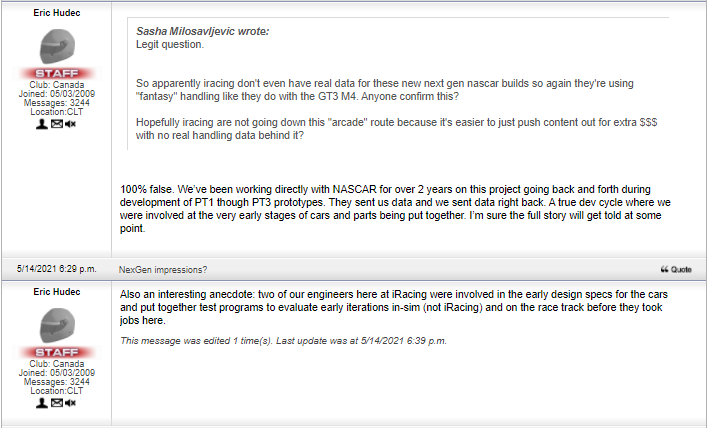 https://members.iracing.com/jforum/posts/list/25/3804543.page#12493003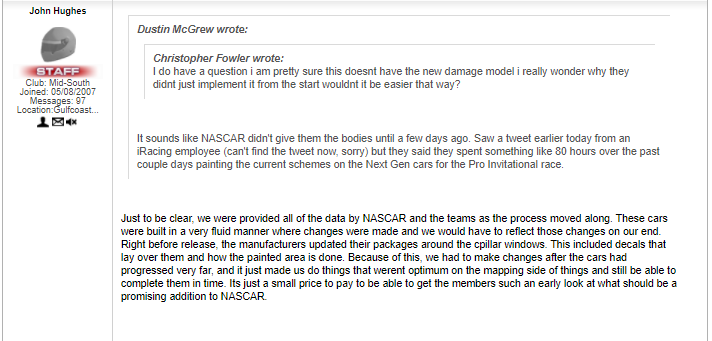 https://members.iracing.com/jforum/posts/list/25/3804543.page#12493740
Then a POLL – Is NASCAR Going the Right Direction?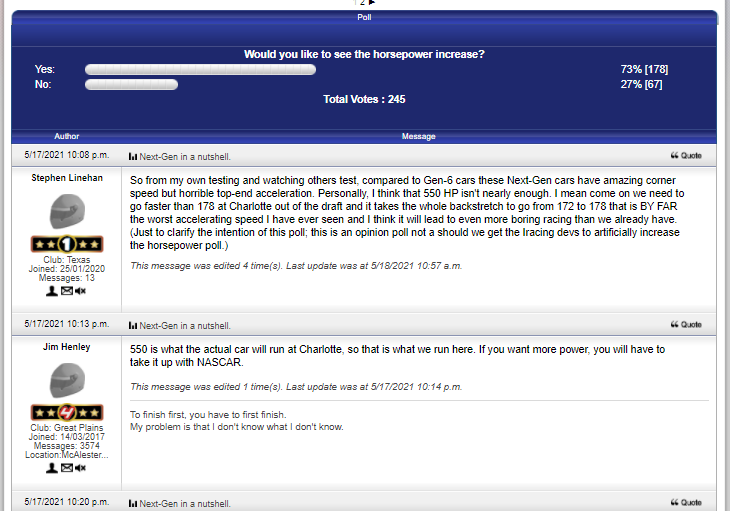 https://members.iracing.com/jforum/posts/list/3806109.page#12495682
---
---
Come Back Discount
iRacing is offering a 25% off discount for members returning to the service.
https://www.facebook.com/48224116084/posts/10159523963561085/?d=n
---
---
RYCO eNASCAR Setups – Signing Of Quin Houff
Ken Biron announced on the forums that Ryco Motorsports are joining with Nascar Cup driver Quin Houff who will be using their setups to test and practice each week for his Nascar races along with running their setups in official races.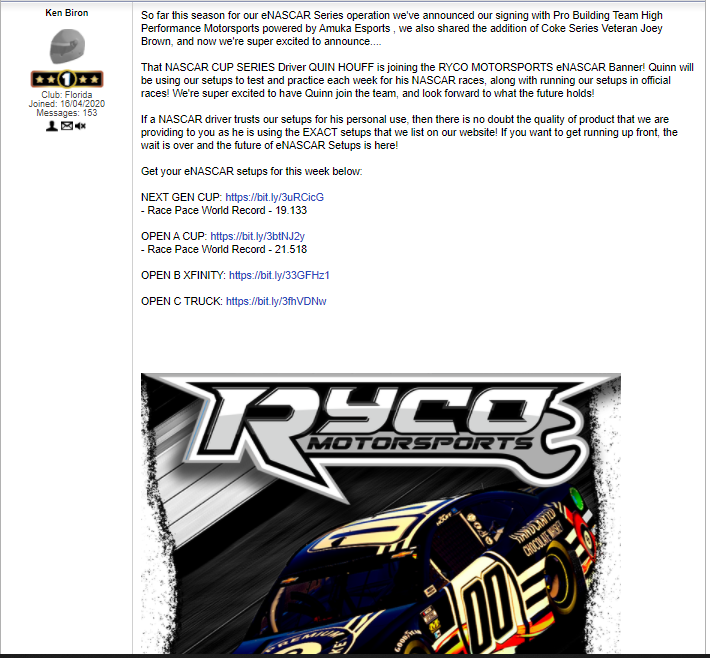 https://members.iracing.com/jforum/posts/list/3805693.page#12492907
---
---
Why the Change at COTA?
Eric Hudec posted in regard to the COTA track surface updates that "Ostensibly the track has gained grip. We change our macro surface roughness parameters to be more appropriate to the actual surface. It's a relatively new asphalt showing little ageing and, really, could make use of driving a bit 'younger' than our baseline values provided. "

https://members.iracing.com/jforum/posts/list/3805588.page#12491852
---
---
Not Top 10 Highlights
iRacing released the May 2021 edition of 'Not Top 10 Highlights' video on their Youtube Channel
https://www.youtube.com/watch?v=47vjhLa5_pg
---
---
Alfredo's iRacing Body Panels
The Racing Warehouse, a site that sells all kinds of specialty racing items, was offering Anthony Alfredo's iRacing body panels from his race at Martinsville.
---
---
Next Gen Favs
On the Nascar Website in the Galleries menu they have posted some of the best paint schemes for the Next Gen Cup painted for iRacing.
https://twitter.com/steveluvender/status/1394349954701922305?s=11
https://www.nascar.com/gallery/some-of-the-best-next-gen-schemes-painted-for-iracing-by-fans/#photo-1
---
---
More Josh Rogers Awards
The accolades keep coming for Porsche eSports Supercup Champion Josh Rogers as he takes home the Overtake Award and getting an awesome Arai Racing helmet as a prize.
https://twitter.com/jkrogers_92/status/1394265821191487488?s=11
---
---
Release Notes
iRacing dropped the release notes for season 2 patch 6 hotfix 1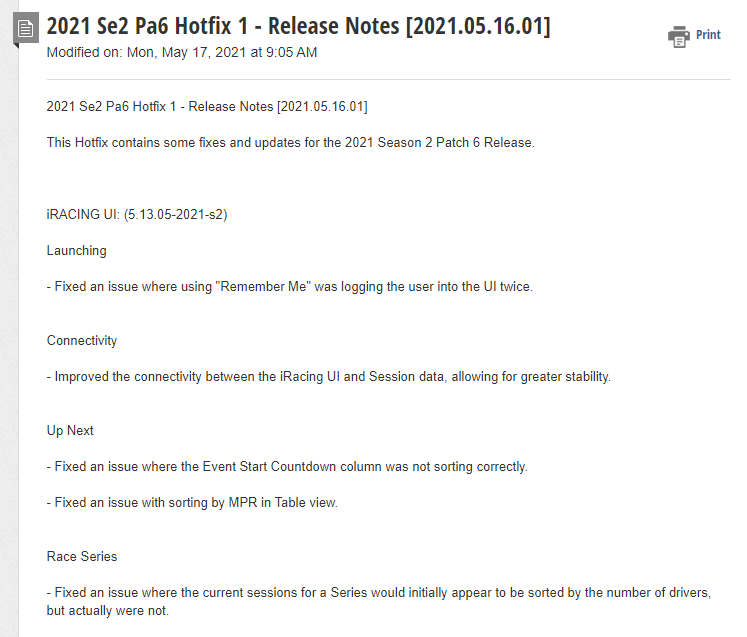 https://twitter.com/iracingsupport/status/1394278027387932681?s=11
https://support.iracing.com/support/solutions/articles/31000160687-2021-se2-pa6-hotfix-1-release-notes-2021-05-16-01-
---
---
Indy 500 Sets
Greg West announced on the forums that iRacing is dropping some competitive race and qualifying setups for the upcoming iRacing Indy 500 open in order to help level the playing field and help[ avoid having to rely on 3rd party setups.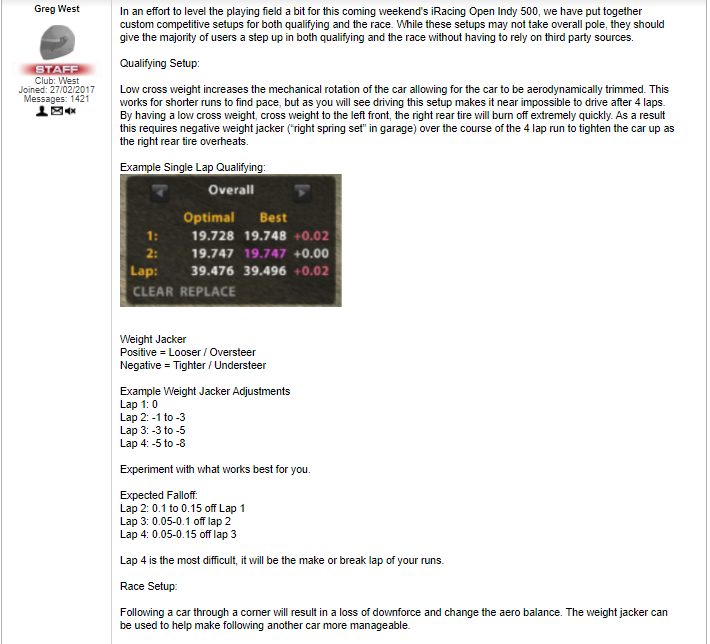 https://members.iracing.com/jforum/posts/list/3806069.page#12495208
---
---
Majors 500
The Majors Series posted a video of the finish of their Majors Series 500 that concluded with an incredibly narrow margin of .002 seconds
---
---
NASCAR Pro Invitational
With 16 laps to go in the Pro Invitational, in car analyst Clint Bowyer makes a bad late turn into pit road and makes hard contact with the leader, James Davidson.
James Davidson claimed a commanding victory in the Pro Invitational Race at COTA. The Austrailian driver and explained how he got it done claiming "This is my wheelhouse."
https://kickinthetires.net/esports/davison-dominates-pro-invitational-at-virtual-cota/
---
---
iRacing IROC Series
Team member Kyle Pendygraft's iRacing IROC Series begins on Thursday, May 27th with a chance to win a Trak Time Entertainment rig with triple mount stands.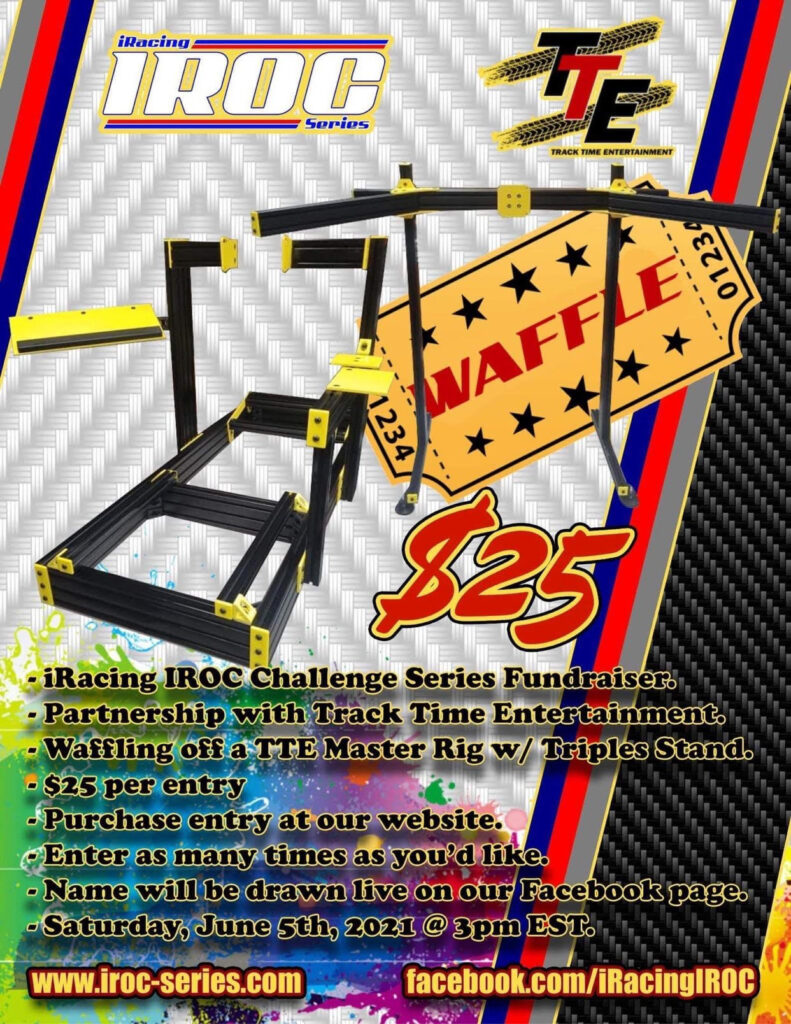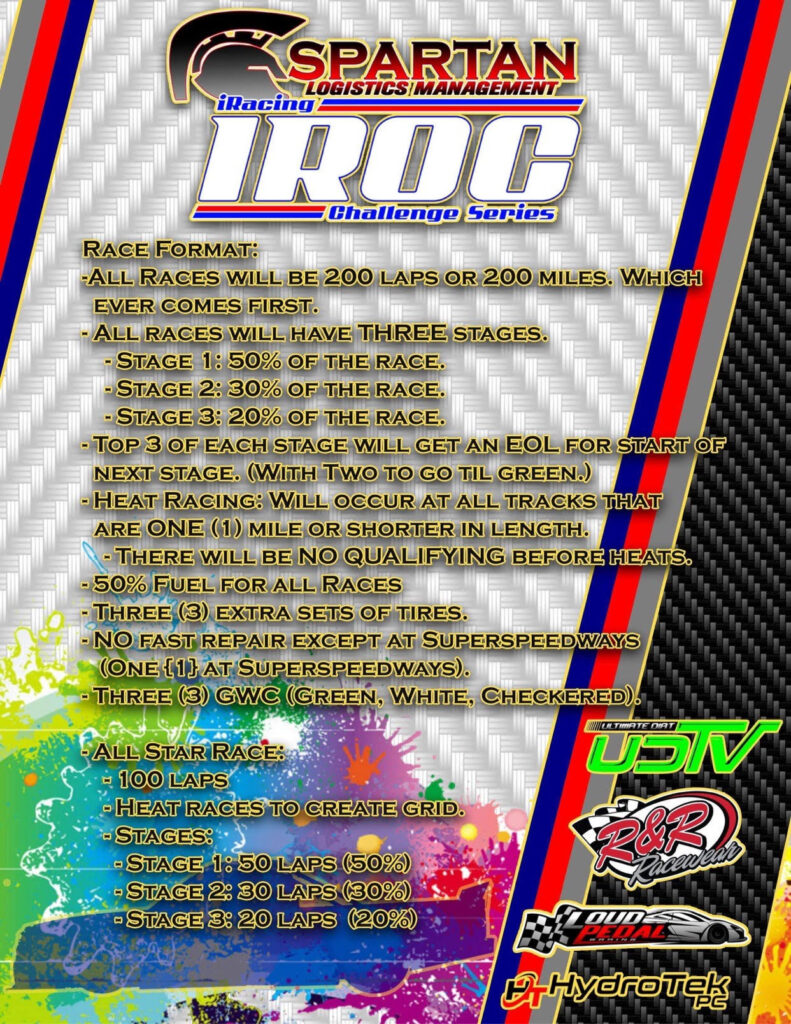 ---
---
Charity Race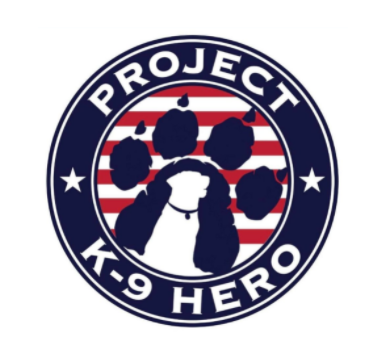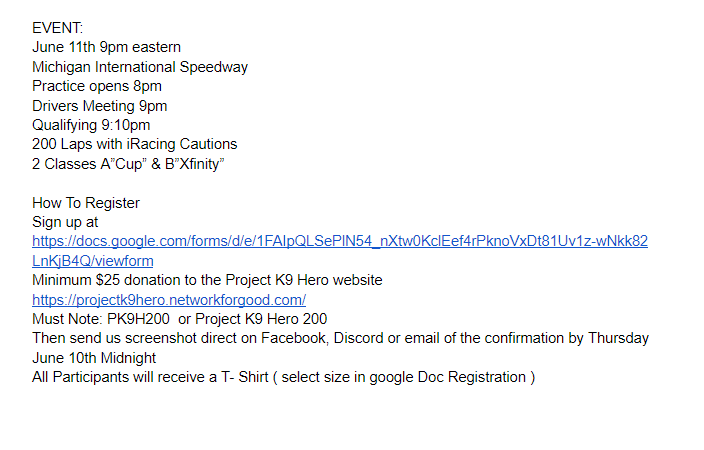 https://docs.google.com/forms/d/e/1FAIpQLSePlN54_nXtw0KclEef4rPknoVxDt81Uv1z-wNkk82LnKjB4Q/viewform
---
---
Podcast Housekeeping
Aftermath Podcast – Get it!
New Website – Leave Comments https://www.iracerslounge.com/
You've heard us talk about the Spotlights. Those of us that have them here at iRacers Lounge absolutely love them. So much, we have become an affiliate! With the roll out of their new Spotlights Pro. Here's your chance to check them out, you won't be disappointed. Enter coupon code: IRACERSLOUNGE for 10% off!!
https://www.facebook.com/1565571990374134/posts/2832513123680008/?d=n
---
We are in the regular rotation… (Mike)
https://performancemotorsportsnetwork.com/
---
---
Fantasy [Brian]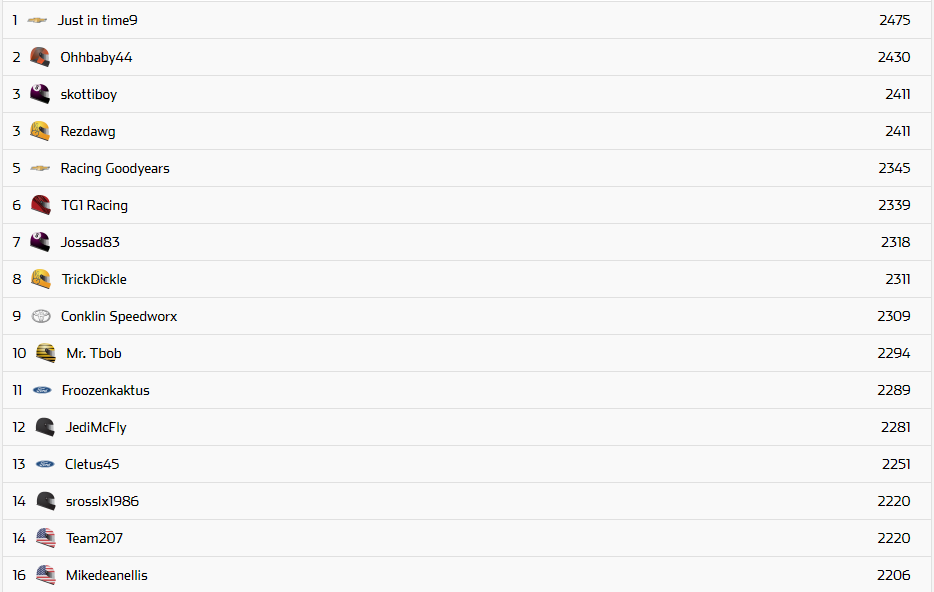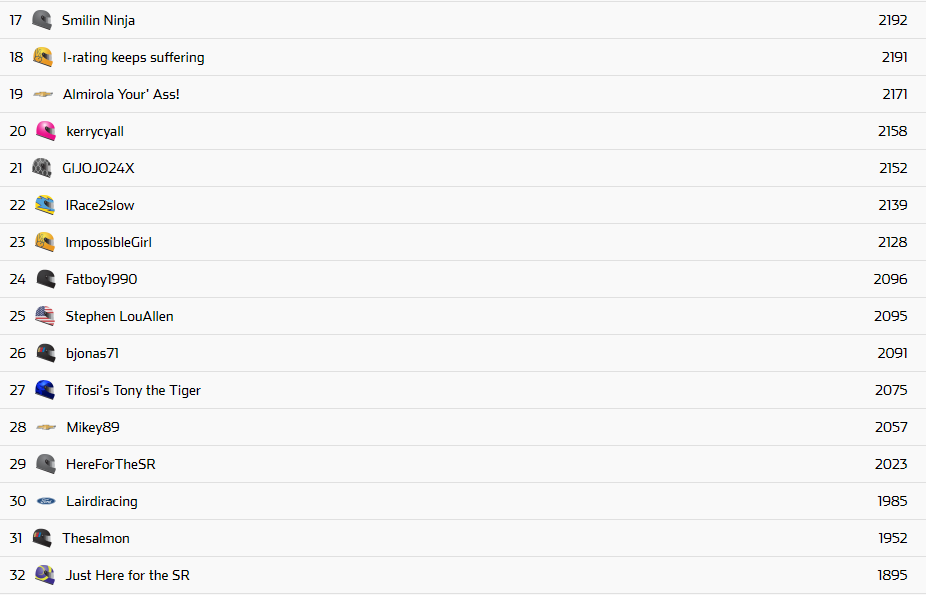 ---
---
Hardware/Software
---
---
DK2 Motion System
Peter Sosinski announced in the forums that the next batch of DK2 Pro Motion System will be available at the end of the month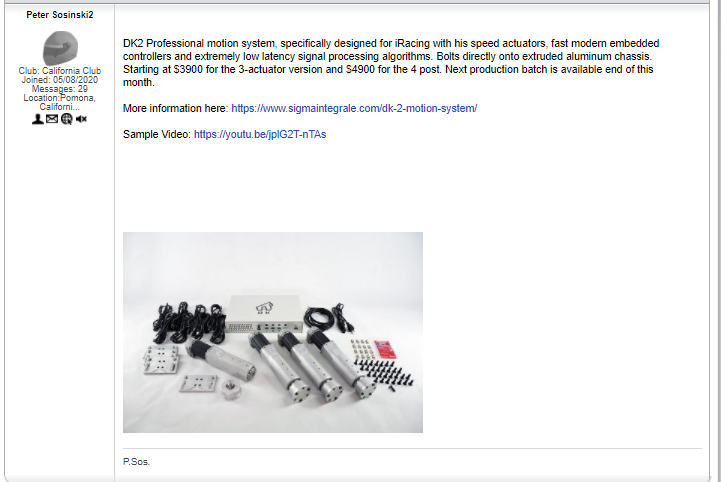 https://members.iracing.com/jforum/posts/list/3805539.page#12491189
https://www.youtube.com/watch?v=jplG2T-nTAs
---
---
Sim Center Opening
we are a Simulator Race Facility that offers 10 full motion simulators for the public. Go to Our Simulators page to book your simulator or group event today.
https://www.facebook.com/110112660785834/posts/301581164972315/?d=n
https://www.instagram.com/p/CO8sMEmD9zT/?igshid=1agu1sm8mthpf
---
---
Vive Pro 2 Announced
Vive has announced the release of their upcoming Pro 2 VR Headset
https://members.iracing.com/jforum/posts/list/3805304.page
https://www.vive.com/ca/product/vive-pro2/specs/
---
---
Ambient Lighting Project Update
Mike updates us on the progress of him ambient lighting project
---
---
IRFFB – Yes or No
Sent in by Jason Bosse- Tommy Brandon posted a Youtube video on irffb (iRacing Force Feedback) saying "I knew about it in 2019 when i joined but never tried irffb. Maybe i should have. Long intro…just go to 21 minute mark."
https://www.youtube.com/watch?v=WZtiw35ZJIU
---
---
DRE New Beta
DRE (Digital Race Engineer) has a new beta out that is an upgraded communication system for info in your racing session
https://members.iracing.com/jforum/posts/list/3805920.page#12493603
https://www.thedigitalraceengineer.com/
---
---
Company Review
The Axsim's Formula Simulator racing cockpit for max realism coming in at 36,000pounds
---
---
Mike Forgot
Here are a couple of sequential shifters that we forgot from last week's reviews. One is the Derek Spears Designs Pro Sequential Shifter for $300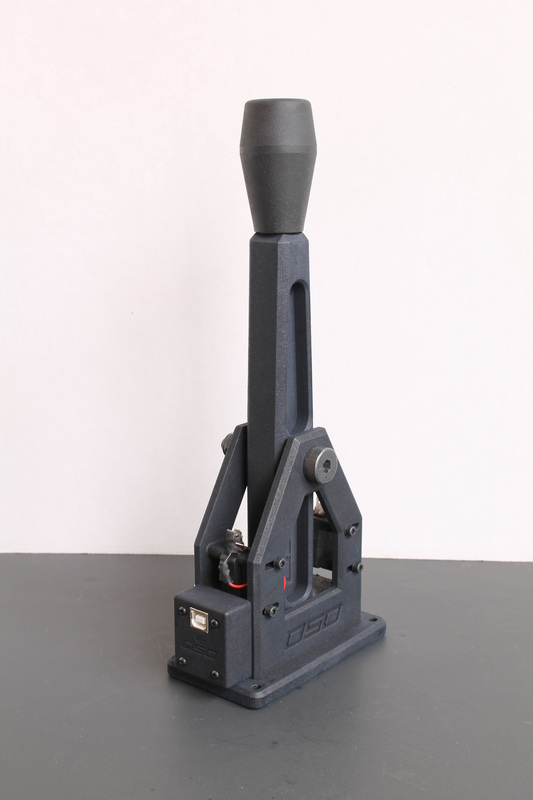 http://derekspearedesigns.com/2015-dsd-pro-sequential.html
Simworx
Also the Simworx sequential shifter coming in at 560aud
https://www.simworx.com.au/controls/sequential-shifter
---
---
Stint Analyzer
The Stint Analyzer is a analytics program to help you break down your race sessions
https://github.com/stintanalyzer/stintanalyzer/wiki
https://members.iracing.com/jforum/posts/list/3806414.page
---
---
Company Review
The UGX-Shop has tube and 80/20m rigs to complete your setup
---
---
Results
NASCAR iRacing Series
Fri open: Dover
Ellis – – dnf. Got the queued on the last lap had a meatball because of other fools who can't control their car had a top-10 going.
Hall = P9 strong car at end
Rochette P-Ran Indy
Steve – pole. Then lead some laps then got taken out
Sunday Open

Hall – p 11 Likely would have a top 10, but car infront of me spun on a yellow flag pit right in front of me. 90 seconds of damage
Tom D – p don't know. Was trying some crazy tire ideas to keep an extra set in case of late cautions. Got taken out from some net code and a driver that couldn't wait.
Sunday fixed

Mike -pI didn't finish the Dover race I messed up with about 40 to go the guy in front of me hit the wall I tried to escape but there was a guy below me and I killed him , and the field
Brian – Pwreked. As I listen to Brian and Tylers race, I felt like there should be circus music playing in the background (Mike) Managed a P19 thru pure persistance

Tyler. Pwrekd, stunk up the show with a 17th place finish. Hit everything but the pace car since it was hiding behind a wall. Even tagged my own teammate. Bye bye to Miles the Monster as he was not kind to me. Sry Bmac for the spin
Race: Cota
Wed Open:

Hall -p21 Got rear bumper and spoiler destroyed before green even came out. Same guy dive bombs me on lap 1, dive bobs and wrecks out another car, then spins him self out. He finished last. Racecraft pro eh?

Ellis – p16 – 20x – great run – had no idea I would not get DQ'd…

Rochette – P7 stayed clean helluva battle last 2 laps for p7 with leader right behind us

Thurs Open

Ellis – p.10 out of 22 – qualified 14th – was 10th by 1st lap – spun off a few times got a drive thru w 4 to go and didnt actually lose any spots on that penalty…
---
---
Official Series
Rochette P wrecked in all 3 of my races
---
---
League / Hosted Races
Pacific Majors – INDY 500

Hall – p wrecked. Quick repair would not work.
Greg – running PIII allowed car takes us out.
Tom – p12. Got into an accident on lap one. Used up my one quick repair. Had to play defensive racing the rest of the race. Was able to miss everything around me. I'll take the 12th place finish
Premier Race Network Cup:

Tom D – P1 – qualified 9th. Dint not have get off speed (guess that's been my season). Was able to work myself to the lead just before lap 50 when the top 5 guys decided to make a 3 pit stop race. My long run speed was great, so I decided to do a 2 stopper. I was able to lap the field and take home my 2nd win of the season.
OBRL iRLP Aftermath Truck Series

? Congratulations Josh Robinson #23 Winning The Aftermath Podcast Truck Series Race at The Circuit Of The Americas
Dwayne McArthur #97 Finished 2nd
Eddie Jones #14 Finished 3rd
---
---
Final Thoughts
---
---
---
Words Spoken in Closing Audio Clip -""Thank you for listening to the iRacers Lounge podcast make sure to go subscribe to us on iTunes, SoundCloud, or Google Play, Facebook & Twitter, See You On The Track ."
TITLE IDEAS
Wanna see my COTA?
.
.
Description
Evan returns this week to cover the inaugural Coke Series Race at The Circuit of the Americas in a dominating road race. The real Nascar drivers are back at COTA as well and we'll cover that as well. And in Hardware we found a rig for the everyday racer that comes n just under 150k, so order yours today! All this and more on the iRacers Lounge Podcast.
iRacers Lounge Podcast is available on iTunes and Apple's Podcasts app, Stitcher, TuneIn, Google Play Music, Spotify, Soundcloud, Podbean, Spreaker, Podbay, PodFanatic, Overcast, Amazon, and other podcast players.
Sponsors:
www.grid-finder.com
Hosts:
Mike Ellis – twitter.com/MikeDeanEllis
Tony Groves – www.twitch.tv/SirGroves
Chris Scales – twitter.com/JediMcfly
David Hall – www.twitch.tv/mixmage
Greg Hecktus – twitter.com/froozenkaktus – www.twitch.tv/froozenkaktus
Tony Rochette – twitter.com/TonyRochette
Adam Josselyn- twitter.com/Jossad83
Brian Maccubbin – www.twitch.tv/MacRubbinsRacin
Tom Dreiling –
Kyle Pendygraft – twitter.com/LoudPedalGaming
AJ Prichett –
Links:
Old Show Notes – bit.ly/2CFeArM
Facebook – www.facebook.com/iRacersLounge/
Twitter – twitter.com/iracerslounge
Instagram – instagram.com/iracersloungepodcast/
Web (New Show Notes) – iracerslounge.com/