7/20/2023 – Race Long & Prosper – Episode 0392
iRacers Lounge Podcast – Conversation Topics
Brought to you by:
---
---
Opening Audio Clip -"Your listening to the iRacers Lounge Podcast where we discuss everything iRacing, in a casual setting, enjoy."`
READ THIS AT THE TOP OF EACH SHOW!!!
Welcome to the iRacer's Lounge, I am your host "XXX". iRacer's Lounge is a podcast for the iRacer, where we talk all things iRacing in a casual setting.
Joining me are the usual characters, ———— 
---
---
Show Introduction
Coming up on the show today, we'll see what plans a Formula 1 Champion has in the world of Sim Racing. We'll look at the little known history of Karting in iRacing, and what are the worst pit roads in the sim. And in Hardware we check out a PC build that will have you running to find one for yourself.
And remember you can follow along with us on your PC or mobile device in real time as you listen to the show and see for yourself all of the great topics and products we'll discuss by visiting iracerslounge.com and selecting show notes. Hope to see you there..
---
---
Topics
---
---
Not Just a Game
In an interview with F1 Champion, Max Versatppen he talks about what he'd like to do in sim racing after his F1 career is over, saying, "Some people think it's a game, but it's not."
In another set of videos, Max gets involved in a sim racing incident that mat get a ban.
https://www.bsimracing.com/max-verstappen-disqualified-from-sim-race-for-retaliating/
https://www.gpfans.com/en/f1-news/111659/max-verstappen-spa-grand-prix-sim-racing-disqualified/?fbclid=IwAR3IyRu99glvKkdIsL2QzD52FMdwsTqzfSOQ8X7fwPvSu30m7–oVEfmgMg
https://forums.iracing.com/discussion/45225/aw-max#latest
---
---
Winning with Style
Alex Horn posted a Twitter video of a spectacular way to take the checkered flag at Lime Rock Park
---
---
iRacing Karting
DJ Yee J posted a video that talks about the possibility, and little known history of Kartng in iRacing
---
---
Off Road Championships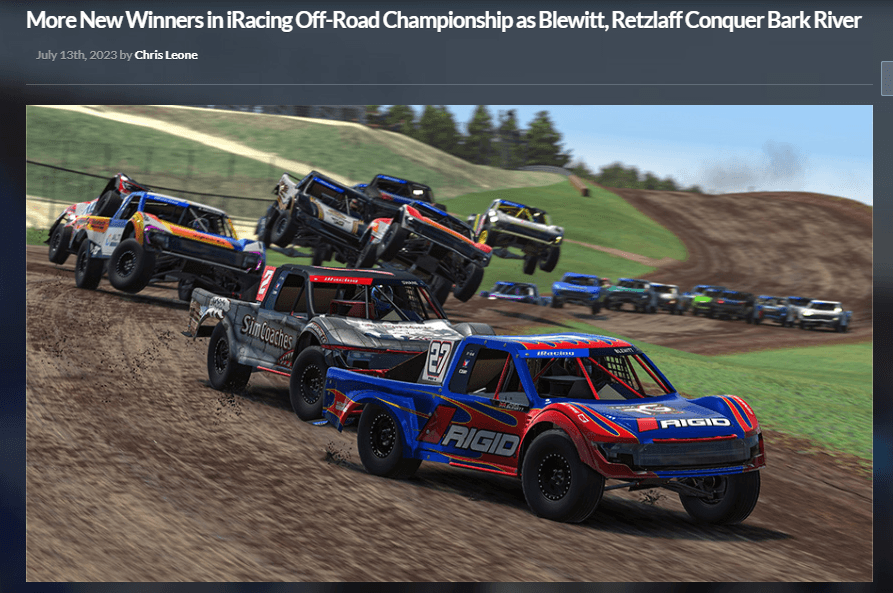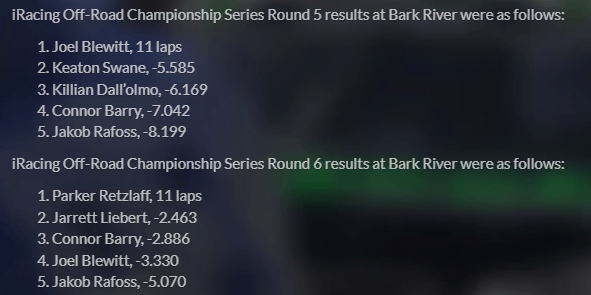 https://www.iracing.com/more-new-winners-in-iracing-off-road-championship-as-blewitt-retzlaff-conquer-bark-river/
---
---
Pit Roads Pits
DJ Yee-J posted a video of the weirdest pit roads in iRacing
---
---
What's Your Fav?
Track voting for each series is now open in the iRacing Forums so you can get involved in deciding what tracks are on the schedule next season
https://www.iracing.com/track-voting-open-in-iracing-forums-for-2023-season-4/
---
---
WoO Late Models Week 2
The second round of the 2023 iRacing World of Outlaws ButtKicker Late Model Series took to Fairbury Speedway on Monday night, with 2019 series champion Blake Matjoulis scoring his first victory of the season by only a car length ahead of last week's winner and defending champion Evan Seay. It wasn't a complete déjà vu moment for Seay, who finished second in a close battle in 2022's trip to Fairbury. It was, however, the first victory Matjoulis in the series since Kokomo Speedway in 2022, another race where he beat Seay.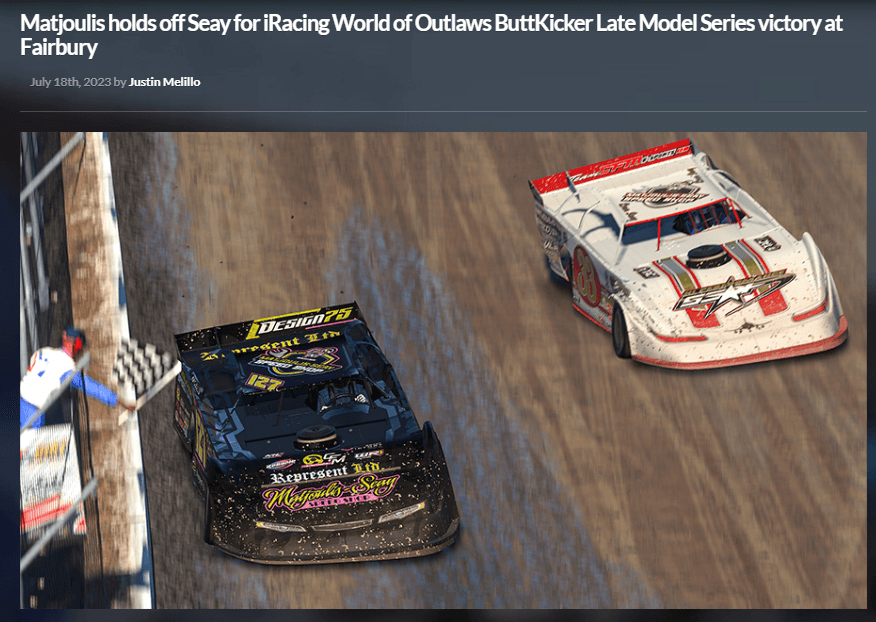 https://www.iracing.com/matjoulis-holds-off-seay-for-iracing-world-of-outlaws-buttkicker-late-model-series-victory-at-fairbury/
---
---
Twin Ring Sensei
Nick Neebons proposes a series all at the Twin Ring with different cars each week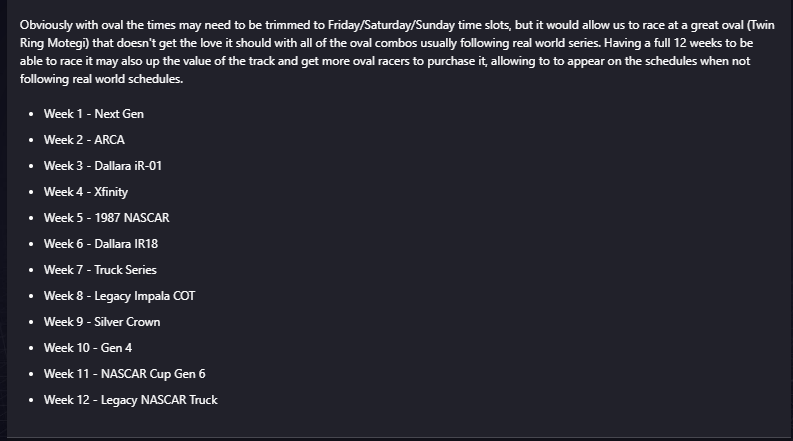 https://forums.iracing.com/discussion/45375/since-we-did-ring-meister-how-about-oval
---
---
iRacing Convention
Matt Wise asked for Chat GTP's help in organizing an iRacing Convention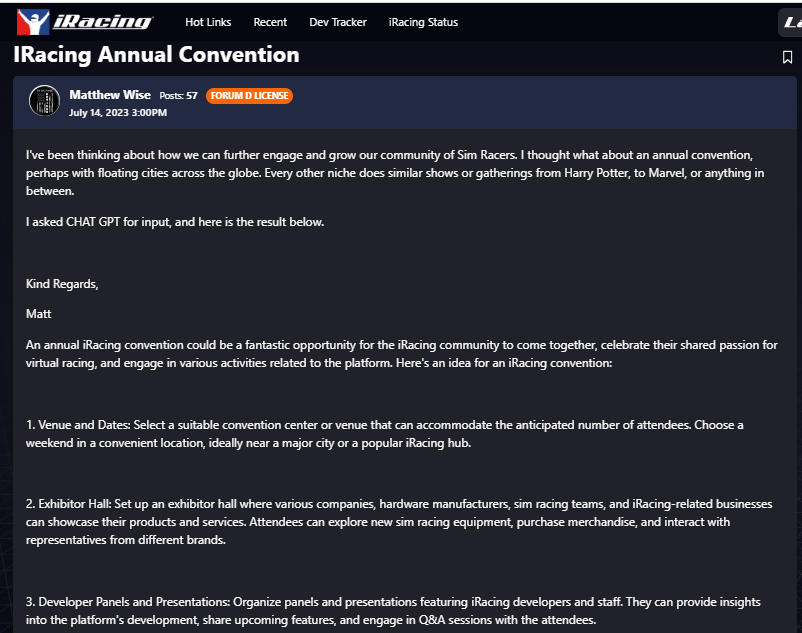 https://forums.iracing.com/discussion/45145/iracing-annual-convention
---
---
Race For More 2.4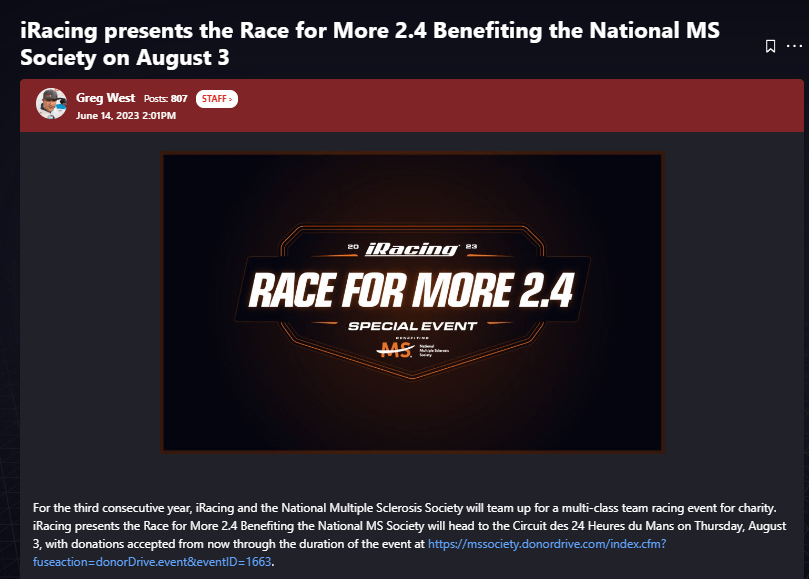 https://forums.iracing.com/discussion/43590/iracing-presents-the-race-for-more-2-4-benefiting-the-national-ms-society-on-august-3
---
---
Podcast Housekeeping
Leave us a review on your favorite podcast platform to make it easier for more listeners to find the podcast. Mention the podcast to your fellow drivers so they don't miss out, we would appreciate it.
Check out our Discord https://discord.gg/rvRas4DDqF
New Website – Leave Comments https://www.iracerslounge.com/
---
We are in the regular rotation… (Mike)
https://performancemotorsportsnetwork.com/
https://channelstore.roku.com/details/9d27a1e9dd15b92535d7cfe85407288e/the-sim-racing-channel
https://thesimracingchannel.com/watch-live/
Fantasy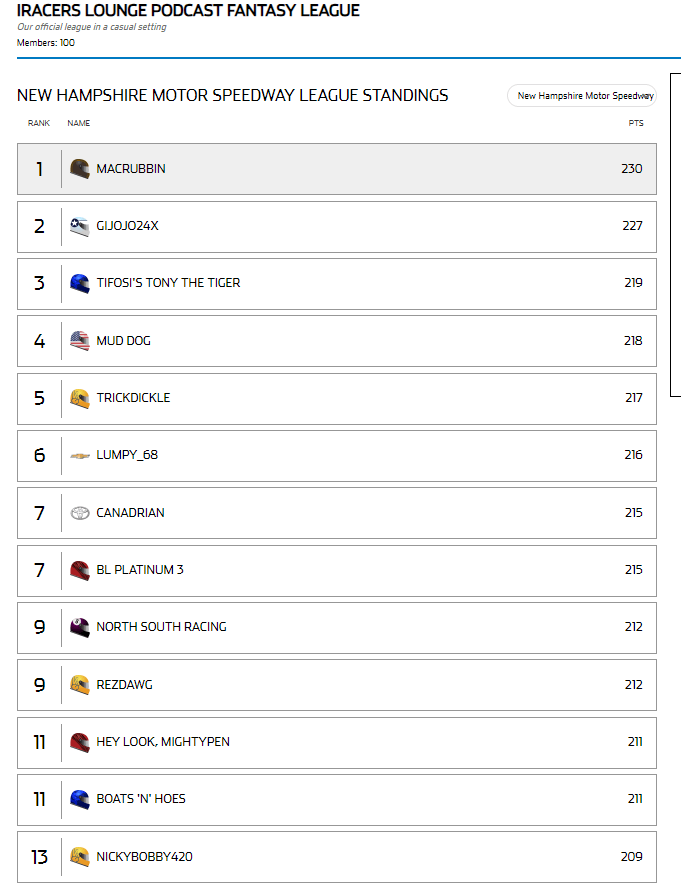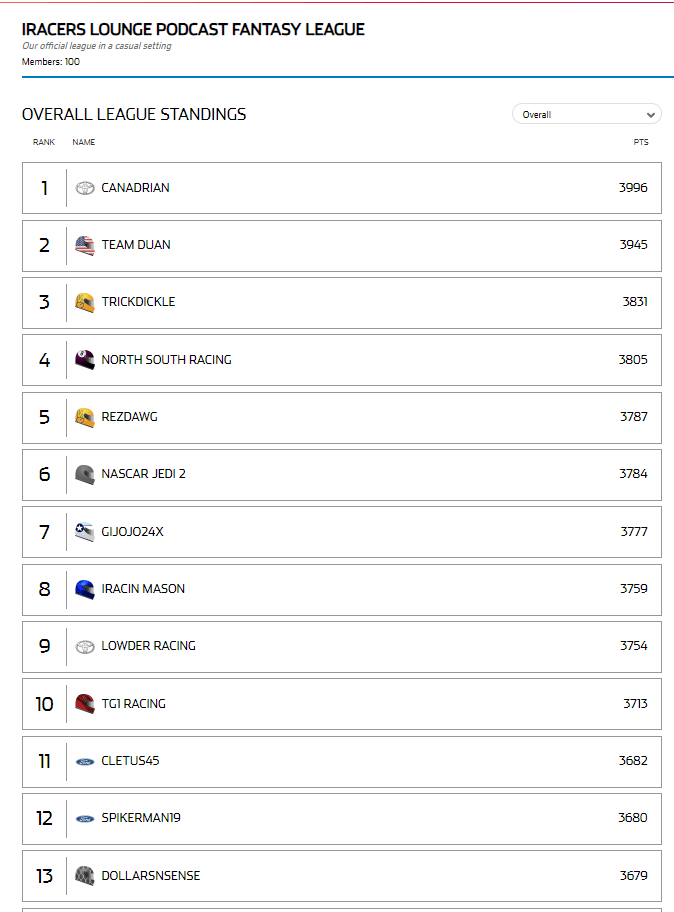 ---
---
Hardware/Software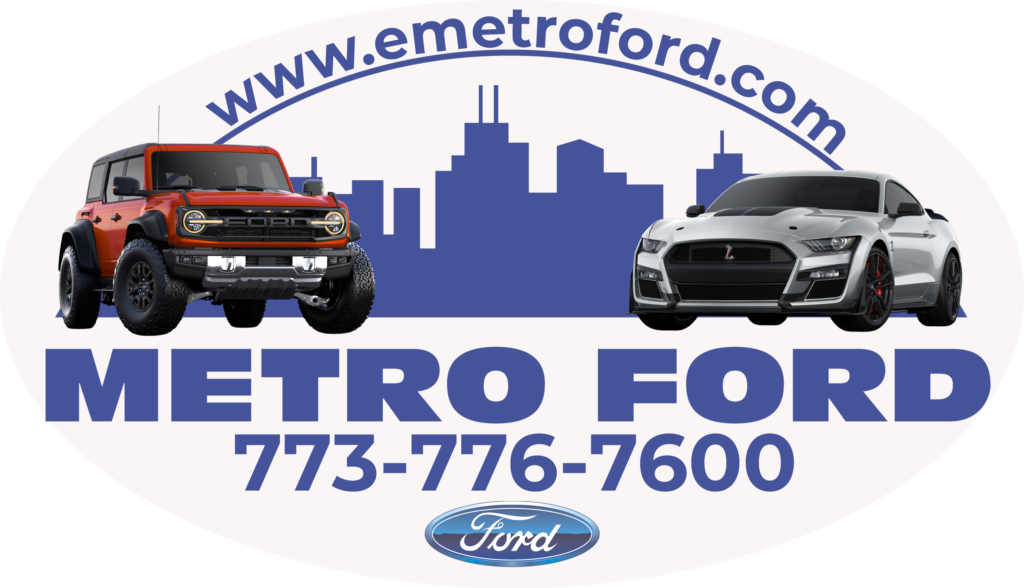 ---
Cube Controls SP01 Pedals
Discover the SP01 Pedals, have full control of your race with this Brand new Cube Controls product with a 10% discount.
https://www.cubecontrols.com/product/pedalssetsp01/
---
---
EPLAB 296-Pro
New 296 pro button box dedicated to the brand new 296 GT3 of the very famous Italian car manufacturer. Front and rear panels in real carbon fiber with a total of 16 illuminated buttons, 4 one-way killer switches, start button in anodized aluminum and rotary bias with resin knob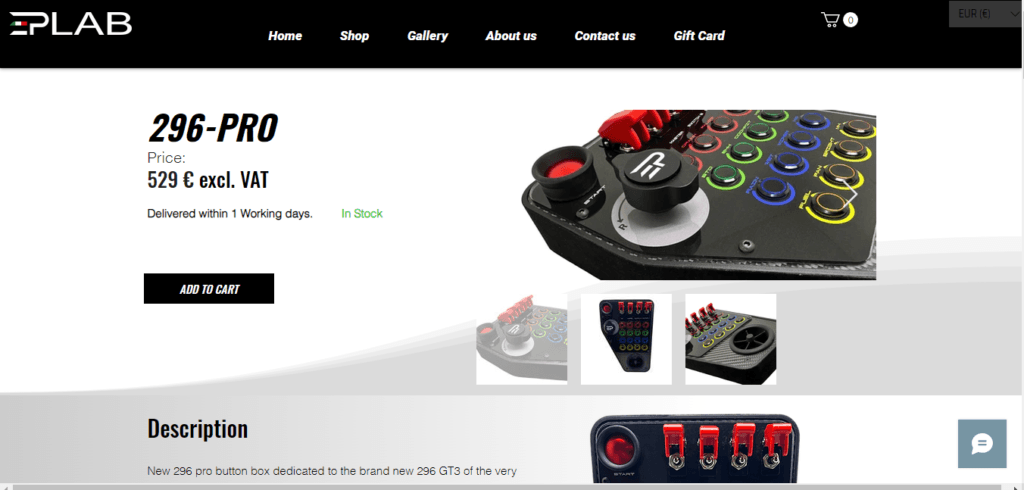 https://www.eplabsimracing.com/296pro
---
---
Sim Engineering 911 BB
The Sim Racing Dem reviews the Sim Engineering Porsche replica button box
---
---
Smooth Track
Smooth Track is an Andriod app used for head tracking and the Sim Racing Corner has a YouYube Video showing you how it works.
---
---
Prodrive Racing Simulator
Prodrive Racing Simulator was conceived with the DNA of Prodrive's real-world motorsport heritage combined with the craftsmanship of fine interiors from the world's finest mega-yachts to create a sculptural statement piece.
The result is an amalgamation of two unique worlds; professional motorsport and fine luxury furniture offering one very special and exclusive product, which is the world's most beautiful gaming simulator.
---
---
Meca EVO Handbrake
Karl Gossling reviews the Meca EVO Handbrake
---
---
Pro SimRig Heal Rest
Pro Simrig offers their universal heal rest soon to be available worldide
---
---
Heusinkveld Firmware Update
Heusinkveld releases a new Firmware to improve Latency for their pedals
---
---
Slip Angle vs Buttkickers
Karl Gosling posted a video of his setup with 4 Gamer Plus Buttkickers compared to Slip Angle Shakers
---
---
Moza Experience Center
The Moza Experience Center is a websire where you can get all of your Moza products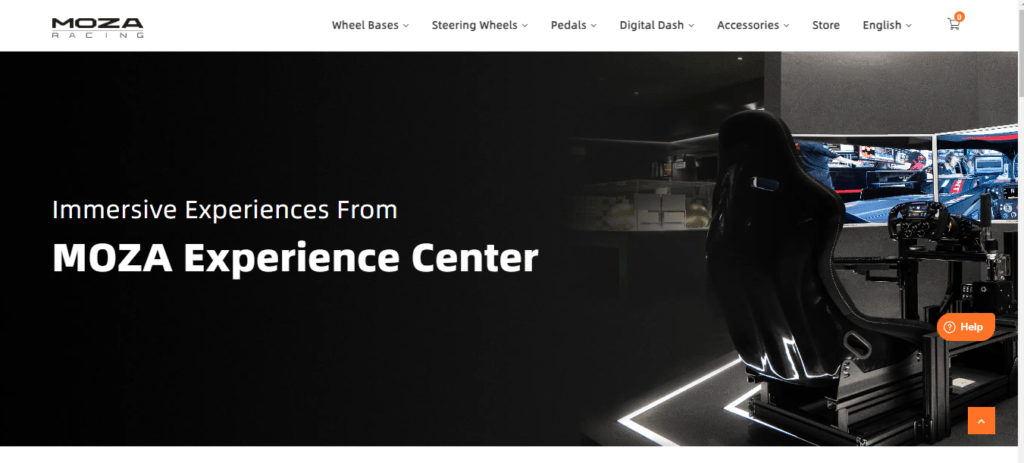 https://mozaracing.com/experience-center
---
---
Shoe PC
Tech Testers has a video of a PC that looks like an athletic shoe
---
---
Motion House Wind Sim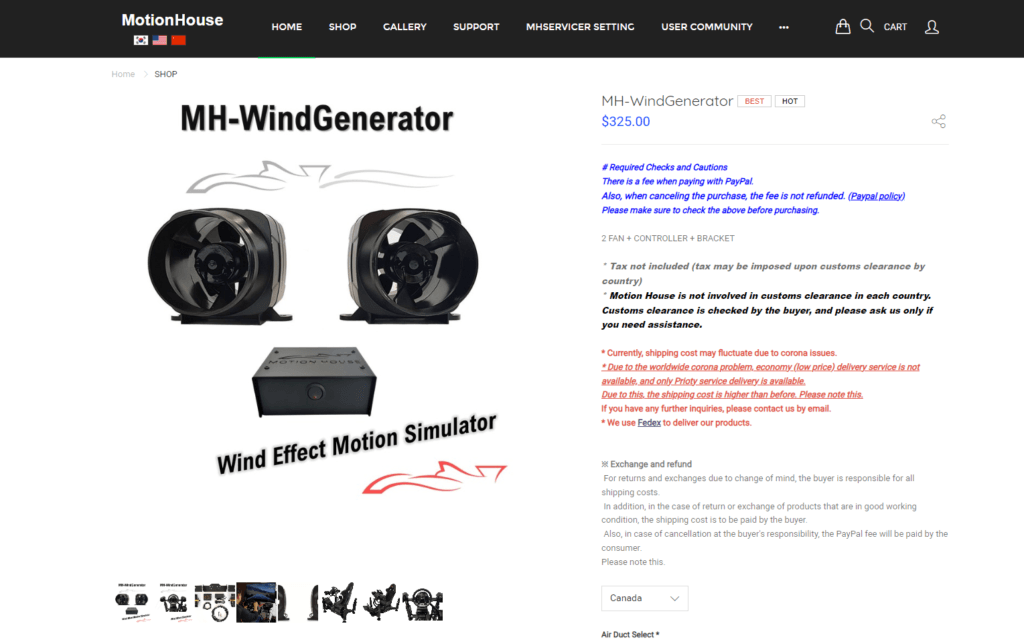 https://en-motionhouse.imweb.me/?idx=122
---
---
Bigscreen Beyond VR
Boosted Media reviews the ultra-slim Bigcreen Beyond VR
https://forums.iracing.com/discussion/37149/bigscreen-vr-headset-worlds-smallest-vr-headset-with-5k-oled-displays-and-pancake-lenses/p1
---
---
Aiologs Handbreak and Shifter
Lance Dusoswa reviews the Aiologs handbrake and Sequential Shifter
---
---
VRS Direct Force Pro FF Cut
D.L. Lemon posted in the forums that the most recent iRacing FF update automaticlly cuts the VRSDFPro from 100% to 50%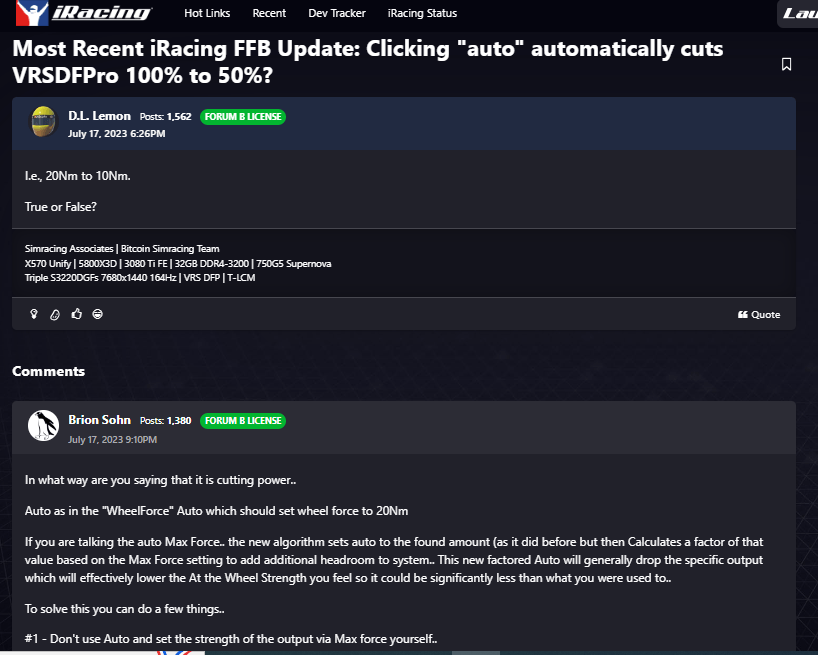 https://forums.iracing.com/discussion/45353/most-recent-iracing-ffb-update-clicking-auto-automatically-cuts-vrsdfpro-100-to-50#latest
https://forums.iracing.com/discussion/comment/378381#Comment_378381
---
---
Lady Spotter Pack
Leah Nudle Tweeted that she made a TikTok AI Voice Lady Spotter Pack
---
---
Results
NASCAR iRacing Series
Thursday Fixed- New Hampshire
Justin- P33, made it to about half way. i suck again stun out on the out side lane my fault hit just right and junked my car.
Friday Open – New Hamshpire
Mike -. P dqd out. Lap 56. I couldn't miss anything.
David – p2 top split. Broadcasted. Lot of dirty driving in this race.
Rochette P14 i hate NH and will always hate this track i dont remember what i did that how much this track sucks
Donnie – P26, This was the worst
Saturday Fixed- Justin -p6, ran with Mr. tom. He always has good strat. took it easy the first half stayed near the back got a 10x with no damage so that was disappointing. I did spin out on the outside i do that at least once a race Just stayed in it to the end cycled to the front. 5 lap run went from p9 to p6
Sunday Open
Hall – p wrecked. Dumped on lap 1, car sucked from that point on. Then caught up in someone else recovering from avoiding a wreck.
Donnie – P9
Wednesday Open: Pocono
Mike- p 17- what is run in fourth on the final green white checker got dive, bombed in taken out and moved to the rear of the pack.
David – p wrecked on lap seven on the damn straight. Over drove trying to get back and self spun the car. I'm done driving people clean
Justin – p dont know , ran top 10 the whole race 6 to go a car came across mikes nose then spun up and got me. Race Over
Chris – P18 – We have a new 7 week old baby racer at home. Not getting much seat time and it shows.
Stephen louallen- wrecked out
Tom -p18
Tyler – P27- Caught in a wreck on lap one as the dive bombing began early. Regrouped and fixed the car. Had a great set as the team made a few adjustments. Shout out to Kyle on the main set and Joe with the in race adjustments. Car was wicked fast and fun to drive. Contact possibly a net code on white to put my top 15 car back in 27th. Frustrated with the result but just glad to be fast.
Thursday Open
David – p 15 top split up and down race, fell to the back early cause of a series of 3 wrecks that didn't bring out a caution. I slowed, most didn't and a guy turned across my nose. Later trying to work way back up, another multi accident situation, 3 or the 4 wrecks don't bring out a caution. I don't back out, fail to miss, but not severe damage, stay out, gain a lot of track position over other hurt cars, and finish 15th.
Mike – was running bit with 12 to go. They beat getting on pit row that I can't decide and I hit the barrels for minutes damage.
Rochette P16 been awhile.since i raced on a thursday. Unlike my dominate win last year in the Dorito shaped track today i was getting slammed bammed and shammed whole race. Was running 9th on thr white when guys wanted to wreck on the back and i got ran over
---
---
Final Thoughts
---
---
Words Spoken in Closing Audio Clip -""Thank you for listening to the iRacers Lounge podcast make sure to go subscribe to us on iTunes, SoundCloud, or Google Play, Facebook & Twitter, See You On The Track ."
TITLE
Race Long and Prosper
Description
Coming up on the show today, we'll see what plans a Formula 1 Champion has in the world of Sim Racing. We'll look at the little known history of Karting in iRacing, and what are the worst pit roads in the sim. And in Hardware we check out a PC build that will have you running to find one for yourself. So sit back, relax and join us on the iRacers Lounge Podcast.
iRacers Lounge Podcast is available on iTunes and Apple's Podcasts app, Stitcher, TuneIn, Google Play Music, Spotify, Soundcloud, Podbean, Spreaker, Podbay, PodFanatic, Overcast, Amazon, and other podcast players.
Sponsors:
Hosts:
Mike Ellis – twitter.com/MikeDeanEllis
David Hall – www.twitch.tv/mixmage
Greg Hecktus – twitter.com/froozenkaktus – www.twitch.tv/froozenkaktus
Brian Maccubbin – www.twitch.tv/MacRubbinsRacin
Kyle Pendygraft – twitter.com/LoudPedalGaming
Tony Rochette – twitter.com/TonyRochette
Tom Dreiling –
Donnie Spiker – twitter.com/Spikerman19
Bobby Jonas –
MacKenzie Stevens – https://twitter.com/MackStevens48
Justin Pearson – https://twitter.com/big7bang_
Links:
Facebook – www.facebook.com/iRacersLounge/
Twitter – twitter.com/iracerslounge
Instagram – instagram.com/iracersloungepodcast/
Web (Show Notes) – iracerslounge.com/